The fog didn't let up for day two of San Francisco's Outside Lands festival, and neither did the crowds. It seemed that no matter where you stood, there was a constant stream of people passing you either way. I set off to play fangirl today, and I succeeded.
I staked out an early spot right in the front of the Panhandle Stage to catch Father John Misty's afternoon set. Father John Misty is led by ex-Fleet Foxes drummer-turned-showman J.Tillman. Beyond him and the soulful, wacky folk songs that have occupied my life since I bought the record, I didn't give much thought to the rest of the band. My attention was immediately captured by eccentric bassist Jeffertitti, a modern day Kurt Cobain decked out in celestial leggings, a paisley blazer, and an orange and white striped sunhat taming his blue-pink-blond hair. Rounding out Father John Misty are two guitarists, a keyboardist, and a drummer, with Tillman sticking to the tambourine—and the dance moves.
They kicked off the set with "Funtimes In Babylon," and from the very first note, Tillman was jerking and thrusting his hips suggestively. As they got deeper into the set, he threw himself into the songs, flailing around the stage and acting out his own sign language to go along with the lyrics. His body was constantly moving Axl Rose-style, swaying and bouncing in time, hitting all the right notes. At one point he even fell to the ground, writhing, still feeling every note as he slowly made his way back up. (Jeffertitti joined him momentarily, not missing a beat). The rest of the band was solid and still, with Tillman's constant movements commanding most of the attention. It was clear that Tillman's moves were hardly pre-meditated—his lyrics were so engrained in him that they were directing his physical response. His fists clenched with every intense confession, and there were even a few serious moments of hair-pulling. At times, the words poured out of him in desperation, and he interjected asides that came off completely natural. During "Everyman Needs A Companion," he sings, "I never liked the name Joshua / I got tired of James" but on Saturday he got down on his knees and he begged the audience to reveal, "James? Where the fuck does James come from?" Throughout a set filled with bizarre lyrical content (my favorite kicks off "Nancy From Now On" with "Oh, pour me another drink / and punch me in the face / You can call me Nancy") and more than a few drug references (Tillman's shirt read: Freedom Now! Legalize LSD), the energy was high, the audience was loving it (with one member tossing up a small bouquet of flowers), and neither Tillman nor Jeffertitti ever broke character.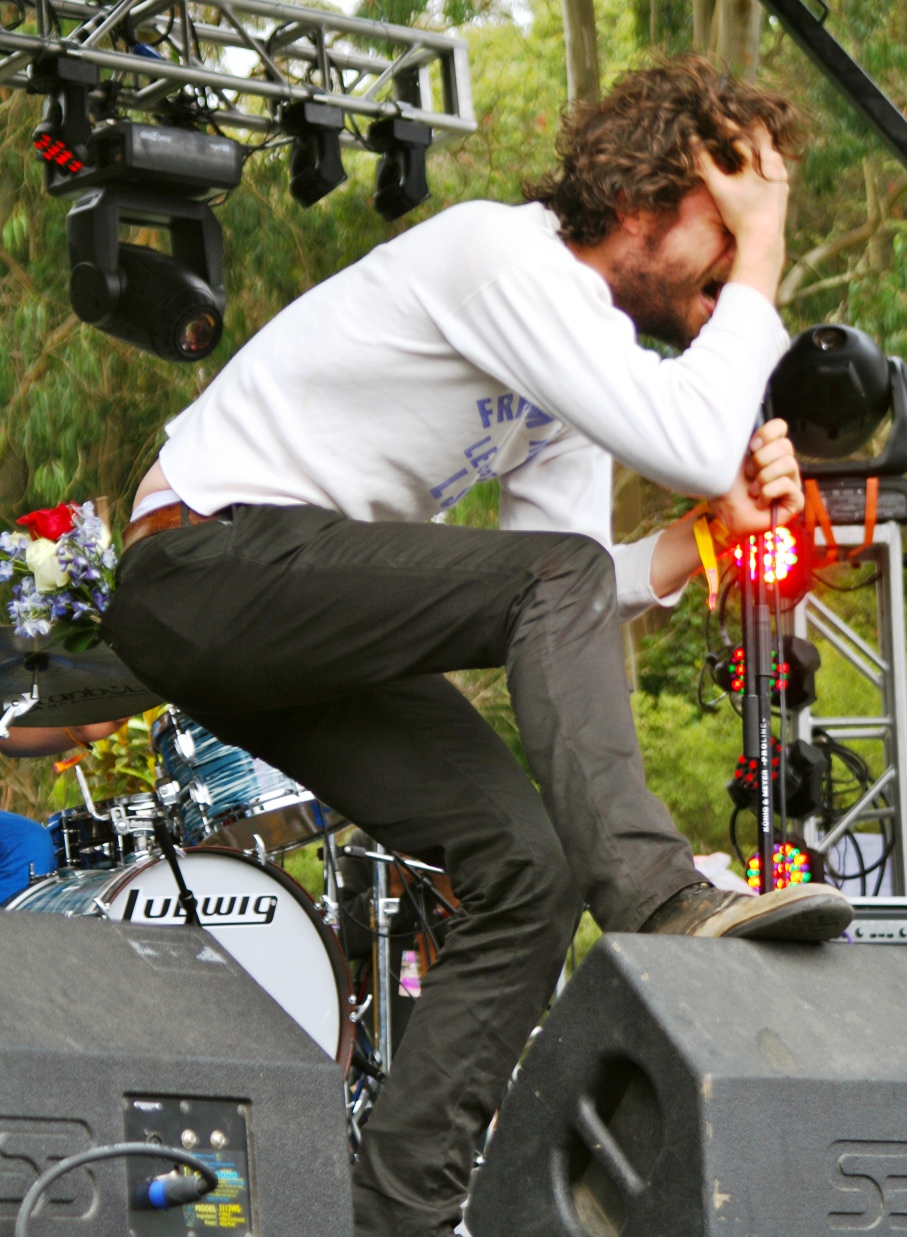 High on my Father John Misty cloud, I rushed over to The Barbary to try to snatch a ticket to the first Nerdist Variety Show featuring Neil Patrick Harris. I managed to weasel my way into the endless line (I literally could not find the end, so I befriended a group and jumped into the middle) and proceeded to sit for an hour and a half before we were allowed to enter the tent. (I told you I played fangirl today). Regardless of the wait, I snagged a decent seat and experienced the strangest comedy show I've seen so far. Mustache Harbor, an obviously mustached group of men who specialize in "yacht music" played us in, eventually leading a song featuring MC Chris Hardwick and a surprise appearance from David Koechner, who popped up from the back of the tent. Hardwick did a few minutes of his own stand up, and though I've honestly never heard of him before, he had me laughing—particularly the two times he managed to inadvertently offend the only lady in a wheelchair (she was laughing; don't worry, we all stayed friends). Justin Willman came on next and made his best attempt to "make [us] all feel like [we're] 5 again, like anything is possible" using magic. Although I'm a Harry Potter fan to the depths of my soul, tophat magic isn't exactly my thing, but I'm still wondering how he managed to levitate that table. He also brought Neil Patrick Harris onstage briefly to shoot Willman with a paintball (which he later pulled, intact, out of his mouth, prompting an audience member to shout, "You've got balls in your mouth!" to which Harris responded, "If I had a nickel...").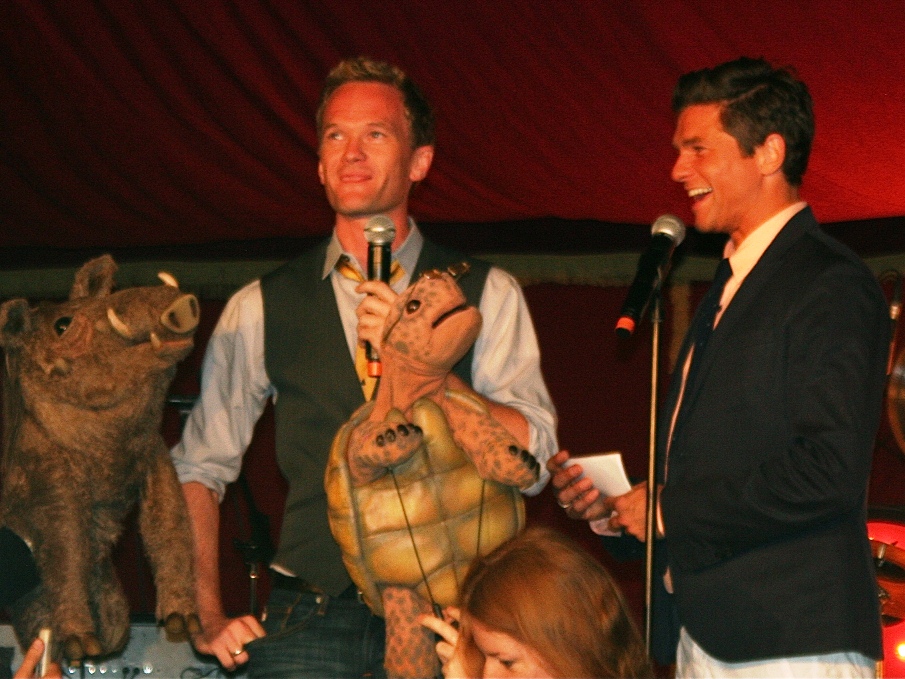 After Willman completed his act, Hardwick brought Neil Patrick Harris out for his own schtick, along with (surprise!) guest and NPH hubby, David Burtka. Harris was, as always, dressed to impress in jeans and a suit vest. Burtka, an E! correspondent, held a mock interview questioning Harris about his upcoming Nerdist show "Neil Patrick Harris' Puppetopia," featuring the man himself and some of Jim Henson's very own puppets (two of which joined them onstage). After Harris' brief stint, David Koechner reappeared for some bizarre puppet interaction as well, although with a different Henson puppet (a squirrel, inviting many more nuts/mouth jokes). Let it be known that both Harris and Koechner made out with puppets that night.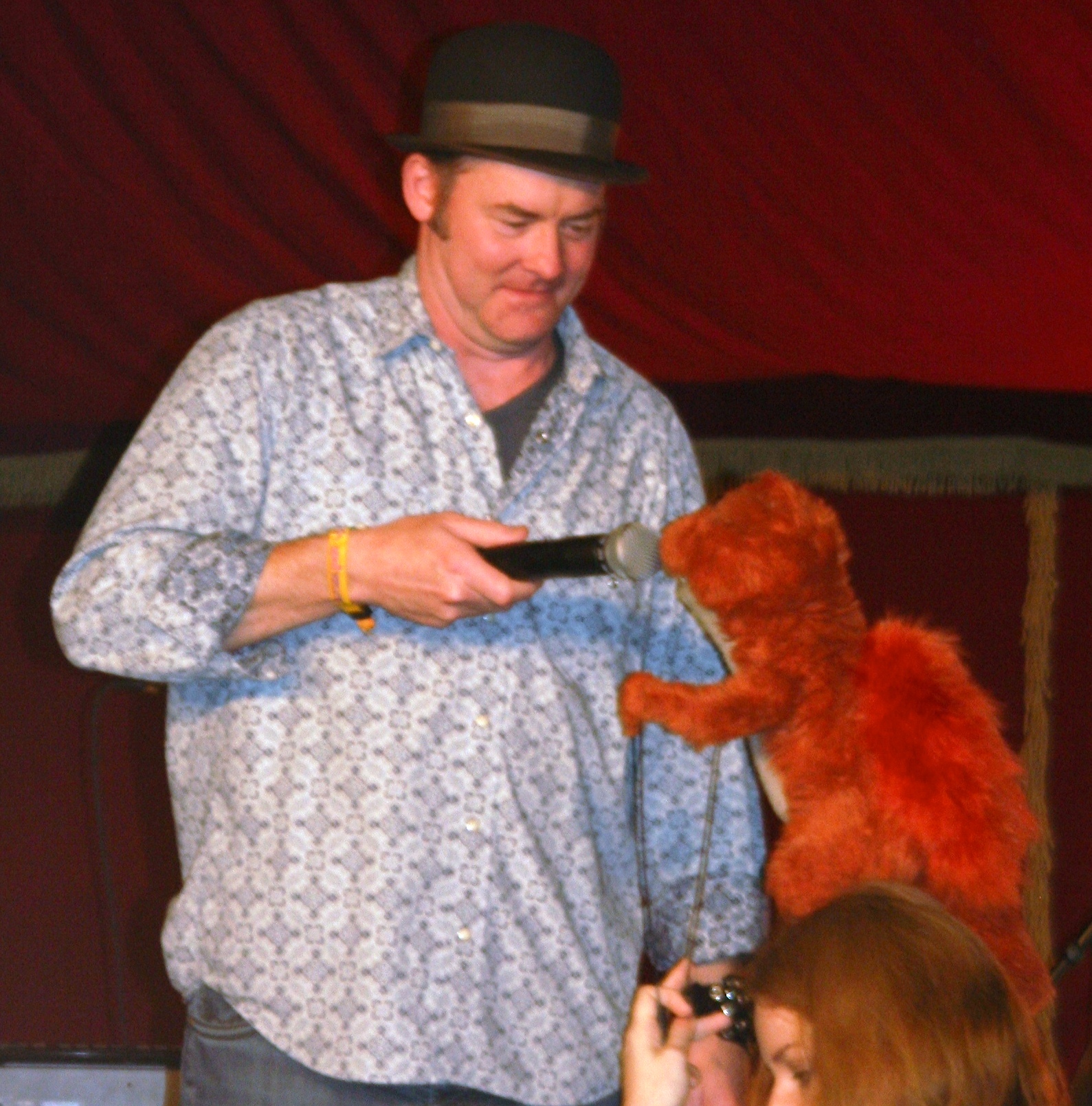 After Koechner headed offstage, we were entertained with short sets by Ron Funches, Marcus Monroe (who juggled knives while riding a 7-foot-tall unicycle), and impressive speed-comedienne Jackie Kashian who rattled off jokes so fast (including off-the-cuff quips to audience members) she must have been out of breath when she was done. It was an interesting hodge-podge of characters, but somehow it worked—not unlike the rest of the festival.
I spent the rest of my night giving Passion Pit some of my time (I can only handle so much synth, especially with the poor sound quality at Twin Peaks Stage) before rushing with the crowd to catch Dr. Dog's set at Panhandle Stage. The congestion for Dr. Dog was unlike anything I had experienced before, and the sound could have been louder. The crowd was constantly jostling each other for a better position, so I made my way closer about halfway through the set and managed to claim a little dancing elbow room. Although they filled their entire set time with hearty rock n' roll, Dr. Dog's show seemed way too brief. As I got swept up in a crowd eager to get to Sigur Ros' nearby show at Twin Peaks Stage, Dr. Dog reappeared to play the only encore I'd seen so far at the festival (except for the headliners, of course). They delivered a lively rendition of "The Rabbit, The Bat & The Reindeer," and the premature surge to catch Sigur Ros allowed me to catch it even closer than I'd been before.
I previewed both Sigur Ros and Metallica's shows, but I knew little about the former and honestly have no interest in the latter. Sigur Ros was the ambient opposite of Metallica, at times being overshadowed by the sounds of the metal gods' pyrotechnics, which could be heard and vaguely seen from Twin Peaks Stage (which still seemed to be having minor sound issues). Metallica put on an excellent light show accompanied by the hardest rock I ever hope to hear, and I have to hand it to James Hetfield—to have your body catch on fire from stage effects and continue using them in your live show is damn admirable. It was yet another cold night in Golden Gate Park, and a few Metallica fans near the stage were cheering for the fire just to warm their hands up.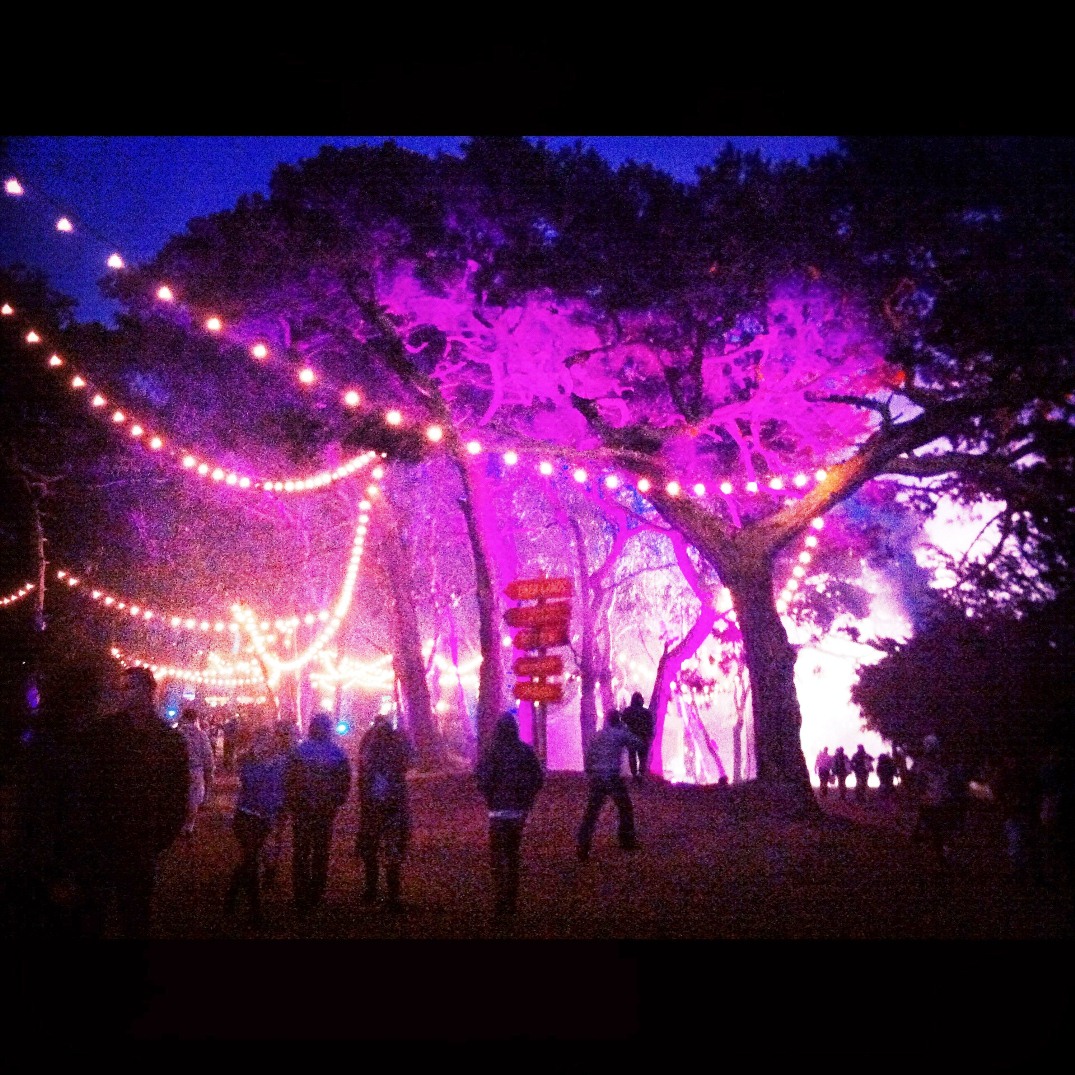 Although much of my day was spent waiting, I can't complain. Day two was the perfect pre-game to day three, during which I plan to wait as long as it takes to see Jack White from as close as I can get. With the most anticipated lineup of all the days, expect a full report back—or, if I can't handle all of it, an in-depth report of White's set from the biggest fangirl out there.