On the fateful day after extended taxes were due, October 16, 2013, I sat down with [and interviewed) Fayetteville, Arkansas-based band Don't Stop Please. During the interview there were many jokes, lots of sarcasm and some discussion about music, including insight on their newest album, the creation process and that pesky (now historical) government shutdown. This is the first time I've interviewed an entire band together and it was certainly interesting!
----------------------------------------------------------------------------------------------------------------------------
GW: You guys play a lot of different genres in your music...is that a conscious choice?
Anna: I don't think so. We all just have so many influences we draw from; when we get together it ends up to be like that.
Joel: With the Internet I was listening to every type of genre growing up.
Will: I get bored listening to the same thing, so I expect other people to be the same.
Anna: Diversity is the spice of life.
Nick: What if we're spice rock?
GW: You did a Kickstarter to raise money for your latest album (Don't Stop Please) and your last EP. Why did you decide to use Kickstarter? Any tips for Kickstarter novices?
Joel: Make really good prizes that are worth getting. Make sure you get a big group of people behind it before you even launch it.
Will: Making a record is pretty expensive no matter how you go about it. Just shoot for covering the costs that are absolutely necessary and then all that other cost you may have to eat, at least you'll have your necessary costs covered.

GW: How long did it take you to create this new album?
Anna: Should we answer this honestly? We started in December of 2011, but then it didn't work out with this other studio…
Will: It's one of those albums where the band has to find a balance between touring and playing shows and actually working on the product. It's a different process than some bands go through when they record.
Nick: I think we had to do that - we couldn't just sit down for a really long time and record. First we had to play shows just to buy some of the equipment we needed to record the album. Then after that we had to make money and survive. That's a big part of why it took so long.
Anna: When we started most of us were still in school, too.
Will: Not to mention we have a lot of horns, strings and vocal harmonies in it and those things take awhile to get done exactly the way you want them to sound. So that took us awhile - fine-tuning our playing. We also learned how to record our own album by doing this. By the end of it we were moving at a much faster rate. [A lot of time was spent] messing with EQs and compressors...understanding how to make everything sound 'of the same product.'
GW: Do you like working with the technical side of it?
Anna: Not particularly.
Robert: I enjoy it a lot.
Joel: I'm starting to like it more now that we have it down. It's hard to learn anything as a group of six without a teacher.
Will: Yes and no. I'd like to work with someone who's way more knowledgeable on the next record we do.
Joel: Diplo, I think is who we're going to get…
Willie: I want to learn more about the process, but I don't want to try to have to learn the world of recording while I'm trying to stay in the mood to make the music happen - it's just an overload. Sometimes you just get real high, and then you're all real high…and something's wrong and *chaos*
GW: Most of the songs on your new album are 6 minutes or more…
Anna: It's definitely a long one.
Joel: It's a grower, not a shower.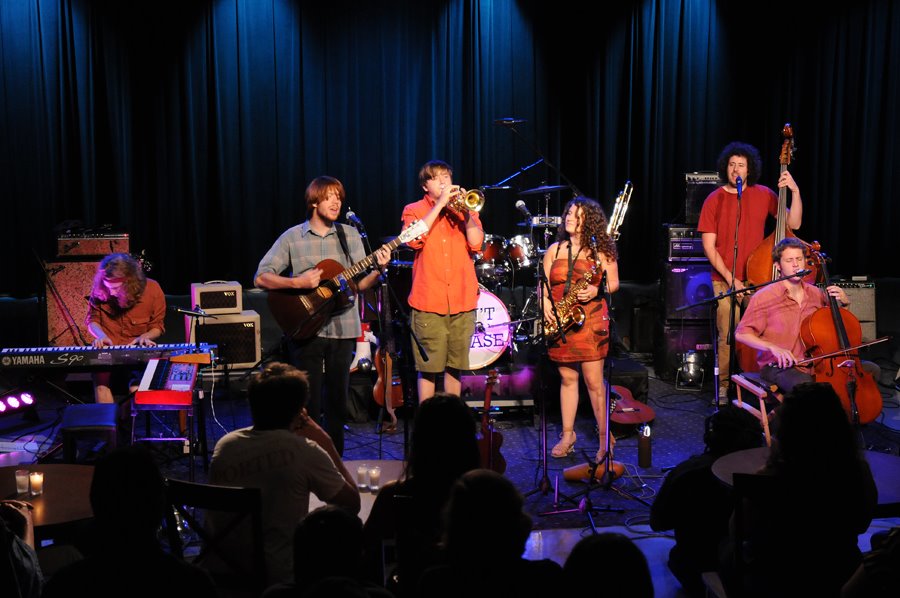 GW: Do you ever play really long songs.
Anna: We have a really long song on [the album] - it's about 10 minutes.
Joel: I would for fun, but not necessarily in a band setting.
Will: We don't ever intend to make a long song. We don't ever intend to make a song anything...or at least we haven't yet. We just figure out what feels right and go with it. The song 'Dogsmile,' that Will [King] sings ended up being 10 and a half minutes long. You know...I don't want it to be any shorter than that.
Robert: You should have heard the 22-minute cut.
Joel: A lot of heavy vibes in that one...
GW: What do you feel like the main vibes of this recording are?
Joel: Guilt rock.
Robert: Mushrooms.
Nick: Plasma babies.
Will: What was the question again?
Will: I think it's a fairly dark record.
Anna: Don't go chasing waterfalls.
Joel: If we could have written that song we would have, I'll tell you that.
GW: Do you have any other band or projects you play in or work with?
Anna: Handmade Moments is Joel, Nick and I. We do a lot of shows.
Nick: Don't forget CoBro
Will: Comfortable Brothers is Will, Robert, myself and Dick Darbin.
Joel: I'm really excited about Alaskan Firedog. They've got some really groundbreaking material.
Will: Yup. Icebreaking material, even.
Robert: The government has paid us not to release it.
GW: So did you guys have to work during the shutdown, then?
We're all furloughed.

Anna: This is when Occupy Wall Street should be protesting. Alright, fuck you guys...you can't get the National Guard out here now so let's protest.
Joel: They've got Blackwater now…
GW: You've played a few festivals, right?
Joel: We played at Dog Days of Summer in Missouri.
Anna: We played at a sweet festival in Boise, Idaho last March called Tree Fort Music Festival. Then we played Harvest Fest. We played Riverfest.
Nick: We had our debut show with Sugar Ray [at Riverfest]. It was a dream come true.
GW: Did you actually watch Sugar Ray play? How was it?
Robert: Eh..not very good.
Will: There were only one or two of the members and the DJ's not in the band anymore.
Nick: He sang pretty out of tune in a few spots.
Anna: Oh yeah, it was kind of sad.
Joel: They aged like an open bottle of wine.
Anna: That's true, I'd agree with that. When I was 13 years old I fuckin' loved Sugar Ray. I'm watching this later at 23, it was surreal.
Robert: I loved Sugar Ray. Let's just say that. They were the best touring band in the nation and we played with them.
GW: So how has your music changed over time, since obviously Sugar Ray's has changed over time.
Will: We're going from pop back to metal...that's our natural progression.
Robert: Fine aging.
Joel: We're smoking our songs before we put them on the burner now.
Anna: Some of it's getting sharp, you know?
Nick: It feels like we're heading toward our arena rock phase. It's going to be super epic and reverb-y.
GW: Maybe Sugar Ray will open for you.
Robert: I'll talk to Mark about that.
GW: You guys should write music for a commercial.
Joel: Who should we write for? We can write one right now?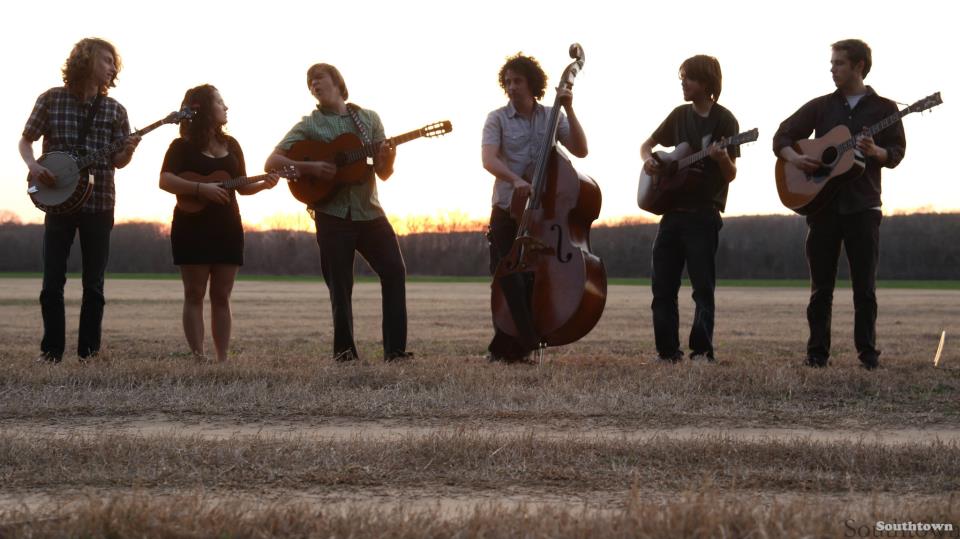 GW: Celi's Mexican Restaurant.
[commercial jingle materializes]
GW: Do you have any favorite shows or places you've played as a band?
Anna: I really liked Chicago. We played at this sweet bar that had art hanging up called The Gallery Cafe.
Will: The Deli in Norman has incredible sound and the crowd's never huge and they all just listen...so we play really good.
Nick: I always like our Whitewater shows, it feels homey. It's a venue in a neighborhood in Little Rock.
Joel: It's the classic Little Rock dive bar that always gets good music and a great crowd  of music lovers.
Robert: I really enjoyed the public theater we played in Little Rock.
Will: I like playing at Stickyz - the crowd sings along and they all cheer when we go onstage. And you're just like 'fuck yeah, man.'
Will: That's the only show we've played for a large crowd...300 or something like that.
Anna: At Crystal Bridges we played an acoustic show in this big, reverberant room called The Grand Hall. Getting to play acoustic shows with this band it really cool because it's a different dynamic, and we get to bust out some songs and sweet part writing we don't get to play electric.
GW: Do you play a lot of acoustic shows?
Joel: I'd say about 15% of our shows are acoustic.
GW: Why do you [play acoustic concerts]?
Anna: It's just good sometimes. House shows are easy to play acoustic and we like to get used to playing acoustic because when you're on the road it's nice to busk and make money. You make new fans in places where you're busking outside playing acoustic instruments, selling CDs and just getting out there.
Will: You get to play songs that wouldn't work on a stage in front of a bunch of drunks.
Joel: Yes. That's what we call our fans, 'the drunks.'
GW: Do you play a lot of shows where people are intently listening or do you play mostly in bars?
Anna: We have a really good listening population at our shows.
Joel: We get the attention of our crowd. We're something different...we have all the instruments up there. They're at least going to listen for the first couple songs because they're wondering 'What in the world is going on up here? What are all these barefoot kids throwing instruments?'
Will: The show we were at in St. Louis the other night, when we brought the dynamics down the crowd was quiet and they were listening. That was nice. We'd never played there before in that entire city.
GW: Are there any bands you want to play with?
Will: The Kansas City Bear Fighters.
Joel: I'd love to play a show with Wilco one day, The Violent Femmes would be great. Paul McCartney.
Anna: Is Spoon still playing shows? I really dig Spoon.
Robert: I wonder if The Shags are still playing shows. It'd be cool to play with them.
Anna: There's a lot of cool band out there. It's really hard to put us on a bill with a band sometimes. A lot of bands from the Midwest are really bluegrass...and we're kind of all over the place. I've heard a lot of great bands lately, like The Mike Dillon Band.
Joel: I'll play with anybody that wants to play with us. I even like playing with bands that suck. People that play in bands usually end up being cool people. It's a new experience, it's a new vibe. Maybe you can get some ideas from them.
Anna: Also Dr. Dog would be cool to play with. Neil Young would be sweet. Willie Nelson - I'd love to play at their farm festival. That'd be so sick.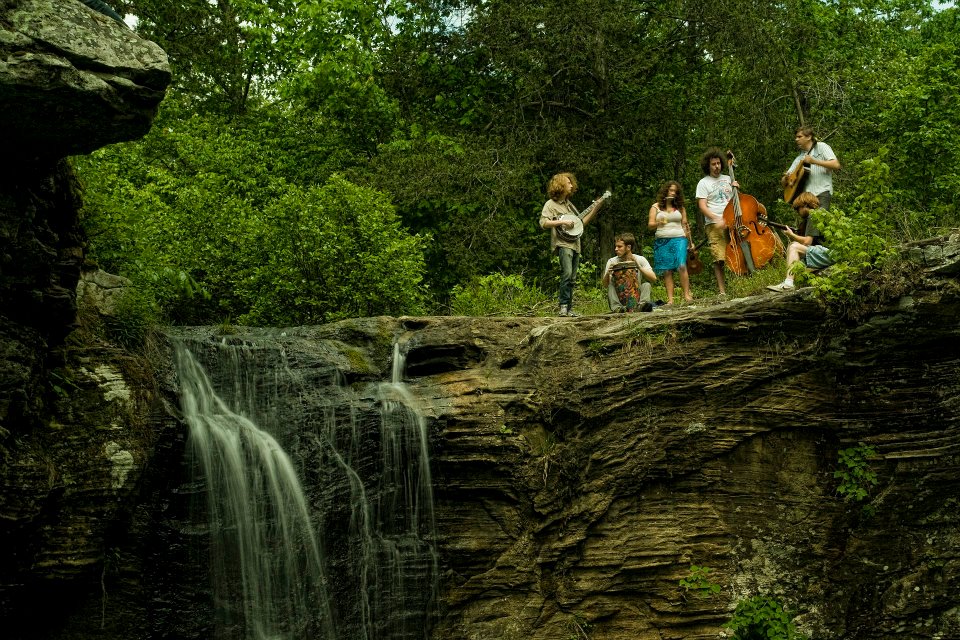 Joel: Farm Aid!
GW: You guys are a pretty big band as far as bands go. How many instruments do you usually have onstage?
Joel: 12-14. We play guitars, banjo, bass, upright bass, cello, ukulele, drums, keys, trumpet, trombone, percussion.
GW: What's going on next for you guys? You just got back from a small Chicago tour, you're releasing your album Nov. 2. So what's after that?
Joel: We're going to take a break for a month and a half. Being a touring band is a lot of fun, but unless you have a big, national fanbase it can be a hard way to make a living. So we're going to take some time off and work some real jobs; take that time to write and work on music. When you're done with a day's work you pick up a guitar and feel like you're really lucky instead of getting done with the tour and thinking that playing music is work. I think that happens to everybody when you go on tours; music becomes work instead and not creative, fun, explorative art-making process. I'm excited to do that in the next few months. Then we're going to hit it hard in January or February.
Robert: That's the plan: a new LP by the end of next year.
----------------------------------------------------------------------------------------------------------------------------
Album Review - Don't Stop Please (self-titled)
Don't Stop Please is releasing their first full-length album on November 2, 2013. A delicious jambalaya of instruments and harmonized vocals, Don't Stop Please plays a little of everything. The band's self-titled, self-produced album is a great way to ease into their wacky and wonderful world. Well-balanced vocals and distinct instrumentation are the foundation of this record, while a multi-genre whirlwind keeps listeners guessing what whimsical or beautiful corner they'll come around next.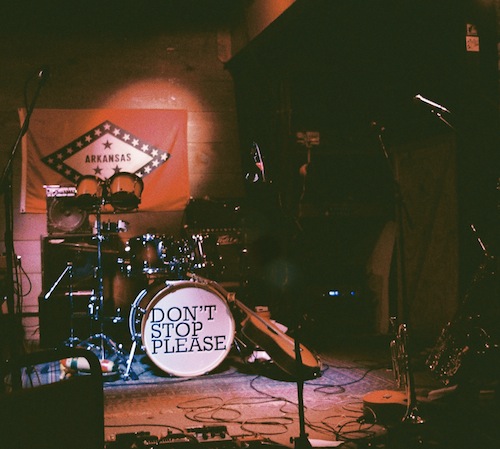 Half of the main vocals for this opening track are from Joel Ludford where he croons along with the piano, sax and swaying percussion. A breezy, jazzy song that's calming and cool. Main vocals for this opening track are from Joel Ludford where he croons along with the piano, sax and swaying percussion. Instrumentation on this track is very distinct and each instrument is allowed to shine. 'Fire Palace,' a well-thought-out first track, introduces you easily into Don't Stop Please. While the song is calm and relatively quiet for this band, their signature elements (vast instrumentation, tempo changes, multiple genres) still shine through a thin, quaint veil.
Owning the music of bands that are great live is a wonderful way to familiarize yourself with their music so you can fully immerse yourself during a live show. For example, the second song on the album, 'Backyard Dogs' does not start with the lyrics 'Backyard dogs in parking lots/'til I turn my head.' Next time I go to their show I'll be able to properly sing along instead of adding my own version of nonsense to the performance. But really, on this song, there's no need for me to sing along; the percussion and smooth vocals from Anna Horton alongside simple harmonies and a few awesome breakdowns make this track a truly good work.
As the album progresses the mood changes a bit. 'Long List of Numbers' is less acoustic than the first three tracks; they're using their instruments differently, but the change is welcome - an album of entirely slowish songs from this band wouldn't be my glass of beer. This song lends itself to a powerful, big band sound. In fact, about halfway through the song Nick Caffery blazes in with a big, brass trombone...and it's perfect.
The next song's main vocals are performed by Willie Krzeszinsk. This is another slow track, but instead of jazz there's a southern, candlelit feel to the song. I imagine sitting in a cabin with the wind almost inaudibly whistling through the cracks in the logs. Here, you notice everything; each note, your breath in time with the song, the deep strings of the bass and understated power of the trumpet. Here, time continues but with such great awareness of the surroundings.
'Infinite Whirl' ends abruptly and 'Pirates' Handprints' begins with noise (which I'm not too fond of). Then quickly the song finds its place in electric hallelujah. Strong, rough sounds burst from saxaphone and guitar while vocals smooth the landscape. But then suddenly the song switches into a lounge jazz breakdown. And then just as suddenly, back into hallelujah.
The next track, 'Henry & The Great Salt Lake,' features an instrument we haven't heard from yet: the banjo, played by Joel Ludford. This is a great singalong and it feels like the ocean but somehow it has a folk-bluegrass sound and includes a nice breakdown about ¾ of the way through. The lyrics, a well-written story, are easy and simple.
Song #8, 'Missed Echo,' is the shortest on the album, clocking in a 4:52. The song begins with some non-musical ocean sounds and a deep moan from upright bass, then enter vocals from Willie Krzeszinski and Joel Ludford + some European-style accordion and guitar work. This track is a sway of slow strings and soothing vocals and the harmonies between Willie and Joel complement each other in an almost haunting way. The near-whimsical nature of the instrumentation in conjunction with the ha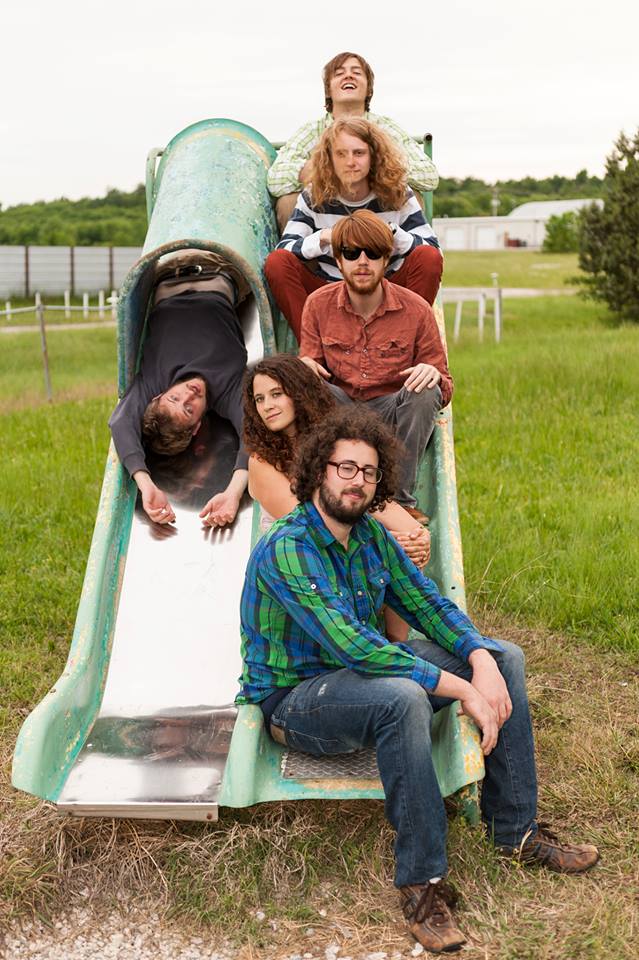 unting vocals make for a beautiful song.
The penultimate track, 'Dogsmile,' is written and sung by Will King - a rarity as most main vocals come from Joel Ludford, Willie Krzeszinski and Anna Horton. It begins slowly in the style of a post-rock band. Vocals on the track are reminiscent of Pink Floyd - the song feels like a 60's psychedelic slow jam to me. The longest on the record, 'Dogsmile' doesn't feel too long and it ends abruptly, taking you out of a meditative state just as easily as you were called into it.
The last song on the album, 'Antithesis,' features sobering lyrics and instrumentation, and an uplifting chorus. Don't Stop Please rarely plays a tune that focuses on a single emotion. These songs are journeys, not simple rhyme and predictable rhythm.
This album is truly a collaboration between musicians. Each member of Don't Stop Please plays various instruments, adds to the vocals and writes music - there is no frontman in this band. The album makes it evident the band has a mission to bring good, unique, interesting songs to your lives. DSP likes to disrupt the senses, taking you from one place to another, but only momentarily. I only have a few issues with the album. The first is that 'Fire Palace' seems a bit longer than it needs to be. But the biggest qualm I have with DSP's album is it just doesn't truly exhibit the band's ability as live musicians - so pick up their album, familiarize yourself and check out one of their live shows. Like was mentioned in the interview above, DSP isn't going to be touring until a couple months from now so you have all sorts of time to get cozy with this album.
Don't Stop Please can be purchased starting November 2, 2013, at their shows and on Bandcamp, Amazon, and iTunes. You can also stream the album on their website, Spotify, SoundCloud and Pandora.