Trudging into the Independent on yet another cold, appropriately misty San Francisco night, I was quite honestly exhausted and wishing I was in my bed. While I had been wholly captivated by Father John Misty at Outside Lands last month...my bed was so warm. However, I made the adult decision to stay and enjoy the show. Thank God I did. Father John Misty's debut album is entitled Fear Fun, but their live show proves that they do anything but. On the contrary, these hard-rocking, booty-shaking masters electrified the Independent on Wednesday night. Preoccupied by an all-consuming desire for my bed, I'd apparently forgotten just how much frontman Josh Tillman could move—but I'll get to that in a second.
Father John Misty is a six-member folk group led by former Fleet Foxes' drummer Tillman, who ditched the drums and stuck mostly to singing on Fear Fun, which was released May 1, 2012. Don't get ahead of yourself—Father John Misty is vastly different from Fleet Foxes. Anyone who compares the two isn't listening properly. The Foxes deliver a pleasant, drifting, string-driven, light-hearted folk sound, while Father John Misty unveils a lyrically edgier and instrumentally heavier rockin' folk.
So, back to Tillman's moves. It's a good thing he ventured out from behind his drum set to form Father John Misty, because he might be one of the most honest, alluring, fluid frontmen we've seen in awhile (and he knows it—which only makes him sexier). When he ventured onstage with his tight pants, unkempt hair, and tattered Grateful Dead 1984 Fall Tour shirt ("I'm not wearing this shirt as some kind of condescending gesture. I happen to wear it every day of my life."), he resembled every other male San Francisco resident. He didn't give the audience a second to consider him before getting down to business, swaying his hips left and right and kicking his feet in the air as soon as the music started.
Let's talk about his hips. It's my belief that Tillman's heart rests between his hips. (No, I'm not just saying that because I'm a single 20-something fangirl who thinks he's sexy. Yes to all of that, but hear me out.) His hips directed his entire body's movement, acting as the catalyst to the rest of the limbs. When he was singing, he mastered a suggestive little jig confined largely to his hips and his shoulders, alternating subtle jerks in every direction. With the music at full force though and his singing duties on deck, his hips controlled the show. The rhythm poured out of them and pulled him (hips first) across the stage, bringing him down on his knees (and sometimes his stomach), and effortlessly right back up again. Even when he was crouched down, kneeling on the floor, his hips were moving. His arms followed suit frequently, but they flailed a bit more wildly, their direction stemming from his pelvis but losing control near his hands. More than a few times, Tillman bent backward or forward almost entirely to let his hips take the spotlight. And every time, they delivered. Coming from a man who penned a song titled "Only Son Of The Ladiesman," we shouldn't be surprised.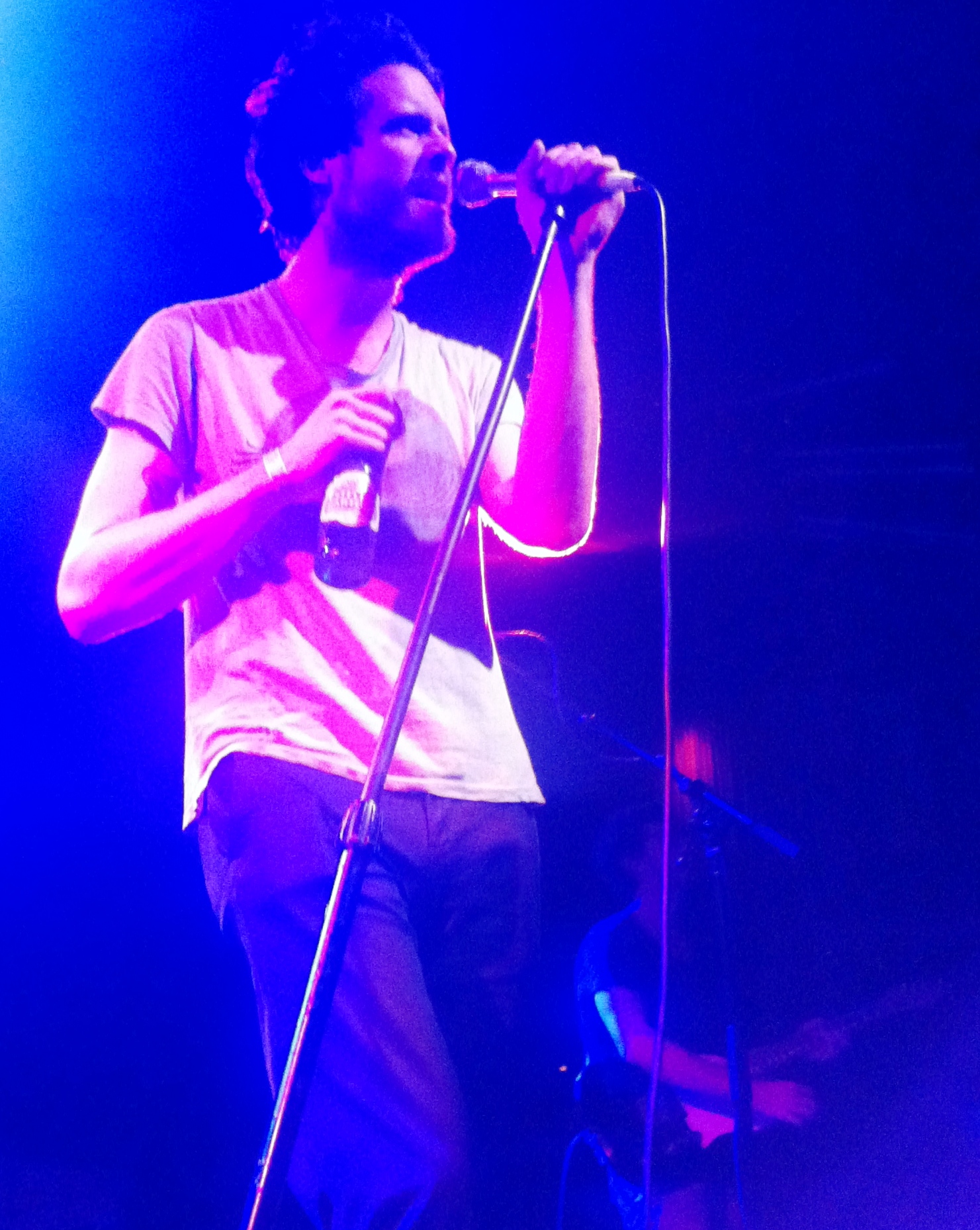 Tillman's high energy was shared with the rest of his bandmates, but they remained a little more stationary (although bassist Jeffertitti had a respectable, widespread bounce in his performance). Fear not—Tillman's hips often guided him to each of them, one by one, at which point he proceeded to do the Eighth Grade Grind or some degree of an ass-slap. While his band members were partially restricted by their instruments, their low-key presence proved how much of their music came from Tillman's own heart. Sure, they seemed dedicated to it, but no one came close to expressing emotion like Tillman. As he was singing his own words, he was clenching his fists, pulling his hair, reaching out to the audience, and sometimes singing-spitting à la Conor Oberst's signature. At times his feelings—be it anger or ecstasy—were so vibrant he gave the impression that he was in his own head, performing a monologue, earnestly trying to make a connection with someone we couldn't see. His facial expressions matched every word and emphasized every different tone, ranging from concerned to loving to conversational. Tillman is a true performer, acting out his lyrics and bravely baring the depths of his mind using his body.
Father John Misty's set was less than an hour (Fear Fun clocks in at just over 43 minutes) but it was so loose and empowering, it felt like four minutes and 43 hours at the same time. They closed the show with a medley of John Lennon's "Mind Games," melting seamlessly into The Flaming Lips' "Do You Realize?" I walked away from the show inspired, emotionally reeling, and musically turned on. Oh—and burning with jealousy for the girl who gets to spend her nights with Smooth Moves Tillman.