Feb. 28, 2007 @ The World Café Live, Phila., PA with Earl Greyhound and Arizona Post show – Tom Hamilton's American Babies (upstairs World Café Live)
Seeing any band at this acoustically perfect intimate new venue is great in and of itself. Tonight there were three bands to perform. First, playing their first show of their first tour ever was a really impressive band named Arizona. They were voted Deli's New York City band of the month in February, and I understood why. They have a great sound resembling The Velvet Underground, and the lead singer exhibits a Shannon Hoon type singing voice. They have a lot of potential to be a successful touring band.
The next opener was a hard rock visual orgasm. I couldn't take my eyes off of this band. Earl Greyhound was big in many ways. Their drums were big, their afros were bigger, and their sound was biggest. Resembling an old blues rock n' roll sound like Led Zeppelin or Raging Slab, Earl Greyhound has a way of capturing an audience. Big Ricc Sheridan (drummer) is a strong man dressed like a 70's movie star with cut-off sleeves and sunglasses. Kamara Thomas, the lascivious bass player seduced the crowd with her erotic swaying from her knees, her Baad Asssss Pam Grier afro, and her sweet and sexy voice. Finally, Matt Whyte, the long haired skinny blues guitarist and lead vocalist drove most of their songs throughout the night. This threesome is fun band to see live.
The Slip came on and personalized their entrance with a beautiful acoustic guitar and vocal opener, "Life in Disguise."  The sound was pure and on time at this venue. A long time Slip fan named Stites said, "The sound is so much better in here than it was at their last show at the Electric Factory with My Morning Jacket." Most of the night was graced with many of their songs from the highly touted new album called Eisenhower. This album got a lot of press this winter with its release, being that the band's sound evolved again drastically, this time to the extreme pleasure of many of its listeners new and old. The contemporary avant-rock trio has a long history touring, but for some reason this album captured the hearts of independent radio stations, other musicians, and people of all different musical tastes.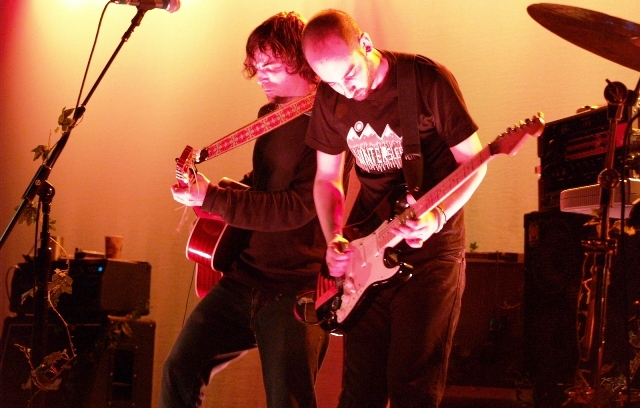 As the show progressed the experimentation and guitar/vox magic by Brad Barr led the charge. The crowd seemed a little lackluster during the show, but after "Airplane/Primitive" and "Even Rats", the song featured on the popular playstation game Guitar Hero, there was a small spark in the crowd. Then bassist Marc Friedman thundered into "First Panda in Space," while the Barr brothers played sound effects and improvised percussion. This started a really interesting barrage of loops, dubs, and overdubs. Brad Barr's talented and original approach to the guitar was demonstrated with harps, slides, effects and other unexplainable creations of musical pleasure. Then they played the song that was ruined for me by the radio. "Children of December," probably their most popular song from the album rocked live. I was so impressed. Over the studio version, I prefer the song live with vocals echoing, and Barr ripping his guitar solos. Towards the end of the song Barr was pounding on the back curtain of the stage causing a trippy rippling visual effect for the crowd to enjoy. Friedman's surf type ending also added a live quality to what I feel is a boring studio song also played by the band on Conan O'Brien earlier in the month. Jim James of My Morning Jacket, however, is a big fan of The Slip and said about this song, "Children of December' is the song that hit me the hardest. The way the guitar and the melody interlace is incredible…it could even appeal to some kid who really likes punk rock. It's really challenging." (Sunday New York Times, July 2, 2006) Finally, they concluded with one of my personal favorites, "If One of Us Should Fall," a smooth feel good song that leaves that left the crowd with a smile.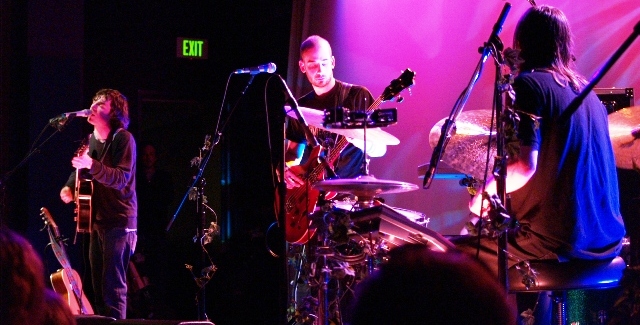 As I was leaving the venue I heard that Joe Russo from the Duo was playing with Tom Hamilton's American Babies upstairs, so I decided to go check it out. To my dismay Russo apparently couldn't make it, but Aron Magner from the Disco Biscuits was sitting in on piano, and since I was already there I decided to watch the show. For those who don't know, Tom Hamilton is the leader of the progressive Philadelphia local band called Brothers Past. Hamilton was ending his monthly residency at the World Live Café, a booming venue in the city. Most of the songs that they played were country infused Americana type songs. It was very mellow and a bit slow. On the other hand, for someone in only their mid-twenties, Hamilton has the soul and vision of an older man. There is also a very interesting mix of instruments on stage (acoustic guitar, pedal steel guitar, bass, piano, xylophone, and male and female vocals). I think they were really missing Joe Russo for this one.