With a voice as chilling as Janis Joplin's and as sweetly strong as Eva Cassidy's, Grace Potter proves that behind her girl-next-door bangs and thrift store-chic style, she has the chops to make rock 'n' roll history.
A piano playing Amazon who captures all the retro appeal of a real woman singing about real-live truths, Potter heads up a band considered one of the 'most soulful' on the scene by Bonnie Raitt.
The Boho boldness is an enthralling blend of poetically deep lyrics drenched in a new level of artistic honesty, southern rock accompaniments and straight up teeth-gritting tenor.
As a main course on the festival circuit, Potter and the Nocturnals managed to sandwich in a gig at the Fox days before Rothbury. Their mountain-town stop was received like a visit from Santa in July. On this night, the Nocturnals brought with them two very special gifts in the form of new bassist Catherine Popper and guitarist Benny Yurco.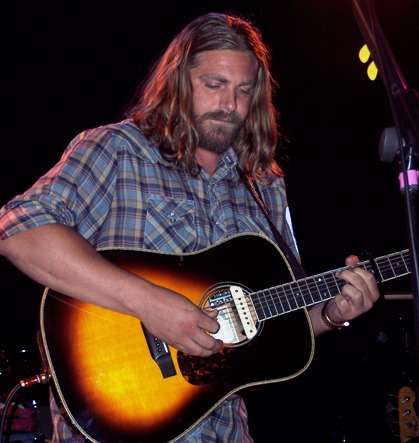 Before this Vermont vixen and her posse took the stage by sassy storm, attendees were caught up in the powerful, yet sensitive, rapture that is White Buffalo, a.k.a. Jake Smith. This artist crafts exquisite musical hooks and lyrics that will make you want to venture to the top of a grassy hill barefoot with nothing between your soles and the dewy blades.
A rugged storyteller, whose vocal tone is reminiscent of Eddie Vedder, captivated the audience with his songs about dark pioneer days and falling for a lady of the night.
'The Madman,' captured all the folkloric legend of a crazed individual on the run from angered citizens. Like a townie spewing some tale around a thriving campfire, White Buffalo's speedy tone captured a sense of panic and drama that is rarely found now-a-days.
'Where Dirt and Water Collide,' a slower ballad, with lyrics like "Can I hide in your breeze awhile…" came on as refreshing as the scent of ocean water in the crisp air.
Backed by drummer Matt Lynott, whose skills rival those of John Bonham and super tight bassist Tommy Andrews, this act proved memorable.
White Buffalo closed the night with 'Pilot,' a song saturated in the kind of moving vocal tone that induces chills. But, who would expect anything less from an artist whose stage name conjures up an image considered sacred by Native American tribes. White Buffaloes are seldom born, and when they do venture into this world they appear robust and uniquely exquisite, much like our mind-blowing opener.
During intermission, roadies tied red flower arrangements around mike stands, amps and the piano— a sure sign that this gig was going to be vibrant.
Decked out in a flowy red gown, that matched the buds draped around the stage, Grace made her appearance and was instantaneously met by a wave of warm 'whoots!'
They opened with 'Some Kind of Ride,' taking audience members on a rollercoaster of rock where Grace's voice dipped high and low into new territory.
'Stop the Bus' exuded all the quirks of life on the road and provided sock-rocking guitar playing.
'Apologies' started with the kind of piano playing reminiscent of Crosby, Stills, Nash and Young. The cottony-soft ballad about past love soaked audience members with its sincerity, which oozed like raw honey.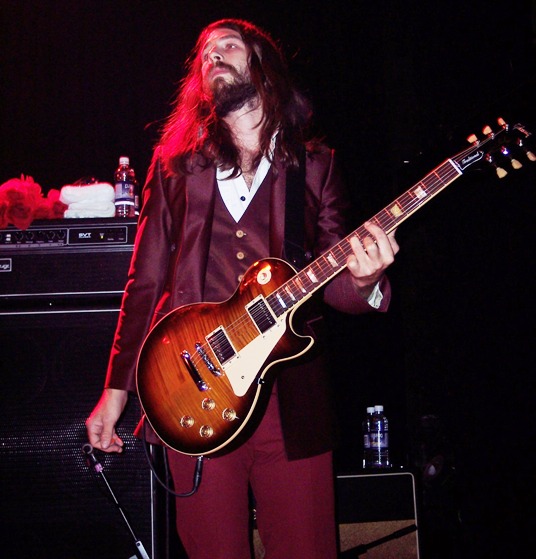 During 'Big White Gate,' Grace seemed to take on the persona of a woman who hadn't always walked the straight and narrow. She sang with a sense of sadness, 'My body's aching from laying in this bed/I went singing in the rain and the cold got to my head/I don't know who's paying/I just know what the doctor said/Eighty-four years of a sinning life and in the morning I'll be dead…' With the feel of redemption and reflection, came country-fried vocals.
A fierce cover of Robert Johnson's blues-laden 'Come on in my Kitchen' kept the crowd grooving. While 'Toothbrush and My Table,' with its lyrics about demanding stuff back from an ex, combined witty lyrics and hip-smacking hootzpah.
At one point all members converged on the drum kit, each slamming and slapping the skins as if they were one well-oiled music machine. While this act sounded tribal, the very appearance was as uninhibited as toddlers going to town on mama's cast iron skillets.
A trippy cover of Jefferson Airplane's 'White Rabbit,' that would have made Grace Slick turn emerald with envy, brought the psychedelic vibe out in full feed-your-head force.
The encore came on slow like a tornado gracefully picking up speed and fury.
'Nothin' but the Water' started with the simple tinge of tambourine and Grace's voice billowing out.
Eventually the band jumped in head-first providing powerhouse instrumentals that matched Grace's locomotive tone. 'Come on water sweet water wash me down…,' Grace sang like a sinful saloon singer who was desperate to be water bound.
The girl can belt it out. Whether she is swaying her red mane around while busting out dance moves on a piano stool or gingerly tapping the tambourine, Grace proves she can hold the audience's attention as if it were a monarch butterfly cupped between her strong hands.
This night was dizzyingly fun. What started with a shot of whiskey in the form of White Buffalo was topped off with a night cap of sweet Frangelico by Grace Potter and the Nocturnals. Warm, fully-bodied and completely organic, these acts boldly reminded us of the potency that pure art can possess.