What do you get when a band known for their funky grooves decides to pair up with a soul soldier to recreate the hip-shaking magic of a legendary posse? Pure perfection. A few days shy of Halloween, the Motet, along with guest Gail Muldrow who lent her blistering guitar and vocal skills to Sly and the Family Stone throughout the seventies, came together for a set as colorful as the band they were honoring.
Starting off the eve with 'Dance to the Music' members of the Motet, some decked out in dashikis, set the manic mood. A single steady drum beat flooded into a rapturous ocean of guitar, bass, keyboard and horns. The costumed crowd soaked it up from the initial chakra-igniting notes. An abdominal snow ape and a spandex clad-Leeloo from The Fifth Element got down.
The soulful beats paired brilliantly with the fantasy atmosphere like a very outta-sight platter of Cab and brie. This Fox gig offered up a psychedelic playground of sights and sounds for fans to partake in. All one had to do was surrender and leap arms outstretched down the rabbit hole…and leap they did.
"Stand" with its rebellious rhythm and air of revolution, came off politically charged, but still maintained its groovability.
'Everyday People,' the quintessential let's get along anthem, sounded as good as it did when it first took the music scene by storm in 1969 when it held the top spot on Billboard's Hot 100 for four weeks.
During this track, Muldrow took the reigns by adding her vocals, "There is a Blue one/who can't accept the green one…."
Slowing down the hurried vibe of 'Thank You (Falettinme Be Mice Elf Agin),' the Motet managed to morph the old-school favorite into a novel tune with the smoothness of churning butter. Rich and undeniably delectable this savory song spread through the crowd with a sense of melodic wonder.
During 'You Can Make it if You Try' the bands' vocals came together in harmonizing glory, like a pack of angelic beams of hope held together by the force of funk.
The initial guitar intro to 'I Want to Take You Higher' pretty much captured the mood of the night. With ever 'boom chachalacha' billowing out of our well-oiled musical machine, fans were taken even further on this musical journey.
'In Time' mellowed things out a bit with its smooth key-laden grooves. When Ingber belted out, 'I told you it's not the teachin' it's the learnin,' he came across as a wise afro-clad philosopher.
During 'One Way,' Danny Porter wailed away on the keyboard, leading a very freshly organic instrumental jam. Vocals chimed back in, but quickly gave way to a mind altering horn section's sassy screams.
During 'If You Want Me to Stay,' Jans Ingber's vocals charted new territory, dipping into highs and lows, while attendees swayed sensuously to strong sax playing courtesy of Dominic Lalli. It came on like a sun shower of aural delight, refreshingly reigning down on attendees—each note holding a reviving energy.
'Shine it On' started with heavy bass slapping leading into vocals by special guest Paul Creighton, who made the trip in from Portland, Oregon for this festive night. As he belted out, 'They may not like/the way you walk/They may not listen/when you talk," it was clear this man was more than just a good dancer in a bad seventies wig. Creighton's vocal ability matched some of the best on the soul and funk scene.
'A Family Affair," with its soulful lyrics and we-a-tribe vibe, catapulted the feeling of togetherness to a whole new level. Pink-wigged ladies linked arms with punk princesses and belted out the words with passion.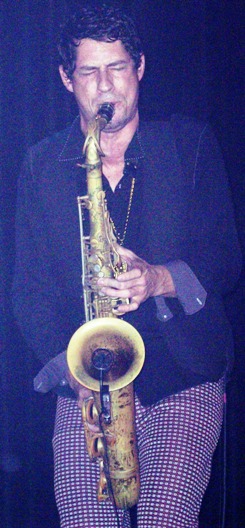 You could tell the musicians were fully feeling the funkdafied freedom as they busted out a bevy of different moves—a free flowing culmination of steps reminiscent of the late James Brown.
Throughout the night multiple televisions displayed montages of retro footage of Soul Train like images adding to the already present obscure atmosphere.
'Loose Booty' gave the crowd yet another opportunity to let it all hang out.
Weaving songs together with the skill of hip knitters, the Motet took these classics and made them their own—slightly new takes on the old greats.
Part cover band, part originators, these rebels of sound managed to put on a show capturing the real raw-joy that can only be found in an amplified collage of booming bass and lusty licks.
Taking a step back from their own electro salsa jazz, this Boulder band stretched their sound with the ease of manipulating a fresh piece of taffy.
On this pre-Halloween gig, the Motet proved to be givers of a tart treat whose energy and power couldn't possibly fit in a tattered pillow case.