On Nov. 17, Denver's Ellie Caulkins Opera House was filled with the sweet songs of lost love, simplicity and addiction. The source of this therapeutic rapture was former shoe-factory worker turned folk phenomenon Ray LaMontagne. With a voice that harbors the kind of goosebumps and butterflies that first love brings, he captures the many emotions that coincide with the human condition.
An every-day man armed with a guitar and his own truth, Lamontagne breathes new life into a genre which was thought to have reached its pinnacle in the '60s. Getting back to basics and producing the kind of music one would hear billowing out of an isolated cabin on a mountain top, LaMontagne brings the genuineness and rugged gentility back to rock.
Retro, but at the very same time very now, like a carpenter of notes and harmonies he has managed to carve out a deep and influential niche in the rich mahogany wood of music.
On this Tuesday eve, attendees got a very talkative LaMontagne, who seemed to feel the desire to not just serenade us with his art, but also give us glimpses into his personal life and the very spider web of thoughts which jumped off his tongue freely. From mentioning his brother who is serving time in prison to bringing up his experience on Elvis Costello's Sundance show Spectacle, LaMontagne's commentary like his music came off tried and true.
Before he took the stage, an unknown, but very refreshing, opener graced us with her candid presence. With locks of gold and fairly large glasses, Lissie came off as completely in the moment— endearingly grooving to all her own songs as she played. Her often jerky, almost angered, movements complimented her voice that was reminiscent of both fresh cut steel and windswept sweet grain.
Her rendition of Hank Williams Sr.'s 'Wedding Bells' came off beautifully sad and honest.
During 'Everywhere I Go' her vocal ability and artistry shined like a stained-glass mosaic propped up against a sun-soaked window.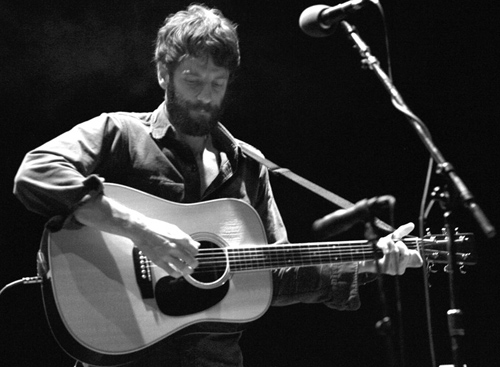 She closed her set with 'Little Lovin.' This spunky tune that mentioned the mighty Mississippi and getting a spot in heaven was captivating, much like the graceful sway of a tire swing in a twister.
After flashing the peace sign and thanking us for our attentiveness, she made her exit.
LaMontagne served us 'Empty' early in the night. The self-actualization seeped out like sap from the initial lyrics of, "I never learned to count my blessings/I choose instead to dwell in my disasters.'
'Jolene,' exuded all the makings of a touching novel about the hardships that coincide with letting another love you when you ravel in self-destruction. With lyrics like 'A man needs something he can hold onto/a nine pound hammer or a woman like you,' LaMontagne proved he could craft lyrics that even old notable writers would envy.
He played 'Sarah' while an old black and white of a train track humbly lingered in the background—like a reminder of journeys past and those yet to happen—a true artistic pairing of sound and sight.
During 'Narrow Escape,' LaMontagne wailed away on the harmonica with the strength of an old locomotive.
'Winter Birds' a folk ballad was lullaby-like.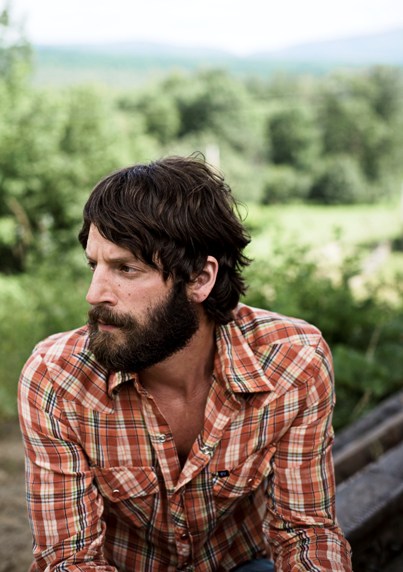 He paid homage to a very fierce female voice of country music by covering Lucinda Williams' 'Fruits of My Labor.' From the initial lines of, 'Baby, see how I been living/ velvet curtains on the windows/ to keep the bright and unforgiving light from shining through' it was evident that this was a tune just waiting to be covered by LaMontagne.
'You are the Best Thing,' the normally horn-laden jazzy single, was turned into a completely different species— one still with a thriving heartbeat, but possessing a slow and steady pace.
LaMontagne even stopped a few lines in to have the sound guy make some adjustments— an act that was praised by fans with a ravenous round of applause. Adding in some lyrics that didn't make the record version—'A junkie's desire/an angel's fire' he let his artistic integrity jump out of the cage headfirst. His earlier mention of the fight to do your own thing in the business and the hassle of meeting with industry guys to 'talk shop' seemed to resonate stronger than ever.
With the first initial strums of 'Burn,' LaMontagne unleashed a raspy 'Ohhh Mama!' with the ease of breathing.
'Trouble' offered up an abundance of heart-stop moments where you couldn't help but find yourself overcome by raw talent. As he belted out 'I've been saved by a woman…'it was as clear as vodka that he meant it.
'All the Wild Horses' came out graceful and mysterious, much like a pack of untamed heavy-hoofed chestnuts galloping on white sand. LaMontagne's powerful, yet soothing, vocals conjured up chills and a standing ovation.
Like an aural shot of warmed-up whiskey, his performance gave attendees a balmy lingering buzz, one that left them high off his amber-infused presence.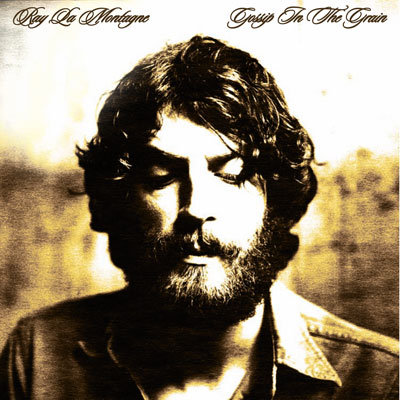 While panties weren't thrown on stage, comments of a naughty nature were dispersed by certain female fans throughout the set. 'We're gonna make babies tonight, Ray!' one woman yelled. LaMontagne, a self-described 'facilitator of romance,' seemed to take these outbursts in stride.
The  combination of LaMontagne's voice and songwriting is like a strew of old skeleton keys or an antique typewriter, it holds a mystery and force that can't always be expressed—but when you are in the same room with it, it manages to captivate your attention and flood your mind with the sort of inspiring thoughts that give you a reason to wake in the morning.