On Sunday, the Boulder Theater simmered with genuine blues bravado, the kind that clings to the air with an intoxicating presence. The source of this beautifully hazy down-home sound came in the form of guitarist and vocalist Robert Cray. This velvet-voiced musician has earned the approval and praise of Eric Clapton, Diana Ross and Tina Turner— and after experiencing his emotion-evoking gig, it was ever so evident why.
Cray, a man who is responsible for igniting the '80s blues revival, came across as a melodic voice of the people. With an Otis Redding tone, and a Dylan-esque story-telling style, Cray's songs go down smooth, and leave a lingering buzz, like a straight shot of gin.
Before Cray took to the stage, attendees were treated to the sounds of Denver's own Delta Sonics. Producing a mixture of blues, jazz, swing and all around juke-joint jamability, these skilled musicians set the mood. Al Chesis' harmonica playing was reminiscent of Little Walker, while his blue suit was akin to the threads of Little Richard.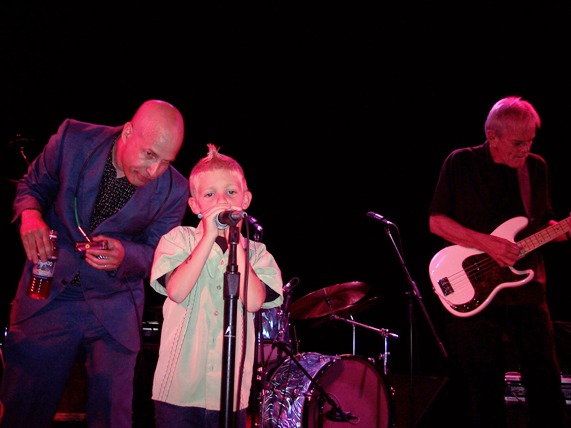 After a swing-heavy opener, the Delta Sonics jumped into Sonny Boy Williamson's classic, 'Red Hot Kisses.'
During a cover of Muddy Water's 'I Done Got Over It,' guitarist Erik Boa showed off some vocal skills that would have made the originator proud.
A few songs in, the boys welcomed the 'world's youngest harmonica player.' A miniature mystery man, sporting a blond Mohawk and press-on tattoos made his way up to the stage. With encouragement from frontman Chesis, "We gotta keep this music alive," the talented tike wailed on the harmonica like an old pro. This youngster's skills on the harp motivated blues aficionados to migrate from their seats and secure a spot on the dance floor. His very presence acted as a reminder of the undying nature of soulful music.
The Delta Sonics pushed musical collaboration to the next level, when Chesis actually held down chords as Boa strummed away on the very same six-string. The local group's set came equipped with on-stage jumping, shoe-shuffling and the overall spicy showmanship of yesteryear.
Up next, Cray and his band of tight musicians walked on stage ready to generously disperse their songs that highlight the constant complexities of human existence. The amps behind them ironically and appropriately read 'Matchless.' From the first few seconds of playing, I realized the name stamped across the amps encompassed so much more than the brand of equipment, but stood as a reminded that we were in the presence of greats.
'The Smoking Gun' had all the drama of a cinematic scene in the form of moaning vocals and guitar. Its subject matter of suspecting a woman of two-timing was paired with the aural fret and anxiousness that came forth from Cray's guitar.
'Right Next Door' articulately laid out the turmoil that occurs after a mate has been caught cheating. In this particular tune, Cray took on the persona of the man who had laid down with a taken woman. He listens to the couple argue through paper-thin walls and quickly realizes he is the reason for their turmoil. He sang with conviction, 'She was right next door and I'm such a strong persuader/That she was just another notch on my guitar…'
During 'Poor Johnny' he switched to the role of wise narrator singing a cautionary tale of a high rolling cool cat who received a beating due to his habitual bed-hopping. When his ladies find out about one another they decide to 'teach him a lesson and make things right…'—which may have consisted of putting Poor Johnny six feet under.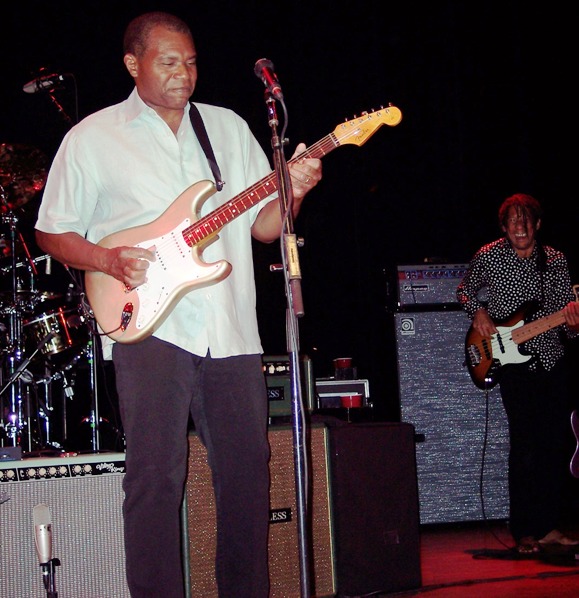 'Chicken in the Kitchen' told the tale of a man who slaved over the stove for his lady, only to find her stumbling home after supper hours. This tune about domestic duties not being fully appreciated came complete with the sort of blues guitar playing that B.B. King would have savored.
Cray dove right into Elmore James' tune '12-Year-Old Boy' with knock-your-socks-off guitar playing and continued with lyrics tinged with deep-seated vocal emotion.
'The Bad Influence' had a Muddy Waters feel, with its lyrics about a woman taking every last dime. Cray's exceptional tone and range was showcased during this old song that still held so true.
The most hard-hitting moment came with 'Backdoor Slam,'— a bad-boy mantra played with pure sumptuousness by Cray. He sang the opening line, 'I was born in the backseat of a travelin' hurricane…' and from that moment the audience was swept up in his song. The groove-laden chorus and keyboard charisma kept fans in the eye of this instrumental storm.
The five-time Grammy-award winner concluded the night with a sense of humbleness, closing out the gig with 'Time Takes Two.' The bone-chilling ballad about timeless love had Cray wearing his blues-infused heart on his sleeve. Its stand out guitar intro embodied the very feeling of sorrow.
This veteran of music put on a flawless show where perfect pitch and precise guitar playing was offered up in a way that seemed as effortless as taking a deep breath. Soft spoken, but exuding a coolness much greater than the other side of the pillow, Cray proves that like wine, blues musicians only get better with age.