Grateful Web recently had a chance to speak with Jesse Miller from the instrumental/electronic band, Lotus. Jesse and Lotus are gearing up for their headlining show at legendary Red Rocks Amphitheater in Morrison, Colorado. Jesse was kind enough to spend a few minutes to talk about some new Lotus' projects, what music he's enjoying nowadays, some of his influences & why folks should come out to Red Rocks this Saturday night.
GW: Hi, this is Phil Emma with the Grateful Web here with Jesse Miller, bass player and sampler from the band Lotus. Welcome Jesse
JM: Thank you
GW: Let's get started here. So, first you guys are coming to Red Rocks, pretty exciting and you have a lot of new things going on: some videos and a self titled album.  Is there anything in particular you want your fans to know about this album? I know to me that it kind of captures the sound of an evolution of your band from the beginning up until now.  What do you want your fans to know about it?
JM: I mean, it's been out, not quite a year ago, but I think like last September, so its been out for a minute.  I think it's some of the strongest writings we've ever done.  I was really proud of how the writing came and how it came together sonically. I really like how the recording and mixing went down.  I think it's really a strong effort.   If fans haven't heard it yet I definitely encourage them to check it out. Especially get it on vinyl if you have the ability to play that I think it sounds the best
GW: of What you are working on, one of them is kind of a hip hop albumm, what inspired the rap genre album?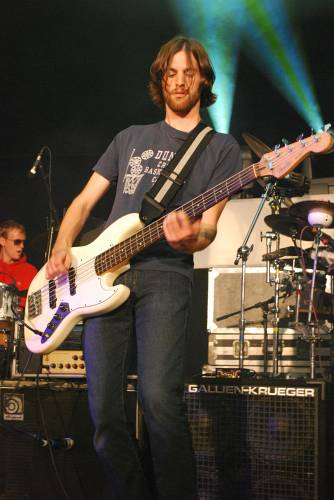 JM: Well that was a project that, actually we kind of started working on some tracts with Mr. lip when we were working on the self titled album... When we started putting together the whole album those tracks didn't seem like they fit in with the other tracks so we didn't include that with the album. But we had these tracks and we were like well we can take these and do a special release with these two tracks. Then we were like maybe we can expand that a little bit and make it an ep and then really it just kept growing and we kept working on tracks and bring in new collaborators and it became a full album.  Its going to be different than a traditional lotus album because its remixes of some of our stuff and obviously very focused on the MCs so it won't sound like a traditional lotuis album but it was a way for us to push into some new territory and try out some new things and I'm not sure exactly when people are going to hear that. But I think it's a pretty interesting record.
GW: Great.  Yea you guys are definitely never afraid to push the envelope.  One of the other ones you are working on has a bit of an indie vibe to it?
JM: Well, in addition the hip hop we have just been recording a lot of music so right now we don't know exactly how it's going to break up. There is some stuff that is definitely more on the electronic side and some leans towards the, hard to put it in genres but they are exploring some different types.  So it might be one album or a couple different eps or two albums, or I'm not sure how this stuff is going to go together.  Basically we have been recording and writing a lot of music over the past year, These are the main things that make it up and how do we want to go from where we are right now I guess.
GW: Now, you guys have played many theme shows throughout your years, Live fast and die young 27 conspiracy where you guys all represented someone who tragically ended at the age of 27 and played their mu8sikc and you have the robot show, David bowie show and black Sabbath show and the fun video game music show and all those stage antics all the people love quite a bit. Anything like this/ or anything up your sleeve for red rocks next Saturday September 8 or anytime at the end of your tour?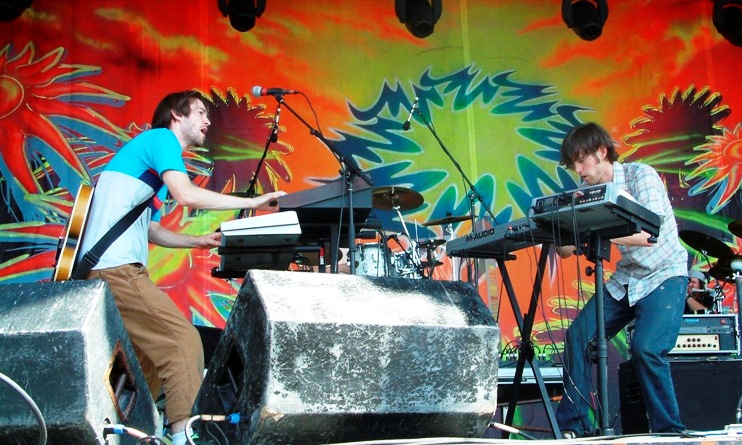 JM: Well we aren't planning a whole theme show but we are playing a few surprises, some things that people haven't heard before or haven't herd in a long time.  We are still working on it and we want to make it a special show and have some ideas going on for that.  We always like to keep it interesting for ourselves and also interesting for the fans.  We try to build the fact that covers a lot of grounds that maybe. There's always some older lotus there, some new Lotus. We will definitely be dropping some special things for Red Rocks.
GW: Of course.  It's a great venue.  I remember seeing you guys back in the day, because I'm from Philly originally.  I live in Boulder now.  I remember seeing you in '04, '05 & Wakarusa '06 I reviewed that show. Jam on the River I used to live in old city so that was right across the street from my house that was a fun show. The Jammys, and most recently I saw you guys in Mishawaka  All amazing places.  What are some of your favorite places to play?
JM: Well i guess, some for me are, actually just covering a lot of territory.  Some clubs that are our favorites are, 930 Club in D.C. National in Richmond. One of my fav festival spots are Rothbury that happened a couple years back. And obviously Colorado, we love playing the Fox we played many many times there. And I really enjoyed the Fillmore Denver. And of course Red Rocks is just amazing. It definitely ranks up there as probably one of our favorite places to play.
GW: Nice. Here is kind of a strange question. Who is Lou Carcolh?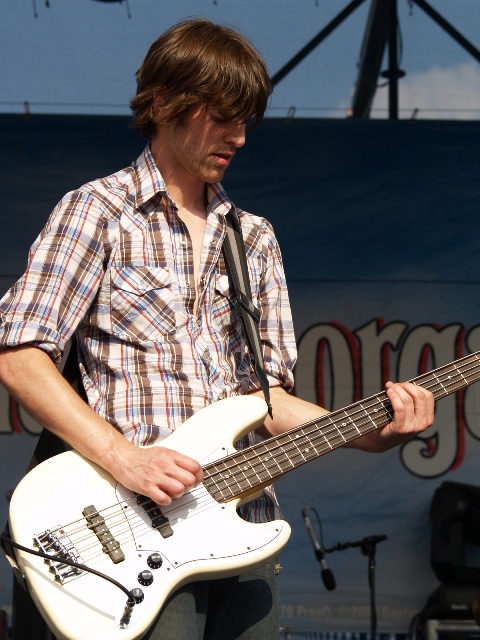 JM: (Giggles) I believe, I may be wrong here, I believe it's a mythical creature out of French mythology some kind of hybrid between a dragon and a chicken. You might have to Google that one but I'm pretty sure it's some kind of fantastical creature (Giggles)
GW: Ok, well I'm sure that's going to answer some question for a lot of people. And then on a more personal note, I remember when I went out to dinner one time with Brian Jordan from Karl Denson.
JM: Yea I know Brian
GW: One of the things that impacted me about the conversation we had, we were just there with some friends. At the time way back when I asked him who his most influential guitar player was.  Because I really liked his guitar style He told me Wes Montgomery. At that time I didn't know him. I dug deep into him and now the world of Wes Montgomery has been exposed to me. Now to bring this back to you who are some of your bass or sampler idols?
JM: It's interesting because people asked me this before. Even though I play bass I never have really thought of myself as primarily a bassist I think of myself more as a composer. And I usually listen to music on that realm... I never really was one to hunt down these really great bass players. I was more in it for the whole picture. Some of the Herbie Hancock stuff that had Paul Jackson on it early on definitely opened my eyes to see what you can do with specific things in funk and kind of rhythm. But I think a lot of other people or instrumentalists are more apt to look up to the player who plays the same instrument. I am more into producers and composers.
GW: Right, interesting. That's good; a lot of people aren't exposed to those people for some reason. It's not really justice but none the less. They are not well known. That's interesting to know. A couple more questions for you. One question that I am interested to know, You know electronic music, like I said I'm from Philly, I feel like electronic music has been around in Philly for a while. It seems to take a turn heavy to dub step and maybe more do interested. Fewer instrument playing. Not that it's a bad thing or that I am insinuating that at all. People like scrillix or pretty lights, Amon Tobin, deadmau5 especially with the younger generation. What do you think about the direction that electronic music has taken?
JM: It's obviously really changed in the last 5 or so years and mainly what people talk about is the explosion amongst the young crowd and some of these acts that are selling a crazy number of tickets  who people never heard of before and pop up over night,. I'm personally not super interested in some of those producers. And that kind of sound to me is kind of digital and very pop oriented sound. I think there has been a lot of very interesting, very musical electronic has been made along side of that and is not nearly has popular. But are also really pushing ahead into new territory. So I think mainly that's partly my taste. It's kind of hard to say that this is good this is bad because its art and everyone has their own opinion.
GW: Right, of the bands you were kind of referring to. Can you throw out any names that you think maybe should deserve a little recognition that are maybe not as well-known?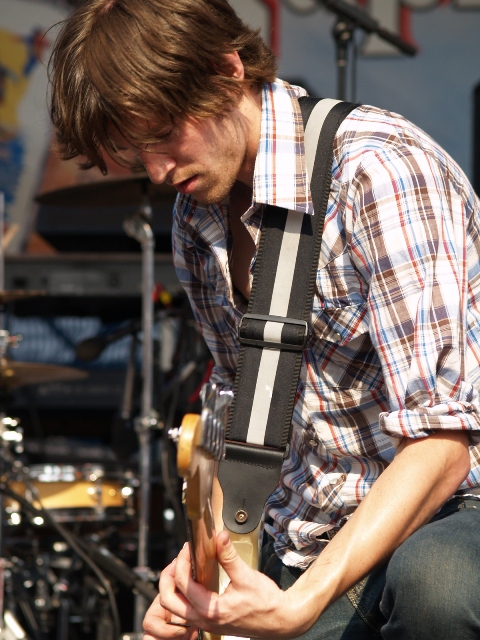 JM: Yea for Sure, some of the ones that I've been into over the last few years, Fourtet has obviously been a fixture for awhile and he continues to make really interesting music. He Kind of takes some of the ideas of crowd rock in this kind of looping propulsive sound and is bringing in a lot of different elements. And to me it has a much warmer sound. I think one of the things that turn me off to a lot of music is that very digital sound where it is all produced on computers. I don't know, there's just a sonic element to me that doesn't like that sound. I think Fourtet has a really good warm sound. Same thing with this guy viral that is making some really interesting music. And one other that I have really been into over the last year is this producer out of Berlin, serious Mo. Who is making this really dancey weird music that doesn't fit in any kind of genre? And any time he puts out a record its crazy but really good it's almost like he could do no wrong. Acts like that, you know, I would be much more interested in seeing over a lot of this stuff that packs out arenas these days. 
GW: Right, I hear you. I'm kind of on the same page as you. That's why I was interested to see what somebody like in making the music in that area....
GW: Alright thanks, and you guys have a show coming up in my old stomping grounds in FDR PARK in Philadelphia , which I don't think I can make it but I am really excited about it. After all, that park is the biggest park inside of an urban city in the world or the country>?
JM: I'm not even sure. There is a big system of parks in Philly.
GW: They say it is 3xs the size of central park. My point basically was that I'm so glad it's being utilized for live music.  SO there are several bands playing there. Are you guys excited for this show kind of in your home town?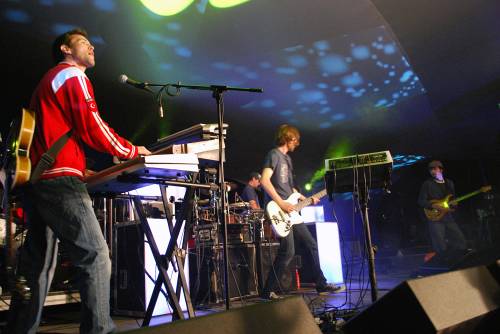 JM: Yea, definitely. I live in Philly. We don't get as many chances to play here as we used to.  We have been playing here about one time a year maybe twice a year over the past few years. So I'm really excited. We wanted to do something that was special and different.  This is kind of going to be a one day festival with Lotus headlining. We have music starting at 4PM. 5 or 6 other bands. We think we put together a really cool lineup.
GW: Yea absolutely
JM: It should be a really great time of year. Mid-September is usually when it starts to get really nice around here.  We are hoping that a bunch of people want to come join us down in the park for a day of good music.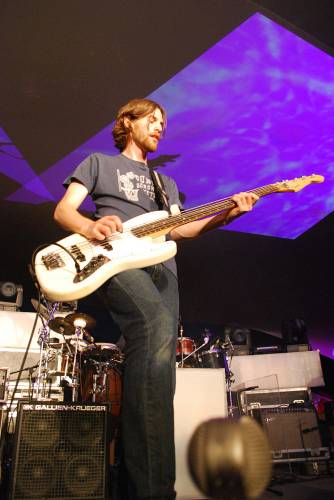 GW: Yea I hope it catches on for the future, for you guys and other bands. That sounds like an awesome thing. I am excited you guys are doing this. It's going be good for the city. Good to get good music out there. Especially to the areas around that neighborhood maybe expose them to music they never heard of, giving a good cultural vibe to the city in general.
JM: I hope so
GW: Is there anything else you want to put out there for everyone to know maybe about your show, albums, or anything you want to mention for Lotus?
JM: Yea, this is going to be our last show in Colorado this year. It's obviously Red Rocks I don't think we need to explain that to people in CO. It's a very special place and we are going to put on the best possible show we can put on. If you have any hesitations about going to the show let those go because this is only something that happens once a year, and we are going to put our all into it.
GW: Awesome well I'm sure a lot of people are excited as I am and you are. I really appreciate your time today. Thank you. I am looking forward to seeing you on the red rocks stage
JM: Awesome thank you.