Leslie Jenkins believes in the power of the blues. She believes in its' power to lift the souls of those who truly are listening. If The Blues were to be a religion, I suspect she'd be in the front pew, ready for a anointing thru music each and every Saturday night. Or – better yet, she might heed a calling and lead the congregation, preferably with a historically accurate homemade instrument. Music - for the farmer and local television personality, is a religious expression to be made with careful consideration.
Musically trained in piano and flute, and the child of a family of musicians, including a grandfather who led big bands, and taught at University of Mississippi, Ms Jenkins was raised to appreciate the spirituality of music, 'from day one,' she said.
Originally from New Orleans, she now resides in Virginia's rural Greene County, and is a self-described "farmer, greenhouse grower, instigator, photographer, and videographer." Who, she offered, also "likes to eat and dance." I didn't witness her consuming anything in the literal sense. But I did meet an earnest music fan, and reverent amateur student of ethnomusicology. And I think she danced some, too. I know I did..
On this night, Ms. Jenkins was also gathering research to assist her younger sister with a college writing assignment. The decision to attend a blues-based concert at a venue named for Thomas Jefferson, in the waning days of Black history month, by a band that was comprised mostly of Caucasians, was not lost on her either. "I mean, look who this place's named for, anyway?" she pondered, as we struck up a conversation in the beautifully restored venue.
I must admit to having harbored similar socio-cultural thoughts while I took in the same performance by The North Mississippi AllStars. But not indignantly, mind you. (Nor do I think Jenkins was, either.) Just as more of an academic mental exercise. The gifted power-trio brought their brand of 'hill country' blues music to historic Jefferson Theatre in Charlottesville, Virginia this past Sunday night. And as the evening progressed, I thought a lot about where I was, historically. And I thought also of the historical significance of what I was witnessing onstage.
I like blues music, but it's not something I listen to everyday.. And it has been years since I'd seen the band perform their own material, and not compositions by The Black Crowes, or those of the sacred music power group, The Word. But a North Mississippi AllStars show is much different, I was reminded. Like putting on crawdads to boil, it just gets hotter, and hotter, and hotter…
The Jefferson Theatre stage manager, Warren Parker, agreed. "I hadn't seen them in forever, and I always forget how just downright badass Luther Dickinson is on guitar. Fun show, and nice guys to boot." Badass, indeed. In early 2007, Luther was featured by Rolling Stone as one of the Top 20 "new guitar gods." And he appears to have only improved, with time.. One of two sons of the late legendary Memphis musician and producer, Jim Dickenson, Luther's first word was allegedly 'studio,' according to various sources. His brother Cody, a virtuosic drummer, and fascinating electric washboard player, is also an accomplished songwriter and guitarist. And the joyfully brilliant Chris Chew, friends with the Dickenson brothers since high school, brings the heat with bass and vocals.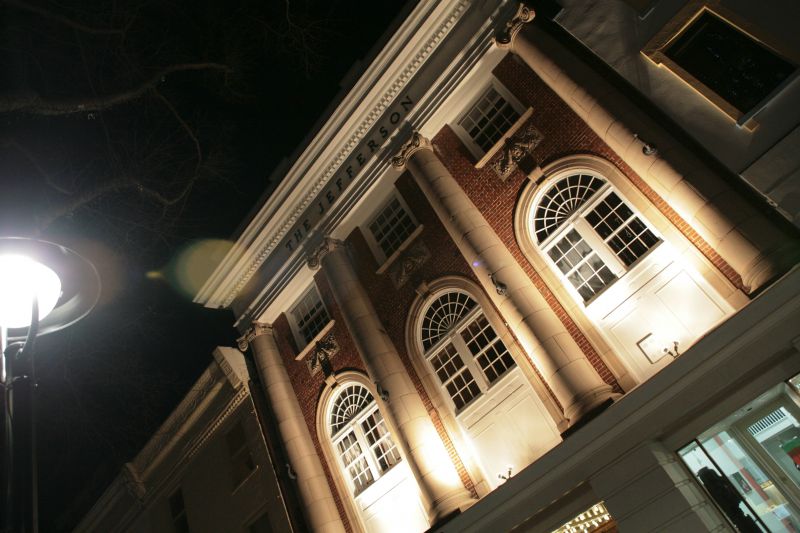 The Sunday night show held many gospel nuggets, blues standards, and rock anthems. Instrument proficiency with this band is so high, just about everything they put out there was spot on. With a singing voice that outweighs the musician by about 50 pounds, and 20 years – the guitarist led the trio thru a brisk set of music, playing with a journeyman's confidence through such standouts as Shake 'em on down, Preachin' Blues, and Goin' down South. The crowd was jovial and ready to dance. Sturgis tee shirts mixed with tie dyes, and the orange and blue of the Virginia Cavaliers. There was good mojo present. Blues just sounded 'right' at The Jefferson Theatre, I reconciled. I got to thinking about it, and was once again drawn into historical subtext, and the dichotomy of human nature. I started with the venue.
Built in 1901 to house a bank, the building was sold to a theater company in 1912, ironically the same year Hart Wards' "Dallas Blues" became the first copy-written blues composition. In its early years, the Jefferson hosted vaudeville acts, silent films, and performers such as Harry Houdini and the Three Stooges. And it also hosted Jim Crow.
Like most public places in the south, The Jefferson had its' Jim Crow balcony, the only place blacks could be patronize the theatre. Various reports assert that this balcony was found behind walls, during the recent multi-million dollar restoration of this historic venue.  I couldn't completely confirm or deny this. But it's open now regardless, and watching the show -- up there way above the teeming crowd below, wondered how patrons of old dealt with the internal frustration of having so little choice in how they were treated. I would suspect they listened to a lot of the blues.
Stage manager Parker describes this 3rd floor balcony as, "…originally a segregated balcony. If you go up there, you'll see that there were no seats at all, just standing room. Also, it's incredibly high up, with a very steep view of the stage. And it's pushed much further back than the lower balcony. I guess in those times, if "the segregated" had to be present, then they wanted them to be as uncomfortable and far away from what was happening in there as possible." Both Parker and I are fascinated by this little slice of this venue's history. Parker said it best, it's "almost as if the building itself has a secret to tell."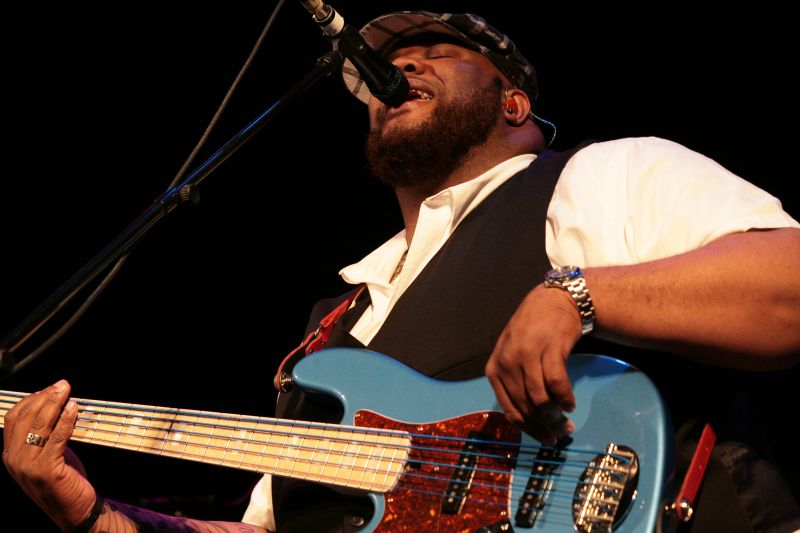 I would suspect there are a number of secrets in that building. During its many decades as a movie theatre, opera boxes that offered only limited views of the screen were walled off. This is likely when the Jim Crow balcony was temporarily lost, to architecture-choking drywall and hideously flocked wall paper. By the late 1970s, it had acquired a reputation for showing so many x-rated films that it was nicknamed "the Skinema." It's fair to assert that the building itself, understands the blues in the fullest extent possible, assuming I may anthropomorphize some bricks and mortar, for a moment.
Gratefully, the significant architectural archaeology done thru Capshaw's efforts has restored this venue to its former glory. Mr. Parker mentioned that there was a rumor that the building was haunted. One wonders who that ghost is – and what they might think of the newest incantation of the theatre. Tonight's music likely fits in nicely with the overall history of the venue. Vaudeville acts often hired blues musicians. It's reasonable to imagine that some of the same compositions the North Mississippi AllStars performed on this night, had been played long before, in the same space. And on this night, the Jim Crow balcony was now a mere historical anecdote.
The name of the venue also offers up its own slice of southern dichotomy and intrigue. Named for Thomas Jefferson, president, inventor, torchbearer for The Enlightenment, and owner of his alleged lover, mother to several of his children, and also a slave, Sally Hemmings. It would appear just anything can happen after the sun goes down, in the Virginia south.
The gospel and blues of The North Mississippi AllStars seem perfectly at home, with the ghosts of music and entertainment's past in downtown Charlottesville. The swinging pendulum between the Christian 'anointing' associated with their gospel efforts provides an interesting dichotomy to the more mythological aspects of a Dionysian experience with music, through their grittier and more hedonist blues compositions.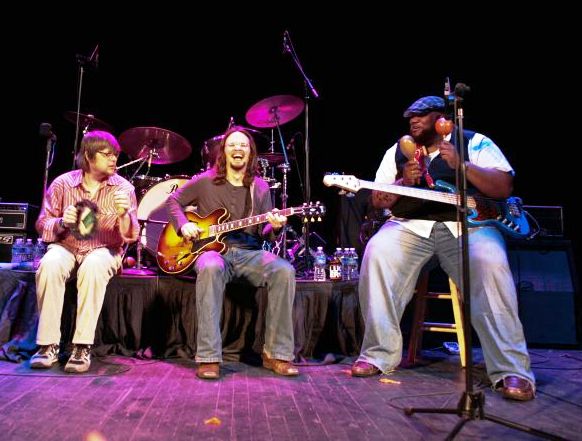 It all depends upon which voice you are listening to, really -- the angels or the devil. That's one of the many ways that the blues personifies human existence, for many people. The dichotomy within it, that's accepted, and lauded – even.
For Jenkins, there is even a bit of a battle for her own attention within the instruments that make up a blues ensemble itself. I asked her to tell me which instrument for her – embodies the blues, and after a fashion, she replied, "I would have to go with stringed instruments, although I think the drum is a very close second. The drum is probably primary in its origination of spirituals, but for southern rock, the guitar," she added.
The blues, it would seem, offer no easy answers. But Jenkins seemed unaffected as she continued, "I feel a "spiritual fulfillment thru music, with special emphasis on triumph over pain, suffering and death." She said alluding to her earlier statements about feeling live music performance was for her, a church-like activity.. And "I get to hear how they did it, & what their special recipe was for that journey," Jenkins said, finally.
I'd like to think that all the ghosts of The Jefferson Theatre, agree..