Our final day on the mountain broke with the most gorgeous fall morning – the smell of camp stoves firing up simple breakfasts, the sound of distant birds giddy with the extravagant catch afforded them by the night's rain, and the sweater-weather wake-up nip of a crisp autumn breeze tousling wet grass and sleepy-head hair all seemed like the sweet morning song of mother nature calling us forward and into the bright world to dance our joy into the soft, wet earth. I worked on my Friday update while my campmates prepared breakfast and shared stories and drinks with our neighbors and other random passersby. As the day crept toward noon, we could hear several of the stages in the distance being set up for the day's shows. I got to hear part of Mountain Sprout's Main Stage set before heading to the media building to send my update, and I'm really sad I had to miss them! They are such a fun band, and they play around Northwest Arkansas a lot so if you live up here in this area, be sure to catch them sometime!
Due to some internet issues (and promising a drunk friend I would wait for him), I ended up not making it to the Backwoods stage to see Kopecky Family Band. I saw them once in Fayetteville last year and really enjoyed the show, so I hope they come through again sometime soon. I had to make sure I was at Main Stage for Elephant Revival, in keeping with my promise to never miss one of their shows. They mostly played songs from their new album and once again brought up Laurie and Katelyn Shook (of Shook Twins) to sing with them. The crowd was dancing like crazy and singing along; after they finished their set, people cheered and screamed for an encore. The performance was great, but I really think that Elephant Revival is one of those bands who benefit greatly from a more intimate setting than a huge festival stage can provide. If you are able to see them in a smaller, more contained venue, I promise you will be overwhelmed with their uplifting music.

I had my first press conference at 3:00 Saturday afternoon, and being the nerd that I tend to be, I figured I'd try to get there early. I was really sad that I couldn't go see Rayland Baxter, but I did get to hear some of his rich, twangy voice coming out of the Harvest Tent. Festivals are really great for getting to see some of your favorite artists and bands all in the same place, and it's awesome getting to camp out and rock out with friends both old and new, but having to pick and choose who you get to see can be distressing sometimes! It gets especially difficult when you are trying to balance getting all the coverage you need to write about the festival, seeing the bands you most passionately want to see, discovering new music, and working with your friends' schedules. That last bit gets a little bit more complicated when some of said friends are inebriated somehow or end up disappearing for a while! Festivals are a juggling act, tossing around stage schedules, social schedules, stomach schedules and sleep schedules. Inevitably something will get dropped. Having a press pass is both a blessing and a curse. You get access to the VIP section and sometimes have the chance to talk to artists you admire and ask them questions. Then sometimes you have to go take photos but you don't want to abandon a friend who is a little too far out to deal with the crowd without a buddy nearby, other times you feel guilty having the best seat at the stage when throngs of people are mean muggin' your badge and your camera.

I was a bit disappointed at first to have to miss some shows to go the press conference, and I also realize now that I was really nervous about going into that building alone and putting on my professional pants around all those seemingly more experienced festie journalists and incredible musicians! It turned out to be a really cool experience though. The press conference included Harvest's hosts and headliners, Yonder Mountain String Band, along with Beats Antique, Elephant Revival, Railroad Earth, Everyone Orchestra conductor Matt Butler, and Al Schnier from moe. (which is kind of random, since moe. wasn't playing at Harvest! Turns out, he was with Butler to play with Everyone Orchestra).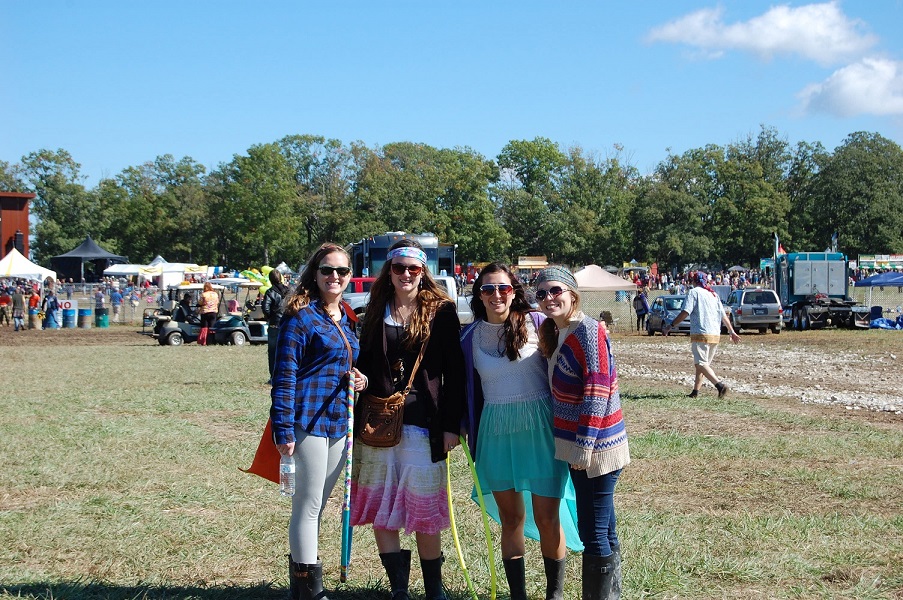 Much of the conversation seemed to focus on the collaborative spirit of Yonder and their festival – every member of the other bands had something to say about the first time they ever experienced a Yonder show. Members of Elephant Revival described being inspired by their expert musicianship, Matt Butler was influenced by the way they collaborate with other artists, and members of Beats Antique talked about how Yonder helped demonstrate the way seemingly disparate scenes and styles of music can be used together to bridge those differences. When asked about how those magical collaborations work one of the members of Yonder (I am kicking myself for not being able to remember who was actually speaking, so feel free to want to kick me too!) explained simply, "We are playing with our friends, and we want to make our friends feel comfortable. Sometimes we just see someone and pull them on stage with us, but usually it's about who's around and who we can get to come play with us. Some just want to know what key it's in, others want to know a bit about the progression of the song – 'Oh, it goes on like this and then this bit is tricky' – and that sort of thing. You don't invite someone into your house and not tell them that you have a moat!" I really think that that spirit of friendship and fun is what makes Yonder Mountain String Band and their wonderful festival stand out. They all seemed like really great, genuine folks, and that sort of thing is apparent by the sort of festival atmosphere they create and the people that it draws. After Yonder had to leave, someone asked a question that led to my favorite part of the press conference: "What bigger cause or message do you hope that you and your bands' music seek to represent?" The overwhelming themes seemed to be environmental issues, collaboration, and the importance of storytelling. Without hesitation, Bridget Law of Elephant Revival answered simply and immediately, "Protecting the planet." Tim Carbone of Railroad Earth mentioned a feature on the band's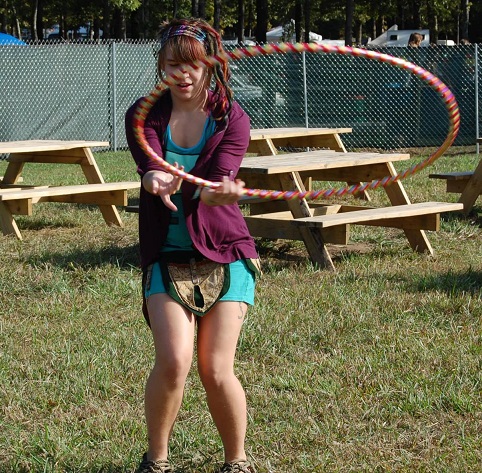 website called The Forecast where people can keep up with issues affecting climate change and stay informed. He then spoke specifically about his personal passion for protecting our planet's water, especially our precious rivers. Bonnie Paine of Elephant Revival also spoke on the importance of water and how it connects everyone on the planet. Everyone Orchestra's Matt Butler talked about the magic of connecting people, of mixing and working with individuals' "alchemical properties" and harnessing that creative, collaborative power to make a difference, especially in getting music into kids' lives and inspiring young people to use music as a tool. The members of Beats Antique all talked about the importance of storytelling throughout human history and it's place in today's music scene. Beats member Zoe Jakes explained a little bit about the band's new concept album telling the story of Joseph Cambell's "Hero with a Thousand Faces," and the role of archetypes in understanding the human experience. She said that as an electronic act in today's youth culture, their band was in a great position to help today's young seekers connect with the threads of the human story and be more conscious and aware of creating that story.
I didn't get the opportunity to ask any questions myself, but I was really happy to have been able to be in that room and learn more about what drives these artists that I admire. Each person in each of those bands is clearly driven by a passion for what they do. There was even a really neat moment where David Satori (of Beats Antique) and Tim Carbone connected on new ways for bands to use their music to help local charities on tour. The whole thing was a surreal experience, and I am very appreciative!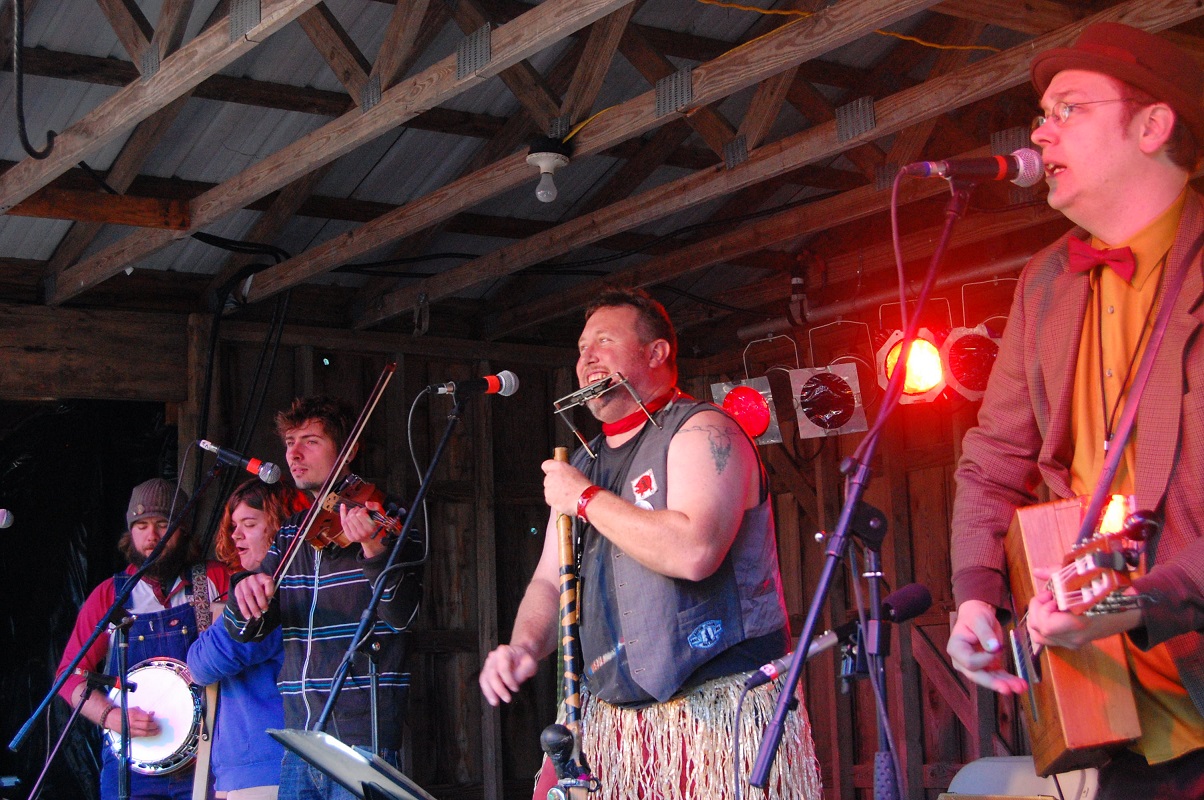 I caught a Festi-cab back down to Backwoods Stage hoping to at least see the end of Deep Fried Pickle project, but I only got to hear the last bit of their set. They seem like a pretty fun band, and their show really had a "front porch" feel to it. I could imagine myself sitting in a plastic lawn chair in someone's yard, sipping sweet tea (or moonshine) and swatting away mosquitos while listening to these guys jam.
One of the shows I was most looking forward to this year was Gangstagrass – I was curious to see what would happen when combining two genres as seemingly different as bluegrass and gangsta rap. A fusion like that could either be as awesome as peanut butter and jelly or as awkward as peanut butter and ketchup. As I approached the Harvest Tent and could hear the brutal bars and rhythmic banjo pluckin' of the group's catchy track "I Go Hard," I knew immediately that I was about to nom on a delicious PB&J. The stage show was really interesting, as the songs' verses were spit by rappers R-SON and Dolio the Sleuth and the hook was typically sung by the folks playing instruments. When the rappers weren't destroying the beat with their tightly wound lines and clever metaphors, you'd never know that you were listening to anything but traditional folky bluegrass. The transition was seamless and the whole crowd was definitely loving the mashup happening on stage before their eyes; everyone packed into the tent was bobbing their heads and stomping their feet. I was also surprised to see Head for the Hills fiddler Joe Lessard on stage with the group; I guess their fiddler couldn't make it, but Lessard did a really great job and nothing sounded out of place.
Next up, after a quick camp break for dinner and a bit of rest, was Beats Antique at the Main Stage. I was really hoping to see the new stage show for their new concept album and A Thousand Faces tour, but was a bit disappointed to see that it wasn't going to happen. I suppose that doing an outdoor festival venue in a time slot that spans daylight to dusk probably wasn't a conducive environment to establish the atmosphere necessary for such a production. My disappointment was only shallow and didn't last long, because as soon as Beats launched into their set, everyone at main stage was dancing hard. A unique combination of global fusion music and dance – especially Balinese and Indian traditional dances – Beats Antique is a real treat to watch. Musicians David Satori and Sideshow Tommy kept the music going the entire time, even covering Daft Punk's "Get Lucky" at one point, causing the whole crowd to go nuts. The group also played a song from their new album in which Les Claypool features as the archetypal character of the Devil. The most interesting thing was the change in the crowd's rowdiness during the songs where Zoe Jakes would come out in a new and stunning costume and perform one of her carefully crafted, storytelling dances. The crowd energy was still high as ever, but it was a more focused energy, everyone carefully watching and appreciating the technical beauty of motion expressed through dance. The end number involved a bunch of crazy masks and costumes, and the band had invited up some of the many awesome giant puppets and costumed folks who had been roaming around the festival. It was so weird and fun! And I saw many of the festival's other artists dancing in the VIP section around us!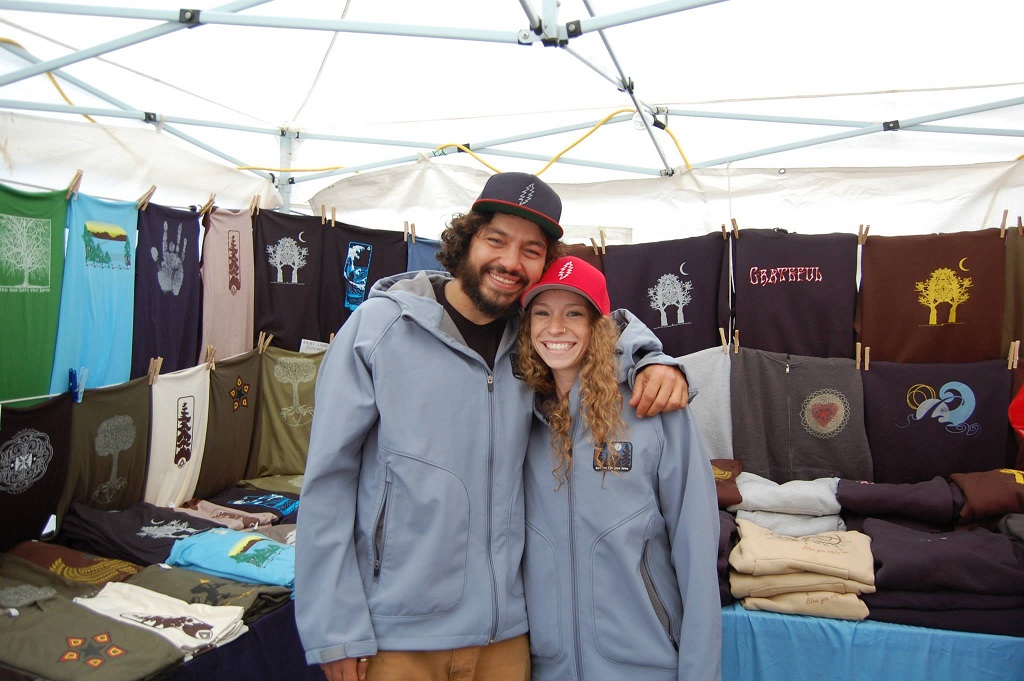 Railroad Earth was up on Main Stage next, and the crowd that began to gather for them was huge and excited. I wanted to stay and see them, because I've been to a Railroad Earth show and it was a lot of fun and the energy that the band puts out is really powerful and positive, but I knew I had to leave and make my way to The Roost stage to see Shook Twins, since I've never seen them and wasn't very familiar with their work besides knowing that many of my friends love them. I am so glad that I went. It was one of the best shows I saw during the festival this year. Shook Twins consists of multi-instrumentalist, identical twin sisters, Katelyn and Laurie Shook, and bandmates Niko Daoussis and Kyle Volkman. The set started out with an ethereal and somewhat creepy vibe, but every song was stunning and beautiful. Adding to the dreamlike effect was the telephone mic that Katelyn would sometimes sing into – I really have no idea how to describe this properly, but it's basically an old-school telephone handset attached to a microphone and when one uses it, it kind of sounds like you're hearing someone far away, through a phone. It was a really neat addition and added a whole new layer of sound to their already heavily layered songs. Throughout their set, instruments were switched around and various members of Elephant Revival would hop up on stage and play with them (including, at one point, Daniel Rodriguez playing a giant shaker egg). They played a really lovely song about the rainy Northwest weather, and one of the most fun parts of the set was when they covered ThaMuseMeant's "Rubberball." This is a band that you just have to go see at some point to really take in the intricate and beautiful work they do on stage. This was probably one of the highlights of the festival for me.

Yonder Mountain String Band's final set of Harvest Fest was mindblowing. I have no other way to describe being at that show. The crowd was fantastic and full of people in costume, people waving around huge, glowing rage sticks, and circles of fire dancers and glow dancers scattered across the field. The band opened with intense, exciting energy and never let up. It was almost unbelievable to me that the quality of music I was hearing was being made by live and in-person human beings – it was that good. As I watched and danced along, I remembered a sentiment that kept being repeated at the press conference by the members of other bands: these musicians were so inspired by Yonder because of the way they are able to take their music beyond preconceived ideas of "folky bluegrass band" and blow audiences away with how they rock out on stage. Yonder is such a great band because they are able to bring together all the important threads (or strings, if you will!) that make up greatness: each band member is a flawless musician, they know how to entertain a crowd, they lift people up, and they are all good human beings who believe in the power of music and fun and the collaborative spirit. Partway into the set, they brought up members of Railroad Earth to play with them, which only made everything even more fun and awesome. Unfortunately, at this point I was exhausted and shivering and began the trek back to the campsite. On the bright side, I got to listen to more of Yonder while drinking beer around our neighbors' fire pit!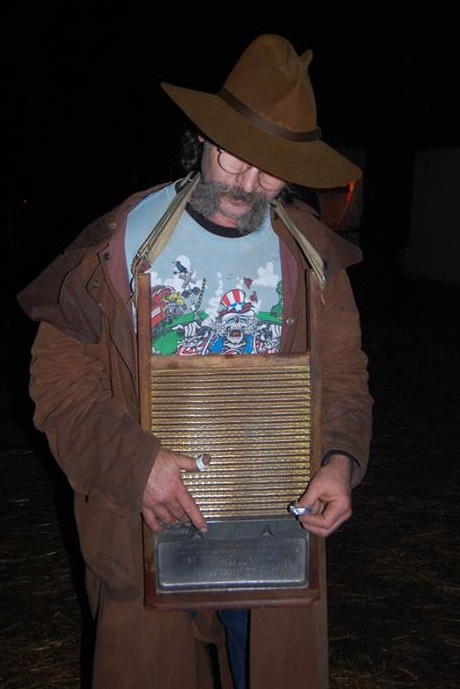 I was really sad that I wasn't able to stay out long enough to see Everyone Orchestra. I saw an Everyone show at Harvest Festival last year, before I knew anything about what I was going to see, and it was one of the coolest concert experiences I've ever seen. I love the idea of random musicians working together to create a one of a kind impromptu experience for each audience, every time. And some of my favorite musicians were going to be participating in this year's EO experience! But sadly, tiredness and the cold kept me at camp. I feel like that was a major downfall for me during this festival. It's hard trying to rush around from stage to stage to see and do everything, especially when wearing clunky rain boots. And the cold really takes a lot out of you when you aren't prepared for it; I didn't think I'd need to bring a coat and just layer up with shirts and hoodies, since it wasn't nearly as cold last year. This was, as you can imagine, a terrible idea!
I get a little bit better at festivals with every one that I attend. What I learned from this year's Harvest is that no matter how prepared you think you are, weather can be a trickster. And I had to learn the hard way that you can't go to every show or you'll wind up too tired to stay up for other shows. Making those decisions can be so hard, but it's necessary to take care of oneself amid all the excitement! I have also decided that I need to get a watch, because phones are not very reliable. And I am going to invest in a real raincoat instead of the awkward, thin plastic poncho I ended up spending half the festival in.
The real lesson of this weekend though is that it really sealed the deal on my love for Harvest Festival. If I ever have to pick between the Mulberry festivals, I will always choose Harvest over Wakarusa. The atmosphere is friendly and inviting and I never felt nervous around anyone or afraid that my neighbors would break into our campsite or go on a rampage inspired by the synthetic drugs they bought from a shady schwagger. I also really appreciated the family atmosphere – I could see myself going to a festival like Harvest every year, maybe someday even bringing kids of our own. Even the drive home was perfect, the Ozark hills were dotted with trees that were sporting their seasonal best and our hearts were full of music and memories. I already can't wait for next year's Harvest Festival. Thanks to Grateful Web for letting me experience Harvest in a whole new way. J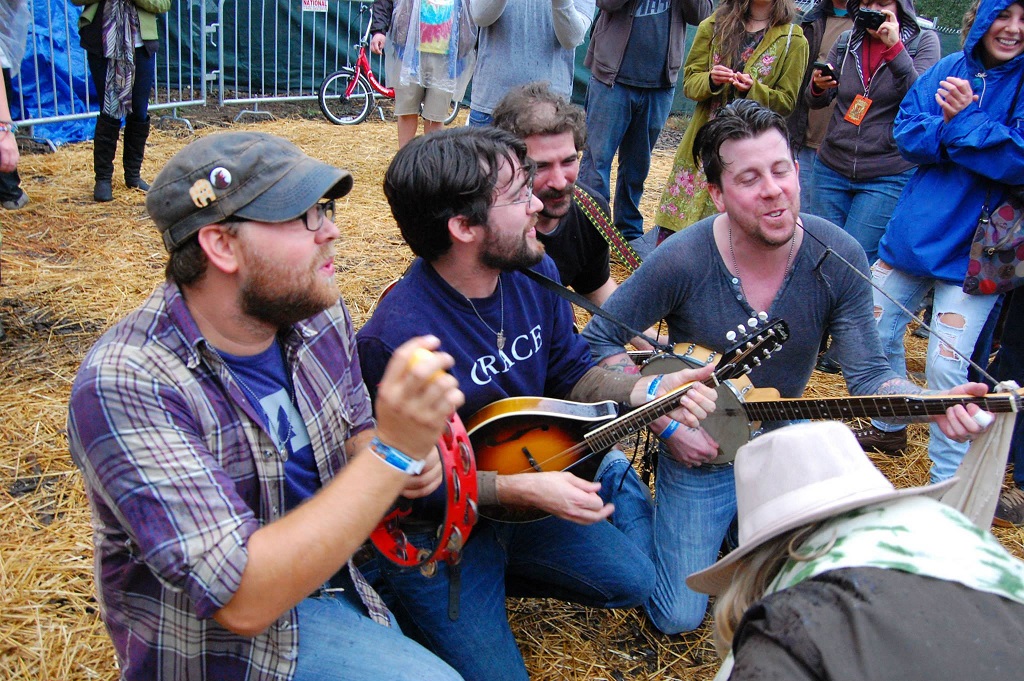 Check out more photos from Harvest Festival 2013.