Louis Molinary is convinced that the Stones wouldn't really care if he wasn't able to make his mortgage next month.  The fifty-something real estate developer from Charleston, SC  is quick-stepping into the festival alongside me, headed back to the picking tents.  He tells me he's new to bluegrass music and wants to hear some more, he said.. Until last year, when a longtime friend finally convinced him to come, Molinary had been more of a fan of The Rolling Stones, and Led Zeppelin.
"I saw The Stones, like five times, I think," he said.  "I literally was a hippie."
Attending MerleFest for his second year in a row was a no-brainer, he offered, as we arrived at the picking tents.
"I just didn't realize how talented the musicians in bluegrass music would be.  All of a sudden a regular person walks up to these picking tents and sits down. And he can play the fiddle like no bodies' business. And then just gets up and walks away. I mean -- it blows my mind.."  Louis said, reaching up to scrub his own scalp with his hands as if to ensure he were awake and not actually dreaming.
"I went for the first time last year, and I fell in love,"  he said.  "All the different varieties of bluegrass are here….It's like Bluegrass boot camp, for a new fan,"  he continued, as we arrived at the picking tents.
We stood behind a group of musicians, some professional, some not. In the center of the group was a young boy, about 10 or 11, playing violin.  He was obviously a student, yet appeared to be leading the jam.
"See those guys playing with that kid?  They're all just making sure they play something the boy can play, too. Man.. Look how they are with him?  That's the kinda people you want to be around, I tell you.."   Molinary said, never taking his eyes off the musicians.  "I really am sorry that I didn't get into this a long time ago.."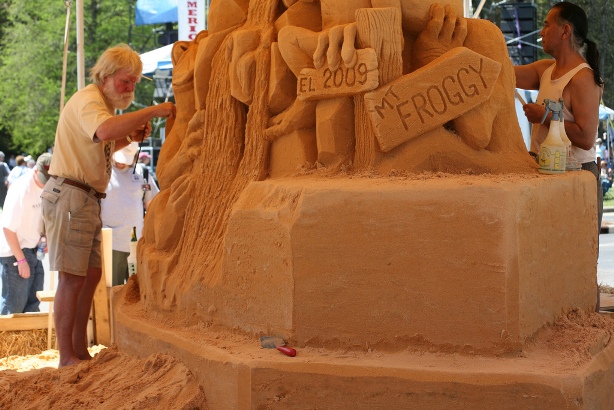 Describing himself as a business person 'underwater' in his real estate holdings as a result of the current economy, Louis seemed to appreciate the sentiments expressed on stage by the professional performers at MerleFest.
"I can't remember who said it this weekend, but they said, and to everybody (he added, with a flourish of his hand,) 'We all came here on different ships, but now we're all in the same boat. So let's work it out..'
"I mean.. That's from the heart, you know?"  Molinary said.  "You're not gonna hear that from the Rolling Stones.."
Louis may have been on to something.  My Saturday visit to the 22nd annual MerleFest in Wilkesboro, NC revealed time and time again, what makes this festival special, and different from others.  Without a doubt, it all begins and ends with music.  But MerleFest, founded as an annual way to honor the music and legacy of  Doc Watson and his son Merle, is also about people.
I observed the warm hug North Carolina mentality of just about everyone present, from the boy scouts handing out programs, to the senior citizens fanning themselves from lawn chairs under every tree. After about an hour there, I felt like I was on someone's front porch, sipping iced tea and blissfully commiserating about how to endure the heat -- together.  It felt like a safe release of tension, musical and otherwise, while in the cocoon of familial comfort.
It's been a tough winter for all of us, in more ways than one.  Even Mother Nature seemed hell-bent on sweeping away the last memories of winter, with near-record-setting highs in the upper 90s.  In the dead sun, it was brutal, at times.
The heat appeared to inspire – and undoubtedly – perspire -- the artists.  But regardless of the weather, bluegrass played at MerleFest is world-class.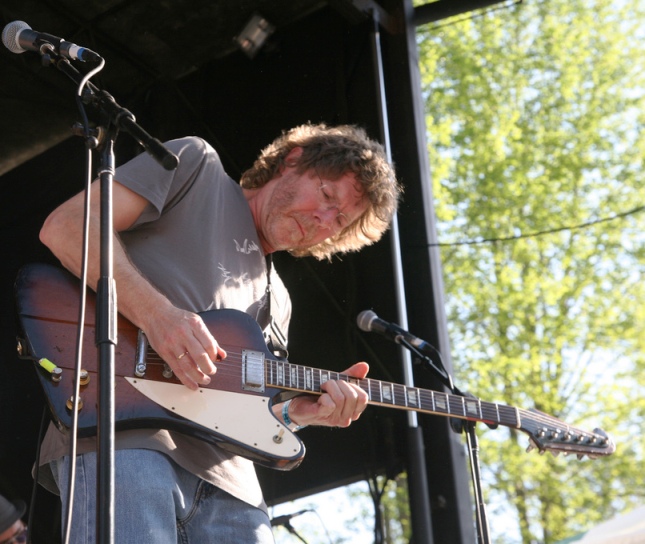 "The artists are top of the line, every single year. You are never disappointed with the lineup.,"  said JP O'Connor, of Floyd County, Virginia.  "You can count on MerleFest to deliver the goods." He added.
Attending his 9th consecutive MerleFest, O'Connor also cited the family atmosphere as a big reason why he and his family can continue to come year in and year out.
The Bryan Family of Wilkesboro, NC also appreciated the family atmosphere at MerleFest.  They seem to use MerleFest as a true annual family reunion, with over 20 family members attending this year, with ages ranging from 18 months to 80 years.  The family, in its' various incantations, has attended MerleFest for twenty years.
"What started us coming was our Grandfather making us come," said one family member.  "He had to teach us about good music," offered another.  The youngest attendees don't require Poppa David's insistence that they attend. "Oh.. These two love to come," offered their aunt, sitting nearby.  "His favorite band is Donna the Buffalo."
I marveled at the significance of "Poppa David's" actions.   Year after year he packed up his family and headed to MerleFest as a way of ushering in the warmth and bounty of Spring.  I'm sure there were lean years for the family, as well as those of plenty.  But one of the constants was this festival, and bluegrass music.   He knew, as do countless others, how the music already binds us together.  Merlefest for his family, as well as many other attendees, is like a rejuvenation of the spirit.  It's like Grandma's fried chicken when you've had a really bad day.
Speaking of family, musicians and brothers, Joshua and Clayton Britt, along with the rest of The Farewell Drifters played their first MerleFest set this year, performing Saturday afternoon.  Picking with fans earlier in the afternoon, it's easy to see why this band is garnering, even more, attention from the festival going public.  They played crisply on the Cabin stage, despite the extreme heat.  With influences ranging from Jerry Garcia to Tony Rice, to Steve Martin, The Farewell Drifters appear to have even more high-profile MerleFest appearances to come.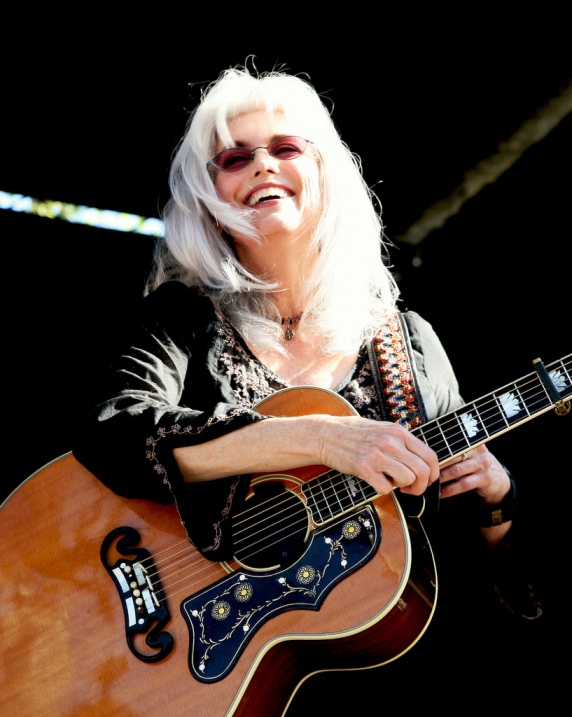 With Saturday night's headliners of Sam Bush and Emmy Lou Harris still a few hours away, throngs of fans headed for the Hillside stage for The Wayback's and John Cowan's second annual 'album hour.'  This event seems poised for an eventual move to the main stage. It's just too good to be limited by the space available at the Hillside stage area.
Harkening some fans to think of Phish's Halloween tradition of reinterpreting entire albums by other bands -- with reverential creativity, this year the album hour selection was The Rolling Stones: "Sticky Fingers."
"It was our managers' idea, from last year – as we were leaving, I think," said drummer Chuck Hamilton, as he signed autographs later in the day.
Fans have quickly come to appreciate the musical surprise of the 'album hour.' Facebook, MySpace and the Merlefest website taunted listeners with clues, leading up to the reveal – on stage.  The extraordinary talents of Emmy Lou Harris were well-deployed as she joined the band for a stellar rendition of "Wild Horses."   Sam Bush frankly rocked the guitar. He seemed inspired by the material and looked to be having a helluva time, as only Sam can.   One forgets sometimes, how good he is with a guitar, in addition to a mandolin.
No clues were offered as to what next year's album hour might be.  "We gotta keep you guessing," quipped bassist Joe Kyle Jr. "It's more fun that way."
But the evening belonged to the headliners.
I lost count of the number of fans for whom the presence of Emmy Lou Harris tipped the scale, as to which day to choose to attend.  Still others cited Sam Bush as the reason they came year after year.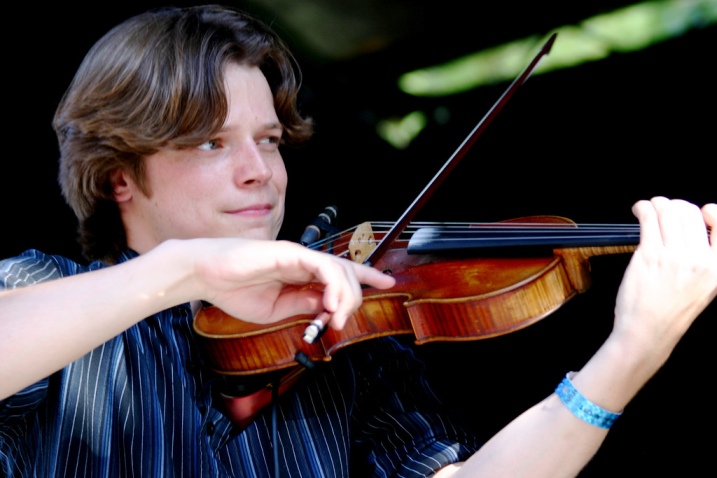 Or, maybe it's a little of everything, rolled into one.  Music, of course; it's the beginning and the end.  But it also more than that, I think.  It's how well the environment of MerleFest allows the people and the music to find that connection, be it through a songwriting contest, or a picking tent, or getting an autograph signed.  Or maybe the magic is in the people themselves, in the audience, on and, off stage.  Emmy Lou Harris said it best, "Playing music for people who appreciate it, is especially nice."