After another day of great music and great weather, the rain attacked STS9 and once again stopped the headliner's set a little early. Overall, it was a beautiful day of music and dancing on the river. This festival is quietly one of the best small festivals that I have attended in a long while. The food was affordable and delicious. There was variety and quality, even using Philadelphia's own Amoroso rolls for sandwiches. Yum! In addition, the vendors were diverse and special as well. I don't usually buy too many things from vendors at festivals, but there was a special one worth mentioning. Naomi Hinds Designs sold jewelry and gems from around the world. My wife and I both bought something from her stand, which supported Naomi's art along with many of her friend's work. "Think globally, act locally," was her motto that she told me when I went back to report to her about all of the great comments that I received about the labradorite necklace that I bought from her. Captain Morgan went a little overboard with their advertisements and costumed character who announced all of the bands (most of the time incorrectly), but who could complain about all of the free samples? The music…that's what we all came for though. Day 2's lineup was even more appealing to most people I spoke to. A lot were excited to see John Butler Trio since he's been the buzz lately, and others were happy to see the tribute bands that rocked the day. From my perspective, Dark Star Orchestra stood out as the Day 2 highlight, but I'll take you through the day gradually. To my dismay, I missed Hoots & Hellmouth and the Brakes, but here's how the rest of the day panned out.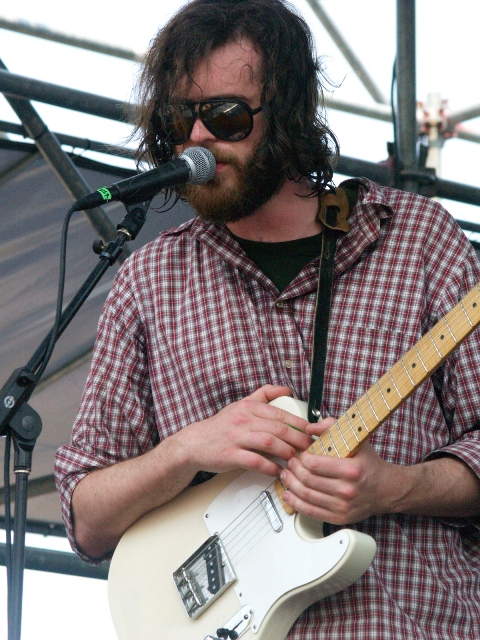 Dr. Dog – I've been excited to see these Philly locals for a longtime since I've been hearing their music constantly played on WXPN. From what I've heard on the radio, their classic rock n' roll sound intrigued me quite a bit, but live they were okay. They entertained the crowd with their front of the stage solos and nifty looks. They seem to lose a bit of their nostalgic sound that attracted me to them when they leave the studio. Even their radio hit "Worst Trip" didn't come across with the same vibrancy. I do however appreciate Dr. Dog's studio work a lot. When I listen to them, their sound contains a lot of imagery and colors that didn't match the scene I saw at the festival.
Dark Star Orchestra – Dare I say the best "Shakedown Street" ever? And that was the opener. This band was the hottest of the day. I saw people that have never seen this phenomenal cover band lose their minds. They slid into a crazy "The Music Stopped," and people came out from all over to join the huge dance party. After those two long jammin' songs, John Kadlecik (Jerry) slowed things down with a great vocal for "Lazy River Road," Next, Lisa Mackey provided the pipes for the 70's rendition of "Playing in the Band," which went into "St. Steven" and back into "Playing in the Band." It's amazing how well these guys know the Grateful Dead's catalog lick for lick. "Brokedown Palace" brought the house down while couples embraced and danced their way into the closer, "Ripple." There was a huge applause, and the band left the stage to give way to another great tribute.
The Wailers – About a year and a half ago I saw the Wailers on New Year's Eve, and I felt like I enjoyed the show more than most people that I was with. It just brought a really good feeling to me to hear the sound of reggae that is second to none. I think that with Bob Marley, they were the best reggae band of all time, and without him, they are the second best reggae band of all time. This is the band that backed the classics "Could You Be Loved," "Get Up Stand Up," "I Shot the Sheriff," "No Woman, No Cry," and "War," to name a few. Although there is only on surviving member of the original Wailers, Aston "Family Man" Barrett who still plays in the band, this band keeps the spirit of Bob Marley alive as best as they can. The Wailers opened with two beautiful acoustic songs by their new front man while backed by only the two female vocalists. They were very nice songs that sounded to me like they were original. Then the band came out and opened with one of my favorite Marley songs "Natural Mystic." The rest of the show featured such classics as "Stir It Up," "Lively Up Yourself," and "Three Little Birds." The Wailers always leave me with a good feeling, and I think they are a great addition to any festival atmosphere.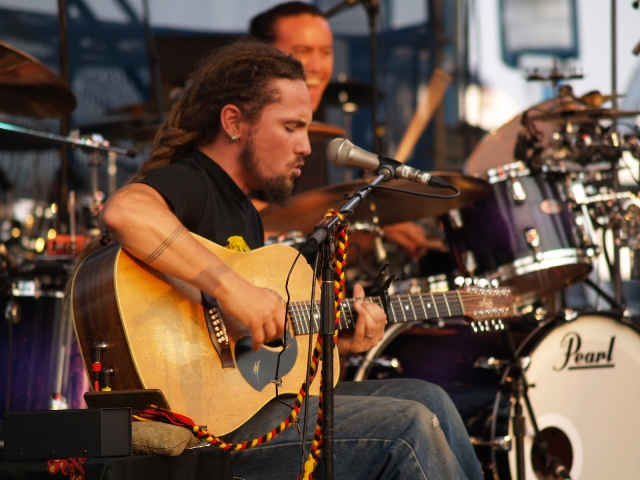 John Butler Trio – This was the show that I was most excited to see because I have never seen John Butler perform, but I have always heard great things about him. Apparently, I wasn't the only one excited to see him because the crowd seemed to double for his performance. As he stepped on the stage, I never heard so many men scream like teenage girls at the Beatles first American show. I recognized John Butler's talent immediately, but overall I wasn't as entertained as most people. I read a few interviews with him over the years, which left a sour taste in my mouth. The first one was at Bonnaroo a couple of years ago when he said something about jam bands noodling too often. On the other hand, I always keep an open mind when seeing music, especially if it is new to me. The show reminded me of watching the movie Curious George, and I was in the mood to get down, so it just wasn't what I was looking for, but Butler did live up to his musical reputation, and he had nothing but kind words for the crowd. I also appreciate his lyrics, which are globally conscious and intelligent. Oh, one more thing, drummer Michael Barker went a little overboard with his standing up and hitting his drumsticks together to get the crowd to clap along.
Sound Tribe Sector Nine – I have to give credit where credit is due. STS9 came up big before the rain came down bigger. Another rain out for Day 2 of Jam on the River, but not before this headliner lit up the Philly stage. The music started and developed throughout the set like a soundtrack to a good 70's action movie. I was definitely diggin' their vibe that intensified when they sped up to a faster electronic techno sound while trying to squeeze their set in before the rain. The security started covering the stage and putting ponchos on preparing themselves for what was to come. STS9 felt it too, but they were there to play, and they kept the groove smooth. Suddenly, someone came on stage and told them to stop playing. The band continued while the lightning bolts only intensified the light show. Drummer Zack Velmer stood out as usual as the force behind such an experimental band. Finally, all the power was cut and bass player David Murphy tried to say thanks in the microphone, but nothing came out. The band gave an appreciative bow, and everyone dispersed. Luckily, I live right across the street, but that still didn't prevent me from getting drenched as the rain came down instantaneously after the power was cut.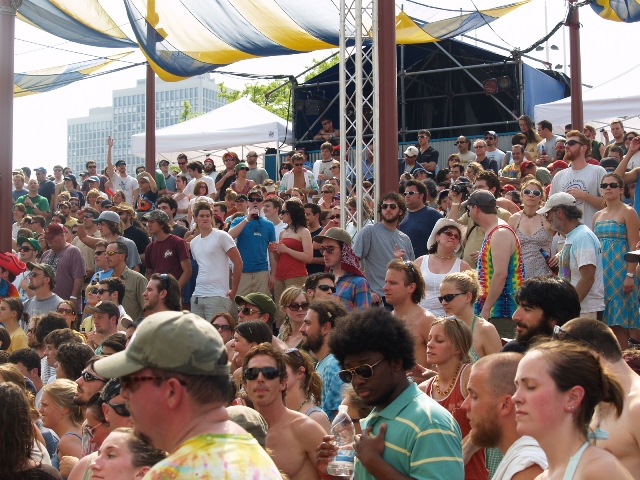 As the festival season is beginning, this was another success by Live Nation and the city of brotherly love. Keep them coming. Next stop, Bonnaroooooo!
Photos from day 2...