"Wake up. Time to go to church," urges Bill to his partner Jody the Jedi, my next door neighbors at camp. "I missed the show last year, and it's not happening again."
The Bowl stage is smaller and closer to the ground, which is convenient when you are in the Pit with no stepladder. It is more intimate than the Oak and Ridge stages.
In most momentary communities there is a shine, an elegant arising from community that blesses, together with the spirit of the land, all the human beings gathered together to share in the awesomeness. At church Sunday morning, there was a distinct vibration of sweet togetherness. You could practically reach out and touch it as Keller gave his benediction before the gathered masses.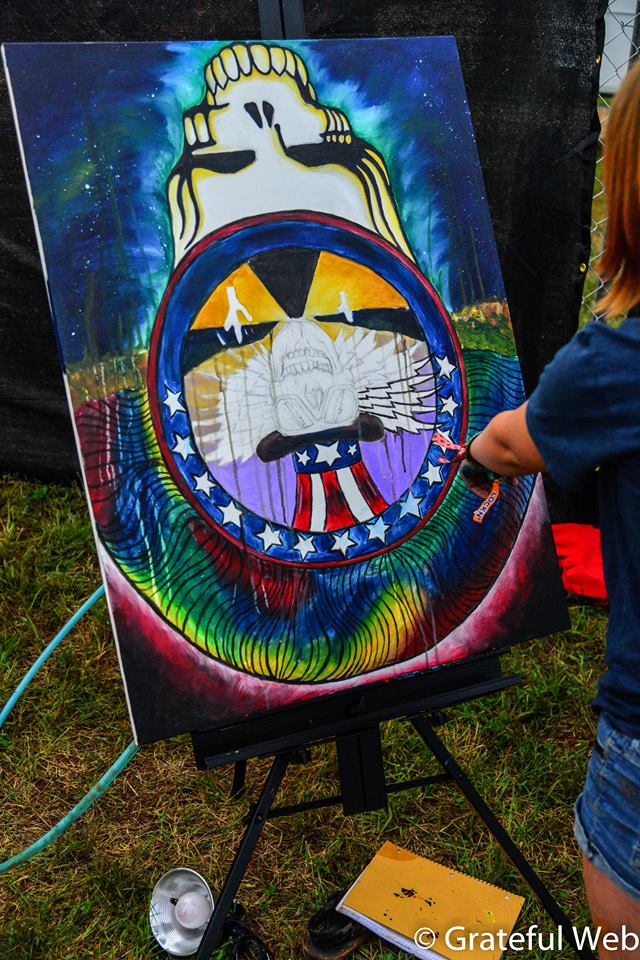 "Dear 8lb 6oz baby jess," Reverend Keller begins. "My brothers and sisters, may we bow our heads and pray together, and give thanks for this wonderful opportunity to gather together in these fine fields of Virginia. Please forgive us for any songs we sing that have already been sung here at this fine festival. Now, time to get down to business, dear baby Jesus. Guide us as we walk this path, shaking our asses all the way to the Promised Land." I am paraphrasing here, but it set such a wonderful stage for Sunday's service that it felt like Keller himself knew the way and was gonna take us home!
Keller Williams backed by a badass cast including John Kadlecik, E.J. Shaw on bass and Toby Fairchild on drums, among others, and the Grateful Gospel Choir. Their melodic harmonies in collaboration with Keller and crew really transported you to another time and another place, when things were simpler, and connection to Source was considered special—A time and place you knew your neighbors and they knew you. You could feel the spirit in the air as the Virginian took the congregation to the promised land of ass shaking and groovy vibrations! If you missed it this year, consider this your admonishing slap-on-the-wrist! And if you don't do anything else next year, go to church Sunday to see Reverend Williams. Be there or be square!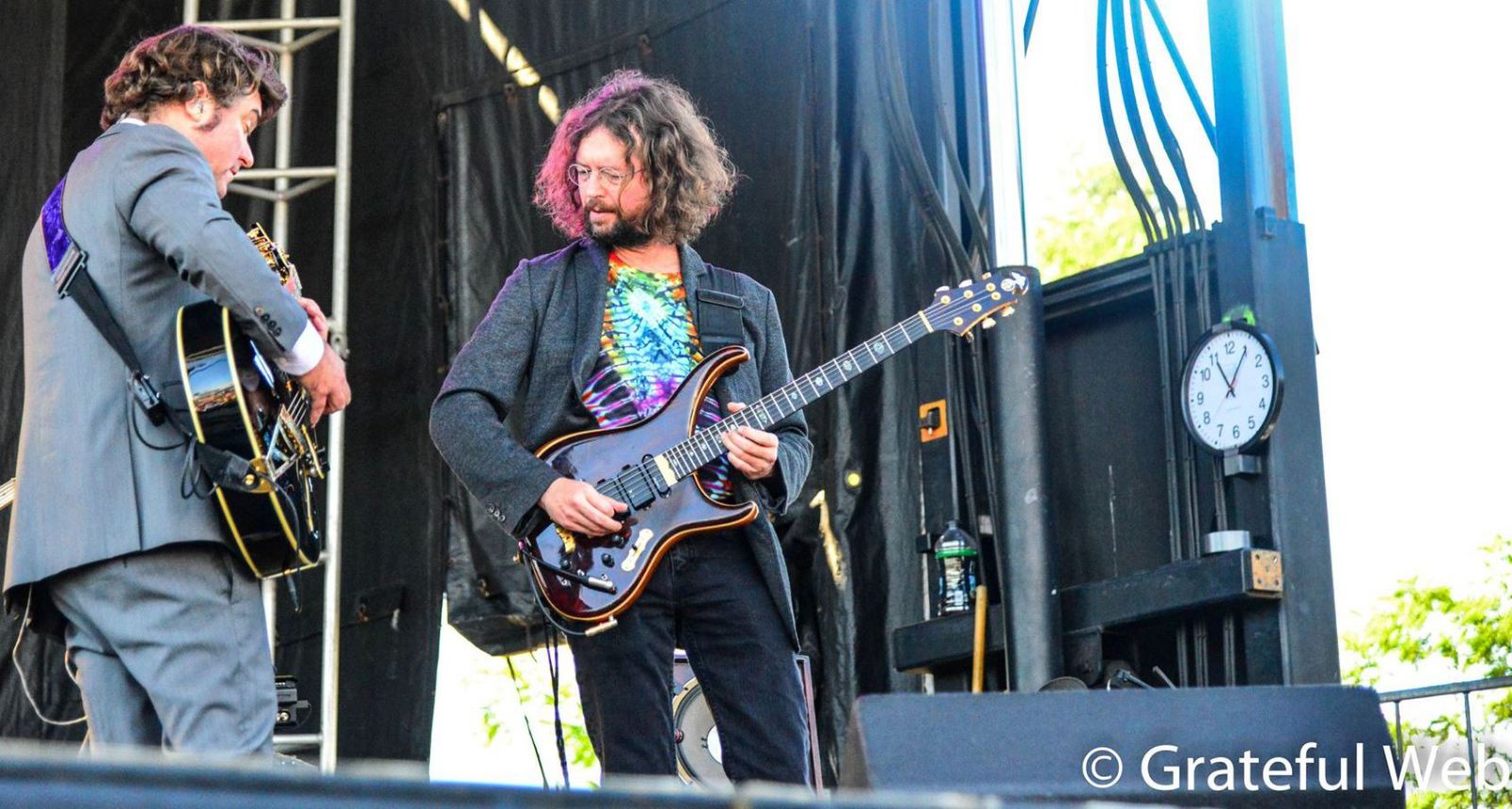 The set list included: Eyes of the World, Franklin's Tower, My Sisters and Brothers, Wheel, Brokedown Palace, Mighty High, I'll Be with Thee, St. Stephen, The Stranger (Two Souls in Communion), Samson and Delilah, Bid You Goodnight (in the morning, mind you) and then closed with the fastest paced version of Ripple I ever heard. Let me tell you what! I was slapping my knees, stomping my feet, and throwing little funky chicken wings in there er're now and then!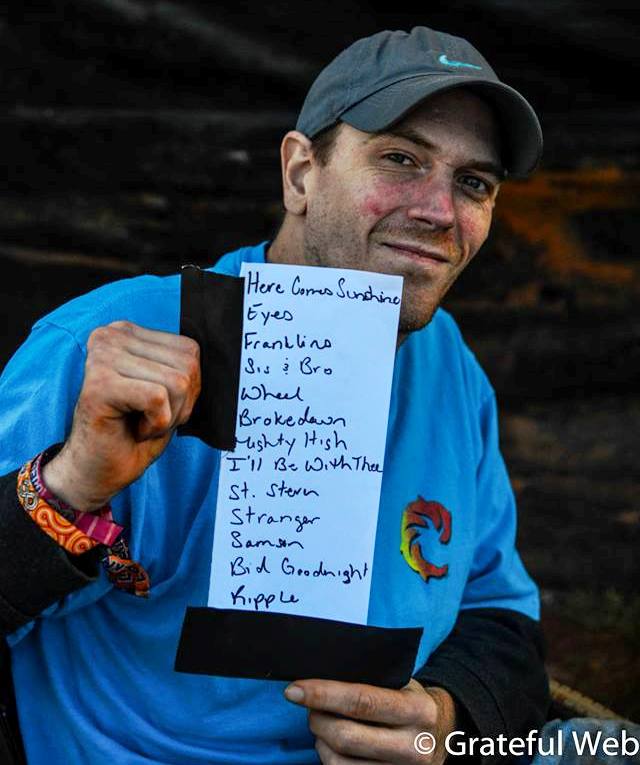 The story of how that set list ended up in his hands is another story for another day, but rest assured it is in good hands. This act and Umphrey's Friday night are by far the two most surprisingly outstanding performa
nces of Lockn' 2015. Since last I saw both these acts have shown remarkable growth and dedication to raising the vibration. Respect.
But there was no lying down to take a rest. Work to do. Work to do. The Southern Belles, a Richmond band, by way of winning a local talent contest earned a spot opening the Oak stage Sunday at noon:30.
The Southern Belles played for a quick half-hour set. They were followed by Fishbone, an LA band with a rock & Soul vibe with some funk laid on top. Members include Angelo Moore, John Norwood Fisher, Walter A. Kibby II, John Steward, Rocky George, Jay Armant and Paul Hampton.
The OH Hellos took the Oak stage next. The Texan siblings, Tyler and Maggie Heath, brought quite an ensemble on stage and rocked out a fun folky little jam sesh before the gathering numbers of Lockneers.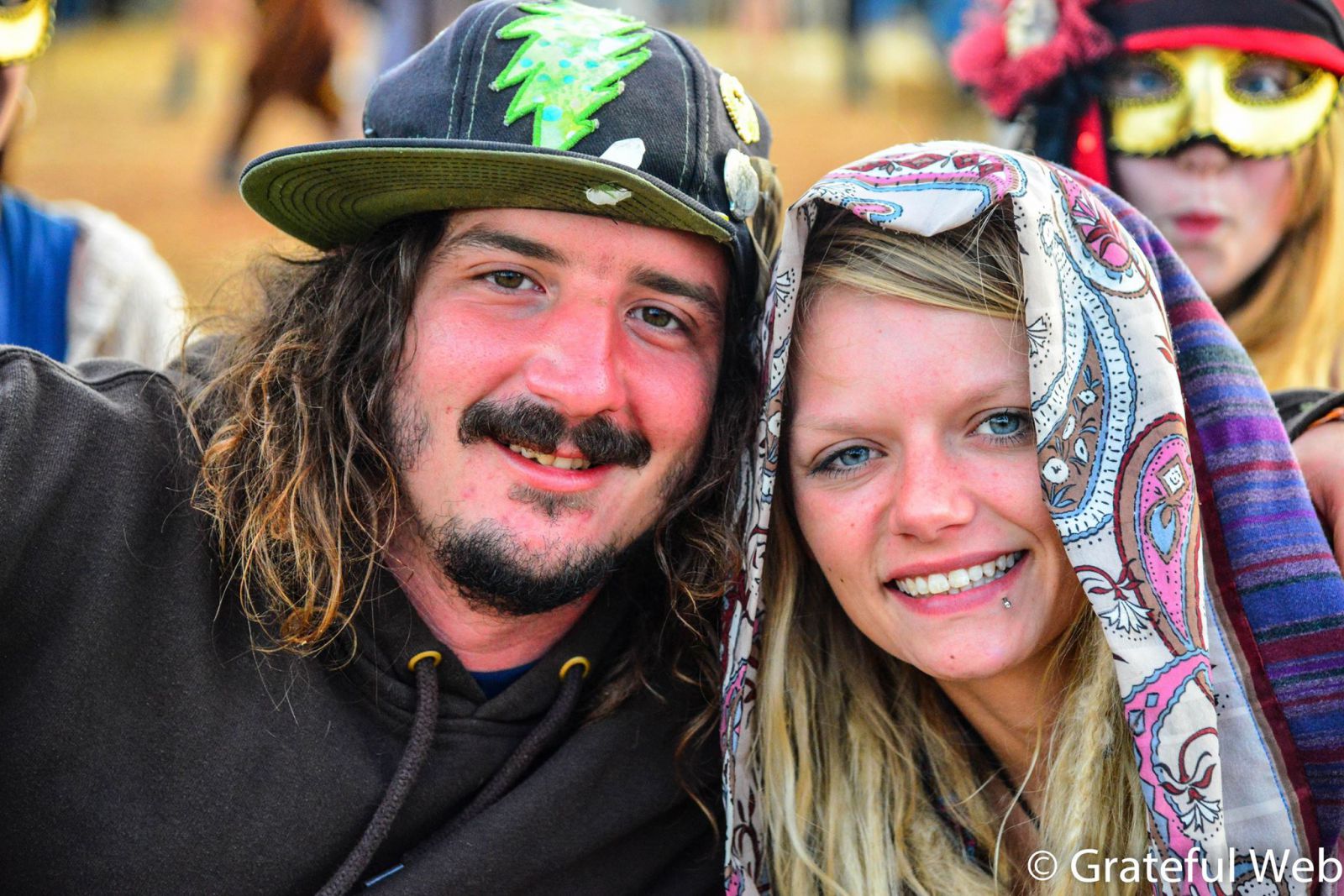 St. Paul & the Broken Bones electrified the audience by infusing their Muscle Shoals' sound with some dance moves on the speakerboxx that you ain't seen since John Travolta left the Grease set. And the only thing that beat his energy is the good vibes the band put off. The band is composed of Paul Janeway (vocals), Browan Lollar (guitar), Jesse Phillips (bass), Andrew Lee (drums), Al Gamble (keys), Ben Griner (trombone), and Allen Branstetter (trumpet).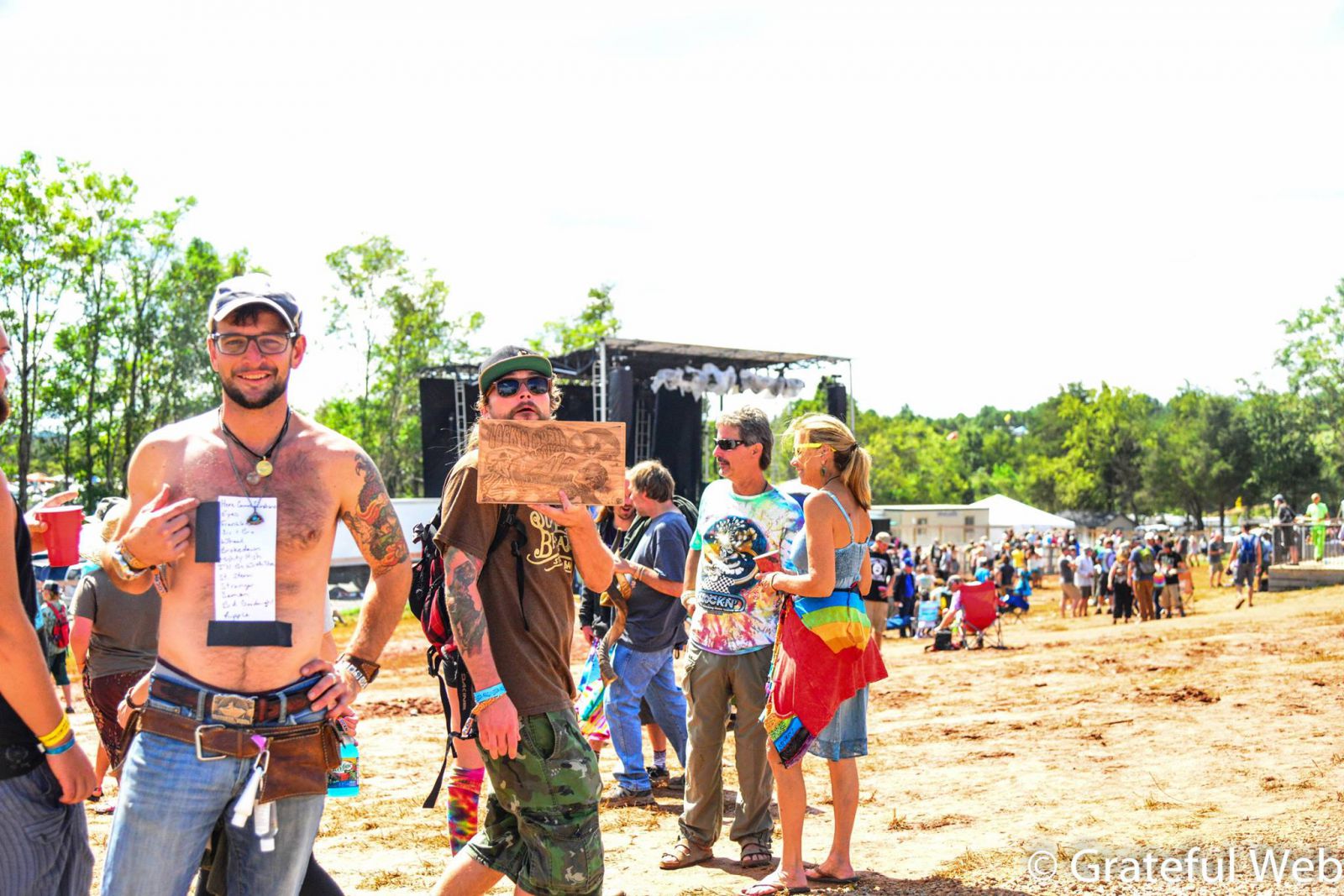 They played a high intensity, high energy set that included their jams "Call Me," "I'm Torn Up" and "I Want You (She's So Heavy)."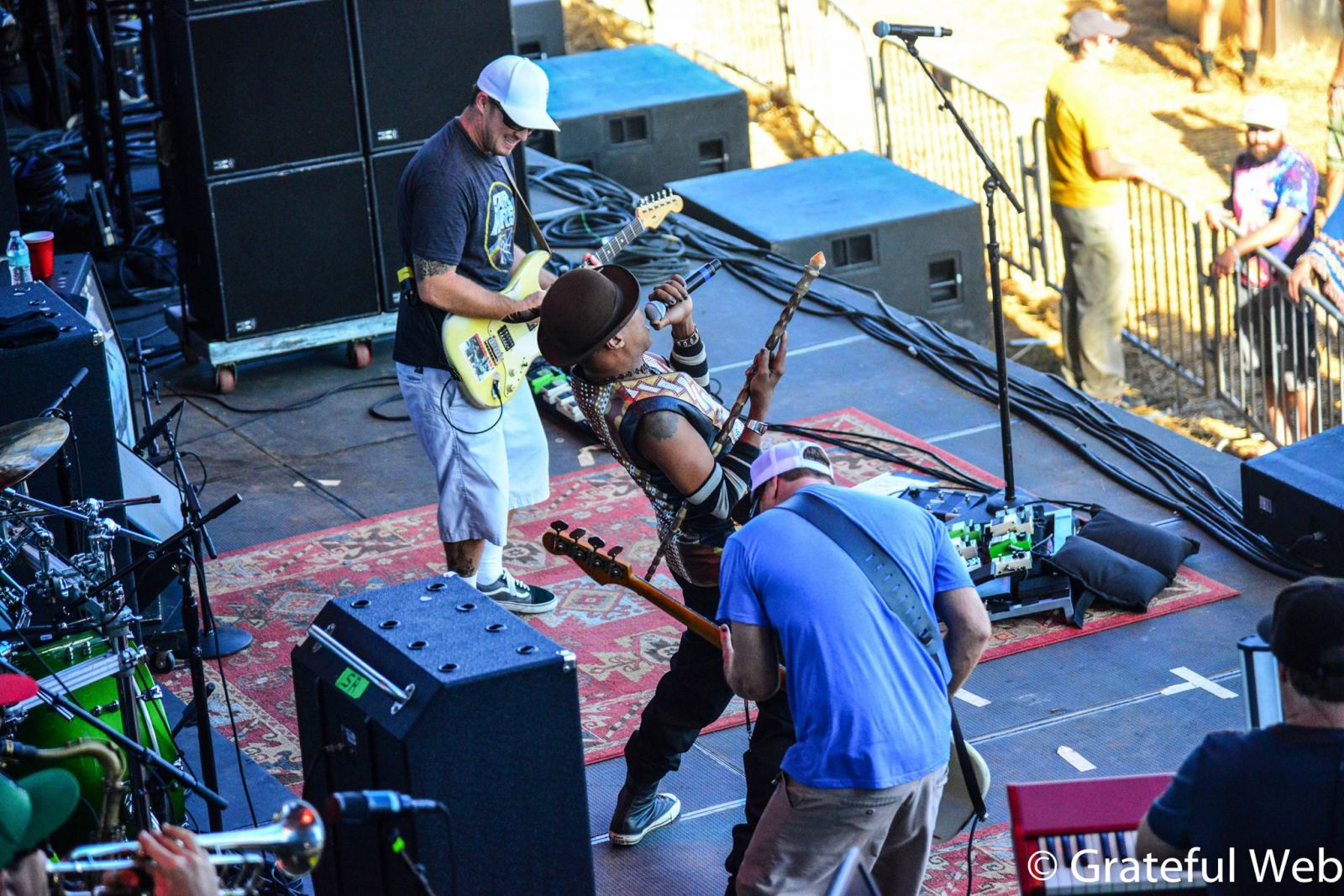 After an extended intermission Slightly Stoopid, the OBcians, hailing from Ocean Beach, California, came on at 4:20, the quintessential and ubiquitous Stonerville time. Band members include Miles Doughty (guitar, bass, vocals), Kyle McDonald (guitar, bass, vocals), Ryan Moran (RyMo, drums), Oguer (OG) Ocon (congas, percussion, harp, vocals, juggalo), DeLa (saxophone), C-Money (trumpet), Paul Wolstencroft (keyboards), and Karl Denson (saxophone)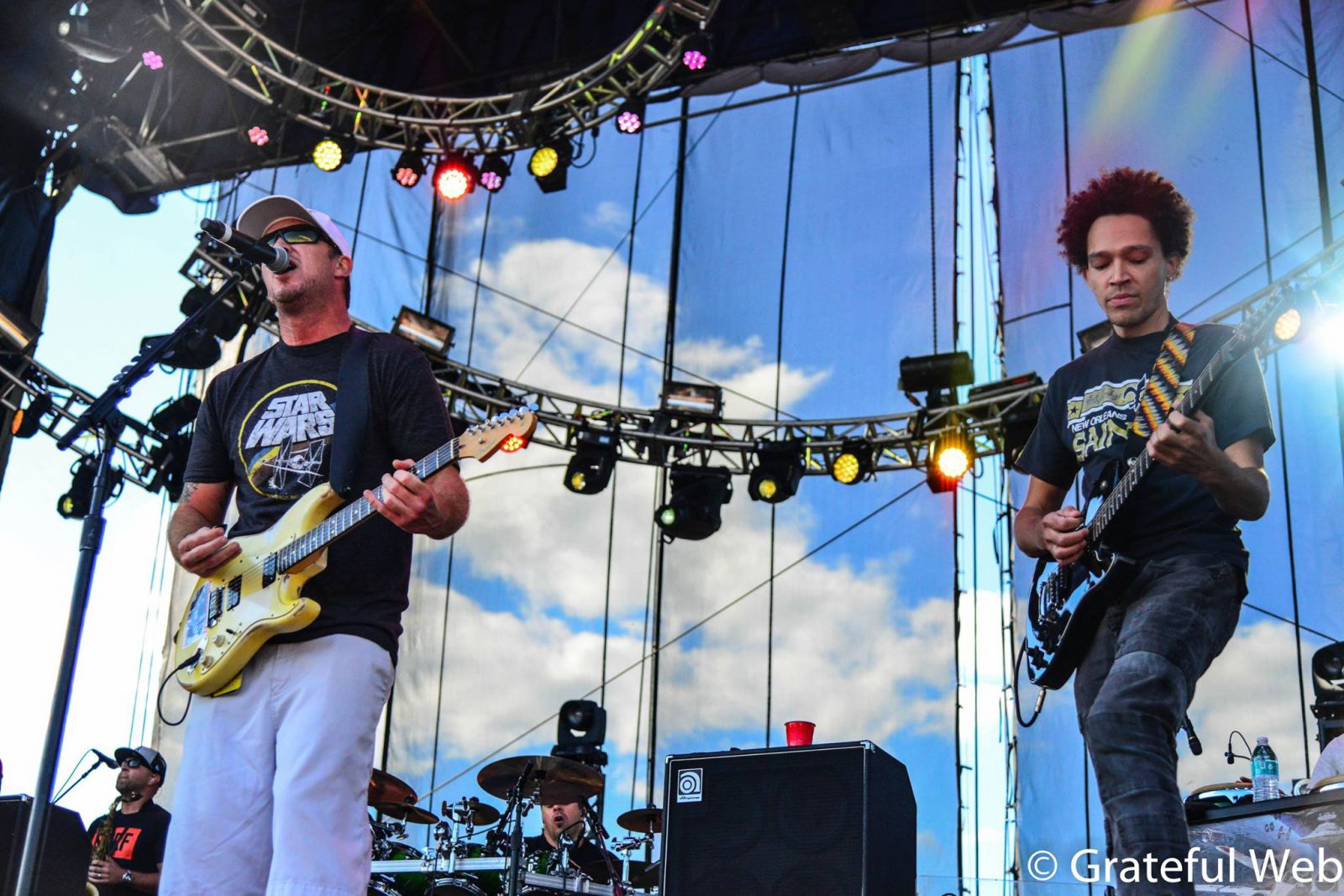 They played among other hits, jams like "Champion of the Charles," "The Devil's Door" and a couple other jams with Ian Neville, New Orleans' finest. They covered McCartney and Wonder's "Ebony and Ivory." Rastaman vibrations all over the place. Heavenly.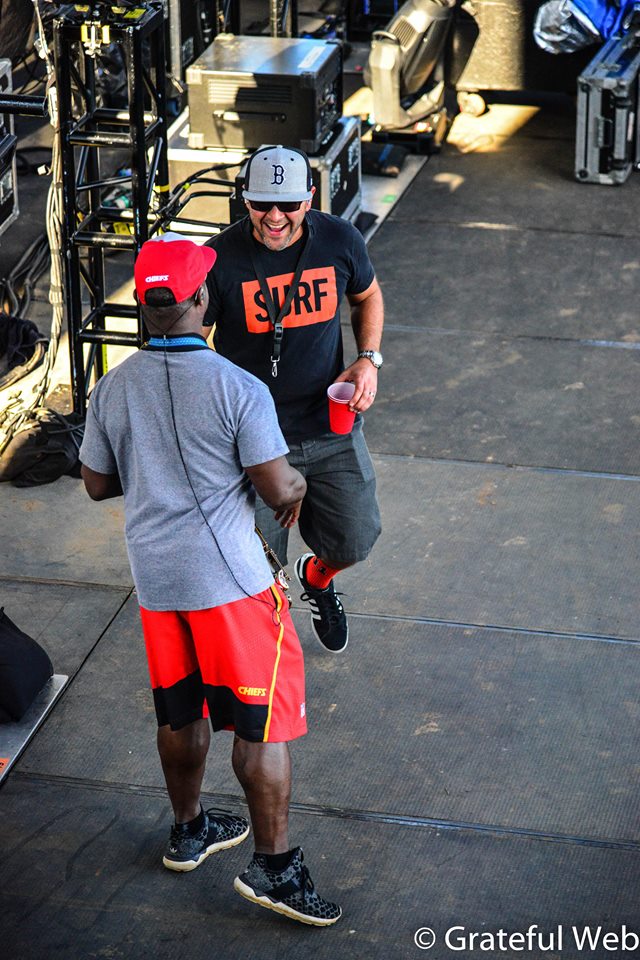 We got backstage for this show and met Ben Jammin; the tyedie artist that supplied all the tapestries in the artists' chow hall.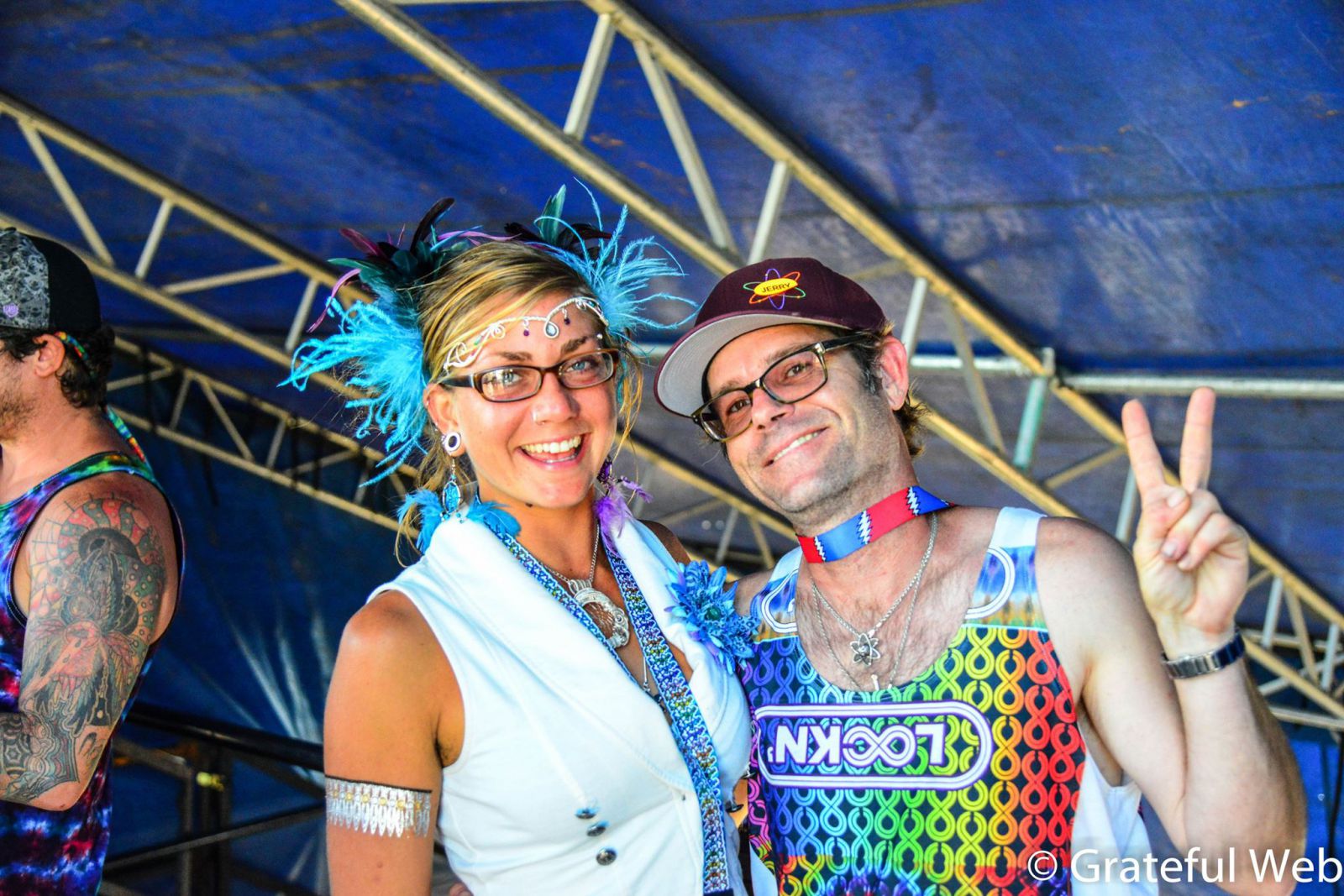 While running around we ran into the well-known Deadhead, Shaggy, and the tyedie extraordinaire, Grasshopper. Respect. Keep up the good work.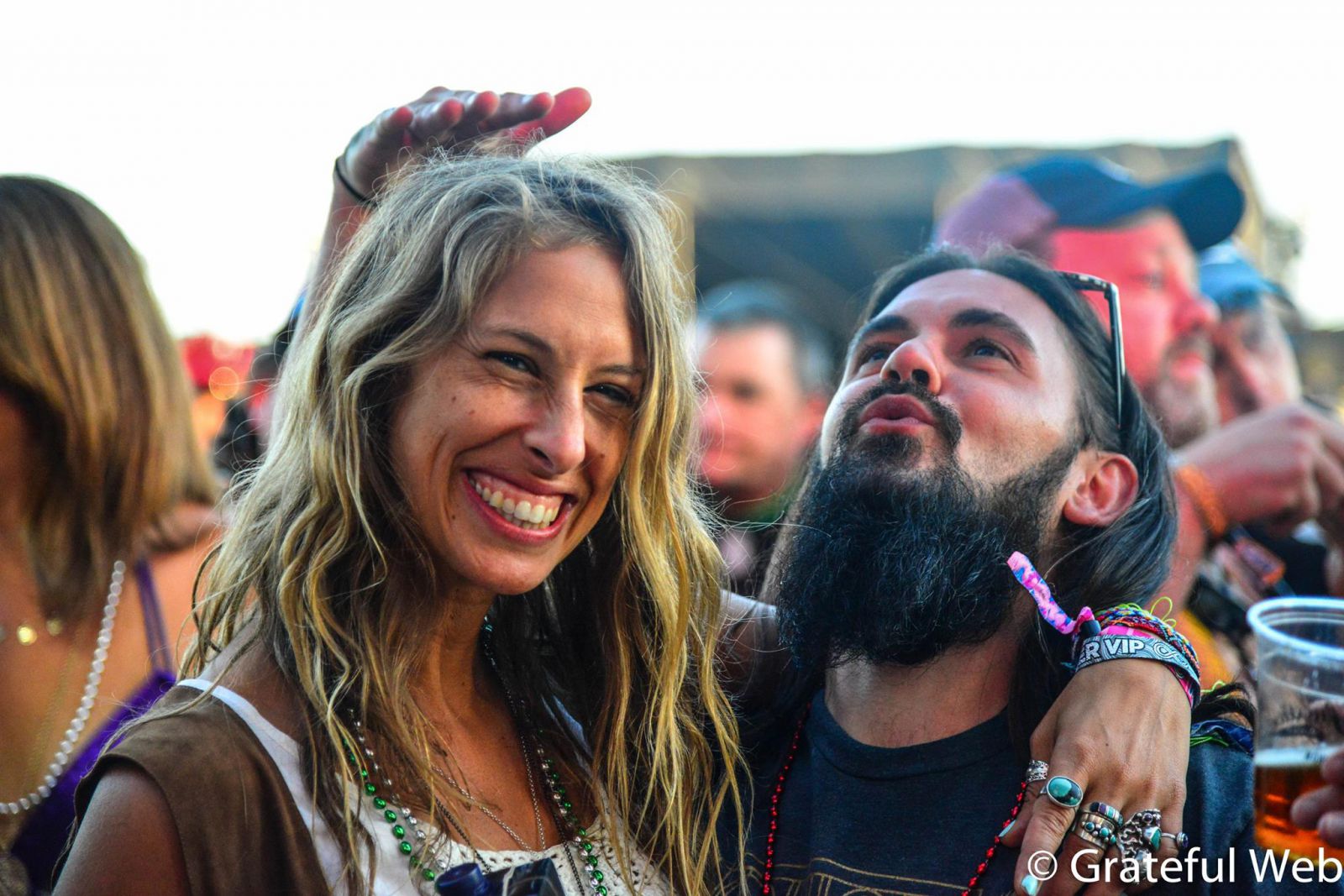 Karl Denson joined the set for most of the time swinging his hips and jazzing up the set with his dope New Orleans' sound anding to the mellifluous vibrations of Slightly Stoopid.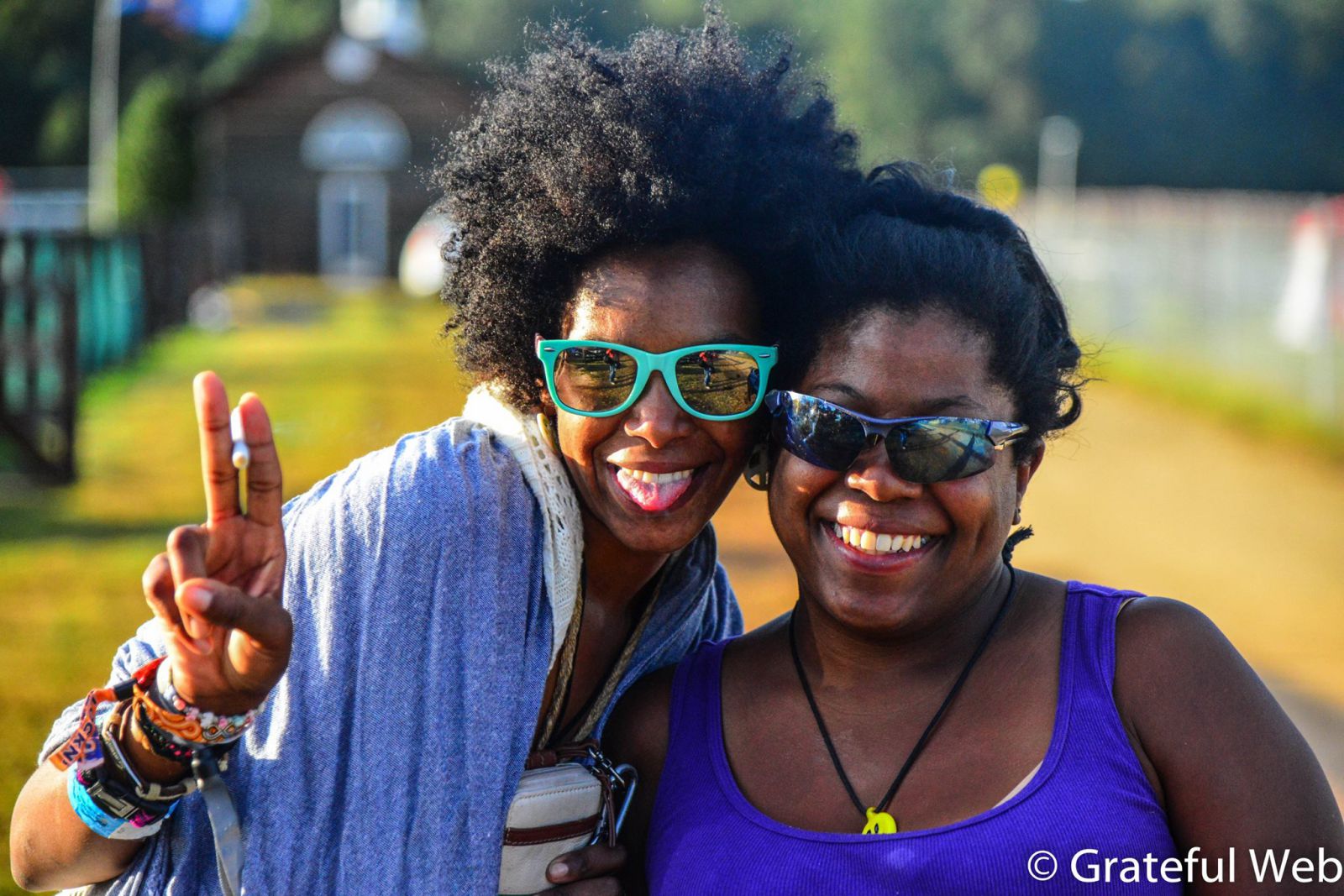 Angelo Moore jumped on stage. He was singing and dancing, fully entertaining the Lockneers.
Don Carlos hopped on the set and bounced around with those natty dreadlocks swaying to and fro in his white suit. He stole the scene with his stage presence. Together they played Don Carlos' hit, "Never Give You Up."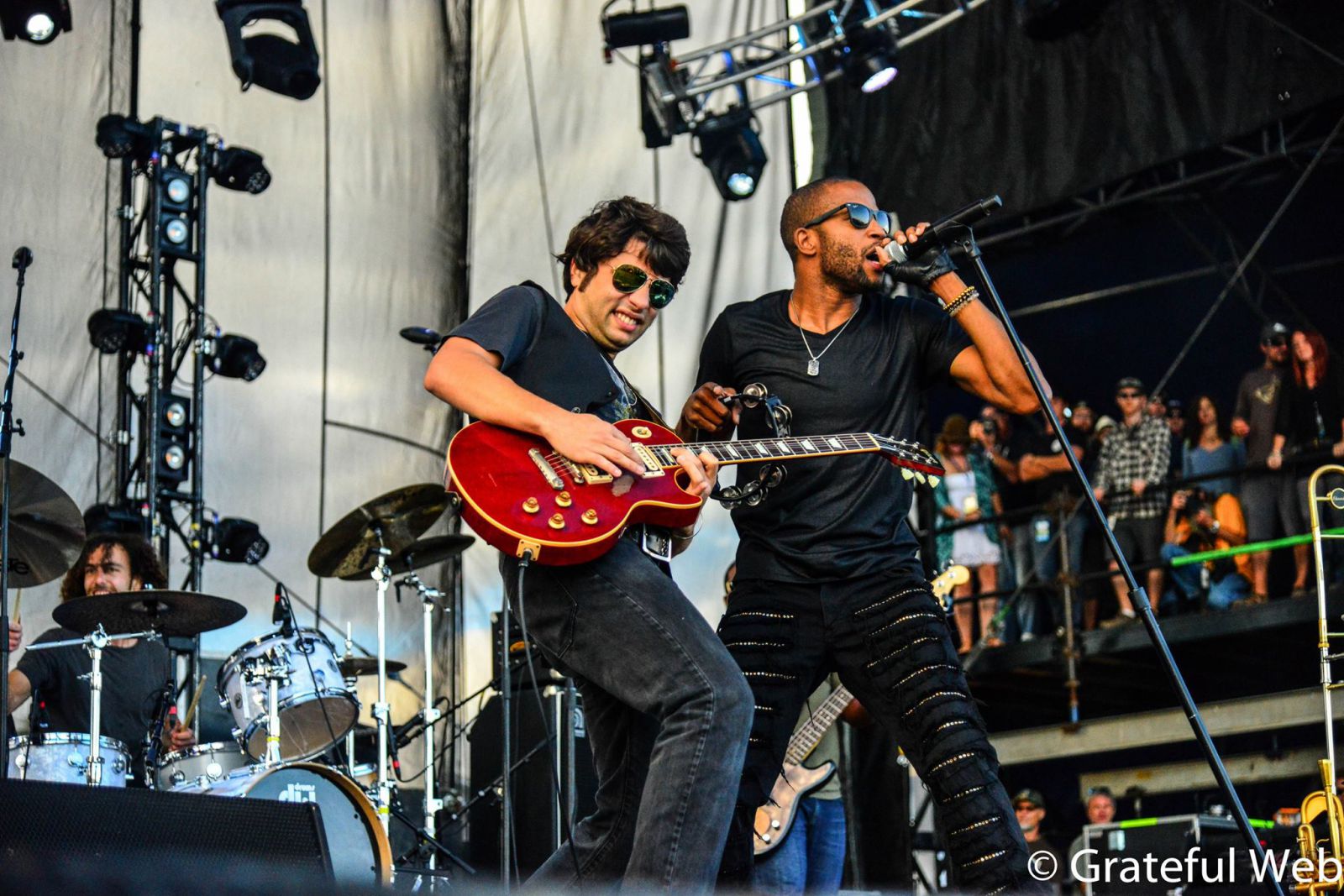 Trombone Shorty & Orleans Avenue jammed to Green Day's cover "Brain Stew." That was fucking awesome!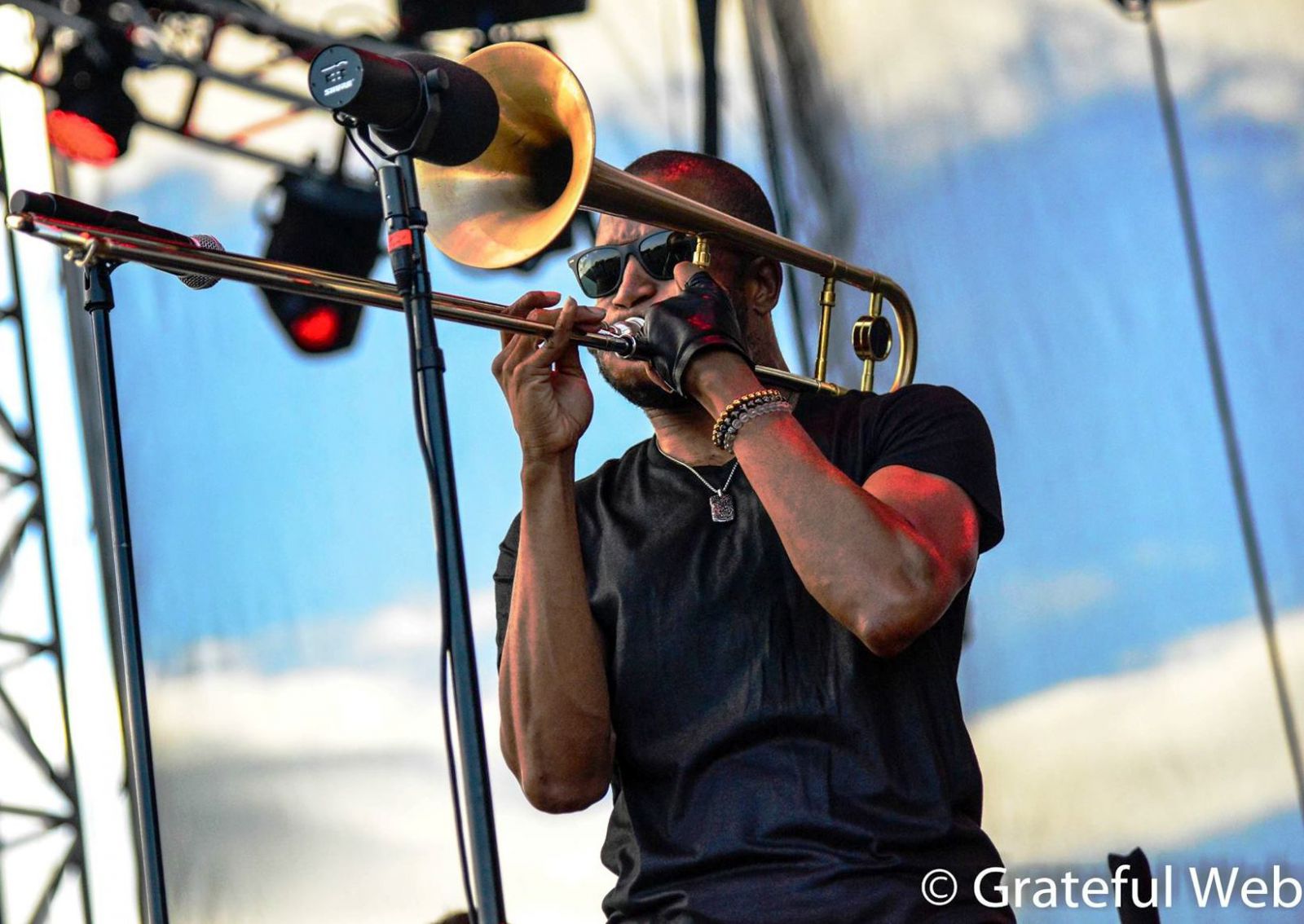 Next Gov't Mule took the Oak stage. Warrren Haynes (guitar and vocals), Matt Abts (drummer), Danny Louis (keyboard), and Jorgen Carlsson (bass).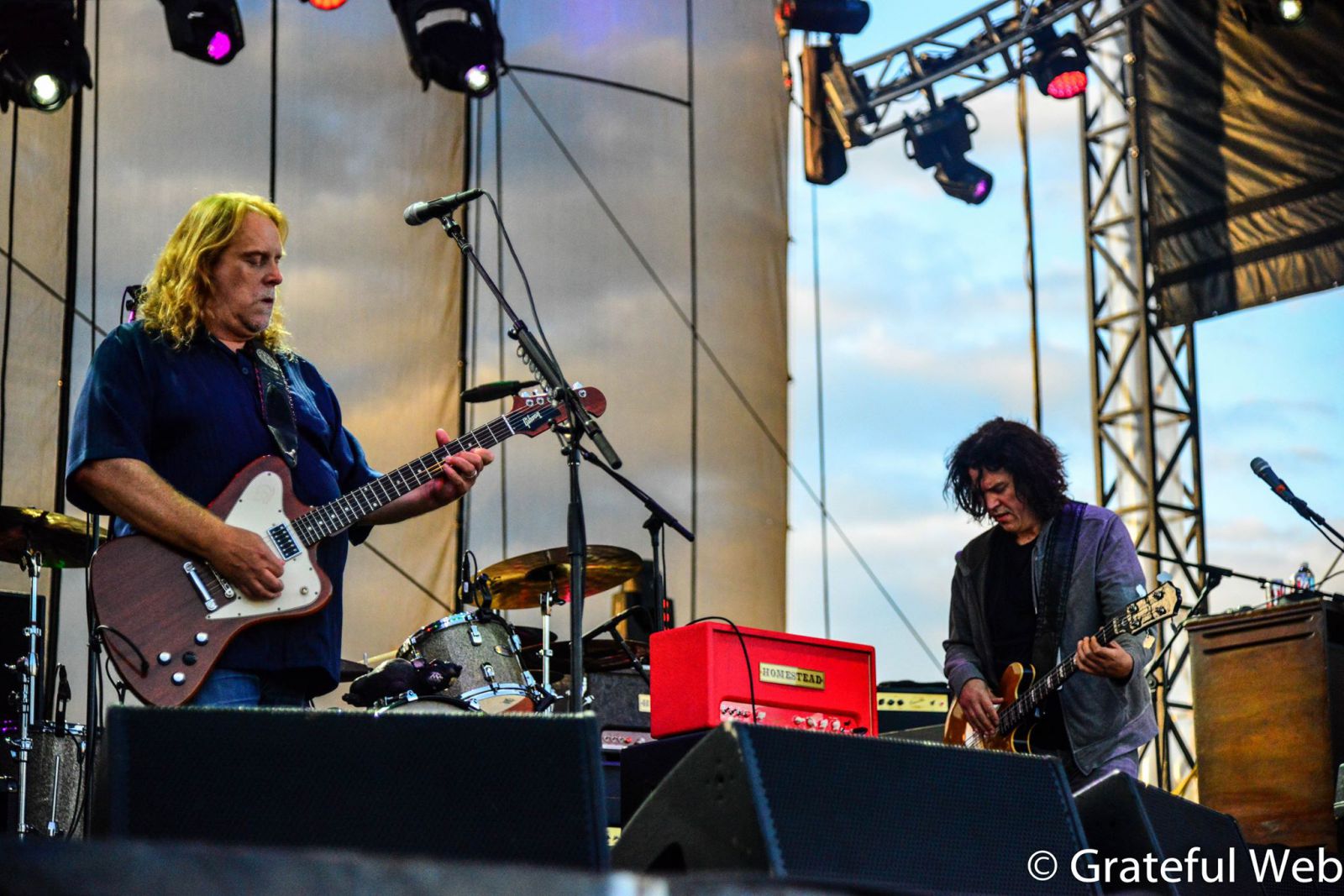 Their set list included "Blind Man in the Dark," "Unring the Bell,"
"Endless Parade,"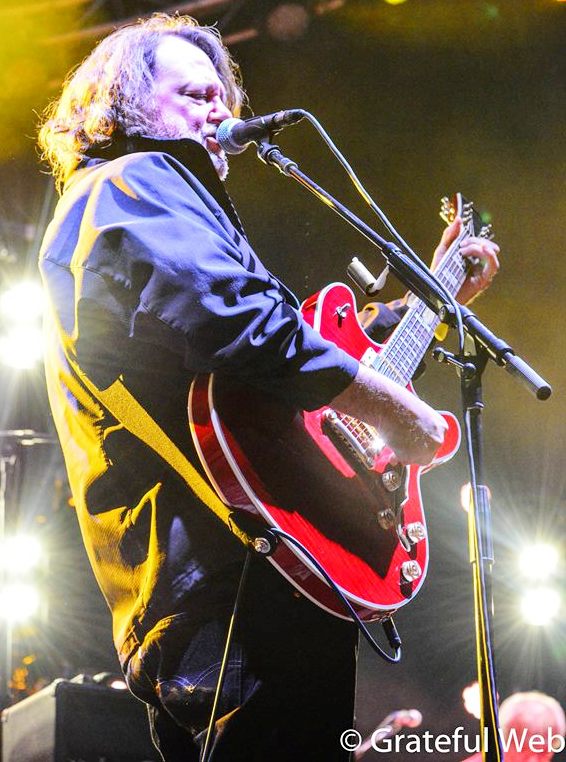 "Stoop So Low" 
(Outro 2), "Captured," 
"Stratus " a Billy Cobham cover with Jimmy Herring, "Banks of the Deep End." Next up was the Gov't Mule classic "Thorazine Shuffle with an Oye Como Va tease. The Allman Brothers classic "Soulshine" rocked the Lockneers gathered for the spectacle. They concluded with the Van Morrison cover, "Tupelo Honey."
Then, it was Widespread muthafuckin Panic all over the place as they took over the Ridge stage. Their setlist was "Sell Sell" 
(Alan Price cover), "Pigeons," 
"All Time Low," 
"Shut Up and Drive," 
and "Hatfield."
Warren Haynes joined the set for "Ribs and Whiskey" and "Tail Dragger." 
Warren left, and they continued with "Steven's Cat," 
"Rebirtha," "Papa's Home," "Drums and Bass," "Drums 
(Papa's Home reprise) and "Disco." They finished with "Protein Drink" and "Sewing Machine."
Lockn's final act was Robert Plant and the Sensational Spaceshifters. They played some Zeppelin hits. It was great. They started with "The Wanton Song" 
(Led Zeppelin cover), "Tin Pan Valley," and then repeated, "Black Dog" 
(Led Zeppelin song). Then, Mr. Plant started to prompt the crowd to sing along. When people did not respond how he expected, Plant promptly lambasted the Lockneers over the loud speakers. Exhausted after three long days of sunshine, great vibes, great times and intense experiences we did not respond to his calls to sing. Plant continued to stoke the crowd, but the crowd was not responding as he had hoped. There was a sense of embarrassment that was palpable, tangible. Awkward, but still, it was righteous, and I felt lucky to be there.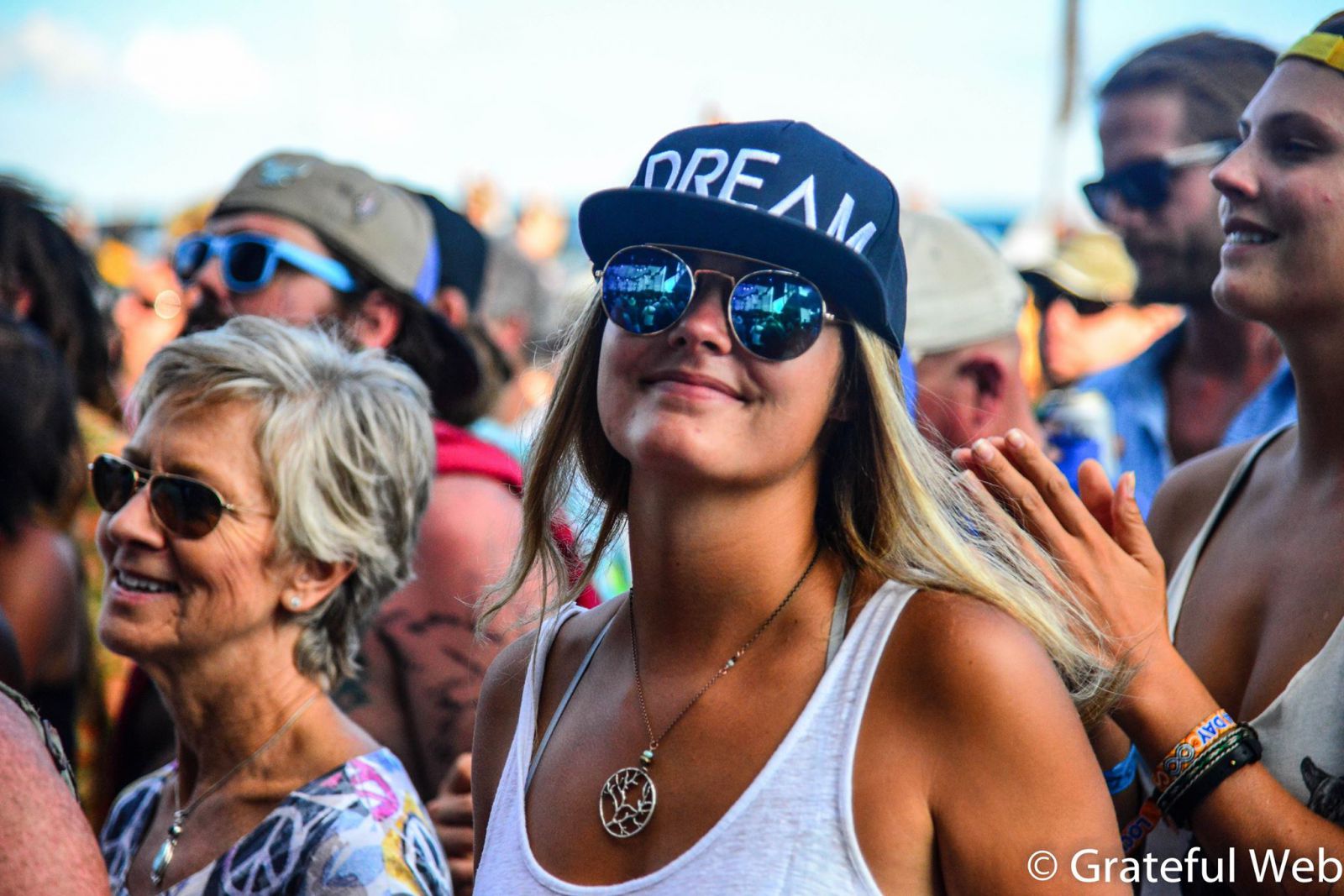 The set list is stellar. They absolutely crushed "Rainbow," a repeat from the night before as well. 
Next was "Custard Pie" 
(Led Zeppelin song), "Spoonful "
(Willie Dixon cover). "Going to California" (Led Zeppelin song) was fucking awesome! But when the crowd did not respond to Plant's prompts he got a little perturbed. Next was "The Enchanter," "Babe, I'm Gonna Leave You 
(Joan Baez cover), "Little Maggie 
([traditional] cover), and "Fixin' to Die." Encore was "Satan Your Kingdom Must Come Down / In My Time of Dying."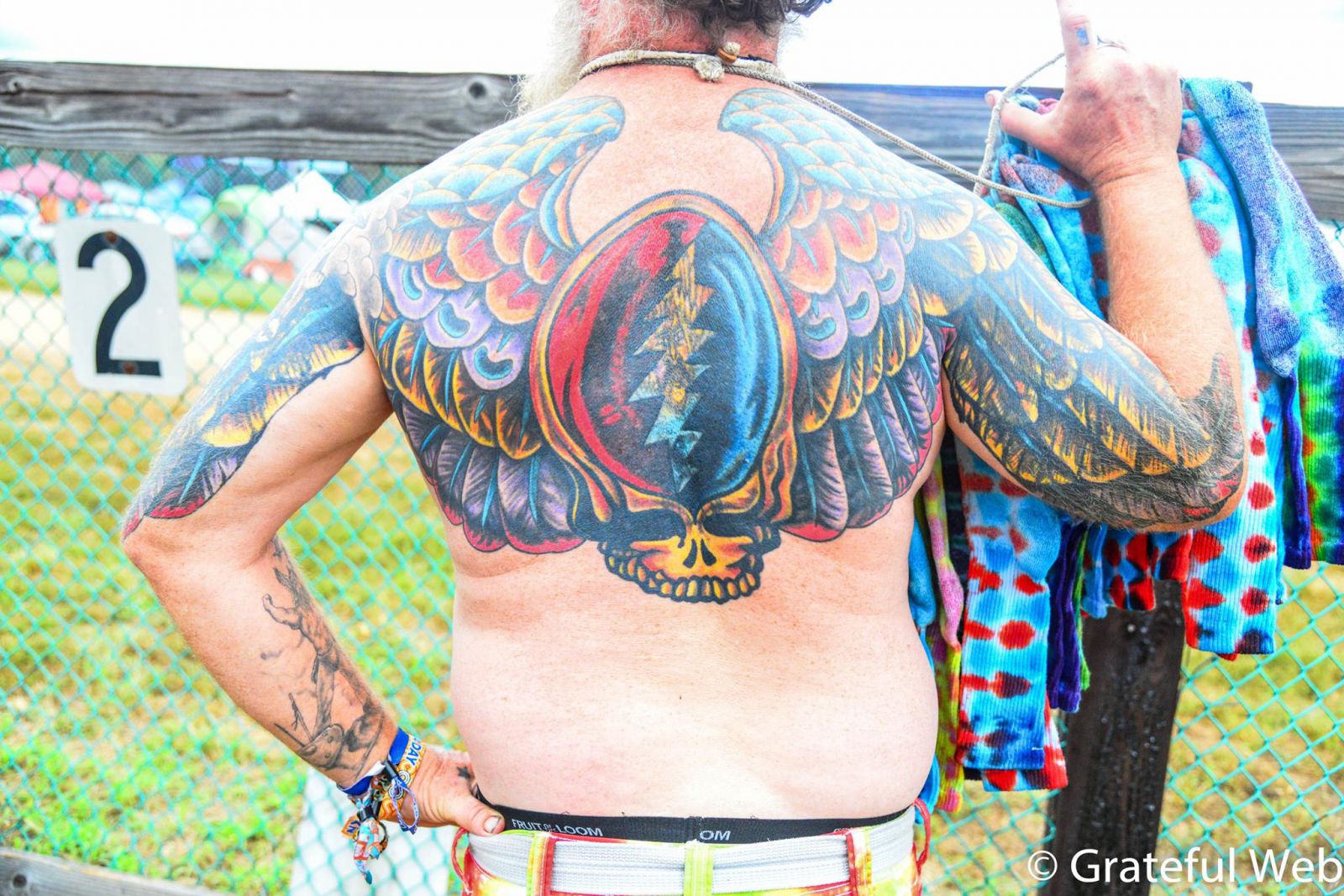 All in all, Lockn' 2015 was the most fucking bombdiggitydopaliciousness that these eyes and ears have ever witnessed. For many Lockneers Hunter's words never rang truer. "Time is a stripper doing it just for you."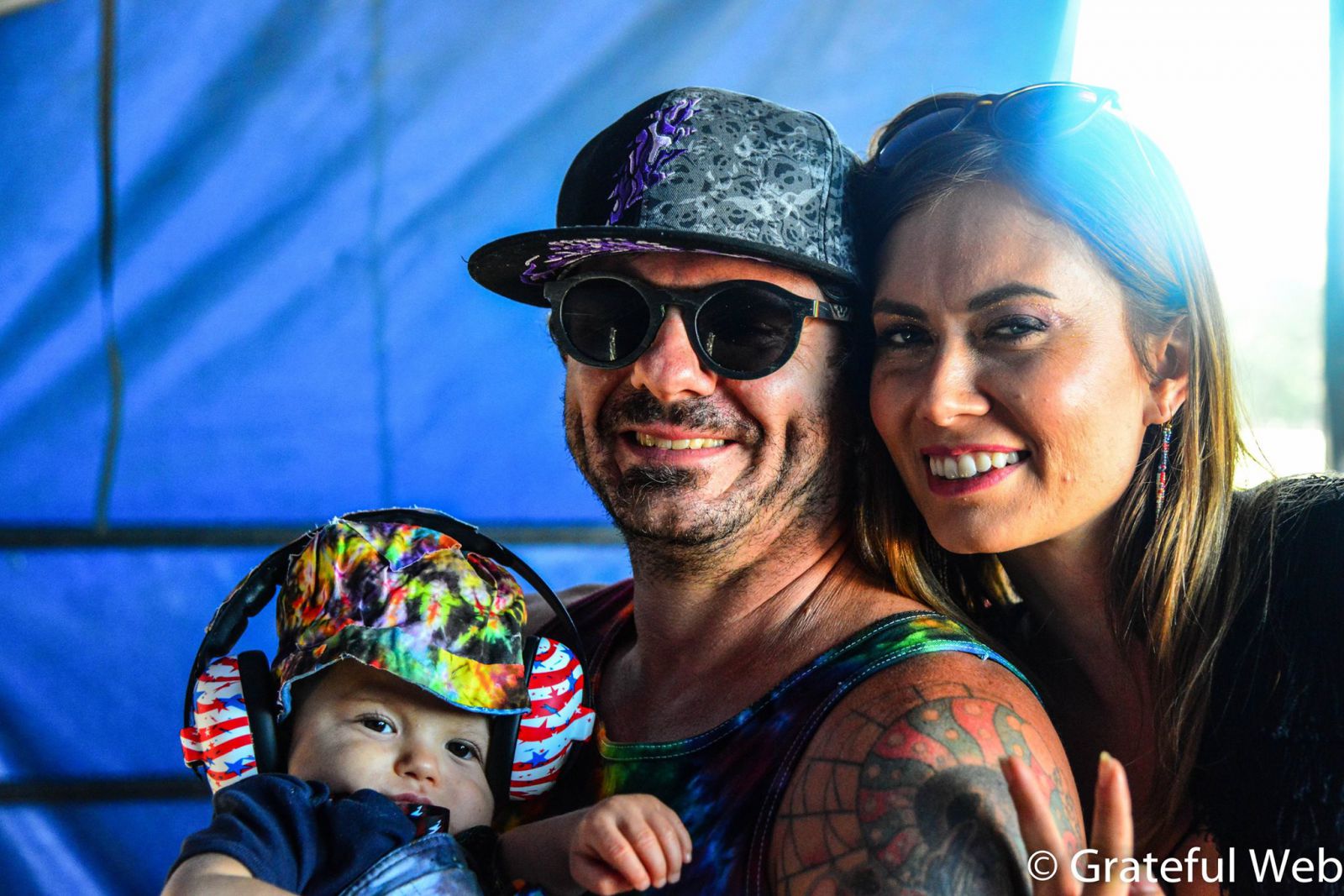 Lockn', how do I love thee? Let me count the ways…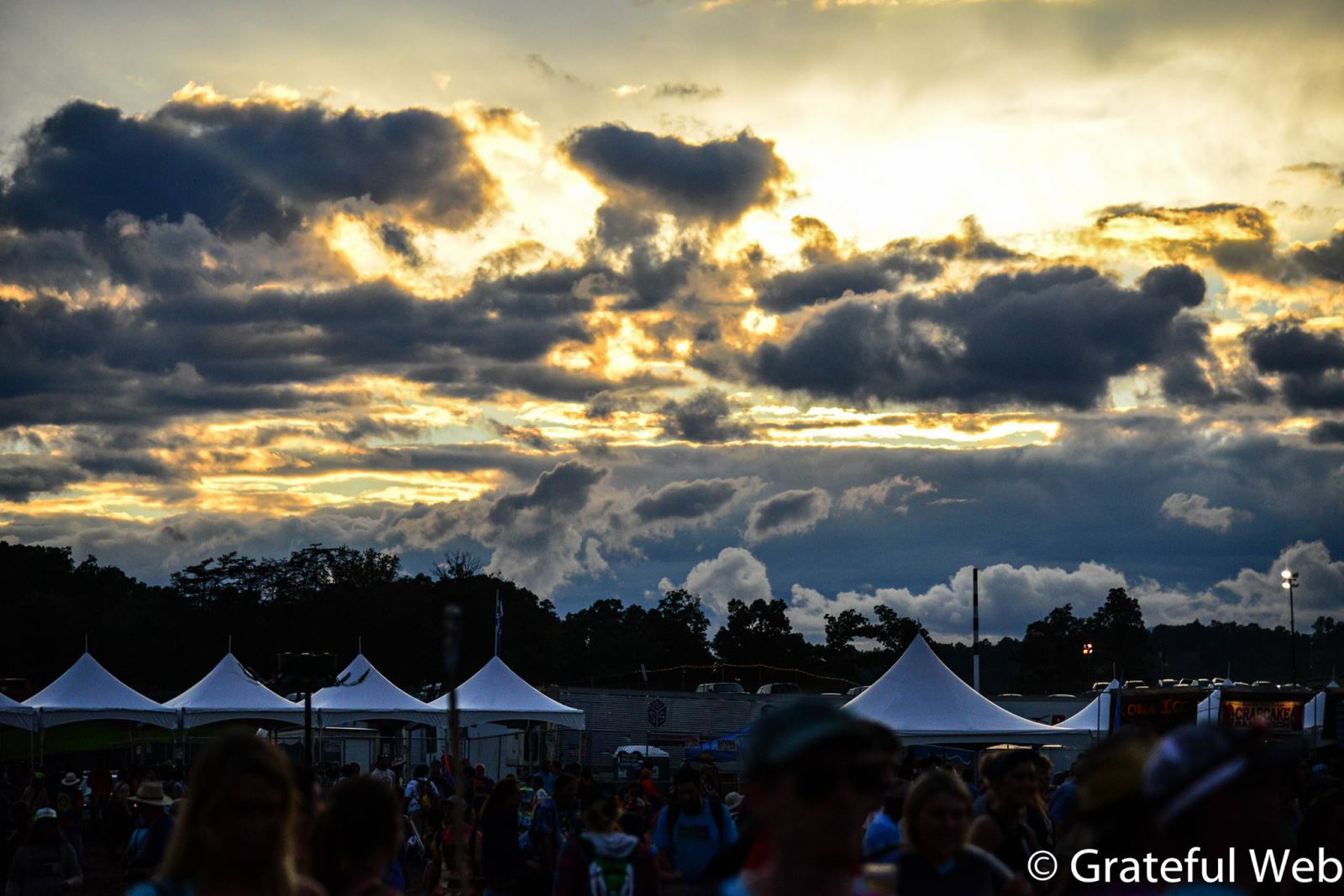 "This is how I would die into the love I have for you: As pieces of cloud dissolve in sunlight." ~Rumi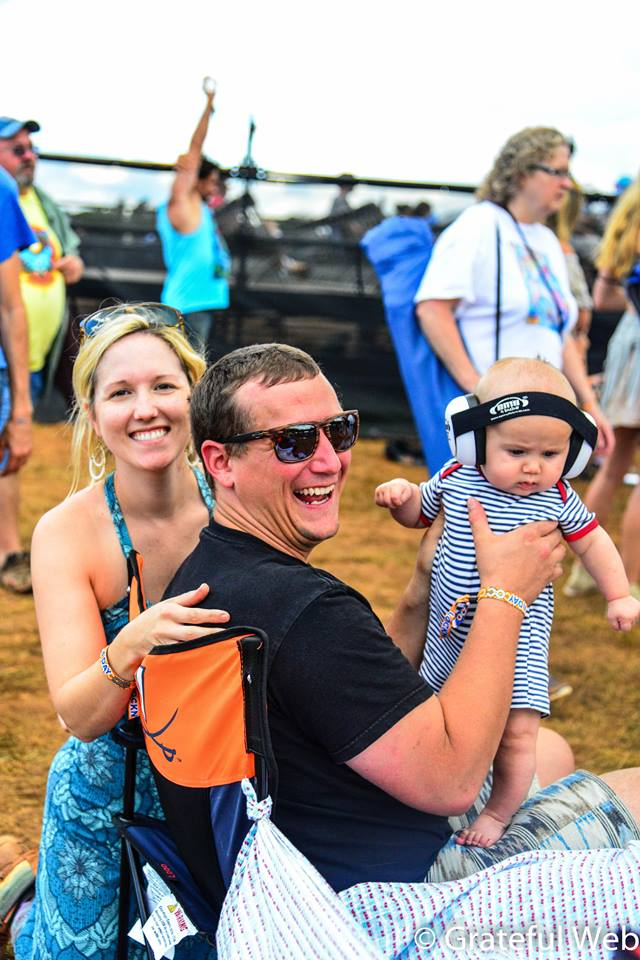 Thank you to all the rockers and staffers that made Lockn' 2015 one of the most magical music festivals to grace this corner of the Universe.
A sincere and grateful thank you from the Fam to Mr. Peter Shapiro and Mr. David Frey for putting on the best show on Earth! Thank you to Oak Ridge Estate for holding the space for the gathering, for creating a space for all of us to be a little closer to that which we hold closest to our hearts and that which we pursue with reckless abandon—Great music, groovy times, new experiences and mysterious connections. We came to the springs of love in the fields of Arrington, thirsty for those soothing vibrations. We leave with our cups overflowing. Thanks, again. Cheers.
Until next time, keep her grateful!
"Fare you well, fare you well.
I love you more than words can tell
Listen to the river sing sweet songs
To rock my soul."