After taking the scenic route in the old CJ-7 through the Blue Ridge Parkway, driving through yet another torrential downpour from the Purple Rain, and a glorious lightning storm the likes of which we have yet to see this year, we arrived at Pop's Farm. Rooster Walk 8 had just begun. We arrive slightly damp yet super amped to be back with the Farm in the woods, jamming to the bluegrass vibrations in the foothills of the Blue Ridge Mountains.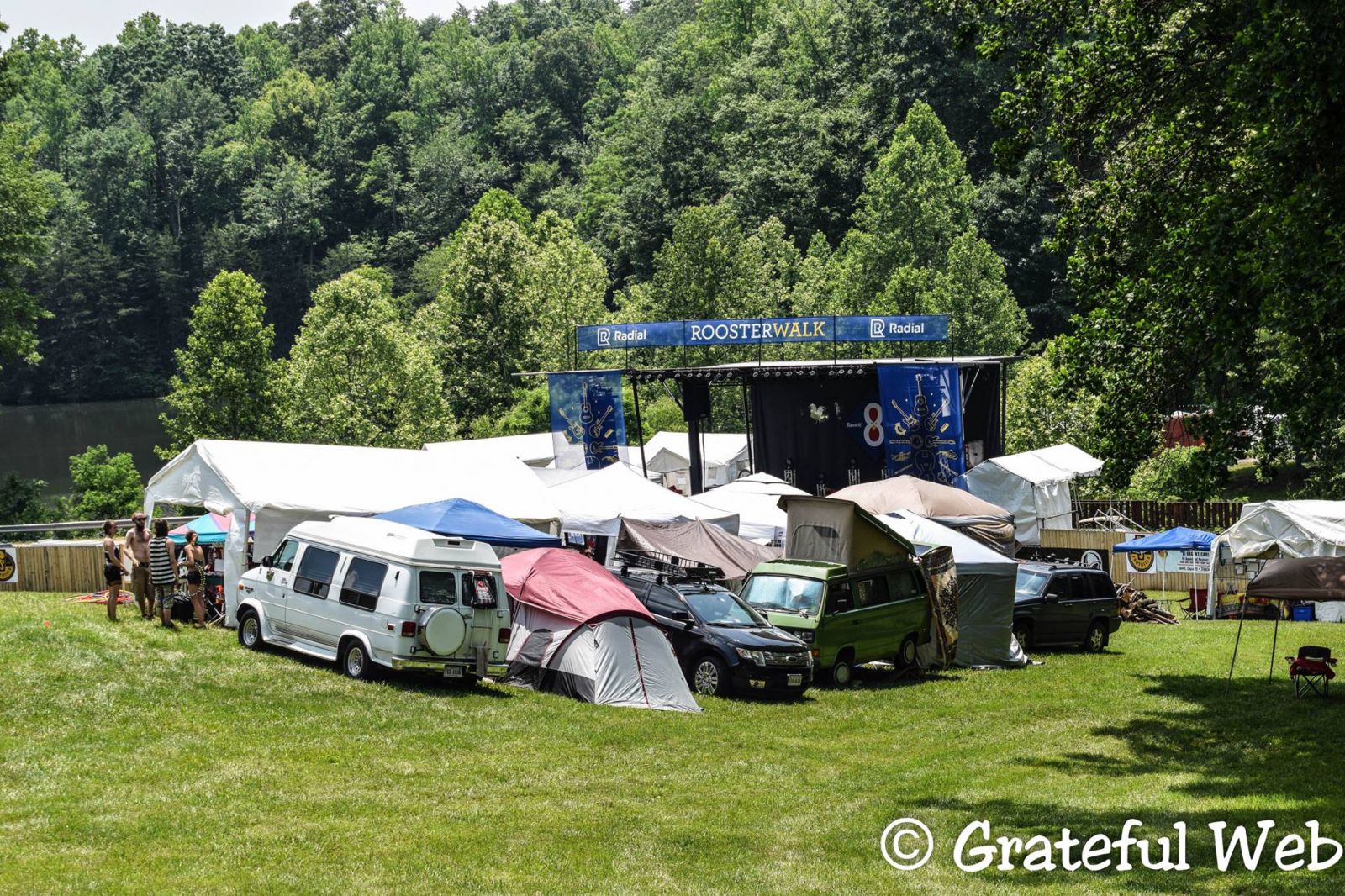 Let's just say I have never seen so many banjo strummers and guitar pickers gathered in one location. Ever. And I loved it! I knew I had a predilection for fast pickin', but I never knew I loved the banjo like I do. Somebody needs to take the VA is for Lovers logo and draw a banjo with the "O". In fact, Appalachia has a strong, super awesome musical heritage that is highly underrated. Rooster Walk is doing its part to raise the vibration.
Cabinet started things off Thursday night, playing on the Pine Grove stage. They jammed super hard, and strummed the hell out of the banjo. If you can imagine an Americana Appalachian-style jam band, less psychedelic than Floyd with more roots mixed with rock & roll… then you're getting close to Cabinet. What a serene serenade in the scenic foothills of the Appalachia mountains if we do say so ourselves.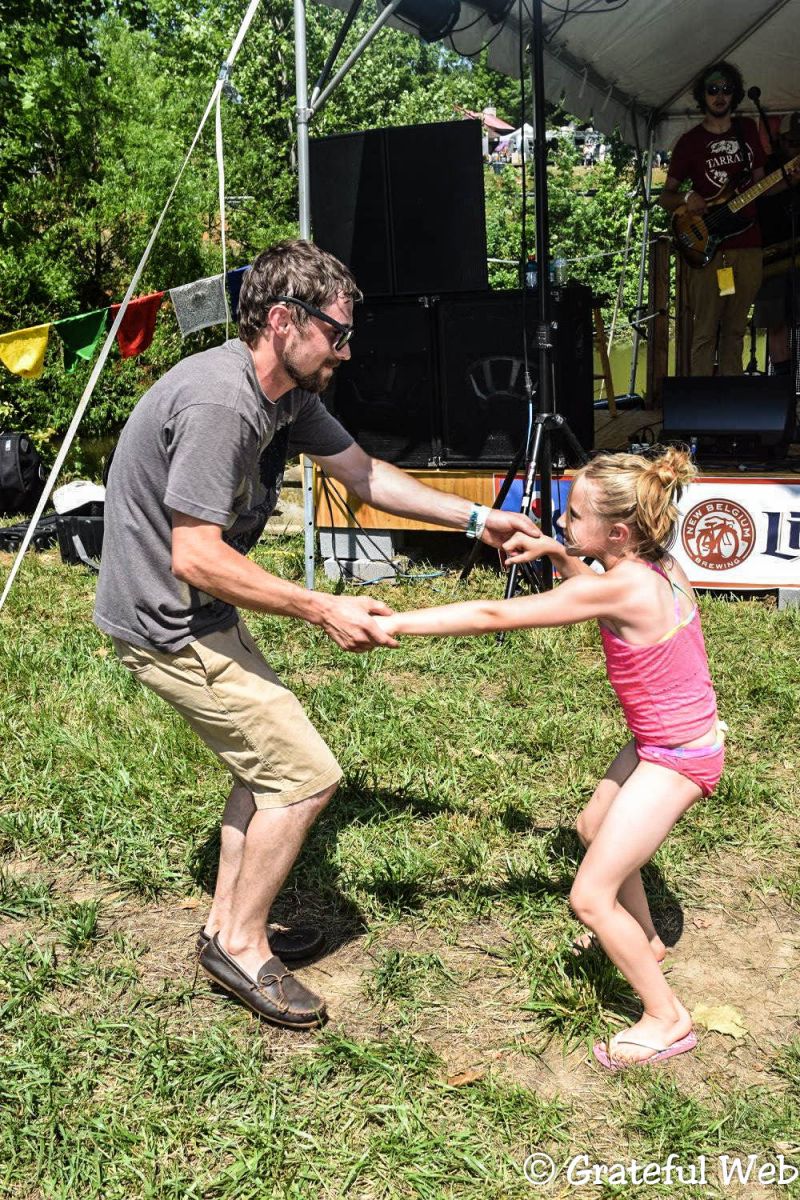 People's Blues of Richmond (PBR) took us into the late evening with a set on Pine Grove Stage. These pines stretch for the heavens like Redwoods in California, only they're like the mini-me version. The way the lights lit up their canopy was astounding. I felt like I was tripping with the Lorax and Dr. Seuss, yet we were sober as a nun.
Friday May 27th, 2016
Went to Serenity Café, sponsors for last night's VIP event. We thought we'd go in and thank them, and power up the tools while jotting down some of the memories from the night before. We never found the media tent… so it was Serenity or HQ, and let's just say HQ wasn't set up for guests.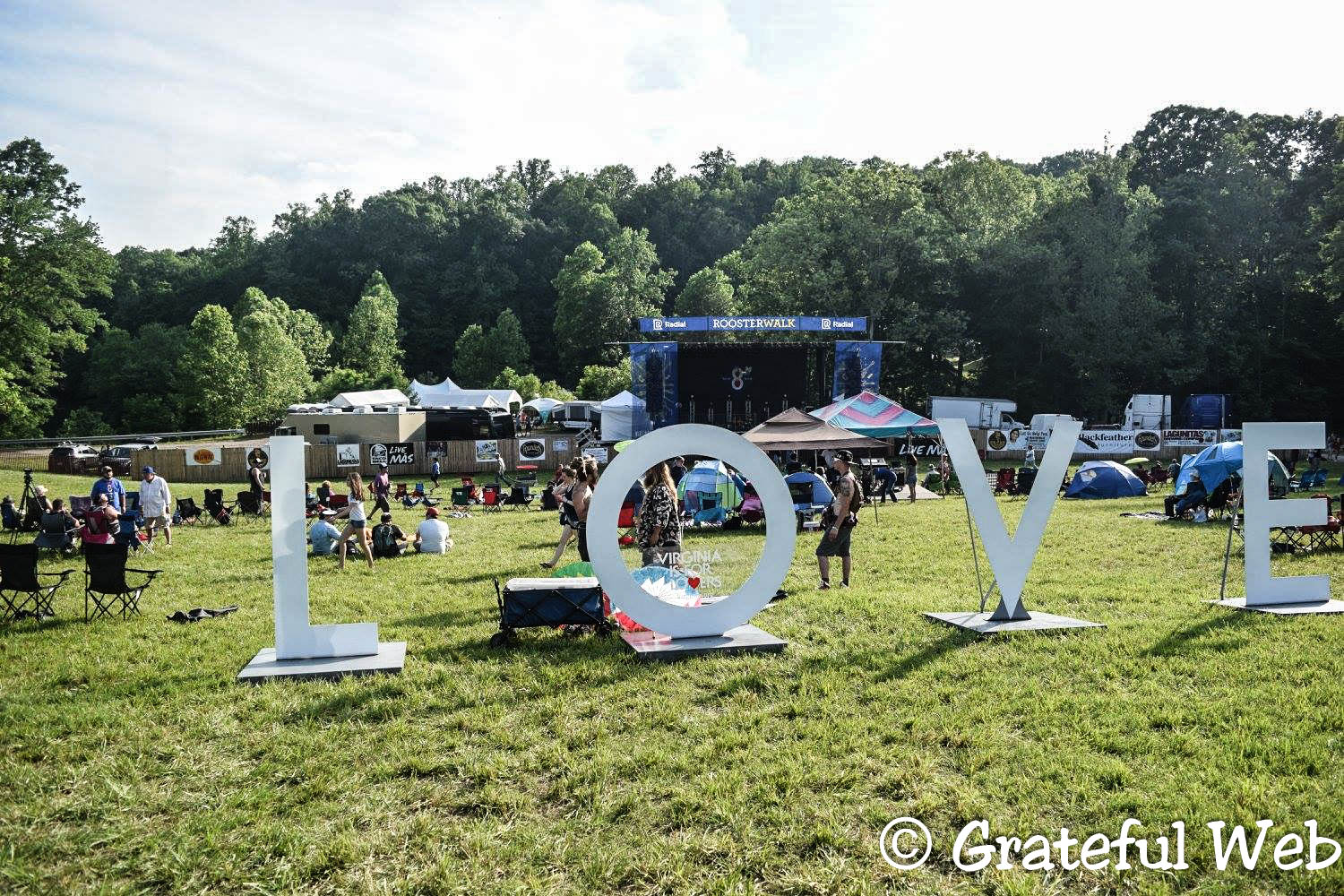 Slick Junior and The Reactors were jamming pretty well by themselves, then for the second half of the show there was this sweet red head lady with the voice of an angel singing the afternoon away. Then, from behind the tall pines I heard the sweet tunes of another band. I had to find out who it was.
It was the Trongone Band. They were jamming hard! Southern Rock meets classic rock meets Appalachia swag! They are so dope. Check them out if they come to your neighborhood. They were playing the VIP Stage Friday afternoon.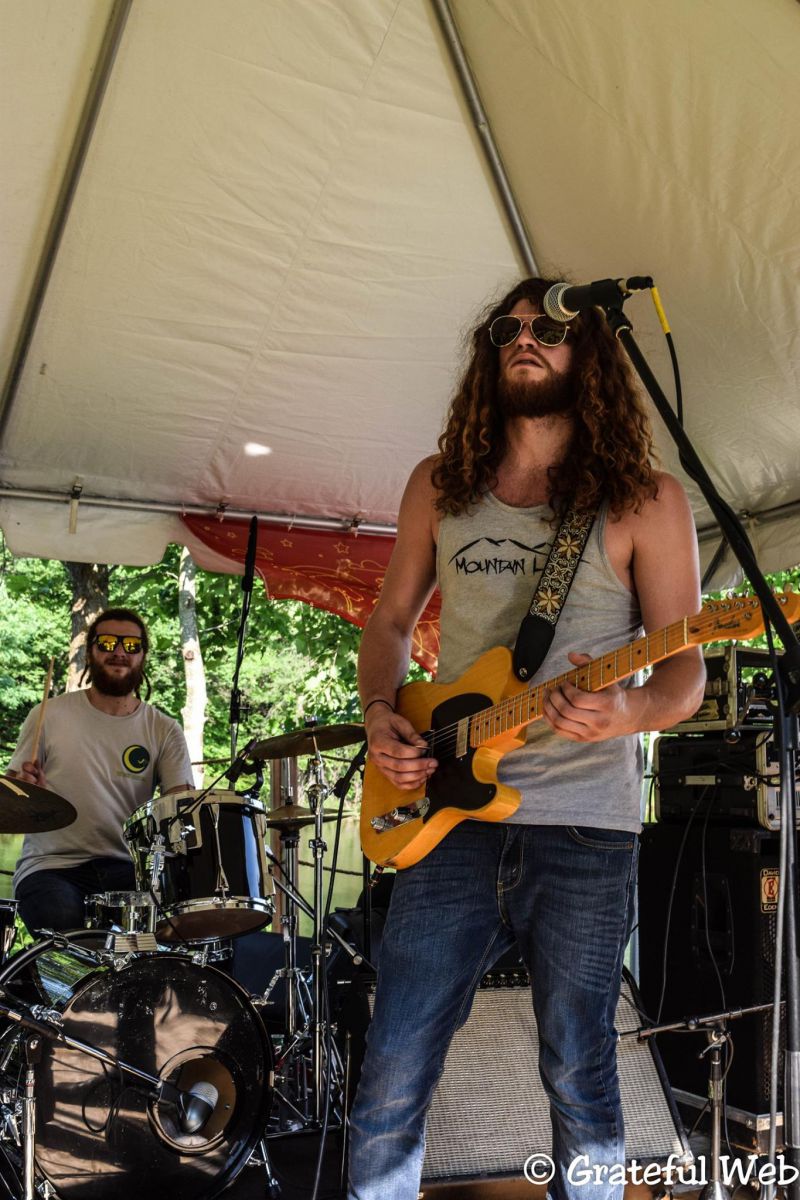 We meandered back toward camp to see Roosevelt Dime, an Americana Rhythm and blues band from Brooklyn. They kicked off Rooster Walk's Radial Stage. Near the end of their set they started playing a song written by Andrew Green, the manifesting banjo player, about moving to West Virginia and growing a beard… and that's what he did. Well, he moved to Virginia instead, but that's pretty close. A for effort, for sure. Building the dream one song at a time.
We met with Eben Pariser, lead singer and guitarist for Roosevelt Dime, after the show. These guys got my attention immediately after I heard the Greeen killing his banjo in "Ophelia." Any band that covers The Band rules in my book. Nice to see they pay respect to one of the king's (in our humble opinion) of Southern Rock, Levon Helm.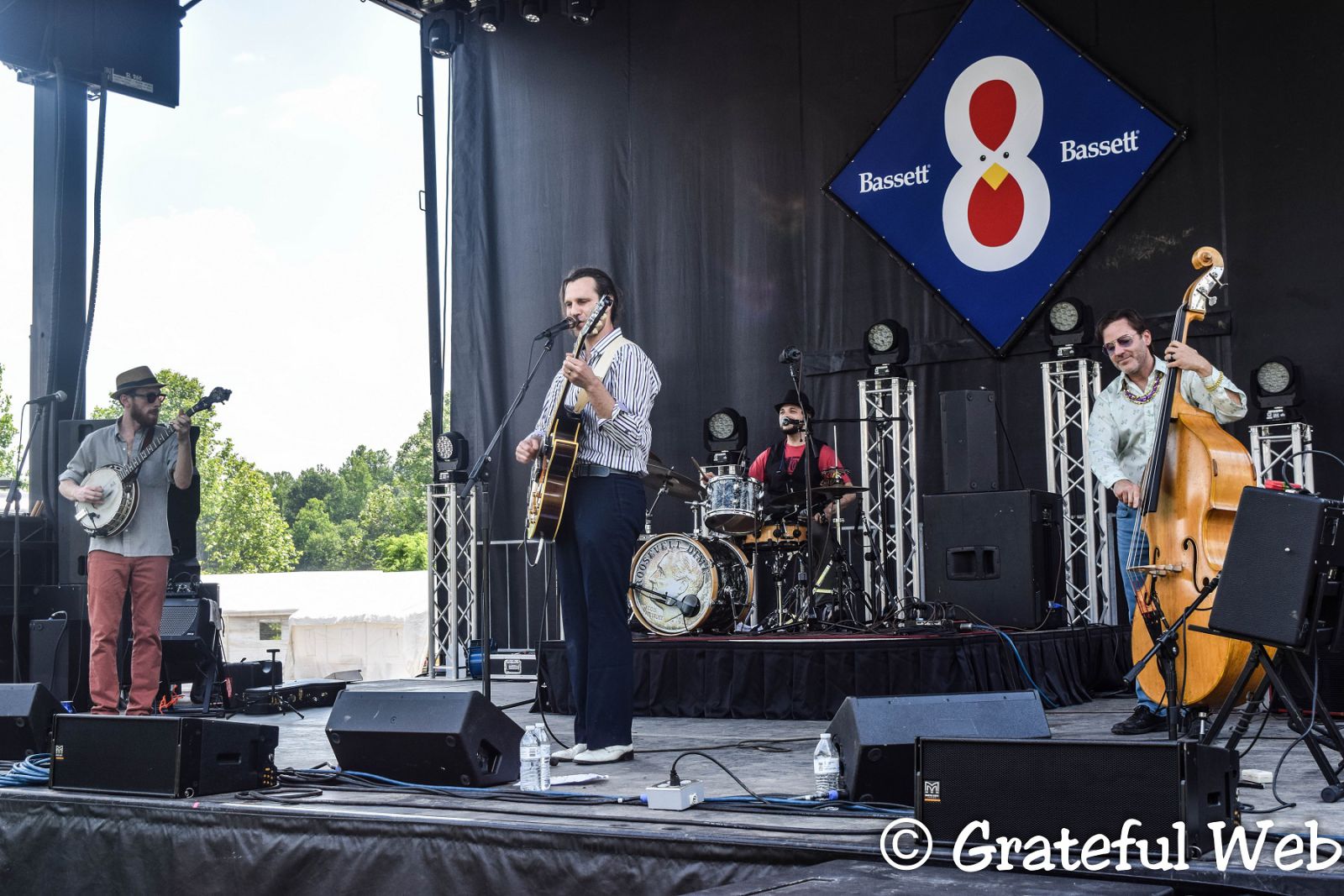 Then, they played their title track, "Roosevelt Dime," about how it ain't easy to get by in these hard economic times, so they'll give you their last Roosevelt dime. Maybe you can use it to call God… or somebody who can help. They played, "Wishing well" next.
Then, they covered the Chili Peppers, "Funky Monks." "There are no monks in my band. There are no saints in this land. I'll be doing all I can if I die an honest man." So good. Then, they covered Tom Petty's, "American Girl." Two songs I grew up listening to! Love the classic early 90s rock covers for sure! Nostalgic. The classic music with an Appalachian twist takes us back to a time "that's so close, yet still so far outta reach." Except it's not outta reach, because we're still swimming in it right here right now.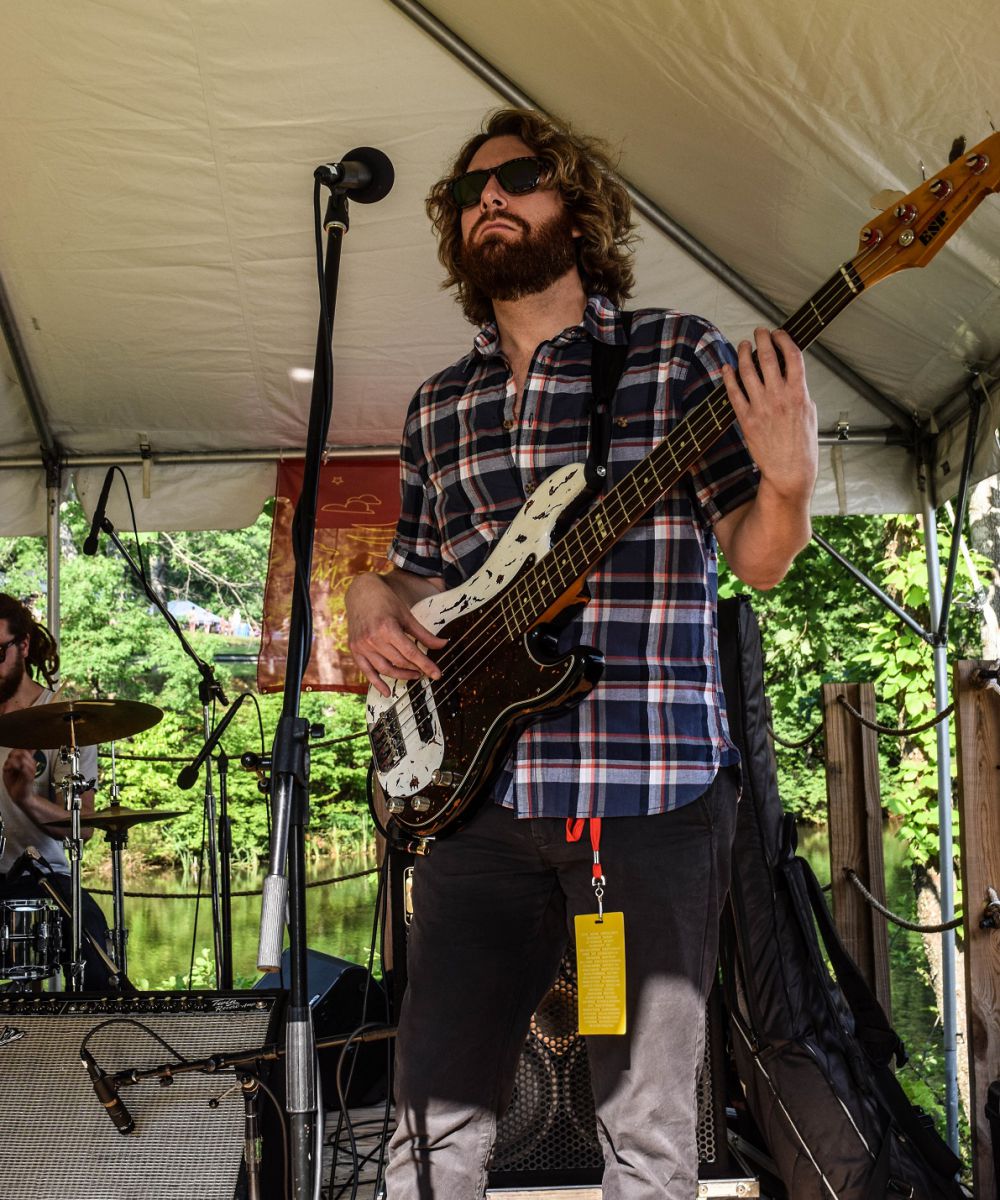 So it went that after the show I meandered off to the VIP stage to listen to Trongone (pronounced: Tron-gone-EE). I caught them cover Tom Petty's, "My Girl." That was pretty awesome. Second Petty song I did not expect to hear.
Then, I wandered off. I heard L Shaped Lot, another hard banjo picking, guitar string breaking band strumming like they meant it! Again! They were performing a Dead cover happening and I was drawn to the vibration. I got back stage as they were jamming, "Franklin's Tower." What a great cover. Then they covered Alabama's "Mountain Music." "Play me some mountain music like Grandma and Grandpa used to play. Then I'll float on down the river to a Cajun hideaway."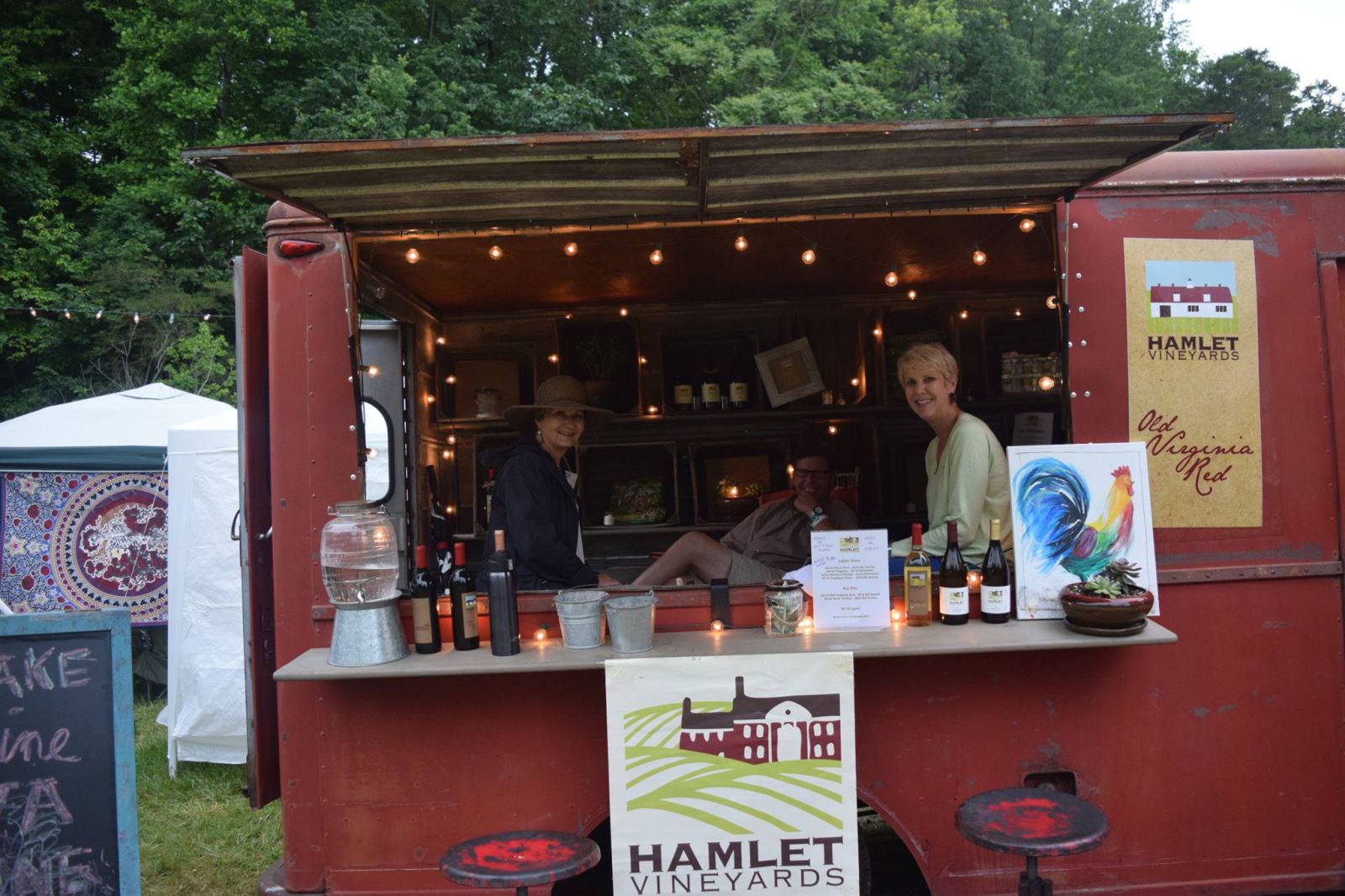 Then, as I was about to jump in the river to cool off from the late spring sun I heard another Dead cover playing from across the pond. I went back to catch Trongone Band playing "U.S. Blues."
As we were perambulating about the verdant hills, we caught Talisha Williams from Wild Ponies in blue boots, lead singer, bass player; Doug Williams, Wild Ponies, singer, guitarist, and husband; and Eben Pariser, lead singer from Roosevelt dime, in white shoes.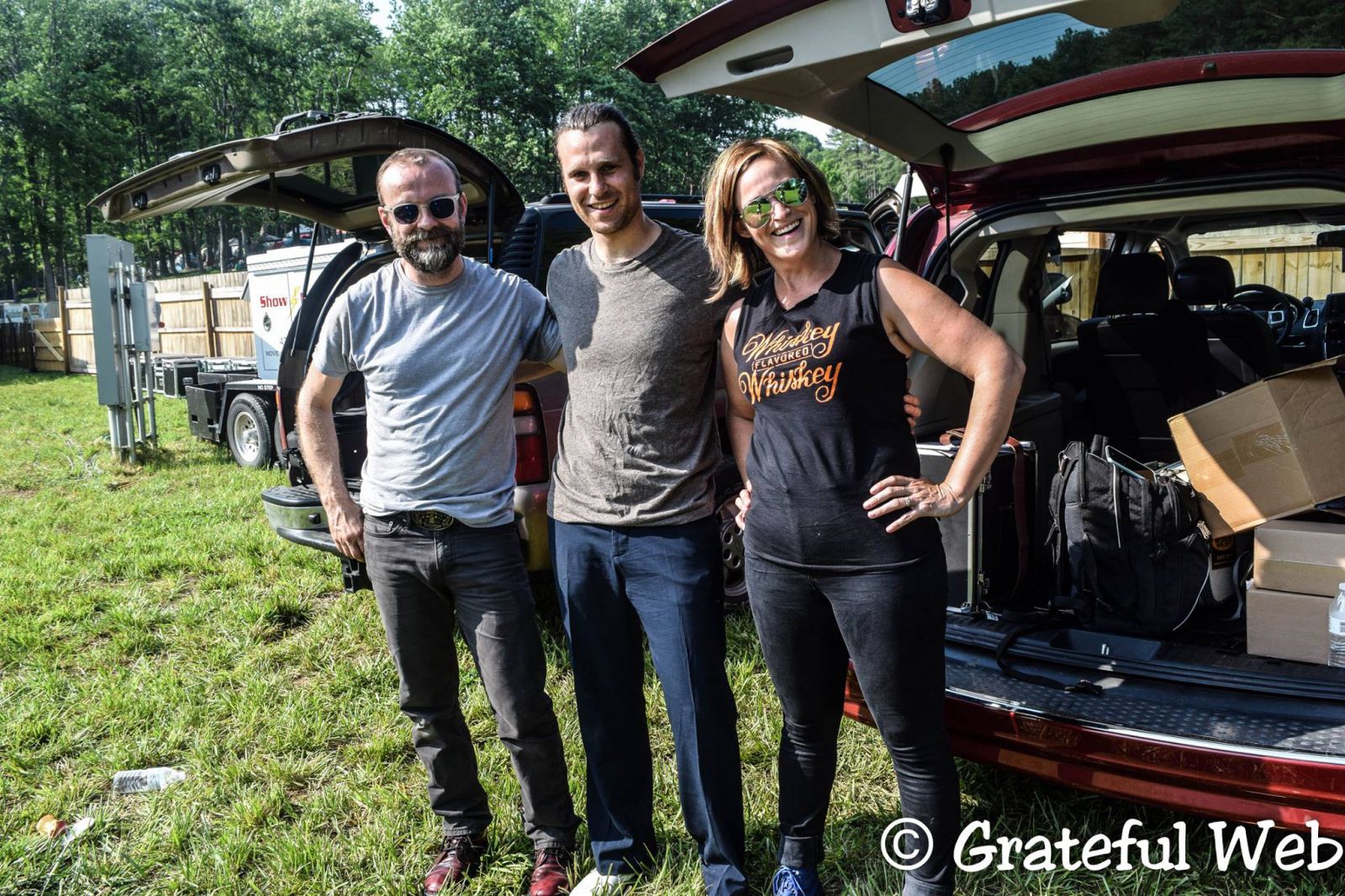 Then, I ran into an old friend, the VA drummer boy, Tucker Titus. Hadn't seen him since Virginia's funeral. She is a beautiful spirit and was a wonderful woman who shared her home with us as we came up from lil' whippersnappers to indigogo adults! Tucker's set was spent banging EDM on the electric drums with the Army of Darkness during the Silent Disco Saturday night after the Jon Stickley Trio. Everything was going great until somebody came and poured their beer all over his and his friend's equipment. We all make bad decisions from time to time, but let's try to refrain from vandalism. Tucker & friends refrained from releasing the Kraken on dude's face, which is admirable. Johnny Law got his hands on him and we don't know what happened to him after that. But we digress…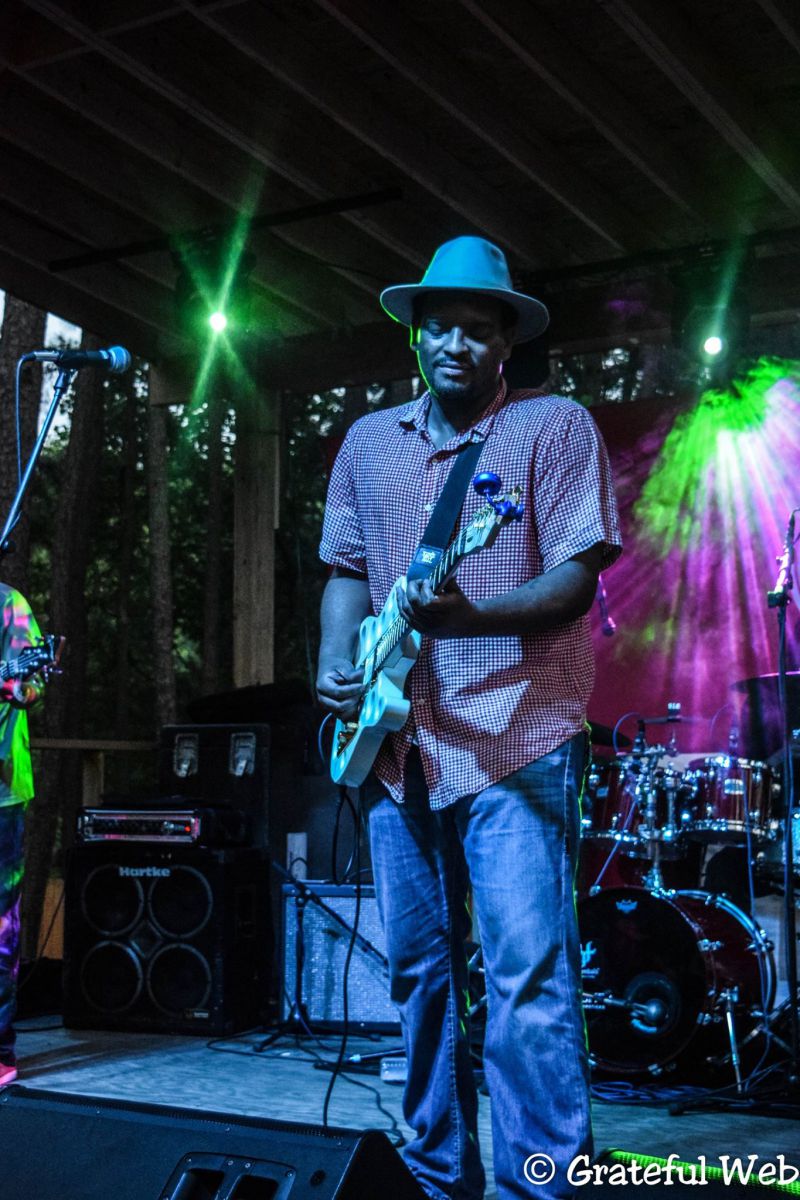 Jarekus Singleton, who hails from Clinton, Mississippi, lit up the Pine Grove Stage early Friday evening. I was going back to camp to chill out and take a load off when we heard the sweet, sweet sounds of Jarekus Singleton. Wow! Absolutely amaze-balls! Never even saw it coming... Infused with electric vibrations, swaggy bass lines, classic, jammy rock & roll awesomeness! So much energy oozing off this stage, I could not pull myself away. Fantastic beginning to a spectacular evening filled with funky vibrations, strumming banjos and lights everywhere.
Acoustic Syndicate killed it on Bassett's Lake Stage as the Sun was setting in the west. Wow! More banjo! Banjo everywhere. Love the southwest Virginia bluegrass vibe all over Rooster Walk. Banjo strumming and Rooster Walker's strutting their stuff all over the foothills of the Blue Ridge.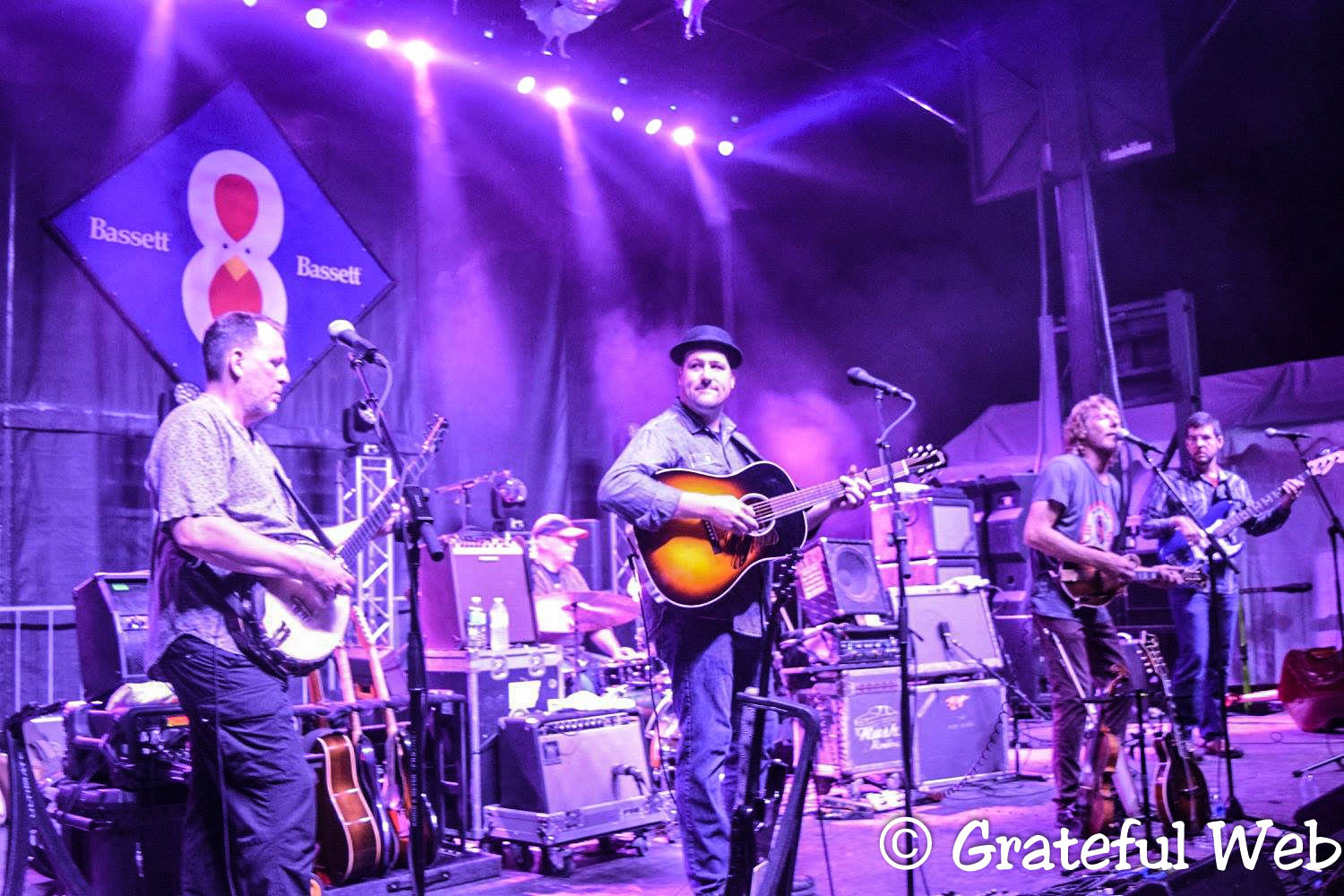 These guys kicked so much ass, as did the fire spinners, that I almost missed Sam Bush. But we did not! Sam Bush took the Radial Stage Saturday night at 9 o'clock. Larry Keel joined him briefly for a couple bluegrass jams laced with the overtones of true Appalachian Americana bluegrass rock & roll music. The Sam Bush Band this night consists of Todd Parks on bass and harmony vocals, drummer from Abq, NM, Chris Brown, back up guitar and electric guitar, Steven Mojo Mojan, and 5 string banjo, Scott Festel. Loved the line in, "Gangstas in power and lawbreakers making the rules. When you gonna wake up?"
Perpetual Groove, from Athens, GA, headlined the Radial Stage on opening night. There in a genre all their own, which is why they have a following, not quit like Widespread, but maybe one of these days. PGroove's unique trance electronica mixed with psychedelic rock gives them a style all their own. And to top it off is an over the top mind-blowing light show these guys put on. The electric light show, the best one we've seen since Umphrey's McGee, was mesmerizing! Absolutely out of this world dopeness! Check them out at a venue near you.
Saturday May 28th, 2016.
Erin and the Wildfire kicked off the festivities Saturday on the Bassett Lake Stage for their first Rooster Walk set ever. Erin has the voice of an angel. After starting slow and soft, she ended the set with a cover of Alicia's Keys, "If I Ain't Got You," and the funky, bluesy jam, "You Can't Blame the Rich." Great set from the Charlottesville native rocker! "Big Wheels Keep on Turning. Rolling Down the River," CCR, baby!
Larry Keel opened the main stage Saturday. Larry is one of the finest pickers I've ever seen. He closed the set off with a cover of Lynryd Skynryd,'s "Smell that Smell." Check out his new album, Larry Keel Experienced, featuring Jenny Keel, Keller Williams and Sam Beck.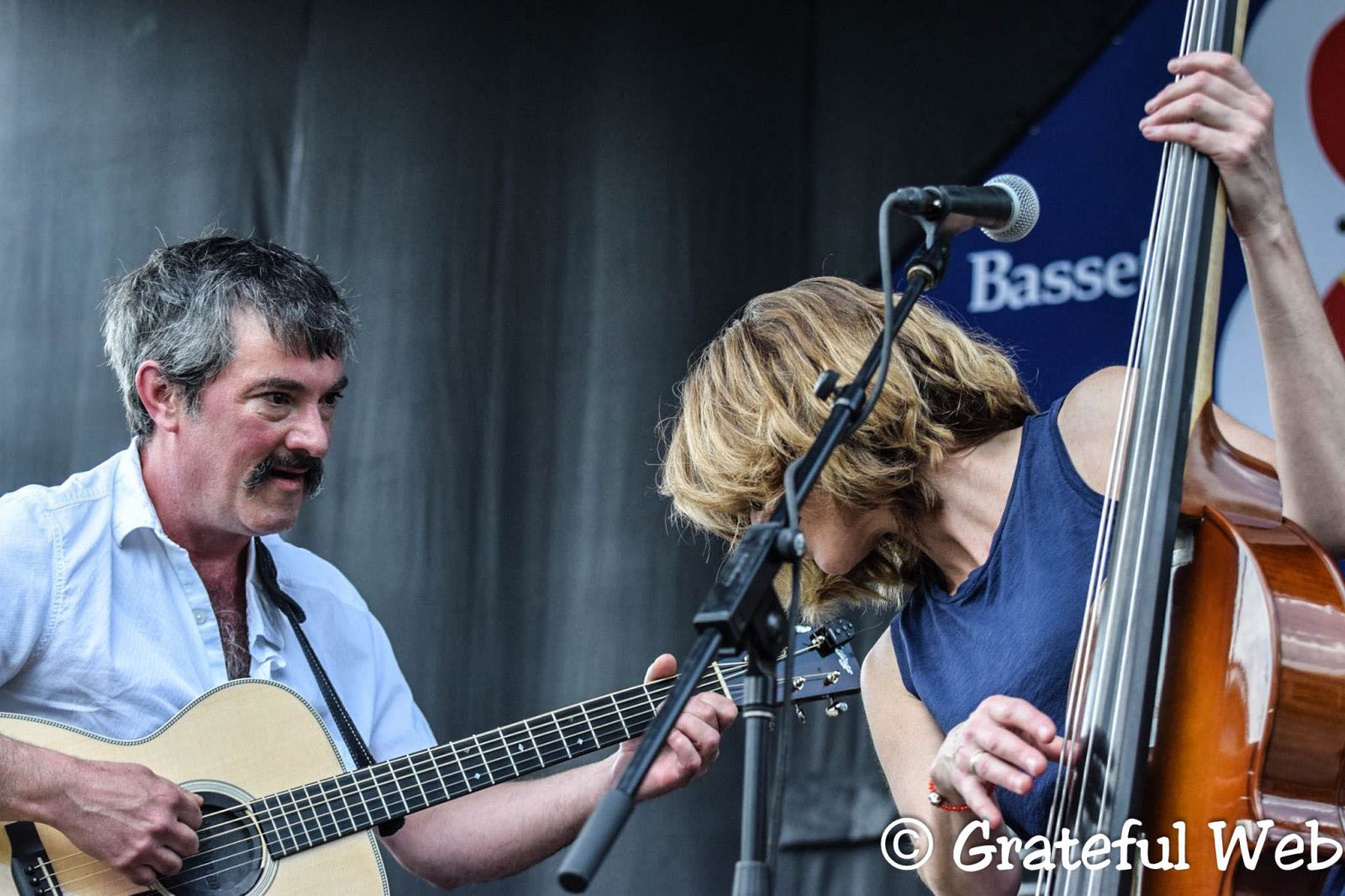 After last night's performances with Sam Bush and Larry Keel, The Acoustic Syndicate, Roosevelt Dime, and L Shaped Lot, I think I've seen some of the best guitar picking I've seen in a cotton-picking minute.
Yarn was the first band I saw the crowd actually singing along. They have been playing Rooster Walk since the beginning and have managed to form quite a following. Of course, there was another banjo playing go hard for all the Rooster Walkers.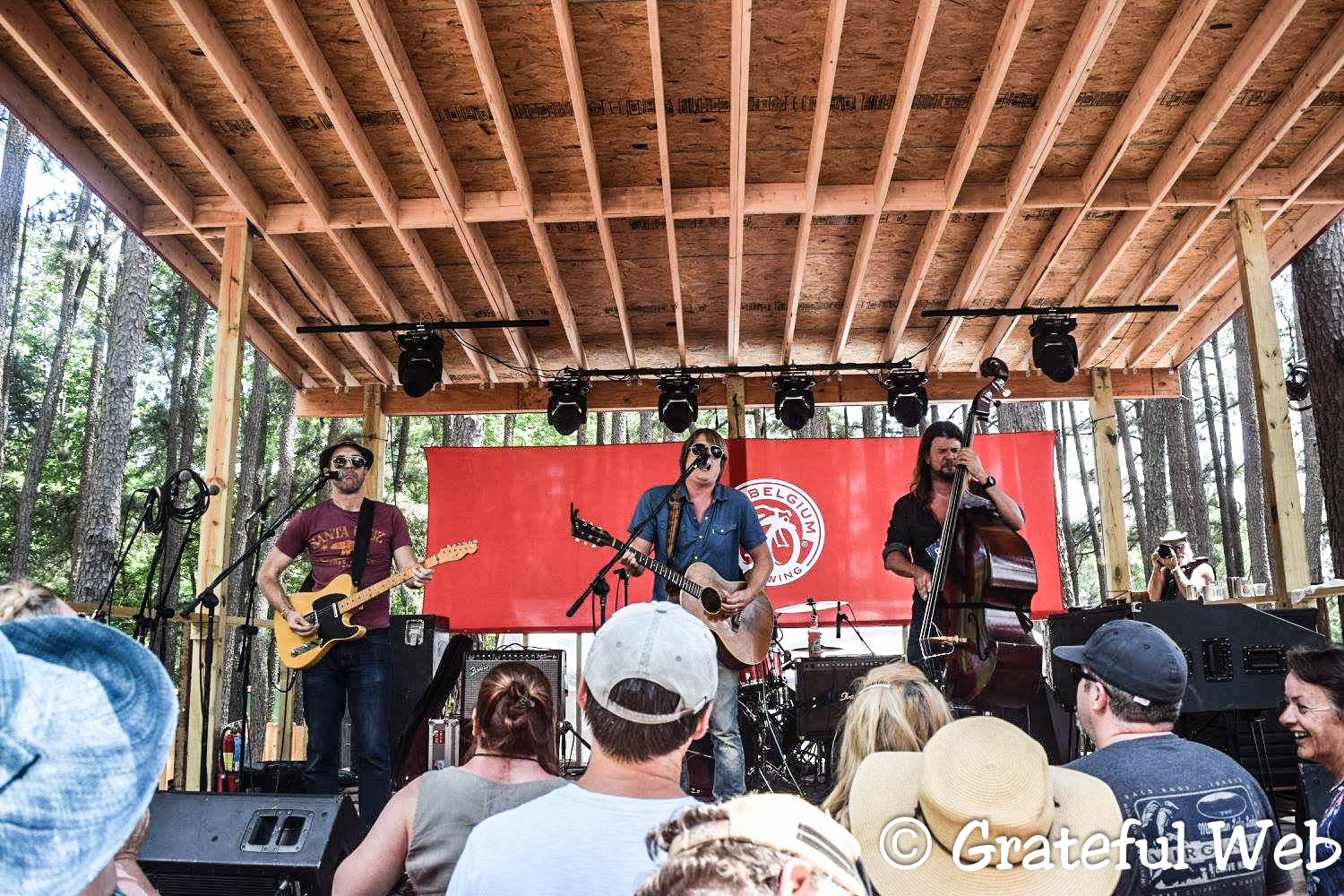 We made our way to the VIP stage to check out Naughty Professor. They are a horn band from New Orleans. Check out this Selmer Super Balanced action baritone saxophone from 1950, from Joe Fairbanks. They held down the stage, jamming hard and representing the Big Easy in the heart of the Appalachia.
Lettuce, who I had not seen since they performed on a side stage at Floydfest '14, absolutely rocked Rooster Walk. They brought the FUCK, and had the whole field filled with Rooster Walkers jamming to their good vibrations. I could not leave. Even with all the red and blue lights blaring in my face. We wish they would have had a light show more like PGroove's… Not complaining. Just saying…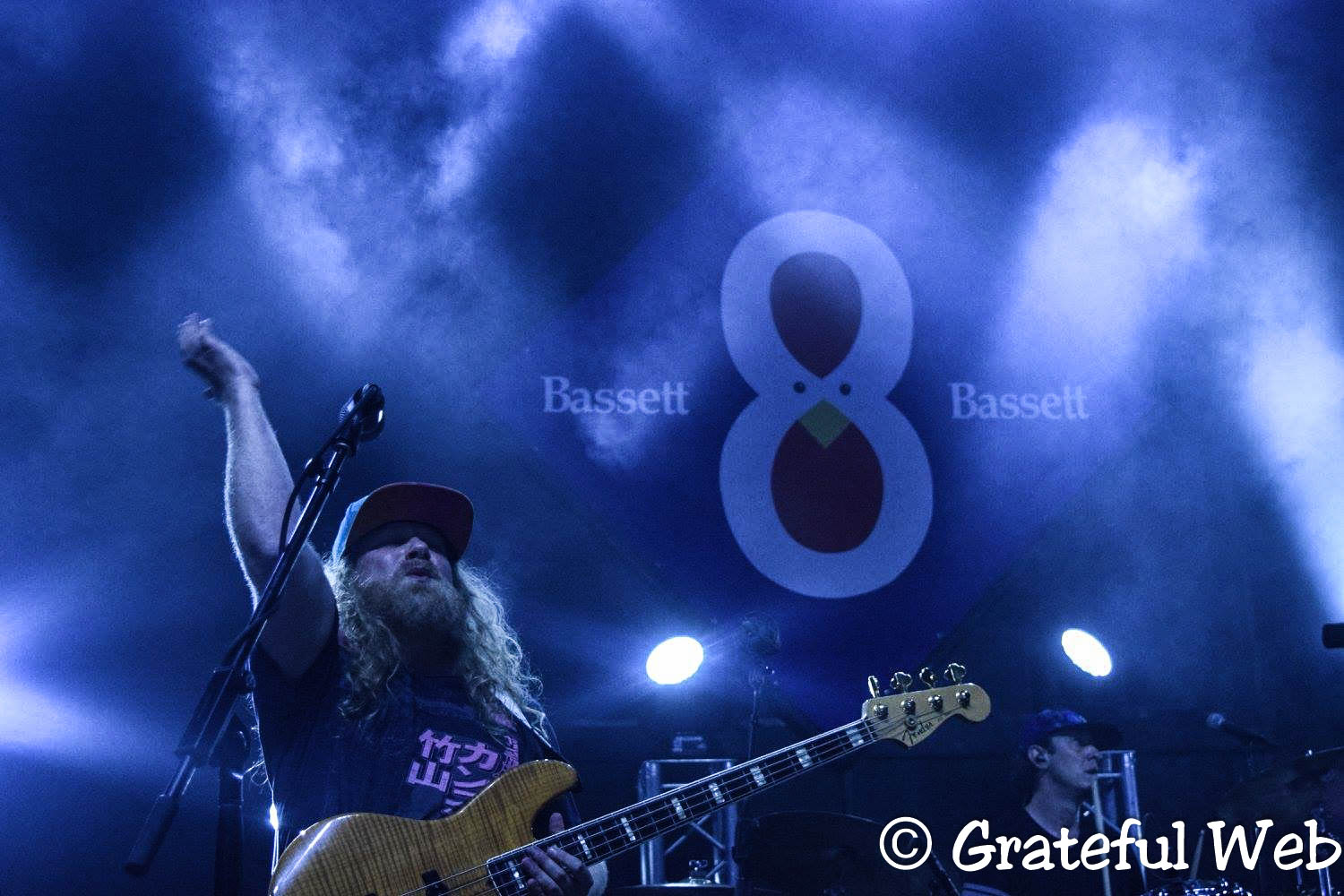 The Revivalists and TAUK rocked the Bassett Lake Stage Saturday night before and after Lettuce, respectively.
Then, the Purple Rain came back. After not seeing the Sun shine on the mid-Atlantic coast for a complete day for the entire month of May, we dubbed the storm, "The Purple Rain." It blew in just after Prince transitioned, and did not let up until Friday. It was nice to have sun-shiny days for the first two days.
Sunday, May 29th, 2016.
The rain sounded amazing as it fell on the tent all night. Somehow I managed to stay mostly dry. Sunday morning the drizzle lingered.
We listened to Erin & The Wildfire open the Bassett Lake Stage Sunday at noon.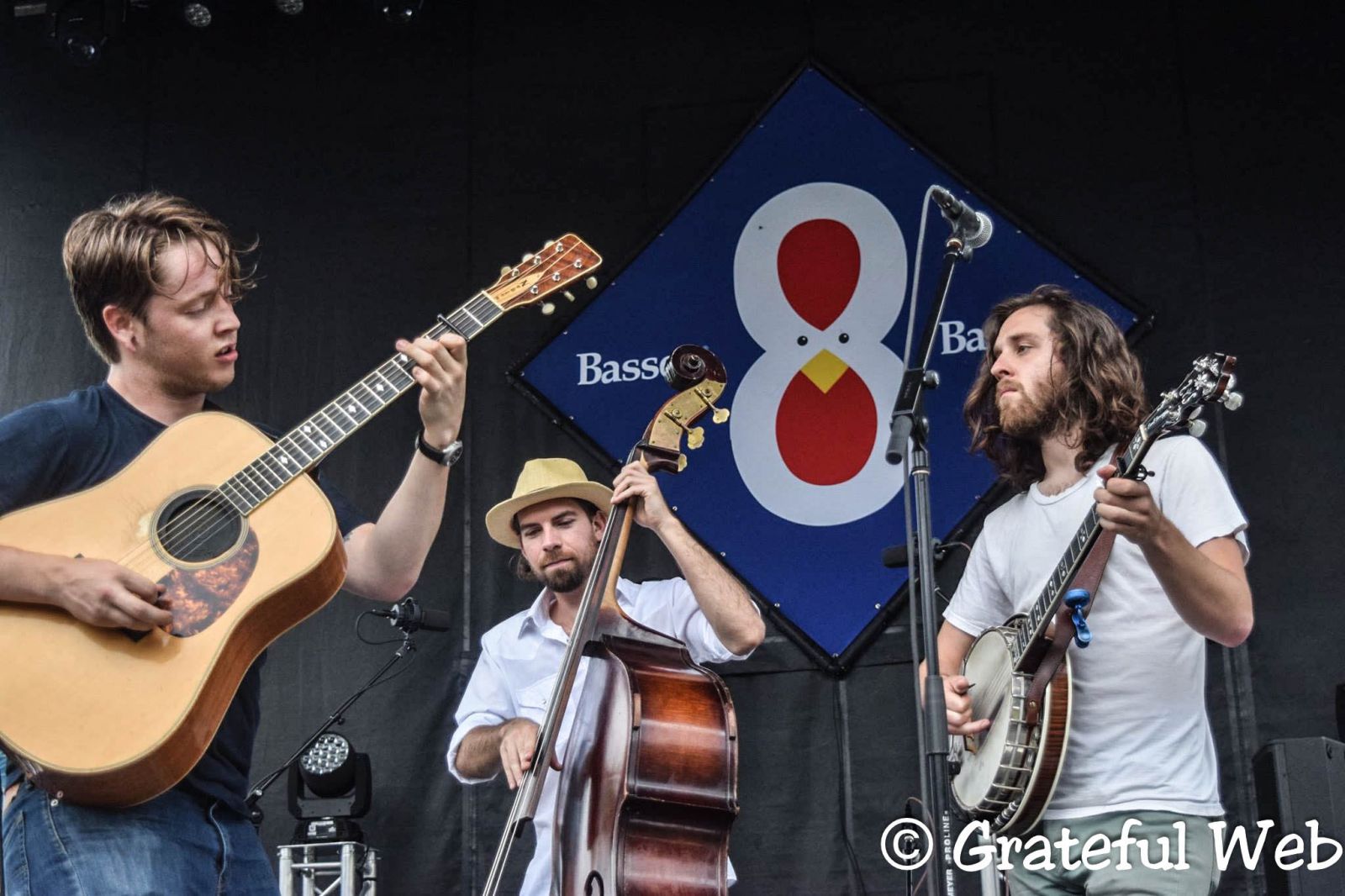 Billy Strings took the Radial Stage at 3. Their banjo player was amazing too.
Mission in the Rain was an amazing JGB/Grateful Dead cover band. Their sweet vibrations drew me in and I stayed for the entirety of the set. Awesome bluegrass JGB/Dead vibes are always welcome over here.
Yarn closed up the music with their set on the Bassett Lake Stage Sunday night.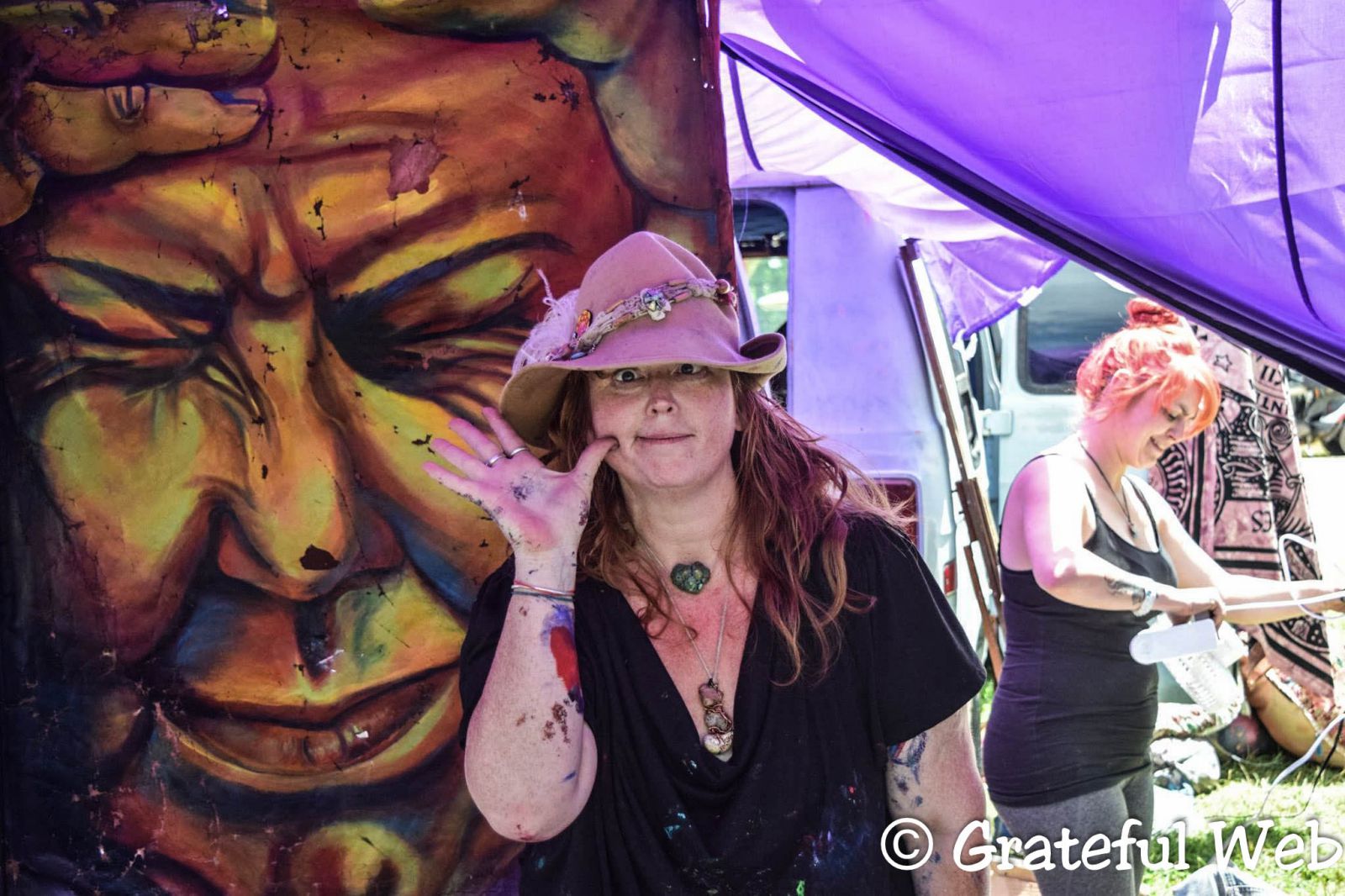 I met Mark Anthony, an amazing female artist. She drew a kick ass pic of Sam Bush for Rooster Walk. Check it out.
So, that was my first Rooster Walk and we left it a better person than we were upon arrival. We met some wonderful human beings being awesome and spreading the loving kindness that is engendered in the festival atmosphere.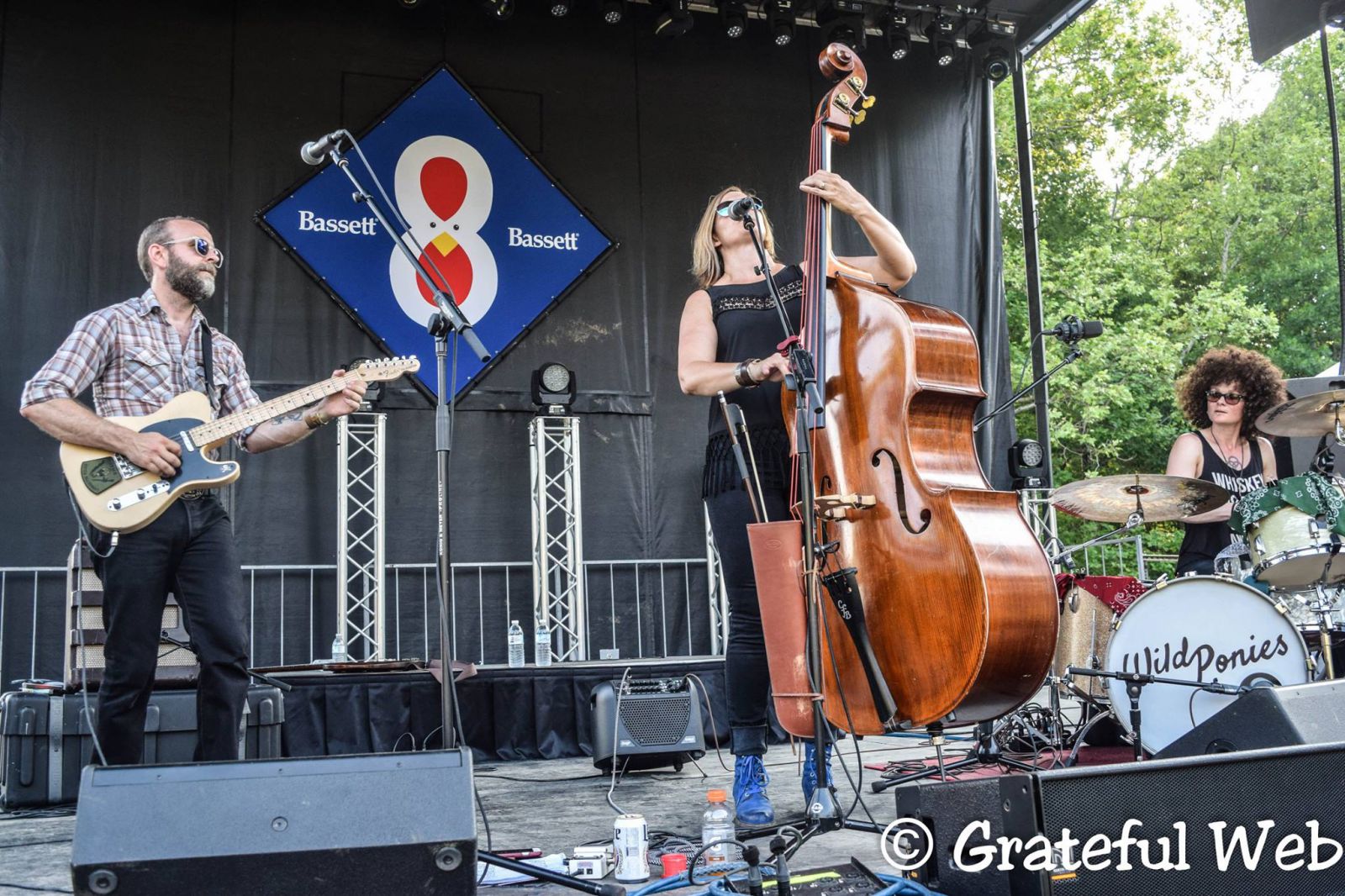 A big heart felt thank you filled with gratitude and lightning bugs to all the people involved in putting on Rooster Walk 8! This was the best bluegrass Appalachia Roots music festival I have ever attended! Amazing vibrations. Edwin "Rooster" Penn and Walker Shank are smiling down on us surface dwellers shining their light, happy to see their memory preserved on through posterity by good humans doing wonderful things. Hopefully we can remember to share our love with the ones closest to us while they remain on this plain. Get your full rooster strut on at Rooster Walk 9 next year. Until then, keep her copacetic. Rock on. Walk on. Rooster Walk on!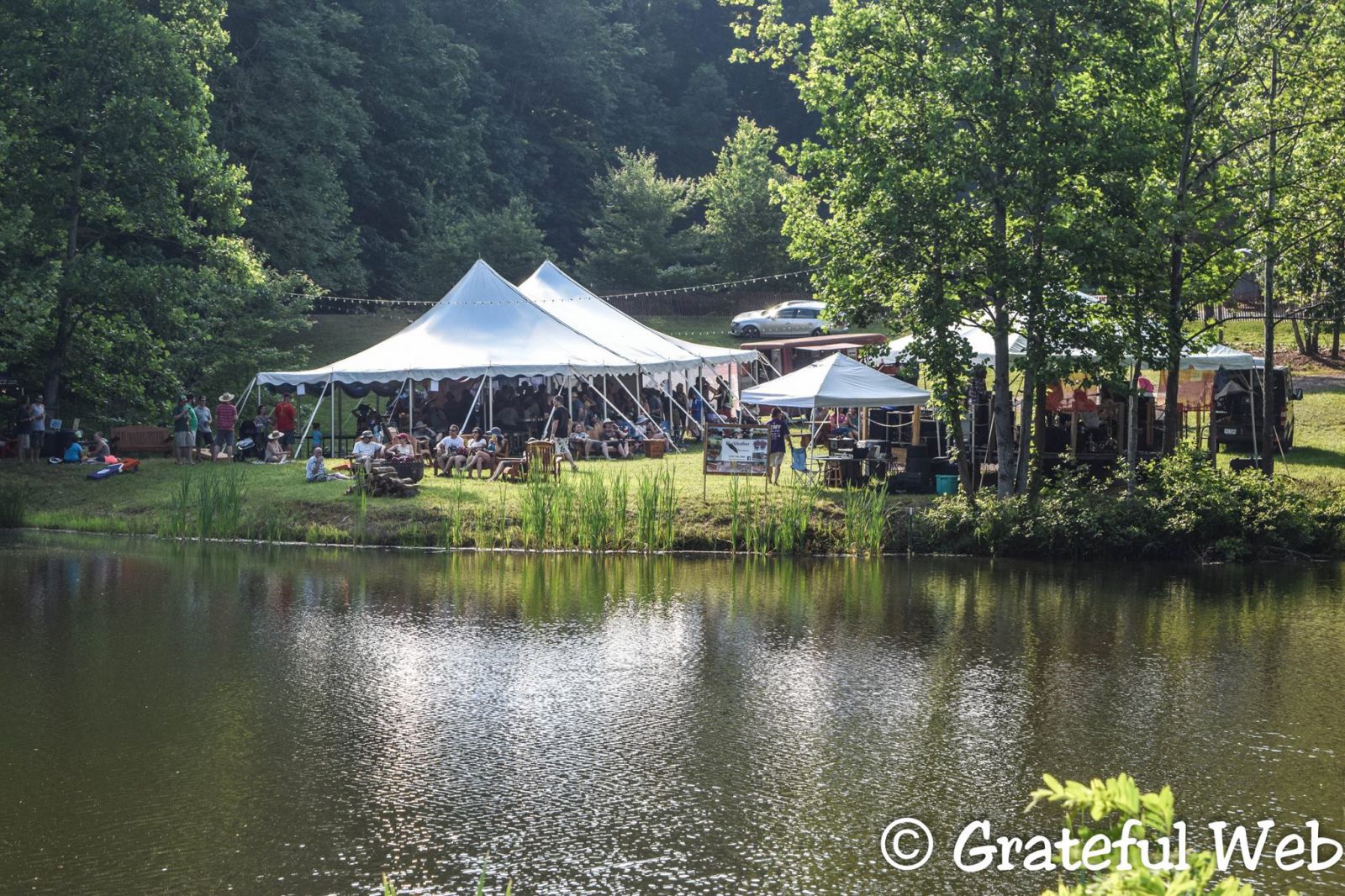 Check out more photos from Rooster Walk 8.