The day Michael Jackson died was a particularly beautiful one, here in the Commonwealth of Virginia. Blue skies, just enough clouds, and uncharacteristically low humidity greeted the audience along with the stunning natural scenery of the Ginter Botanical Gardens, in Richmond, Virginia.
Arriving early to set up audio taping gear, we noted that the pre-show music was that of Jackson's, but didn't yet know why. Gradually, word began to move through the audience, and with that wave of new awareness, so did -- the volume on the pre show music. It was no surprise to witness such a reaction, given the long history the band has with covering the music of Jackson. The culmination of which was surely their Monster Mash-Up last Halloween, with a musical coupling of Thriller with Pink Floyd's 'Another Brick in the Wall.'
Once onstage, the band wasted no time addressing their reaction with a tight jam of Jackson's 'Smooth Criminal' included in show opener, 'August.' They returned to Jackson's work with the opener of set two, with 'Wanna be startin' something,' artfully ensconced within 'All in time,' and a raucous encore of 'Billie Jean.' But the bulk of the evening belonged to their own material, with a very elegant exception of their cover of Blind Faith's 'Can't find my way home,' late in the first set.
Watching and shooting the show I was struck at how special this specific performance was, and not because it occurred within hours of the world learning of the death of Michael Jackson. The band surely addressed this loss musically, but then quickly returned to the business at hand.
For me, what was so striking was the band's performance in such a small, intimate venue, like Ginter Botanical Gardens. It's a gorgeous place, words don't do it justice. Guitarist Brendan Bayliss even noted the awe-inspiring grounds by comparing it to "Mr Miyagi's backyard." Standing there, amongst the prize-winning roses, the 19th century glass arboretum, the pond, and the topiaries, my eyes also found the road cases, with Umphrey's McGee stamped on them. I mean, that's not what backstage usually looks like.. Is it?
My own unofficial headcount had the audience at about 800, maybe? I kept thinking that this could easily be the last time I see this band in such a small venue. And whomever is responsible for booking this group into such a special venue, deserves a beer. I'll buy, and I don't even drink beer..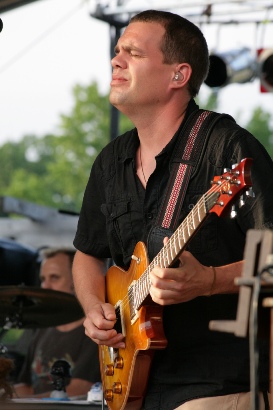 Two razor-sharp sets of music including favorites, 'Uncle Wally,' 'Wife Soup,' and 'Jimmy Stewart,' under the stars of the Richmond skyline positively insisted that you listen, they were so good. Splendid sound quality for an outdoor show, especially. And lights that made a mere botanical garden band shell look like.. well.. a VENUE..
Was this evening's performance inspired and informed by the shock of the announcement about Michael Jackson, as one particularly emphatic fan tried to convince me, in the ladies room..? Or was it more the culmination of everything that came before it in this band's previous ten years: practice, focus, dedication to craft, and maybe, just a little luck? I pick the latter. . And these guys are only just getting started..
Packing up recording gear after the show, my husband and I overheard a taper trying to explain to his younger friend what the Mr. Miyagi comment – meant..'You know – wax on, wax off..?' he said, as he held his hands in mock fence-painting style. "Oh – I get it!" The friend said, as they both -- with no prior arrangement -- karate-chopped the air in unison as they walked away.
It appears that Mr. Miyagi trains bands, too.