The only conversation topic welcomed by Page in this era of moving forward was the acknowledgment of being a Philly boy and his birth at Chestnut Hill Hospital. Page carefully deflected every question about Phish and his college thesis writing days at Goddard. He seemed dignified and determined to move forward, and although I miss those days as much as anyone, this project is a good time. The crowd has progressed as well. Let's face it we're older now too. The "Fluffhead" chants continued and the "woo hoos" brought back memories, but as Bob Dylan once noticed, "the times they are a changin'." The show started at noon on a Friday so most people, like myself, made excuses to their employers, just like the Phish tour days, to witness the birth of a new side band.
There were no Phish songs or any covers played. Many phans didn't even know Page was in town due to the lack of advertisement and the size of the venue. This was a free show for members of 88.5 WXPN, a Philly public radio station, and it sold out fast like Page's New York City opener at the Gramercy Theatre. The band played every song off of their new album coming out on April 17th. Page opened with one of his favorites from the album, the funky, groovy sounds of "Heavy Rotation," which on the album features Mike Gordon on the bass and Jim Keltner, the world famous free lance drummer who has played with many amazing musicians including Beatles, Stones, and Clapton. In an interview with Anthony DeCurtis, author and music critic, Page conceded that it was the biggest project for him, and that the lyrics relate to the Phish days. The instrumental "Back in the Basement," was next. Then, Page recalled his Philadelphia days, saying that he holds the city dear to his heart after referencing the Sixers and Dr. J. Next, Page played the emotional tear jerkers that are personal songs about loss and separation. "Maid Marian" and "Runaway Bride," clearly seem to be about the flight of Page's wife and the feeling of abandonment and change. My favorite song of the day was next. It's called "Complex Wind," and it seemed like an intricate movement of sound with a Pink Panther feel in Page's quirky keyboards. Finally, he ended the show with "Rules I Don't Know," "Close to Home," and "Beauty of a Broken Heart." After the radio program went off the air, Page came back more relaxed it seemed, and rocked out the encore, "Everyone But Me."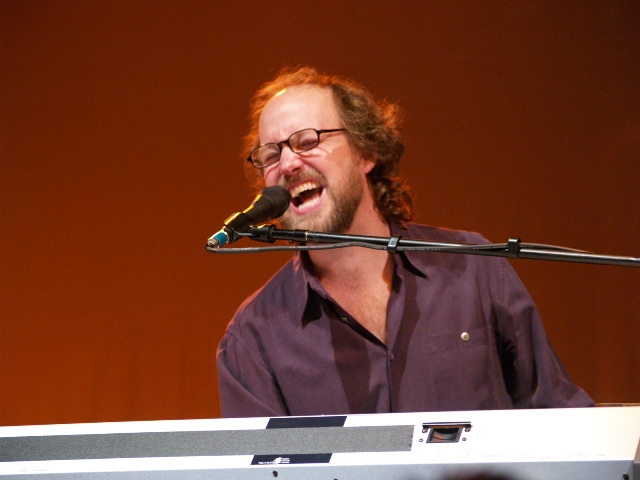 Page McConnell has definitely found his own voice. He's been through good times and bad times, all evident in these new songs both lyrically and musically. But, this album, although at times melancholy, feels like a new possibility. It's a true demonstration of voice and persona in an artist's work. People expecting to see Phish or Vida Blue should take caution because this is Page McConnell in the raw. I thoroughly enjoyed this look into the soul of a man that has brought me immeasurable joy throughout my years. A good friend of mine, bass player, and fellow Phish fan, Liz Perantinides works at the World Café Live and had the unique opportunity to wait on Page and the band the day before the show. She commented on how humble and nice the band was and said, "It was great to see Page have the opportunity to express himself. This was something that he didn't get a chance to do while in Phish."
He recently announced some more dates on his tour, and I recommend you all get tickets quickly because we all know how fast tickets go when any member of the world's greatest band plays.