"It's all happening." That was Penny Lane's famous line from the movie "Almost Famous," and without knowing that, Rebecca Ann Henry, lead singer/aerialist, and I said that line to each other a few hours before her extremely captivating performance at the Bluebird Theatre on February 12th. Penny used it as a way to describe being appreciative of the moment, but I'm pretty sure that we meant that as a reference to the evolution of music and performance art as soulmates of a renaissance that is growing steam with every show that I see. It is the expansion of Burning Man, Sonic Bloom, ARISE or any of the events that has combined so much artistic expression on one stage. It is art on canvas, through instruments to our ears, dancing across our visual perception, or even a spellbound enchantment into the air in this case. RAH is a core trio band with an extended group of aerialists and performers that mesmerize their audience with their talented grip.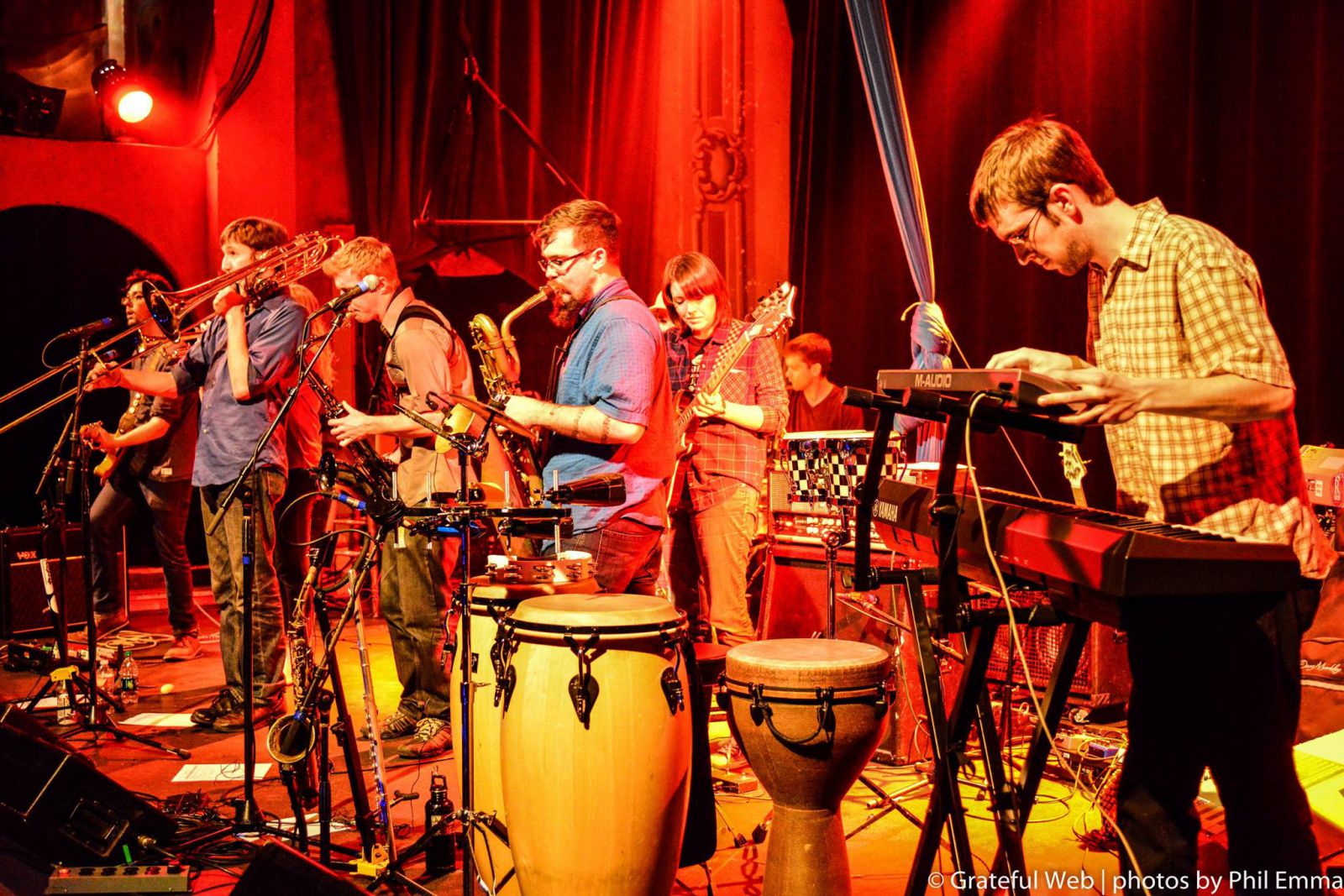 The first band that entertained us was the afrobeat/ska sensation Contraband. I am so glad that I have seen huge growth in the afrobeat community in the past decade. It is one of my favorite types of music. I went through years of being obsessed with Fela Kuti. I even named my sibling cats Fela and Kuti. Therefore, I made sure not to miss the openers on this bill. It was one of the most balanced and talented three band bills that I have seen in a long time. Contraband came out, and within seconds they were explosive. They blew the doors open, and right from the start the crowd was moving. Their energy was infectious! Their horn section carried my attention for most of the show, but guitarist Sara LeFevre also blew me away every time she soloed. Their last song "Get It!" had the crowd begging for more.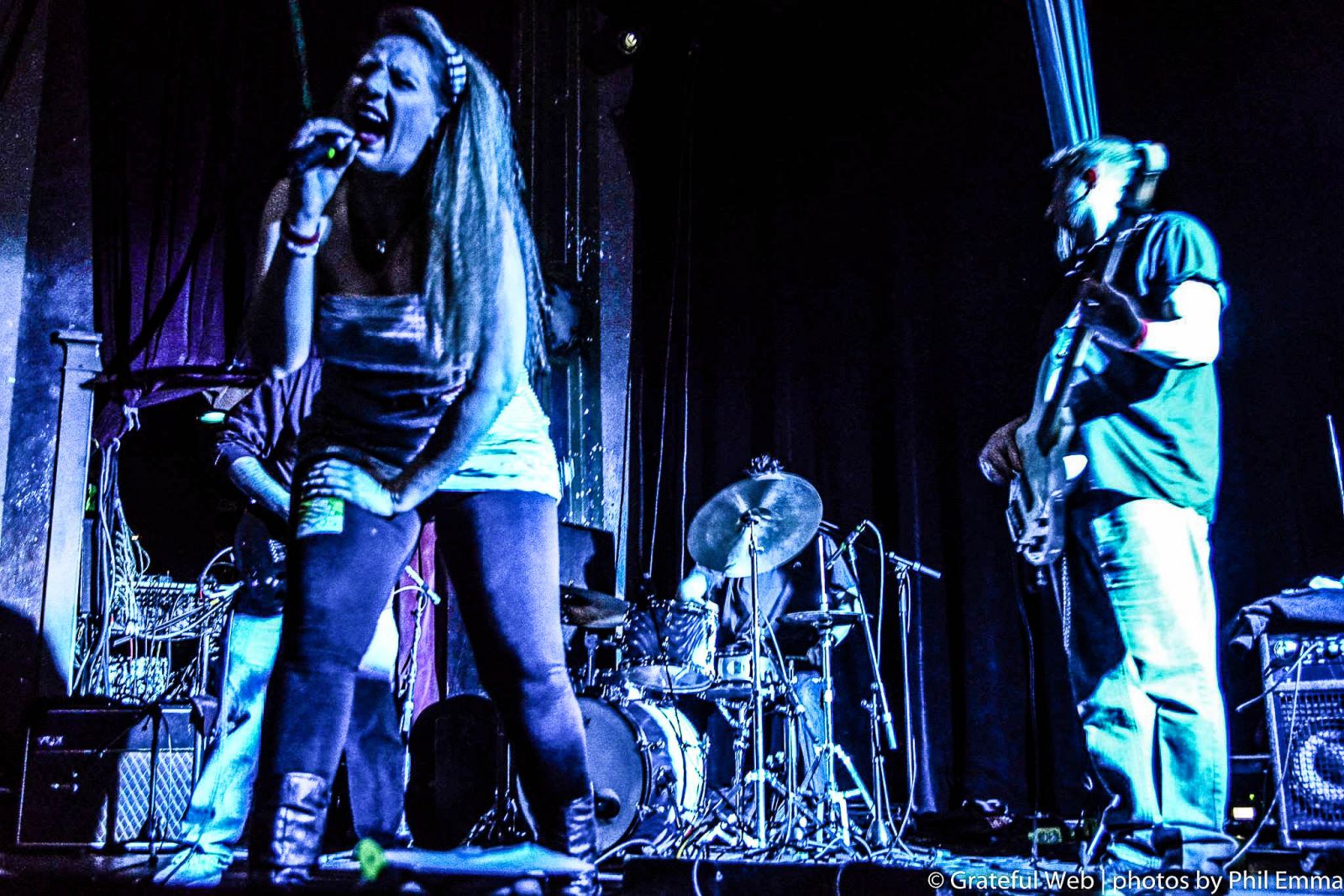 The next band was a Led Zeppelin cover band named Honey Puddle, and being that Zeppelin is my second favorite band of all time, I could not wait for this. "Rock n' Roll" brought everyone inside and to the stage. The crowd seemed to have doubled. The sound of Led Zeppelin seems to have that effect. Then, guitarist Jeph Kennedy, brought out the double-neck guitar for "Immigrant Song." I was really impressed by the work of Kennedy and their other guitarist John Tipton. After "The Ocean" and "Communication Breakdown," where bassist Brian Hornbuckle showed off his quick slaps, Jessica Jones' amazing range in "Since I've Been Loving You" captivated the crowd. The set ended with "Nobody's Fault But Mine," Ben Rafferty's haunting "No Quarter," and drummer Joshua Hoffman slamming "Whole Lotta Love."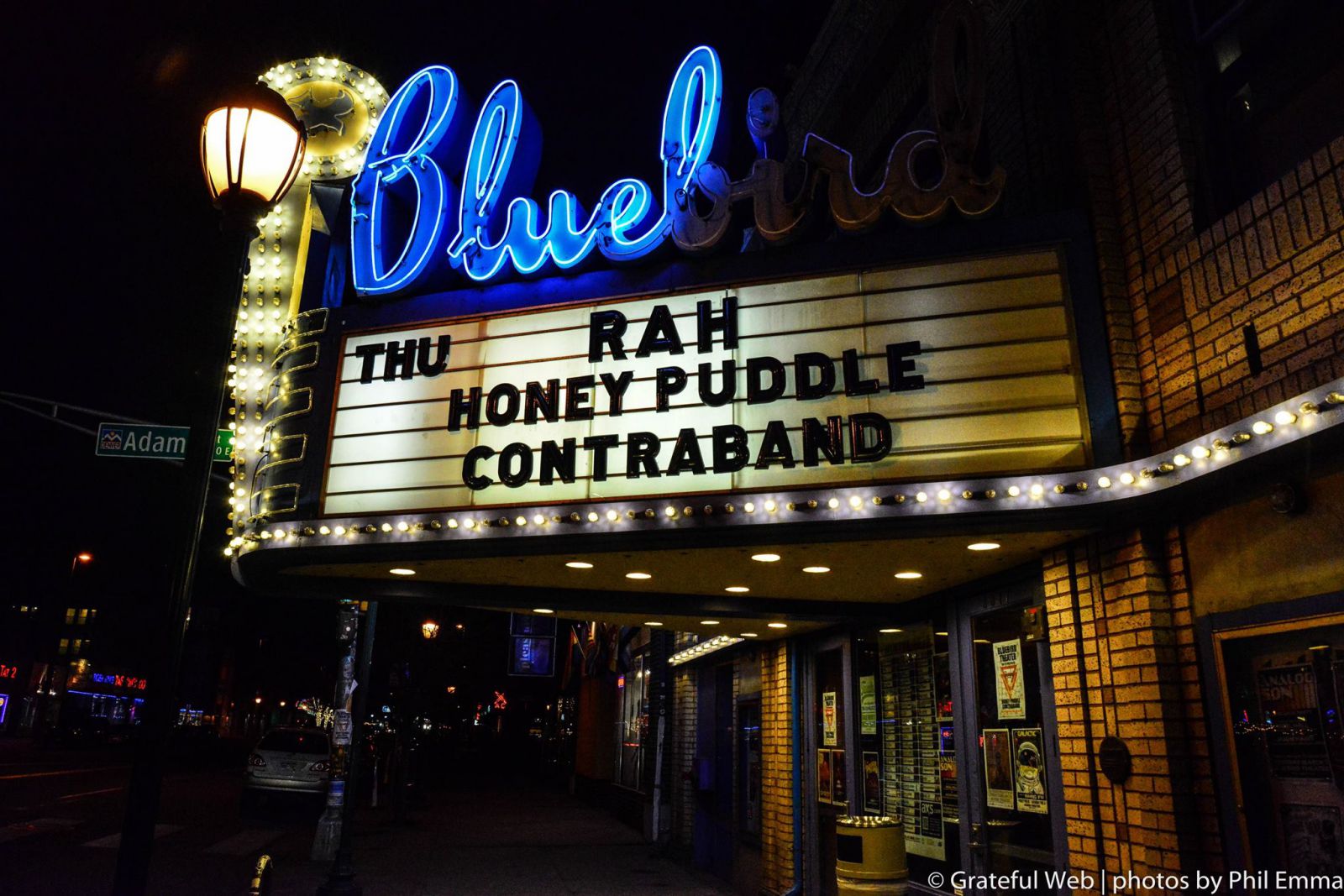 The tiny backstage of the Bluebird was bustling with dancers, musicians, make-up art by Julie Goodman, and Michael Sullivan costume designers all night. It was plain to see why they were there, when the gorgeous Rebecca Ann Henry came on stage with one side of her curly locks shaved and her one legged tight pants like a natural rock star. She commanded the stage. As she sang "Missing Link" and "Rooms" while prowling on stage, guitarist Daniel Greenblatt shredded electro-rock solos. His solo on "Snake Skin," was even more adventurous as dancers Lynn Kleinberger, who also dances for the Denver Nuggets, and Luna Cash fanned their way on and off stage with their sexy prowess. "Snake Skin" was RAH's first single, and their slithering music video is hard to stop watching. This song describes a difficult relationship that everyone can relate to. It describes the struggle that occurs when two people just do not understand each other until one of them feels suffocated.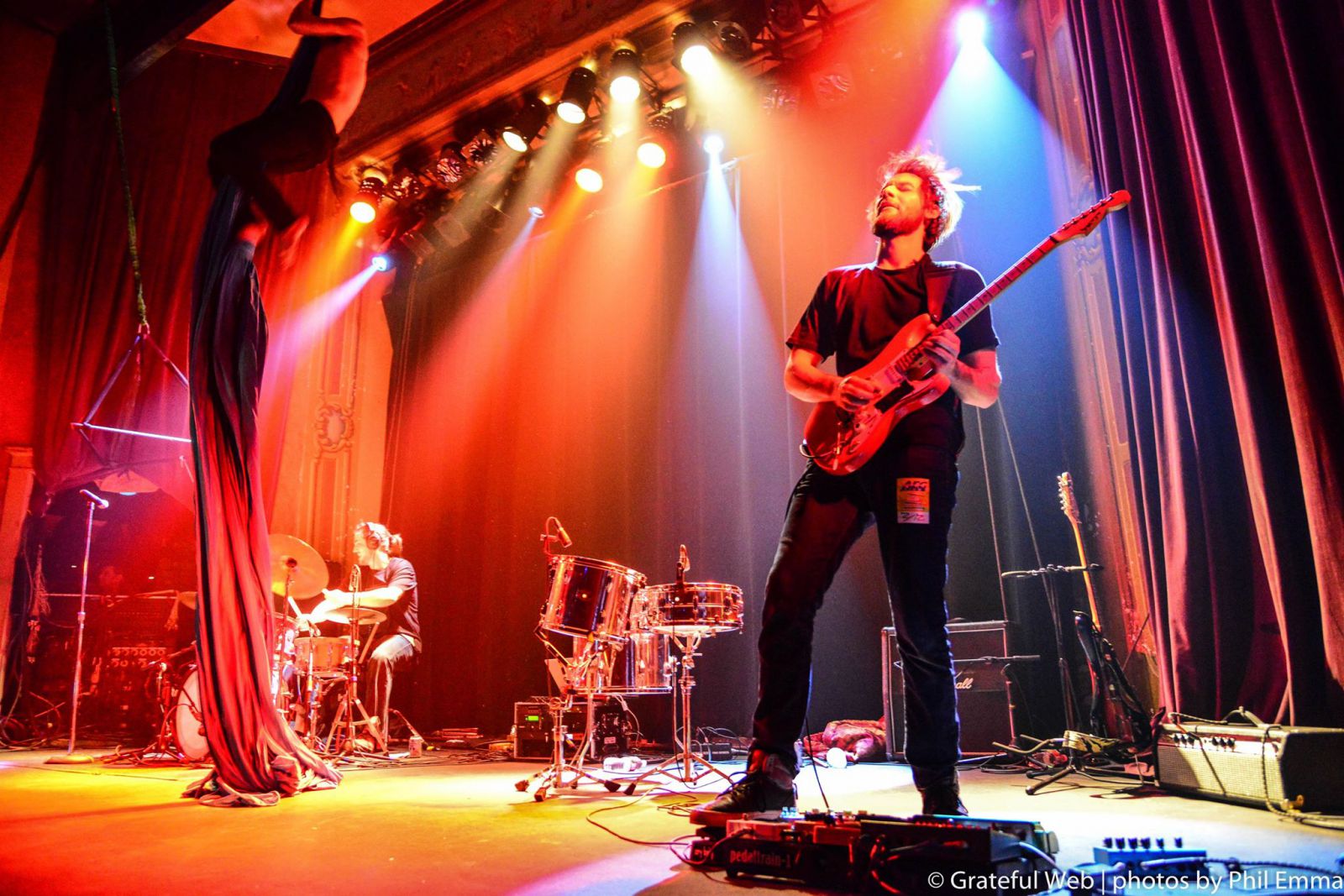 As soon as I heard the jazzy drum line of Will Schiesser, I knew that it was going to be a cover called "Glory Box" by Portishead. I have seen Portishead play this song live, and RAH nailed it. It was also the perfect song to play after "Snake Skin" because of its ambiguity of a tortured love relationship or strong gender role messages that both bands promote. It is a smoky, sultry, noir type song that I feel like I would hear in my favorite David Lynch movie. It was the quintessential cover for RAH to do.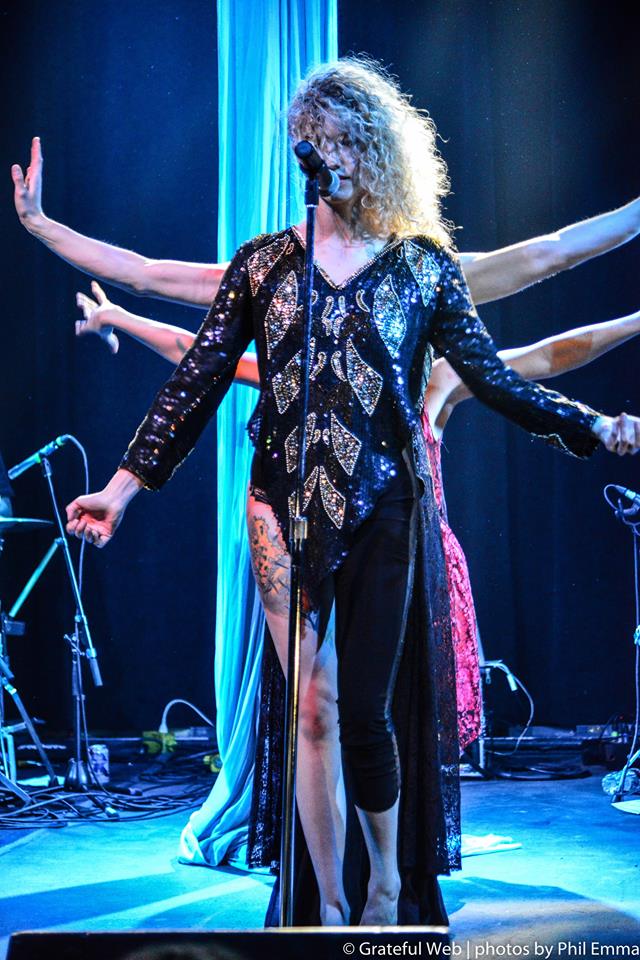 Rebecca Ann Henry is not just a pretty face with a pretty voice, she is also an athlete. Throughout her set, she would pull herself up on two long pieces of silk that hangs down in the middle of the stage and performed aerial tricks, seemingly without even breaking a sweat. The strength and agility that it takes to do that work is incredible, and after "Hailing," she did something even more amazing. She sang Bjork's "Hyperballad" while in the air performing on stretch fabric, which was most recently made popular by Isabelle Chasse in Cirque du Soleil's Quidam. There are no safety lines or anything, just Henry suspended at the top of the stage singing about her beautiful view from the top.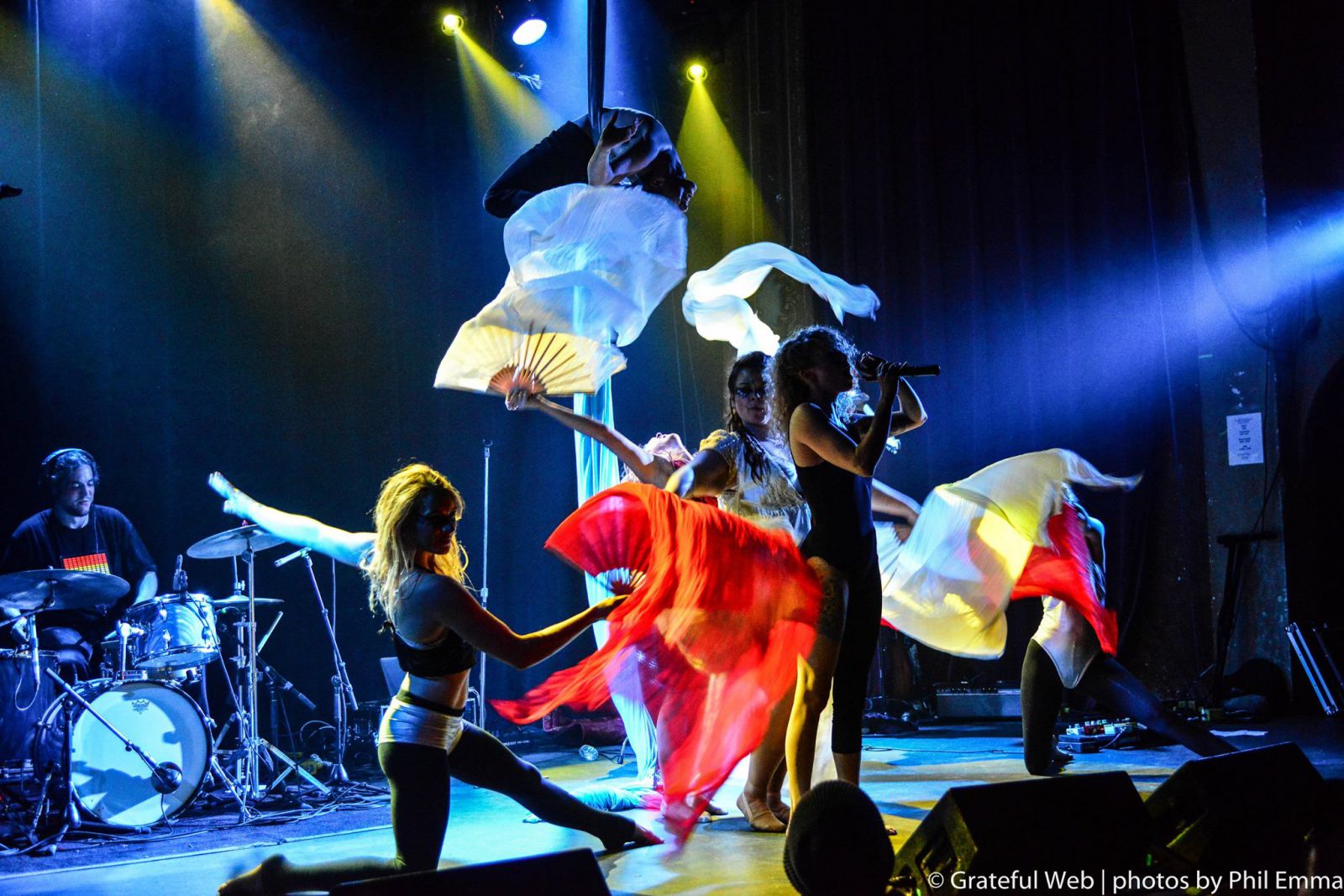 After "Army of Me," Henry performed "Industrial Love," a dance duet with aerialist Andrew Hill, who did a series of climbs, wraps, and drops all night. The two of them exchanged a tangled moment through the song, as the transfixed crowd watched in awe. Hill ended the song with a free fall that twisted him head first plummeting to the floor and halting with his nose inches from the stage.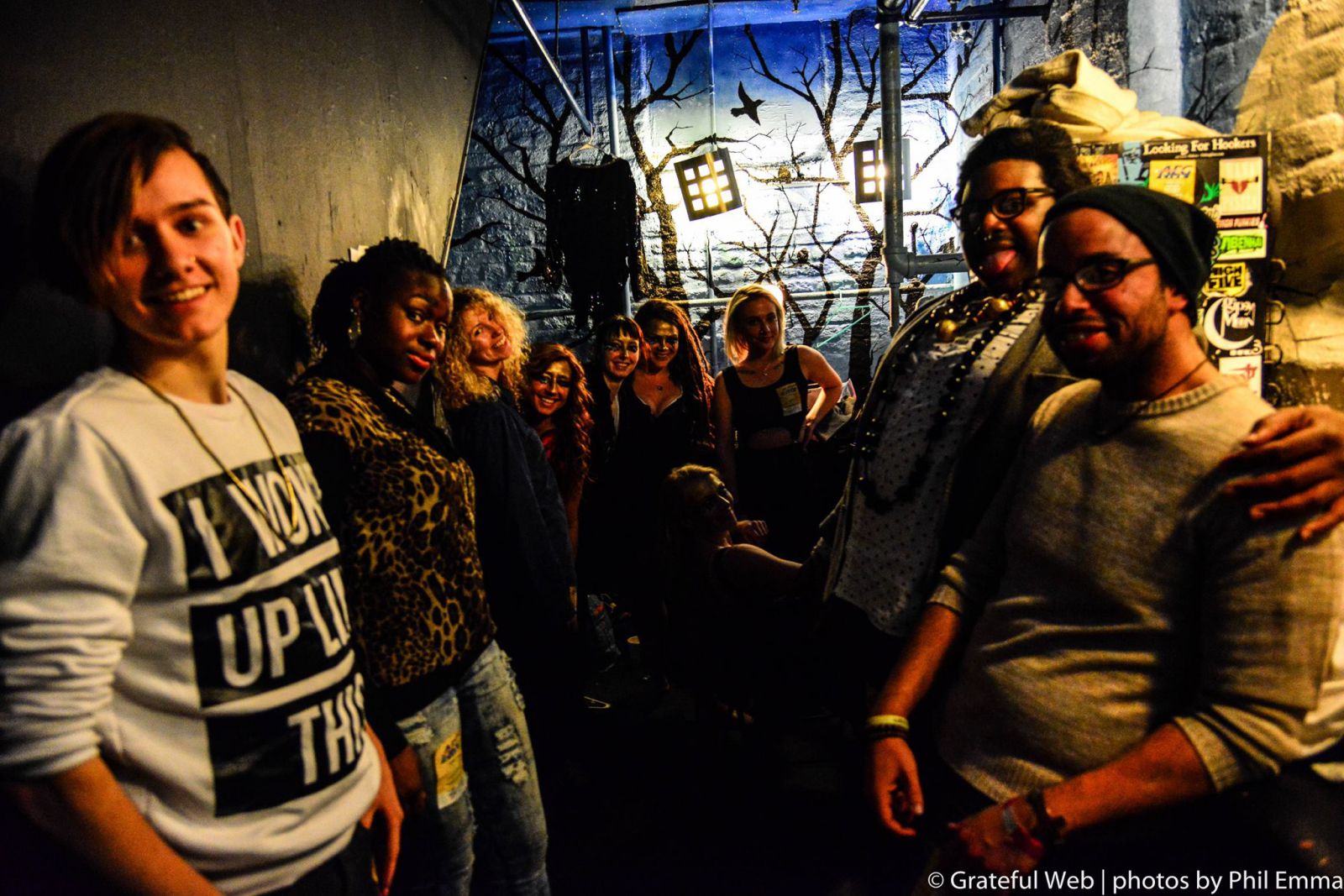 Greenblatt and Schiesser did an incredible job jamming through several different types of genres of music all the while sounding way bigger than just a guitar and drums. At one point during "Bend," "Soft as Cement," and "Animals," Greenblatt put his guitar down to drum along with Schiesser. Dancers continued to flow out, and towards the end, Arianna Papousek and Sarah Bender did acrobatics on a giant triangle. The final song was RAH's newest called "Fake Your Smile." This song is ready for radio play. Henry's voice is reminiscent of Chrissie Hynde of the Pretenders on this track. It is tantalizing and crisp. The entire concert was a true example of a show, and just as Rebecca and I said in the beginning to one another, "it's all happening". And it truly is. The band is growing fast, and within in no time at all they'll be playing at larger venues expanding their musical circus. Keep an eye out on their webpage www.rahband.com for future shows, recordings, videos, and other surprises that are awaiting you.