Thanksgiving is a glorious time, here in Central Virginia. The tourist-laden leaf season is over, yet plenty of post-peak autumnal glory hangs around to be enjoyed, for a little while longer. Days can still be quite warm, and nights are deliciously cool and refreshing. Thanksgiving, football, and the coming Christmas season beckon. And suddenly there are also lots of indoor bluegrass shows, especially in Charlottesville.
Seated at the foothills of the Blue Ridge, Charlottesville long ago established herself as a haven for bluegrass pickers and lovers. On this night, several significant artists were performing in this small city: The Infamous Stringdusters, Rhonda Vincent and The Rage, as well as the band who have oft been billed as 'the nicest guys in bluegrass,' The Seldom Scene.
But don't let their friendly reputations hide their abilities. This has never been a group that was satisfied with merely winning the Mr. Congeniality award, mind you. They consistently endeavor to take each song they perform, and 'turn it on its ear,' in search of a new way to interpret it. And they've been doing it for nearly 40 years.
"We try to find material that's a little bit different, and approach the music in a little bit broader way than most bluegrass bands do," said the Seldom Scene's Dudley Connell to the Baltimore Sun in 1998. Since its inception in 1971, the Seldom Scene has thrived on playing bluegrass a little differently than everyone else. If other bands used a fiddler, the Seldom Scene used a Dobro; if others relied on old standards, the Seldom Scene played rock classics like J.J. Cale's "After Midnight." Through skilled musicianship and an urban approach to bluegrass, the Seldom Scene has become one of the most influential -- if not the most influential -- bluegrass band of their time.
Abby Thompkins has been attending Seldom Scene shows since the early 70s, and has watched the band members change for nearly 30 years. The one thing she thinks has never changed is "their honest respect for bluegrass, "she said.
Thompkins, who retired from her post as a host of a small town radio bluegrass show at a now defunct radio station near Roanoke, Virginia, "many, many years ago," wouldn't offer her age. But she did mention as we chatted before the show, that she'd "voted for Kennedy." I left it at that, for obvious reasons.
Thompkins and I sat soon after, in rapt attention, as the Paramount Theatre manager regaled the audience with her own experiences with the band, back in 1989 at the famed venue The Birchmere, and the day Bob Dylan's people called.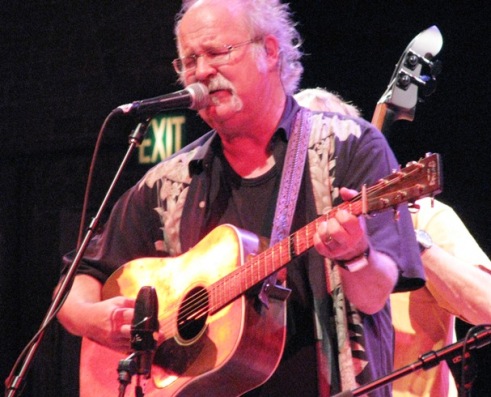 "I remember the late great John Duffy, (the original bandleader,) as well as the rest of the band, were just about finished packing up their gear after one of their regularly scheduled shows back then," the manager said. "And one of Bob Dylan's people called, and told me that he'd just put Dylan into a car, from where Dylan had been performing near D.C. -- and he was headed to The Birchmere to hear the Seldom Scene."
Knowing that Dylan wanted to hear the band perform, and that he was headed to her own venue to do it, the venue manager was pretty excited, as she stepped up to inform The Seldom Scene.. What happened next surprised and amused the manager. She said it had a lot to do with what became her lifelong respect for the band, even when most of the original members had long ago departed the group.
"I walked up to John and told him, and he paused just a bit, seeming to consider whether to ask the rest of the band to stop, turn around, and re-set the stage, before Dylan arrived." Instead, the late bandleader said, "the wife and I have plans for later, and they include cold beverages, so Dylan will have to catch us, next time."
No word on Dylan's reaction at the time..
Thompkins and I both talked about that story, later. The retired dj said, "I think it speaks to the bands and Duffy's balanced approach to life as musicians. And surely Duffy's desire not to miss out on a cold one!" Thompkins added, with a laugh.
Indeed only one member of the original lineup still remains, Banjo and guitarist Ben Eldridge, who attended college here in Charlottesville at The University of Virginia, and who turned 70, not long ago. But the current lineup continues the Seldom Scene tradition in fine form with Dudley Connell on guitar, vocals; Lou Reid on mandolin, vocals; Ronnie Simpkins on bass, vocals; and Fred Travers on dobro, vocals.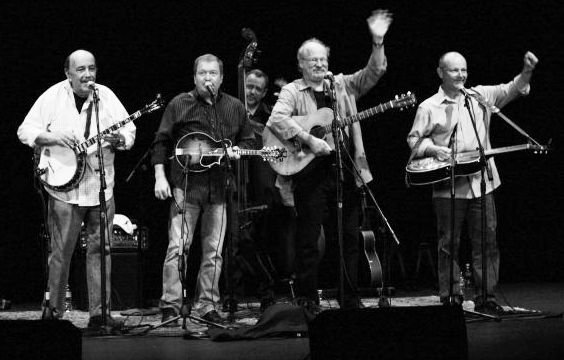 The Sugar Hill artists performed ably on this night, holding the crowd in the palms of their hands with a well-honed combination of instrument proficiency and borscht-belt humor. I'm sure those jokes have been told a thousand times, but they still sounded fresh, and the audience still loved to hear them..
Musical highlights abounded with these fine musicians. "110 in the Shade, Lay down Sally, complete with a comical Dylan impersonation, and Chuck Berry's Nadine" proved to be Thompkins' favorites.. And the band seemed to be in good cheer as guitarist Dudley Connell proclaimed the group's appreciation of such respectful listening on the part of the audience, "We can't thank you all enough, We have the best job.. We go to work, and people clap!"