This may be the hardest event that I have ever put into words. On the 10th anniversary of one of the world's greatest displays of art, music, education, dance, creativity, and community, I have the honor of being a part of this legendary sold out Sonic Bloom Festival experience. After setting up camp and a short cool down drizzle, the magic began. Hummingbird Ranch in Spanish Peaks Country, CO is this year's home and backdrop for our unified field.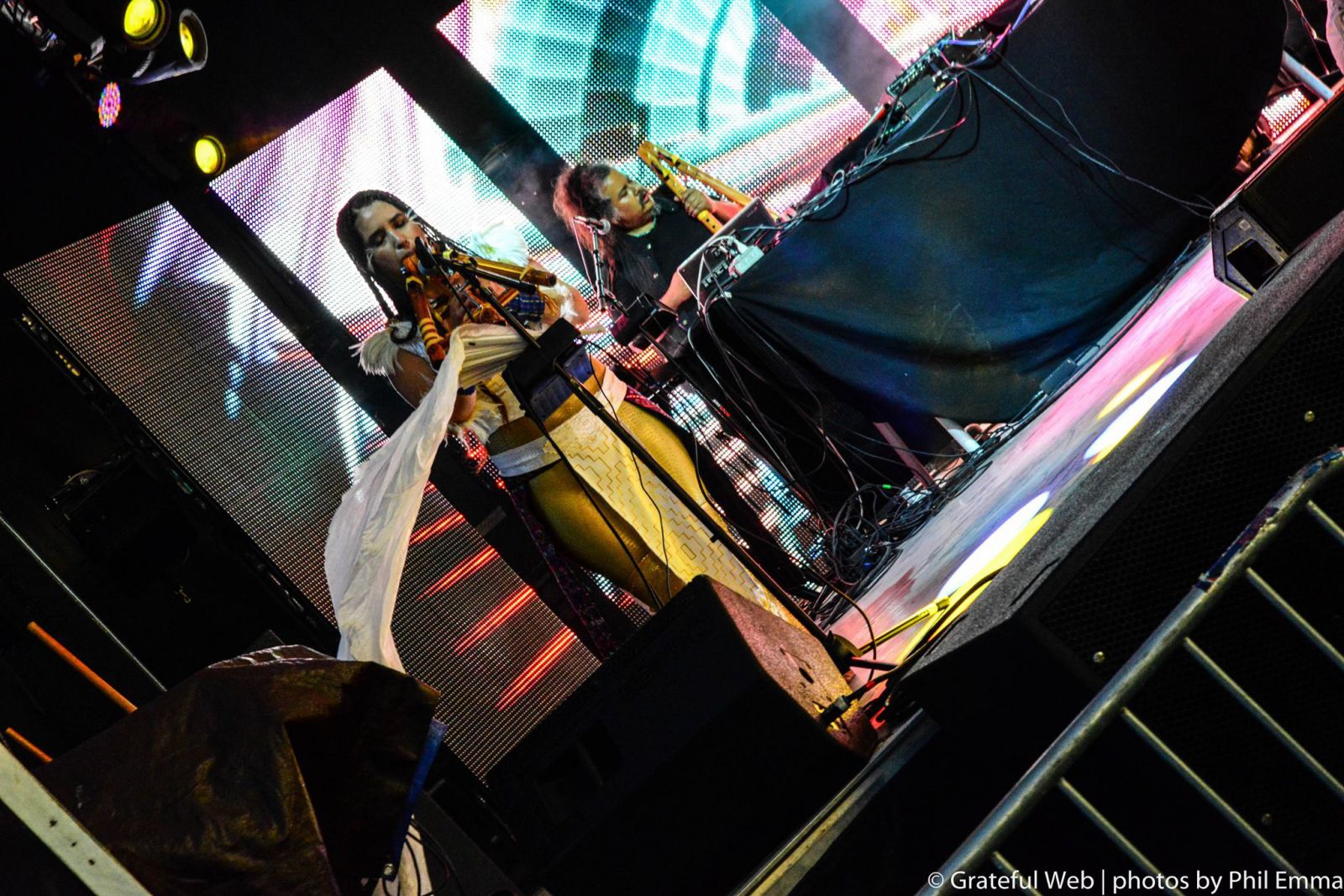 Lunar Fire takes their audience on a journey through sound and performance art similar to many of the bands at this festival. They use a combination of aerial, multiple lingual chanting, pre-Columbian flutes, fire dancing, drums, bass, and spiritual prowess. Right as I entered, there was a giant dreamcatcher with beautiful women tangled in a web of mystique during the sunset. Precious Hill and Teresita Hinojosa sang like sirens through the mountains. Hinojosa sang, played tribal flutes, and danced as a series of firedancers and aerialists sailed into the night.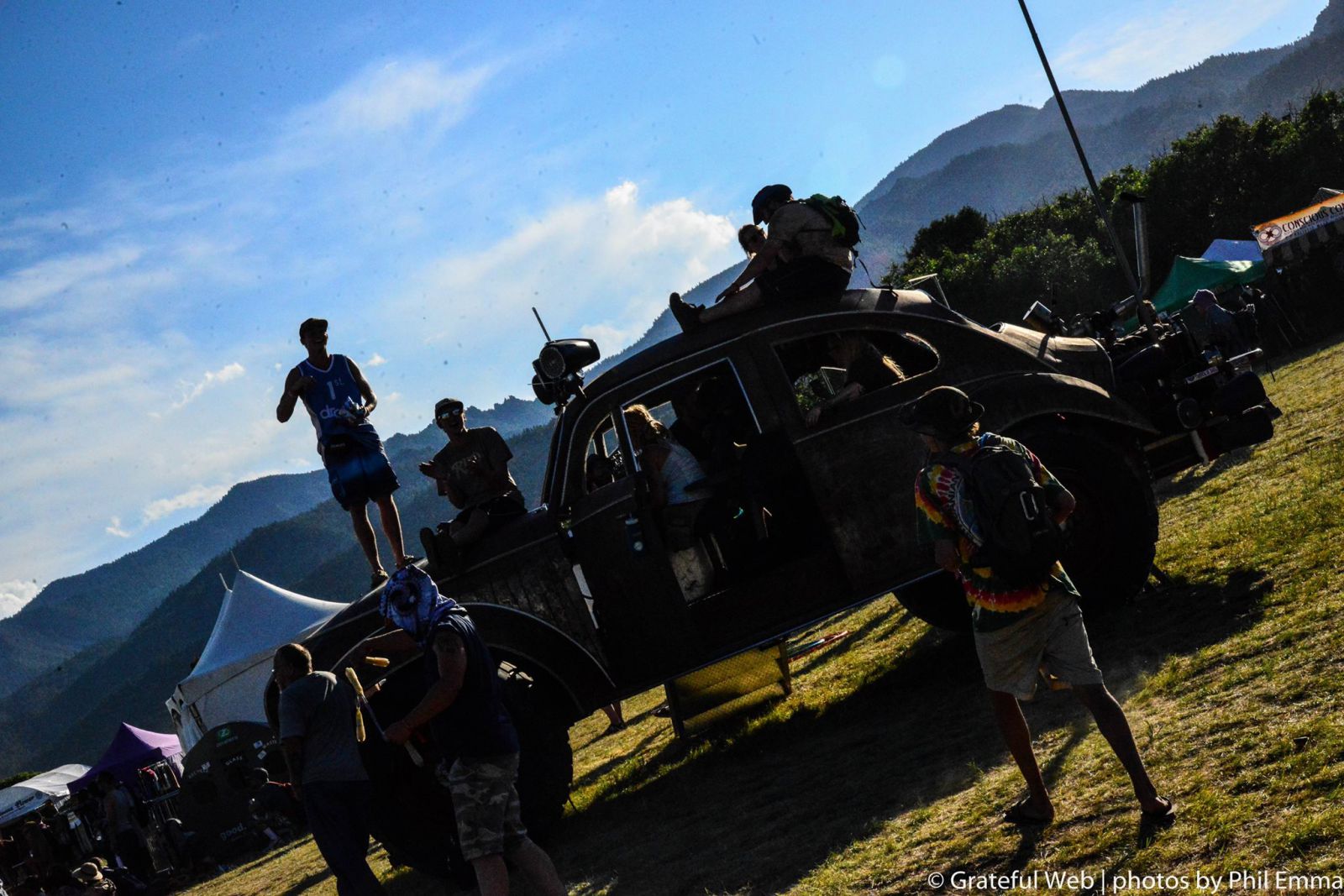 My favorite performer that I never heard of was Drumspyder. His music was electrifying and spiritual. I danced through his whole set like I was possessed. Scott Sterling creates electronic/global fusion to ignite the crowd into a constant spiritual dance beat. It was one of the best DJing that I have ever heard.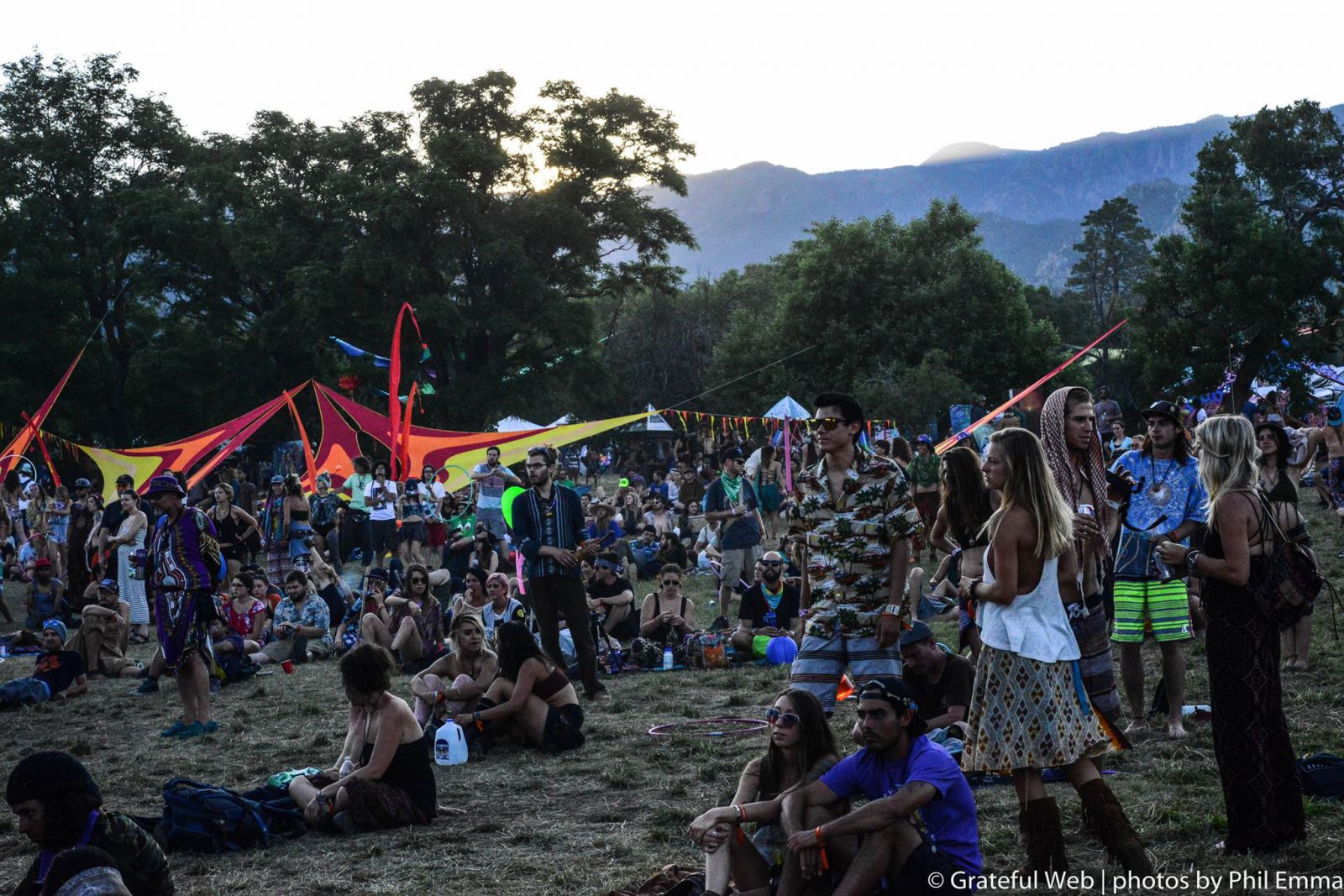 On the way to the main stage, I stopped at the Mama Ana vendor tent. These artists designed one of the best festival posters that I have ever purchased. In addition, their artistic talents were right on par with their loving personalities.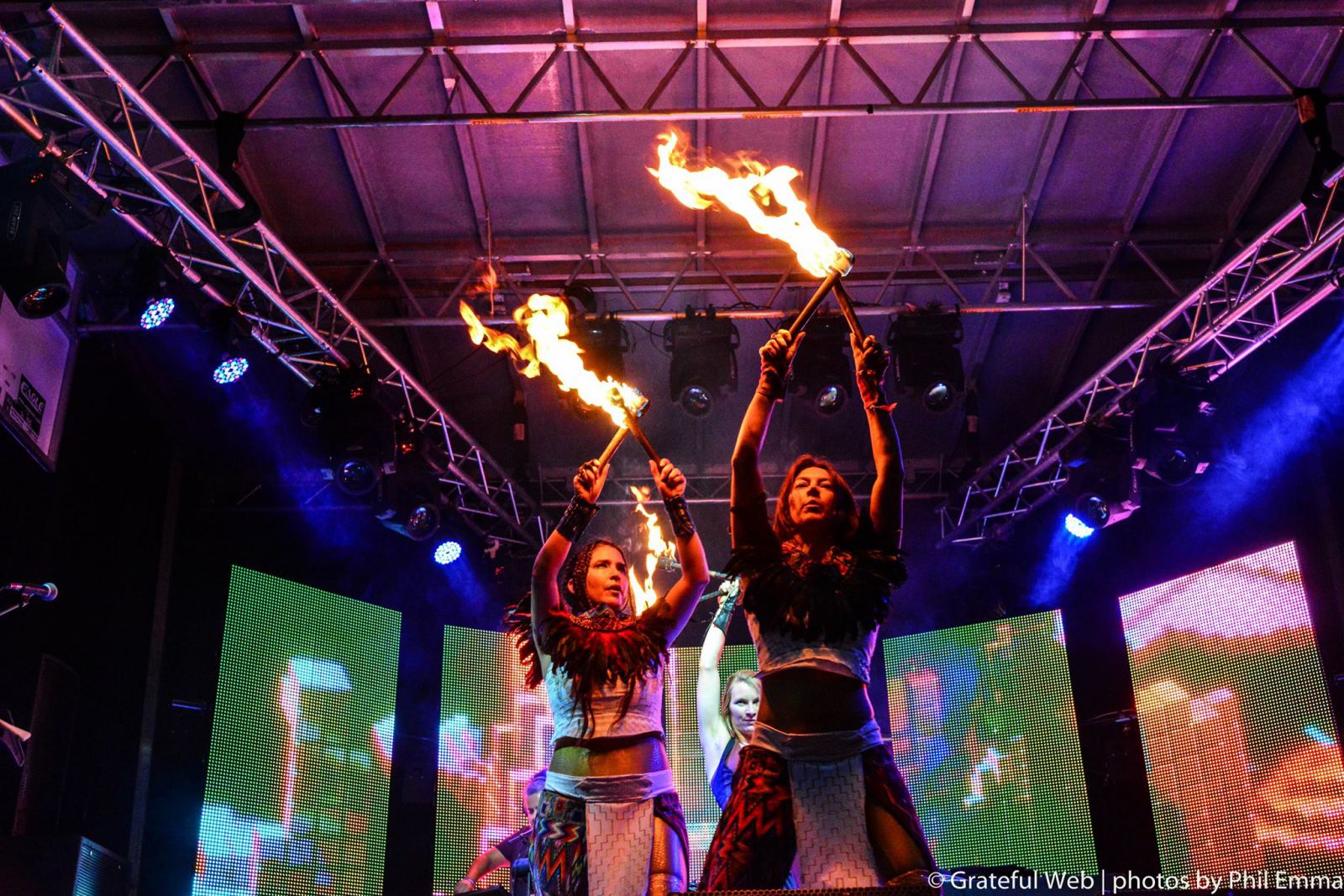 Vibesquad kept the party thriving, and my anticipation could not be contained to see one of my favorite acts at this festival. The Desert Dwellers were an exotic dance party of imagery. There was an exotic florist shaman, incredible aerial pole dancing, and visual art in every aspect imaginable. The aerialist and dancers came on and off stage while the geometric meditation themes vibrated the Bloom stage. The colors that twinkled through the mass amounts of art through the forest were captivating. The Desert Dwellers performance is something that I will never forget. Their encore was a combination of all of their dancers on stage to some of the most amazing surreal, ethereal, and vibrant performances that I have ever seen.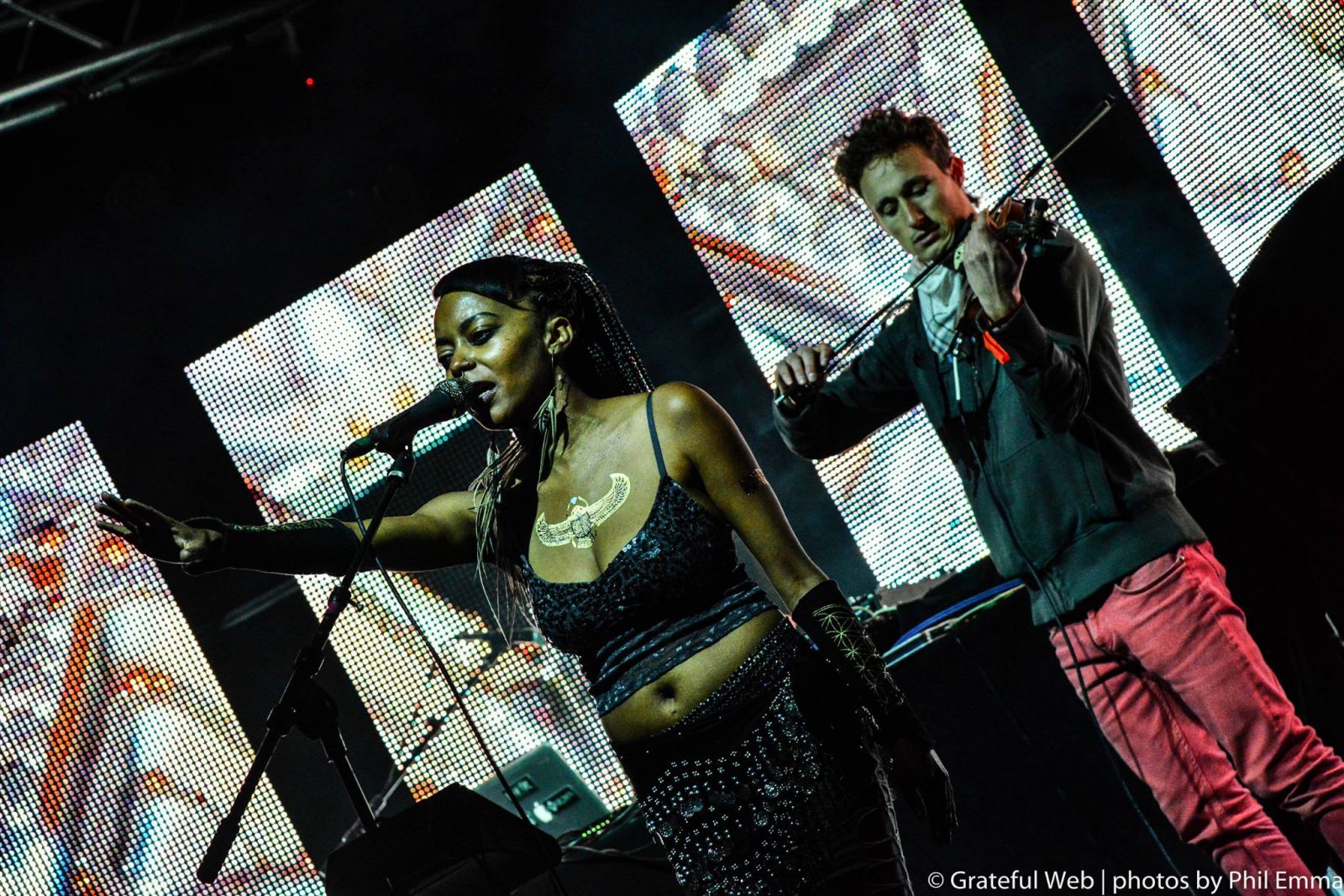 My final journey of the night was spent between seeing Clozee, Kll Smith, and Krooked Driver at the Silent Disco dancing and laying in a hammock in the trees with the headphones of the silent disco. This festival is a must see!
Day 2 – June 19th
After a long night, the hot sun greeting me early in the morning was not so fun, but there was a great day ahead, so no time for sleeping at festivals. Most of the day was spent preparing for the press conference. Check out the video below to hear what my favorite artist to watch and others had to say.
It was a mellow day for music for sure, and the first show that I got to was Lynx & the Servants of Song. There was a small intimate crowd of dedicated fans at the main stage for this laid back rock show. At times, Lynx sounded like Courtney Love, and then she added her other talented repertoire of beat-boxing and playing multiple instruments.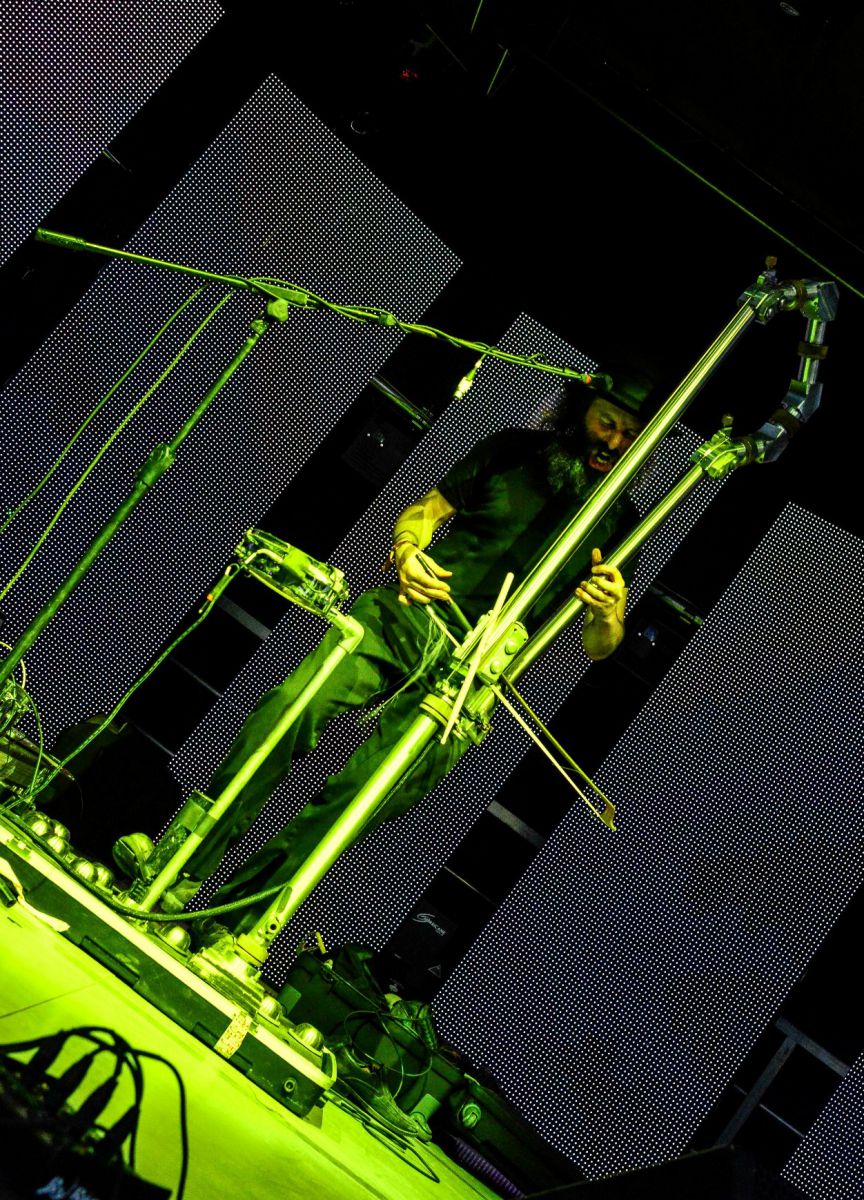 Defunk came on the main stage next, and they served as a nice back drop for an amazing sarva ghatah holistic healing massage that I got over at the Mama Ana tent by Brittney Huenecke. Defunk is Canadian glitch hop bass music. It kept my attention until my massage was done, and then I took a stroll into through the forest to see That 1 Guy. On the way, I danced my through a good set from Clozee. Mike Silverman, aka That 1 Guy is a phenomenon. He is a one man band with a very uniquely intriguing sound. Mike Silverman, out of Las Vegas, uses a plethora of homemade instruments to wow his audiences. People were murmuring about him everywhere throughout the festival before, during, and especially after his performance. His main instrument that he invented is called the Magic Pipe. It's a 7 foot tall bunch of steel pipes and joints, electronic pieces, and orchestral bass strings. He also plays the Magic boot, the saw, bass, percussion, and he sings. This was definitely the most unique act of this festival, and I am so glad that he was here performing.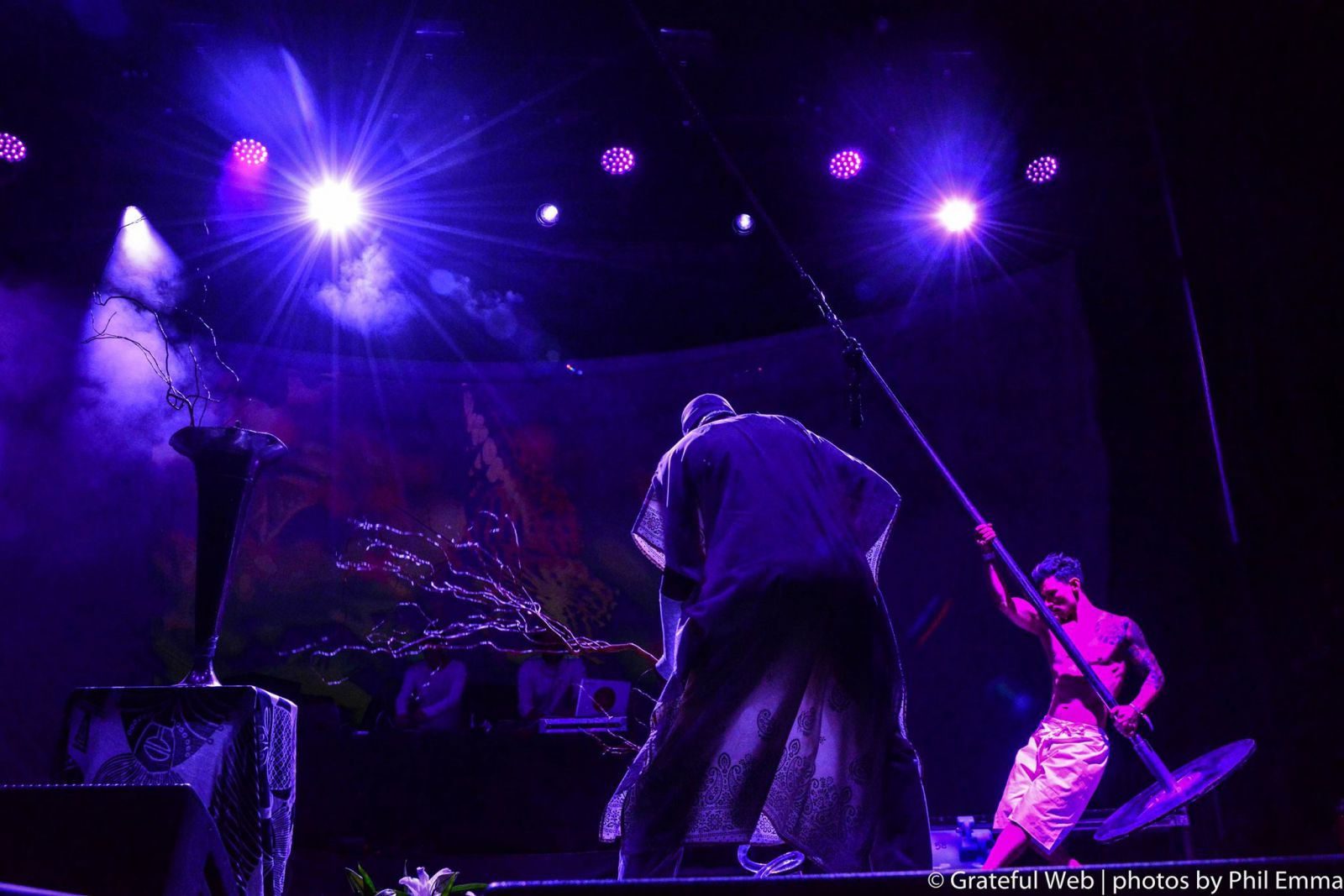 On the way back to the main stage through the forest, I stopped again at the Hummingbird Stage to see a little bit of Treavor Moontribe and Amani's electronic set. The dancing is so free and easy at this stage, and these two DJs were rolling. As I got back to the main stage, Talib Kweli was already on and rhyming away. After the Whites Stripes cover of "Seven Nation Army," Kweli gave us "Going Hard," "Turnt Up," and "Party Robot." The end was the highlight for me when he dedicated the Beatles "Eleanor Rigby" to the lonely people, and then dedicated his last song "Get By" to the 9 people who were recently killed in Charleston, SC in a hate crime.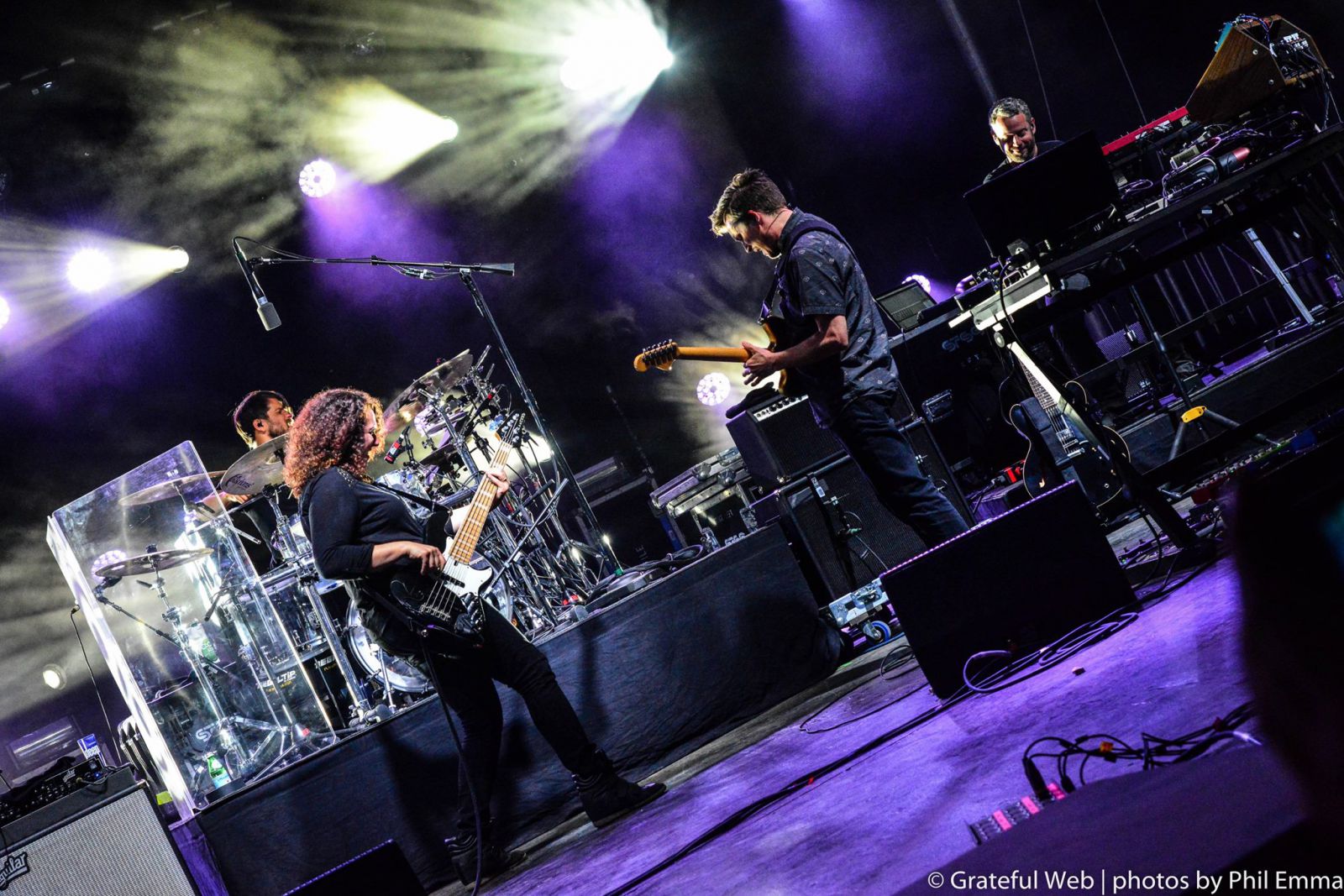 STS9 capped the day off for me with two energetic sets. This is what I was waiting for all day.  The opening song was powerful. They started with their song "New Dawn, New Day," which is a sample of Nina Simone's "Feeling Good," with the band playing around it and through it. In the first set, I loved "The Rabble," and in the second set "Instantly, March > What is Love?" did it for me.
Day 3 - June 20th
This day started like the last, but this time, after waking up and getting ready for the day, I attended a workshop at the D'om. I got there early and did a little yoga with those practicing with Alec Vishal Rouben. Then, I got a great spot for Michael Garfield's Human Meta-Organisms: Endosymbiosis & Planetary Culture. There were many smart people under the dome, and the conversation and talk was extremely interesting. Garfield is a man of many talents. He's an intellectual, an artist, and a musician. He facilitated a wonderful workshop that I cannot even begin to describe, and after it was time for the second press conference.
The second press conference was crowded with artists of all types including many of the individuals that make this festival operate. As usual festival creator Jamie Janover discussed the history of the festival including how it got its name. Here's the video clip of one of the best press conferences that I have been a part of.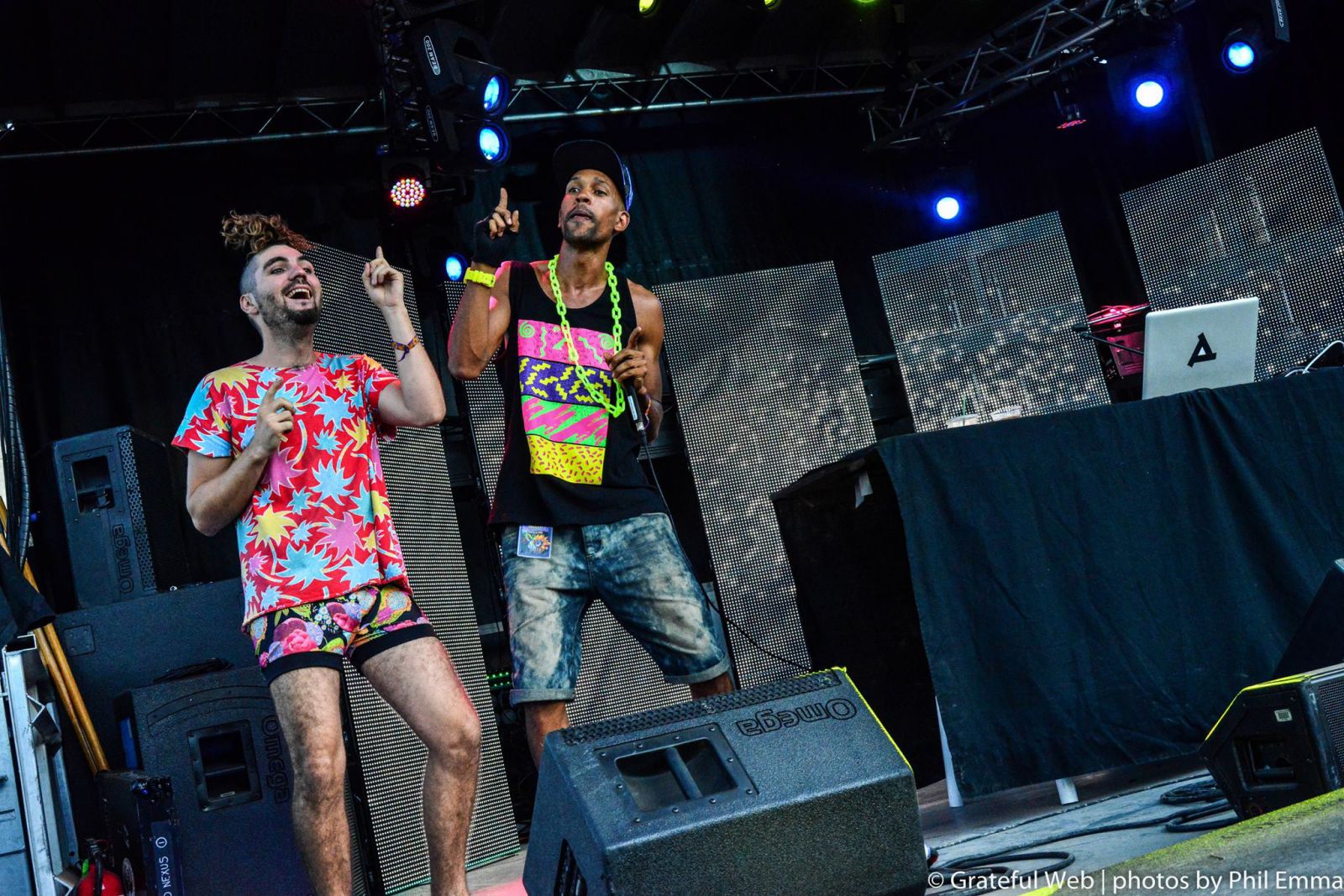 We were on stage on my way back to the conference as they were playing a Paragon DJ set, which featured a puppet that was DJing when I was there. It was a fun set, and some of the band made it to the press conference as well. He recommended that everyone at festivals should just have sex, several times.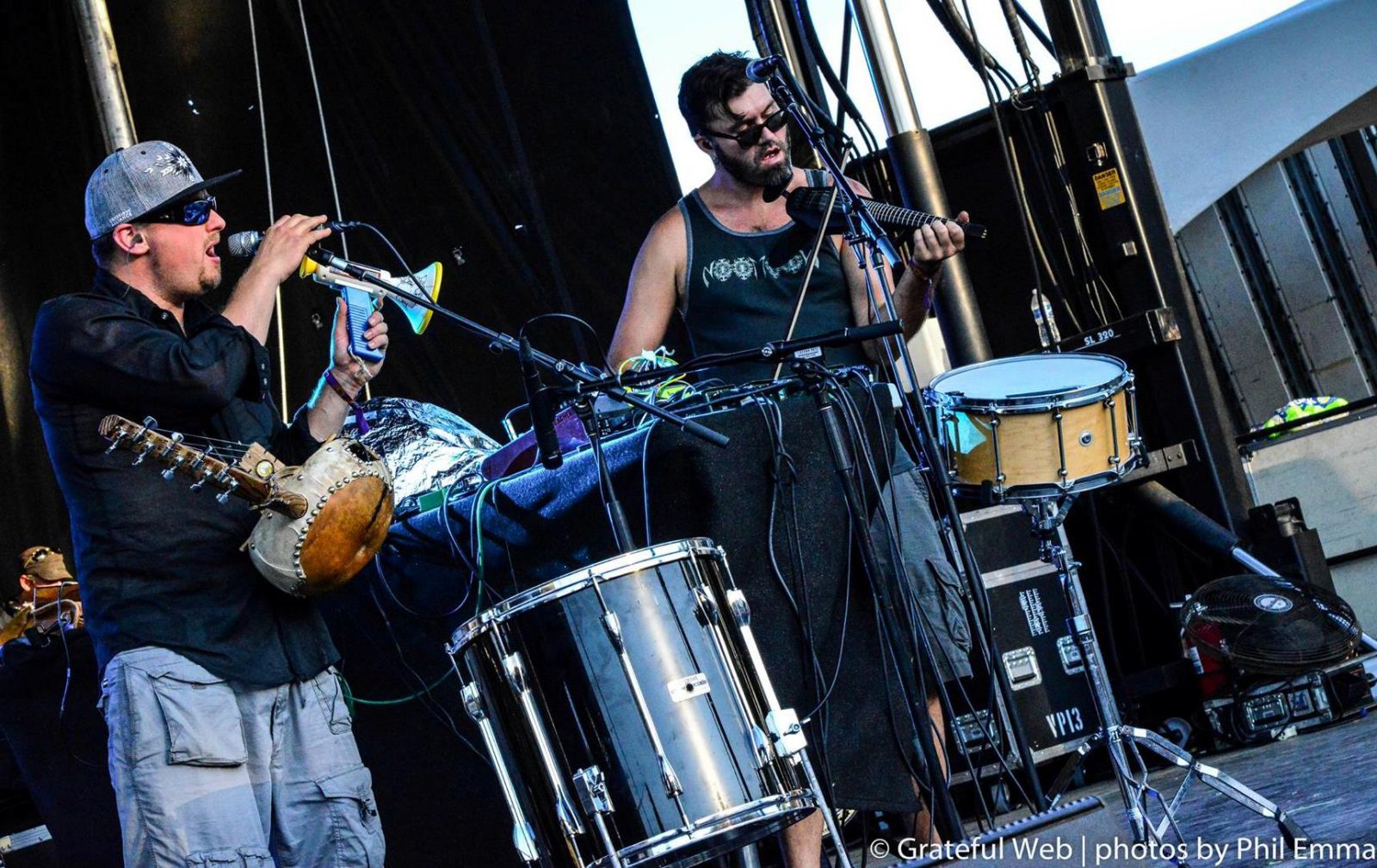 After having the pleasure of chatting with Dirtwire (David Satori from Beats Antique and Evan Fraser of Dogon Lights) at the conference as well, they played an extremely diverse and eclectic set of music. Their choices of unusual instruments kept us all interested, while their magical usage of normal instruments, like Fraser's incredible voice made an even bigger impact on the interested crowd. Satori switched between banjo, violin, and guitar, while Fraser aside from singing, played the harmonica, mouth harp, kora, and tambourine.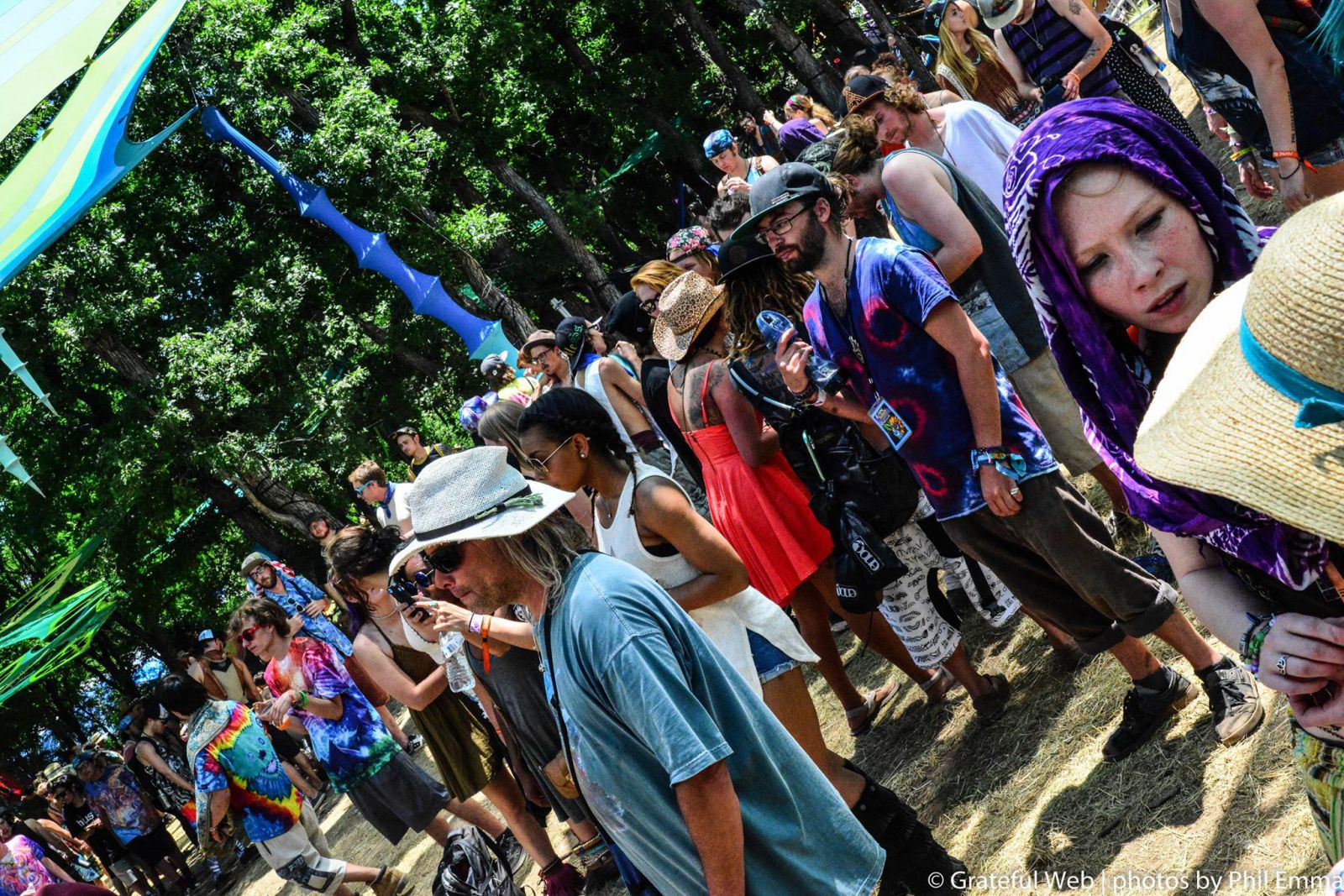 After being thoroughly impressed by Dirtwire, I went to see an old favorite DJ of mine called Saqi. He mixes live instrumentation with his trumpet into his DJed mixes. While I walked through the forest to see him for a second, he was sampling the trumpet part from Outkast's "SpottieOttieDopaliscious" from their album Aquemini.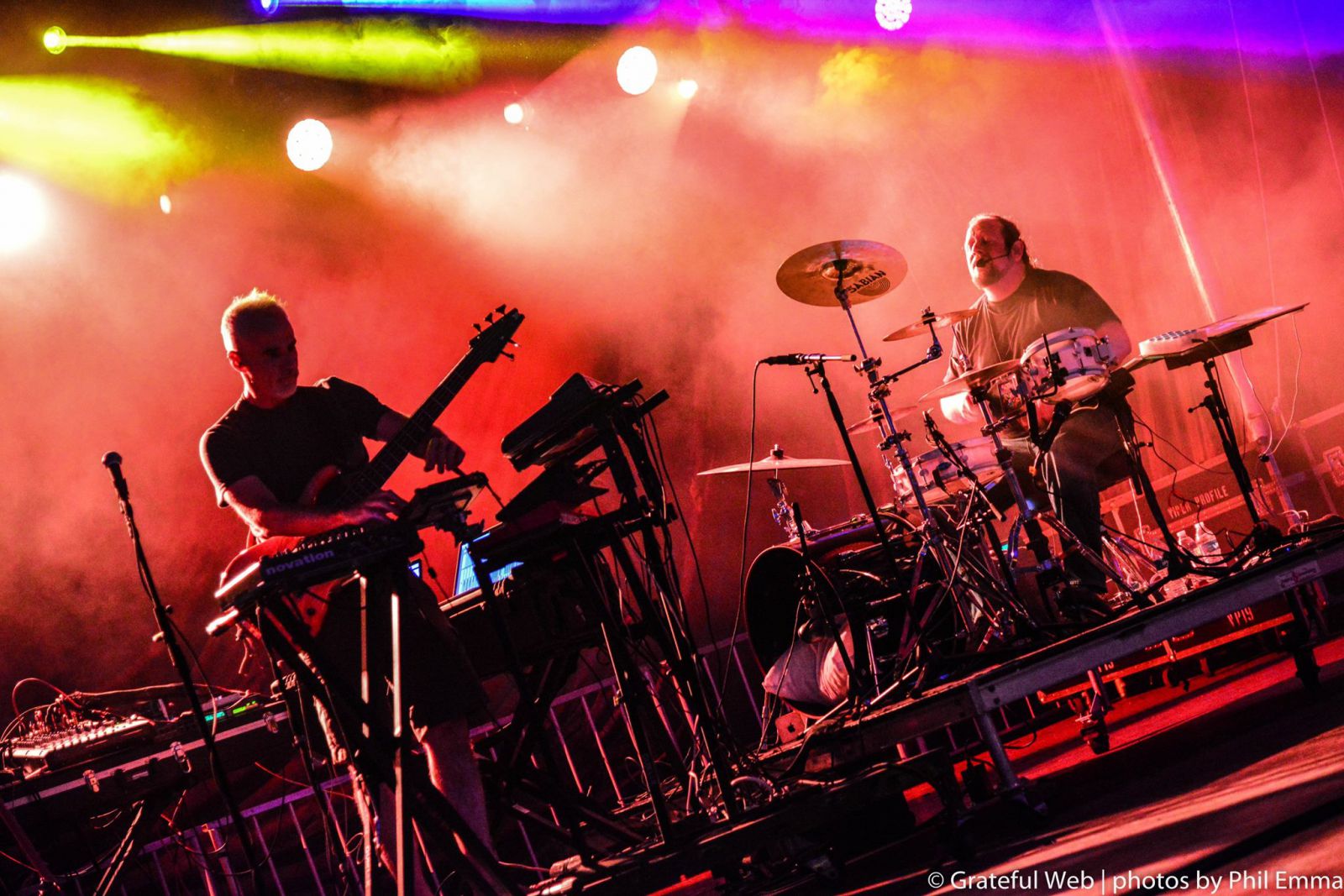 After a short Lafa Taylor sample with Missy Elliot and Bassnectar mixes, I got back to the main stage to see the Trancident, which was String Cheese Incident minus Bill Nershi and Keith Mosley. Of course the tranced up Incident played some nifty covers like Michael Jackson's "Billie Jean," Stevie Wonder's "You Haven't Done Nothin'," and Talking Heads' "Once in a Lifetime" teases by percussionist Jason Hann. These went into electro madness through the end of the very unusual set.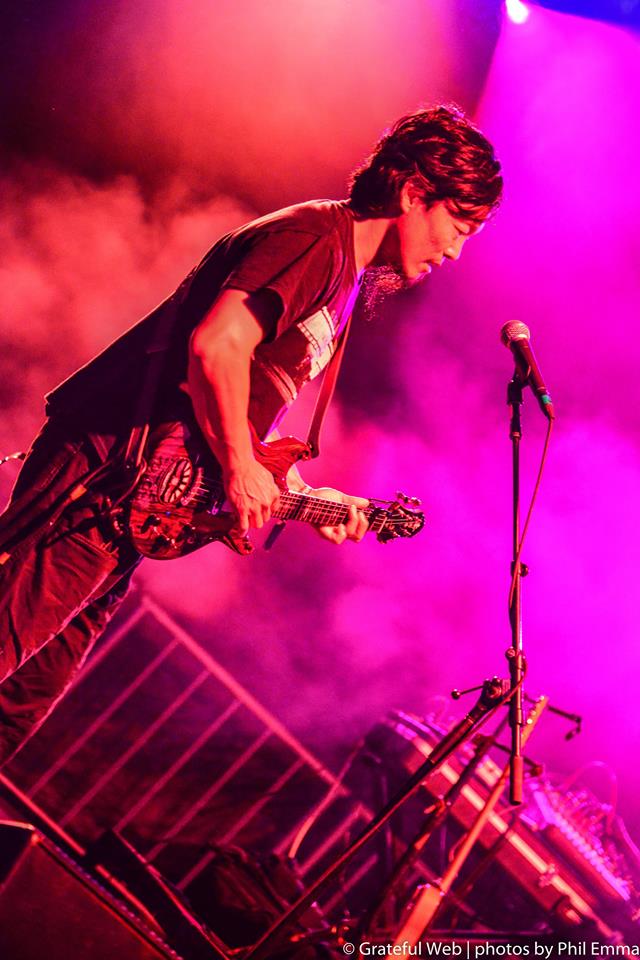 It was at that point when I met two extremely hard working brothers that were responsible for the great construction of the stages etc. It was Symbiotic Event Services that provided the set up for this great festival, and Cullen and Soren Hirst were two integral pieces of this super fun party. They were as excited for Shpongle as I was, and we were all about to get Shpongled. Simon Posford came out with an auto tune voice, which was the theme for his whole set. There was a giant dream catcher on stage and fire dancers during his more classic songs like "Divine Moments of Truth." My favorite dancer of the festival is named Deb Rubin, and she is a tribal fusion belly dancer from California, who teaches belly dancing throughout the whole world. I have seen her at several Sonic Blooms, and it was my pleasure to get to know her a bit at this one. The way she moves her body is amazing to watch.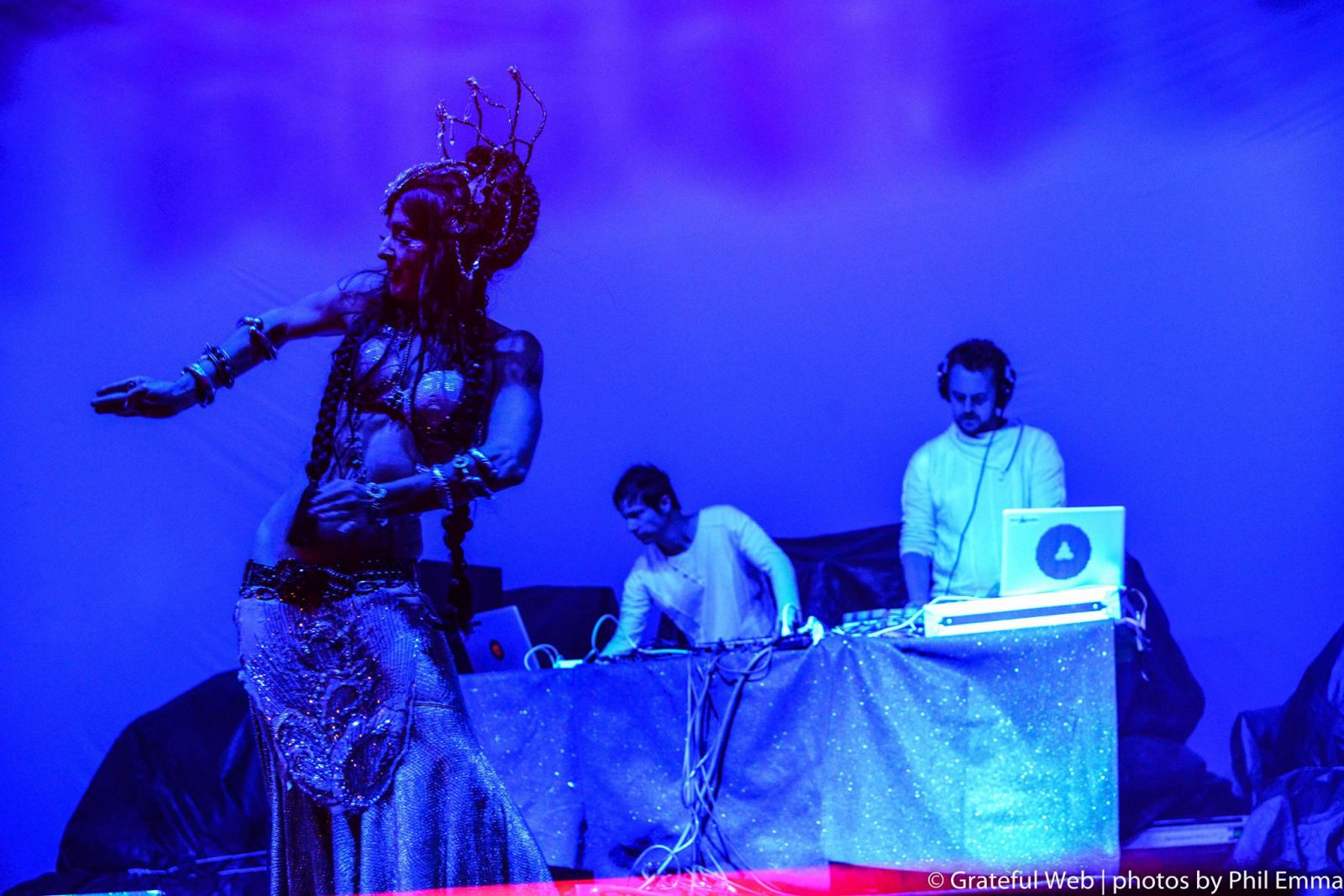 The final portion of the night for me was the Sonic Bloom Orchestra, which featured Simon Posford, Dirtwire, String Cheese members, Fungineers, a rapper that I did not know, and Aaron Holstein (Vibesquad) all directed by festival producer/musician Jamie Janover (Zilla & Resonator).  This version of the orchestra modeled a bit like the Everyone Orchestra does, was not the best one that I have ever seen here at this festival, but it surely was a lot of fun. For me, it was a bit too hip hop focused, but it was a fun dance party none the less.
Day 4 – June 21st (Father's Day)
It was super hot out on this morning, and after having a really difficult time sleeping, I just found shade and parked it at the main stage for the day. Xerephine started the day off right. This talented girl is gaining popularity quickly and for good reason. Her voice and stage presence captures the attention of her audience. Greener Grounds is a jamband that had the crowd dancing in the hot sun. Their combination of funky jams gave the sun soaked audience something to jive to. Their drummer had a style that stood out to me as unusually hard and definitive.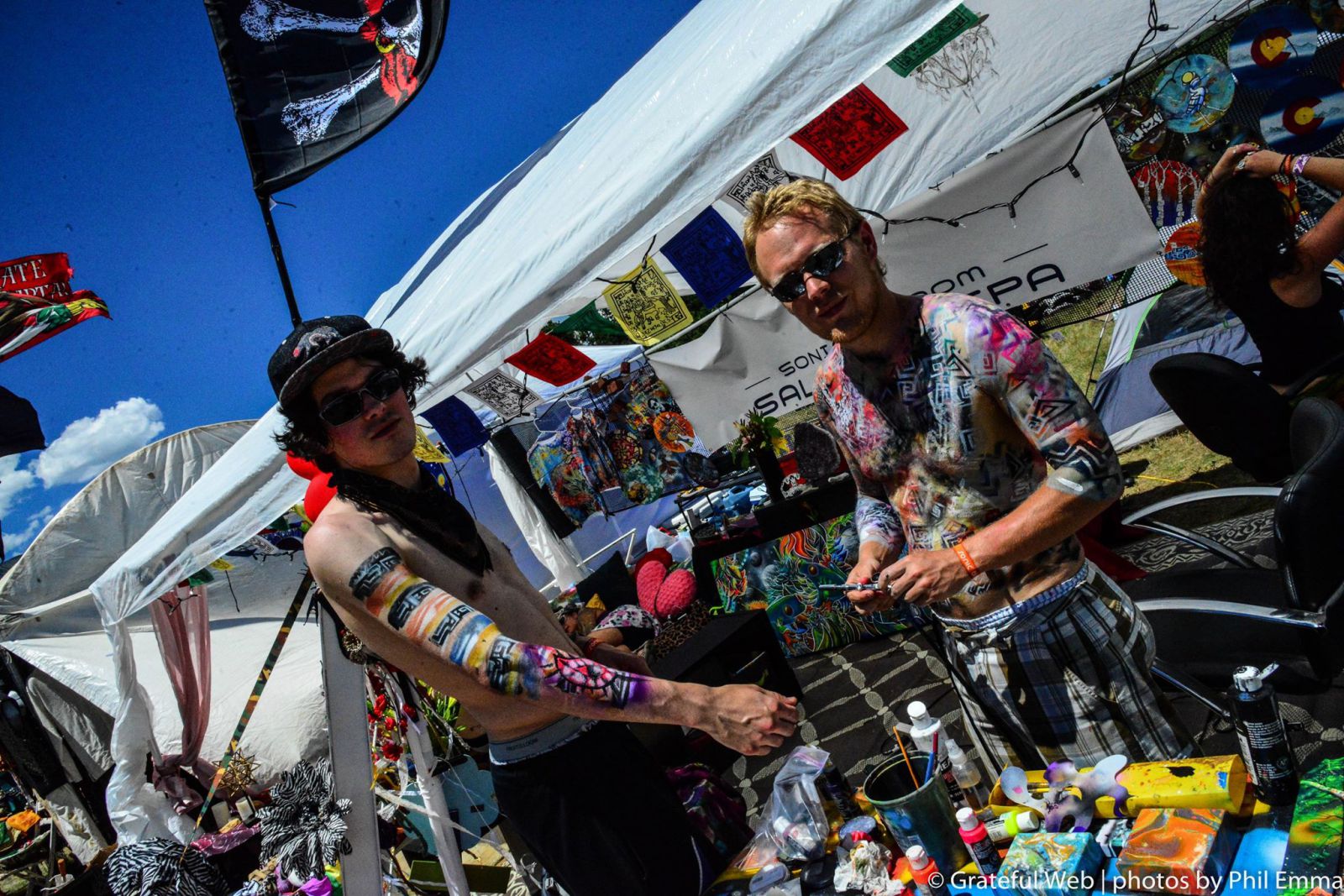 Zilla played their usual fun afternoon set, and the Felabration was next containing my favorite song of the entire festival. But before they started the tweener set by the amazing DJ Russo captured the attention of the crowd. His intensely brilliant mixes contained the music of Nebraska, DJ Format, Orgone, Kraftwerk, Marvin Gaye, Affair, and Red Axes. After Russo finished, the Felabration started. This concoction of mostly Motet and Atomga members kills the covers of the great inventor of afro-beat music, Fela Kuti.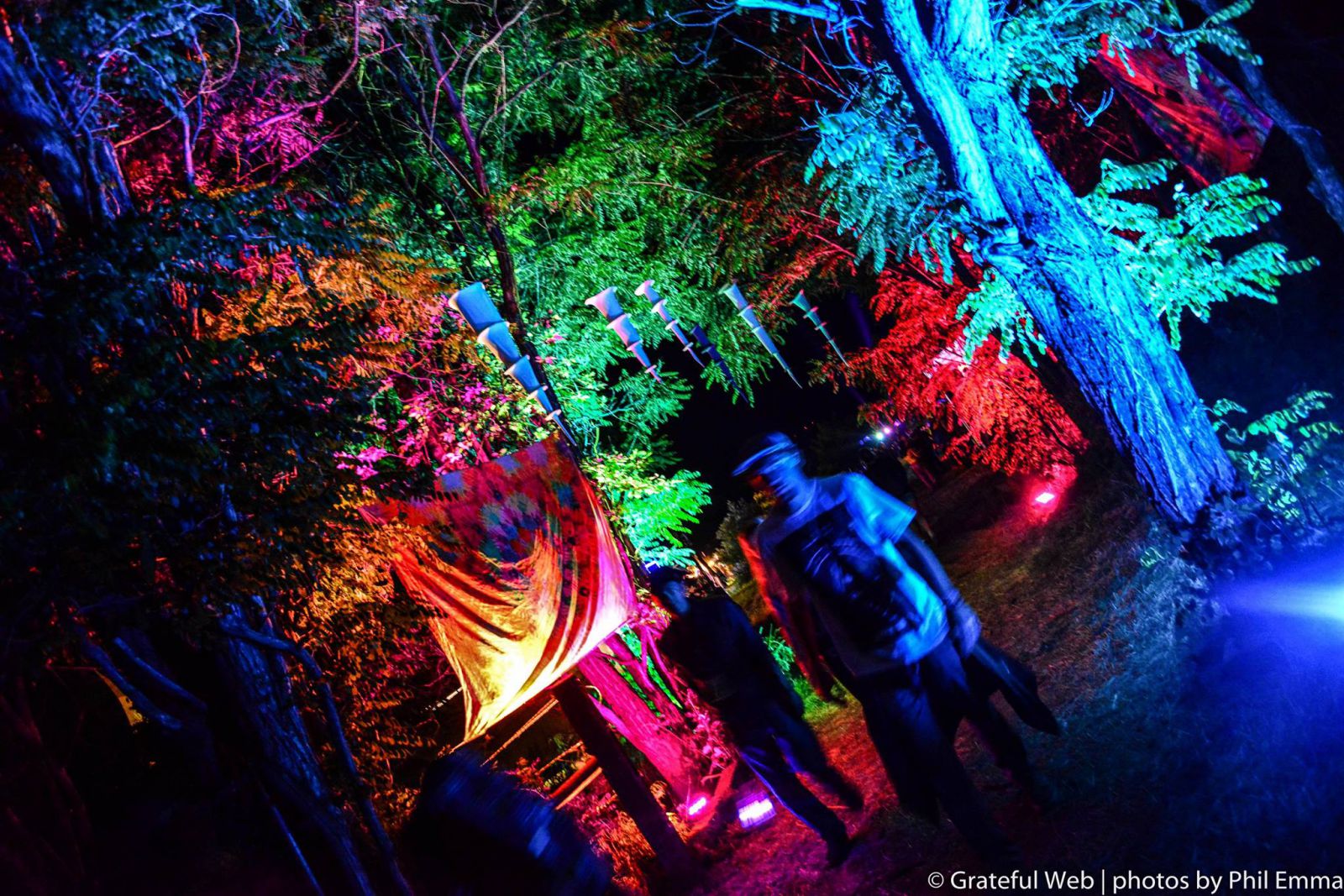 This was a high energy, horn driven, afro funky dance party. The best songs of the whole festival for me were "Zombie, Afrodisco Beat > J.J.D." This was a serious dance party. Horn players from Atomga, Frank Roddy and Leah Concialdi teamed up with Motet blowers Gabe Mervine and Matt Pitts to deliver one of the most powerful parts of the festival. This set had it all including an ending that led the band out into the crowd for an acoustic jam session in front of the stage.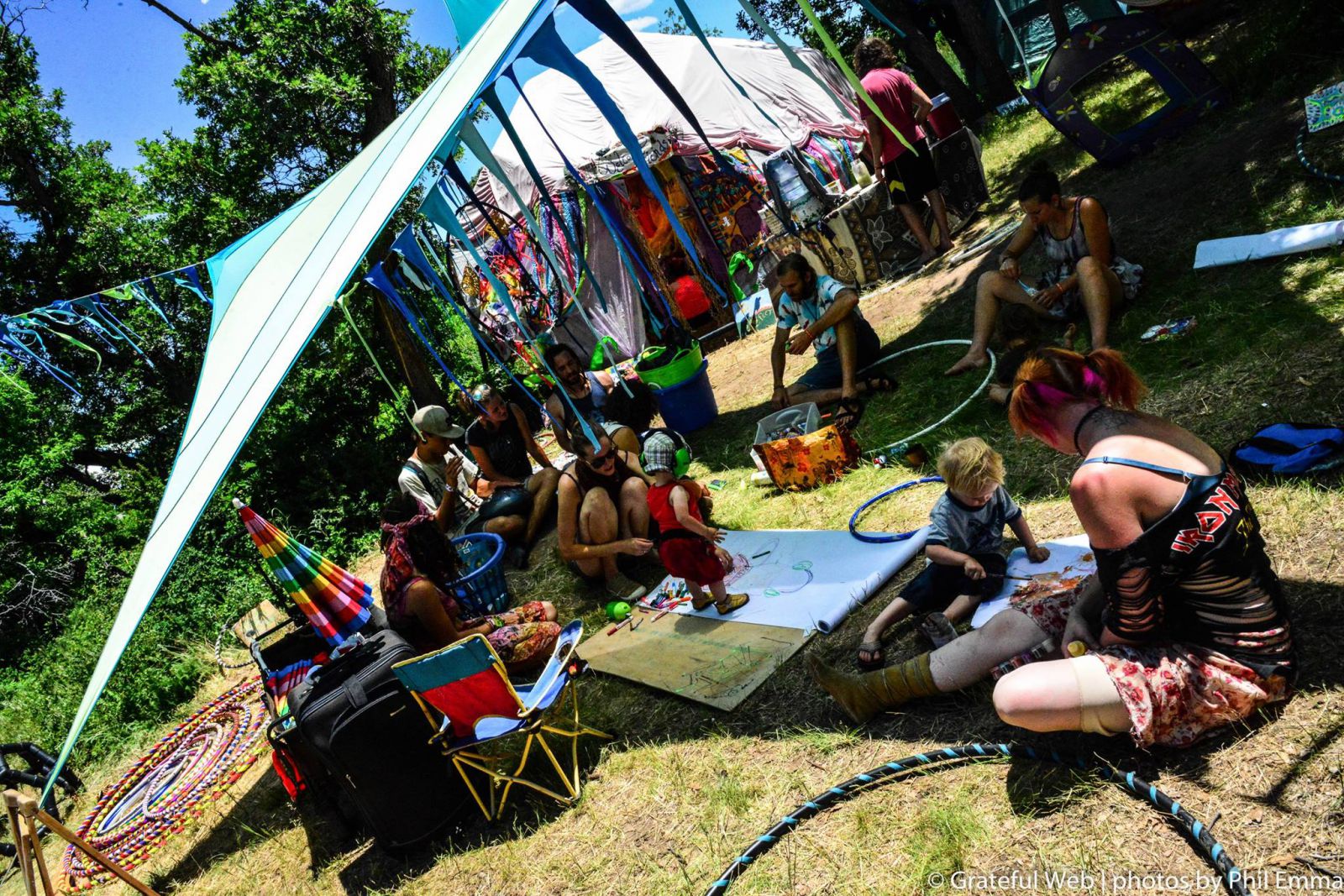 Manic Focus took the stage next, and I enjoyed their set a lot. They mixed live instrumentation with electronic beats to create a full onstage experience which included special guests and another incredible drummer. These guys brought a huge crew with them of support including dancers, but because of the wind that picked up a ton, many of the onstage antics prevented the circus atmosphere for this show and the Emancipator show. Belly dancer Deb Rubin was not allowed to perform her last performance because of the wind danger, but Emancipator did get their whole set in, which pleased the crowd. The dust was flying around a ton although it was hotter than the other nights, and one of the hottest bands in the country, The Motet, was about to play in front of another sold out Colorado crowd. It was just a couple weeks before this that I attended and wrote about their sold out Red Rocks show. I started their set over at Random Rab since he is one of my favorite artists to see at a festival. Rab was playing louder and harder than I have ever seen him before. It was amazing and hard to leave, but I wanted to split time between Random Rab and the Motet since they were on at the same time. The Motet played a few of their newer songs mixed in with a few covers and teases, such as "Pick up the Pieces" and "Fame." "Dance, Music, Sex, Romance" got the crowd electrified, and the funk led to the end of an incredible, sold out, decade long anniversary party.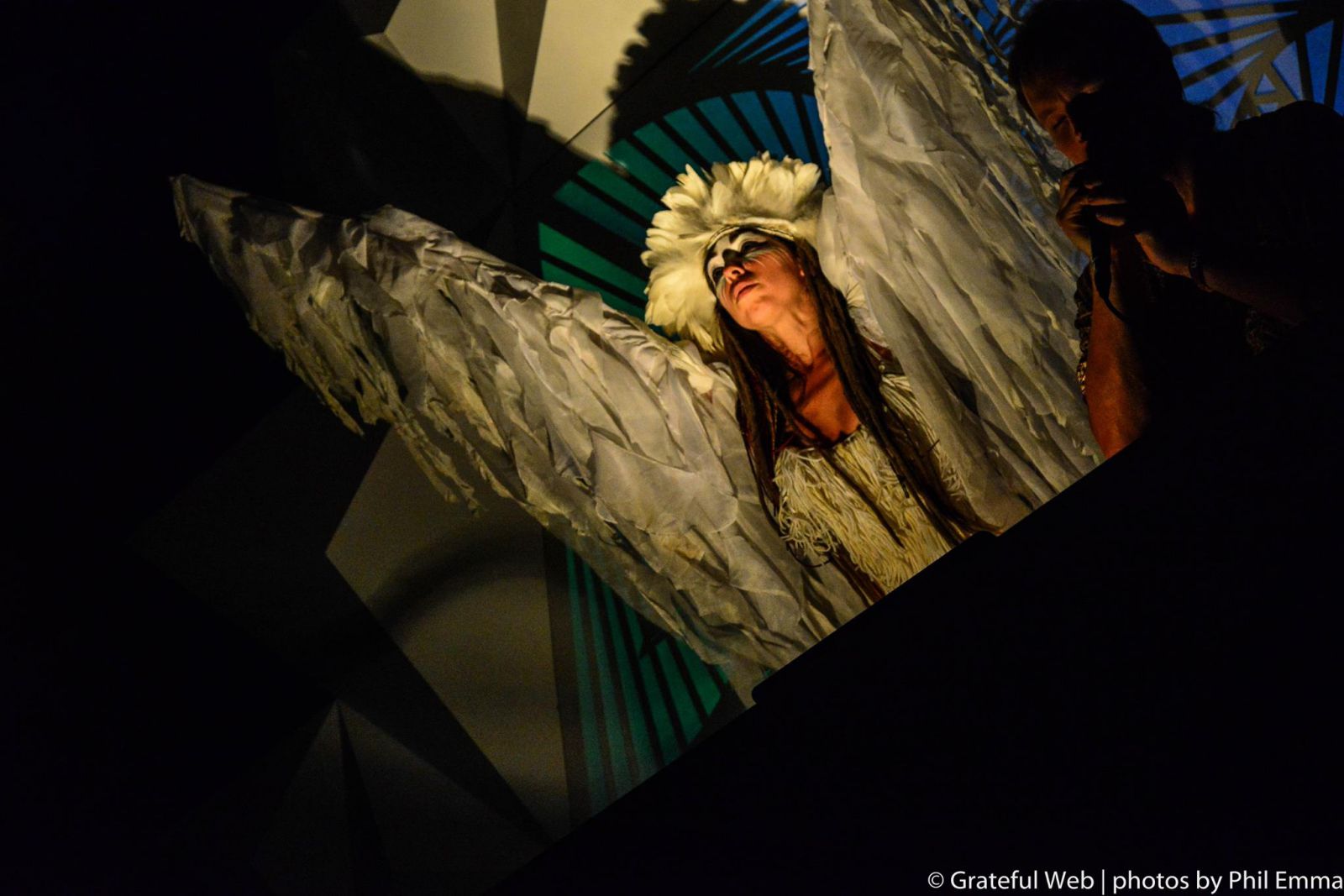 out more photos from Sonic Bloom 2015.