There's something inherently 'good' about Del McCoury. I say this, never having met the man; although I've been close enough to photograph him on a number of occasions, and to have briefly exchanged pleasantries. But that doesn't count, and I know it.. Yet, here I am – insisting that I have perceived enough about the man to proclaim him thus.
And before you suggest it, 'it's not about the hair;' although, the 71 year old surely possesses the finest locks in all of bluegrass music. Nor is it about 'the suits.' But it is about the palpable sense of welcome that pervades wherever Del McCoury Band performs. You are assumed to be a friend of the family, just by 'being there.'.The experience of seeing Del McCoury Band in performance, is that it's a little like the way you can joke and talk with your most agreeable of family members. Suddenly the uptight parent jokes with his still-single brother, and the sullen teenager forgets whatever pissed them off and actually smiles. These little miracles don't happen in just any environment. But everyone is welcome in the 'House of Del;' and it's not lip service.
The 3rd Annual DelFest, held this past Memorial Day Weekend in glorious Cumberland, Maryland was a family reunion of sorts, with various generations of the bluegrass genre represented (traditional and otherwise.) And because it was Del's house, all were equally welcome. The Allegany Fairgrounds hosted again this year. And despite a soaking rain that fell in the afternoon on Friday leaving the predictable mud in its' wake, the weather was sunny and hot, overall. Yet it was the aforementioned mud, combined with our mud-averse four year old child, that led us to make camp daily at the smaller stage on the festival grounds, The Potomac. We wandered back forth between stages, and listened from our campsite for the later sets from the Grandstand. Surprising how well one could hear the Grandstand stage, from RV camping..
And as the weekend progressed, I started to consider how this smaller stage was really a microcosm of what's happening in the genre both on the traditional side of the realm, all the way to the cutting edge. And within those parameters, a respectable number of sub-musical-genres were also present. Like that family reunion, the music itself appears to have had a variety of 'relatives' present at DelFest. And this connection between genres is not lost on Del McCoury.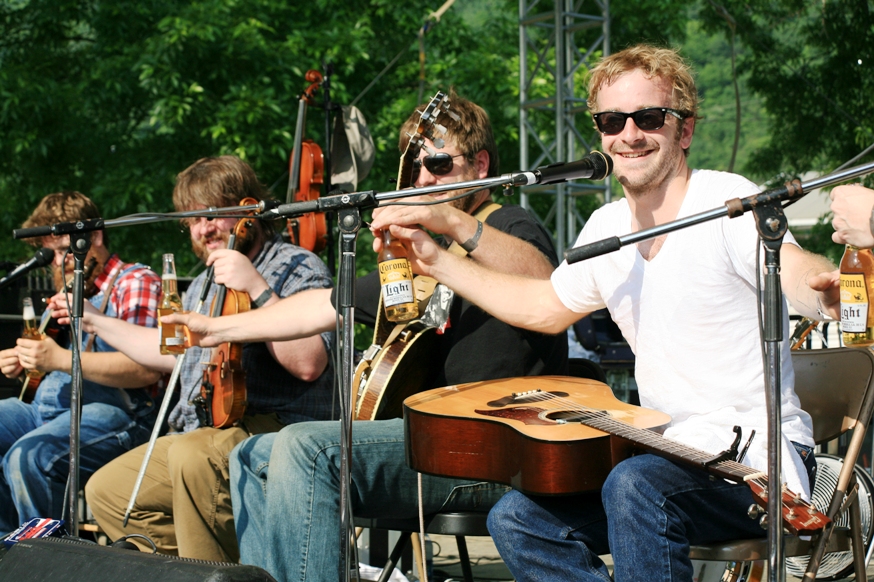 The York County, Pennsylvania native explained, in a recent interview, that he was interested in nothing but bluegrass until moving to Nashville in 1991.[Then,] "I started listening to different music more," McCoury said. "I realized as I got older it's all related somehow."
And McCoury seems at ease with keeping one well-polished cowboy boot in the traditions of bluegrass that he and his own 50+ year career helped to make, and the other in any number of genres. Dave Simonett, songwriter and guitarist for Trampled By Turtles, said in an earlier interview, "McCoury isn't confined by conventional musical boundaries…. "Especially in the bluegrass world, it's hard to find a 'legend' that still has a creative and open mind when it comes to the music he plays; and Del seems to have that in spades," Simonett said.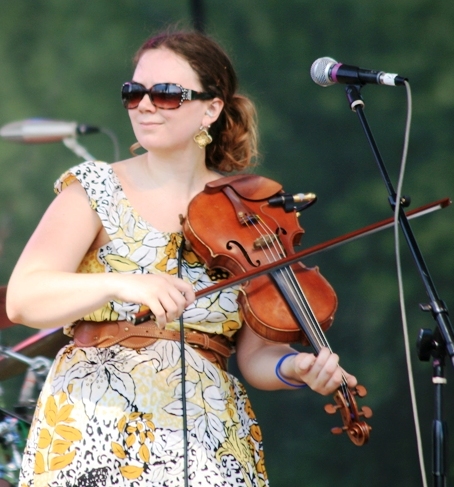 In fact, it is the music itself that the McCourys want to be the strongest selling point of their three year old weekend festival. The lineup will apparently always be a mix of old and new sounds in bluegrass music. But it's unlikely to explode in attendance, as other major events like MerleFest, or High Sierra, have. At least, that will be the case as long as the festival is held at its' current location. And that's the way DelFest seems to have been designed, from the beginning. In a recent interview, Ronnie McCoury said, "Rather than a giant party, "we still want it to be so music-driven that that's why you bring your family there."
And families were well represented at DelFest. The KidZone proved invaluable to parents, and a dose of visual comedy to anyone who happened past. It was a far cry from my own last experience under that pavilion, last year, as the hail storms rolled thru camp. This year, amidst the sidewalk chalk and bouncing balls, I met Karen Hise, of Pittsburgh, Pa. Her experience last year, during the storms was even more significant. Riding out labor pains in one of the concrete bathrooms, the mother of 2 older children said she'd been relatively calm, through the situation. "I guess I knew what to expect, so I was ok with being stuck in there. At least I wasn't out in the rain,' she said. And coming back to DelFest this year was never in question. "Never entered our minds – not to," she said. As for her baby, his premature labor was halted with medication, and she later delivered a healthy son.
Artists Workshops were also well attended. George Heston, of the Charlottesville, Va. Area was setting up his taping gear for the Greensky Bluegrass performance of 'Rock, under the cover of BlueGrass'. Heston said he'd been looking forward to seeing this band for a couple of years, and described the band's sound as 'traditional overtones 'kicked up a notch,' he said. And with an opening salvo from The Grateful Dead, they delivered everything Heston was seeking, and more, likely.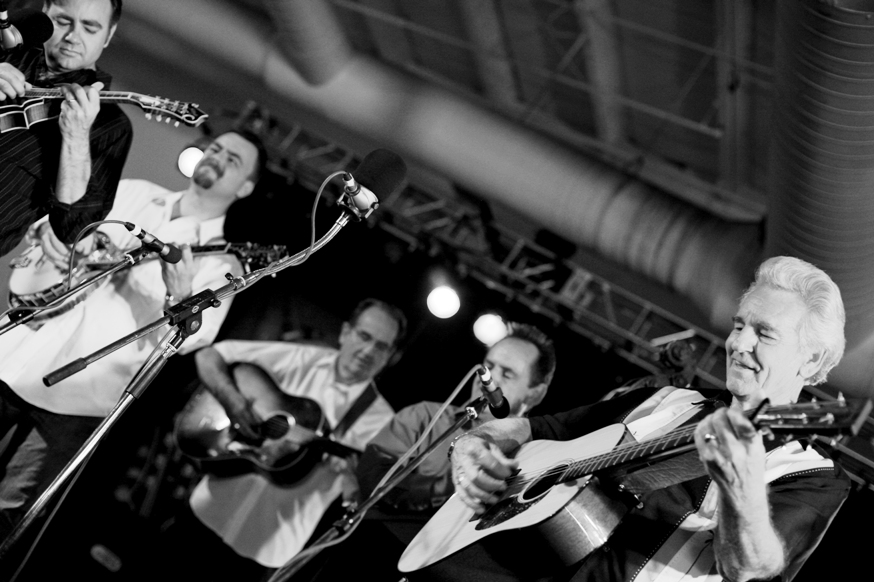 The music overall was of the highest caliber. But I'd be remiss if I didn't draw attention to a Potomac Stage performance by Trampled By Turtles. I know that I am late to this band's radar. I shall look forward to catching up in my understanding of this group. Performing seated, the band's pickers are lightning fast. One friend dubbed their sound 'Thrash-Grass,' and I'm not so sure I don't agree with her. As I watched that band perform with wild abandon in searing heat, I marveled at how they AND Del McCoury Band could be on the same bill, and have it 'make complete sense,' to me.
Sunday's gospel sets at The Potomac were top notch, as well. Of note would have to be the collaboration of Florida's own The Lee Boys, with Del McCoury. Despite the early hour, and Del's obviously scratched throat – a sweaty tent revival of a morning, and aside from Trampled By Turtles, my festival highlight.
My little family has already decided to attend for a fourth year running, in 2011. DelFest shall continue to be a musical family reunion for us. And Del will continue to make us all feel welcome, I'm sure.
Check out more of Gina's photos from DelFest 2010.