My first interaction with a live music concert was in 1984 at JFK Stadium in Philadelphia, where I saw the Victory tour as a young kid. I still remember it vividly to this day. My family and I had to park so far away from the stadium because it was so crowded, and we hiked it for several miles to get there. Once there, I remember the electric that I felt that night. The crowd was screaming when the Jacksons got on stage. One of my fondest memories was seeing Michael with his white glove on glide upon that stage with ease. That would be the last tour that he ever did with his brothers too. That tour grossed a record 75 million dollars, and propelled his solo career after that. I was enthralled and addicted to his music. I would play his records every day after school and attempt to dance like him in my living room when no one was watching.
And when the video for "Thriller" came out, I remember as many do where they were and who they were with. It was like when Kennedy got shot except it was an extremely positive and mysterious moment. My friends and I assembled at a friend's house with many others from the neighborhood with extreme anticipation for the longest music video of all time. "Thriller" debuted, and it did not disappoint. These memories of a man of which there is a lot of controversy amongst many is what inspired me to come to see Who's Bad: The Michael Jackson Ultimate Tribute Band at the Fox Theater.
This band based out of North Carolina is a sight to see. First, I would like to say that I am not one to really spend too much time seeing cover bands, but on occasion, if they are good, I can get into it. My first instinct was who in the world thinks that they can cover MJ. I have to see this, and I did. The band came out on fire and played "Jam." Then, they played several of my favorite songs in a row: "Wanna Be Startin' Somethin'," "Rock With You," "PYT," "Smooth Criminal," and the beautiful "Human Nature."
There were two Michael Jackson's sharing the near impossible duties, but Taalib York took the cake for me. He looked and danced exactly like him. The outfits changed with every song, and energy was alive in the venue as well. There were many females among the front row screaming just like a real MJ concert.
Then, the band played "The Way You Make Me Feel," and York told all of the girls to come on stage. It was pandemonium on stage next. Scantily clad females were letting it all hang out as they were getting down with the lead singer through the whole song.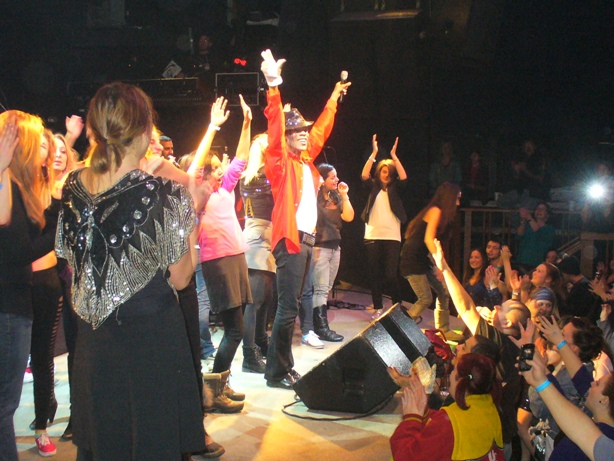 Next, they played Jackson's cover of the Beatles "Come Together" and another favorite of mine off of Off the Wall, "Don't Stop Till You Get Enough," which was Jackson's first solo number one hit.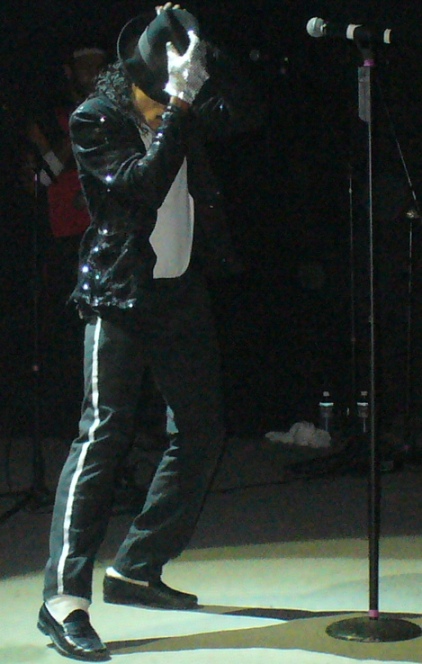 The next Michael Jackson, Joseph Bell came on for the Jackson 5 medley that they performed. I really enjoyed the trip through his career that this band provided. Bell's voice was impeccable as Jackson's younger self. After this the heavy hitters closed the show. It was "Billie Jean," "Beat it," "Thriller," "What About Us," and "Bad." "Beat it" was very well choreographed with members of the band staging a knife fight like in the music video of the song. My absolute favorite song of the night was "What About Us." The vocals on this riveting song were amazing, and his emotion was intense. I left with those notes in my head for days after the show. I really enjoyed that number a lot.
The double encore that they played was "Man in the Mirror" and "Black or White." "Man in the Mirror" left that crowd with the singer begging people to make a change and look in the mirror every day to see how they can contribute. York and Bell had very charismatic personalities, and a lot of the times, even their mannerisms mirrored Jackson's. Overall the night was a pleasant surprise and a lot of fun to dance to. There are many more U.S. dates for the super group, and I encourage all Michael Jackson fans to check them out if the opportunity presents itself.