For a weekday during spring break, the North Star Bar in Philadelphia was vacant, but the musicians came to play anyway.  Starting with the opening band, a new local jam band named Mogel's Brew, all of the musicians played with emotion and soul. It was really nice to see and hear a band that I would classify as a young jam band. It seems to me that the younger musicians coming out lately have been taking on a more electronic approach, and I miss the plain old jam band sound. The ripping guitar solos with the fat bass and the extended jams without the use of a computer is what I've been looking for in the younger generations. Mogel's Brew provided that sound. Mogel (guitar) was particularly impressive. Mogel's guitar work sounded like it is influenced by some of my favorite guitar players Anastasio, Garcia, and Chris Michetti from Raq. As I said to Mitch Beers (bass) after the show, I am always pleased to see a band that is unique, but carries that familiar influence. Unfortunately, I wasn't crazy about a female vocalist in this type of band. Chell ViaCava has very good voice and stage presence, but it seemed a bit out of place in band with this kind of sound. I wanted to hear more guitar and changing solos from the others. Overall, I enjoyed the set and look forward to seeing the Brew again.
Will Bernard has been flying all over the music radar for a number of years. One of the reasons that I see for that is the unique talent of that California jazz guitar sound. Bernard's guitar is like a breath fresh air. The smooth tone of the jazz hollow body is one of my favorite sounds to hear. When I asked Will at set break who his guitar heroes are, he told me with a smile. The answer that I was waiting for was Wes Montgomery, and that was the second name he mentioned. I recalled a dinner one night in Boulder a few years ago when Brian Jordan from Karl Denson's Tiny Universe told me that Montgomery was the reason that he picked up the guitar. Since then I've accumulated a few of his live recordings with much satisfaction. The renowned innovators Jimi Hendrix and Django Reinhart were the other two inspirations for Bernard.
In addition, he surrounds himself with a ton of talent. Peter Apfelbaum, who I've enjoyed hearing several times playing eclectic saxophone for Trey Anastasio's band, and his own Hieroglyphics Ensemble was as fun as ever on this quiet night in the city. I happened to be wearing a Trey Anastasio t-shirt, and as Apfelbaum walked by me he commented on how fun those years were when he toured with that large mega band.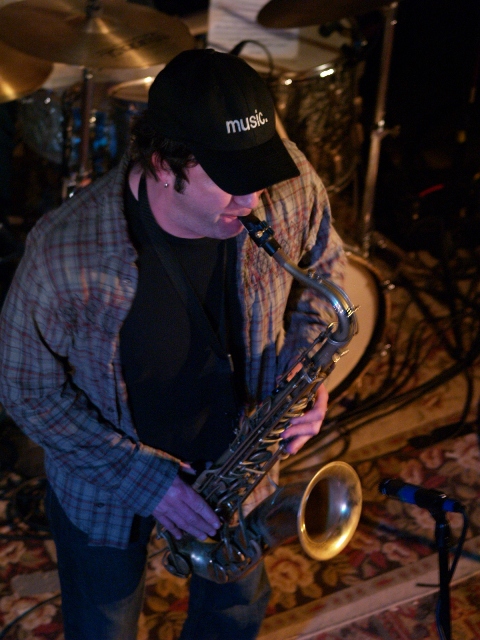 Will Blades is the Hammond B3 player in the band and as Bernard pointed out during the show, this Berkeley grad has a bright future in music.  Mitch Beers the bass player from Mogul's Brew came to me half way through the show and said, "Blades plays the bass better with his left hand than I play with both hands." Blades is joined with Eric Kalb on drums who currently plays with the Greyboy Allstars and formerly played with Deep Banana Blackout.
With all of this talent on stage, the show opened with "White Elephant Sale," a track off of their brand new album Party Hats. The band played songs from the album throughout the night that continued to impress the crowd. "Ripple Sole," "Folding Green," "Leo's Cat," and the amazing "Afro Sheen" encore kept the tiny crowd dancing. The jazz funk concert circuit may not be what the masses are going to see these days, but this is the kind of music that lasts. It's these types of musicians that people say later that they wish they could have seen. Check out Will Bernard on the rest of his tour especially on those Jazz Fest dates in sweet New Orleans.