It was another really cold night in Boulder after night one of an amazing five-night run tradition in the band's hometown venue, the fabulous Boulder Theater. This band has grown so much in the last decade, and they deserve all the success that they achieve. About fifteen years ago, I was searching for a band to play at my wedding. I walked into the Fox Theater and asked for a list of band manager's phone numbers to see if we would be able to afford any of my favorite bands. It was a dream of ours to have music at our wedding that we liked and to have live music rather than a DJ. Our wedding was in New Jersey, so I knew that would be a challenge, and after talking to Leftover Salmon's manager, I was discouraged because they were way too expensive. Finally, when I got off the phone with Yonder Mountain String Band's manager, I felt full of life. They said yes, and for more than an affordable price as well. The only stipulation was that if they got accepted to the High Sierra Music Festival lineup, then they would not be able to play my wedding. Well, being the extremely talented new and unique bluegrass band that they were, they got accepted to the festival and did not play at my wedding. It sucked for me but was an amazing new launching pad for the young kids out of Nederland.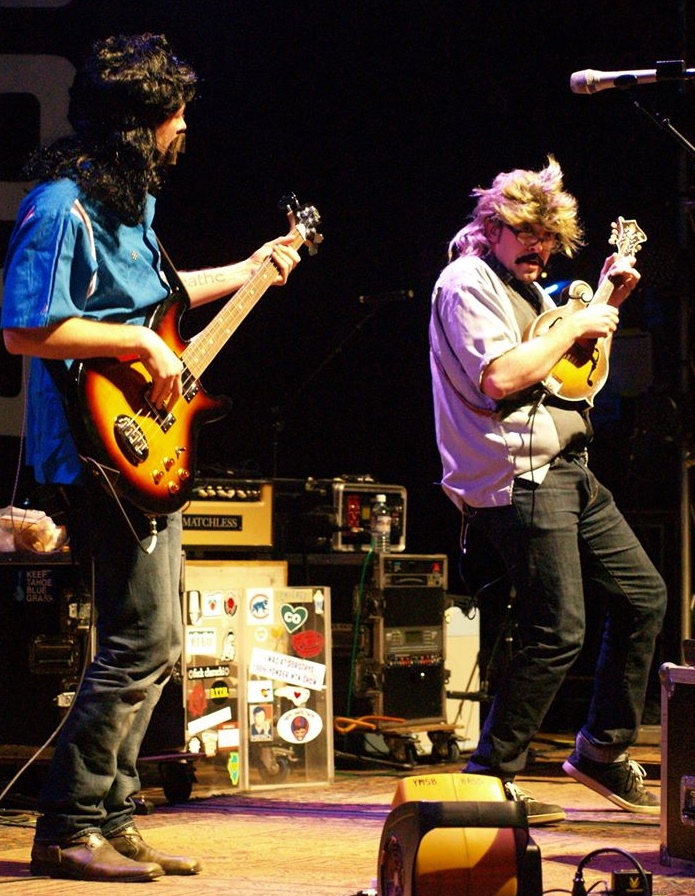 I have seen them a ton over the years including a New Year's Eve at the Fillmore Auditorium a few years ago. They never disappoint a crowd and always leave you smiling. This night would be no different. Starting with the "opening act," Cosmic Bowling League, which is all of the members of Yonder Mountain String Band in disguise (falling apart at times), the music took a more traditional Americana country bluegrass tone to it. Mandolin star, Jeff Austin approached the microphone with a serious case of cottonmouth, and said, "It is so dry," barely audible. Then, bass player Ben Kaufmann said kiddingly in costume, "Silence! Never mind, I don't like the silence…LOUD!" The crowd then became alive for a moment. The funny-looking foursome dressed in mullets, fake mustaches, etc. opened with the Beverly Hillbillies theme song, "The Ballad of Jed Clampett." The song was written by Paul Henning but performed most famously by Jerry Scoggins, Lester Flat, and Earl Scruggs aka Foggy Mountain Boys. "Sophronie" by Jimmy Martin was next, and Kaufmann's stuck on facial hair was falling off already to his frustration. After putting it back on, he said, "Nobody say nothing to nobody about what you seen here tonight." They were perfect caricatures of the image that they were portraying, always in character. The next song was dedicated to their buddy Jerry. It was Country Gentlemen's "Fox on the Run" written by Tony Hazzard. Kaufmann continued to struggle with his mustache, and finally, he said, "Well anybody who was here yesterday knows there were too many damn people in the house, so Yonder asked us to open tonight. Several of you are going to leave during this performance I imagine. Here's a song I insist you enjoy." The banter continued into "Blue Ridge Mountain Girl" by Nitty Gritty Dirt Band. At this point, I knew this would be their all cover song set, which I was excited for. They asked, Bo, who was really banjo player, Dave Johnston, to sing the next song. Johnston replied, "Yes, C major. You can hit me one of those fancy licks." Austin did and then Grandpa Jones' "It's Raining Here This Morning" most famously performed by the Stanley Brothers quickly came and went, and Johnston said, "She was a tramp anyway." The comedy and banter provided by this fun set was all part of the fun for the fans and especially the band. What a way to warm up. Austin said, "I am in the middle of a real creamer binge, and I'd like to play you a love song now." "All About You" was next, and Kaufmann had to remind the crowd to at least for a couple seconds to act like they were enjoying this. They picked a fast Stanley Brothers song next called "Lost and I'll Never Find the Way." Then a slightly sloppy "Are You Tired of Me My Darling," but a great bass solo came towards the end. Sadly, Kaufmann's silly character said, "You know you are all supposed to cheer every time a bass player takes a solo darn it. And you know this!" Bradford Lee Folk wrote the song "Some Things Does," which they covered next. The hymn-type bluegrass song must have hinted that the whiskey was setting in because the last song for Cosmic Bowling League was "Pig in a Pen" from the Stanley Brothers or one of my favorites Old and in the Way.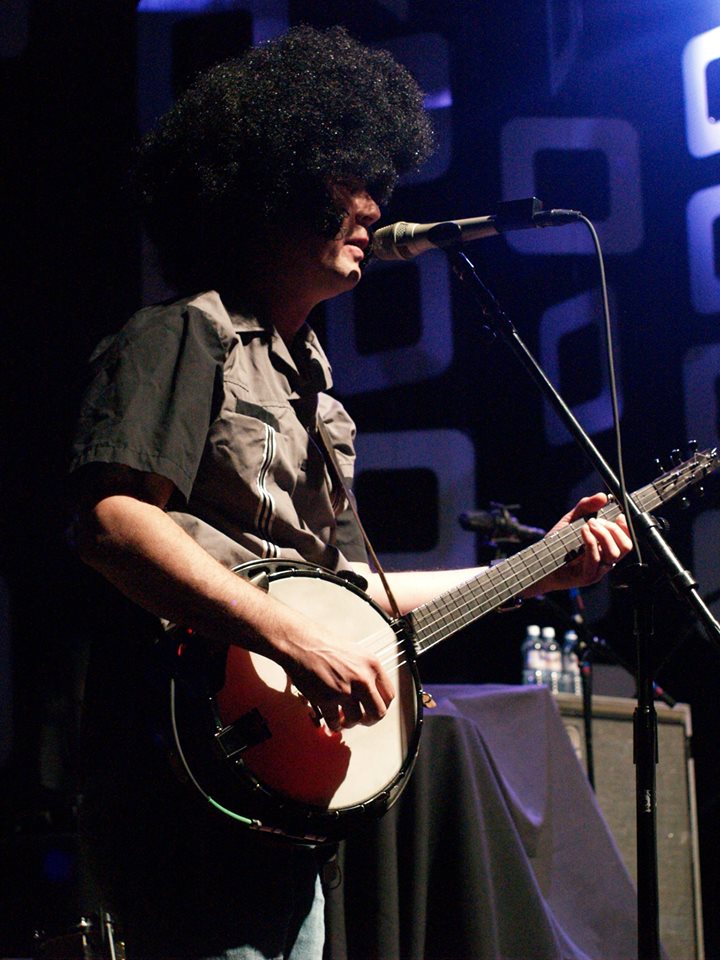 The real Yonder Mountain String Band came on finally, and they came out swinging. They kiddingly apologized for the opener, and then Jeff Austin had the quote of the night. He said, "It smells like hot bananas and Drakkar Noir downstairs. It is bad!" That brings me back to my middle school guido days in New Jersey, hilarious. "Troubled Mind" opened with its beautiful melody. The chorus of that song is one of my favorites by them. It just has a certain ring to it. "Elzic's Farewell" was mellow, but after, Austin asked the crowd if they were ready before an energetic "Sideshow Blues." There was a mid-show pause where Austin introduced his best friend's baby boy named Noah, who was born during the Colorado floods. Then, appropriately they journeyed into "Illinois Rain." The founders of YMSB, Austin and Johnston, met in Urbana, Illinois when Johnston asked Austin (before he played an instrument) if he would sing in his band called the Bluegrassholes.
Yonder welcomed to the stage the innovative Future Man aka Roy Wilfred Wooten outside of the music world, and the progressive bluegrass band expanded their repertoire even further. I was sad to see that Future Man was playing a regular drum kit because I love when he plays his Star Wars looking Drumitar that he invented several years ago. It is so trippy because when he plays it live, it sounds like there is a whole drum kit on the stage, but there is just a man, from the future, playing a guitar looking drum machine.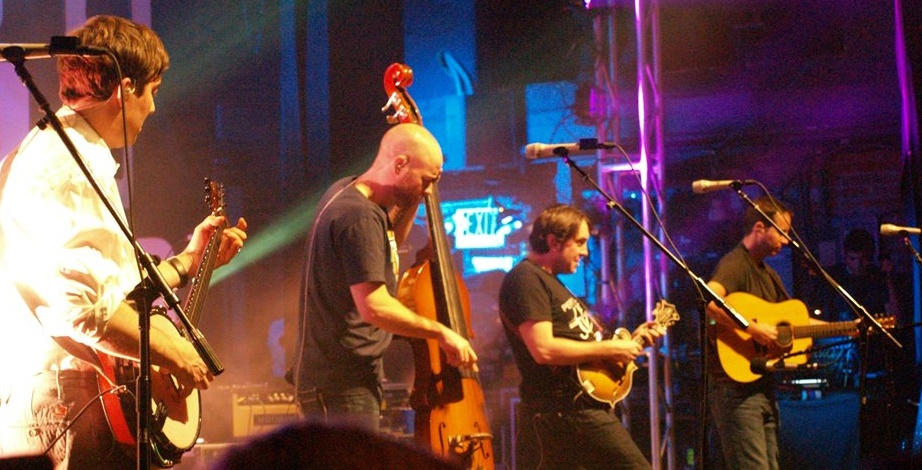 This is the part in the show where they got even a bit crazier with Adam Aijala, who usually plays acoustic guitar only, plugged into his electric for a few tunes. "Just Like Old Times" felt like some of the earlier tunes, but as soon as they played "Just Like Old Times," "Catch A Criminal," Lonesome Letter, Fingerprint, Kentucky Mandolin > Death Trip," there were just too many highlights to name. "Catch a Criminal" and "Fingerprint" included Aijala ripping on his electric. Furthermore, "Fingerprint" and "Death Trip" were two of the major highlights of the night. The crowd was rocking to the close of this set.
The second set began late, but with a serious old school, YMSB set. It really brought me back to the days they played with Sally Van Meter, while Austin was still taking mandolin lessons from her. "What The Night Brings," "40 Miles from Denver," "You're No Good, Honestly," "If There's Still Ramblin' in the Rambler (let him go)> Mother's Only Son> If There's Still Ramblin' in the Rambler (let him go)" took me back to memories of a straw-filled Boulder Theater with my overalls on kicking hay everywhere. It was beautiful, and then Future Man came back to slay with Aijala on the electric guitar again. The feel of the set changed, and both were beautiful in their own right. Another praise needs to go to the light engineer for the cool pastel colors that made the stage look like, well, a bluegrass band from the future. The back end of the second set, "Rag Doll," "Don't Worry Happy Birthday," "Pockets," "Straight Line," "Robot Jam> Whipping Post" represented the jamgrass part of YMSB. The last two songs of the set were very special and not very often seen. After all of this music, it is hard to believe they still had enough in them for a two-song encore.

"Steep Grades Sharp Curves" and "2 Hits And The Joint Turned Brown" were the encore and YMSB kept Future Man on stage for the final songs. The later song included Austin saying, "Well in a few days it's legal, so suck it everywhere else" much to the local crowd's chagrin. These players are special. There really is no one like them, and the bands that try to be fall short in my opinion. Every once in awhile there are a few bands that innovate their genre or bring back a classic sound. But it seems like much of the time, only a few of the bands really capture a time, place, and sound that is top-notch and unique. YMSB is one of those bands, and lucky for us, they have a very long future ahead of them.