GoodWorks Entertainment presents Anders Osborne to Benefit Ferncliff Manor and The Weinberg Commons at 1721 Springdale.
Read More
Anders Osborne w/ some of the Stringdusters | Boulder Theater
The relief show lineup includes: Anders Osborne, Dave Watts, Ryan Jalbert, Joey Porter, Garrett Sayers, Gabriel Mervine, Drew Sayers, Lyle Divinsky (of The Motet), Andy Hall, Chris Pandolfi, and Jeremy Garrett (of the Infamous Stringdusters), Kevin Donohue, Josh Fairman, and Chris Anderson (of Sunsquabi), Eddie Roberts (New Mastersounds), One Flew West.
Read More
Anders Osborne's music is redolent of the blues bathed in West Coast sunshine and brotherly compassion, a torchbearer for rock 'n' roll with blood in it's veins and a heart in it's hands. His long awaited new full length, Spacedust & Ocean Views, offers up graceful songwriting and signature guitar work on one of the strongest releases in his storied career. A strong sense of place runs through the album.
Read More
A big heart felt thank you to Peter Shapiro and Dave Frey, and all the staff and volunteers who helped to make Lockn' Festival 2016 the best one yet! The music brings the love out of us all and flowing into the open air like the chem-trails! It's not as easy to see, but it sure is easy to feel and fun to capture. Thank you, Nelson County for opening your community to our community for this fantastic experience.
Read More
"We Rainbow Girls are normally at festivals because we are scheduled to play them," said multi-instrumentalist Caitlin Gowdey, 27, "but High Sierra is the only festival I will always go to even if I have to pay for my ticket."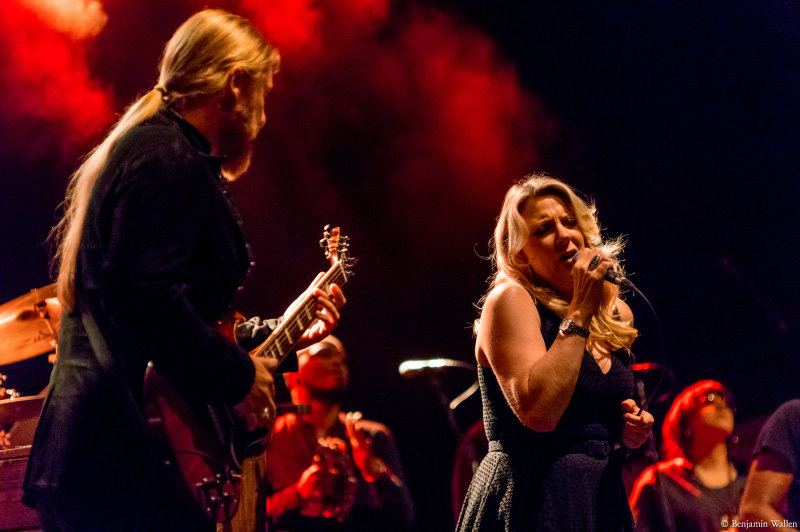 Read More
Keith Richards' blending of rhythm and lead guitars, the "ancient art of weaving," is nothing new. In fact, it's relatively common. It doesn't take a trained ear to recognize, but one night with the southern guitars of The North Mississippi Allstars and Anders Osborne is enough of a case study in showing how to do it properly. Their combined recording effort under the moniker N.M.O. (North Mississippi Osborne), "Freedom and Dreams," sparked an extensive trek across the states and included a night at The Ogden Theatre in Denver, Colorado.
Read More
Our society has developed a Chicken Little mentality that leaves lots of folks either glued to their cell phone or computer while waiting for a miracle or cringing that the good old days are gone.
Read More
Nice Spring weather. Check. Tucked away in the scenic foothills of Virginia. Check. Easily accessible. Check. Polite and accommodating staff and police. Check. Well laid out stages and concessions. Check. Lightning bugs and even the tail end of a meteor shower. Check. Festival go-er friendly priced tickets. Check. Wide variety of talented performers. Check. The Infamous Stringdusters. Check. Anders Osborne. Check.
Read More