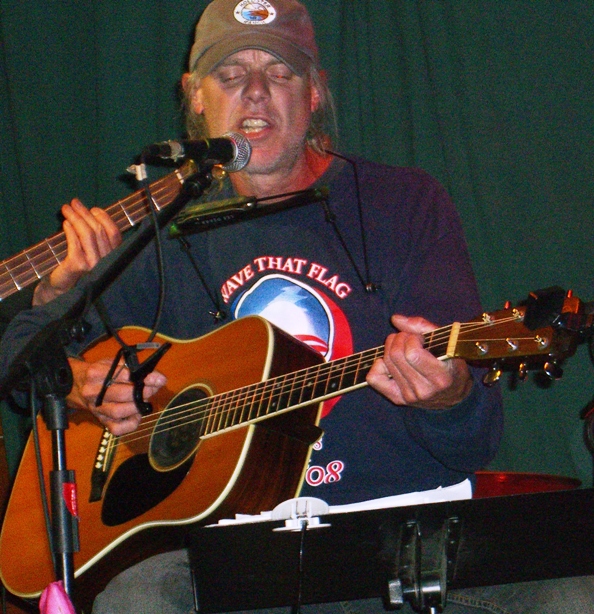 The Starry Plough bar, on the corner of Shattuck and Ashby in Berkeley, stands out on the block as there is not much else around. I arrived a bit early and saw Dead Heads standing outside the bar smoking joints and cigarettes, making me think I was walking down the mythical "Shakedown Street."
The Pat Nevins Trio was the opening band of the night and their set began at 9:30 pm. The band consisted of vocalist/acoustic guitarist Pat Nevins, mandolinist Mike McKinley, and bassist P.C. The Pat Nevins Trio opened with a stellar acoustic version of Neil Young's "Oh Lonesome Me," from Young's classic After The Goldrush album. Nevins continued to master Young's third solo album with a slow acoustic strumming "I Believe In You." You could really feel Nevins lyrics as he sang exactly in the high-pitch wail of Neil Young, "Now that you've made yourself love me, do you think that I can change it in a day? How can I place you above me? Am I lying to you when I say I believe in you?"
Pat Nevins would continue to cover his muse Neil Young throughout his opening set, while occasionally complaining to the crowd about the sound of his guitar. The Nevins Trio really nailed down a solid version of the Neil Young and Crazy Horse song "Like A Hurricane"; it sounded completely different as an acoustic version with none of Young's crazy guitar soloing, which is featured on his album American Stars N' Bars. Instead, this version of "Like A Hurricane" had a mandolin solo and no drums. One thing sounded the same, which was Nevins's wonderful voice, which was totally on key with Neil's voice, and you could have guessed Neil himself was in the house. Nevins's version of Buffalo Springfield's "On The Way Home" was a wonderful touch to the set, especially since it was a song written by Young before he went solo. The way Nevins played "On The Way Home," sounded more like the version on Crosby, Stills, Nash, & Young's Four Way Street album. After the show, I talked to Pat and he said that was his intention to play it more like Crosby Stills, Nash, & Young. "The first time I heard Four Way Street I was sixteen years old and it totally got me into Neil Young, because it had the best acoustic versions of "On The Way Home," "Cowgirl In The Sand," and "Don't Let It Bring You Down," said Nevins.
The crowd at The Starry Plough really started getting into Nevins when he played a killer version of Neil Young's "Harvest Moon." The dreaminess of the acoustic song and Nevins's lovely voice brought the crowd into a sort of trance. A woman in the front row danced back and forth while spinning a white scarf in the air and looking like a flower child of the sixties generation. Nevins band also played a spectacular version of "Don't Cry No Tears," the lone song they covered off of Neil Young's Zuma album. One of the last songs Nevins played was another signature Neil Young classic, "Cinnamon Girl," from Young's early 70s heyday and his second album Everybody Knows This Is Nowhere. The version of "Cinnamon Girl" sounded much different from the original, also as it was slowed down and had none of the heavy Crazy Horse guitar playing. Overall it was a wonderful set by The Pat Nevins Trio, where they paid their respects to one of the greatest guitarists and songwriting poets in rock n' roll history, Neil Young.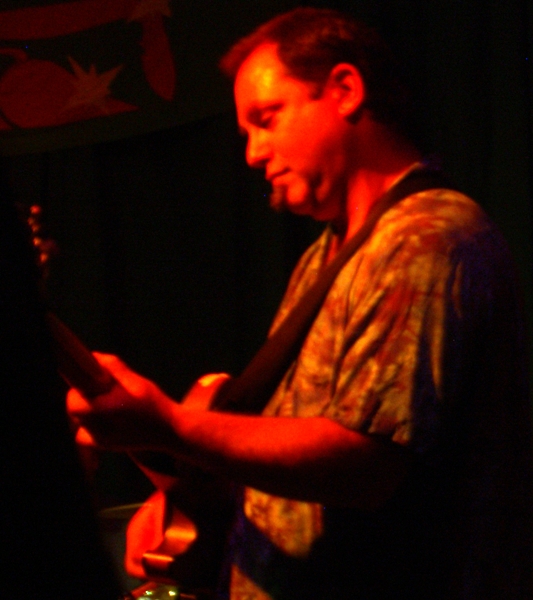 The Grateful Dead cover band from Santa Cruz, California, The China Cats, were the set everybody had been anticipating with excitement all night. The band hit the stage at around 11:00 pm and opened with a live Grateful Dead standard, "China Cat Sunflower," into "I Know You Rider." By this point The Starry Plough was completely packed with young and old hippies dancing everywhere. I was having a tough time snapping photos as some old Dead Head with white curly hair that stood straight up called me an obnoxious person. Just to annoy me he started doing his crazy dance, blocking my view and not only trying to rob me of taking great photos, but also of seeing the show with my own eyes.
Almost immediately after the set began rhythm guitarist and vocalist Scotty Cooper broke his guitar string and had to sit out for the next song on the setlist, "Loser." "Loser," is a classic Dead tune about love and gambling, which was sung by The China Cats keyboardist Pat Bizinski. The way Bizinski sang "Loser," you could hear great hints of Jerry Garcia's high-pitched, mournful vocal melodies: "Don't you push me baby because I'm moaning low. I know a little something you won't ever know. Don't you touch hard liquor just a cup of cold coffee. Gonna get up in the morning and go." Later, Bizinski told me his favorite Dead keyboardist was Bruce Hornsby, even though he was never an official member of the band. He also analyzed the rest of The Grateful Dead keyboardists, and said he liked Brent Mydland and Keith Godchaux but wasn't a big fan of Pigpen's keyboard playing. "I like Pigpen more as a harmonica player and frontman," he said.
The rest of The China Cats consisted of vocalist/lead guitarist Theo Winston, bassist Roger Side Man, and drummer Michael Owens. After a playful rendition of Johnny Cash's country-sounding "Big River," The China Cats returned to better form with the funky beat of "West L.A. Fadeaway." The China Cats also played "Tennessee Jed," which was exciting to watch since Mike McKinley from The Pat Nevins Trio came back onstage to play his mandolin with the band.
The first set closed with a bang as The China Cats ripped up "Let It Grow," with Theo Winston handling the lead vocals and sounding just like Bob Weir as he sang, "The plowman is broad as the back of the land he is sowing. As he dances the circular track of the plow ever knowing, that the work of his day measures more than the planting and growing. Let it grow, let it grow, greatly yield."  The China Cats really jammed out hard on "Let It Grow," making it the best song of their performance in the first set. Winston continued to rev up the crowd, which was now dancing all over the place as he sang the chorus: "What shall we say, shall we call it by a name. As well to count the angels dancing on a pin. Water bright as the sky from which it came. And the name is on the earth that takes it in. We will not speak but stand inside the rain. And listen to the thunder shout I am, I am, I am, I am."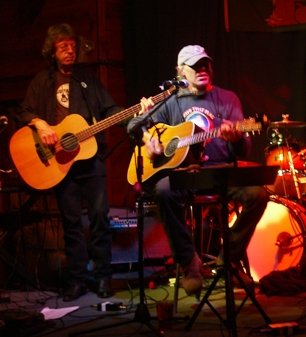 Around midnight just as I was about to leave The Starry Plough to go home for the night, Scotty Cooper came up to me and told me not to leave and that there would be a second set that would go on until 1:00 am. The China Cats opened set two with "Here Comes Sunshine," their psychedelic-esque, Beatles-sounding song, which was incredibly dynamic. I had never heard a live version of the song, so it was thrilling to hear The China Cats do it, and really capture the vibe of the song. Next came "Shakedown Street," which has that classic Dead beat that one can boogie down to. Everyone in the house seemed to really like dancing to "Shakedown Street," and more people flowed in from outside, as they had finished their set break joints and were ready for more psychedelic sounds to come. In the following song, "Eyes Of The World," both Theo Winston and Scotty Cooper played their guitars perfectly, often trading off lead solos that sounded exactly how Jerry Garcia would have played them live. "Eyes Of The World," is one of those long jams that can thrust the crowd into another abyss, which has always pleased Dead Heads when they see the song performed live.
Next song was "Terrapin Station," one of my all-time-favorite songs and a true classic to hear live. The China Cats covered the whole song, unlike "Let It Grow," where they skipped the Prelude and Part I. They played all seven parts of "Terrapin Station," beginning with "Lady With A Fan," where Winston sang Grateful Dead lyricist Robert Hunter's opening poetic lines with a perfect Garcia pitch, "Let my inspiration flow, in token lines suggesting rhythm. That will not forsake me till my tale is told and done." The China Cats built "Terrapin Station" to a glowing crescendo towards the end. Their version "Terrapin Station," incorporated a more symphonic sound than anything else they played that night at The Plough, bordering on progressive rock style that sounded a bit like a mixture between Yes and Genesis. "Terrapin Station," has a common theme involving love and loss that re-occurs in many of Robert Hunter and John Perry Barlow's lyrics, as the song is a mournful ballad about a sailor who lost the love of his life. Other common themes in Dead songs involve life and death, gambling and murder, beauty and horror, and also chaos and order.
Late into the night The China Cats played a spectacular version of "Morning Dew," which had a slow guitar opening and Winston singing in a high sweet voice, "Walk me out in the morning dew my honey. Walk me out in the morning dew today. I thought I heard a baby crying this morning. I thought I heard a baby crying today." Hearing "Morning Dew," was another highlight of the night as it has always been one of my favorite Dead songs and The China Cats played a outstanding cover of it, with Winston playing his best guitar solo of the night to close out the song.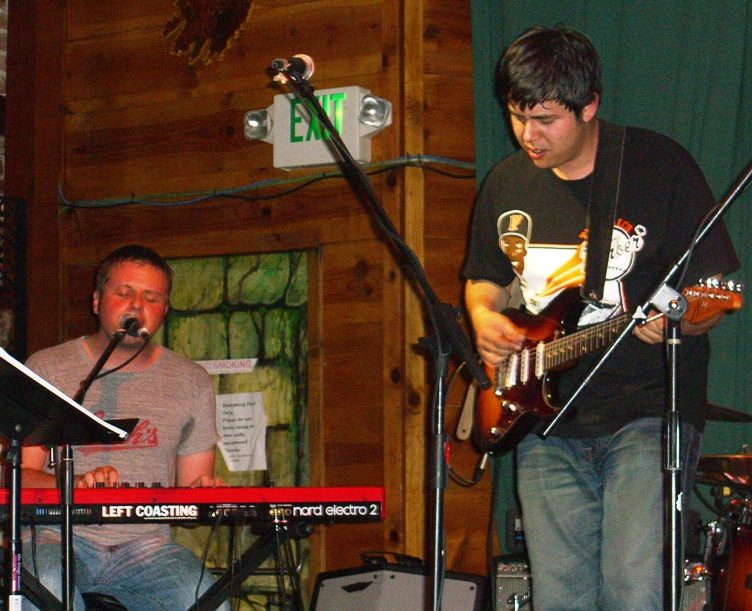 The band's encore was "Casey Jones," a classic Dead tune about driving a train and being high on cocaine. The crowd was entranced with the song right until those final lines, "Trouble ahead, trouble behind, and you know that notion just crossed my mind."
Overall it was a fantastic set from both The China Cats and The Pat Nevins Trio and by far the best show I have been to all year. It is reassuring to know there are still bands out there dedicated to keeping alive the irreplaceable sounds and spirit of 1960's bands like The Grateful Dead and Neil Young. The fact that people still love, respect, and fondly remember that music today shows how timeless it truly is, and how bands like The China Cats and The Pat Nevins Trio can continue to keep the spirit alive for audiences in decades to come.