Day One of August 2009 Outside Lands Festival held in San Francisco in the Golden Gate Park Polo Fields kicked off the unparalleled music weekend with Pearl Jam headlining the bill. Pearl Jam is the only remaining Seattle grunge band from a scene so powerful in Washington State in the early 1990s that it swept across the entire nation and took over popular music. It even seemed like most of the fans on Day One of Outside Lands had come just to see Pearl Jam, Incubus or Tom Jones, and that the rest of the day nobody cared much about the other bands. A lot of the folks whom I met at the Festival were out-of-towners or travelers from Austria and Ireland. I must have met three different groups of people from Austria and they were all backpackers.
The Festival began at noon on August 28th, but I didn't get there until 2:00 because of the poor public transportation to Golden Gate Park. The BART from Berkeley, combined with the bus ride and then the walk to the polo field, took well over two hours. By the time I made it to Outside Lands I was already exhausted. I bought a Samosa and watched Zap Mama by the side entrance to the Twin Peeks Stage. Zap Mama were a group of female Africopean musicians who sounded a lot like Sly & The Family Stone. They produced great music to get up and dance to and sing Africopean vocalist and songwriter Marie Daulne sang much of the set in French.
The next band I saw--Silversun Pickups on the main stage--was horrible! They represent everything in popular music that I detest today, and make me long for the old days of good old rock n' roll. I stayed for one or two songs then departed with my Irish friends for the Linsley Meadow Sutro Stage to see The Nationals. The polo field grass was totally uneven, gouged with horse-hoof prints so that walking over to the National set with tired legs gave the sensation that with each step you were walking off the face of the earth. My Irish friend ended up collapsing five minutes into The National set and had to be carted off, and I do blame the ground partially for causing that. you gotta be kidding! The problem was internal not external!
The National's set was great they sounded like a cross between the late Ian Curtis's band Joy Division and the latter 1980s Depeche Mode. It was that industrial rock sound that inspired groups like Nine Inch Nails and Marilyn Manson, except that The Nationals were not nearly as dark as those two bands.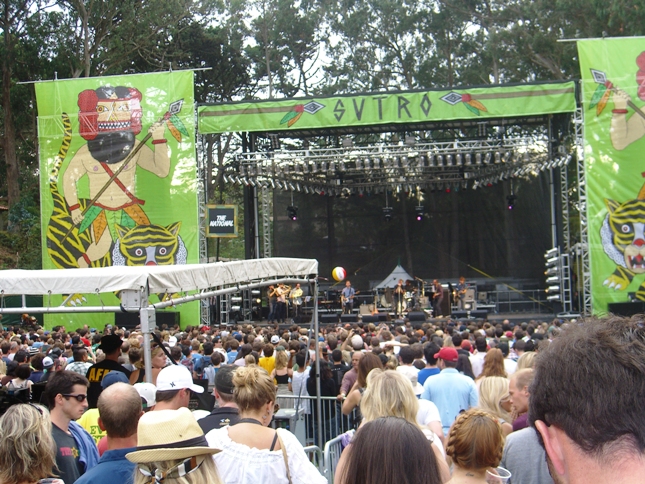 Next I met some local folks from San Francisco: Ronni, Angie and Liz. We headed back to the main stage to catch Incubus's set, which was a bit. They only played one of their older songs "Wish You Were Here," from Morning View and everything else was from their newer, less-powerful albums A Crow Left On The Murder and Light Grenades. It was exciting to see one of my past favorite bands but sad to discover how much they have changed since their peak days I used to see them at places like The Patriot Center and Nissan Pavillion in Virginia. At least the festival crowd was really cool on Day One, for Day Two would stun me with what seemed to be a much rowdier and less down to earth bunch.
My new friends and I left Incubus after the final song and rushed back to the Lindley Meadow Sutro stage to see Tom Jones. It was my first time seeing Tom Jones play, and only this year, when I saw a video of him playing as part of the British Invasion, did I learn he was British. I always thought he was from Las Vegas because of all the times he performed there! It was funny walking around the crowd and seeing a few people with Fear and Loathing In Las Vegas t-shirts on and knowing they were referencing it to Jones's magnificent song "She's A Lady" on the Soundtrack. Jones must have seen those t-shirts also, as he not only performed "She's A Lady," using his colorful voice to its fullest advantage but also whipping out an immaculate cover of Three Dog Night's "Mama Told Me Not To Go." Tom's audience was not huge, as fans had already begun to leave in the middle of his set to get good positioning for Pearl Jam, the night's closing set on the Polo Field's main stage. I stuck around until Tom Jones played "It's Not Unusual To Be Loved," and then headed off to get as close as possible to the stage for Pearl Jam.
By the time I got to Pearl Jam the house was packed, and as I cut in front of people, their legs lifted out to trip me because they didn't want me cutting off their view. I flashed my media badge and a few of them flashed media badges back. I wasn't alone in this sea of people that were kind of aggressive, in contrast to other Pearl Jam concerts I had been to in the past. This all made sense considering this was Pearl Jam at a Festival and not Pearl Jam headlining a bill out at Merriweather Post Pavilion. When Pearl Jam hit the stage and Eddie Vedder came out wearing his classic flannel shirt and sporting that brown beard he has of late, the crowd went wild. Pearl Jam launched into "Why Go" off their debut alum Ten, which sold more than most of their other albums combined. Still that fact means little to most diehard Pearl Jam fans, as the band has built a fabulous cult following over the years that is similar to that of Phish and The Grateful Dead, and to the extent that the band releases all its live shows online for Ten club members.
"Why Go" was an incredible opener and featured a superb solo by guitarist Mike McCready in the middle. McCready is virtually a Jimi Hendrix prodigy hardly anybody around the music scene in the Bay Area seems to know about…or maybe they have just forgotten. Eddie Vedder's voice sounded incredibly strained during "Why Go," as he screamed the lyrics "Why go home, what has gotten me?" He apologized to the crowd after the song and told them he was fighting a bad case of laryngitis saying "The Canadian tour really kicked me in the ass!"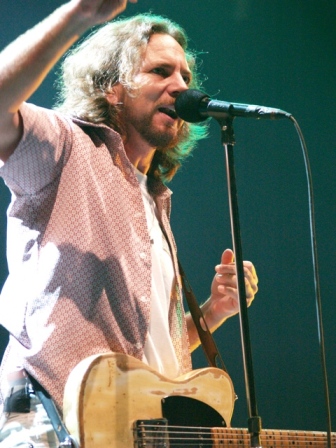 I was still impressed by how Eddie gave it his all. Mike McCready and Stone Gossard proved that they still had plenty of guitar chops as they played together on the next song "Animal," another hit that dates all the way back to their second album V.S. and proves that Pearl Jam knows just how to get a crowd going hard to this day. The band hit one of their high peaks in the first set when they launched into "Cordoroy"; the sun was still setting as Eddie Vedder sang some of the most significant lyrics he ever wrote, "The waiting drove me mad. You're finally here and I'm a mess. I take your entrance back, can't let you roam inside my head. I don't want to take what you can give. I would rather starve than eat your bread. I would rather run but I can't walk. Guess I'll lie alone just like before." There was one point in the song where Eddie changed the lyrics, singing "I'm already fucking dead" instead of "I'm already cut up and half-dead," which did not sit well with me as already he wasn't performing up to his usual standard, the power of which I had witnessed at previous Pearl Jam shows.
Pearl Jam next went into "Low Light" off Yield, one of the top songs off the record. The lines perfectly fit the still purple glow of the setting sun in Golden Gate Park: "Clouds roll by. Reeling is what they say. Or is it just my way? Wind blows by, low light." It was one great to see them play "Low Light" for the first time in my life, as I remember buying Yield the year it came out in 1998; it was my second Pearl Jam album after V.S. The band's next song "The Fixer" from their upcoming album didn't sound nearly as creative as anything up to Riot Act, unfortunately. I was disenchanted with the new kind of voice Eddie Vedder was putting on—his usual voice has made him one of the most talented musicians out there. I was very happy, though, when Pearl Jam launched into "In My Tree," one of my favorite songs on possibly their most creatively diverse album No Code. No Code was largely ignored despite debuting at number one when it was first released. Many of the songs were considered too garage-rock sounding for the band, but overall it is just more Neil Young inspired, which is just another form of powerful grunge.
Pearl Jam followed "In My Tree" with what Eddie Vedder used to refer to as "the longest song in the Pearl Jam catalog." Tonight though he told the crowd he had written the song in California just a little north of San Francisco in a small town, but he did not specify which. The song, of course, is the timeless "Elderly Women Behind The Counter In A Small Town," one of the slower songs on Side B of V.S. that will forever bring old-school Pearl Jam fans back to a better time and place for music called the 90s. The song itself is extremely sad with Eddie singing "I seem to recognize. Haunting familiar yet I can't seem to place it. Cannot find the candle of thought to light your name. Lifetimes a catching up with me. All these changes taking place. I wish I'd seen the place but no one has ever taken me. Hearts and thoughts they fade away." The music behind Vedder's lyrics were a beautiful folk/country sound with the crowd shouting every lyric back a little extra louder now that they realized Eddie had written the song in California. The saddest part of the song is when Eddie sings, "I changed by not changing at all. Small town predicts my fate perhaps that's what no one wants to see. I just want to scream hello. By god it's been so long never dreamed you'd return. But here you are and there I am, hearts and thoughts they fade away."
The Pearl Jam's next song dove into the aggressive sounds of "Even Flow," the second song off Ten that was a huge single and helped cement them as one of the top bands on the charts in the early 90s. I liked the way Pearl Jam played "Even Flow" this time more than in the past. Maybe it was because Eddie's voice was so strained that they didn't try to take it as heavy, but it was less harsh and a little more laid back. Everybody enjoyed Mike McCready's crazy Hendrix-like guitar solo behind his back, and they jumped up and down, pumping their fists in joy. Following another boring song "Got Some" from the upcoming album, Pearl Jam launched into something very good they have done in recent years minus legendary producer Brenden O' Brian, who had helped guide the band through recording what will forever be remembered as some of the greatest albums of the 1990s. The song "I Am Mine" signifies everything the current Eddie Vedder is all about lyric-wise: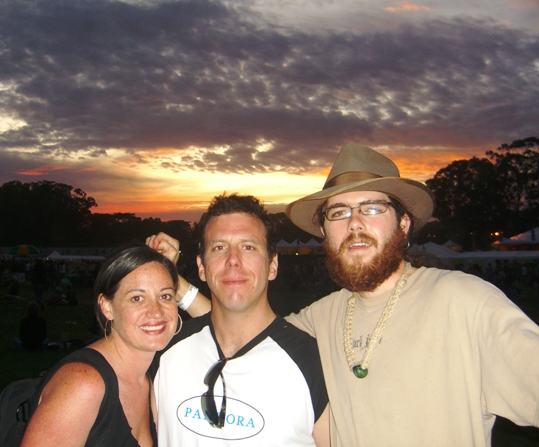 The selfish, they're all standing in line. Faithing and hoping to buy themselves time. Me, I figure as each breath goes by. I only own my mind. The North is to South what the clock is to time. There's east and there's west and there's everywhere life. I know I was born and I know that I'll die. The in-between is mine. I am mine. And the feeling, it gets left behind. All the innocence lost at one time. Significant, behind the eyes. There's no need to hide. We're safe tonight.
To my delight, Pearl Jam followed this song with two more classics from Yield, "Given To Fly," and "MFC." "Given To Fly" was the kind of song that put Pearl Jam back on the rock n' roll map after they had been gone for a few years and refusing to tour, thanks to their lawsuit with Ticketmaster. The surrealistic song is about a man being swept up by a wave and having the gift of being able to fly. It has often being compared to by critics as sounding too much like Led Zeppelin's "Going To California," although in my view it is much heavier thus is not at al the same. "MFC" is a good song reminiscent of the earlier hit "Rearview Mirror." It's about driving and feeling that freedom you get when you're out there exploring different towns and cities around this beautiful country.
PJ next dove into "Down," a rarity from their Lost Dogs B side record released the year after Riot Act came out in 2004. The song had a good beat to it, but was noticeably more sloppy than many of the other songs in the first set; it doesn't compare in sound to any of the timeless Pearl Jam albums of the 90s and early 2000s, which is exactly why Pearl Jam never released it on any of them. Next, Pearl Jam played not only the best song of the first set but of the entire show: "Black." I remember the first time I really listened closely to "Black." It was on a drive to the Grand Canyon with my Dad. I was in middle school at the time, and the song changed my life through the sheer power of the music and Eddie's lyrics. Despite Eddie's stretched voice at this show--making it one of the weaker Pearl Jam concerts I have attended in recent history--the band was still able to capture the old magic they have always possessed in their performance of "Black" at the Outside Lands Festival. It was as if Vedder and the rest of Pearl Jam were reaching out to the crowd of San Francisco to show them what they still had left; and judging by the way "Black" sounded, this band has the potential to be the 21st-century version of what the Rolling Stones were to rock n' roll in the 20th, and just never burn out no matter what happens. Eddie's lyrics were unbelievably powerful, "Ooh, and all I taught her was everything. Ooh, I know she gave me all that she wore. And now my bitter hands chafe beneath the clouds of what was everything. Oh, the pictures have all been washed in black, tattooed everything."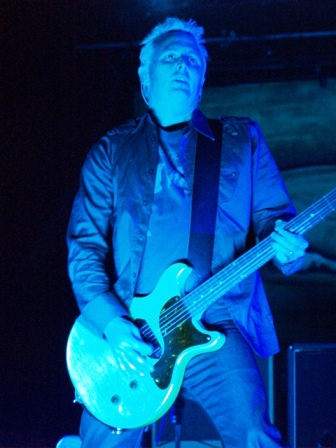 This segment was followed by more brilliant poetry Vedder wrote as a young man that often made him a riddle in the public eye or press, but to the rock n' roll listening mainstream, his words were like the ultimate messiah: "I take a walk outside. I'm surrounded by some kids at play. I can feel their laughter, so why do I sear? Oh, and twisted thoughts that spin round my head, I'm spinning, oh, I'm spinning. How quick the sun can drop away."
The solo Mike McCready played followed by the "Doo-doo-do Do-doo-doc" chanting of the crowd in the last few minutes of the song were spectacularly breathtaking. My heart actually skipped beats as I watched in awe a band transform to a whole new peak they had not reached before this moment.
The last three songs of the first set "Save You," from Riot Act, "Do The Evolution" from Yield, and "Go" from V.S., were all prime examples of Pearl Jam showing off their heavier grunge side that fans may say they have forgotten about in recent years but have no idea what they are talking about. Pearl Jam ripped through "Do The Evolution" straight to the core as Stone Gossard and Mike McCready traded off guitar solos, showing why they are one of the best guitar combinations in rock n' roll. I only wished Pearl Jam had played "Habbit" off No Code. I dreamt they would play it the night before the show, but have have not seen it performed since Merriweather, September 2000, on the Binaural Tour.
Pearl Jam left the stage for a quick break then came back on for the first set of the encores. Playing the "Wasted Reprise" from their latest 2006 self-titled album, where it is played with a slow intro and Vedder mutters "I faced it a life wasted I'm never going back again. I erased it a life wasted I'm never going back again." This led into their big single off Vitalogy "Better Man," which the whole crowd sang the first verse to because Eddie instructed them to, as his voice was so terribly hoarse. He began singing in the second verse, "Talking to herself there's no one else who needs to know she tells herself. Memories back when she was smooth and surely waiting for the world to come along. Swear she do it now she swears he's gone."
Pearl Jam next went into "Daughter," which sounded good but a bit rushed compared to other times I've seen the band play live; also they were playing up against the park's 10:00 p.m. curfew. There was no improv leading into "Another Brick In The Wall" by Pink Floyd, but a short break into "W.M.A," which I wished they had played in entirety.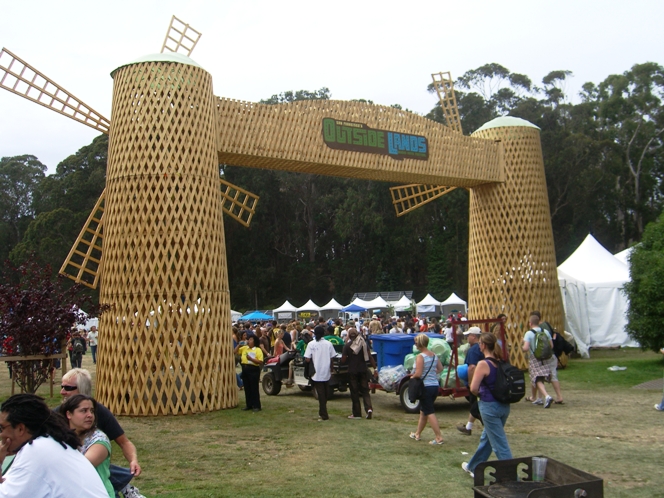 I enjoyed the rest of the encore covers in the first half of the encores from The Who's "Can You See The Real Me?" off their classic Quadrophenia (that Vedder has constantly cited as his favorite Who record), to a stunningly powerful version of Victoria Williams "Crazy Mary." All this led into another timeless Ten epic that Pearl Jam had chosen to hold back on all night, "Alive." As with the other Ten songs they played that night the band proved why they are so timeless and deserved being the headliners on the Outside Lands bill. None of us should care if Pearl Jam produces nothing this decade of the same caliber as "Alive," For they still create plenty of great music--it's just that when you're talking "Alive," you're talking about one of the best cuts ever recorded in music history! The lyrics and the music all flow perfectly together, which is hard to believe when you hear the story of how the song was written. Supposedly Vedder heard the tapes sent to him by Pearl Jam when he was surfing down in San Diego and working as a gas station attendant. He wrote the lyrics on the spot, recorded them over the music, sent the tape back to Seattle, and the rest is history. The song tells the dark truth about Vedder's sometimes mysterious life. He never truly knew his real father and believed his stepfather to be his real father until he was a teenager was and told the truth by his mother. The chorus had the whole crowd chanting with Vedder in harmony, "Oohooh I ohoh I'm still alive!" The solo at the end of "Alive" by Mike McCready was his best of the night, so powerfully moving it made the hair on your back stand straight up.
The final two encores of the night were Neil Young covers, "Throw All Your Hatred Down" and "Keep On Rocking In The Free World," the latter of which was more of a Pearl Jam standard to cover, as part of their encore set, along with something like "Yellow Ledbetter" or "Indifference" There was a slightly different feel at this Pearl Jam show than at the shows I attended in the past. I'm still wondering if the difference was good or bad; probably it's best not to compare but take each show as an individual event. More covers were in the mix and the band seemed to like busting them out, which may have hurt hardcore fans who actually want to see the band perform their own music because it means so much to each and every one of us. All in all, it was a solid performance, one that will stick in my mind for years to come just like all their shows in the past.