Tom Petty and The Heartbreakers with Joe Cocker opening rocked a sold out, standing-room-only crowd at the Oracle Arena in Oakland, California, on the 5th of June, as the opening day of their 2010 Summer Tour across America. This was the first Petty tour since 2006, when he was riding high off the success of his solo album Highway Companion. This 2010 tour was just as mind blowing as the one back in 2006, featuring the incredible organist Bermont Tench, and bassist Ron Blair. These fellow Heartbreakers date back all the way to the band's first self-titled album that featured the hit songs "American Girl" and "Breakdown," both radio smash hits back in the late 1970s, which launched the band into super stardom. The concert also featured lead guitarist Mike Campbell, who even played in Tom Petty's pre-Heartbreakers band Mudcrutch with Tench. Campbell's leads match Petty's guitar perfectly, even on his solo albums produced by the likes of Jeff Lyne, formerly the leader of Electric Light Orchestra and Rick Ruben.
Joe Cocker opened the set to a enthusiastic applause; his lion like growl was heard echoing though the rafters of the Oracle as he sang, "Give a ticket to an airoplane. Aint got not time to take no fast train. Oh the lonely days are gone, I'll be back home. My baby just wrote me a letter," from his hit "The Letter." Cocker seemed very short from my position and bore no resemblance to his early days of the Woodstock '69 era— tye-dye shirt, long curly black hair with sideburns look. Still, the crowd must have seen signs of the former performer, the idiosyncratic, physical intensity Cocker exhibits when he does such things as flailing his arms. Although at this show Cocker jumped up and down more than he played air guitar with his hands, while giving random motion cues to his band like he used to, as if he were an orchestra conductor.
You could smell the pot in the crowd starting to burn when Cocker's voice hit those extremely tense and beautiful harmonies in his cover of Billy Preston's "You Are So Beautiful." The crowd sang along, "You are so beautiful to me. Can't you see? Can't you see? You're everything I hoped for, you're everything I need." Cocker was in a crowd-pleasing mood wearing a white shirt and gray suit, and occasionally sipping from a bottle of water he was keeping by one of the amplifiers to keep his voice from burning out. He played all the songs the crowd was craving to hear from his cover of Traffic's "Feelin' Alright," originally penned by guitar master Dave Mason. Cocker also played a song written by his old band mate in the 1960s, Leon Russell, called "Delta Lady," and a spectacular Beatles cover of "She Came in through the Bathroom Window." He topped that Beatles song by playing another fab four cover "With A Little Help from My Friends," a crowd favorite that has been a legendary live song ever since he played it with all the ferocious energy he had in him at Woodstock '69. Cocker's rendition of the song is a far cry from the pop rock/psychedelic feel of the original Beatles version, as it features a long organ intro and then heavy lead guitar, to which Cocker has been known to play air guitar. The vocals to the song begin even slower than The Beatles version, when Cocker asks the question, "What would you do if I sang out of tune, would you stand up and walk out on me?" However, once the chorus hits he has his ferocious growl in full gear as he sings, "I can't tell you but it sure looks like mine! A little help from my friends."
After "A Little Help from My Friends," Cocker returned to the stage to play a final encore of "You Can Leave Your Hat Off," before thanking the crowd and an even louder eruption of applause when he announced, "Tom Petty will be playing shortly!"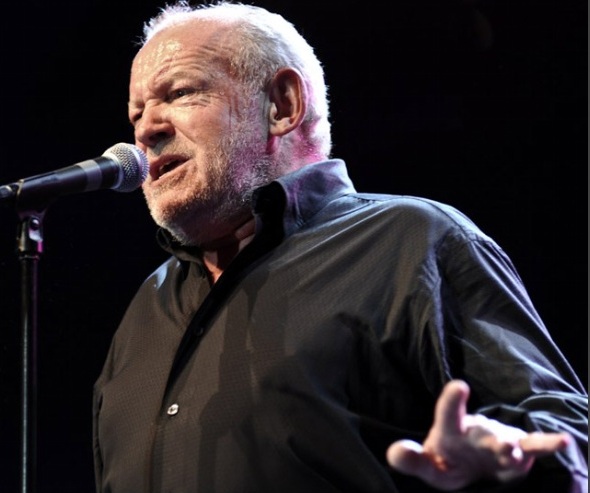 The lights went down and darkness fell across The Oracle as Tom Petty and The Heartbreakers hit the stage to screams, cries, whistles, and hoots, that echoed as the opening chords of "Kings Highway" were strummed by Petty and Campbell on their electric guitars. Bermont Tench came onstage wearing a black coat and black fedora matching his hair color and started slamming the organ he has mastered these last thirty years as a member of the band. Petty was in full rock n' roll gear with a purple scarf and the blondish-red beard he has worn the past few years. "It's sure good to be back in the Bay Area!" Petty stated, which pleased the crowd since Joe Cocker had accidentally erred earlier saying, "Good evening San Francisco, when in fact the show was in the East Bay city of Oakland.) Mark Knopfler at the Paramount Theatre had made the same mistake almost two months ago!) "And now I want to play a song that is almost as old as this band!" Tom Petty exclaimed as The Heartbreakers launched into "Listen To Hear Heart," from their second studio album You're Gonna Get It. The crowd sang along with Petty, "You think you're gonna take her away with your money and your cocaine. You keep thinkin that her mind is gonna change, but I know everything is okay. She's gonna listen to her heart. It's gonna tell her what to do. She might need a lot of lovin' but she don't need you."
Petty and The Heartbreakers next focused on some of Petty's famous solo hits off his album Full Moon Fever playing his unrelenting "I Won't Back Down" and his country sounding "Free Falling," a song  "about all the guys out there who cheat on their girlfriends," he said. The song may not be Petty's best but somehow it has become his national anthem during his North American tours. Maybe because it appeals to mass radio audiences with lines most Americans can relate to such as, "She's a good girl, loves her mother, loves Jesus, and her boyfriend too. She's a good girl, is crazy about Elvis. Loves horses, and America too."
The set also included a gem that is usually included in performances, "Mary Jane's Last Dance." Like "Free Falling," it's another small town song about a girl named Mary Jane, who grew up in a small Indiana town, lacking proper parental guidance, thus growing up fast while hanging out with teenage boys late into the night. Petty also brings himself into the song saying, "I dig you baby but I got to keep moving. Last dance with Mary Jane one more time to kill the pain. I feel summer creeping in and I'm tired of this town again." The song also features a beautiful harmonica solo, an instrument Petty only really used on his Wildflowers solo record. Petty did not play the big hit off that album "You Don't Know How It Feels," but that all made sense since that was a Petty solo album and we were now seeing Tom Petty and The Heartbreakers in full action. It did make sense that he chose solo songs off Full Moon Fever such as "I Won't Back Down," and "Free Falling," since those are some of his biggest hits that the millions of fans who saw him at The Superbowl in 2008 expect him to play when they attend his concerts.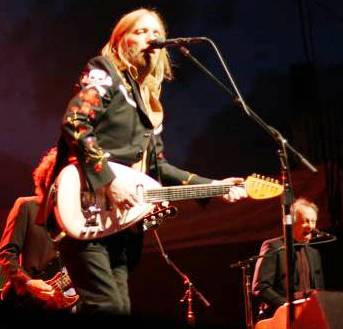 Another of the real highlights of the first set was when the band played the Gainesville swamp boogie, "Breakdown," from their first self titled album released all the way back in 1976. "Breakdown" still stands tall today, and one can be certain that nothing as powerfully sensual is coming out in music today. The way Petty sings with a high croon, "It's alright if you like me. It's alright if you don't. I'm not afraid of you running away honey. I get the feeling you won't. There is no sense in pretending your eyes give you away. Something inside of you is feeling like I do, we've said all there is to say. Baby, breakdown, go ahead and give it to me. Breakdown honey, take me through the night, Breakdown, can't you see. It's alright." The song features a strong hook lead from Mike Campbell that leads back into the verse and ties the song together majestically.
Petty & The Heartbreakers focused a large part of the first set playing songs from their new album Mojo. Some of the songs sounded too poppy and radio friendly, not that Petty has not been radio friendly in the past, but the way he was not even playing guitar in a song like "I Should Have Known It," and generally trying to be flashy at the mic with his hands, was not too impressive. The song "First Flash Of Freedom," which Petty told the crowd would be the next Heartbreakers single to be released on Mojo, was far more impressive featuring heavy Campbell guitar soloing, which blew the crowd away. Campbell flung his long black dreadlocks and drew his head down, the sleeves of his black leather jacket were rolled up to his upper elbows so he could stay cool, and he bellowed one of his sweetest solos of the night, hitting every high note perfectly.
The crowd seemed to go to sleep a bit during the new songs, not only because they thought the new material was inferior, but also because they wanted to hear the hits, and Petty knew this, because he responded by closing out the first set with some of his biggest but not his best songs such as, "Learning To Fly" and "Don't Come Around Here No More." Petty and The Heartbreakers closed the set with "Refugee," which is one of their best songs from the early days, off their 1979 smash Damn the Torpedoes, which launched the band into super stardom. Petty sang the words with a reckless fervor, "You know, sometime, somewhere, someone must have kicked you around some. Who knows maybe you were tied up, held up, given for ransom. It don't make no difference to me, everybody has got to fight to be free. You don't have to live like a refugee."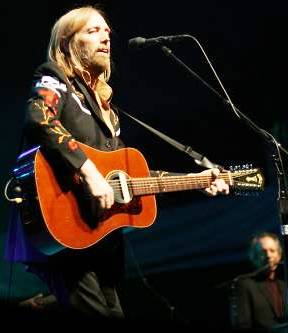 The crowd went wild hollering Tom Petty cries and holding up flashing cigarette lighters. Petty hit the stage for the final encores, playing first "Runnin' Down A Dream," another Full Moon Fever classic that has some of his best guitar combo work with Mike Campbell, as he and Petty faced off looking each other straight in the eye as they strummed the hard rock n' roll chords together. The song is what many of Tom Petty's songs are about--achieving freedom, often gained through road trips while blasting music on the radio. Petty sang the song with the entire crowd screaming it back with him, "It was a beautiful day, the sun beat down. I had the radio on, I was drivin. The trees went by, me and del were singin. Little runaway, I was flyin'. Yeah I'm runnin' down a dream that never would come to me, workin' on a mystery, goin' wherever it leads, runnin' down a dream."
Petty's final encore was unquestionably his biggest hit of all time, "American Girl," which like "Breakdown," dates all the way back to the 1976 debut album Tom Petty & The Heartbreakers. The crowd went wild once more, singing every word of the song. Petty gave a final bow with original Heartbreakers Mike Campbell, Bermont Tench, and Ron Blair by his side. It was a surreal moment seeing these rock titans delivering a thrilling and nearly flawless three-hour set. It was mind-boggling to think that some thirty years ago they were just another small-time band from Gainesville, Florida, doing the same thing, just on a smaller scale; they were young men runnin' down big dreams yet to be fulfilled.