One of the most anticipated shows of the Fall was Bob Weir and Phil Lesh's new side project together called Furthur. The lineup also consists Dead keyboardist Jeff Chimenti and Dark Star Orchestra lead guitarist and vocalist John Kadlecik. Dark Star Orchestra is considered the best Grateful Dead cover band in the country because of Kadlecik's ability to sing in a very similar mellifluous voice like Jerry Garcia is part of his attraction to longtime Dead Heads. Kadlecik's electric guitar solos also deeply replicate Jerry's tone back in the golden road era of The Dead when they played shows at The Fillmore, and Winterland…Long before Garcia's prodigious thirst for drugs debilitated his ability to play his musical career, and ultimately led to his untimely death in 1995 at the age of fifty-three. Now through "all the broken dreams and vanished years," with nothing much left to see of what remained of the sixties or Dead culture in everyday life in America, it is great to get together at a concert with fellow Deadheads and feel like you can share an intimate concert experience. It is a rare time when you can mob the streets outside the show and not be in fear of police officers despite the fact there may be twenty cop cars; there were so many Deadheads that the men in blue didn't seem to matter, despite their constant badgering not to overflow onto the Oakland streets. It was the young men and women who ruled this night in their blue denim and long hippie dreds. Even the old timer Deadheads now in their 60s with their Stetsons and berets were going nuts once they were inside snatching up $40 posters of the Further show and also discussing the first two nights of shows in very loud, calculating voices as Deadheads often do. One bearded Deadhead in a tie-dye T-shirt was intent on telling everyone what was up in my desolation row at the top of the Fox, "No they won't play 'Terrapin' or 'The Other One' tonight--they played those both Friday! Oh yeah, and don't count on 'Help into Slipknot' into 'Franklins Tower'-- it's already been done! Oh yeah they already played 'China Cat' into 'I Know You Rider,' and 'Jack Straw'--a lot of the classics have been done already!" This fan was just an example of how much Dead Heads know about the music they come to watch. As Rolling Stone writer Parke Puterbaugh once noted about The Dead while the band was still in existence with Garcia in the mix in the early 1990s:  "The Grateful Dead is one of the longest continuously running rock bands in history, performing under that name since late 1965. They are the only group for which a network of fans, as essential and charismatic as the band members themselves has become recognized subculture in it's own right. You can not think Dead without thinking Deadheads. From the outset the group attracted a cult following that was involved more than a fan club level. This melding of band and audience had something to do with chemistry, karma, vibes, the mid-Sixties and the city of San Francisco."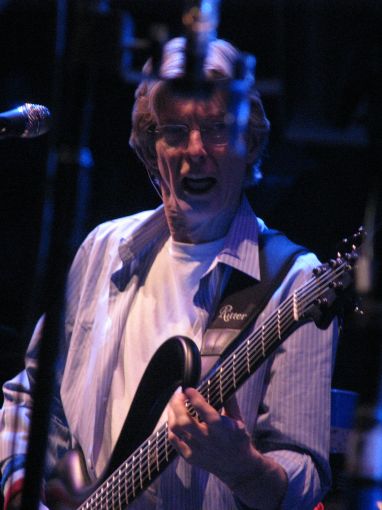 Further hit the stage with Lesh, Chimenti, and Kadlecik minus Weir. About a minute into a jam it became apparent they were playing the intro to "Sampson and Delilah," a popular Rev. Gary Davis song Bob Weir covers and he sang on The Grateful Dead album Terrapin Station. At this point Bob Weir came strutting on stage wearing a blue tanktop, a pair of much longer raggedy shorts than the short-shorts he used to wear, and sporting his long gray beard and curled-up mustache. Weir took center stage on a psychedelic rug, and it must have felt a lot better playing on that since he was barefoot. The crowd chanted along with Weir as the song built up, and Weir screamed into the microphone with great emotion, "If I had my way, I would tear this whole building down!"
Furthur next launched into "Casey Jones," playing it extremely well and even speeding it up way more than usual at the end with everything from drums, bass, guitar, and keyboard. Weir and Kadlecik traded off vocals on "Casey Jones," Kadlecik sounding much more in tune and like Jerry. Lesh helped out on the chorus and sounded pretty good himself.
"Casey Jones" was a fantastic way for Furthur to get the younger part of the audience that was in attendance really into the show, as it is one of those Dead songs that has really transcended itself into the next generation despite it's simplicity in comparison to other Dead classics that would be scattered in throughout the night. After the heavy closing of "Casey Jones," Furthur goes into "Mississippi Half Step: Uptown Toodello" a true Grateful Dead classic. The song was originally musically written by Jerry Garcia and penned by Robert Hunter. Listening to "Mississippi Half Step" brought back a lot of thoughts of Jerry just hearing it. The whole crowd must have felt the same way as I could see the emotions of everything to joy, happiness, the bittersweet feelings of everything as they pumped their fists and chanted with Weir and Kadlecik as they sang together "Across the Rio Grandio, across the lazy river."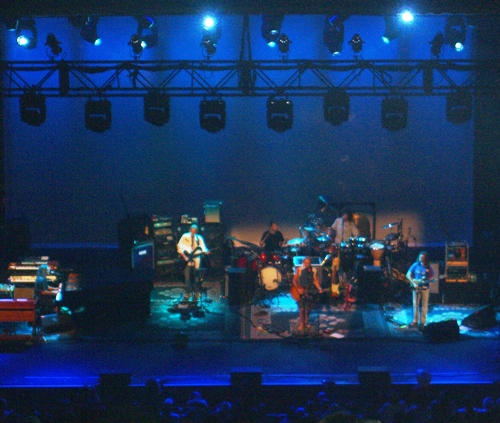 Next up for Furthur was "Sugaree" which Bob Weir has managed to capture perfectly even more (since the last time I saw him perform it at Shoreline with The Dead earlier this year) in his own subtle way vocally the soft way he sings, "Just one thing I ask of you, is just one thing for me. Please forget you knew my name my darling Sugaree." Next up was a Weir/John Perry Barlow song from The Grateful Dead mid 1980s comeback album In The Dark. Weir got the crowd amped for this is one of the only Dead anti-war songs with a nuclear scare and human eradication of the earth type atmosphere to the lyrics, "Picture a bright blue ball, just spinning, spinnin free. Dizzy with eternity. Paint it with a skin of sky, brush in some clouds and sea. Call it home for you and me. A peaceful place or so it looks from space, a closer look reveals the human race. Full of hope, full of grace is the human face, but afraid we may lay our home to waste. There's a fear down here we can't forget. Hasn't got a name just yet. Always awake, always around. Singing ashes, ashes, all fall down. Ashes, ashes, all fall down." Weir worked the stage moving around well with his guitar and barefeet and Phil controlled the beat of the song standing more in the background.
Next up was a song a Phil Lesh song "Pride Of Cucamonga" I had never seen him before with The Dead or Phil & Friends. Now I can say I have seen the big three Phil Lesh wrote, "Box Of Rain," "Unbroken Chain" and "Pride Of Cucamonga," live. The lyrics in Pride Of Cucamonga are so good I got a chill down my spine just listening to Phil sing them and it the straight cowboy western feel of the song just made it one of the straight up highlights of the first set, "Since I came down from Oregon there's a lesson or two I've learned by standing in the road alone, standing watching the fires burn. The northern sky it stinks with greed, You can smell it for miles around. Good old boys in the Graystone Hotel sitting doing that git-on-down. Oh, oh, pride of Cucamonga. Oh, oh, silver apples in the sun. Oh, oh, I had me some loving. And I done some time."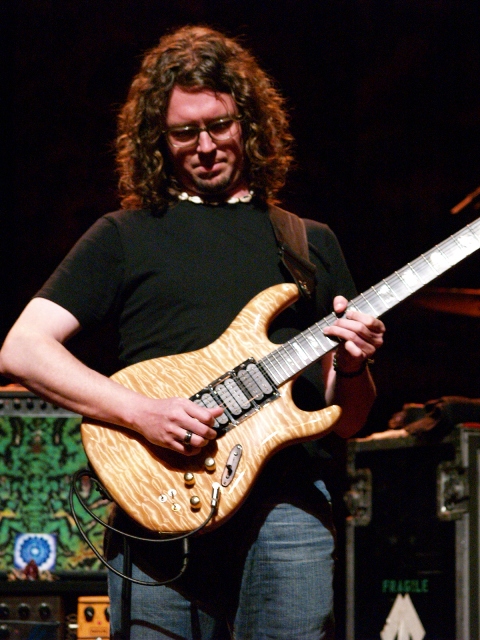 Furthur closed the first set with "Passenger" another great Bobby tune off Terrapin Station that has became a Dead standard as many of the songs off that album did like the title track, "Sampson and Delilah", "Dancin In The Streets" and "Estimated Prophet." Weir sang this one with a lot of heart as the song raced faster then most Dead tunes with the Kadlecik's guitar and Chimenti's keyboards going wild. Despite the song not sounding quite as good vocally as it used to live when late Dead keyboardist Brent Mydland used to sing in unison with Weir to it, "Upside in, indside down, false alarm the only game in town, parable the only game in town." "We'll be back in just a few moments," Bobby said just as he always has at every Dead show set-break I had seen him play in the past. I felt really at home!
The second set began with two transitional blues tunes Bob Weir and Phil Lesh have been playing a lot in recent years, so it made sense they ran "Viola Lee Blues" into Cumberland Blues" together. The whole crowd was on their feet again and excited the thirty-minute break was over, they chanted along with Weir and Lesh, "Some got six moths, some got one solid, some got one solid yeah!" in "Viola Lee Blues". Both songs depict similar stories of the hardships the everyday man has to face be it working hard and barely making wages in "Cumberland Blues" to getting sentenced to jail in "Viola Lee" The next song Further launched into was one neither I nor anyone else at the show could have expected as they played "King Solomon's Marbles" one of the finest instrumental interludes off the Blues For Allah album which is full of great little jams like "Slipknot" and "Sage & Spirit" but I don't think anyone could have expected to hear "King Solomon's Marbles" a song not even The Dead covered too much live back in their touring hey-day. "King Solomon's Marbles" was dominated by Weir and Kadlecik's going back and fourth on solos as they played both parts of the song  "Stronger Than Dirt" and "Milkin The Turkey." They even went several minutes beyond the regular length of the song and it sounded absolutely fantastic. Weir and Lesh have really kept the psychedelic jam spirit of The Dead alive at these shows, as it would be easy just to play the hits like "Casey Jones" which are great but don't take as much effort as this complex jam did.
The next song was "Cassidy" a song that was originally off Bob Weir's 1972 debut solo record Ace, a classic that also featured some of his other best tunes and most popular songs he played with The Grateful Dead such as "Looks Like Rain," "Mexicali Blues," "Black Throated Wind, "Playing In The Band," "Greatest Story Ever Told" (and the song he had closed the night with the previous night at the Fox on Saturday and with The Dead on the Thursday show back in May "One More Saturday Night.") Weir took center stage with his heavy white beard, thick mustache that curls upwards, singing the opening lines, "I have seen where the wolf has slept by the silver stream. I can tell by the mark he left you were in his dream. Ah, child of countless trees. Ah, child of boundless seas. What you are, what you're meant to be speaks his name, though you were born to me. Born to me, Cassidy." The song was originally written about Donna Jean Godchaux and Keith Godchaux's daughter "Cassidy" they gave birth to while recording the album. Donna and Keith were both members of The Grateful Dead in the 1970s but after Keith became the second Dead keyboardist to die and Donna quit the band and became a born again Christian. After this happened at the culmination of the 1970s a lot of things changed in the The Dead fold. The replacement keyboardist Brent Mydland played a vital role in The Dead's music for the next decade, sometimes even bigger then Jerry Garcia at certain shows, as Jerry's addiction to heroin was increasing and his health declining. It was during this time that I think The Dead mastered their version of "Cassidy" with Bobby and Brent singing harmoniously together, "Flight of the seabirds, scattered like lost words. Wheel to the storm and fly."  Now with Brent dead ever since 1990 from a speedball overdose, it was interesting to not that Jeff Chimenti was using Brent's old keyboard at this Furthur concert, that Brent had used back in his touring days with The Dead from 1980 through the year of his death 1990.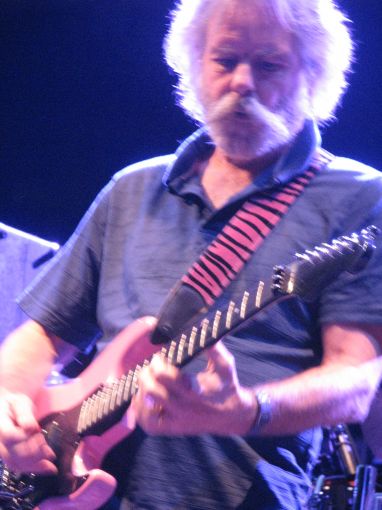 "Cassidy" still sounds great live, but will never sound the same as it did on some old live albums such as Without A Net. Still it was great to see Furthur play one of my favorite Bob Weir/John Perry Barlow songs, and hearing Weir say plaintively into the mic towards the end of the song, "Faring thee well now. Let your life proceed by its own design. Nothing to tell now, let the words be yours, I'm done with mine," re-affirmed even more why people still want to hear this man makes music even if he's still playing songs he wrote all the way back in 1972 as the main part of the set.
It seems Furthur even realized at this concert that some of the hard core Dead Heads still coming want to hear the spaced out psychedelic jams more than anything else and that is why they played songs like "King Solomon's Marbles" in the second set, and also "Dark Star" after "Cassidy." Weir picked up his famous old pink Fender Stratocaster guitar he used back in the 1980s for part of the song, but must have been dissatisfied with the sound it produced as he only plucked it for about a minute before putting it back down near the drum kit and picking up another black guitar. "Dark Star" was filled with swooping long guitar solos by John Kadlecik, and Weir going back and fourth, while Phil Lesh's bass kept a steady beat in the background and the drums were not too audible. Furthur went into a jam towards the end "Dark Star," and I and everyone else in the crowd roared in excitement as we could all could immediately tell Weir and Kadlecik were strumming the opening chords to "Uncle John's Band." There was nothing like watching the song slowly build up in the first verse with Kadlecik and Weir trading off verses, until they both sang together loudly, and the crowd pumped their fists simultaneously, "GODDAMN, WELL I DECLARE HAVE YOU SEEN THE LIKE? Their walls are built of cannonballs, their motto is don't tread on me. Come hear Uncle John's Band by the riverside. Got some things to talk about here beside the rising tide." The song went into a long jam and it didn't matter if you were on the floor, mezzanine or balcony, everybody was dancing and seemed to be in their own sort of heaven. Just as The Dead had done when they came to California in May, Furthur were pushing boundaries that had not been touched upon much since Jerry Garcia's death. Sure none of us Deadheads have forgotten about The Dead and we still listen to the music nonstop, but to be able to get together as a community and see some of the men who created these incredible sounds live.. To sing and dance as one together is something else in a whole other dimension that Dead Heads have been lacking for quite sometime until this year when Bobby and Phil decided to bury the hatchet and start playing together again.
Furthur closed the second set with "Sugar Magnolia," a song they often used to close their sets with. Bob Weir took this one over as it was one of the first brilliant songs he wrote on American Beauty allowing him to step out of Jerry Garcia's shadow a bit, as Garcia had written most of The Grateful Dead's best music up to that point in time. "Sugar Magnolia" is one of those songs that really gets couples going at Dead shows as it is about a man who has deeply fallen in love with a woman. "She's got everything delightful, she's got everything I need. She takes the wheel while I'm seeing double, pays my ticket when I speed." As I looked in front of me Dead Head couples in their mid 40s or 50s were dancing like they were still in their 20s, this music really keeps you young and in shape I thought to myself. Bobby even looked more alive than he did in the rest of the set during "Sugar Magnolia" as he thrashed his guitar in and out of the air and spun a bit, exerting more physical energy onstage then he had during the almost the whole set at up until this point.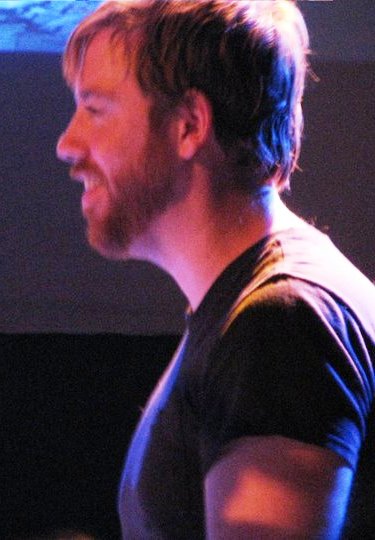 Furthur played one final encore "Cosmic Charlie" a song that dates way back to their third studio album 1969's Aoxomoxoa. During this song the whole background above the stage was a shape-shifting mirage of psychedelic bright maroon purple and crimson colors. Since I was on desolation row at the top of the balcony I was starring directly at this psychedelic image of colors and could see how somebody on acid would be tripping out of their minds. Even I was starting to feel like everything in theater was moving and I hadn't even been dosed! The lyrics themselves involved bright colors and seemed to be laced with acid the way Kadlecik, Lesh, and Weir were harmonizing them together in a sort of falsetto, "Calico Kahlia come tell me the news. Calamity's waiting for a way to get to her. Rosy red and electric blue, I bought you a paddle for your paper canoe. Say you'll come back when you can. Whenever your airplane happens to land. Maybe I'll be back here too. It all depends on what's with you." The crowd sang and danced along until the final lines in the song were all that were left along with the soft strumming of Weir's guitar as he sang with Lesh and Kaldecik, "Go on home your mama's calling you."
It was a fantastic set by Furthur. One can only hope The Dead get back together and tour next year but if that doesn't end up working out for whatever reason with Billy Kreutzmann and Mickey Hart not being guaranteed in the lineup, (there is now way they should call themselves The Dead without the two original drummers) then Furthur should get back together for another tour. Fans seemed to really enjoy seeing these guys on the side just as they enjoy seeing Bob Weir & Ratdog as well as Phil Lesh & Friends. Of course this was even more special  as you had Weir and Lesh playing together which rarely happens outside of The Dead as well as the addition of John Kadlecik from Dark Star Orchestra, who is arguably the best musician in the world at covering The Grateful Dead's music.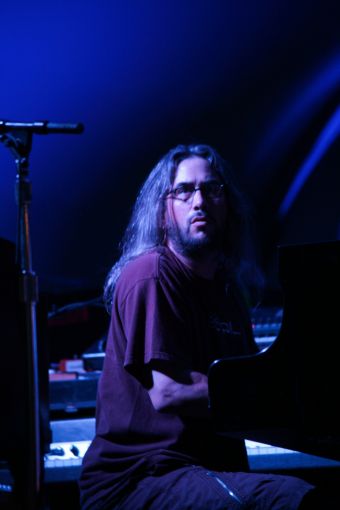 The atmosphere after the show was a little bit of a downer though no thanks to the Oakland City Police Department who are some of the biggest dicks in the world. I guess they are used to having to deal with a lot of crime but nothing excuses the way they acted at this concert. As I talked to a nice lady and her boyfriend about buying a Bob Weir button and a hemp necklace, the Police were yelling at us, telling us that we were disrupting the peace and to get out of the streets of Oakland. I was so angry I felt like yelling at the Cop, but an older Deadhead somehow told the pig exactly what I was thinking in a much calmer voice then what I was capable of. "What you are doing officer is not the right thing! You are totally messing with the atmosphere of the aftermath of a show. See these people are interacting, possibly making friends, and being brothers and sisters. That is what Dead shows are about, that is what they have always been about, and I don't know if you are doing this intentionally or not but you are robbing us of our basic freedom." It couldn't have been stated more clearly! The large police presence (at least over 30 cop cars parked outside the Fox Theater after the show) damaged any type of after-party on the streets of Oakland. There was a sad, forlorn feeling I felt in the air, walking to the Bart (Metro) to head home and seeing the streets behind me infiltrated with cops as more and more fans, ditched like me, attempting to avoid getting arrested. Hopefully Furthur will never play another show in Oakland and stick to San Francisco next time. The Dead vibes are much stronger in San Francisco (where the whole psychedelic rock movement essentially began), as the Police in Oakland see a crowd like us and all they think of is how much they want to get us off the streets!
Furthur Setlist September 20th Fox Theater, Oakland, CA
SET 1
1. Sampson and Delilah
2. Casey Jones
3. Mississippi Half Step (Uptown Toodleoo)
4. Sugaree
5. Pride Of Cucamonga
6. Throwing Stones
7. Passenger
SET 2
8. Viola Lee Blues into Cumberland Blues back into Viola Lee Blues
9. King Solomons Marbles
10. Cassidy
11. Dark Star
12. Uncle John's Band
13. Sugar Magnolia
Encore
Cosmic Charlie