It was another packed night at The Starry Plough and Live Dead defied all odds by playing three sets in a row, opening with an acoustic and then following with two electric sets. It felt like you really were at a Dead show as these guys didn't give a hoot about time, they were just there to play music and have a fabulous time with their fans, which is of course what being a Dead Head is all about.
The members of Live Dead include lead guitarist and vocalist Steve Fundy, rhythm guitarist/lead guitarist and vocalist Shep Silver, bassist Chuck Stone, drummer Paul Scannell and keyboardist James Miller. In past shows at The Plough and Ashkenaz I have been witness to Live Dead being some of the best players to interpret Grateful Dead songs. but I had never seen them, put on an acoustic set before so it was exciting to be seeing a different side to their playing.
Live Dead opened their set with "Deep Elem Blues," which Fundy sang to get things started. "Deep Elem Blues," is a song that was first performed by The Grateful Dead on April 19, 1970 at The Family Dog at The Great Highway in San Francisco. After the song was performed less than a month later at Alfred University, New York, it completely disappeared from The Grateful Dead's set-lists for over a decade, before reappearing in late 1980. It was on October 8, 1980, with new keyboardist Brent Mydland on board, that The Grateful Dead opened an acoustic set with "Deep Elem Blues," at The Warfield Theatre in San Francisco. They also played a similar acoustic show at Radio City Music Hall later that month on October 25, which featured "Deep Elem Blues," also as the opener. These two shows along with another one at The Warfield were recorded and eventually appeared as The Grateful Dead double acoustic live album Reckoning.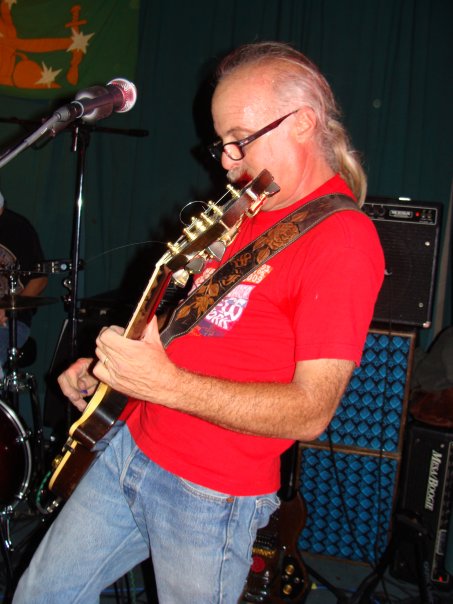 You could compare Live Dead's first set with that of both periods in Grateful Dead history--1970 or 1980-- as they covered not only "Deep Elem Blues," but several other Dead Head acoustic standards that go along with it, including the Weir-sung countryish "The Race Is On," "On The Road Again," and "Jack-A-Roe," all of which are on Reckoning. To be completely precise Live Dead even closed the first set with "Ripple," the American Beauty classic, with which The Dead would always close their acoustic sets. It was n inspiring first set overall with the highlights being a stellar version of "Dire Wolf," sang by Fundy in a perfect Jerry Garcia mellifluous pitch, "When I awoke the dire wolf six-hundred pounds of sin, was laying at my window all I said was come on in. Don't murder me. I beg of you don't murder me. Please don't murder me." Shep Silver also did an incredible job singing "Dark Hollow," just like Bob Weir in perfect pitch.
"I'd rather be in some dark hollow where the sun don't ever shine. Then to be home alone knowing that you're gone would cause me to lose my mind. So blow your whistle freight train. Take me on far on down the track. I'm going away, I'm leaving today. I'm going but I aint comin' back."
There was also a touching moment when Fundy dedicated "Friend Of The Devil," in memory of the recent passing of John Dawson, one of the founding members of The New Riders of The Purple Sage who played on American Beauty and also played with Garcia on numerous occasions. I had not yet heard that Dawson had passed away, and so it was a sad moment, but I was glad to be amongst fellow Dead Heads who could enjoy a classic tune and remember those who are not with us anymore.
Set II kicked off with an electric boom with "Mississippi Half Step," as the crowd got out of their bar seats and started to dance in great numbers. More people had shown up between sets and The Plough was tightly packed, as the crowd sang in unison with Live Dead's Fundy, Silver and Miller, "Farewell to you old southern skies, I'm on my way well on my way…. Across the Rio Grandio, across the lazy river." The next song was "Mr. Charlie," a song that was on the live Europe 72 album and was sung by the original Dead keyboardist Ron "Pigpen" McKernan. After the country-rocking "Me and My Uncle," James Miller put on a spectacular performance by playing Brent Mydland's "Never Trust A Woman." while he banged his keys while simultaneously stomping from one foot to another like a leap frog, keeping perfect precision. Miller's keys were not the only thing that sounded outstanding; his voice--which he rarely took the leadin that night--sounded just like Mydland's rough edge as he sang, "Going to see some good times, going to get to ring that bell. Going to see, some good, good times, to make up for me not feeling well. I must be due some great times because right now I feel like hell." Miller broke the song down at the end and blurted out just as Mydland does in the "Dozin At The Knick" set, "Come tomorrow I'm going to get my pay and I'm going to leave this town. Come tomorrow I'll get my pay, I'll get my pay and I'm going to leave this motherfucking town."
The rest of the second set was highlighted by Live Dead composing another Europe 72 classic "Tennessee Jed," which really revved the crowd up, along with the Bob Weir tunes Silver and Fundy switched up on including "It's All Over Now" and the timeless "Cassidy." During "Cassidy" Fundy showcased some of his best lead guitar of the night, soloing away at a frenetic pace, much faster than anything Jerry would have played, but it sounded amazing and added to the improvisational magic Dead tunes take on live.
The second set culminated in two live Grateful Dead standards "Cumberland Blues" into "Viola Lee Blues, songs The Dead themselves played on their recent Spring 2009 tour across the U.S.
Live Dead began their third and final set with "The Music Never Stopped," which always gets the crowd dancing and clapping at the Plough. I was in the middle of the crowd near the front, which was starting a train of people grabbing onto each others shoulders and dancing. It was now past midnight but that didn't matter as lots more music was to be played and the hours meant nothing just the way they hadn't mattered when The Grateful Dead played back in the Acid Tests in the 1960s and The Fillmore and Winterland in the 1970s. The fans, including myself fall into trance when we attend these Live Dead shows as the music completely blows you away it is so powerful. It was great to hear so many Bob Weir tunes out of Live Dead, not to take away from Jerry Garcia who will always stand as one of the greatest guitarist and singers ever as well the leader of the band. Still I feel Bobby never gets enough credit and a lot of Dead fans I have met haven't really recognized some of the songs he sings as much as the Jerry ones. So I had a big smile on my face when "Playing In The Band" followed "The Music Never Stopped."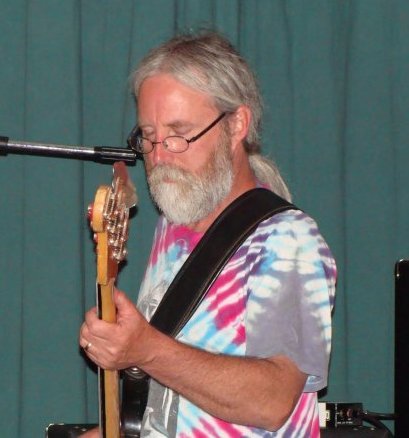 Live Dead did a great version of "Uncle John's Band," which always sounds spectacular live especially when Silver, Fundy and Miller all sang together,  "God damn well I declare have you seen the like. Their walls are built of cannonballs, their motto is don't tread on me. Come hear Uncle John's Band by the riverside. Got some things to talk about here beside the rising tide. The lyrics in "Uncle John's Band are deeper and more reflective than almost anything the poet and lyricist for The Grateful Dead Robert Hunter ever wrote besides maybe "Box Of Rain": "It's the same story the crow told me. It's the only one he know-like the morning sun you come and like the wind you go. Ain't no time to hate, barely time to wait. Wo-oah, what I want to know, where does the time go?"
I didn't recognize the next song at first because it was an improv jam Live Dead did leading into "Dark Star." Live Dead played "Dark Star," then went into "New Speedway Boogie." Paul Scannell did a rocking "Drums," into psychedelic "Space," leading Live Dead back into "Dark Star," culminating into a final minute or two of a reverb of "Playing In The Band."
The encore of the night was "China Cat Sunflower," into "I Know You Rider," as Live Dead made sure to pack in two more songs Dead Heads love to see performed. The highlight of the entire night came when the crowd chanted "I wish I was the headlight on a north bound train," at the top of their lungs. It was a superb night and Live Dead proved to everyone at the Plough that night how incredible they are and why fans should travel the two and a half hours to see them in Tahoe and Truckee this upcoming weekend.  
For more information on Live Dead check them out on myspace http://www.myspace.com/livedeadband
SETLIST 7/25/09
SET 1 ACOUSTIC
Deep Elem Blues
The Race Is On
Dire Wolf
Dark Hollow
Friend Of The Devil
On The Road Again
Jack-A-Roe
Ripple
SET II
Mississippi Half Step Uptown Toodello
Mr. Charlie
Me And My Uncle
Never Trust A Woman
Never Trust A Woman
It's All Over Now
Tennessee Jed
Cassidy
Cumberland Blues
Viola Lee Blues
SET III
The Music Never Stopped
Playing In The Band
Uncle John's Band
Dark Star I
New Speedway Boogie
Drums
Space
Dark Star II
Playing In The Band II
ENCORE
China Cat Sunflower
I Know You Rider
This article is dedicated to Jerry Garcia who was born on August 1 1942-August 9 1995. Jerry is the reason we will never forget, and the music will never stop for those of us who still listen.