On a cool Saturday night my buddy Dean and I drove down to the Ashkenaz on San Pablo Ave. to catch two outstanding Grateful Dead cover bands I have seen quite frequently in the Bay Area over the last year, The Dead Guise and Play Live Dead (formerly known as Live Dead.) Dean had never been to a show at Ashkenaz, nor had he seen either band, so I was quite excited to introduce him to this incredible live music, especially because he was a big fan of The Dead like myself.
We arrived a bit early at Ashkenaz in time to greet several good friends from the DeadHead community including Tommy, who always sells his inventive Grateful Dead tie-dye T-shirts outside the venue. He had been on the Phish tour on the East Coast recently, and I had not seen him since the last Live Dead show in October at The Starry Plough. He said he was about to head back East to hit the Furthur tour. The Dead shows are not only great for the music, but also for the community of people surrounding them and the friendly warmth their souls bring to the gathering.
The Dead Guise opened their set with a fantastic rendition of "Truckin," which Ken Younger and John Heffernan strummed away in a vibrant tone with their wooden acoustic guitars, which were plugged into nice booming sounding amplifiers. The other members of The Dead Guise are bassist/vocalist Mike Marino, drummer/vocalist Bob Sicotte and keyboardist/vocalsit James Miller (also of Play Live Dead.) Ashkenaz is an ideal place to see live Grateful Dead bands because there is a huge dance floor, of which most people were taking advantage. An elder Dead Head ex-cabbie with longish hair, sideburns and a green-colored polo shirt tucked into his blue jeans, was leading the dance charge. He had seen lots of shows at The Fillmore in the 70s and was complaining at the set break that "too many people today don't dance at shows. Back in my day in the 1970's, everybody knew how to dance. Now listen to me!" he said grabbing me by both shoulders and staring me square in the eye, "It's a travesty people from your generation have forgotten how to dance."
The Dead Guise followed "Truckin," with some original Grateful Dead material, "Deep Elem Blues" and "Rosa Lee McFall," the latter of which I had never heard them play and sounded almost identical to the way The Dead would play it live. Next up was "Peggy-O," a classic song to hear live. At this point a hippie with long dreadlocks and a beard showed up shirtless and barefoot. He began to dominate the dance floor by jumping up and down and spinning himself and some of the women dancers in countless circles. As the night passed on rumor was it he was from The Rainbow family, and I have to say I have never ever seen anybody in my life with that much energy to dance their heart out, feel so much power from the music being played. His zeal felt larger than life. The Dead Guise continued to bring the house down with a spectacular version of "New Speedway Boogie," which Heffernan sang: "And I don't know what I've been told if the horse don't pull you got to carry the load and I don't know whose backs that strong. Maybe find out before too long." Then the whole crowd sang along with him in unison, "One way or another this darkness has got to give."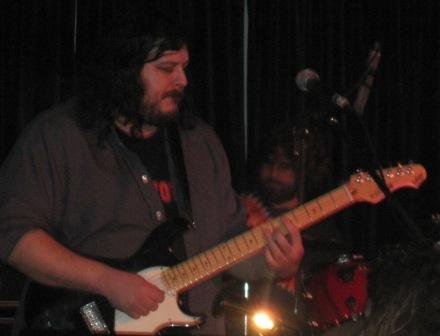 "New Speedway Boogie" ran right into "Cassidy" and flowed perfectly as Heffernan handled Bob Weir's parts extremely well, even doing fantastic facial impersonations that matched Bobby's. Another highlight in The Dead Guise's set included their own song "Reggae Weed," with lines about going to Jamaica and South East Asia to find good ganja. The last song The Dead Guise played was a cover of Bob Dylan's "Tangled Up In Blue," from his quintessential album Blood On The Tracks. This song really got the crowd revved, as it brought back memories for some of the crowd of The Dylan and The Dead tour in the mid 1980s.
There was a short set break then Play Live Dead took the stage to open with "Alabama Getaway," a fast jam from the early 1980s, that became a live favorite soon after its release on Go To Heaven. Fundy handled the Jerry vocals on Alabama Getaway and Shep Silver took over on the second song, Chuck Berry's "The Promised Land." Silver sang in a solid Bob Weir pitch that got the crowd dancing wildly, led of course by the Rainbow family hippie who owned the front of the stage. Silver also took over the next song, another classic "It's All Over Now." Fundy sang "Sugaree" afterwards, which really got the crowd going. As my friend Dean told me later in the night, "Sugaree" was his favorite song played during the entire two sets of Live Dead's music. Fundy handled the vocals just right, singing very delicately just like Jerry, "Just one thing I ask of you. It's just one thing for me. Please forget you knew my name my darling Sugaree. Shake it shake it, Sugaree, just don't tell tell 'em that you know me."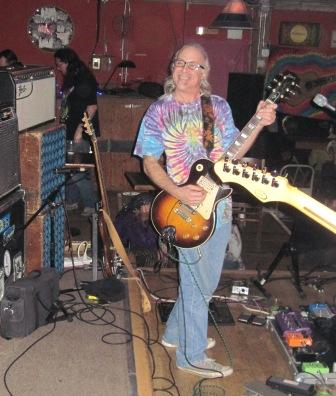 Keyboardist James Miller took over the next song playing one of Brent Mydland's best songs, "Just A Little Light." Brent was such a vital part of The Grateful Dead with all the vocal energy in his voice that could be both low and gruff and also quite high at times. He showcases both those sides in "Just A Little Light," and Miller was right on key as he sang, "Well there ain't nobody safer than someone who doesn't care. And it isn't even lonely when no one's ever there. I had a lot of dreams once, but some of them came true. The honey's sometimes bitter when fortune falls on you. So you know I've been a soldier in the armies of the night. And I'll find the fatal error in what's otherwise alright. But here you're trembling like a sparrow, I will try with all my might to give you just a little sweetness. Just a little light." Miller also handled the rolling keyboard solos in the song terrifically banging his fingers back and forth hitting every note just right. Steve Fundy led Play Live Dead through their next song "Ramble On Rose," the Europe '72 classic, where he showed off all his Jerry emotion both on his powerful electric guitar and in tune vocals, "I'm gonna sing you a hundred verses in ragtime. I know this song it ain't never gonna end. I'm gonna march you up and down the local county line. Take you to the leader of the band." Shep Silver led Play Live Dead through the next song "On The Road Again," which he sang again much like Weir would have in the 1980s when the Dead performed it at the Warfield in San Francisco. Cumberland Blues was a nice jam but it was the set closer—Weir's "The Music Never Stopped," with guest singer Tie-Dye Steve Anderson—that really got the crowd dancing like crazy as he sang the opening lines, "There's mosquitoes on the river. Fish are rising up like birds. It's been hot for seven weeks now, too hot to even speak now. Did you hear what I just heard? Say, it might have been a fiddle, or it could have been the wind. But there seems to be a beat, now. I can feel it in my feet, now. Listen, here it comes again." As Anderson sang and Play Live Dead worked up an awesome jam, The Rainbow family hippie picked up a girl in the audience and began spinning her around in circles and everyone else just kept on dancing.
The second set began with a "China Cat Sunflower" into "I Know You Rider," a classic two-song format that is just as big as the Grateful Dead song combinations, such as "Scarlet Begonias" into "Fire On The Mountain." Shep Silver had his highlight of the night rocking out to Bob Weir's "Playing In The Band." Similar to Heffernan earlier in the night, Silver knew how to capture the persona of Bobby as well, with his onstage facial expressions, making you know how much he was feeling the music.
Play Live Dead then dove into the most psychedelic part of the show with "Dark Star (Part 1)" into a totally tripped out "Drums" into "Space" segment, dominated by the two new drummers Jim Walsh and Mike Schwartz. Afterwards the rest of the band returned and James Miller sang "Dear Mr. Fantasy," a Traffic cover The Grateful Dead used to do with Brent Mydland singing. After this "Dark Star" resumed with "Part 2" of the song, which was even more psychedelic as it merged back into a rocking "Playing In The Band" reprise. Play Live Dead closed the second set with beautiful "Morning Dew," which Fundy sang with a nice high voice just like Jerry would have: "Walk me out in the morning dew my honey. Walk me out in the morning dew today. Can't walk you out in the morning dew my honey. Can't walk you out in the morning dew today."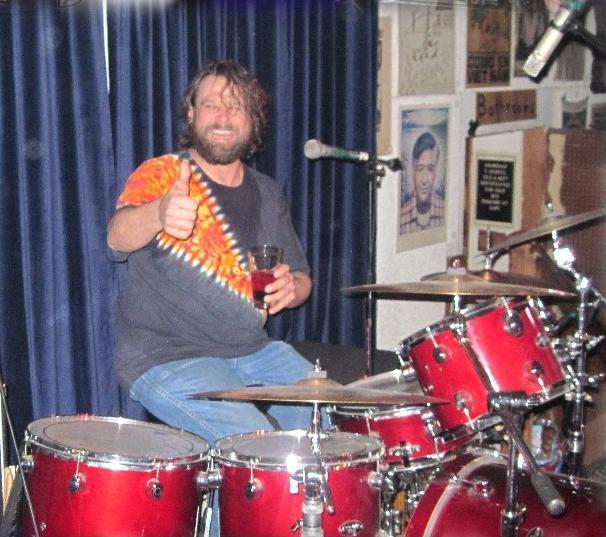 It was now well past 2:00 AM but the crowd was not ready to let the band to exit the stage, as they called Play Live Dead out for three more encores. First the band played "Sugar Magnolia," and the crowd danced harder than they had one hour before. Nobody was ready to let go of this magical moment of sunshine daydream. A final shout of "DO SHAKEDOWN STREET!" from a female Dead Head in the crowd, brought Play Live Dead back up once again to perform "Shakedown Street" into "Dancing In The Streets." "That is my favorite song to perform live," said new drummer Jim Walsh, "so I'm glad you guys shouted that one out—it gave me extra incentive to play it."
These encores were a fantastic finale to Play Live Dead's first official performance in Berkeley since the departure of original drummer Paul Scannell last Fall. Both Walsh and Schwartz proved they have complete ability to fill the void of Scannell; and the fact Play Live Dead have two drummers now fits the Grateful Dead model of what the original live sound should be as it was with The Dead back in their touring hey-day with the two rhythm devils Bill Kreutzmann and Mickey Hart.