By far the most anticipated concert of the summer at Shoreline Amphitheater, the gigantic outdoor venue in Mountain View, California, was Phish on August 5. I had been growing out my lengthy beard and counting down the days for most of July it seemed. Finally, on August 5th, I witnessed guitarist/vocalist Trey Anastasio, bassist/vocalist Mike Gordon, piano/organ/keyboardist/vocalist Page McConnell, and drummer Jonathan Fishman take center stage at Shoreline. I was with a few friends from San Francisco and we set up a few blankets on the right side of the lawn. On the right side, the view of the stage is far better than on the left side of Shoreline because of the way the Amphitheater is built.
The parking lot scene at the Phish show was not quieter than The Dead back in May but it was a similar crowd of hippies buying veggie tostadas with beans and hot sauce or cheese quesadillas. Security guards lurked the premises in packs of ten or more, yelling at any fan who had an open bottle or can of beer, although they didn't seem to mind if the beer was in a plastic cup. They also paid no heed to the countless amount of people smoking joints in the open.
At the concert, I noticed a large array of fans, young people around my age in their early 20s who probably hadn't even seen Phish before the second hiatus and were now just beginning to follow them around, (a few were talking about flying up to the next show at The Gorge) It was also interesting to see Dead Heads at the show who were comparing Phish to The Dead in the bathroom line and commenting on how these guys were another great jam band to see. There were also older families bringing their children who couldn't have been more than ten to the show, and of course, there were the usual Phish heads with long dreads and beards, smoking big joints, and dancing around in circles on the steep hill making up the lawn.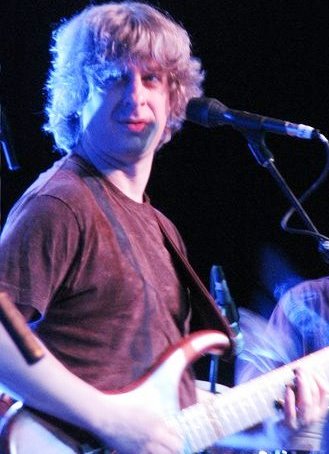 Phish opened their set with "Golgi Apparatus," a song that dates way back to their debut album Junta and features the lyrics "I saw you with a ticket stub in your hand." "Golgi" got everybody on their feet and cheering even on the lawn where people had the opportunity to lie down on comfortable blankets and zone out to the music, they rather would stand and see these four incredible musicians perform. I could barely even make out the faces of the band members even with my better positioning on the right but once they turned the TV screen on after sunset I felt a little more connected to what was going on.
Other highlights in the first set included fan favorites "Chalk Dust Torture" which I had originally heard off Phish's best double live album to date, A Live One. Trey Anastasio got the whole crowd singing along with him on the chorus where he chants "Torture of chalkdust collects on my tongue. Thoughts follow my admission as I dance in the sun. Everything comes slowly undone. Can l I live long enough?" Trey also played his most blistering solo of the first set during "Chalkdust Torture," making the whole crowd go nuts, as he kept getting the notes to go higher and higher, building to a crescendo that was so powerful it is almost indescribable. Trey just took off on that guitar barely moving a muscle it seemed. Unlike Jimi Hendrix or Eric Clapton in the old days with Cream, Trey is not a very show-boaty guitarist, although he is very clearly influenced by the likes of Hendrix along with Jerry Garcia, the latter of which he may get the poise of not moving much onstage. Almost nobody these days can play the electric guitar like Trey Anastasio, especially contemporary musicians who are in his age range. You can talk Jimi Page, Santana and Robbie Krieger those guys are all great but way past their prime as musicians! The only guitarists who even come close to being as good as he is right now is Warren Haynes, but even Haynes can't hit those high notes like Trey.
The closer of the first set was also off Junta "David Bowie," and is another fan favorite that dates back to when Phish was just a small college band out of Burlington, Vermont trying to build what would become the biggest cult following of any band on the road in the U.S.A. other than The Grateful Dead. "David Bowie," featured a whole new improvisational section with guitar and Page's organ at the end of it that the fans really dug and were raving about as I made my way to the bathroom before the second set began.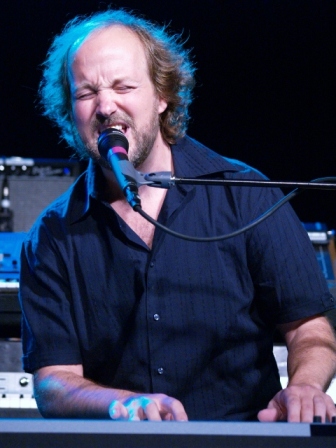 Set II really took off when Phish played one of their best songs they ever recorded off the timeless Hoist "Down With Disease." Mike Gordon played a fantastic opening bass line that gets the song geared up which was followed by Trey's opening lines, "Down with disease three weeks in my bed trying to stop the demons that keep dancing in my head. Down with disease and I'm up before the dawn, one thousand little children outside dancing on my lawn. Followed by an incredible chorus, "Waiting for the time when I can finally say this has all been wonderful and now I'm on my way. When I think it's time to leave it all behind try to find my way but there is nothing I can say to make it stop." The crowd sang along with Anastasio at a very loud range so the whole Shoreline Amphitheater echoed with voices. It was just as powerful if not better than "Chalkdust Torture" in the first set, as it is possibly the best song off Hoist, which is one of Phish's stronger studio efforts that also includes the classic songs "Julias," "Axilla," and "If I Could." This middle part of the second set was by far the best part of the show as Phish followed "Down With Disease," with "Limb By Limb," a song that begins with the lines "The shoulder that I leaned on was carved out of stone but when I'm done freezing I want to be alone." It then picks up steam as one of Phish's prettier songs that originally was released off another landmark Phish album The Story Of The Ghost. "Limb By Limb" has since become a live favorite and Phish Heads seemed extremely pleased that the band had chosen to include it in their set as they sang along with Trey, "I come unglued when I'm in midair and land to reform limb by limb." Phish were in the mood for crowd-pleasing at this point as they launched into a cover of The Velvet Underground's "Oh Sweet Nothin" which they originally covered at the Halloween show in Las Vegas in the year 1998. The crowd was so pleased to hear a good cover by The Velvet Underground and this would have been a better-suited tune to close the show rather than the one Phish would pick later in the night as their encore!
The highlight of the second set was when Phish played "Maze," the best song off another superb record they recorded in the 1990's Rift. The song opens with Trey singing, "The overhead view is of me in the maze and you'll see what I'm hunting a few steps away. But I take a wrong turn and I'm on the wrong path and the people all watching enjoying a good laugh. Embarrassment failure I try to reverse the cross of my train had already traversed. Subduing the trauma engulfing my dream. Invaded through what was an unguided scene. The torrent of helplessness swept me away, to the cabin of shade and the hall of dismay. Inside me a voice is repeating the phrase you've lost it you'll never get out of this maze." This incredible passage of poetic lyricism by Anastasio is followed by his short guitar solo then into a short jam. "Maze" then goes into an incredible piano solo by Page McConnell into the organ. Anastasio then takes back over in guitar solo overdrive making "Maze" possibly the best Phish song in their entire catalog. Again just like in "Chalkdust Torture," Anastasio is hitting these incredible high notes that no (and I repeat no guitarist today) can come close to hitting. It is breathtaking, it will make the hair on the back of your neck stand straight up and your spine will even twinge in disbelief when you witness what Trey Anastasio can do with that electric guitar in his hand. The song kind of slows down in the end as the band members Anastasio, Gordon and McConnell all chant together in unison "you'll never get out of this maze" over and over as McConnell hits a final few notes on the keys and the song ends.
The rest of the set wasn't too memorable in comparison to what had already been played as Phish could not even come close to recapturing the accolades of "Down With Disease," or "Maze," even with fan favorites such as "Weekapaug Groove," there was something lacking in the energy I had seen in the earlier part of the night. I also was a bit frustrated with Phish's move to cover Jimi Hendrix's "Bold As Love" from as the final encore of the night. Not to take away from Page McConnell, as he did an alright job singing it and some of the crowd seemed to be into it but I think it would have been nicer to see something a Phish fan can really relate to like "You Enjoy Myself," or even something as random as "Julius." It's just that I feel Jimi Hendrix is one of the ultimate musical gods and nobody can cover a song by him because his music only really sounded good when he played it and it's not like Bob Dylan where bands like The Byrds, Fairport Convention and even Hendrix himself had the power to make his songs sound better than the originals. In the case of Hendrix I have only heard two bands that could actually pull off a decent cover; Derek and the Dominoes and of course Stevie Ray Vaughn who both ripped up the same song "Little Wing."
Overall though it was a great set and I am glad I got to see Phish in the perfect setting at the Shoreline Amphitheater. I was very jealous of the folks I met at the Phish show who said they were going for the final tour stop at the Gorge, but I do plan on seeing them in the desert when they come to California for one final time this year to play a three day show. Ticket prices are around $300 from what I have heard, so it might be worth just driving down there the day of the show and scalping tickets for a cheaper price from some kind Phish head which should not be hard at all.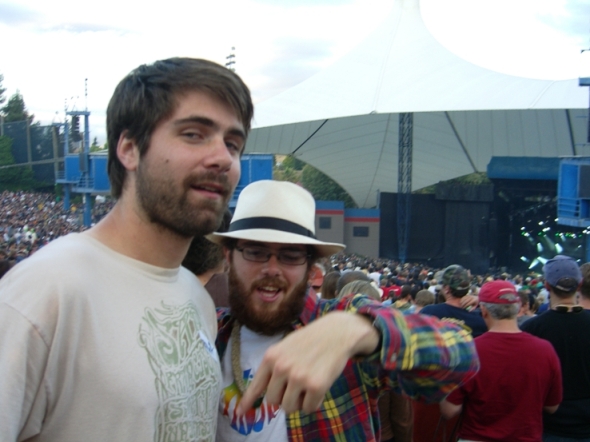 Phish Setlist 8/5/09 Shoreline Amphitheater, Mountain View, CA:
Set I
Golgi Apparatus
Halley's Comet
Chalk Dust Torture,
The Divided Sky
When the Circus Comes
Time Turns Elastic
Ya Mar
Stealing Time From The Faulty Plan
Suzy Greenberg
David Bowie
Set II
Backwards Down the Number Line
Down With Disease
Limb By Limb
Oh Sweet Nothin
Cities
Maze
Mike's Song
Simple
Weekapaug Groove
Encore
Let Me Lie,
Bold As Love