It was Jorma Kaukonen's big San Francisco homecoming on his current tour with G.E. Smith. Kaukonen, who grew up to be an accomplished guitar player in Washington D.C., moved to San Francisco just in time for the psychedelic rock of the sixties, and was one of the founding members of Jefferson Airplane; San Francisco's golden fleece of psychedelic rock in the 60s. Since Jefferson Airplane, Kaukonen's career has taken a far left turn in another direction. Long gone are the days when Jorma played some of the most electric/psychedelic/acid drenched guitar riffs of all riffs, such as the Jefferson Airplane song he wrote titled "Star Track," on their 1968 Crown of Creation record. Since the 1960s Kaukonen has shifted his position as a musician, by first forming Hot Tuna with Jack Cassady, his childhood friend from D.C., and former bandmate in Jefferson Airplane. During this period Jorma became almost solely an acoustic guitarist playing mostly folk and bluegrass music. Hot Tuna lasted for decades as a tour de force, known for their fantastic live shows that featured mostly Jorma's compositions, but also other extremely talented musical showcases such as violinist Papa John Creach, who was also a member of Jefferson Airplane at the very end of their existence as a band.
Now, on this night at the Great American Music Hall, Jorma was playing with the Stroudsburg, Pennsylvania native G.E. Smith, somebody with whom his fans were not all that familiar. Smith's music dominated both sets just as much as Jorma's. G.E. Smith, who seemed to resemble the actor Willem Dafoe with his highlighted blonde locks and his deep wrinkled forehead and cheeks, is a former member of Bob Dylan's touring band back in the late 1980s, but he is probably best known for being the main guitarist of Saturday Night Live Band in the 1980s and the lead guitarist of Hall And Oates in the 1970s. As Allmusic.com writes about Smith, "Most of the millions of people who saw pony-tailed Smith play scorching guitar during a ten-year stint in The Saturday Night Live Band know only a fraction of a brilliant, multi-faceted talent. Musicians are far more familiar with him. The list of world-class players he has performed with is staggering – Bob Dylan, Mick Jagger, Tina Turner, Hall & Oates, Eric Clapton, and David Bowie are only a portion." Jorma told his Great American Music Hall audience, "G.E. likes to stay a lot overnight at the Chelsea Hotel in New York and write songs, or just jam out with a group of his friends." This made a lot of sense to me, since his idol Bob Dylan spent twelve whole days in solitude in the Chelsea Hotel writing "Sad Eyed Lady of the Lowlands" for his former wife Sara, in what would be the best folk ballads of the 1960s, appearing on the album Blonde On Blonde.
Jorma and Smith's set began with a lot of old blues tunes not written by Kaukonen I was unfamiliar with, but that didn't matter as I was having such a fun time watching all the fantastic interplay of guitar picking between the two stellar musicians, who traded acoustic leads and melodies back and fourth, proving what fantastic acoustic virtuoso's they were. Kaukonen played the first song "Big River Blues," and Smith took control of the second "Dark As a Dungeon," and they continued to rotate back and fourth between songs they wrote or specialized in covering. I finally recognized something when Jorma led Smith through "Come Back Baby," an original he did off the first Hot Tuna album, but the song actually is a jam that dates all the way back to Jefferson Airplane, when Jorma and Jack Cassady used to jam out for ten minutes at a time during live sets. This slower acoustic version of "Come Back Baby," I actually had heard Jorma Kaukonen play previously at last fall's Non-Strictly Bluegrass Festival, and thought it was decent but not as good as the original interplay of the song he mastered with Jefferson Airplane.
It was interesting also hearing a song like "True Religion" (the next song Kaukonen sang), since it too, like "Come Back Baby," sounded so much different on all-out acoustics, lacking the loud violin of Papa John Creach and the harsh bass lines of Cassady. This earlier rendition of "True Religion" first appeared magnificently as the leadoff track on side 1 on the first Hot Tuna first studio album Burgers. Jorma had his deep, Southern-twang singing voice down well in this song as he sang, "Momma take this pillow from under my head Allelu. Said take this pillow from under my head Allelu. Now take this pillow from under my head, Jesus is gonna' make up my dying bed. Then you'll need that true religion Allelu."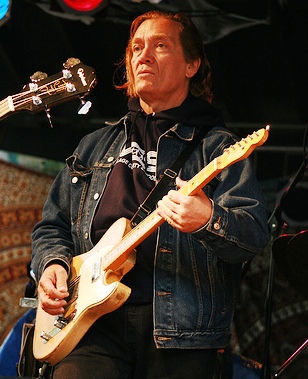 It was hard to compare G.E. Smith to Jorma Kaukonen as a musician, besides his excellent guitar picking, with his fingers moving up and down the fret board at a very high speed during songs like "Chicken Blues." Unfortunately Smith's vocals were not nearly as powerful and heartfelt as Kaukonen's, and that is what truly lacked in his performance. For instance, when Jorma sang a song I had never heard before called "Things That Might Have Been," it stirred emotions in the crowd. "This is a family song," Kaukonen said, introducing the number, and it was obvious the song was about Jorma and his brother growing up as two very different children, yet spending  a lot of time together, and having a strong family bond. When the boys reach the age of adolescence their differences drive them apart. As more and more years roll on and the brothers change, they slowly drift apart even more, hardly seeing one another for the rest of their lives. Listening you got the feeling that a lot of the songs both Jorma Kaukonen and G.E. Smith were playing had lyrics that were very deep and emotional for them to let out. I could have sworn Jorma was about to break down and shed a few tears when he played "Things That Might Have Been," as he tenderly strummed the chords, making it  sound more like a lullaby, than the heavier acoustic strumming he had been pounding out on his acoustic for songs like "Come Back Baby," and "True Religion."
Another big highlight of the first set was hearing Jorma Kaukonen play "Death Don't Have No Mercy," originally written by Rev. Gary Davis and popular back in the 1960s psychedelic scene among Dead Heads, when The Grateful Dead played a historic version of it on their 1969 Live Dead album. The lyrics foreshadowed the subject that loomed for both singers throughout the night, especially Jorma, something that seems to have been eating at him his whole music career, but maybe even more now in his mid sixties. Jorma sang in a deep dark blues voice "I said death don't have no mercy in this land. Death will leave you standing and crying in this land. Death will leave you standing and crying in this land, in this land, yeah! Whoa! come to your house, y' know he don't stay long. Y' look in bed this morning, children you find that your brothers and sisters are gone. I said death don't have no mercy in this land. Death will go in any family in this land. Death will go in any family in this land. Come to your house, you know he don't take long. Look in the bed on the morning, children find that your family's gone."
Jorma pleased the Hot Tuna fans by opening the second set with "Hesitation Blues" Jorma's plaintive lyrics, "Well if the river was whiskey said I was a duck. You know I'd swim to the bottom and never come up. Tell me how long? Well rocks in the ocean, said fish in the sea. Knows you mean the world to me. Tell me how long do I have to wait?. Can I get to you now, Lord? Do I hesitate."
Many of G.E. Smith's songs in the second set also focused on dark subjects such as his former addiction to the narcotic codeine, or his restless wanderings through cowboy nightclubs. Other songs that clearly were not about him but dealt with historic matters such as "Buffalo Skinners," which talked about how hard it was to be a cowboy out west and remain on the trail of hunting buffalo, despite harsh winter conditions, and never having much to eat. Jorma hit his peak in the second set playing some of his best songs he ever wrote such as "Uncle Sam's Blues," which he originally performed with Jefferson Airplane at Woodstock '69, a version of this appears on the Woodstock DVD. Jorma also played one of his more recent classics "River Of Time," which he told the audience had "won best folk song of the year on NPR radio." "River Of Time," is a very beautiful finger-picking melody, that sounded even better this time around than at the Bluegrass Festival at the Polo Fields last Fall, as G.E. Smith was locked in with Jorma's guitar picking and sturmming, trading killer riffs back and fourth every step of the way. The lyrics may have been the most powerful part of the song, not only in the brilliant way they were written by Jorma, but also the soft way he sang them compared to the gruffier bluesy voice he had been using most of the show, "The banks were shrouded, in the fog. From the shore, a barkin' dog, recalled a time, long forgot. The flowers there, Forget-Me-Nots. I saw a wave from, friends of mine. As I rowed down the river of time it might be nice, I could have said to speak to loved ones, long since dead. Lives still flow there, on the shore. And I shan't see them, anymore. Not on this side, but in dreams. And dreams aren't always what they seem. The river flows, it's just begun. My daughter follows, and my son. When my time ends, I'll rest on land, and while I slumber, they'll still stand. They're a part of that endless line. We all still float in a river of time."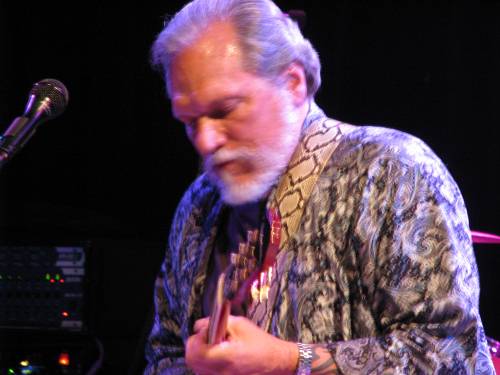 The last great song Jorma played of the night was "I Am the Light of This World," the one and only song he played all night from his classic debut solo record Quah, released in 1974. Quah is one of those albums that has stood the test of time, and is still considered Jorma's best solo album by far if you asked most of his diehard fans. It spawned some of his most memorable tunes from, "Genesis, to "Police Dog Blues," as well as another one of his heart-wrenching songs, "Another Man Done Gone," and his best instrumental on acoustic guitar without lyrics, "Lord Have Mercy." When Jorma sang "I Am the Light of This World," his voice was clearly not as mighty and lacked the depth it had on the original Quah take, but that didn't matter. It was thrilling just just to watch Jorma give it his all on the guitar and even vocally--he couldn't hold the notes as long and had to take a deep breaths in at times during the chorus of "Just as long as I am in this world--I am the light --of this world." Both my friend Henry and I thought "I Am the Light of This World," was the highpoint of the concert, and the cheers rang on for minutes after the song was completed.
After the set was over, the crowd called Jorma Kaukonen and G.E. Smith back for one final encore, which they were obliged to do, playing Smith's "Let It Rock," which may have disappointed some local San Francisco Jorma fans, who wanted to see him play the last song of the night, but with all the other goodies they had been handed, there was no reason to complain.
Set List:
Great American Music Hall, San Francisco, CA | 2.21.10
Set 1:
Big River Blues 
Dark As A Dungeon 
Come Back Baby 
Plastic Jesus 
True Religion 
Chicken Blues 
Things That Might Have Been 
Trouble 
Death Don't Have No Mercy 
Blind Fiddler 
The Terrible Operation 
Eyesight To The Blind 
Izze's Lullaby 
Great Speckled Bird 
Set 2:
Hesitation Blues 
Comin' Home Someday 
There's A Bright Side Somewhere 
Codine 
River Of Time 
Baby Let Me Follow You down 
Uncle Sam Blues 
Buffalo Skinners 
I Am The Light Of This World 
Guilty 
Another Man Done A Full Go Round 
Hold On 
Nine Pound Hammer 
Encore: Let It Rock