It was another jam-packed night outside the Bill Graham Civic Auditorium in San Francisco. You would have thought you were seeing Furthur on New Year's Eve 2009 all over again. It was just about impossible to get into line outside the arena as there were so many people walking up and down the cordons with their pointer fingers in the air hoping for some miracle ticket to gain entry into DeadHeads kingdom; a Furthur show.
I finally made my way inside and met up with my friend Rich, who had showed up two hours early to get front row on the left side of the stage, where Phil Lesh's bass equipment was set up. It was Phil Lesh's 70th birthday and everyone was in good spirits as they saw the balloons above attached to the ceiling, ready to drop. These fans knew this was going to be another huge bash that could possibly last nearly as long as the New Year's show that went until nearly 3:00 am. bringing 2009 to a close in San Francisco. Little did these fans know they were about to get three sets, with an acoustic opener and several high-profile musical guests!
Furthur came out from behind the backstage curtains and hit the stage at around 8 pm. with a lineup that featured guest vocalist/acoustic guitarist Chris Robinson from The Black Crowes, and Jackie Greene from Phil Lesh & Friends. Phil Lesh, Bob Weir, and John Kadlecik all joined in the front row of the stage. Meanwhile guest piano player Steve Molitz (of Phil & Friends) sat in along with Jeff Chimenti handling the keyboards and drummer Jay Lane. Furthur's usual second drummer Joe Russo sat out the first acoustic set, but joined Furthur onstage once the second set was in progress.
This lineup of Furthur opened with a beautiful acoustic "Ripple," one of the three cuts they would play from The Grateful Dead's classic 1970 folk rock album American Beauty in their non-electric set. Everyone seemed to be harmonizing perfectly together but Bob Weir's voice definitely resonated the strongest on "Ripple," as there is something calm and soothing in the melody of the song that matches his voice, as well as the lines he sang, "If I knew the way, I would take you home, dah-dah-dah-dah." Weir also did a fine job leading Furthur through "Lazy River Road," a song The Grateful Dead played quite frequently in the early 90s before Jerry Garcia's death.
Chris Robinson showcased his highly soulful voice singing, "Peggy-O" with some of his southern harmony vocal dynamite, hitting every low and high pitch perfectly. It was as if part of the show had Black Crowes elements to it with Robinson singing. Even if they were Dead songs, Robinson brought The Black Crowes touches to them with that killer Rod Stewart-like, high-pitched soul in his voice. "Peggy-O" sounded great, but not nearly as brilliant as when Robinson sang former Grateful Dead keyboardist/vocalist Ron "Pigpen" McKernan's "The Stranger (Two Souls in Communion)" The song features some of Pigpen's most contemplative and direct personal lyrics of love, and the need to find direction in his life. The way Robinson sang each word with a hanging tinge of lingering soothing emotion, he drew the crowd deep into the song with his chanting.
"What are they seeing, when they look in each other's eyes? What are they feeling, when they see each other smile? Is it love, I never know - or an emotion that I've outgrown? Did I take a wrong turn in on life's winding road? Won't somebody help me find the right way to go? My life need some correction, alteration in and direction. Won't somebody comfort me  for awhile- yes, I'm lost. What is the secret of this tie that binds? Two souls in communion, both body and mind. Is it special magic, or just the nature of things? Conceived of great spirit, not for beggars but kings."
Furthur's next fantastic acoustic rendition of another timeless American Beauty live classic, "Brokedown Palace," stirred memories of The Grateful Dead's historic 1980 Radio City Music Hall performance of the song that would eventually appear on Dead Set. This was followed by Weir taking the mic again for a cover of Bob Dylan's "A Hard Rain's A Gonna Fall," which he belted off with such raw vocal energy-- "And it's a hard, it's a hard, it's a hard rains a gonna' fall," that you wondered how he would still have a voice left for the third set.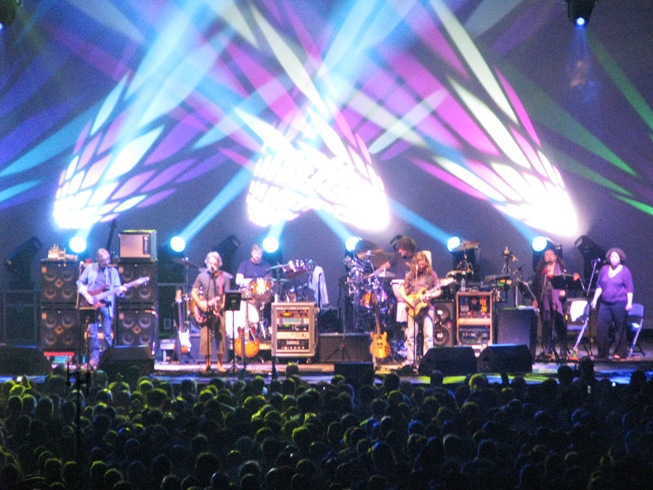 After Kadlecik did a fine Jerry rendition of "They Love Each Other," Phil Lesh took his first lead vocals of the night singing "Mountains of the Moon," in a hypnotic psychedelic voice, "20 degrees of solitude, 20 degrees in all. All the dancing kings & wives assembled in the hall. Lost is a long & lonely time, Fairy Sibel flying. All along, the all along, the Mountains of the Moon. Here is feast of solitude. A fiddler grim and tall plays to dancing kings and wives assembled in the hall. Of lost , long. Lonely times Fairy Sibil flying. All along, the all along the mountains of the moon." It was not only Lesh's low-pitched booming voice that was so surreal, but also the background psychedelia of light guitar strumming by the likes of Weir, Kadlecik, and Greene, that made "Mountains Of The Moon" not only one of the big highlights of the first set but of the entire night. The first set culminated with Furthur playing their third song of the first set from the American Beauty record, this time doing a fantastic rendition of "Attics Of My Life," that brought Lesh, Weir, Robinson, and Kadlecik all up to the mic singing harmoniously as the light sounds of the acoustic guitars and Chimenti's piano serenaded the crowd.
After a rather long break, Furthur returned to the stage to begin the second set opening with a crowd-jumping "Scarlet Begonias." Everyone went wild, especially my friend Rich Macon, who had just gotten back from the long beer line and was wearing a "Scarlet Begonias" tie-dye t-shirt, with the famous quote of Robert Hunter, "Once in awhile you get shown the light in the strangest of places if you look at it right."
Bob Weir continued to pump the crowd up with an electric "New Minglewood Blues," as he chanted with intense fervor into the mic, "I was born in a desert, I was raised in a lions den. And my number one occupation is stealing women from their other man." Chimenti's  keyboards went wild, while Kadlecik and Jackie Greene were soloing wildly, as Weir got all the women in San Francisco riled up singing, "Couple shots of whiskey, women here start looking good. Couple shots of whiskey them Frisco girls start looking good. Couple more shots of whiskey I'm headed down to Minglewood."
Chris Robinson continued to give a tender shout out to Ron "Pigpen" McKernan, the first member of The Grateful Dead to pass away in the early 1970s by playing "Easy Wind," a classic Pigpen tune off Workingman's Dead, that showcased his heavy living. "Live five years if I take my time, ballin' that jack and a drinkin' my wine. I been chippin' them rocks from dawn till doom. While my rider hide my bottle in the other room. Doctor say I better stop ballin' that jack. If I live five years gonna bust my back, yes I will." Robinson was a big presence onstage at the mic not just vocally, but also in terms of his tall, lanky body, and extraordinarily long arms. Robinson with his bushy brown beard and shaggy shoulder-length brown hair covering most of his face looked at least half a foot taller than Bob Weir (who was barefoot on stage), and also a giant compared to Greene (who is short and slender himself).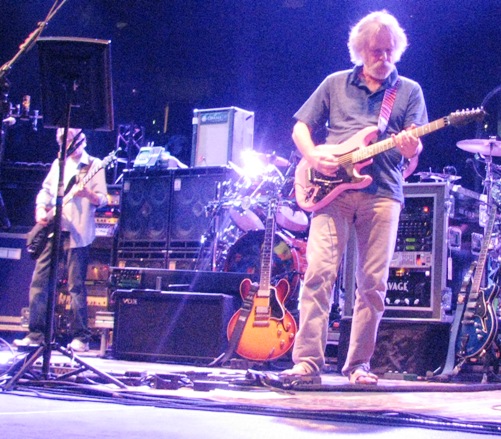 By this time everybody was dancing and pushing towards the front of the stage as the chords of "New Speedway Boogie" were being strummed by Weir, Kadlecik, and Greene. Bobby was using his famous pink modular guitar (that he used to play on every Dead tour back in the late 80s early 90s). Jackie Greene did a superb job on lead vocals for this song taking center stage with his electric guitar, black open vest, and white Stetson hat. This was just the start of Workingman's Dead deluxe live. Furthur next played one of Phil and Bobby's live staples from the past few years "Viola Lee Blues." In fact "Viola Lee Blues" may be the song you can count on hearing at most shows of Furthur or The Dead in the last half decade! "Viola Lee" melded into "High Time," where the smell of pot was so intense inside the Bill Graham Civic Auditorium that one could get a second-hand buzz just from breathing in the fumes. The slow mellow folk song had a great emotional feel that Dead fans connected with especially in the sorrowful tone in John Kadlecik's voice that was very similar to Jerry Garcia's as he sang, "You told me goodbye, how was I to know, you didn't mean goodbye, you meant please don't let me go." There was also immaculate harmonizing with Weir and Greene, who joined Kadlecik in singing lead, "We could have us a high time, living the good life. Well I know." After a "Caution Jam," Chris Robinson again took center stage playing "Hard To Handle," a song originally written by Otis Redding but covered by both The Grateful Dead back in the late 60s/early 70s seventies with Pigpen singing. It was also the first big chart topping hit for Robinson's band The Black Crowes on their 1990 debut album Shake Your Money Maker. Robinson was very vibrant and did not hold back vocally at all at this point, using all his Southern drenched vocal power to drown the crowd with his lusty howl, "Hey little thing let me light your candles, cause mama I'm sure to handle now." "Hard To Handle," ran right back into a second reprise of "Viola Lee Blues" to close out the entire extravaganza. Furthur did a second Bob Dylan cover of the night with "Like A Rolling Stone," with Bob Weir handling lead vocals with pulsing emotion as he strummed his pink Modular simultaneously. Furthur closed the second set with "Sugaree," a fan favorite that had everyone in the auditorium dancing and shaking it.
The third set opened with "Not Fade Away," while red balloons from the ceiling dropped and everybody sang Happy Birthday to a seventy-year-old Phil Lesh. Who could believe that Lesh could still be rocking the stage at such an age, especially after surviving nearly fatal liver failure. Lesh reminded fans as he always does at each concert that the boys name was Cody who saved his life by donating his liver Cody died in a motorcycle wreck, and his rare blood type that they were able to matched with Lesh's.
Bobby Weir took center stage for set three with "Playing in the Band," pointing his hand up to the ceiling after he strummed each magical chord as he sang, "Playing, playing in the band, daybreak, daybreak on the land." Everybody loved dancing and singing along to "Playing in the Band." As my friend Marty said after the show, "Playing" was the highlight of the night, man! Did you see Bobby, he was on fire man, he hit every vocal note just right. These are the best shows I've seen Bobby and Phil play together since they were The Other Ones in the late 90s!"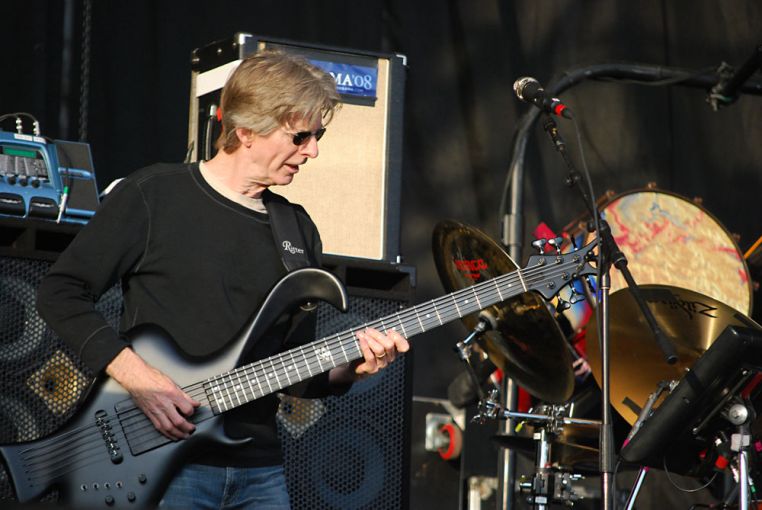 The other highlights in the third set included "St. Stephen" and "The Other One." For both songs I was practically standing on the front guardrail next to Phil Lesh. In between songs it was as if fans were having their own heart-to-heart conversations with Phil, or giving him their blessings. One short, middle-aged, Italian-looking guy, with long-stringy black hair standing next to me just shouted out, "Hey Phil!" and Phil nodded. He then burst into the first notes of "Unbroken Chain," sending the crowd into a frenzy as they had been wondering what the big Phil Lesh song of the night would be that he had written for The Grateful Dead. Some predicted "Box of Rain," but it turned out to be a long, extended jam of "Unbroken Chain," the third time I had seen the song performed in the last year and by far the best rendition of it. Lesh was so locked in with his birthday excitement and all he sang with such a deep emotional tone, "Blue light rain, well unbroken chain, looking for familiar faces starring out of any window pane. Looking for the secret, searching for the sound, but I can only hear the bailing of his hounds." Lesh's breezy bass effects, with Kadlecik playing Jerry's masterful chords on the electric guitar, made you feel like you were really out on the mountain listening to the heavy sounds of the wind, as Lesh describes in the song.
Chris Robinson took charge of the next song in a stunning Jerry tribute, belting out "Comes a Time," at top notch volume. "Comes a Time" is one of the best Jerry Garcia ballads ever written on his Reflections solo record. The lyrics are mind blowing, "Comes a time when the blind man takes your hand, says don't you see, gotta make it somehow. All the dreams you're still believing. Don't give it up, you got an empty cup only love can fill. Only love can fill." All the Dead Heads were hypnotized as if they were being transported back through time and were hearing such a mellifluously powerful voice like Jerry, that Chris Robinson possesses, except with a louder tinge of southern flavored soul added on to it. After the song I gave a shout out to Chris, and he flashed a peace sign to the crowd as he left the stage for good a bit before Furthur's third and final set ended.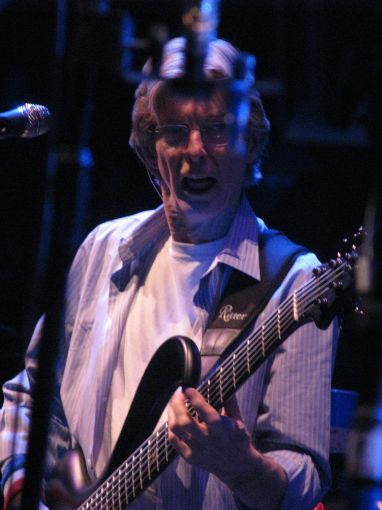 Furthur next launched into a song that pleased many long-time Dead Heads like Marty, "Cream Puff War," which originally appeared on The Grateful Dead's self titled 1967 summer of love debut The Grateful Dead. This was followed by a spectacular "Franklin's Tower," which was surprisingly just the first song they had played from Blues for Allah, as I have been used to seeing them do "Help On The Way" into "Slipknot" before going into "Franklin's Tower," on the last Fall 2009 tour. My legs were so tired from standing up near the front for three sets, but I continued to dance at a fast pace for "Franklin's Tower." Everyone in the crowd chanted in unison, "Roll away the dew, roll away the dew, roll away the dew."
Furthur left the stage for a moment then came back on at 1:55 am, and played one final cover of the night, choosing Chuck Berry's "Johnny B. Goode," which The Grateful Dead also covered on their Skull And Roses record from 1971. There was no farewell bow at this show and the band walked off stage one by one, but nobody really thought the show was over until the overhead lights turned on and it was no longer dark near the stage. Everybody was sad to go home, but happy they had seen such a brilliant show from some of the best performing musicians still alive today from San Francisco's golden psychedelic 60s rock era.