I have been going to shows regularly for over 15 years. Somewhere along the line, I came to understand that live music is my adopted religion and venues of great renown are, collectively, my house of worship. Being a Deadhead, in particular, is a sect onto itself. Until recently, I only understood this spiritual manifestation in the abstract. But as I waited for Dark Star Orchestra to take the stage, and then watched them beautifully channel The Grateful Dead circa 1985, I began to see matters in the concrete conveyance of symbolism, ritual, and spiritual uplift. That's the power of The Dead.
My friend Mike and I grabbed a front row spot when the Boulder Theater doors opened at 8 p.m. and then, as usual, socialized with other congregants before the service. Seemingly half of the gathering crowd sported tie-dye or decorative t-shirts from tours of yore; many others wore hemp necklaces with glass beads as well as patchwork skirts and pants. These sartorial choices denoted a love, if not commitment, to the music that would soon be emanating through the theater. I pondered the difference between these expressions and donning a tallit, holding rosary beads, and wearing a Star of David or Crucifix around one's neck. While there's certainly a departure in symbolic meaning, I didn't think there was much, if any, in symbolic status – each article is a means of group affiliation and devotion.
Far beyond symbolic artifacts, I enjoy the ritual of meeting attendees in my "vicinity" before the show to establish a rapport. It's important for me to know the people near whom I will be dancing. Questions often arise about hometown origins and work, but quickly shift to music. As someone on the younger side, I often ask Baby Boomer Deadheads about their salad days.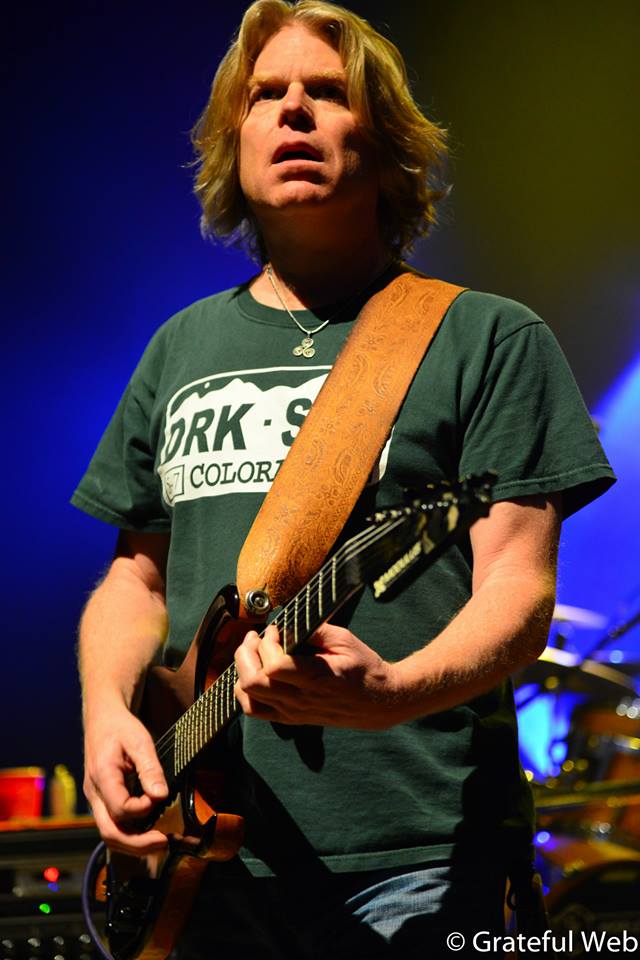 "My first show ever was Englishtown," explained a man in his early fifties, who imparted this historical note with the giddiness of a teenager.
"Wow! 9/3/77 – was it as hot as they said?" I asked.
"It was friggin' boiling! The heat was intense," he answered, in his Bronx inflection.
Like the numbers of a familiar Bible verse that needs no explanation, Deadheads can hear words like "Englishtown" and "Cornell" or numbers like "6/18/74" and "3/29/90" and immediately understand the context and content of a show – and then dive head first into a discussion about it. In fact, Saturday was the 24th anniversary of the famed Nassau show with Branford Marsalis. Five minutes later, I spoke to another Boomer who was a fellow Chicagoan – we bemoaned the paucity of quality venues in a city so big.
"The Riv, The Vic, The Aragon…all completely devoid of character compared to what we have out here," I argued.
"Park West wasn't too bad. I saw The Dead at The Uptown in '79 and '80 which was a pretty good venue. But you're right, nothing compares to Colorado," he concurred.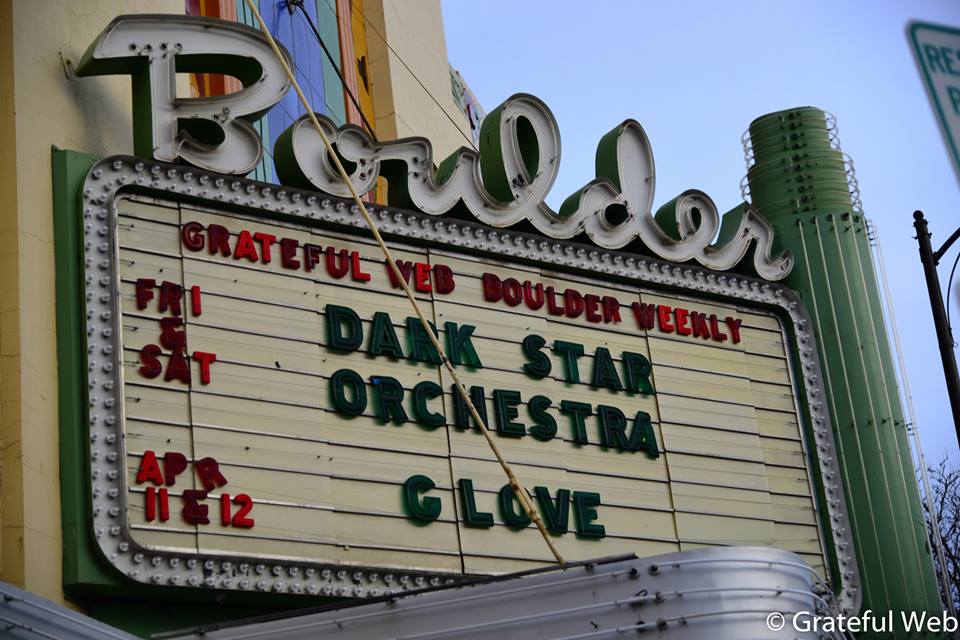 Which leads me to a matter of greater import. Of all the quality venues throughout the Front Range, I view the Boulder Theater as my primary and most vital place to worship. Everything from the laid-back staff and non-corporatist vibe to the venue's intimacy and architectural set-up forge an environment perfectly conducive for an amazing sonic Mass. I never put those pieces of the puzzle together until I was just walking around The Boulder Theater and marveling at how completely comfortable I was. I was totally relaxed – like I was home. Inspired by this novel recognition, as well as the understanding of how symbolism and ritual are embedded in Grateful Dead-themed shows, the abstract quickly gave way to the concrete.
"I can't believe this will only be my second show of the year," I told Mike. "I really needed this. It's been too long."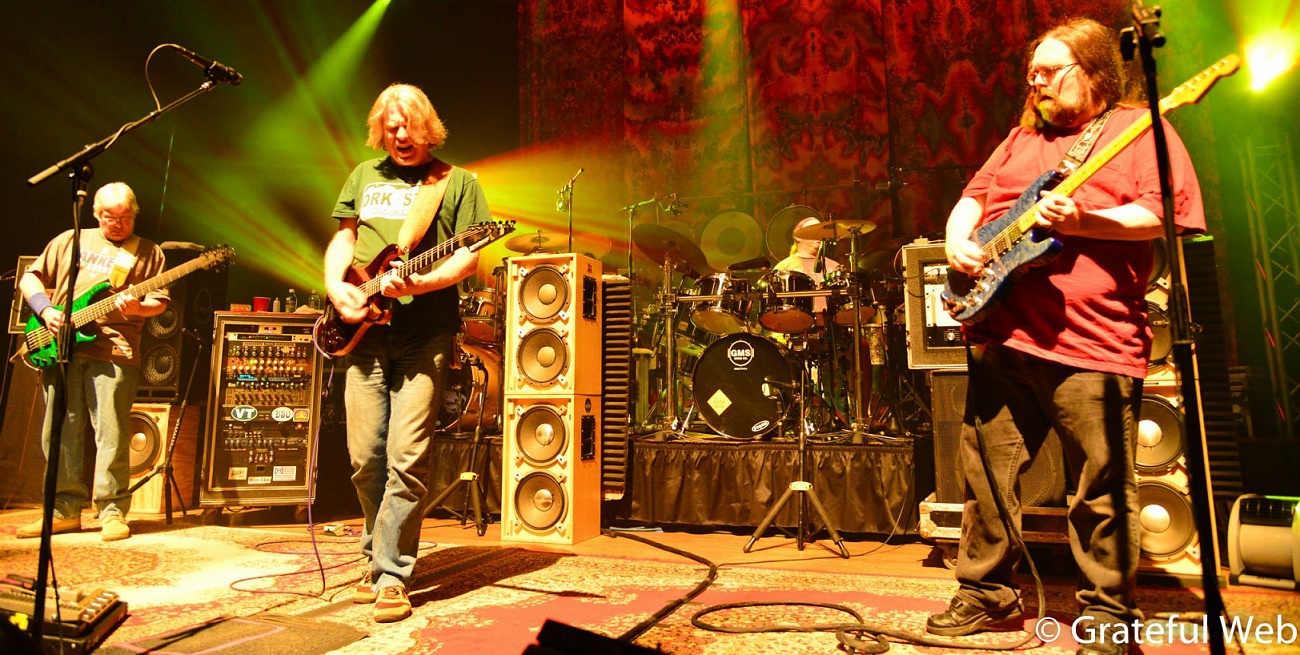 He understood. Between time constraints from work and the fear, grief, and melancholy I have endured watching my father get very ill, I hadn't found the physical time or emotional energy to see my usual two or three shows each month. I desperately needed to be invigorated and revitalized and the coalescence of my favorite music and venue provided that opportunity. Religious adherents attend their house of worship for two main reasons: to convene with their community and commune with (feel closer to) their god. I went to the Boulder Theater to do roughly the same. I danced the night away with friends, strangers, and a woman who oddly fit neither category. And through the transcendental nature of Grateful Dead music channeled by six extraordinary musicians, I felt closer to my higher power. By the end of the show, I was spiritually cleansed and uplifted in the same way that (I imagine) religious congregants feel when leaving their temple after a momentous service.
Last October at The Fox, DSO chose a couplet of shows from The Dead's Fall '78 Winterland run and, likewise, the band played another back-to-backer on Friday and Saturday. This time, The Dead's first two tour dates from Summer '85 at The Greek Theatre in Berkeley were selected. I'm an unapologetic devotee of '70s Dead, so while I remained excited, I felt an involuntary pang of unease when I first saw the band's stage arrangement. But any inquietude was swiftly quashed with the two opening songs.
DSO commenced the festivities with Touch of Grey. By June '85, the song was almost three years old, but still a year and a half away from commercially spawning a new wave of Deadheads (and plenty of poseurs) who flooded stadium and amphitheater parking lots. DSO harnessed all the energy from the verses and released it during Jeff Mattson's solo. The crowd was immediately enthralled and dancing with an exhilaration not often seen right off the bat.
The sextet parlayed the kinetic energy from Touch of Grey into the highlight of the first set: New Minglewood Blues. As much as I love the '70s, The Dead improved on Minglewood in the '80s (the metamorphosis actually began in '78). Billy and Mickey slowed the tempo down just a little bit while carving out a thicker groove with heavy-footed kick drumming and more robust use of floor toms. Rob Eaton belted out the vocals with as much ardor as Bobby ever did, but what set this piece apart was the interplay between the two guitarists. Eaton turned 90 degrees to his left to face Mattson while he soloed. The rhythm guitarist made his chords sound like coiled springs that were shot off one after the other, complimenting Mattson's artful neckwork and eventual tremolo that brought the house down.
Following a big one-two punch to open the show, Friend of the Devil gave the crowd a breather with its slow, plodding verses. I was never a fan of the post-hiatus change that essentially doubled the length of the song while halving its tempo. DSO did its best to augment the emotion behind the piece, but to little success. However it's important to point out that – like verses in the Bible – different people listening to the same song may interpret its value with immense variation. I'm sure the couples happily slow dancing together in my vicinity would care to differ from my assessment.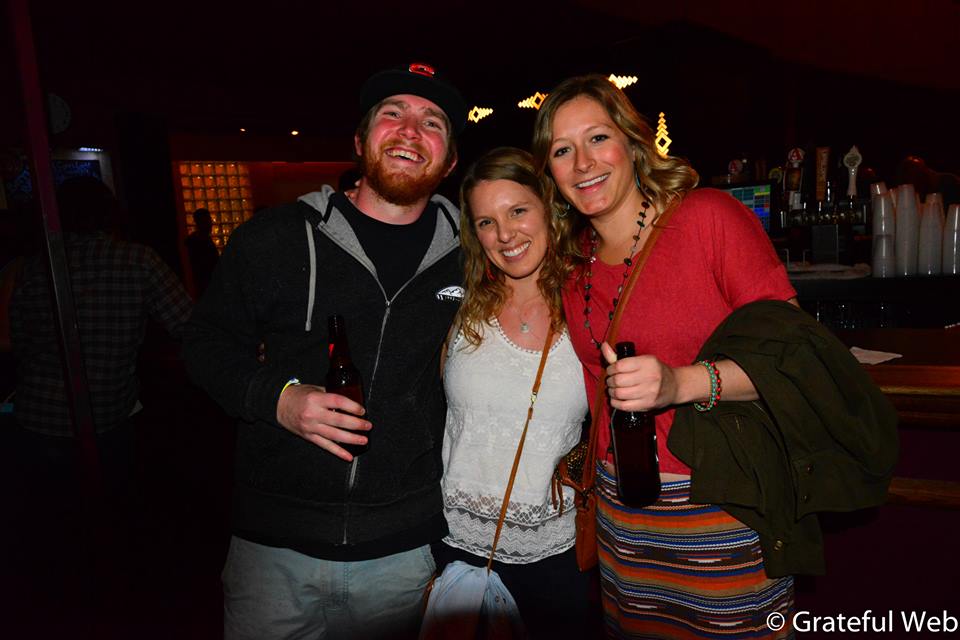 A solid Cassidy and mellow Dupree's Diamond Blues ate up the middle of the set and gave way to a fantastic triptych to cap it off. Me and My Uncle, the most commonly played song in The Dead's 30-year history, seemed a little more ornamented than the standard version. Whether at a Furthur, Phil and Friends, Shakedown St., or DSO show, Coloradans have ritualized a loud cheer when the compunctionless narrator/vocalist sings "And I'm as honest as a Denver man can be." But the cheer of local acknowledgment is nothing like the roar set off by another famous cover that DSO performed near the beginning of the second set.
Me and My Uncle segued into a happy-feet hoedown on the floor with a cover of Johnny Cash's phantom quest down The Mississippi: Big River. Keyboardist Rob Barraco made this into another peak of the first set with his Boogie-woogie hybrid solo in between the Memphis and New Orleans verses. I'm sure I've mentioned this before, but it's worth stating again. Watching Barraco's countenance (while he plays), ripe with jubilance and serenity, automatically injects me with a more palpable sense of joy – not to mention gratitude for what I'm witnessing. Mattson punctuated the song with another buoyant solo and then segued into the set closer, Might As Well.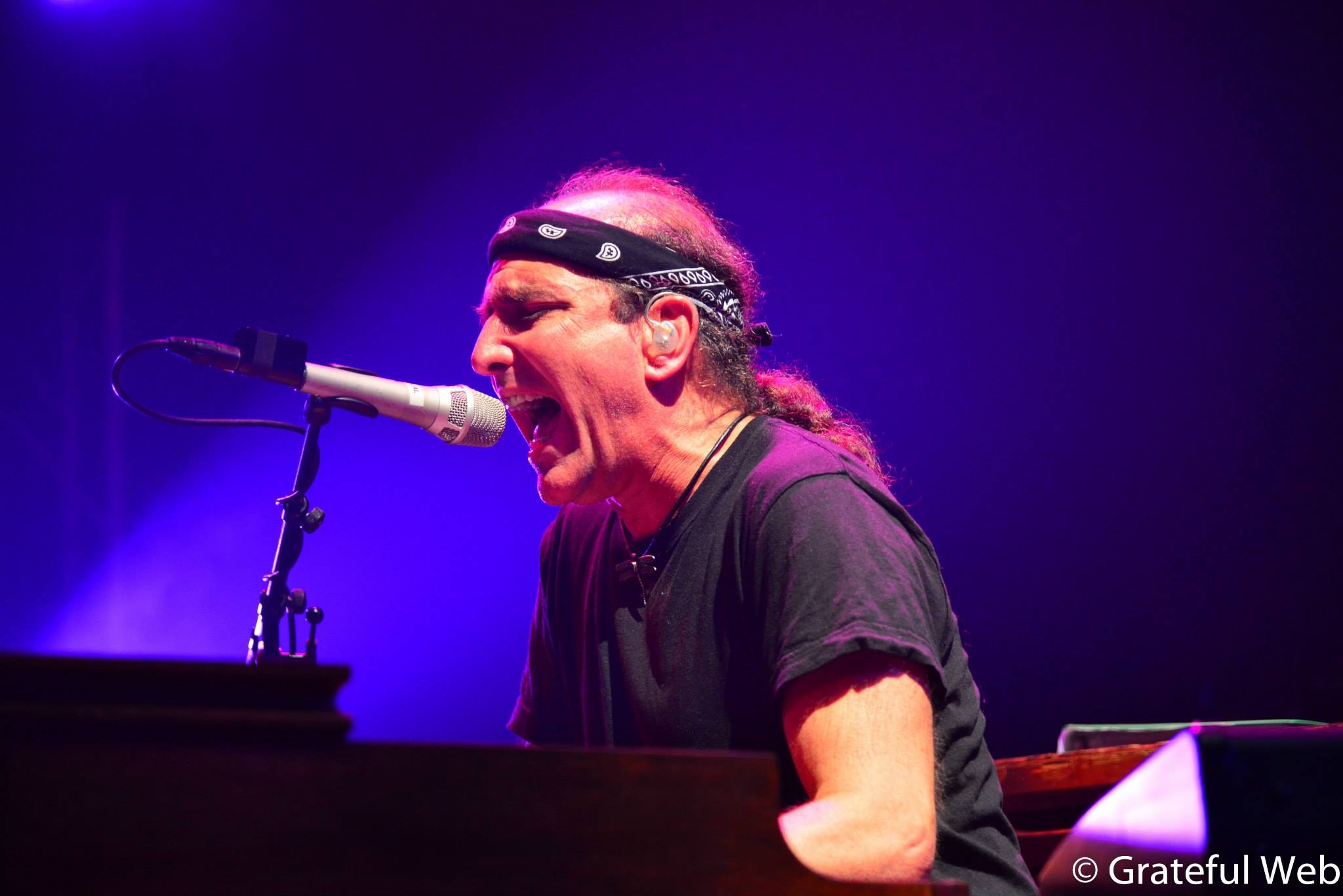 While the narrator heads from Minnesota all the way down to the Gulf of Mexico in Big River, Might As Well celebrates the "coast to coast" Canadian party train taken by The Dead, Janis Joplin, and others in the summer of 1970. It was the band's homage to YOLO decades before the idea turned into a widely known acronym. Mattson initiated each of the repetitious refrains' calls with "Might as well, might as well" and the congregants, along with Eaton and Barraco, belted the response, "Might as well, might as well!" The beginning of the final verse has always resonated with me:
"Never had such a good time 

in my life before

I'd like to have it one time more 

One good ride from start to end

I'd like to take that ride again"
In response to that metaphor, when I echoed the words, "Might as well, might as well", it was my way of ratifying that verse with a thunderous "Amen!" As DSO and the 1,000+ capacity-crowd put an exclamation point on the first set, I realized that all of the enervation and emotional cloudiness I have felt, especially this past month, had evaporated. I felt light, clear-headed, and sated with spiritual calm. The music has always brimmed with an ineffable, but very real, sublimity. Its transcendental nature – the level of pulchritude and electricity that mix and swell and permeate its recipients – make me feel like a supernatural force has been facilitating this communion all along. That might be too abstract a statement, but certain matters are sometimes beyond the means of concretization or description.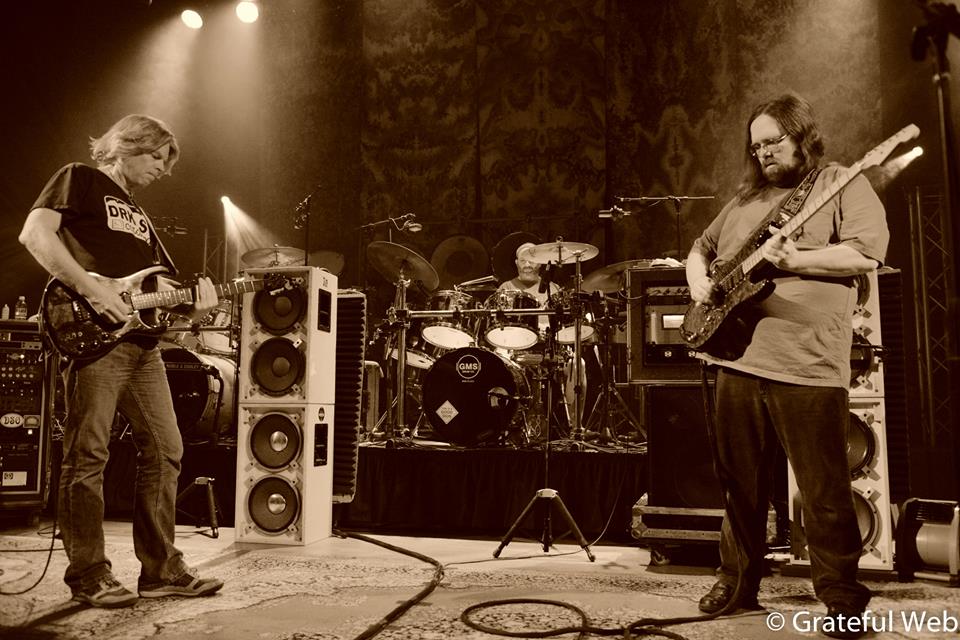 After the setbreak, DSO came out with the same ambition and energy that kicked off the show with a soul-quenching China Cat Sunflower > I Know You Rider. I listened to the actual soundboard of the famous couplet from June 15, 1985. The original failed to match up in both scope and depth. The extra two minutes on DSO's version where a trifle when put in context of execution. The Dead's version sounded very poppy and was hampered by Brent's famous/infamous "toy piano" keyboard timbre. While there were certainly points of comparison, DSO's version was more robust in most places, including the segue jam which was, in a word, intense. And of course, as I alluded to earlier, the entire theater erupted after the verse:
"I wish I was a headlight
on a northbound train.
I'd shine my light through the
cool Colorado rain."
Bassist Skip Vangelas dropped some serious bombs throughout Rider, injecting it with even more adrenaline.
At this point, though it may seem odd, I am going to fast forward to the end of the second set. In a bizarre but also amazing coincidence, I ran into an old ex-girlfriend just a little bit into the second set. Since we hadn't seen each other for a couple of years, we went out into the lobby to talk during Lost Sailor > Saint of Circumstance (both of which we do not care for) and then I put my pen and paper away while we slow-danced during Terrapin Station. One thing led to another and we spent the rest of the second set dancing together like we never broke up. And of course, what would a night like that be without a second set closing Not Fade Away?
Drummers Dino English and Rob Koritz spearheaded a perfect song to finish off the set, thunder and lightning setting ablaze the transcendental flame that burned so brightly throughout most of the show. As they hammered away on their toms and Eaton and Mattson proclaimed, "Our love is real, not fade away!" Laurel and I looked at each other quizzically and then, simultaneously burst out laughing. We hugged, holding the embrace probably far too long, and then danced with mile-wide smiles as Mattson shredded up a storm.
And that's when it came full circle for me. I thought of Clarence, the barber from one of my favorite comedies of all time: Coming to America.
Akeem: "Sir, where can one go to find nice women here?"
Clarence (after a little patter): "You gotta go to a nice place, a quiet place like a library, there's good women there and 'erm, church, they're good girls."
Well, it wasn't exactly quiet tonight, but I'll be damned if Clarence wasn't dead on in his declaration.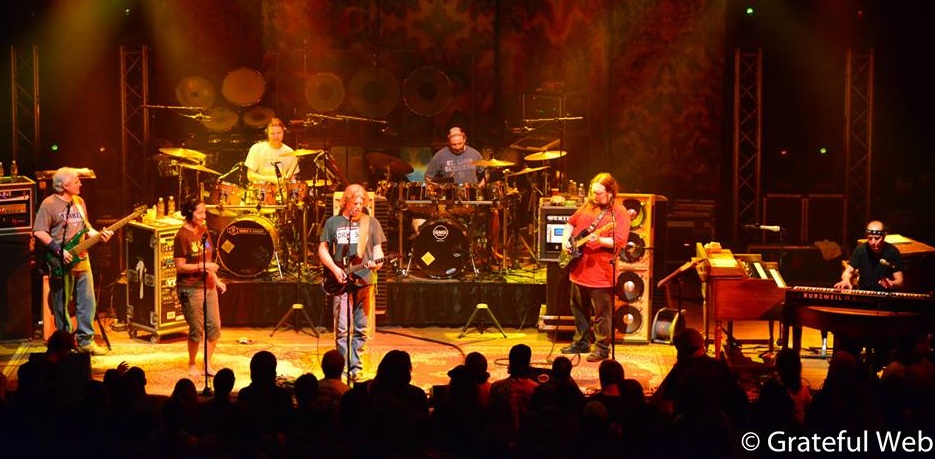 Check out more photos from the show, including a lot of fan shots.