The Motet had a banner 2013. Among the highlights, the Afro-funk superstars headlined The Fillmore Auditorium for the first time ever and nearly sold out the 3,900-capacity venue. More importantly, the band's leader and drummer, Dave Watts, dubbed the 4/20 show "The biggest and most badass show in Motet history!" After laying down some fire-breathing summer performances at venues like Mishawaka and The Brooklyn Bowl, it launched another series of historic Halloween performances. The costume this time wasn't a band, but a year. From Paul Simon to Stevie Wonder, The Motet lit up The Boulder Theater, Ogden, and other Front Range mainstays for a sublime five-day Mixtape 1980 run.
Harnessing all the momentum it built last year, the funkiest septet in the land will be kicking off 2014 in style. It just finished production on a new eponymous album and will be celebrating its release at The Fillmore on January 25. Last week I sat down with six of the seven band members after one of their practice sessions in Lafayette. We talked about the new album, the upcoming party in Denver (you will definitely want to check out the "guest list"), and how the band seems to always fire on all cylinders.
Sitting in a slightly amoebic oval are Watts, guitarist Ryan Jalbert, bassist Garrett Sayers, keyboardist Joey Porter, trumpeter Gabe Mervine, and tenor saxophonist Matt Pitts. Lead vocalist and percussionist Jans Ingber is at home in Portland.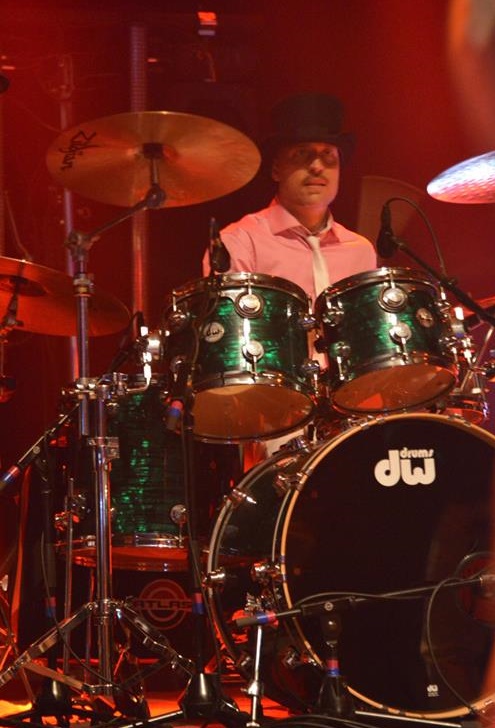 GW: A lot of the material has been road-tested. I remember the 4/20/13 show and at least six of the nine pieces found their way onto the new album. A lot of the best live bands with loyal followings, like The Grateful Dead, aren't able to replicate the energy in the studio of a song they play live. But you did so and then some. How?
Dave: This is different than a lot of albums we've done as far the material we play live. We were really homing in on these tunes for the studio first. So we brought all this material to our live show, but it all formulated out of the idea of making a record. So our studio arrangements and the vibe we're going for works better on a record for these just for that reason alone – these were crafted as songs and then we manipulated them for the live show after the fact.
GW: This is the first studio album you've ever produced with all original work. How and why did the band decide to do it?
Gabe: When we were talking about making this album I even brought up doing just one cover tune in there, and there was a pretty active consensus that was like – "We're ready to do an album of all originals." Doing the Halloween shows every year a lot of people had known and recognized The Motet, myself included before I played with the band…I had gone to hear their Halloween shows because it was such a cool tribute night. We do a lot of homework and put a lot of effort into those shows, and people know that. So this was an opportunity to branch away from that and create some really original and authentic Motet music, kind of like a new sound that wasn't in the same vein as the cover.
GW: Most albums will individualize tracks and explicitly say, "Written by Lennon/McCartney" instead of The Beatles. The acknowledgments for this album simply say "All tracks written and produced by the Motet". Do you normally do that? How does that process work? 
Dave: No – we don't normally do that. (But this time) We've all put our two cents into each individual part. The horn players have written the horn lines, and there's been some back and forth and some guys have written different parts for different instruments. And some of the songs' genesis started from certain people, but there has been so much of a group effort towards making the song complete, with everyone contributing their creative input, that it seemed more appropriate, as far as the album goes,…to say "Written, arranged, and produced by the Motet." Cause it really has been more of that with this record than any other record we've done. And that's really the most unique thing about this album – the amount of time we all, as a band, put into it and it's kind of an expression of the fact that this is more of a band than it ever has been.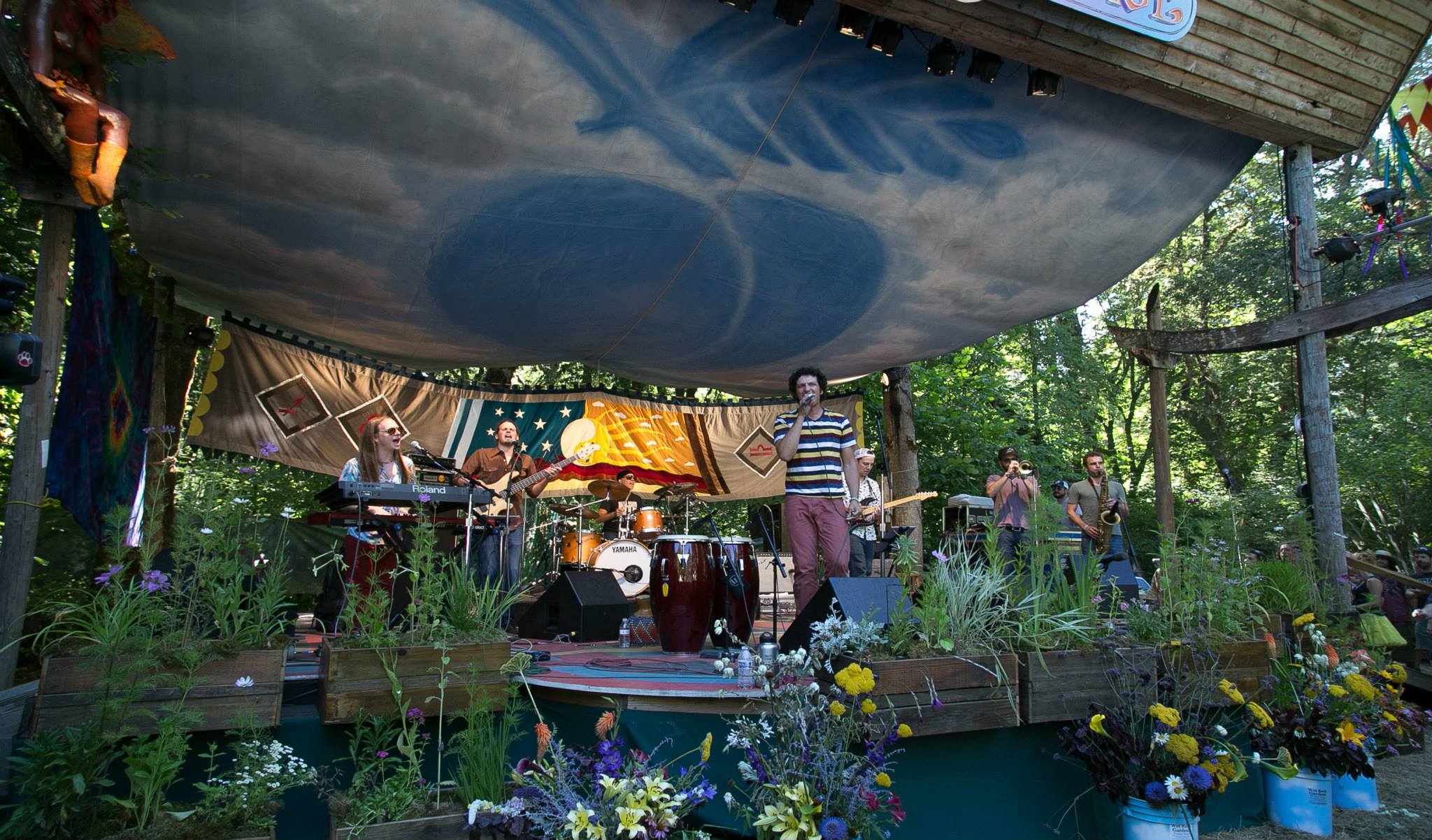 Ryan: So about a year and a half ago we all got together in Dave's studio, and some of us brought little ideas, like skeletons of tunes (such as) chord progressions, basslines. We played them and tried to, on the spot, write different parts and try different things. And we recorded it, did some different takes, went back and listened to it, see what worked, what didn't work, wrote other parts to layer on top of that or change, and then we'd come back and play more, see what worked, listened back to it. So it was a really organic process – definitely a group collab.
GW: Were there any musicians who from the extended family who contributed to the album or was this strictly a "nuclear" album? (The core is the six of them, plus Jans)
Dave: Jans found two gals from Portland (Leisa Hart and Ericka Warren) who were great and (baritone saxophonist) Serafin Sanchez guests on the album. We have a total of four singers on the album.
GW: During the piece Rich in People, I could have sworn I heard kids singing backup.
Dave: Those were Jans's three kids, who are 10, 8, and 4 and his wife. We call them The Singbers [a play on Jans's patronymic].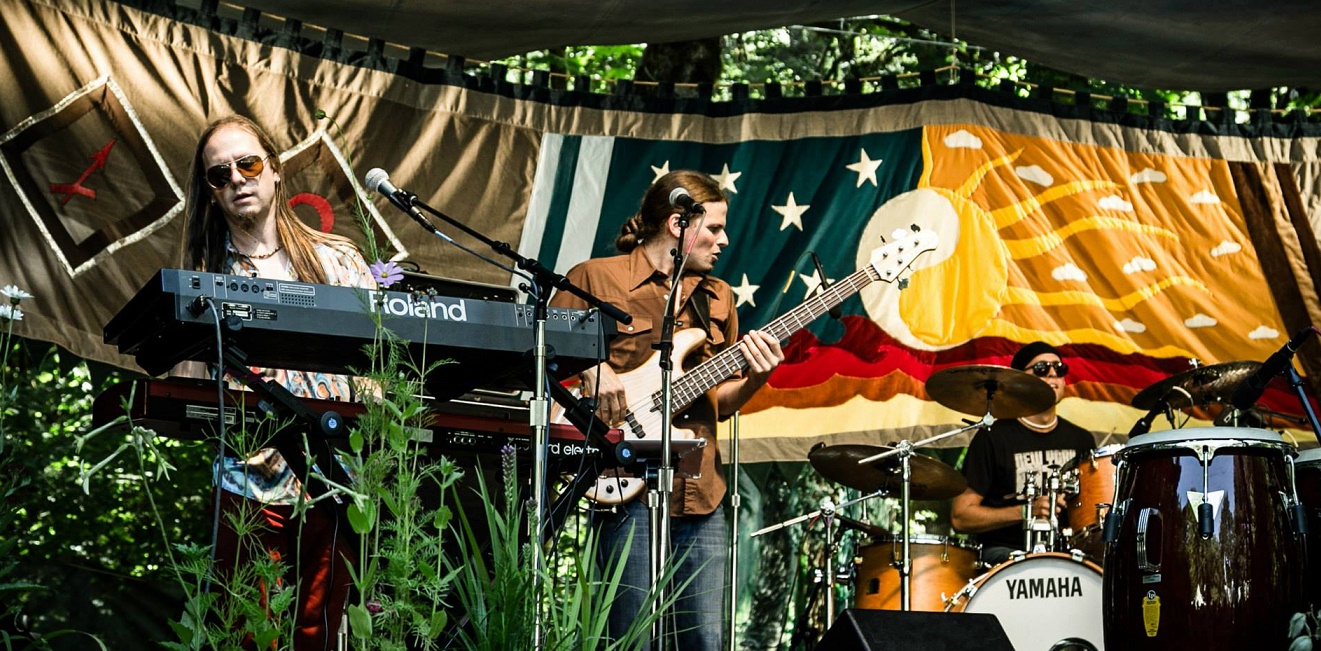 GW: The album release party at The Fillmore will feature Snarky Puppy, Orgone, DJ Mikey Thunder. That's quite a lineup for the festivities. How did you decide on these openers?
Garrett: We had a list of bands that are basically our favorite bands on the scene. Ones whose music we thought would compliment our own. Not everyone was available for the show, but when we finalized this lineup, we were really psyched. There's probably not many other bands we'd want on it. Snarky Puppy's one of our favorites. We're excited to put them in front of our fans because they blow minds when you see them live [nods of assent/approval from the other five members after this statement]. And Orgone is just awesome funk. We really dig those guys. And Mikey Thunder has always been our favorite music to get down to before we get on stage.
GW: Should we be looking forward to any on-stage collaboration with members of Snarky Puppy, Orgone, or other guest musicians?
Dave: We haven't worked out all the details yet. We have our friends Jen Hartswick and Natalie Cressman, who both play with Trey Anastasio Band. They're going to come in a couple days early [to practice] and do a bunch of songs with us for the show.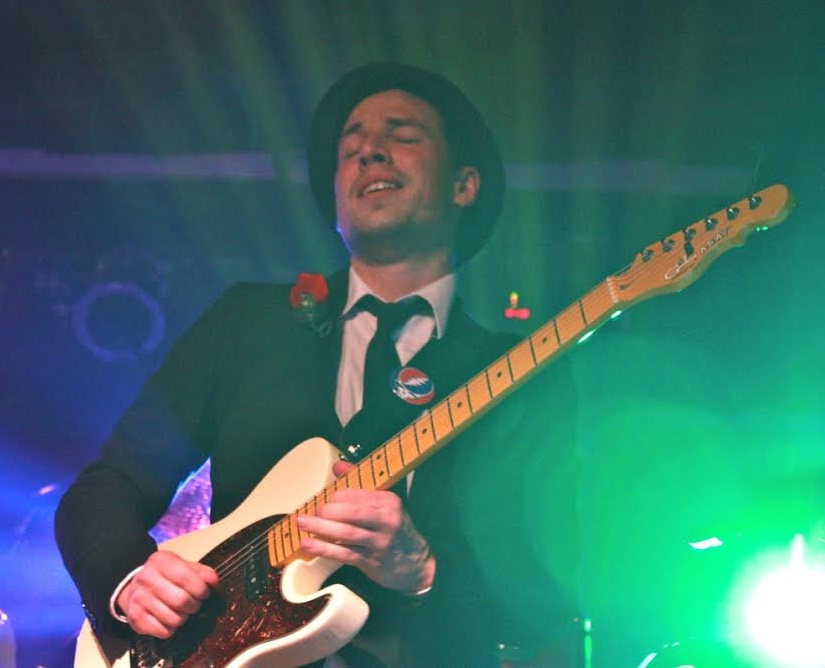 Ryan: And Jason Hann (String Cheese Incident, EOTO) on percussion.
GW: I have seen bands that, after a while, forgo practice and it sometimes really shows on stage. For a big event like this, you obviously practice and prepare. Given your other commitments (side projects, other bands, family, etc…) how do you find the time to practice?
Joey: If you play a lot of gigs you don't have to "practice" necessarily. You just gotta stay in shape by playing. You know we'd all get better if we actually practiced [a couple of chuckles from bandmates] but because of what you said, we can't practice [all the time]. Practicing for me is learning the new tune for the gig.
Gabe: We've worked out pretty decent forms of communication, whether it's via email or text…there's a way we go about playing our tunes that we all understand now. Dave might send out a roadmap or form to a tune, and we all know what we have to do on our end. So when we do rehearse, we show up, and we know it. Or we show up for a gig and we run it at soundcheck. Everyone knows what's expected of them when they get to the gig or rehearsal, so the time we have is managed more wisely – as opposed to learning it with each other.
Dave: Like for Halloween we had probably 30 songs, including all the medleys, and we had to get together, and we only had two rehearsals for it. So it was a lot of homework, figuring out arrangements, getting parts together, and getting all that stuff clear. So when we show up at rehearsal, we're not trying to figure it all out.
GW: Dave, you stated that the 4/20 show last year at The Fillmore was the best in The Motet's history. On January 25, the band will, again, host nearly 4,000 people at the Denver institution. What do you think has happened, in the past year or two, to allow the band to make the jump from a Cervantes to a venue that holds almost four times the capacity crowd?
Dave: [With an intonation of the answer being almost too obvious to say] By living in Colorado. It's a super-supportive scene for us. We purposely live here because the scene is so great. And we've been lucky to be able to grow it like we have. We can't necessarily just take that for granted. How do you do it? You just keep pushing the envelope every time you do a show – you try to make it better and more exciting for your audience. And we're lucky to have so many promoters in the area that support us and give us a chance to up the ante.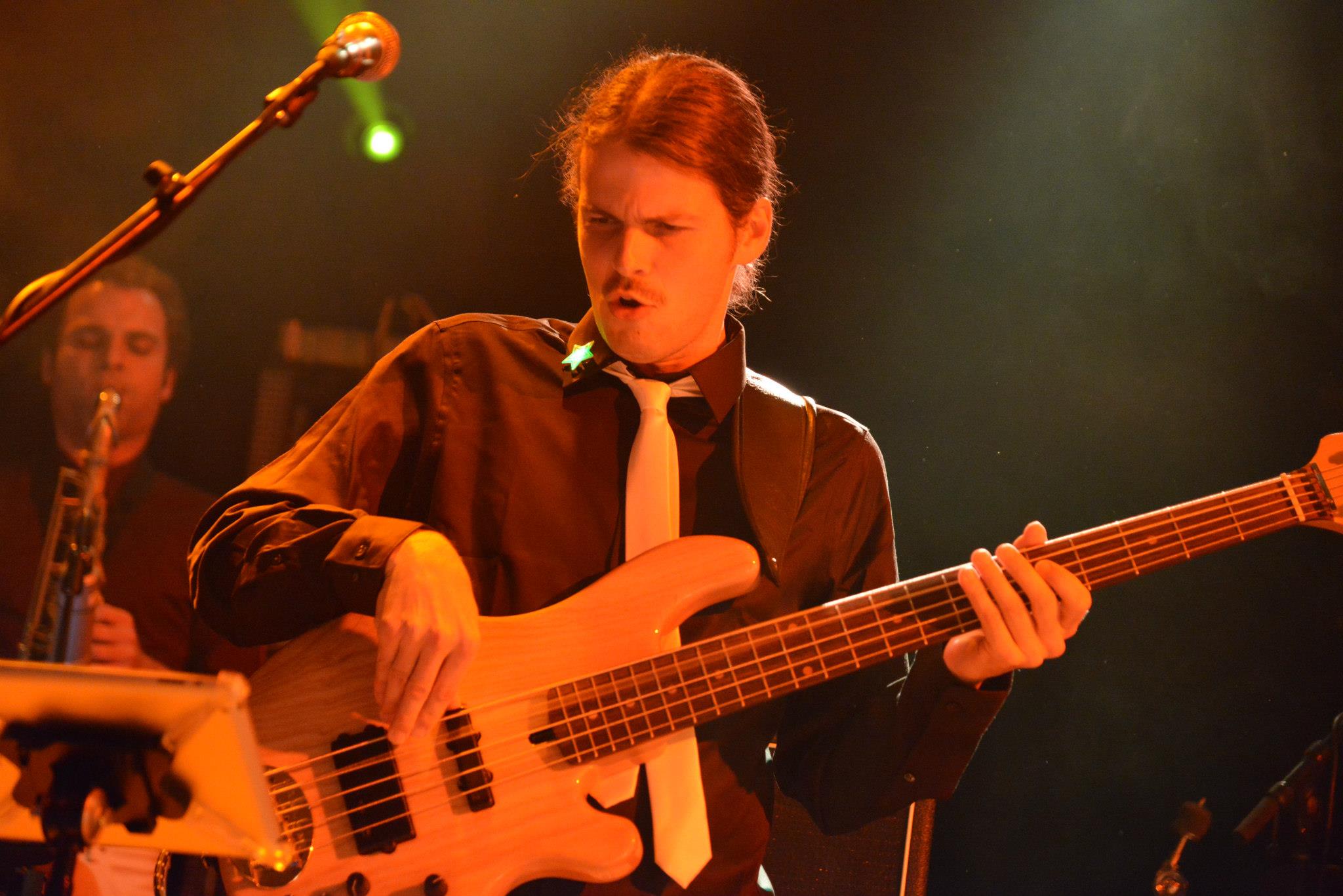 Garrett: The secret, though, is the Colorado music fans. We really appreciate what they do for us – they're really what it's all about.
GW: You have played a number of Halloween costumes since your incipience – stretching all the way back to Herbie Hancock in 2001. Pretty much all of them relate to funk, fusion, or soul music except the 2011 Grateful Dead costume. I'm curious, how did the decision come about to do this after all the other funk and soul bands?
Ryan: I think we wanted to do The Grateful Dead, but we wanted to make it like the other ones. We were brainstorming, and we liked the songs and knew they would pop off, but we would ask ourselves, "How would we make this one like an Earth, Wind, and Fire tune, or a Michael Jackson tune?" So we did actually try to model it off of all this other funk and soul music. We played some of The Grateful Dead tunes closer to the original style, but a lot of them we just completely rearranged – added horns, different chord changes. Some of the stuff is unrecognizable.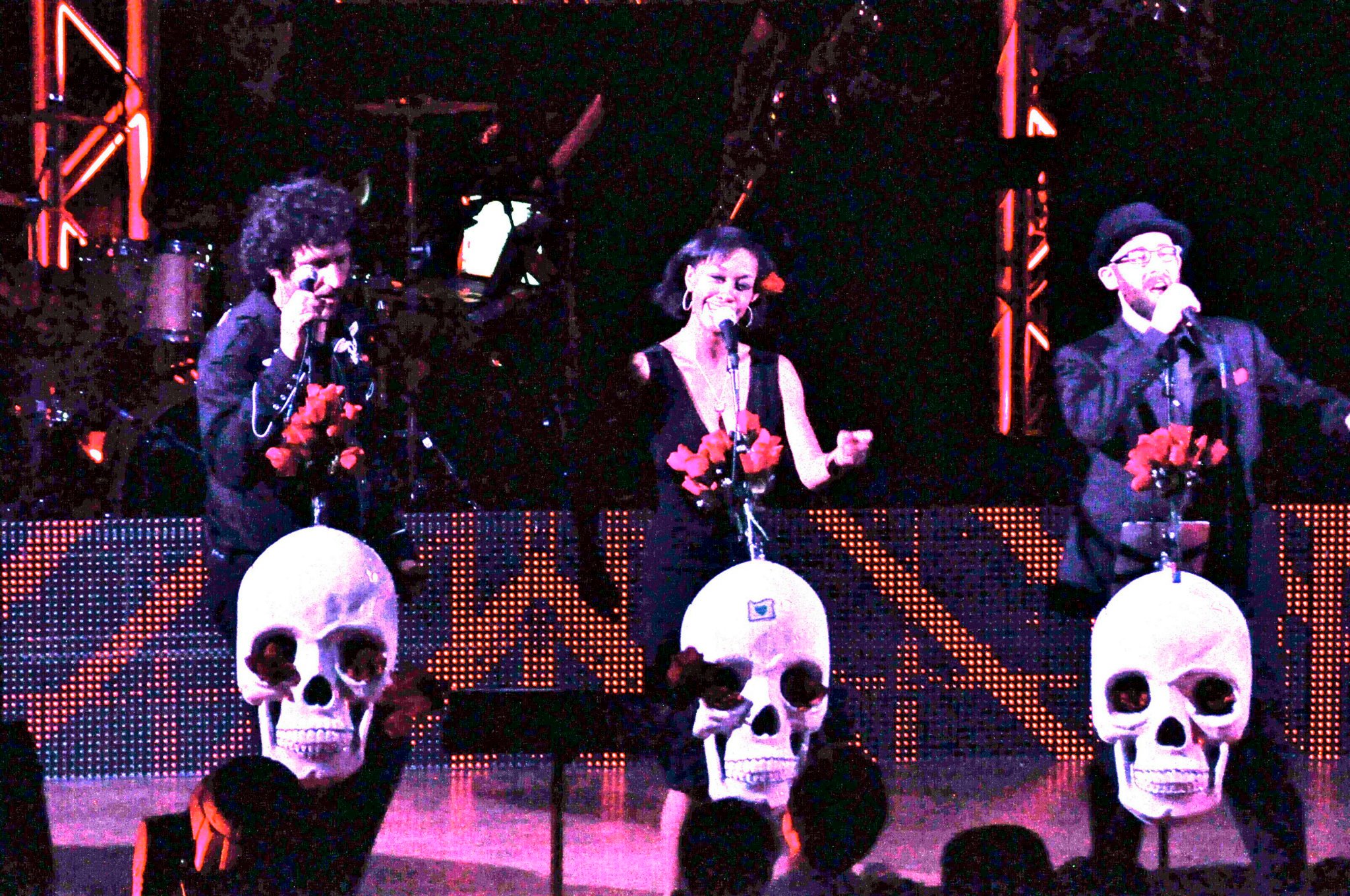 GW: Like many bands that endure over a decade, The Motet has gone through many permutations, personnel-wise. I haven't seen any turnover since I first caught you guys on Halloween 2011. Do you feel that this is a core that will last a while?
Matt: I joined the band about four years ago.
Dave: When Jans decided that he could commit fully to the group, that's when the seven of us have been the core members. And that was probably two and a half years ago. Once we started getting Jans and all the gigs it was like, "Okay, this is the sound we're going for." Before, we'd do some shows that were all-instrumental, or we'd get Kim (Dawson) to come sing, and she'd sing like three songs a set. But now that Jans is in the band, he's going to play percussion, sing, and this is our sound. We can do any show with this lineup and, then, for other shows, we might add more people. But there's no plan on doing it without any one of us seven.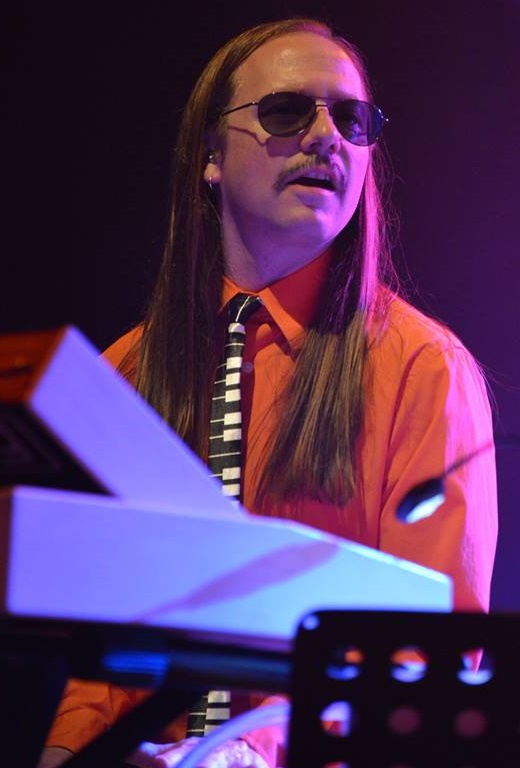 GW: A lot of shows often have lulls in them that can suck the air out of the room. My assumption is the band members need to slow down to catch their breath or they feel the set should have a change of pace. How is the Motet able to keep the energy going for a three-hour show? Is it a matter of stamina or is it something else entirely?
Dave: It's because we have great bass solos [band laughing].
Joey: We definitely don't play a lot of slow songs and we don't do a lot of space, experimental stuff. When we get psychedelic even, there's usually a pretty funky drumbeat or bassline going on. We don't have a lot of ballads or anything like that. I think that's what it is. We keep it funky pretty much all the time or play upbeat Afrobeat stuff.
Garrett: We like the funky tempos.
Joey: We don't even like to stop in between songs – often we'll just go from one song right to the next one. We don't want the energy to dip at all.
Gabe: There's an artistry in making a set. Regardless of the genre. Playing a show is playing a show. Even if you have great tunes (the key is) sometimes knowing where to put what so there's a direction to go. Sometimes we purposely start with something that's a little bit more chill because there's an intent, a direction – we're heading somewhere, and I feel like that's been a cool thing about having a set group, working with the same guys every time. We learn each other's playing more and more. We learn how to pace our own musical ideas that we'll use through a set because we know what's going to happen around us and there's a comfort there.
Ryan: It's become essentially a trademark of The Motet that we're going to pretty much bring it the entire time
Check out the new album review here.