Last year during Widespread Panic's annual June pilgrimage to Red Rocks, I bore witness to a natural phenomenon so sublime, it will be emblazoned in my memory until my dying breath. An awe-inspiring lightning shower accompanied nearly the entirety of Saturday's second set. At times, the "natural" light show seemed like it was timed in unison with John Bell's vocals and Jimmy Herring's guitar solos (especially during Mercy). Fast-forward 364 days to last Friday, the first show in Panic's 2014 three-day run. As the sold-out crowd quickly began filling up the stands and the slow drizzle of rain crept to a halt, another object of opulence appeared on the horizon. A double rainbow arced from downtown Denver southward for many dozens of miles. It was faint, but captivating. However, that was just the warm-up – Mother Nature's batting practice, if you will.
I found a great area to settle in for the evening – it was almost exactly halfway up the stands in Row 32, about 20 feet right of center. The band took the stage a little after 7:30 and wasted no time in setting Red Rocks ablaze. Imitation Leather Shoes and B of D both foreshadowed a night of balls-to-the-wall, full-throttle rock 'n' roll. There were very few detours from the night's ethos and, much like the entire 2013 Red Rocks run, Jimmy Herring stood front and center as the protagonist, pushing the envelope through both sets and the Talking Heads triptych encore.
The band decided to slow things down for the third piece of the first set, Tortured Artist, and that's when Mother Nature stepped up to the plate for real. As Bell sang "one day you were both there waitin' out the rain", I looked up into the sky and saw a new rainbow that formed from the mist of the past half hour. Stretching from behind Ship Rock (to the south) all the way to the horizon behind the middle of the stage, this celestial crescent was far more vibrant and robust in color, not to mention saliently closer, than the pre-show double-bow. Before I knew it, everyone had their cellphones out and began taking video and photos of this luminous arch that looked and felt so close that you might be able to stand on your toes and touch it. Herring exploited the mid-tempo cadence of Tortured Artist to belt out a pair of compact solos as majestic and multi-chromatic as the firmament above him: another perfect amalgamation of music and natural beauty at Red Rocks.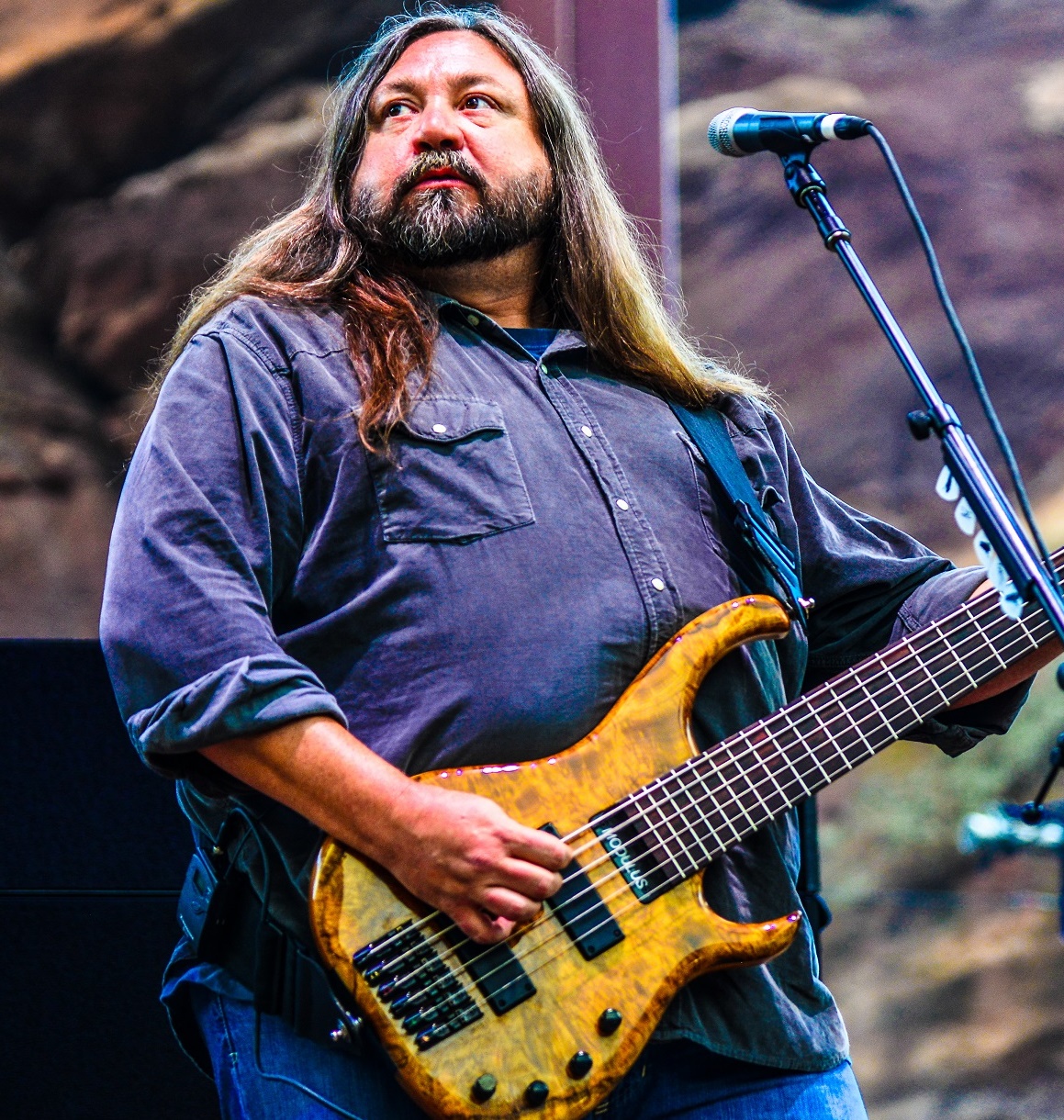 The band decided to mark the middle of the set with back-to-back Van Morrison covers. Send Your Mind was an up-tempo dance party engineered by Dave Schools's lightning quick bass runs and Todd Nance's floor-tom work that pushed the rhythm and made for many happy feet in the stands. However, And It Stoned Me imbued the middle of the set with true dynamism, not to mention nostalgic joy. When Bell, in his immutable platinum-coated gravel-tinged voice, delivered the opening bars to this classic Moondance opener, a large roar erupted from the crowd. Almost everyone in my vicinity joined him in the chorus, "And it stoned me to my soul / stoned me just like Jelly Roll…" JoJo Hermann was vital in making this piece aurally animated with his deft keyboard work, furnishing the spaces around Herring's guitar with organically simple fills and note groupings. He then switched to his Hammond for a mellow and perfectly phrased song-ending solo.
Happy segued into Sell, Sell and, again, Herring made the extraordinarily difficult sound easy and oh-so-beautiful. With a generous helping of his whammy bar during Sell, Sell, he sounded like an old-school guitar god. In fact, all throughout the show I kept having these flashbacks to the first time I saw Herring in November '01 with Phil and Friends. I knew next-to-nothing about him at the time, but I clearly remember feeling these jolts of euphoria cascade down my body whenever he took lead duties (he and Warren Haynes alternated). Same feeling, more than 12 years later.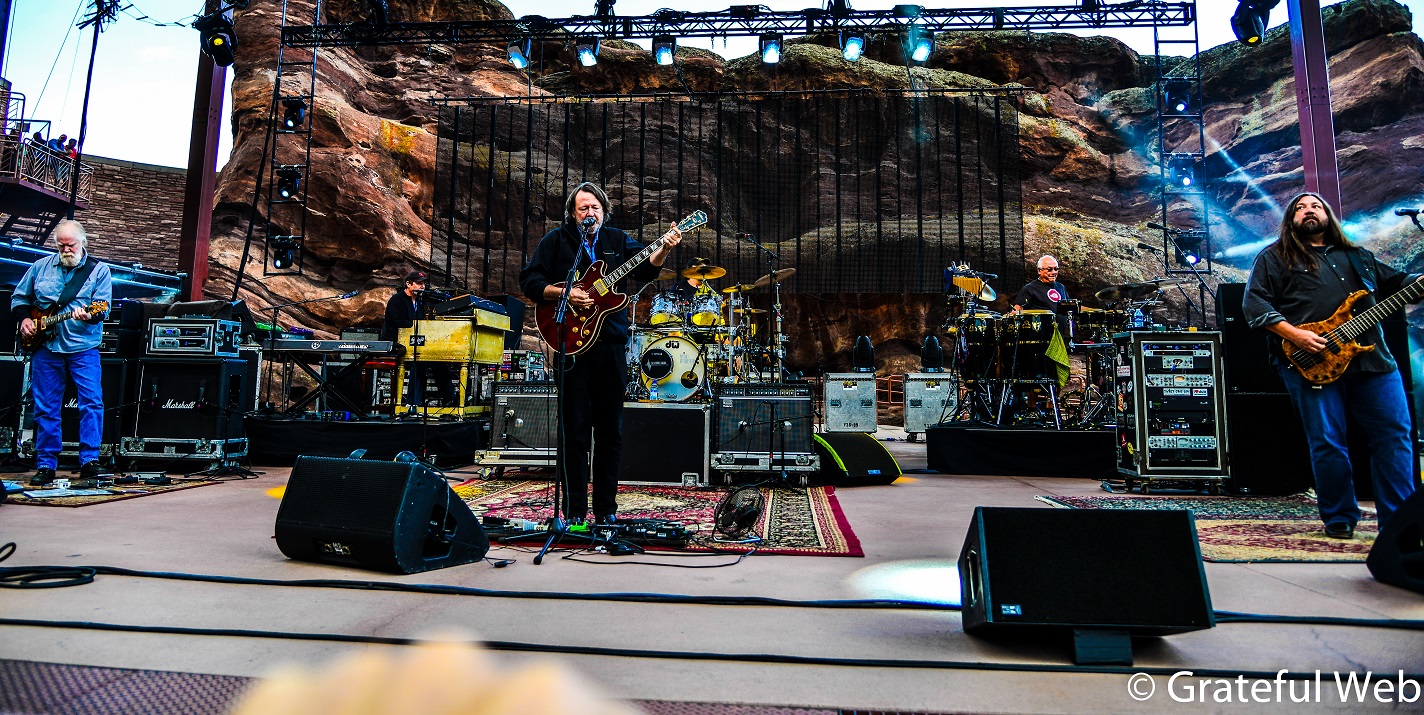 Postcard featured the type of thick, thundering, and visceral bass from Schools that took my chin in its talons and dragged me closer to the stage. But the definitive highlight of the first set was its closer – Conrad. The entire band fired as one molten unit, from Sunny Ortiz's hypnotic conga work to Hermann's nuanced use of Hammond reverb. And of course Herring soared on top of the pulsing rhythms, ripping it up one more time before the break.
The first set was rather truncated, clocking in at just 55 minutes. The band, in their infinite humor, might have indirectly addressed why this was the case. It was raining, on and off, before the show and well through the scheduled start time. Four of the seven songs that contained lyrics alluded to precipitation in some form. But to be clear: what they lost in time, they surely made up for with intensity.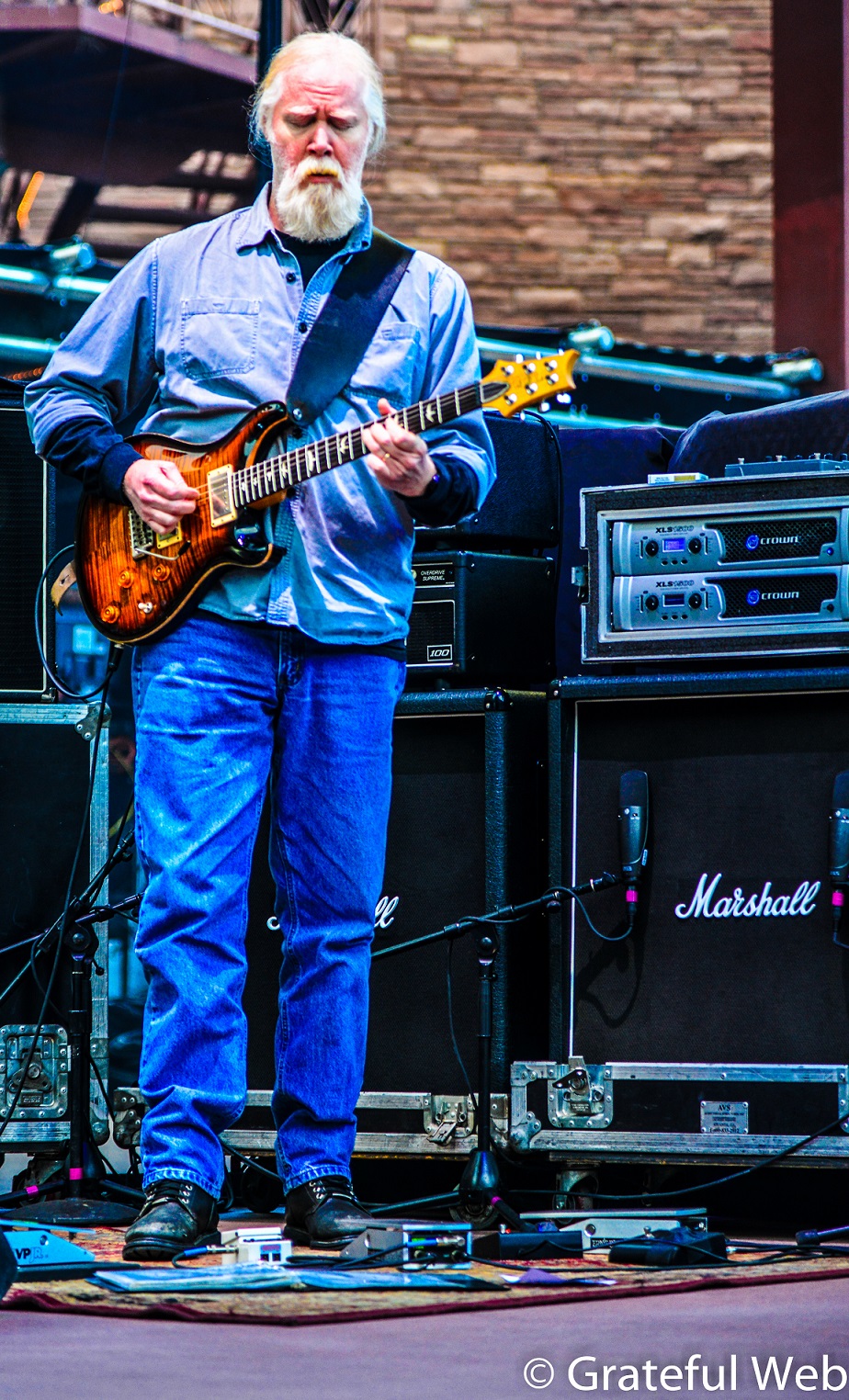 The entire second set was played under ideal conditions, with 70-degree breezes in abundance and the rain nowhere to be seen. Panic came out after a 40-minute break and fired a brilliant Second Skin > Rebirtha > Sleeping Man opening salvo that stretched over half an hour. And I want to take a moment, before delving into this set, to mention something that occurred to me after the crowd's eruption following the aforementioned sequence.
This band, which has been touring for nearly 30 years, is such a well-oiled machine that sometimes it's almost easy to take its musical prowess and hard work for granted. I have seen them perform a couple dozen times in big cities like Atlanta and Chicago, smaller ones like Louisville and Albuquerque, and at festivals in the middle of nowhere. And no matter where this sextet sets up shop, it brings the heat every friggin' night. I have seen Phish embarrass themselves a few times, String Cheese look lost at some gigs, and even Moe., a band famous for its intensity, shit the bed. But I have never seen Widespread Panic play even an average show, much less a subpar one.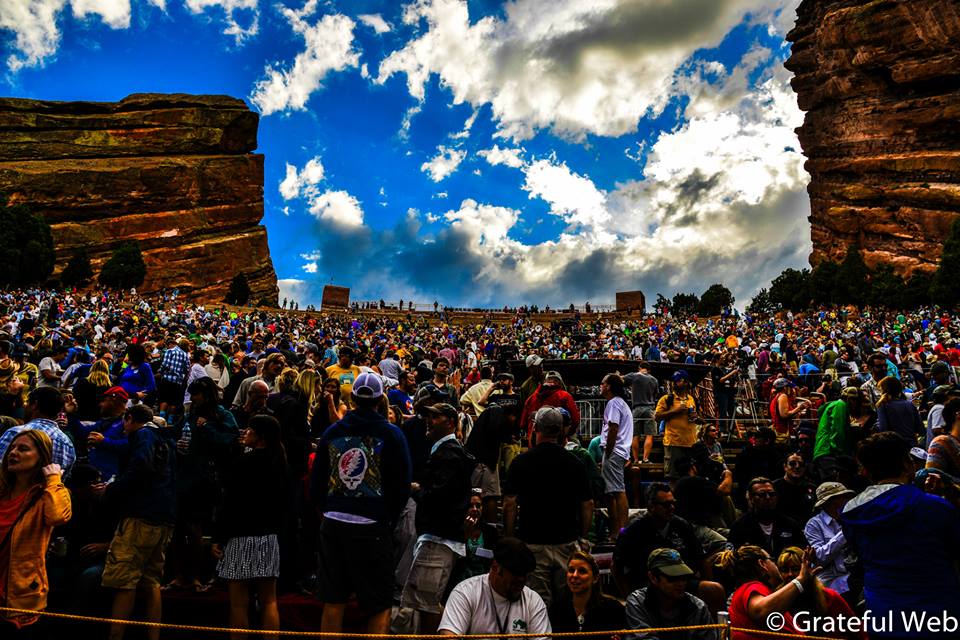 Second Skin broke the second set seal with its sinuous bass line and conga rhythms. With his Hammond, Hermann floated in and out of the melody to give it a feeling of weightlessness. Meanwhile, Herring made generous use of his whammy bar to bend and wobble an extended series of protracted notes – the tremolo, along with his own vibrato, bubbling into the dark melody. The jam eventually took a detour from straight up blues/rock into the land of funk. And the focus on funk spilled over into Rebirtha – its initial riff a mischievous play between Bell's guitar and Schools's bass. Despite being a staple in the Panic oeuvre, Bell had a giddiness in his voice like he just wrote the piece last week. He sang almost as if he was scatting with lyrics while improvising on some of the actual verse. Hermann doubled down on the funk with his meticulous Hammond chops, syncopating his notes just before and after Bell's lyrical stresses. And, as always, the tidal waves of sound emanating from Herring's guitar and resonating across Red Rocks made the piece all the more magical.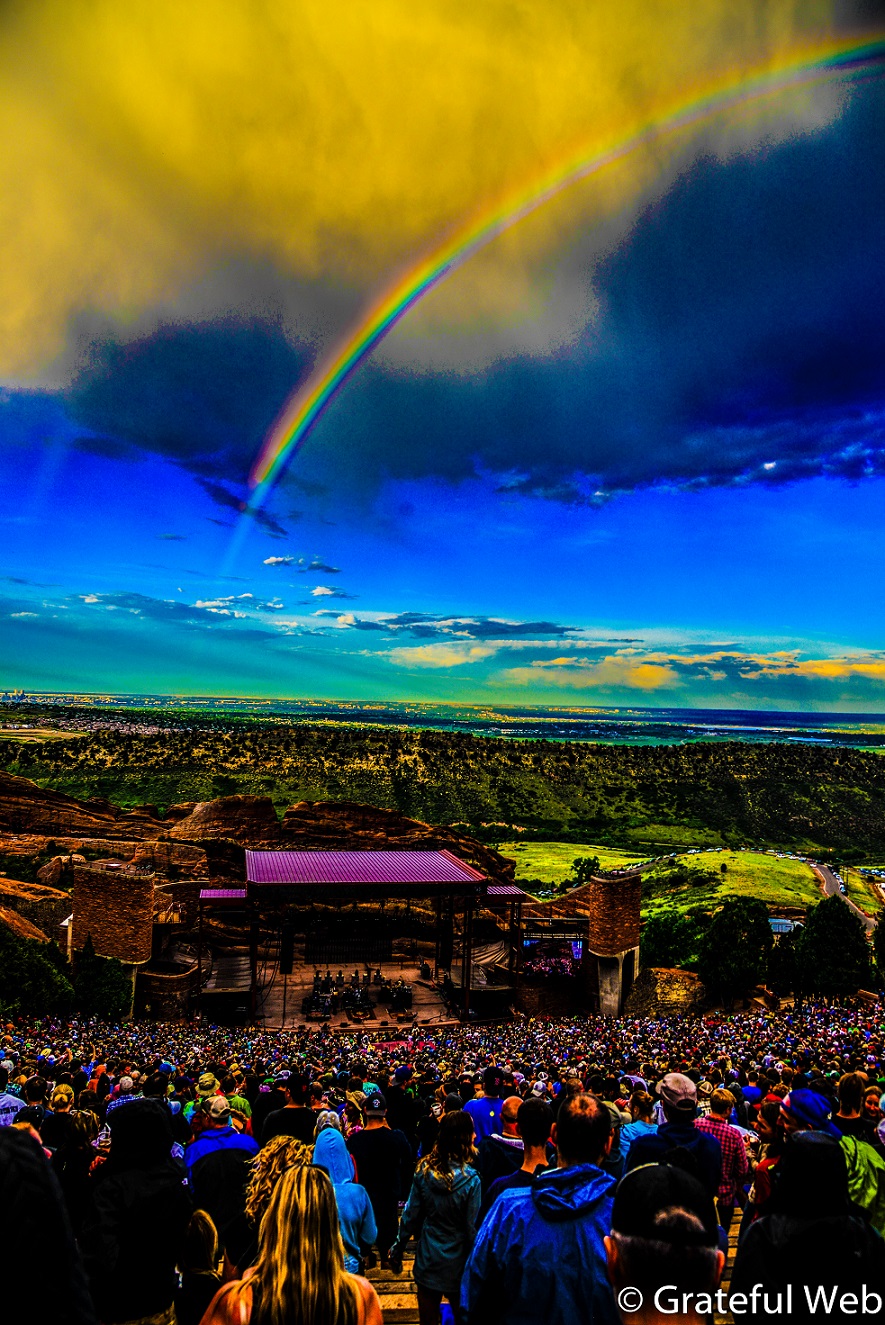 The segue form Rebirtha to Sleeping Man was absolutely world-class and a highlight of the second set. Schools thundered away on his bass as Nance went heavy on his crash cymbals. The outro jam metamorphosed seamlessly into the opening hard rock riff of this Vic Chesnutt cover. And while there were many contenders, I have to declare Sleeping Man the highlight of the second set. Schools's prodigious slap and pop bass work shook the amphitheater and rattled my bones. Bell dug deep into the well to pump his vocals with pathos and soul. Herring combined lightning quick fretwork and picking to give the piece a nitro boost in the middle until the band gave way to Hermann's funky clavinet chops. With Sleeping Man, the band carved out a groove ten times sharper than a butcher's knife. And, as I mentioned before, after the final two chords ripped into space at the end of the song, the crowd just went volcanic, screaming and clapping for an effort that was simply transcendental.
While I won't go into as much detail about the rest of the set, it's not because I am discounting what happened after the opening sequence. The entire hour and a half was pumped with the type of Widespread Panic energy that echoes between Ship and Creation Rocks at the end of every June. Thin Air (Smells Like Mississippi) was another exhibition of Herring shifting into the seventh and eighth gears that only he seems to have as well as Ortiz's monster timbale drumming. A Driving Song sandwich, featuring Ribs and Whiskey, an outstanding Drums, and St. Louis as the meat, brought the set headlong into its finale. Both slices of Driving Song imparted Herring with a framework to scaffold off of each subsequent phrase until he was pointing straight into the firmament. His unique way of unpacking these solos reminded me a lot of Eddie Hazel, surrounded by a bunch of Marshall stacks, pouring his heart out in Maggot Brain. Not coincidentally, Herring and Panic bust out that classic once in a while.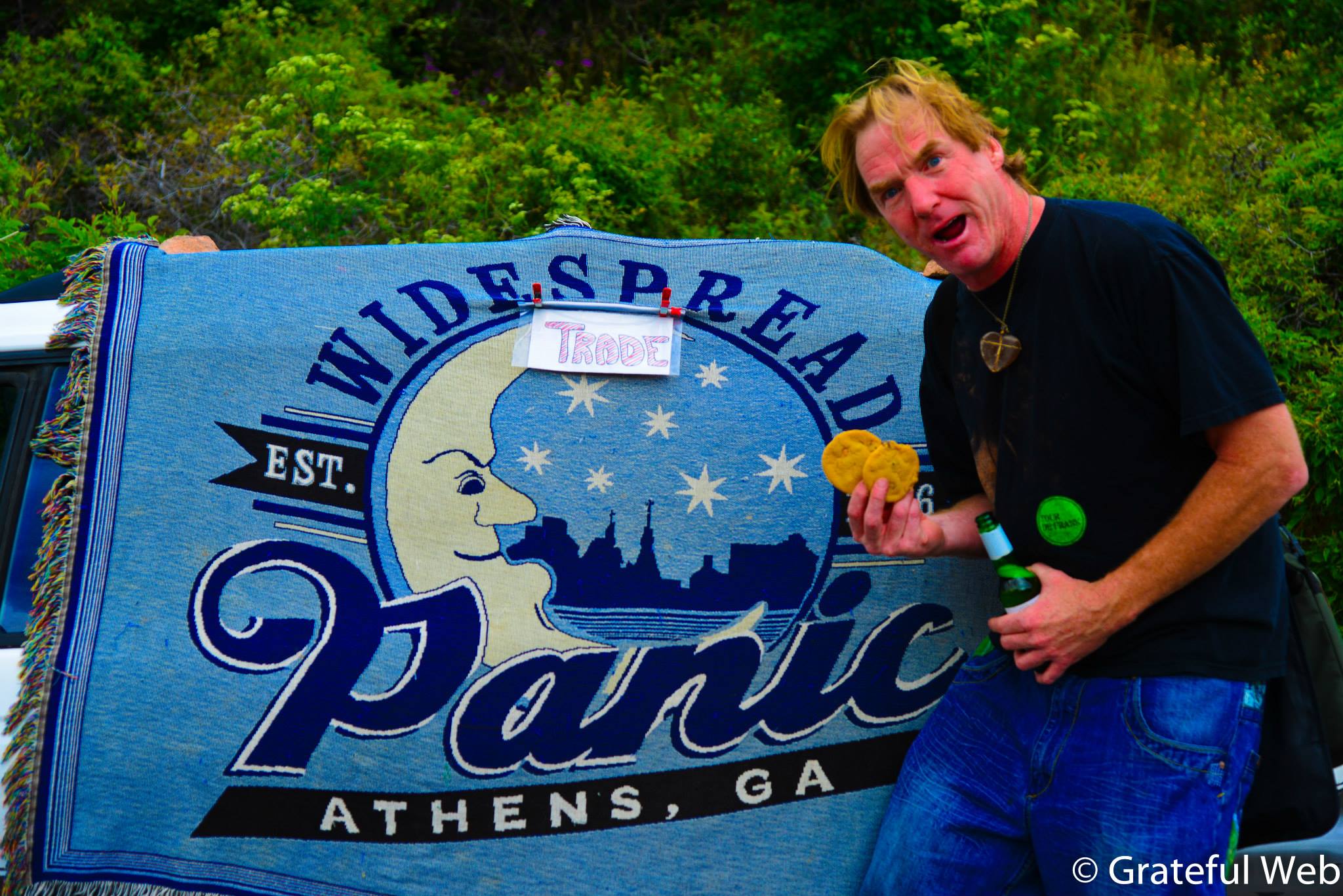 Speaking of bustouts, the band rolled out Bayou Lena for the first time in 347 shows (thank you Everyday Companion!) and only the second time since Fall '06. The penultimate song of the second set led to a happy hoedown for the sold out Red Rocks crowd. And then things got crazy when the opening bars of Love Tractor echoed out from the stage. This Panic mainstay must've been performed close to a 1,000 times by now, but, just like with Rebirtha, there's a spark of electricity that makes it seem like it was penned a month ago. Ortiz unleashed a fusillade of conga blasts as Bell strummed the power chords that anchor this pillar of the Panic catalogue. Then Herring, one more time, let loose, making his guitar sing, wail, moan, and shout to the heavens before downshifting into the closing bars.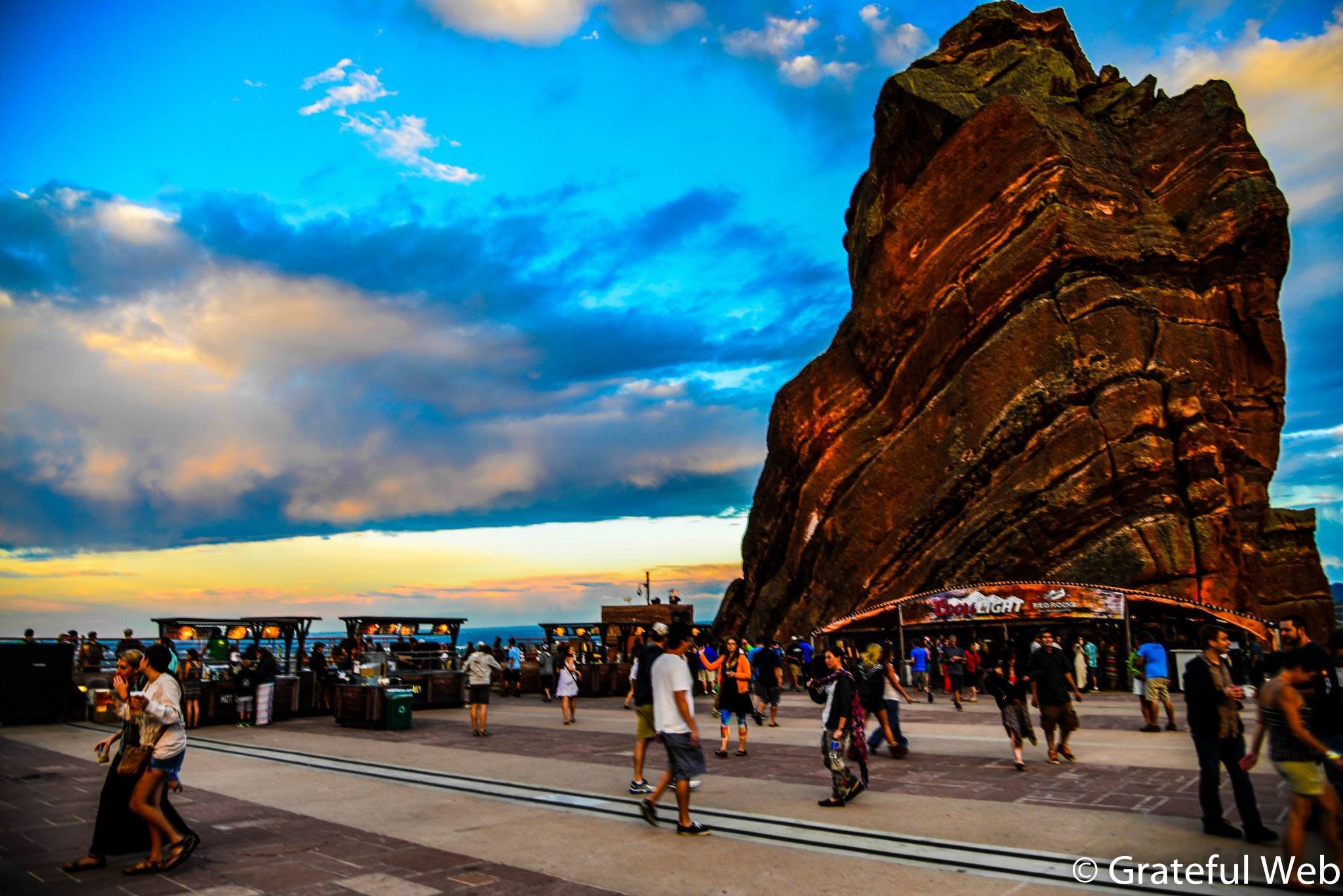 The band decided to honor The Talking Heads for its encore with a trio of famous David Byrne tunes. Papa Legba was fun as always, but the encore hit its peak with Life During Wartime. Everyone in the crowd seemed to know, and belted out, the chorus with Bell – "This ain't no party / This ain't no disco / This ain't no foolin' around…" – and concomitantly danced up a storm. During City of Dreams, the stage lights were made into stars and a Hubble image of Earth was projected onto the background screen. The image rotated on its axis as the stars beamed around it during this mellifluous cover. It was an exquisite ending to an exquisite night.
While the lightning showers of last year and the resplendent rainbow of last Friday were memorable phenomena, they wouldn't last a day in my brain without the beautiful music that accompanied them. Widespread Panic, year in and year out, provides the sonic sundae and Mother Nature, in Her cosmic kindness, simply puts the cherry on top. I can't wait to see what's in store for next year.