I had a plan of action – a solution to obviate an habitual problem. It was a good solution, too. At least I thought it was. In the end, it turned out to be myopic and futile.
Ever since I started reviewing Motet shows, I've run into the same quandary. Just like any other show I work, I would arrive with my notepad and pens. And just like any other show, I would stretch before the first set in order to be nice and limber when it came time to dance. But when the house lights go down and the music gets going, a departure from the norm takes place.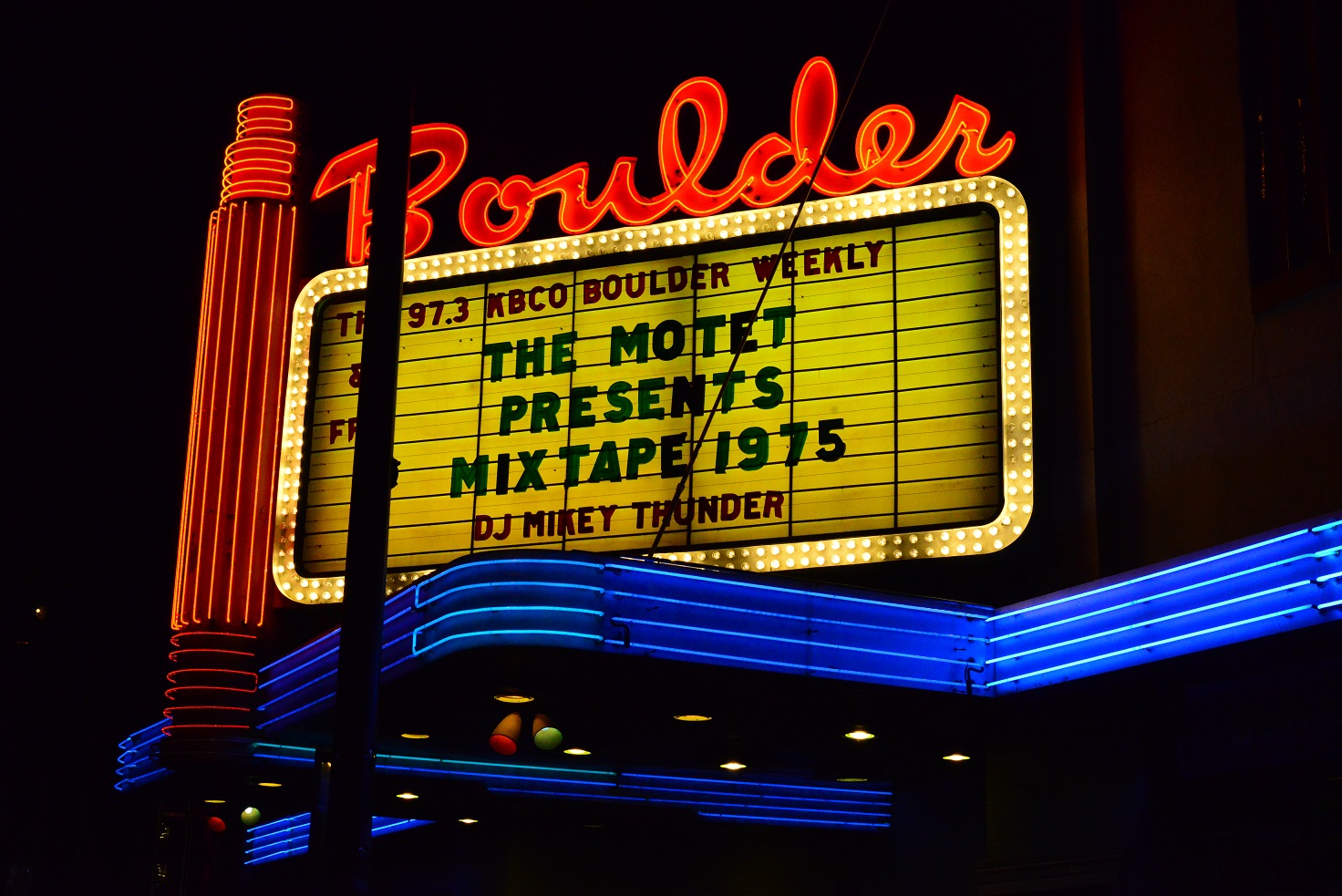 At any other show, I can readily fluctuate between dancing and furiously scribbling notes. Although I wish I had an eidetic memory, I have nothing near one. So I supplement what I remember with splashes of shorthand to reassemble the scene when it comes time to write. But at Motet shows, I get hypnotized. Lost in the groove. I become so caught up with dancing to the gravitational pull of the music, I often forget to take my notebook out for large chunks of time. Even with a few notes here and there, I can piece the puzzle back together and compose a reasonably descriptive review, but I prefer to have more things written down to assist me.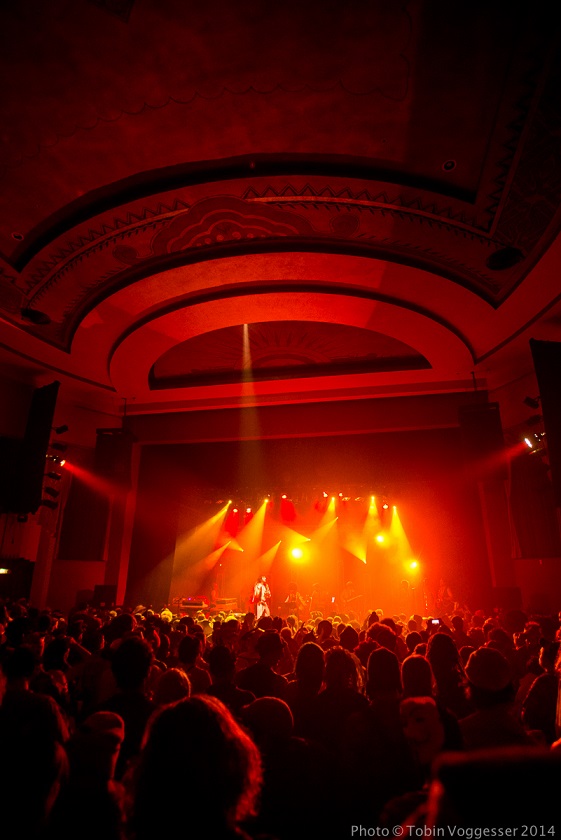 But as I said, I had a plan. The Motet booked back-to-back gigs at The Boulder Theater: Halloween Eve and Halloween Proper. On Thursday I would get it out of my system, like a collegiate spring-breaker on the Caribbean, so when I returned on Friday, I could stay focused and diligently scribe. Night One: soak up all the sonic glory, dance on the deck until my heart's content, and bask in the general revelry of the evening. Night Two: do my job.
And when the 31st floated along, it actually worked…for a few songs But then the cosmic cruise ship picked me up and I was just another fan in a sea of funk. And my notepad? Well – I'll pick that up, so to speak, a little later on. For the time being, let me take you back to The Boulder Theater last Friday for another Motet Halloween masterpiece.
After playing about a decade's worth of Halloween costumes from a single other band or musician, The Motet has performed what it appropriately calls a "Mixtape" for the past two years. 2013 met 1980 and last week, the band sailed into the temporal hurricane of funk: 1975. A year ago, one could hear a panoply of pieces as diverse as Late in the Evening, Whip It, Another One Bites The Dust, and Could You Be Loved…along with a heavy dose of Motet's essence: funk. But this year, the band wisely chose to tackle a slew of funk, disco-funk and soul, with only a few splashes of classic rock. Given the enormous possibilities of the banner year, I can only imagine how much fun, or even frustrating, it was for Dave Watts and his bandmates to whittle the setlist down to just a couple dozen songs.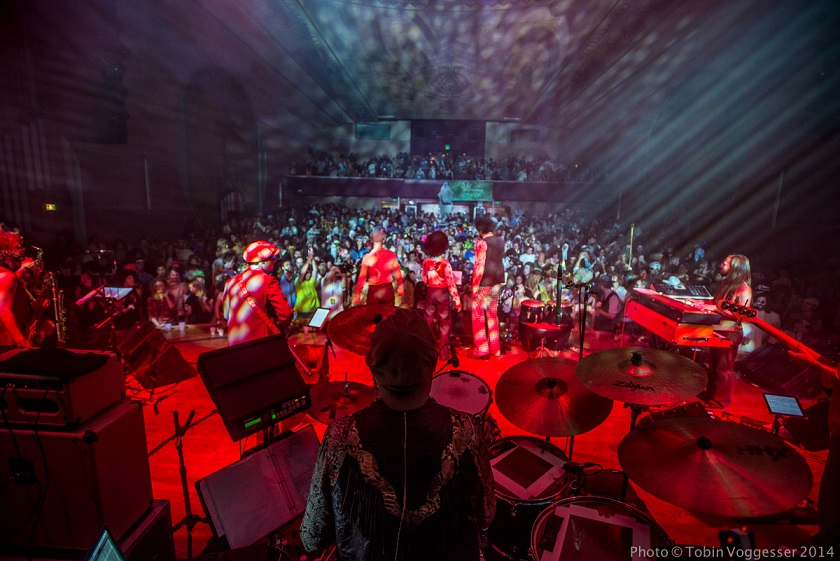 Eight members, of what would soon evolve into a dectet, took the stage around 10:40 and opened the evening with a song that was totally familiar, but I was drawing a blank. Rhythm Heritage's Theme from S.W.A.T. had an instantly recognizable beat, but I've never seen the show (S.W.A.T.) since, sadly, my only recollections of '70s television are awful Three's Company reruns. Vocalist and percussionist Jans Ingber initiated this instrumental piece with a flurry of open and bass tones on his congas.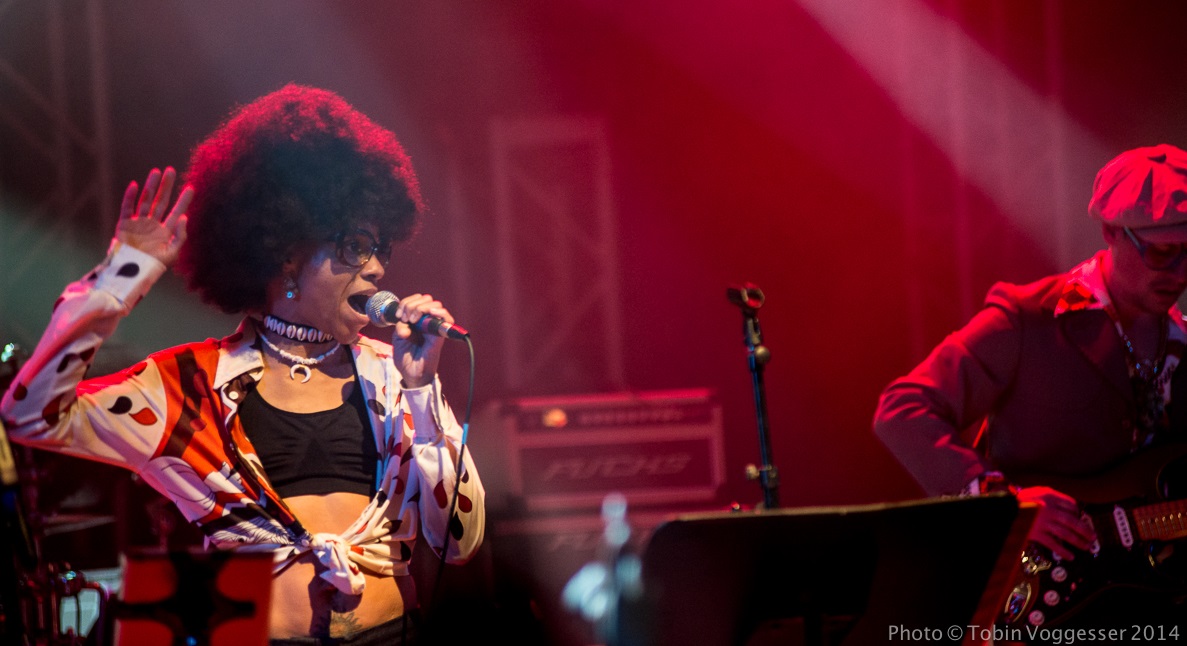 Guest vocalists Camille Armstrong and Paul Creighton came out to complete the extended lineup and they swung into Dynomite from one-hit wonder Bazuka. This got my pulse rising because it has a wicked hook and hearty groove. But more than that, I have always found myself most locked in when all three singers are harmonizing vocally and physically. Dancing is elemental at a Motet show – and not just for the crowd – because funk is musical, spiritual, and sexual. The trio of vocalists illustrated this notion all night long, but began here by pairing the booming refrain – "DINE–O–MITE!" with libidinous sets of synchronized choreography. Hell – it's distinctly possible that their moves were spontaneous, but there's no doubt they were in synch for the entire show.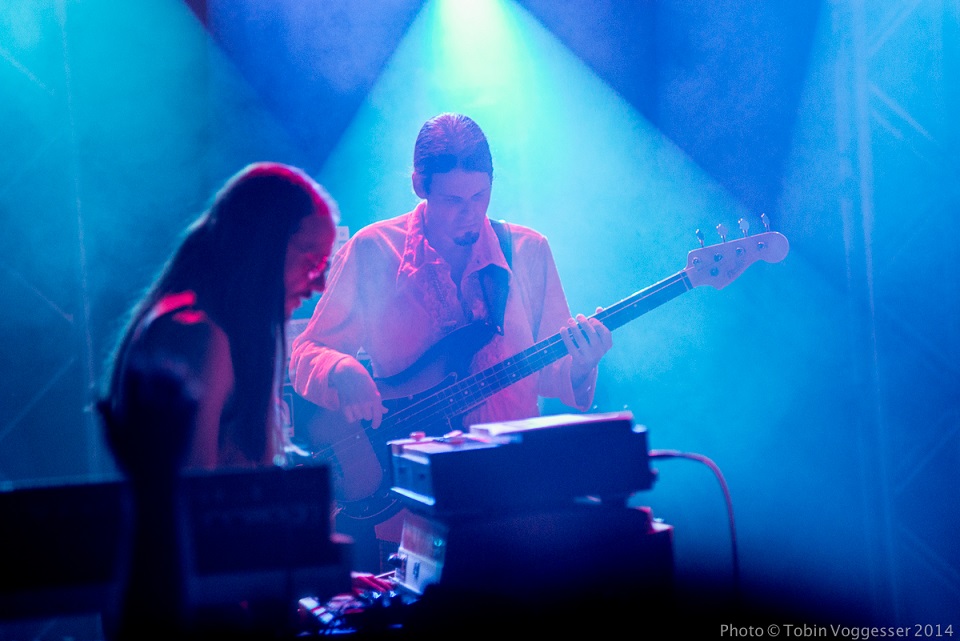 Funk was so pervasive in 1975, even David Bowie was getting in on the act. Fame bathed the sold-out Boulder Theater with a richer, gooier mid-tempo groove, spearheaded by bassist Garrett Sayers. And this is where matters of spirituality come into play – but certainly not the dictionary definition of "spiritual". This song was embedded into the fabric of many a Baby Boomer's teenaged years. During this Bowie anthem, I saw a man and woman who were most likely in their early to mid-'50s, dancing with each other like they were 17 and falling in love. This married couple was staring intently into each other's eyes while they closely embraced and got down in unison. They were six feet to my right in a dark room, but it was easy to observe that they were infused with a vitality that's hard to summon in one's '30s, much less later on. If music can ignite those flames, then to me it has a spiritual quality. And to the cynics who think an easier explanation is afoot, don't be incredulous. Alcohol might be a lubricant for some, but funk is the philter of love.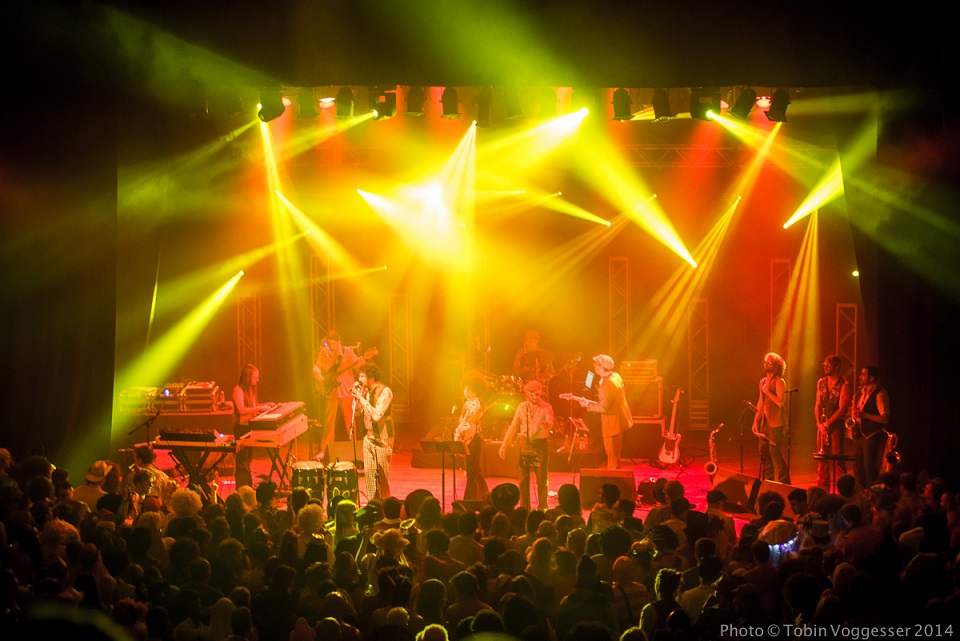 Sayers went to town with an abbreviated, but explosive, solo halfway into Fame. Keyboardist Joey Porter finished the song, first, by musing on his talk box and then with an arrangement that combined Bowie's melody with that of one of my favorite Motet originals: Nemesis.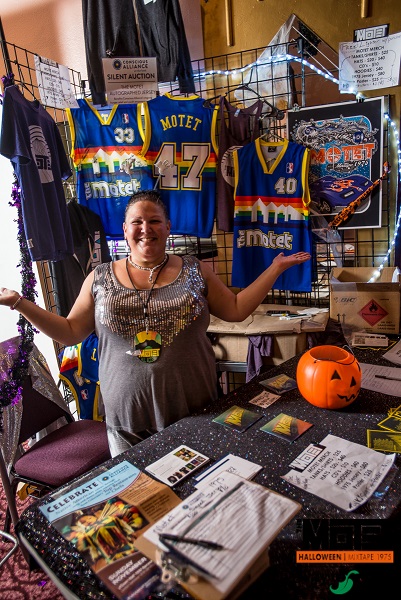 A relatively short version of Low Rider, with Ingber producing enough cowbell to satisfy even Christopher Walken's needs (just kidding, it wasn't indulgent), segued into a mellow version of I Love Music. These two pieces comprised the only respite of the set. War's #1 Billboard hit and The O'Jays soul classic contained sinuous melodies and were very well-executed. But the original versions required an approach that saw the intensity mitigated in favor of a smoother, more level delivery all around.
Last Halloween, The Motet covered The Manhattans' Shining Star, a eurhythmic soul ballad, and this year one of the highlights of the first set arrived with another Shining Star, this time from Earth, Wind, and Fire. This song is the essence of funk and Armstrong killed it on lead vocals. Near the end of this eight-minute dance fest, she dug way back and exhibited beautiful range in both register and resonance. In between her leads and coda, this song belonged to guitarist Ryan Jalbert. First, he used a bright trebly tone while scratching out one of the quintessential funk melodies in existence. And then he took it to the next level with an incandescent solo that combined funk with a heavy dose of straight up rainbow beveled rock 'n' roll. He sounded like the junction where Prince and Eddie Hazel meet up to shred. A truly inspiring piece of guitar work.
This is also a great place to mention the involvement of Ingber, Armstrong, and Creighton when the spotlight shifts. If someone is soloing they all face that person and dance, occasionally moving closer to the soloist to capture and feed off his energy, like heliotropic flowers following the sun across the sky. It seemed like Jalbert not only emitted the energy, but also fed off the power from this trio who, in turn, bolstered the heat index throughout the theater. Afterwards, Ingber asked the crowd, "How are these shining stars out there? We are celebrating life, right here!" And for those of you uninitiated with the band, that statement might seem perfunctory, or even peripheral. But that's what it feels like to be at a Motet show. It is a celebration of life.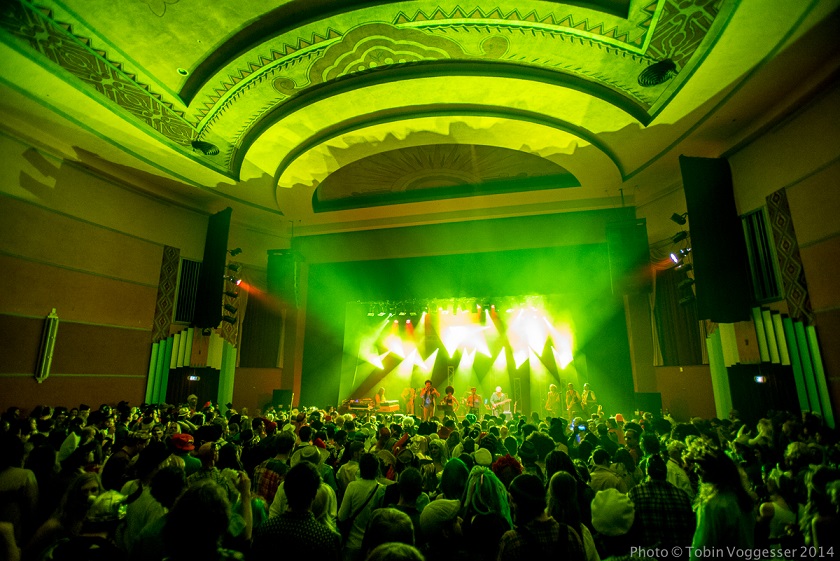 Fast-forward about ten minutes and we arrive at the second highlight of the first set: Kashmir. Instantly recognizable to even the most casual music fan, the Boulder Theater erupted upon hearing the opening riff. Fool in the Rain scored pretty big last year, yet Zeppelin's classic from Physical Graffiti made an even larger impact. Creighton was adept at mirroring the angst and passion of Robert Plant's vocals. He was supported by a trio of brass players – Matt Pitts (sax), Gabe Mervine (trumpet), and guest Serafin Sanchez (bari-sax) – that generated smaller swells, and then larger waves, of sound which punctuated every other component to the cover. And it was Watts who accomplished something that many try, but at which few succeed. He channeled John Bonham's volume. Bonham was famous for his explosive and wall-shaking drumming. Watts blasted his snare and crash cymbals with ferocity as Kashmir came to a roaring crescendo. The intensity seemed almost at maximum velocity at this point in the set.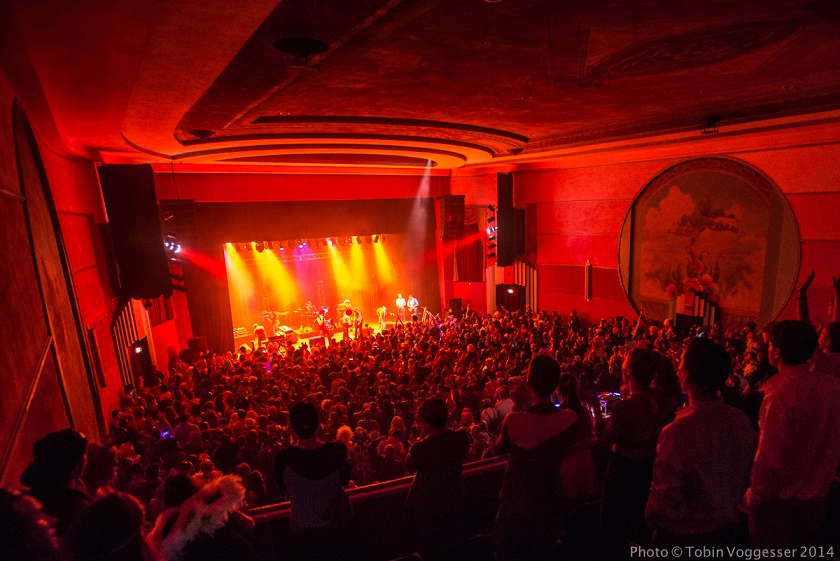 The Brecker Brothers' Skunk Funk followed, a high-tempo funk-fusion piece which featured Ingber on the congas and Mervine totally owning with a trumpet solo executed to perfection. If you aren't familiar with this song, go listen to it on YouTube (best on Some Skunk Funk – live '78) and marvel at Randy Brecker's solo. It's literally breathtaking. Mervine cultivated the same rapid-fire phrasing and the sound of his trumpet coated the theater. The entire band was mesmerizing covering a piece with both odd time signatures and a brisk tempo. It's the type of song where everyone has to be on the same letter of the same word of the same page or the wheels will come off in a hurry.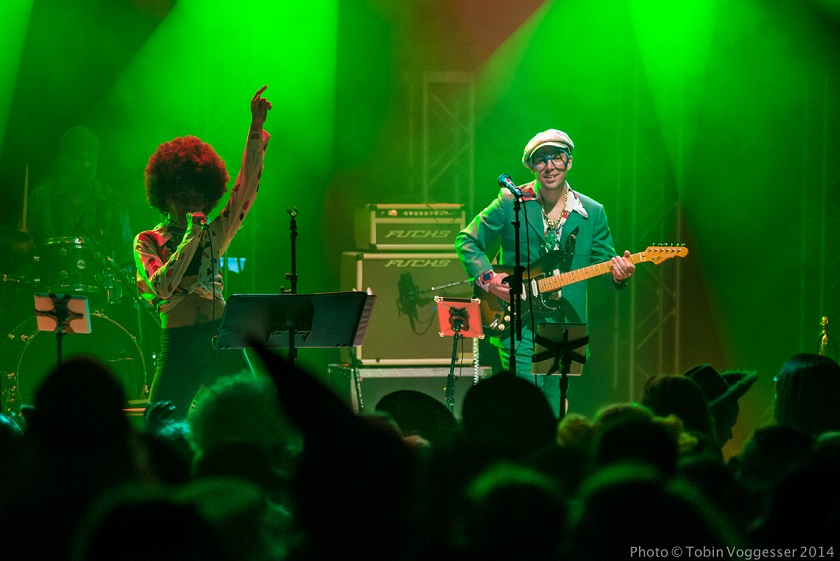 After playing The Bee Gees' Jive Talkin', the band closed out the first set with a funk triptych that had me smiling and remembering why I look forward to this show every year. It started with a laconic version of Hot Chocolate's I Believe in Miracles, which, at just over a minute long, served, more than anything, as an entry point. With the transition into KC and The Sunshine Band's That's The Way I Like It, the theater began to shake. A lot of people around me seemed to be sharing the same carefree smile (or maybe shitting-eating grin – I don't know) I felt was plastered across my face. Sanchez catapulted this piece to new heights with a solo that came from the inner depths of his being. And then when I thought there was nowhere to go but down, The Motet summited the mountain with another funk masterpiece: Kool and The Gang's Jungle Jazz. Pitts wailed during his best sax solo of the set while Porter was grooving on his Roland. It looked like he was playing it percussively: his fingers were a bit flattened and he was almost drumming the keys. Jungle Jazz marked yet another highlight along a euphoric first-set ride through some of the greatest funk, disco, and soul songs ever written – not just in 1975.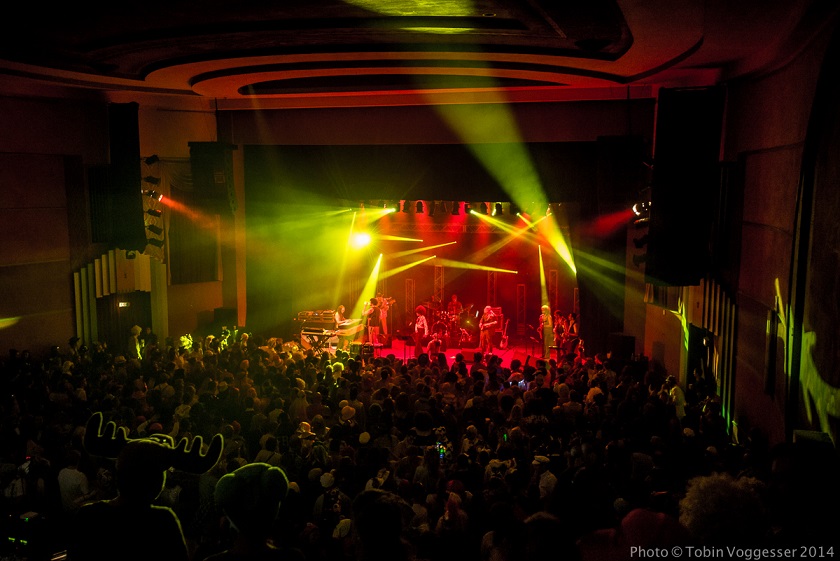 Which brings me back to my quandary, plan of action, and ultimate Big Fail. I've written almost 2,000 words just setting up the show and explaining the first set and if I didn't have such a ridiculously fun time during the second set, I might be able to spit out an apt description of it. But I did something that has never happened to me at any other show. I took my notepad out to write down "Set II" when the band arrived back on stage and then I slipped it into my back pocket where it promptly stayed for rest of the show. I was so entranced by the music and movement, I couldn't pull myself away from it. I guess I could if lives were at stake, but they weren't. So I danced and soaked everything in. Like I said before, my rhetorical memory – the memory I use to write a vivid, detailed review of shows – only functions well when it's aided by written observations. While alcohol may distract the mind and cloud the memory of drinkers, my eau de vie is music. Even with what I considered a good plan, I became intoxicated with the groove and, for that, I want to apologize…but can't. As I told Watts, in jest, a couple days after the show: "I'd rather have a shitload of fun and forget things than the other way around." Which, of course, is a rationalization more than a justification. Oh well.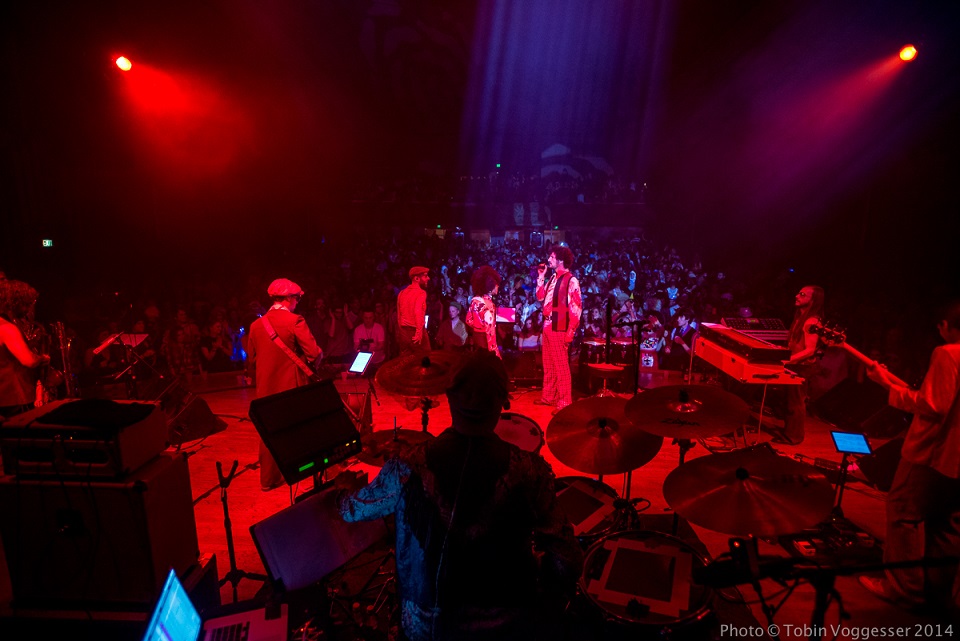 To put a bow on things, I want to thank The Motet for something larger than just two amazing shows. I want to extend my gratitude for making me see that the '70s weren't just the decade of classic rock. I was a white suburban teenager who was listening to a very white, almost singular type of music growing up. And, don't get me wrong – it was great; as a teen in the mid- to late-'90s, Pink Floyd placated my angst, Led Zeppelin got me charged when lifting weights or running, and Aerosmith…hell, I have no idea why I ever listened to a band that musically meaningless and banal. But I wasn't exposed to other cultural sounds from previous generations – ones that now seem to have more resonance. Jazz didn't excite me until I was in college and funk didn't hit the radar until a few years ago when The Motet broadened my horizons. Tons of P-Funk, Fela Kuti, and other funk and soul albums later, I am grateful for the colors, depth, and soul that the music has provided me. Halloween shows, like the ones last week, offer an avenue to bring this music to life. And what an incredible manifestation it was. See you next year. Same time. Same place.