In October 1978, The Grateful Dead played its final run of shows at The Winterland Ballroom, the ice-skating-rink-cum-hallowed-home-court for San Francisco's "home-team" band. After promoter Bill Graham converted Winterland into a full-time music venue in 1971, The Dead played a total of eight runs (three or more shows in a row) at Winterland and chose the landmark hall for six New Year's Eve blowouts, dating back to 1968. Fittingly, the band also took the stage for the final show in Winterland's history as 1978 segued into 1979.
Despite the fact that Winterland was a poor acoustic fit for a rock 'n' roll band as well as largely dilapidated, The Dead performed some of their finest and most revered shows at the corner of Post and Steiner Streets. On the 35th anniversary of the Dead's five-day run, Dark Star Orchestra paid homage to two of those shows: 10/20/78 and 10/21/78. Although I had a blast both nights, I will speak exclusively to the former.
The Dead's 10/20/78 and Dark Star's 10/18/13 shows have two things in common, right off the bat: both were played on a Friday and both brought the house down in the second set. But before I get ahead of myself, the first set was nothing whatsoever to sneeze at.
DSO hit The Fox stage a few minutes after nine and kicked off the festivities with New Minglewood Blues and They Love Each Other; both were fine, but rather tame in nature. However, after a small period of acclimation, the band was off and running with a beautiful rendition of Cassidy. Rhythm guitarist Rob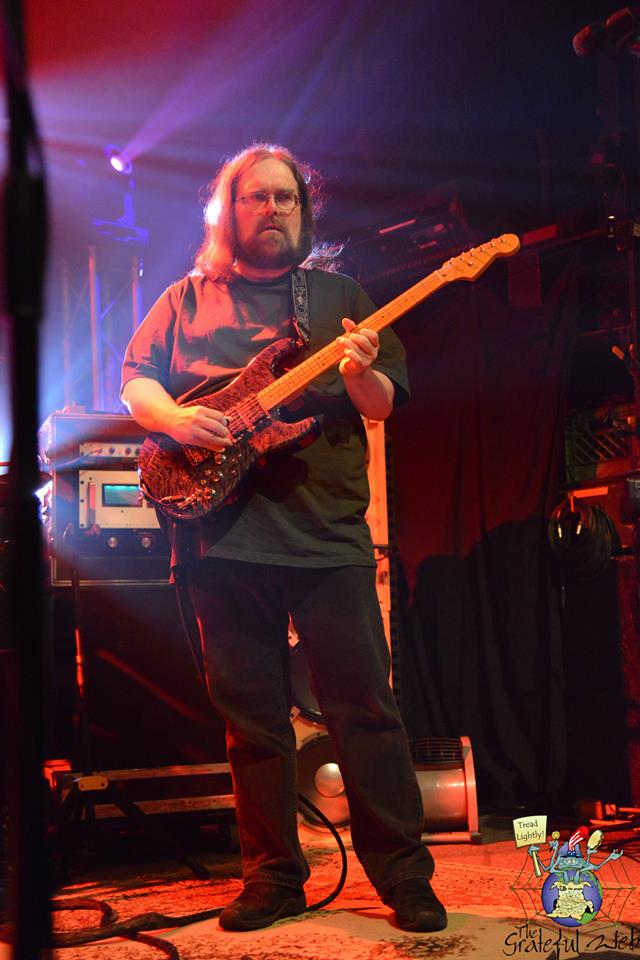 Eaton and Lisa Mackey's vocal confluence on the bridge section was sensational. Mackey highlighted her harmonic prowess on the final lingering syllable of "Hear her cry". When I listen to Donna Jean execute that move on a lot of '76 and '77 recordings, it never fails to warm the cockles. But the pulchritude in Mackey's rendition lingered even longer and shone brighter. Lead guitarist Jeff Mattson punctuated the song with a tight, 90-second solo as Mackey spun and twirled with such serenity, it looked like she was meditating.
Typically I don't focus a great deal on vocals, but Eaton channeled the lyrics to songs like El Paso so convincingly, I thought he might be the one with love pangs while running from the law. He laid bare the agony and despair of the narrator with visceral immediacy as he belted out the Marty Robbins's cover in all its raspy glory.
It's All Over Now marked a continuation of Eaton's vocal adroitness, but more importantly, gave Mattson and keyboardist Rob Barraco a vehicle to showcase complimentary jive and boogie-woogie solos. The entire Fox crowd was propelled by these '40s-era efforts and danced with the vigor to match.
Lazy Lightnin' > Supplication both closed and highlighted the first set. Eaton continued to be totally vested in his vocals, nailing the metaphysical and existential rap of the narrator. Drummers Dino English and Rob Koritz led an impassioned charge on both pieces which are driven by an uncommon 7/4 time signature. Their hi-hat and snare work emboldened the rest of the band to dig deep to match their intensity.
Before moving onto the second set, I'd like to give a big shout-out to Brian Adcock, DSO's lighting director. I've seen some big-time lightshows that have spun me into a trance. These often take place in larger venues, like Red Rocks or 1st Bank Center. But Adcock made the most of The Fox and DSO's signature tie-dye tapestry backdrop. I don't know the technical terms for different equipment and arrangements, but I will say this: I was hypnotized from the get-go. Adcock's lighting set-up and progressions proved a major boon to the band's sound and the overall atmosphere.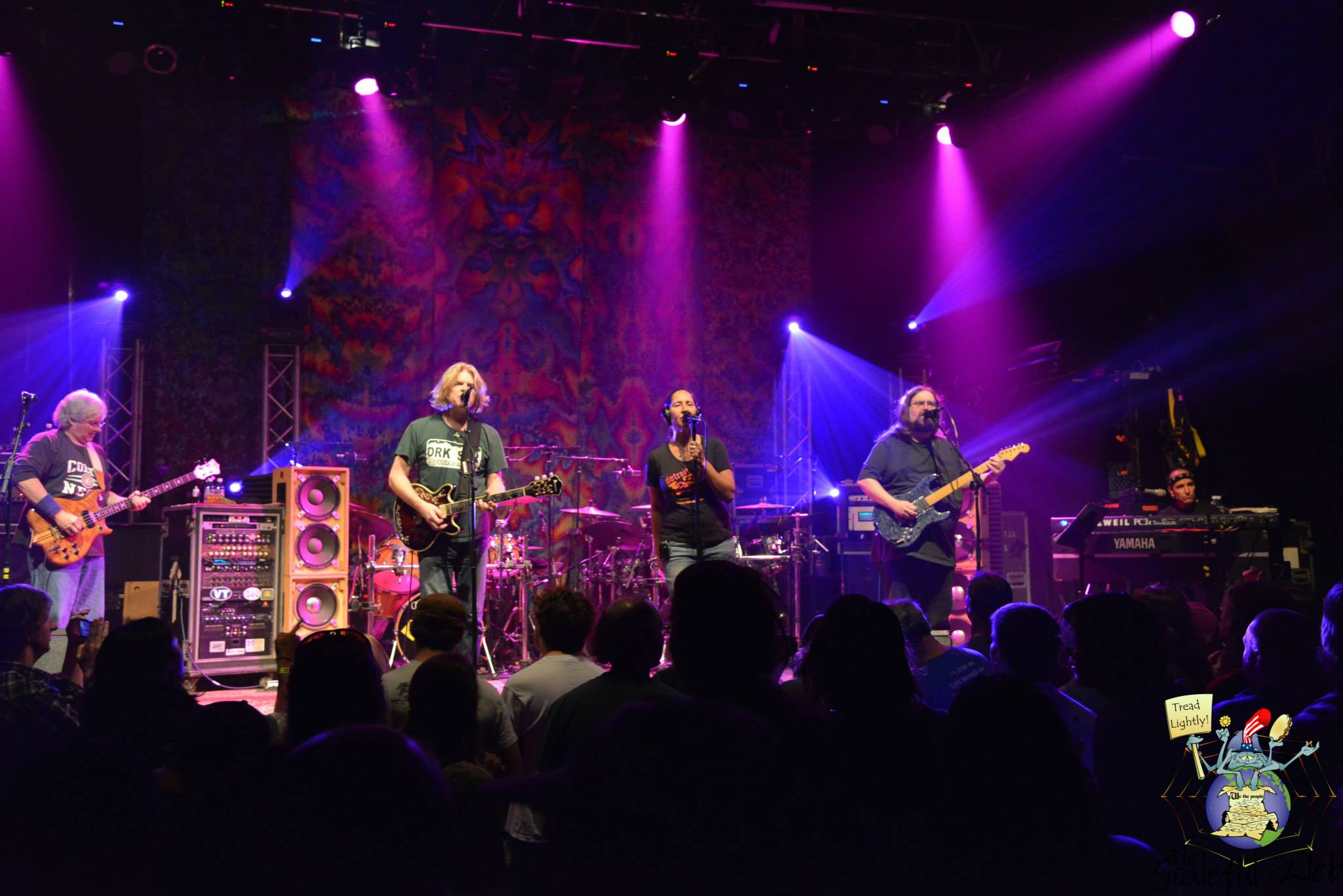 DSO returned to the stage a few minutes before eleven and immediately electrified the crowd with a majestic Half-Step. As much as I'm a John Kadlecik fan, there are times when Mattson rips it up so hard, I don't even remember John K being an integral (and founding) member of the band. Last year, Mattson threw down on a Deal that set The Boulder Theater ablaze and this year's analogue was his Half-Step solo. He initiated with meandering bars of twangy blues and then shifted into a host of arpeggios, bolstered by the snare and cymbal work of English and Koritz. Mattson then engaged in a series of higher octave chords before climaxing with a flurry of demonstrative trills that left me floating. The inevitable downshift into the final "Rio Grande-ee-oh" verse brought me back to solid ground, but DSO was only warming up for a masterful second set.
Half-Step segued into Franklin's Tower, a piece that was all Skip Vangelas. The newest (permanent) member of DSO recently replaced long-time bassist Kevin Rosen and, if this Franklin's is any harbinger, Vangelas will have a long and fruitful run as the band's Phil Lesh. He even looks a little like Lesh, with a ruddy complexion and similar cherubic smile. Vangelas's opening bassline had the power, pop, and punch Deadheads have come to expect. He was the band's compass for the entire piece. When Mattson delivered the line, "And if you get confused, just listen to the music play," Mackey lifted her arms up to the firmament and the crowd audibly rejoiced. Though Mattson was technically the one doing the soloing, I couldn't stop listening to Vangelas tear through his progressions and attack each note like it was the most important one of the night. Finally, about seven minutes in, the rest of the band turned down the volume to let their newest member take lead for a long fill/mini-solo. After the Franklin's crescendo and decrescendo, DSO segued into the highlight of the entire show.
Dancing in the Street began in typical fashion, with the distinct riff from Mattson's Mu-Tron III insinuating its wah-wah above the rest of the band. But after the main verses, this changed. About four minutes in, Mattson began soloing, but his Mu-Tron filter melded perfectly with the rest of the instruments. In fact, the solo was just a single piece of a jam that was downright nasty due to the complexity and juxtaposition of sounds. Vangelas and Mattson rode side-by-side together, with the bass often insinuating a potent counterpoint to the lead guitar. Barraco utilized the higher octaves on his keyboard to paint the chords coming out of Eaton's guitar. English and Koritz drove the bus with their jet-fuel rhythms. Almost nine minutes in, the jam ascended towards the heavens as Mattson just let loose, playing more notes in a higher octave, but with the type of precision that ensured each one was fully articulated and punctuated. The ecstasy lasted for about a minute and a half when the jam took on a whole new direction. With a hint of Dancing always in the background, the jam descended somewhat into Playing in the Band territory, circa '72-'74. It still had the gyrating pulse of Dancing, but hit upon the darker themes explored in some of those famous Playing renditions. Eventually, the jam opted out of the driving rhythms and grew sparse as Dancing segued into Drums.
English and Koritz were masterful in their 12-minute duet. Koritz would have made Mickey Hart proud with his tom work. Drums segued into a short, but piercing Space which recalled the Close Encounters from Eugene in January of '78.
Not Fade Away was borne out of Space and segued into another big highlight of the night. Earlier, I focused on the vocal dexterity and enthusiasm of Eaton, but Mattson should not be short-changed. He evoked all the sorrow and human folly that the lyrics denote in a soulful rendition of Black Peter. His blues guitar solo projected an equivalent level of anguish. Around and Around capped a truly glorious and life-affirming set of music.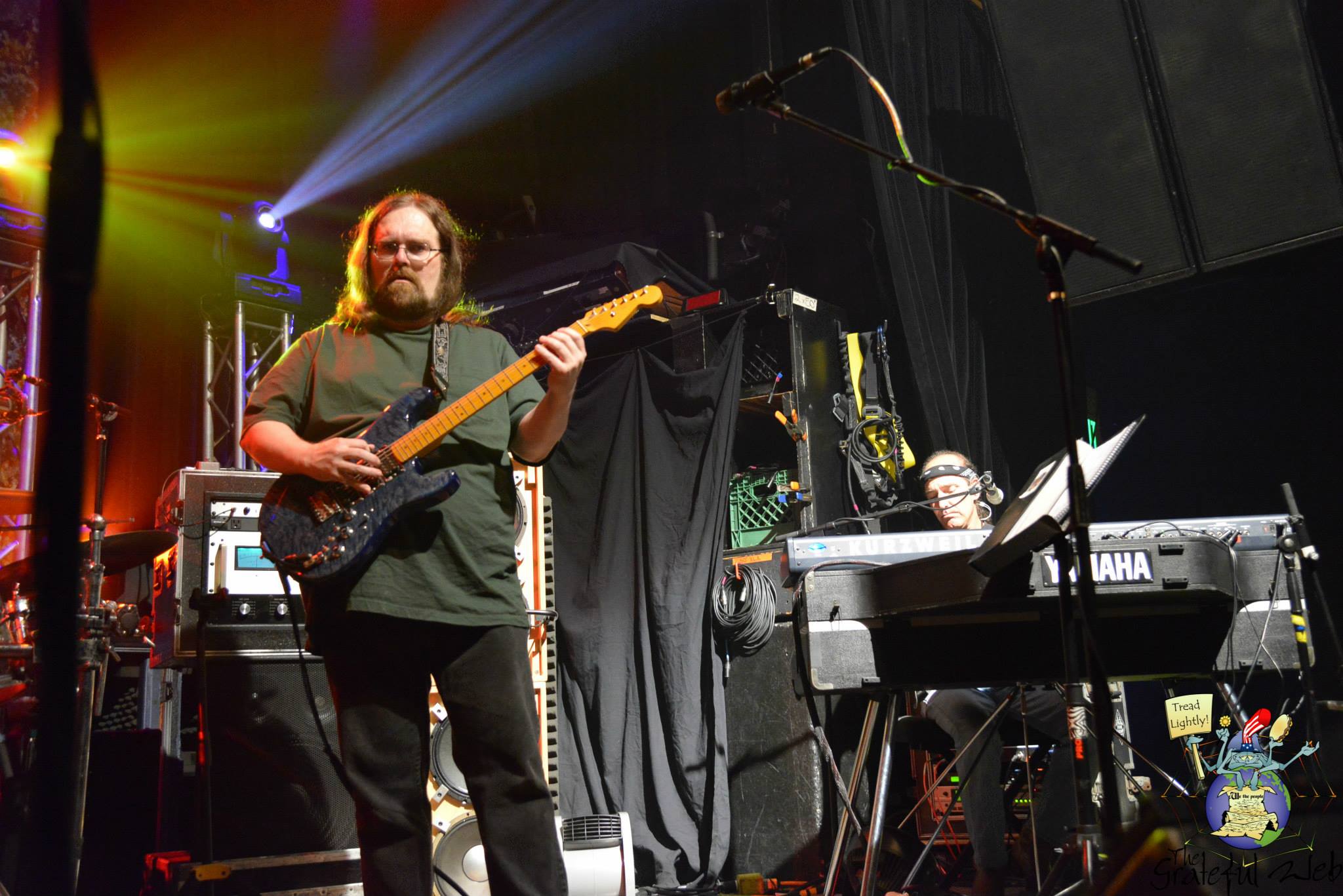 Johnny B. Goode normally would've been a more than suitable ending for most shows, but The Dead performed two encores on this night, 35 years ago. Shakedown Street, yet again, lit The Fox Theatre on fire and gave Mattson one more opportunity to display his Mu-Tron III brilliance. And just for good measure, DSO regaled the grateful crowd with Werewolves of London as a filler piece before the 1:00 a.m. curfew hit.
Every time I see DSO, I become more impressed with their effort, energy, and enthusiasm. The fact that they have the musical chops to match makes them one of the best bands in the land. Tonight provided yet another example of the joy, and sometimes downright euphoria, they bring to Deadheads everywhere.