Due to a scheduling mishap by the Disco Biscuits, they had to play during Day 1, which made the festival's lineup suffer tremendously on Day 2 (pictures here). The festival's organizers compensated by making Day 2 free if one held any ticket stub from either Day 1 or any of the late night shows. That saved Day 2's attendance. We can't blame the festival's organizers for this one.
Needless to say, it was a gorgeous day to sit on the river and listen to music while watching boats sail by. Unfortunately, the day started off with one of the biggest mysteries in music to me. I've seen the band about three times, and I still do not understand why they are so bad. The band is the American Babies, led by Tom Hamilton from Brother's Past. They have great talent in the band consisting of one of my favorite drummers, Joe Russo, and a terrific guitar player who's never been in a good band, Scott Metzger. I remember seeing Metzger's first band, Rana, open for someone at the Fox Theater in Boulder, and I said to myself many years ago, "What is that talented guitar player doing in this band?" As I saw him sitting in with other bands many times, his talent came out even more. Now, I continue to ask myself why he is in this band. It wasn't just me asking those questions. I went throughout the crowd and saw and heard the same anguish from others. Russo is one of the best free agent drummers around. Of course, I love him the most with Marco Benevento in the Duo. This opening set made my hangover four times worse. I don't usually complain about music because I love so many different types, but I couldn't wait for this set to end. The encore was so long, drawn out, and off key. It could be because I'm not a huge fan of Americana music, but I wasn't imagining an empty dance floor that got packed with people as soon as they left the stage.
Then came the southern gypsy pirate sounds of the Avett Brothers. This band sure had a much bigger following than I anticipated. As I said earlier, the floor got super crowded in a matter of minutes while this band was setting up. Where did these people come from? One older couple in the front row shouted to the stage, "We came all the way from California to see you!" That's dedication. As they were setting up, I did notice their antique looking stylish instruments. This band definitely had a style and a unique quality to their instrumentation. The crowd was really into this show.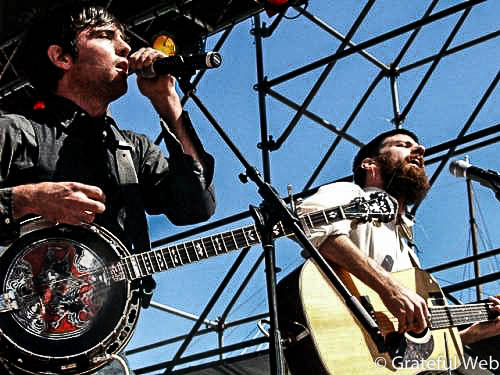 RJD2 came to stage next, but only played a record for about one minute before it started skipping. Soon after, RJD2 came on the microphone to tell us what the problem was. Apparently, the sun melted his record in about ninety seconds, and he told the crowd that he was not in the position to lose records at this rate, so he was going to see if they can move his rig over to the shade. After a short time, he was back up and running. The records he was mixing were a mix of awesome 70's funk and soul grooves that were not recognizable. I really enjoyed listening to him perform. He mixed the perfect combination of soulful funky sounds as most of the crowd didn't even know he was performing because he was now behind a curtain. One person asked me when the next band was coming on in the middle of his set. But he continued to do his best, and it sounded nice.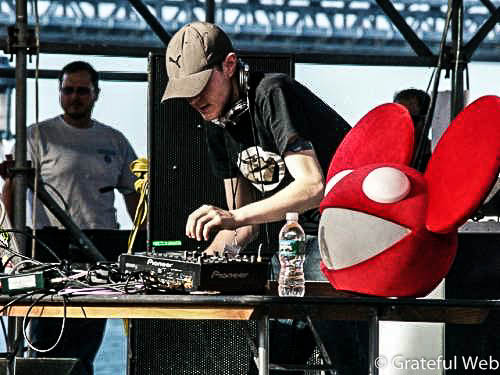 Then, deadmau5 came on the stage to mix some more beats. This highly acclaimed DJ from overseas brought some great dance beats to the Philadelphia sun, but this set would have been much more appropriate for a night show inside of a tiny club. It was a little out of place having two DJs perform back to back at an outdoor show in the sun. The last two performers would have been a phenomenal late night combination bill at the TLA, because both of them were very good, but not what most people were looking for at this event.
Finally, the local electronic rock band Lotus headlined this second day of Jam on the River. Lotus was a crowd favorite last year, and even though the crowd was dissipating, and the venue opened the doors to the general public, they put together a tight set that everyone enjoyed. This was by far the best set of the day.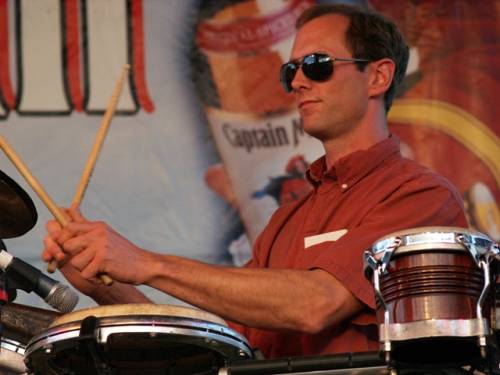 Overall, Jam on the River 2008 was a great time. For next year, I would like to see a more rock oriented lineup with some bigger names, maybe less DJs and more rock n' roll jam bands. Furthermore, a bluegrass band, mixed in with a Rose Hill Drive type act. Even an African sounding band like Toubab Krewe or more jam bands like RAQ or moe would be nice. I wouldn't even mind a Latin influence like Manu Chao or Rodrigo y Gabriella. How about the jazz funk jam bands like Galactic or the Dirty Dozen Brass Band? Philadelphia needs to get out of their electronic cocoon of bands in the jam community and branch out to become more diverse. This festival has the potential to bring the whole jam community to the city of brotherly love. Until next year…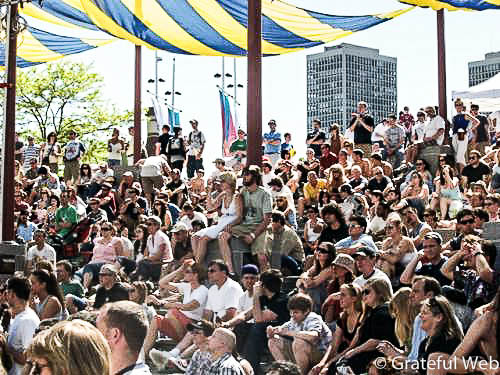 Check out Day 1 coverage. | And see more photos from day 2 @ 2008 Jam on the River.