One year ago, today, I saw Kung Fu for the first time at Cervantes. They opened for The Motet during their Funk is Dead Halloween reprise. Apropos to their name, Kung Fu took the stage in full black gis and, given that first visual, I really didn't know what to expect. A few minutes later, guitarist Tim Palmieri executed his first solo of the night, and it was nothing short of a revelation. While the "he sounds just like so-and-so" trope of concert reviews may be a bit overdone, I cannot help but proffer my own lovechild analogy: the intensity springing from Palmieri's Fender made him sound like the spawn of John McLaughlin and Robert Fripp circa 1971-73. My jaw was on the floor every time he leaned into his power stance, lowered his lids, and let it rip.
"You close your eyes and envision a lot of things," Palmieri said, describing his state of consciousness while soloing. "You get to the point where you're not thinking, but you're in control of you're thinking. It's a paradox of controlled freedom."
With enough stage time to just whet my appetite last year, I had high expectations for Kung Fu's headlining show at The Fox Theatre on Wednesday. With a sophisticated olio of funk-fusion, electronic dance, and rock 'n' roll and musicianship that can be described as nothing less than virtuosic, the New Haven-based quintet wildly exceeded those expectations. But here's the rub; neither their meticulous blending of musical styles nor daedal improvisation is the chief component that makes Kung Fu one of the most exciting bands in the country.
McLaughlin, Miles Davis, John Scofield, and Frank Zappa all played formative roles in Palmieri's musical development: "I love channeling those influences in fast, furious fusion," the guitarist averred. "(The key to our success is) getting on stage and playing music with attitude and a rock 'n' roll spirit." And therein lies the essence and distinguishing imprint of Kung Fu. Davis and McLaughlin pulled from sundry musical genres when creating the landmark album, Bitches Brew. But I've never felt the urge to get out of my chair when listening to it. On the other hand, Kung Fu marries the complex rhythms, exotic time signatures, and high-volume sonic magnitude of their fusion forebears with melodies, tones, and jamming that are eminently danceable. The result of this union is an exhilarating musical experience that invigorates – and completely satiates – the mind and body.
The band took the stage at 10:30, donning street clothes instead of gis. Chris DeAngelis laid down a pulsing, funkified bass-line and for the next hour and forty-five minutes, there was not a single longueur in the entire set. Kung Fu tackled intense compositions and jams with a sublime level of intuition, precision, and energy. I cannot remember another band that plays with the haunting virtuosity of Mahavishnu Orchestra and the dance-party energy of The Disco Biscuits.
When I asked Palmieri to describe the sensibility of Kung Fu, he took a moment to collect his thoughts, then posited, "We want to hold the groove within while taking a lot of chances…Everyone's a great listener and killer player and the music is intense, especially at high altitude." While Kung Fu was formed in late 2009, the band members have a much longer history that affords them the listening skills and experience to take chances. Palmieri and drummer Adrian Tromontano were founding members of the popular East Coast jamband The Breakfast. DeAngelis joined the group a decade after their incipience, in 2008, and keyboardist Todd Stoops even sat in with The Breakfast for a month during the fall of that same year. When adding together this historical context with the three-plus years Kung Fu has toured, it's a little easier to understand why the "listening" skills displayed on Wednesday seemed nearly telepathic. Whatever risks the band took, they all seemed to flawlessly pay off due to an eerie sense of timing and anticipation.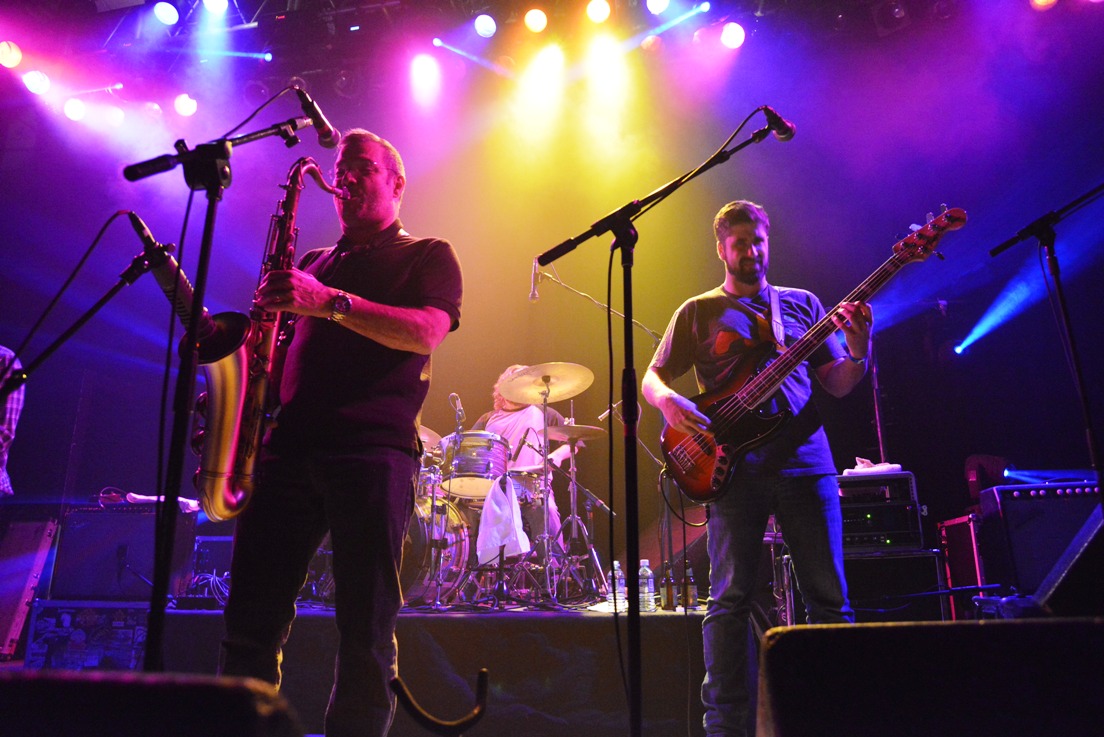 Stoops offered a variety of meaty chords and, when the occasion called for it, ornamented Palmieri and Rob Somerville's melodies with popping descants. Somerville, a veteran of Deep Banana Blackout, displayed brilliant stamina and eased with tenor sax solos that swelled and crackled in the upper registers. Barrel-chested and amply-bearded Tromontano was the picture of delight hammering away on his kit. Which brings me to another important, but underappreciated, point. The entire quintet had smiles plastered across their face for the entire set. Not tiny upward grins, but full-on ear-to-ear, carpe diem, joie de vivre, Fuckin'-A Man! Smiles. That happiness and joy filtered immediately down to the crowd who were not only drenched in sonic mirth, but also visual delectation.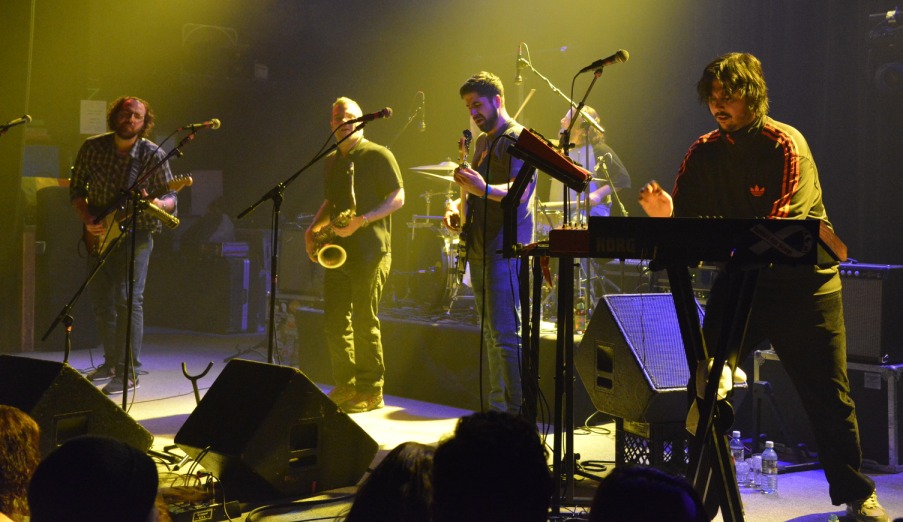 Lest you think I'm making a big deal about physiognomy, go ahead and take a look at the virtuosic performers named at the beginning of this piece: Mahavishnu Orchestra (McLaughlin) and King Crimson (Fripp). While the music is perfection and the musicians are entitled to whatever level of gravity they choose to exude, my point is this: the crowd has a better time when it knows the performers are enjoying themselves. Even in the middle of an intense solo, with his eyes closed and head cocked to the left, Palmieri beamed with ecstasy. The crowd responded in equal measure, dancing with an animated bliss impelled by the guitarist and his four bandmates.
The improvisational segments, which accounted for a hefty portion of the set, featured prominent guitar and saxophone leads girded by Tromontano, DeAngelis, and Stoops's luxurious electronic dance rhythms. The result of this hybridization was a psychedelic and robust electro-funk-fusion that felt supernatural and otherworldly. Palmieri affirmed that he's never had an out-of-body experience while playing guitar, but the same probably cannot be said for a few members of the crowd who seemed fully transported by his blisteringly fast finger work.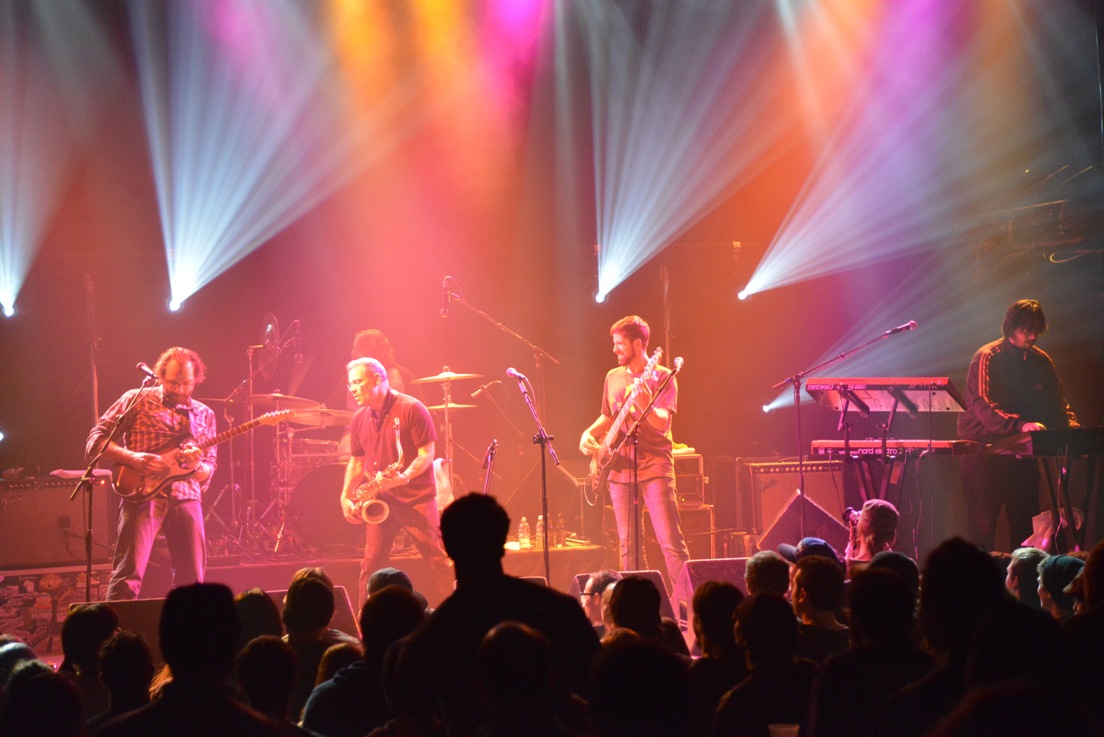 Four people approached me at different junctures in the show because they saw me taking notes. They put in roughly the same two cents which is this: while it's nice to attend a show at an intimate venue like The Fox, it is borderline criminal that Kung Fu is not playing for thousands instead of hundreds. And I wholeheartedly agreed. If the sizeable jamband community on The Front Range knew what Kung Fu was all about, this quintet could likely sell out 1st Bank Center. I had plenty of room to dance in the first row because The Fox, while certainly bustling, was not filled to capacity. But I would gladly sacrifice my vantage point and dancing radius for this band to get their due. Here's hoping that next time they venture out to Boulder, home of the CU Buffs, the crowd is packed in shoulder-to-shoulder.