84 year old Bluegrass legend Ralph Stanley braved the thin Colorado air on Sunday for a show at the Boulder Theater. One of the most iconic and influential artists in bluegrass, Dr. Stanley (he's actually got an honorary doctorate of music from Lincoln Memorial University in Tennessee) and his Clinch Mountain Boys showed the bluegrass stronghold state how it all began.
The current line up of Boys came out to greet the audience before announcing their elder statesman. Lead guitarist James Shelton, Nathan Stanley (Ralph's oldest grandson) on rhythm guitar and vocals, Jimmy Cameron on bass, and two other gentlemen seeing to fiddle and banjo duties respectively, were sharp-dressed in suits, ties and cowboy hats. Well, minus Nathan who was rocking more of an Elvis style get up with rhinestones, pompadour cut and big sideburns. Ralph joined them at the center mic, and spent most of his energy focusing on vocals, sans banjo.
Ralph and the boys proceeded to light things up, rolling through "Worried Man Blues," "Hard Times" and an A capella version of "Gloryland." He replied to a crowd request of "Little Birdie" with "that's another hard one, but I'll try." Stanley complained a bit about breathing at higher altitude, but fought through it to deliver a memorable performance, even taking to the banjo for a "little clawhammer" midway through the evening.
"I'm a little hoarse, just bear with me," he said politely before a duet with grandson Nathan on "Rank Strangers." The two also sang together on "Think of What You've Done" after the younger Stanley flew solo on a cover of the classic "Long Black Veil." The house was reasonably full, although in a city where bluegrass seems to have such a dedicated following, it's a wonder that there wasn't less elbow room available.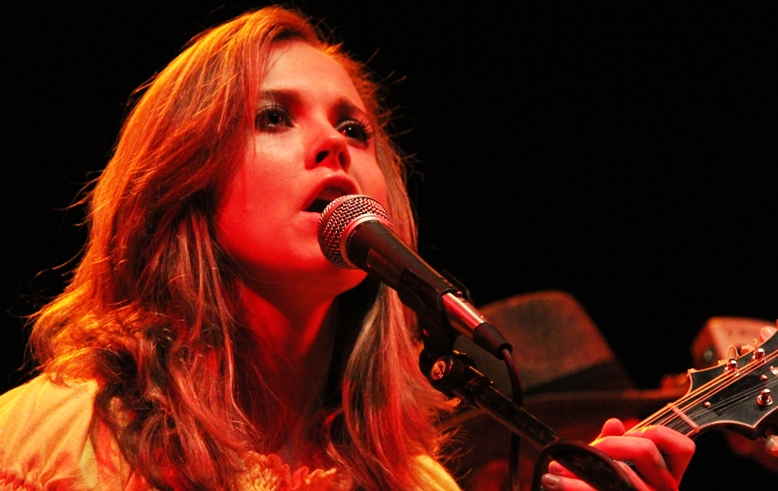 In contrast to Stanley's 84 years, opener Sierra Hull is only 19. The lovely young lady and her band have enormous potential (she's already been signed to Rounder Records for 6 years, and just released her third album). She played songs including "Easy Come, Easy Go," "Secrets" and "Best Buy" and provided the perfect level of contrast to the veteran Stanley's style.