Back in May Grateful Web brought you coverage of the GrandMothers of Invention live at the Boulder Theater in Boulder, Colorado. The former members of Frank Zappa's Mothers of Invention have been touring the U.S. and Europe and will return to Colorado on July 31st for an evening at the Bluebird Theater in Denver. These guys arethe Zappa reincarnate band to see! Former members of Zappa's Mothers: Napoleon Murphy Brock (lead vocals, sax, flute), Tom Fowler (bass) and Don Preston (keyboards) joined by Chris Garcia (drums/vocals) and Robbie Mangano (lead guitar) will deliver classic Zappa the way it was meant to be. Don't miss this.
Grateful Web was blessed with the opportunity to spend some time backstage with the band before the show. Here's how it all went down:
After watching sound check I was introduced to the guys and we headed down to the green room. Don Preston and I sat down across from each other on couches waiting for the others to file in. Don sat, singing to himself, then looked up at me...
"Are you waiting for something," he asked.
"I'm sorry…" I replied.
"Are you waiting for something? Are you doing an interview?"
"Yes sir," I said.
"When?" Don came back, seeming to grow impatient.
"Right now!"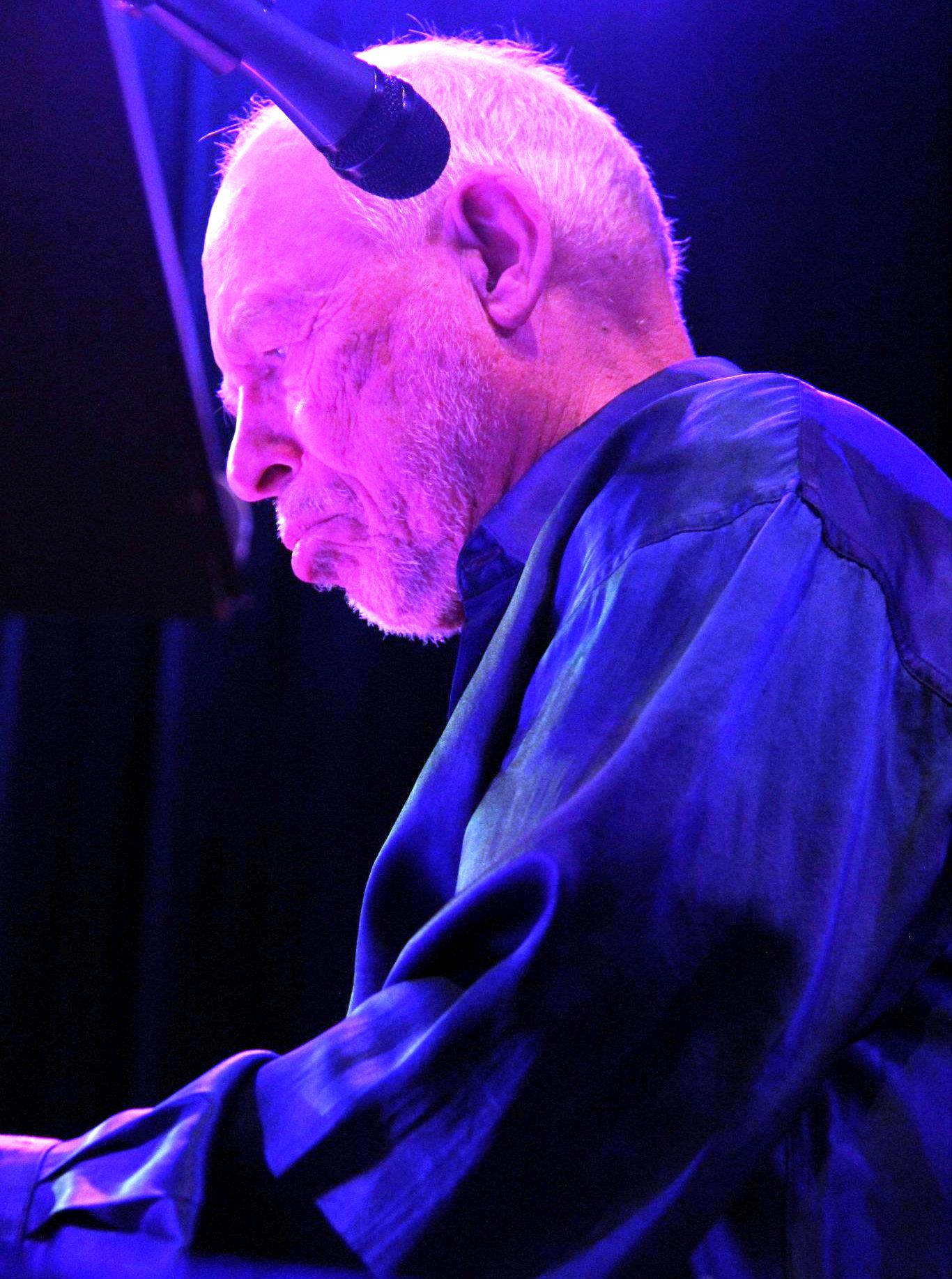 "What's your name?" asked bass-player Tom Fowler as he sat down.
"I'm Dave."
"Dave, I'm Tom."
"I know. It's a pleasure." (laughter)
GW: This is Dave Papuga with the Grateful Web, and tonight I'm backstage at the Boulder Theater with Don Preston, Tom Fowler, Chris Garcia, Robbie Mangano…and Napoleon Murphy Brock, who has chosen to sit this one out—
TF: He takes warming up seriously.
GW: How's the tour been going so far?
DP: It's been going great! I didn't think it would be half as good as it is turning out. Only because we haven't been here for ten years so…actually, I was in Boulder twelve years ago, in this theater.
GW: So you are about to finish up a leg of this tour?
DP: We have one more job tomorrow night.
GW: Then you're doing the west coast?
DP: First we're going to Norway.
CG: We're home for four days, then we go to Norway, Germany and Switzerland for two weeks. West coast is July 31st through August 8th, I believe.
GW: I've heard rumors that Bruce Fowler and Ruth Underwood might join you on some of those dates.
CG: Eventually on the west coast.
DP: I have a feeling that Ruth isn't going to come and play in any group whatsoever.
CG: She might show up, but not to play.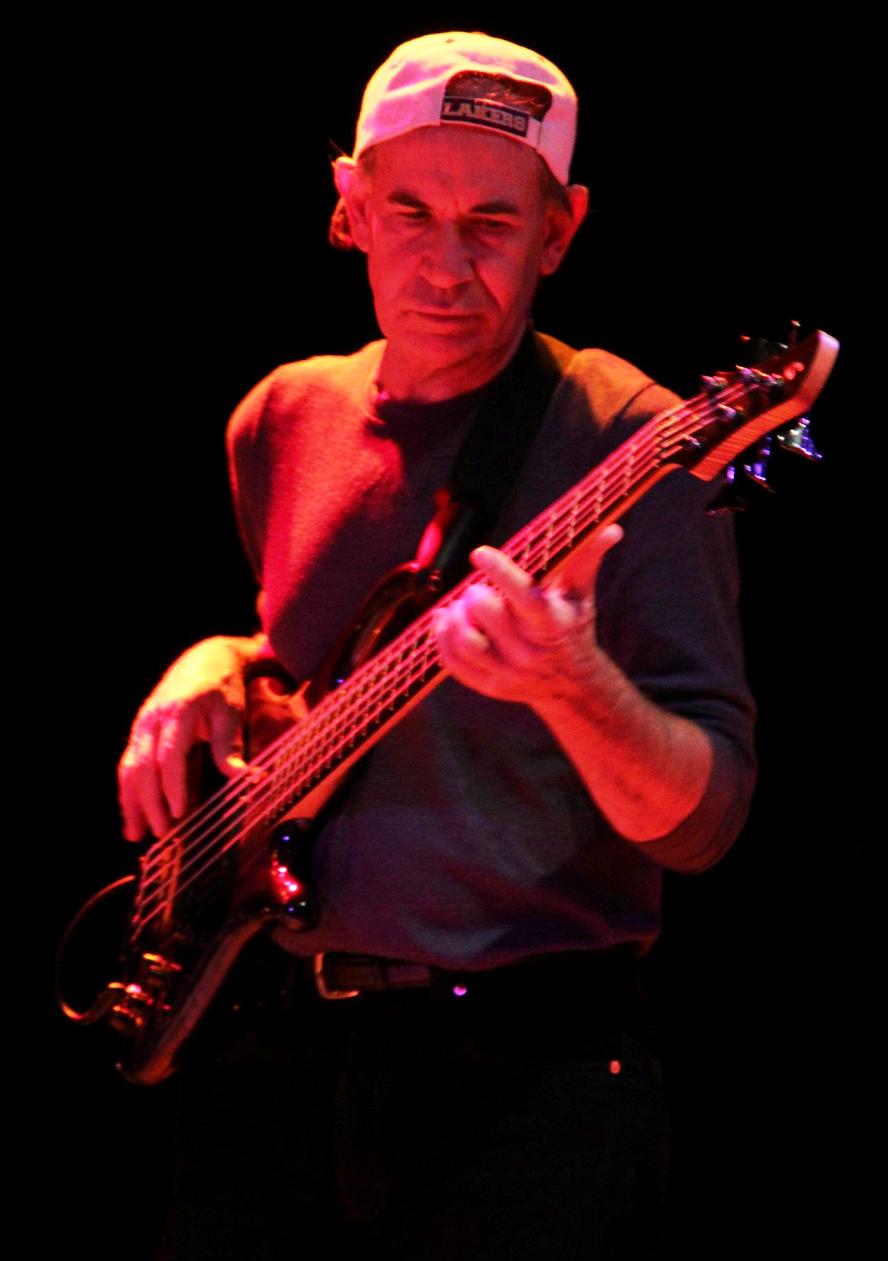 TF: We're going to do our best to get Ruth out.
CG: Just like Arty (Arthur) Tripp came to see us in New Orleans.
GW: I read that you called Ruth and told her Arty was there, but I guess Ruth never picks up the phone.
DP: Right, right.
TF: Everybody talks to her individually, but to have everyone in the room at the same time, and to have her actually answer the phone—
DP: Next time we should call her in the middle of a show—
GW: Wasn't that what happened?
DP: No, it was a sound check, but it was cool, she talked to everybody, then she left me a message and she wants me to call her, so I'm going to call her.
GW: So it's (Ruth sitting in on a performance) a possibility, I guess?
CG: Oh yeah.
TF: Well, you know, she's…what a waste if it doesn't happen—let's just put it that way. DP: She's told me at least five times that she doesn't want to play anymore…
TF: Yeah, but the sixth time is the one—
GW: That's the charm.
TF: Don't be so negative, damnit, she's coming. I'm going to force her to come if it's the last thing I ever do, and it very well may be. Now I really feel slighted—Mr. Negative is telling me—
DP: Yeah, how lame can you get? Mr. Ultra-negative fights Mr. Positive. And who wins? No one. Just remember the words of Johnny Mercer—
TF: Okay.
DP: (singing) "You've got to accent—uate the positive, elim—inate the negative, don't latch on to in-between…or something…"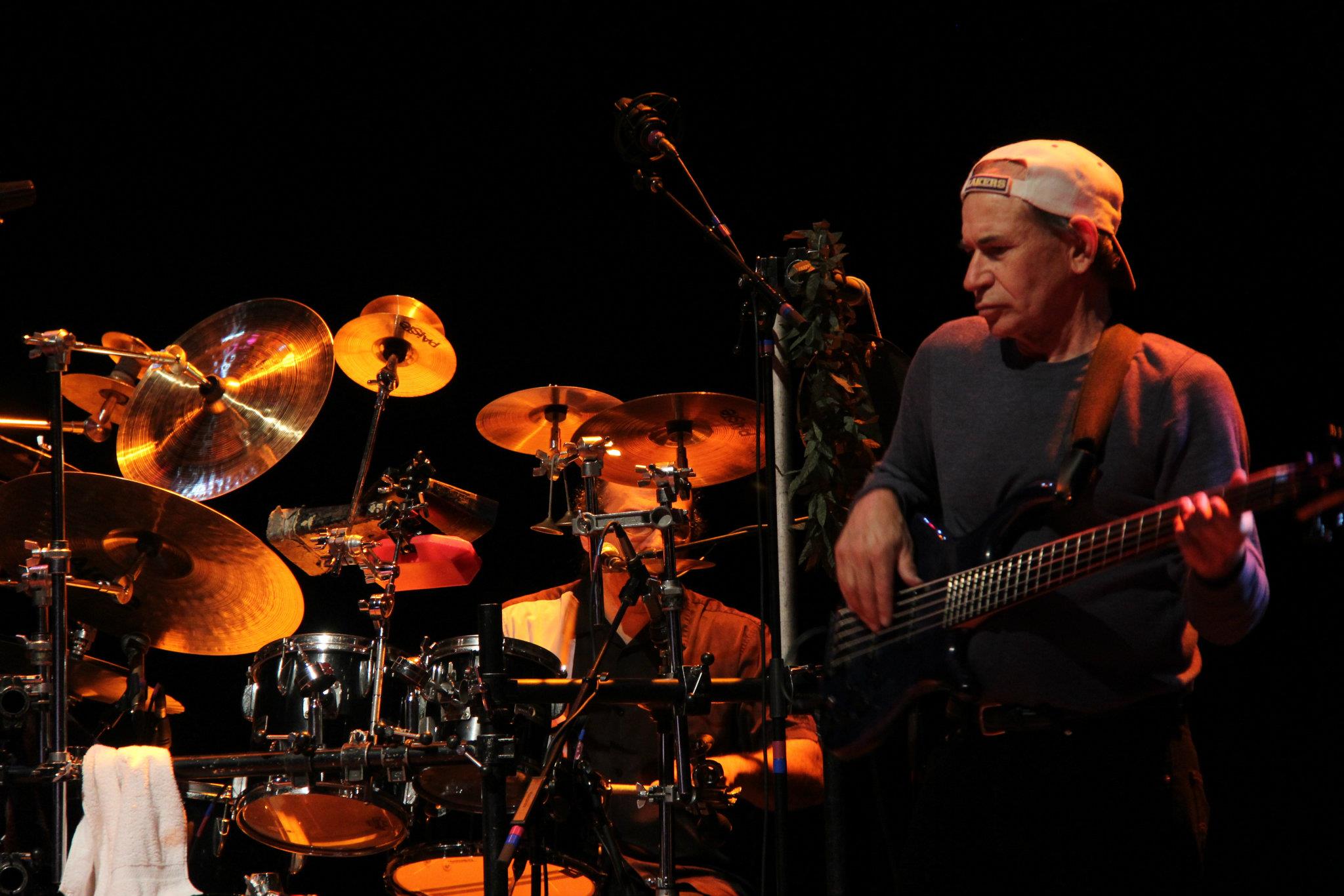 TF: I can't top that.
GW: Any highlights on this run?
CG: The proposal in Connecticut.
DP: Somebody proposed in the middle of the concert.
CG: Yeah, we had a proposal on stage.
GW: By an audience member?
TF: Yeah, by an audience member. Then we faked them out and pretended it was a dance contest…she didn't know about it, then they came up on stage. Then all of the sudden he falls to his knees and pulls out this massive diamond—
CG: While the band is playing; the band keeps playing—
TF: The band is playing; we're all casual…then she just freaks…it' was lovely. The chicks freaked—I was watching them in the audience—the chicks loved it.
DP: A lot of friends came that we haven't seen (in a while, but) Robby and I have seen because we'd been touring with Project Object.
GW: So, Don, you're soloing on the iPod a little?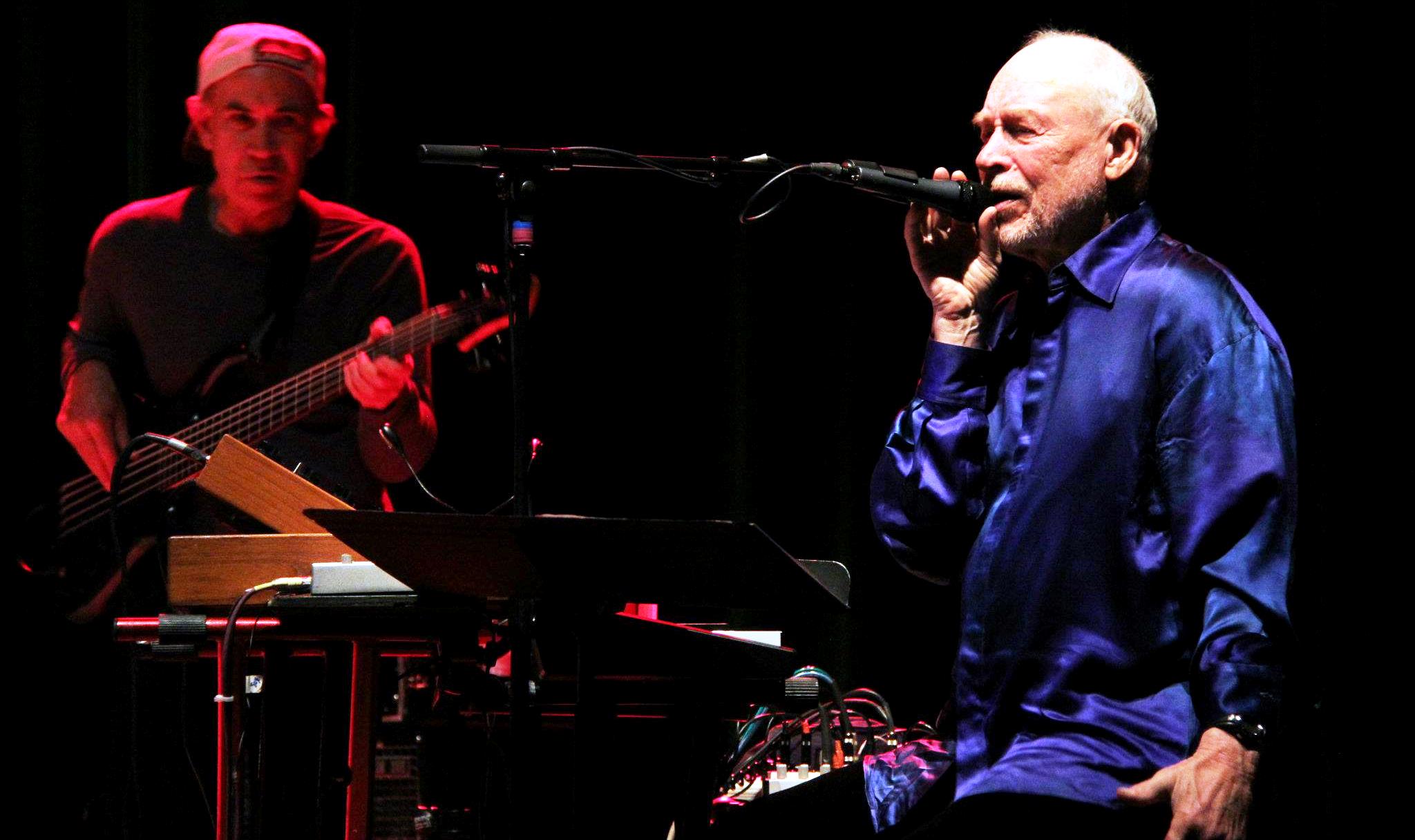 DP: Well, it's an app, and it's one of the best apps there is for the iPhone. It's an instrument; you can play it.
GW: My kid's got the keyboard and the drum pad app on the iPad that she plays.
DP: Oh, I've tried those, they suck.
GW: Well, she's four, so she doesn't know the difference.
(laughter)
Napoleon Murphy Brock:  (sarcastically): Why don't you tell us how you really feel, Don?
(laughter)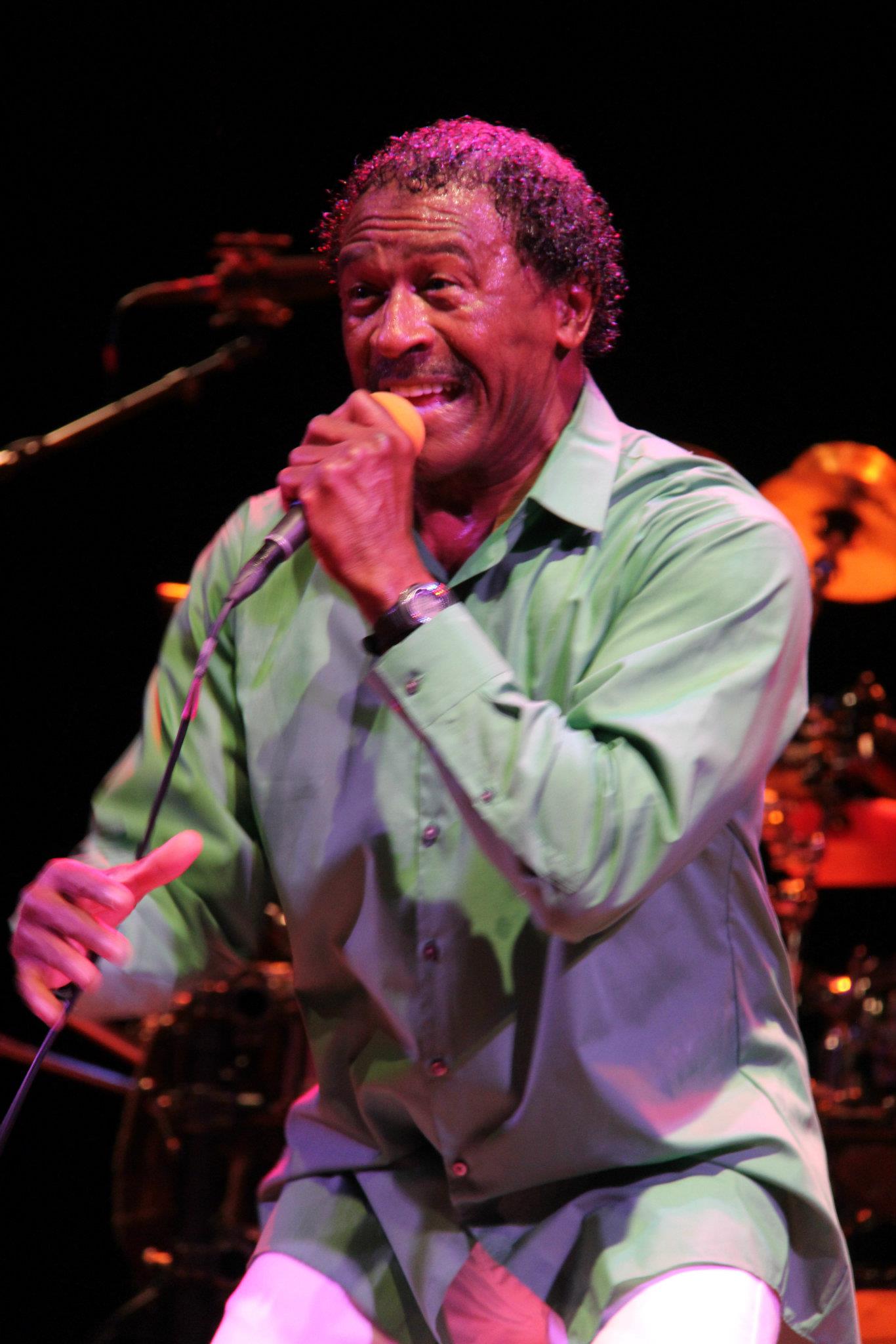 GW: Chris, how did you join up with this group of guys? I heard you took marimba lessons from Ruth…
CG: I studied at Cal Arts and John Bergamo was the head of percussion there. John's on Orchestral Favorites and Live in New York—on overdubs—and Ed Mann and I are students of Bergamo…and that's how Ed got into the Zappa thing. So when Frank gave John the music, we rehearsed the music also. So we were getting it when John was getting it. We would do concerts of Zappa music at school. Then Ruth came in for master classes, and she gave us individual master classes. So, that's how that connection with Ruth happened. I'm talking about 1979. And then I had a percussion ensemble and I was doing a lot of cartoon music and Zappa music and King Crimson and Bill Bruford, and we went to see Don playing with Bobby Bradford (he was an L.A. jazz legend—he's the original trumpet player from Ornette Coleman's band)…anyway, I did a thing with Bobby Bradford and he said "I'm playing Friday at L.A. County Museum of Art and you should come see us play." I already knew three guys in the band, but I didn't know Don. So I went to see them play and during the break Don came up to me—this is August 2002—and says "we need a drummer for this concert commemorating Frank in Germany." He said, "first of all, do you play drums?" I said, "yeah, I play drums." He said "we're going to do this Zappa concert," and asked me if I played Zappa music. So I asked him to whittle it down, since there are 68 albums. So Don started calling out titles, and I was able to sing the melodies back. So he's like "okay, you know the music. We're going to start rehearsing in March for this gig in August." (laughter) I had played and arranged a lot of that music, so when it came time to play in that band, I knew the arrangements, and I was a fan of the music.
TF: I had already known him (CG) for three or four years, but didn't know he played drums.
CG: So that is how that came about, because of Don.
GW: I figured you must be good, and by the sound of the sound check, I was right.
DP: It was Alex Cline who told me to call you, and I said, "he plays drums?" It was totally weird. (laughter)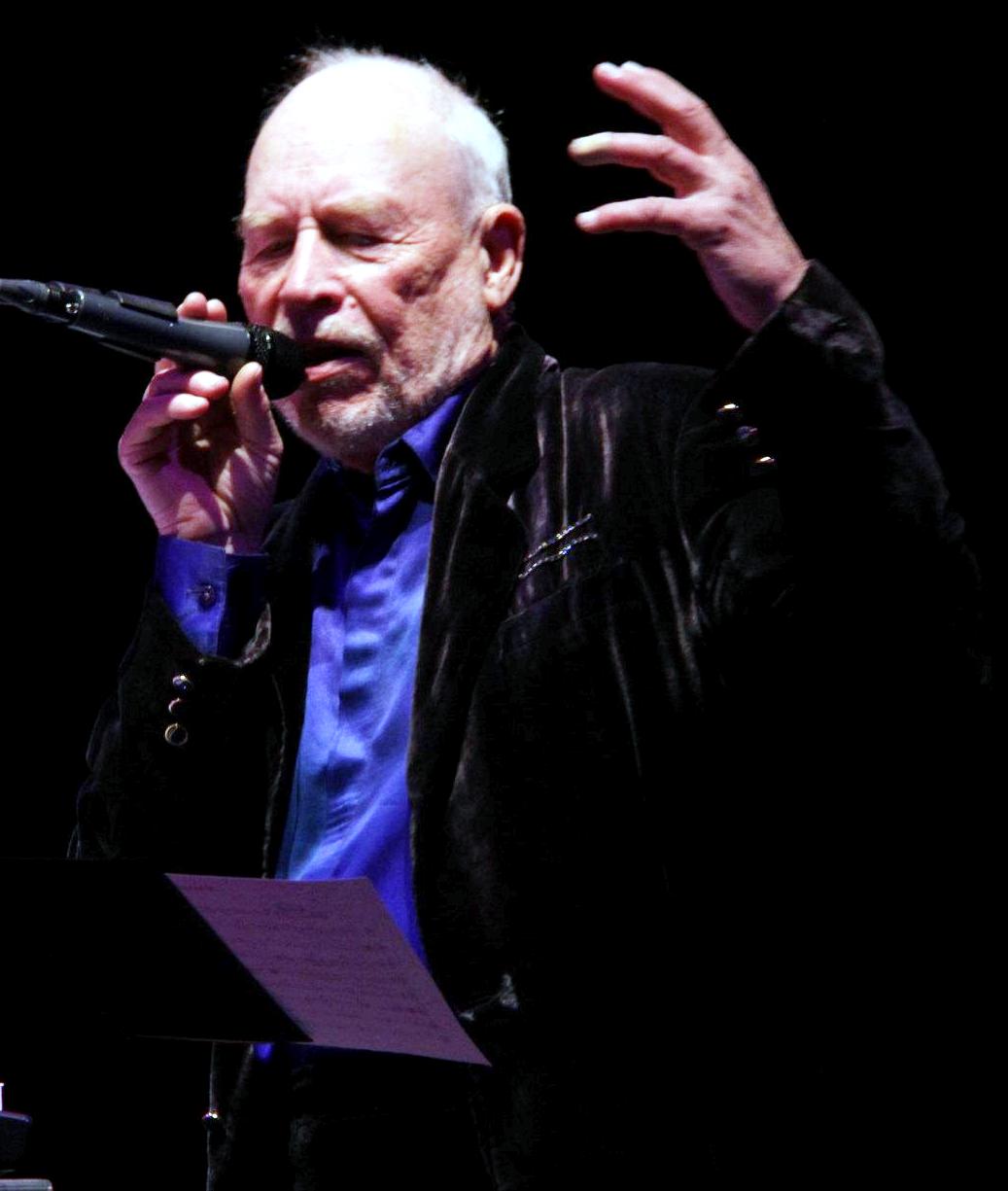 GW: When I talked to Napoleon he said you wouldn't be playing "Be-Bop Tango" without Bruce.
DP: We haven't played it, but I feel confident that we could.
CG: The interesting thing about this band—its only five guys; Frank never did less than (laughter)…he did one tour with five people—FZ:OZ—but it was usually a sextet with a percussionist—like eight or nine people. So for five people to try and cover his music…it's interesting.
(laughter)
CG: Everybody works really hard.
GW: No slouching up there tonight.
CG: No, there's no slouching on stage, that's for sure.
GW: Don, I heard you were working on a solo piano "Black Page."
DP: Really? (laughter) Well, I practice it all of the time. Now, that we could get Ruth to do. (laughter) I have a version of "The Black Page" that I did a sequence of. I figured out all of the complicated rhythms that are in that thing and I played it for Ruth and she said, "wow, Donny, that's perfect."
CG: I have a Ruth Underwood "Black Page" story. She told me that…it was only performed once—"Black Page Part One," "Black Page Part Two" has been done a million times. But they only did it that one time, then weeks later she over-dubbed percussion—that's nine instruments. That's why they say it is humanly impossible to play. She was playing marimba, and you can't punch in or else the roll stops, so you have to play from beginning to end. So if you listen to that particular version, it speeds up and slows down; it's not perfect because it's live. What happened was after she finished all of that, she sat at the piano and played a solo piano version of "The Black Page," and she didn't know that Frank was recording her playing it on the piano. After she played it, Frank popped his head in and said, "Can you play that again?" So she played it again. She told me that in the vault somewhere there is a version of her playing it solo on piano.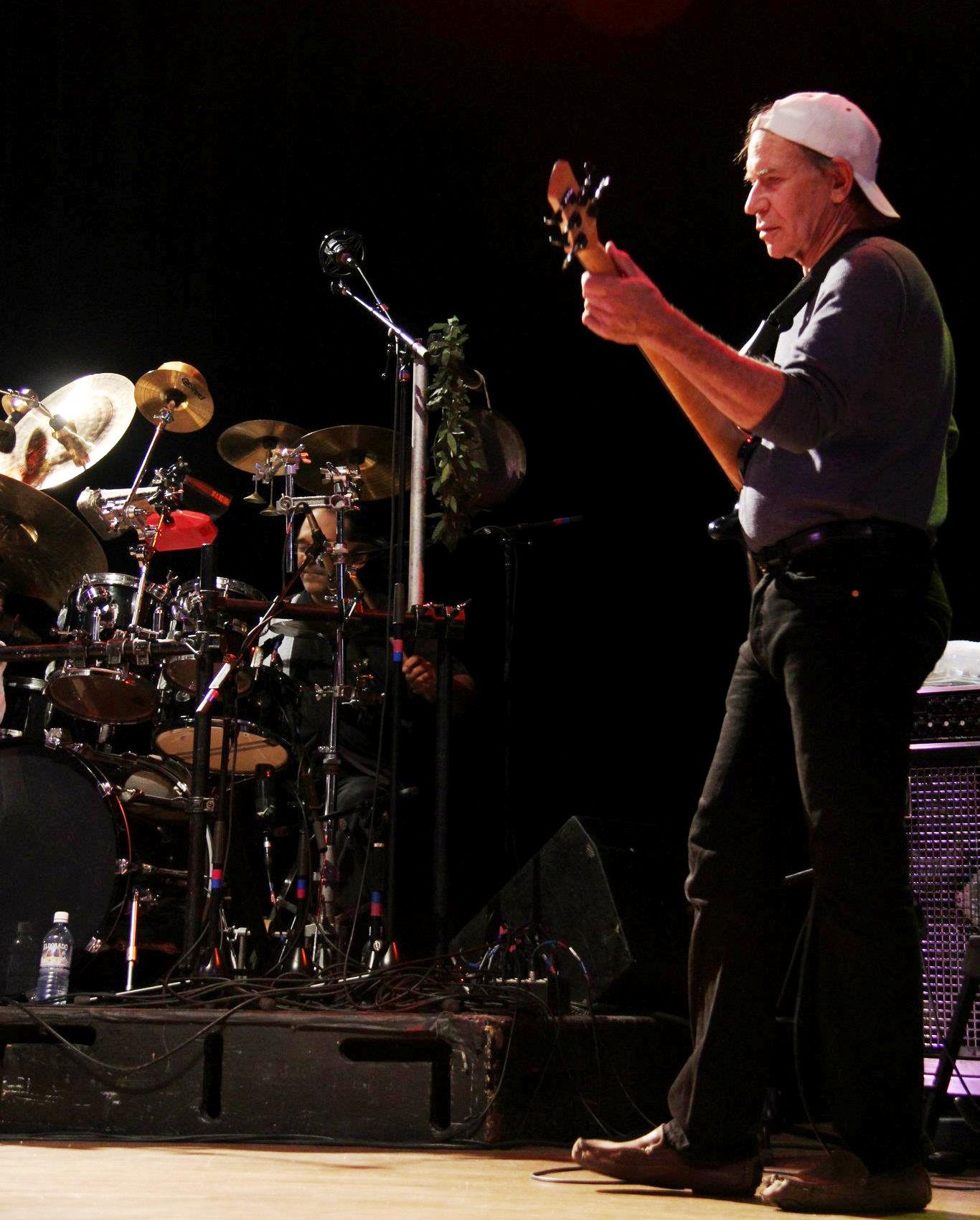 GW: That's cool.
TF: That is amazing.
GW: When you get a chance to talk to fans, what kind of response are you getting from them regarding this tour?
TF: They are super-grateful.
DP: People dig it.
TF: A lot of people have told me that they are really surprised how good it is. I'm kind of surprised too.
GW: Pretty much as good as it was.
TF: Pretty much the same.
DP: I have to bow down to George Duke. He was amazing…and still is.
TF: Frank really had a chemistry going with Nappy and George. There's plenty of music to do; we were there when it was developing. We're part of the sound. I'm not saying that with an egotistical thing, it's just the truth.
GW: Well, the music was developed around you guys. It was written for you.
TF: You know how he always said he would design music to fit the players? Well, we were the guys.
GW: Ironically, Happy Mothers Day to you guys. (laughter) Thanks for coming out and playing for us; especially for the younger generation that never got a chance to see The Mothers. Like me, I've got bootleg recordings coming out the wazoo—
DP: The grand wazoo. (laughter)—
GW: But to actually get to see you play live on stage—
CG: I feel the same way, when I'm up on stage—it's like an out-of-body experience—
DP: How lucky can you get? (laughter) You're like the luckiest guy in show business. I think that what Napoleon was saying is right on—you cover all of the different drummers. That's amazing.
CG: Poor Robbie, he's got to play the Frank part, and Frank really evolved as a musician. On the first two records he didn't play solos, he just played rhythm. He had Elliot Ingber playing all of the solos.
TF: Yeah, he got way better.
CG: But the drummers: Jimmy Carl Black, Billy Mundi, Arty Tripp, Aynsley (Dunbar), (Terry) Bozzio, Chad (Wackerman)…Arty Tripp was one of the best drummers. Arty told me that he learned rock and roll drumming from Jimmy.
GW: Really?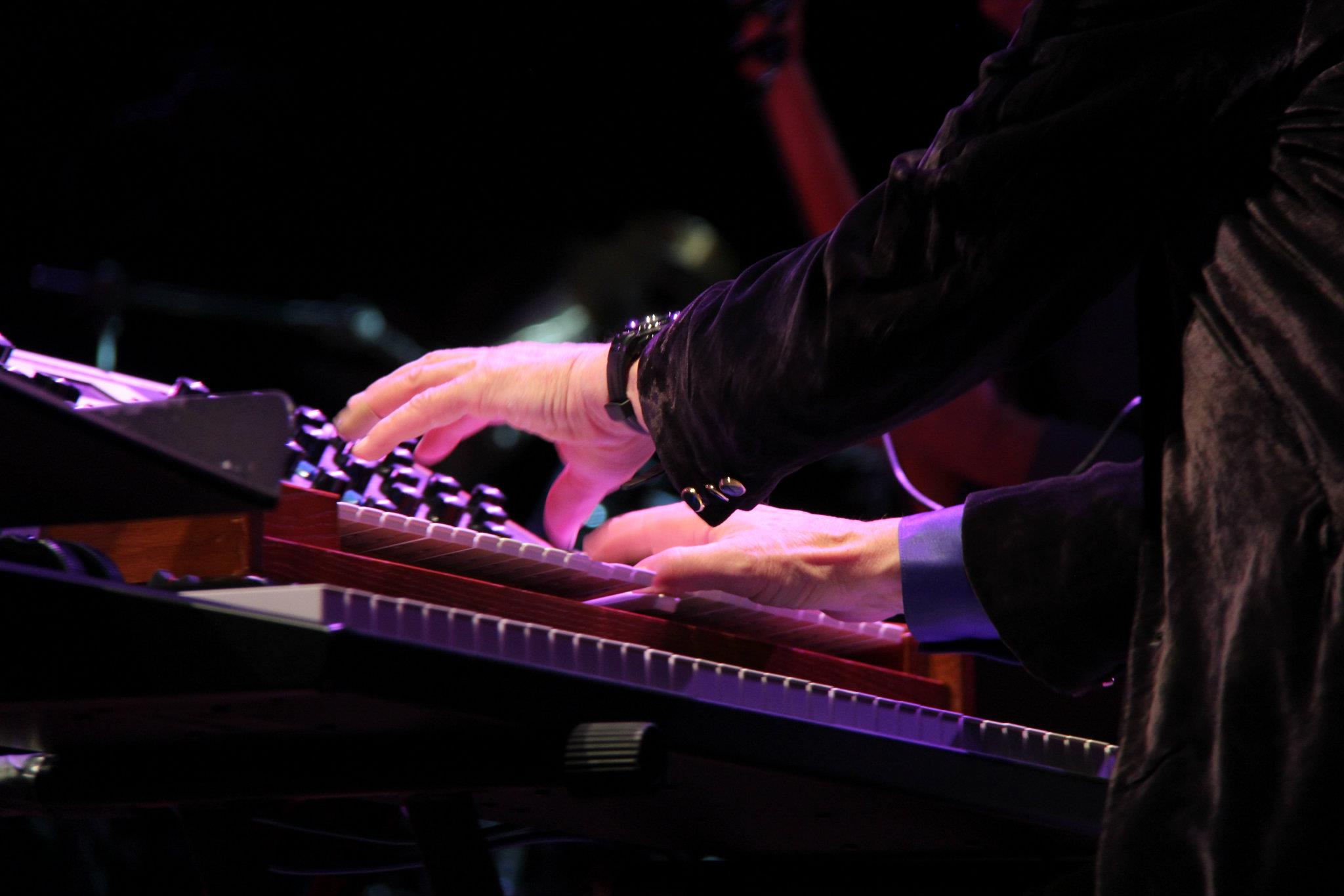 CG: Yeah, because Arty was an orchestral percussionist. If you look on Uncle Meat, it says "percussion and marimba by Arthur Tripp and Ruth Komanoff" because it was before she married Ian (Underwood). They go way back.
The person who's helped make the GrandMothers come together non-musically was Bob Duffy, who is Herb Cohen's business partner. Herb was the guy who managed Frank for all those years…but then he and Frank had a legal thing after '76, and then he had a bunch of different managers, but Herb was the guy from '66 to '76. Herb passed away a couple of years ago, but Herb and Bob Duffy had been managing George (Duke) since '74. Bob came on board (with the GMOI) and he's opened up so many doors for us here in America. We've been working in Europe for years; we've done over 220 concerts in sixteen countries.
GW: I talked to Nappy about that. You play over in Europe like it's nobodies business.
CG: Yeah.
DP: Tom, tell him your Captain Beefheart story!
GW: Nice! Fire away.
TF: Okay. Once upon a time in Stockholm, Sweden in…the year was…I forgot…I was playing bass with Jean-Luc Ponty, and my brother was playing air-bass with Captain Beefheart. So we're in Stockholm and I'm on the second floor, and we had a few days off, so Beefheart goes up by the elevator on the second floor and just sits down and starts smoking Camels and drawing and writing stuff and recording stuff into his little cassette thingy—
GW: In the elevator?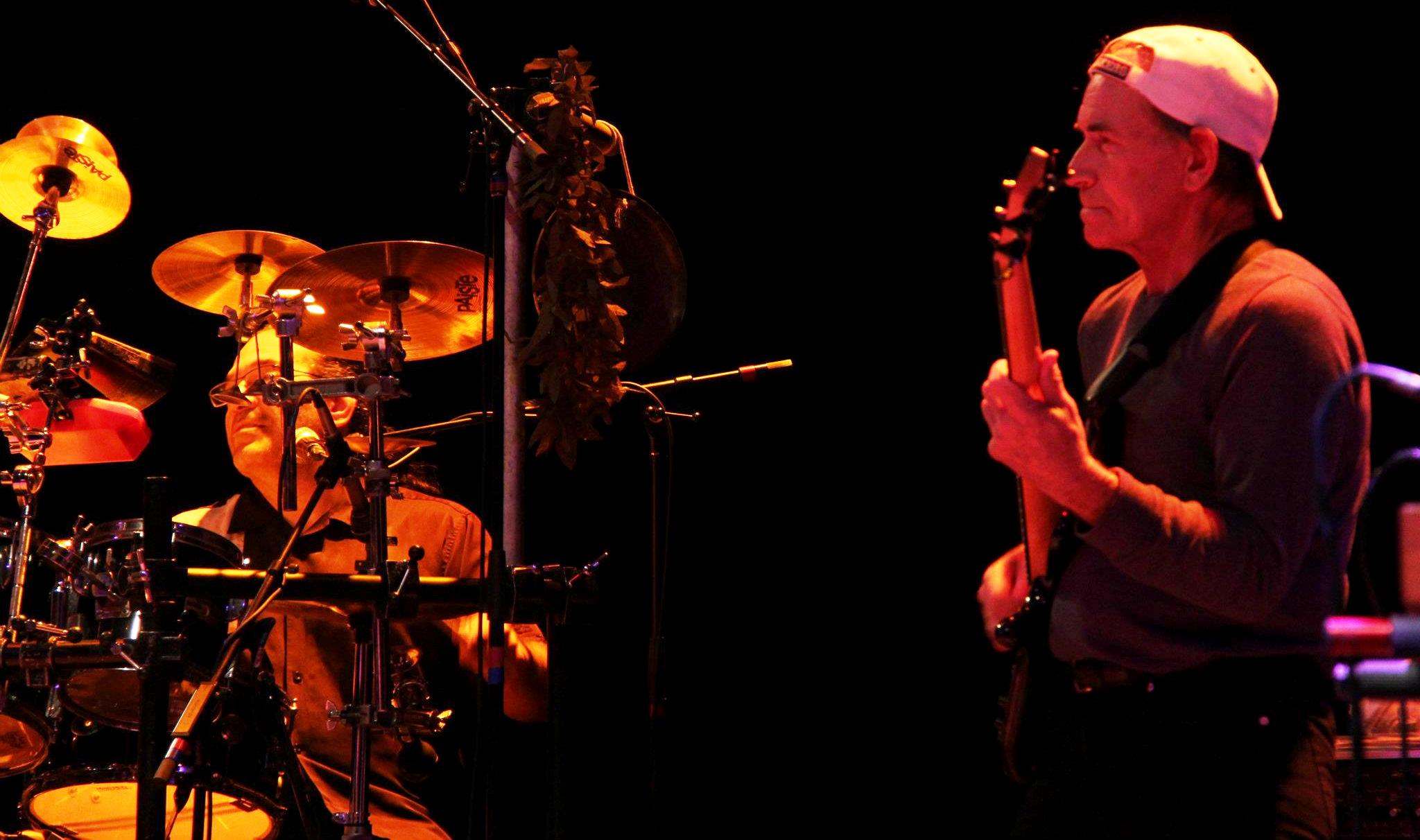 TF: No, right outside the elevator. So, people would have to pass him, and there were a bunch of Stockholmians that were hanging and just listening to him, so, you could go there and hang out with him for about an hour or so, then split, then come back and he'd be there, for like two or three days. The pile of cigarettes kept growing, higher and higher—the volcano of spent smogs. That's what we used to call them—smogs. He was like, the most creative guy you're ever going to run into; he was constantly creating in one way or another. And his crazy poetry, which would be—it's hard to describe—but I could see how he'd go off the deep end into another trough of thought, then go off of the deep end of that trough into another trough of thought…he would have these little strings of thought that would go from thought to thought to thought like spider webs…and you'd have to follow them, if you could. It was almost impossible to follow his shit, or try to figure out how his brain worked when he was making these giant leaps. It was amazing…his painting in between thoughts…and his whole character of goofiness was just great. He was a cool cat. That's about it. I didn't know him that much; I knew him pretty much. Bruce (Fowler) got a lot of paintings from him; I didn't get any. I wish I had gotten at least one thing from him to put in my house, but that's okay.
GW: You got a lot of good memories.
TF: Yeah, I got to play with him. We did some crazy shit, there's no doubt about that. There have been three or four geniuses in my life and he was one of them. Frank was, Ray Charles was, and a woman named Hildagard Knef from Germany.
GW: So Robbie, how did you meet up with these characters?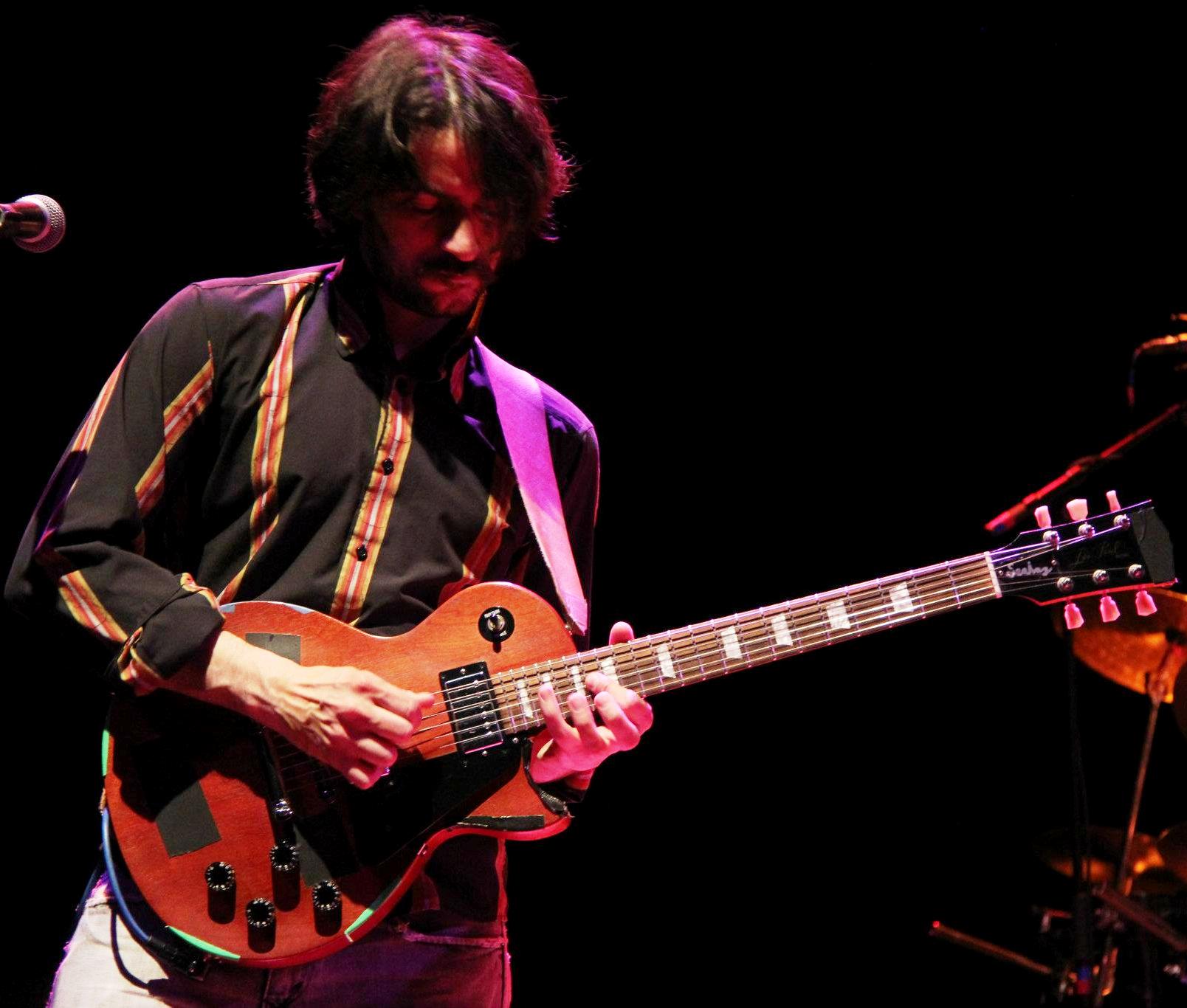 RM: I know Napoleon and Don from when I used to play in Project Object in the late '90s until about 2003. I was pretty much a third guitarist in that band. There was Ike (Willis), Andre (Cholmondeley), then there was me; I was about 24 at the time. Napoleon was on a couple of those tours, and Don had joined as a guest, as well…so that's how I know those guys. Everyone else in this band I met in Europe at Zappanale in 2009. Basically, they had their guitar player, Miroslav (Tadic), but when he can't make it, they call me.
GW: Because you can get the job done.
RM: Basically.
GW: Are you on the Europe leg?
RM: Yeah. I've done all of the European tours since 2009. That's been the bulk of it.
Check out the Grandmothers of Invention website for a complete list of shows.
Here is Grateful Web's review of this year's Boulder, Colorado show.
And a link to Grateful Web's interview with Napoleon Murphy Brock.