I hope the folks in Greensboro, NC and Florida got the same treatment we got from RatDog here in Philadelphia before ending their Fall Tour. Two weeks after our country rejoiced and welcomed a new sign of hope in the free world with the election of Barack Obama, Ratdog brought the house down. The stage was full of election remnants. There was a bumper sticker on a monitor that read, "McCain't Gonna Happen." RatDog's drummer, Jay Lane, had the whole face of his kick drum covered with the Obama campaign's symbol. The crowd was sporting Obama tee-shirts as many felt a new pride at being American.
Let's face it; November 15th at the Tower Theater could arguably be the most solid show most of us have ever seen RatDog perform. From the opener to the encore, each member worked with the other seamlessly in transition and approach through every song. Now I'll admit, I haven't seen them since last year. So I'm sure one will argue this particular show as the best of the tour.
But answer me this: When looking back at RatDog since '95, has anyone seen THIS RatDog?
You could talk about the differences in style and technique between Ellis and Brooks or Kelly and Karen or even Wasserman and Sylvester, but can you look back at those other lineups and say that they were as tight and coordinated as the current lineup? I don't think so (and my favorite show still to this day is 7/3/97 - Further).
I think this lineup plays tighter than any past lineup because they all have an understanding of what Bob wants to do. They all know when Bob wants that pause, hesitation, segment. They take advantage of that in their own way by adding a personal energy to the equation. And that's what makes this RatDog so different. Ten years ago, Bob could have come out and played Dead-style but he wanted a new touch to it. That's what makes RatDog a new celebration of Dead music. These days that touch is sounding damn good.
Of course, it was great song selection as well. The first set opened with "Jack Straw" into "Cassidy." The second ever "Dancin' in the Street," midway through a set, was a surprise to us all. Then, a deep jazz "Milestones" was refreshing. They closed a good first set with "Hell in a Bucket," which is always great to hear Bobby sing.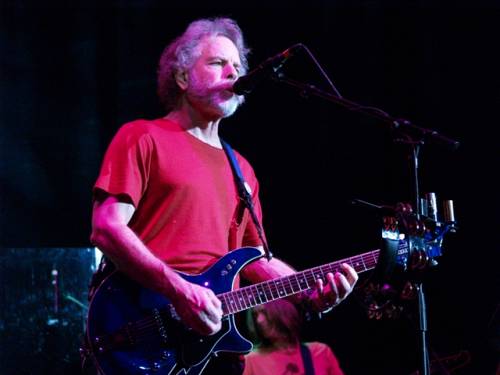 The second set was unbelievable! They opened with "Friend of the Devil," and then covered Bob Dylan's "A Hard Rain's A-Gonna Fall." "Mississippi Halfstep" got the crowd rockin' and they marvelously went in and out of songs through the ending of the show "Dark Star > Cassidy (reprise) > One More Saturday Night." The encore of "US Blues" came with someone from backstage running around the stage with an enormous United States flag. The crowd went crazy.
But song selection can only get you so far. It's the flow; energy and transition of multiple musicians working through the selections that make it all come together. We've seen this before.....and Bob is making it work again. Hats off...