The Wood Brothers brought their traveling, musical tent show to Eugene's McDonald Theatre (Jan. 21) and held a genuine revival meeting, awakening the yearning spirits of the devout, as well as the newly converted.
They strolled amiably onto a stage decorated by a strip of barnyard fence and a quaint, nostalgic table-lamp.  Adorned in modest, Nashville thrift-shop apparel and encouraged by the stark, Dust Bowl aura of their set-design, the brothers Wood appeared strangely akin to Grant Wood's iconic, 1930 painting, American Gothic.
The still timelessness of the image suddenly caught fire, kindled by the trio's first hot stomp, "Stumbled In."  Chris Wood took the cap off the bottle, bowing his upright bass in an eerie soundtrack of creaks and groans until Oliver Wood gently poured the swaying lick—"You give me chills/when you sing so sweet."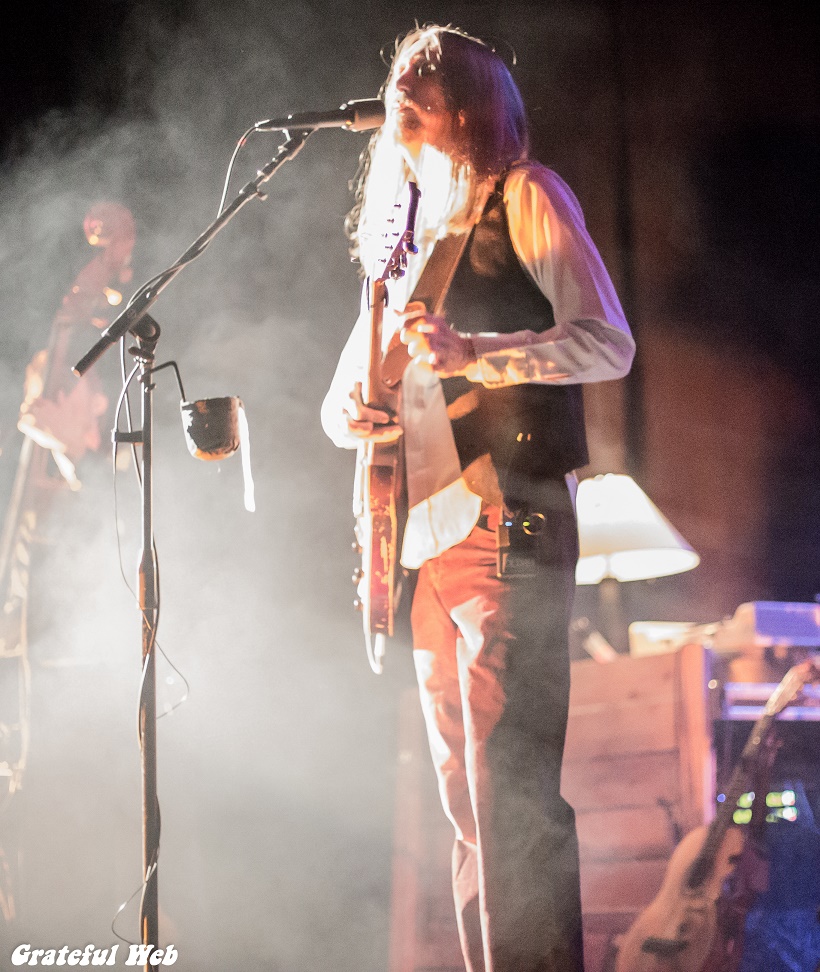 The tune, from the Wood Brothers third album, Smoke, Ring, Halo, crosses a church-house with a roadhouse and immediately baptized the McDonald  in the band's own boozy blend of wickedness and redemption—"I'm in the shadow of your snow-white wings/this must be heaven I've stumbled in."
Chris and Oliver Wood come more from the mountain-top (Boulder, Co.) than the bible-belt.  Their tale unfolds like a warbling, cosmic-cowboy ballad Gram Parsons may have sung—raised in the Rockies by a molecular biologist with a penchant for campfire guitar, a poet mother's ear and several crates of sensational records; they chased divergent paths; Chris anchored the modern jazz trio, Medeski, Martin and Wood, while Oliver toured with bluesman, Tinsley Ellis and fronted his own band, King Johnson; then they circled back to shared blood; crafting songs together, in Nashville, Tennessee.  These narrative elements resonate in the Wood Brothers' intimate, allegorical and unmistakably American art.
"Wasting My Mind," from the band's most recent release, The Muse, slithered through the crowd with a sinister, speculative groove first fingered by bassist, Chris Wood.  Multi-instrumental accomplice, Jano Rix kicked at a stripped-down skin-set while Oliver Wood carved a few lean slices of vintage guitar.
The stoked rapture—"you make me feel it"—of "Stumbled" became suggestively complicated by inverse stipulations of longing and regret.  A heaven-sent shot of Bill Monroe's "high lonesome" pierced the space between past and present with a remorseful, Appalachian whine—"Wishing my heart would have thought things through/wasting my mind on you."
The acoustics of the historic McDonald Theatre highlighted the Wood Brothers' fantastic vocals throughout the evening and this was the first striking instance of their heartfelt, bluegrass harmonizing.   A funky, Leon Russell shuffle sauntered in on the wings of the soaring chorus and the spotlight shined on Oliver's own incredibly visceral voice.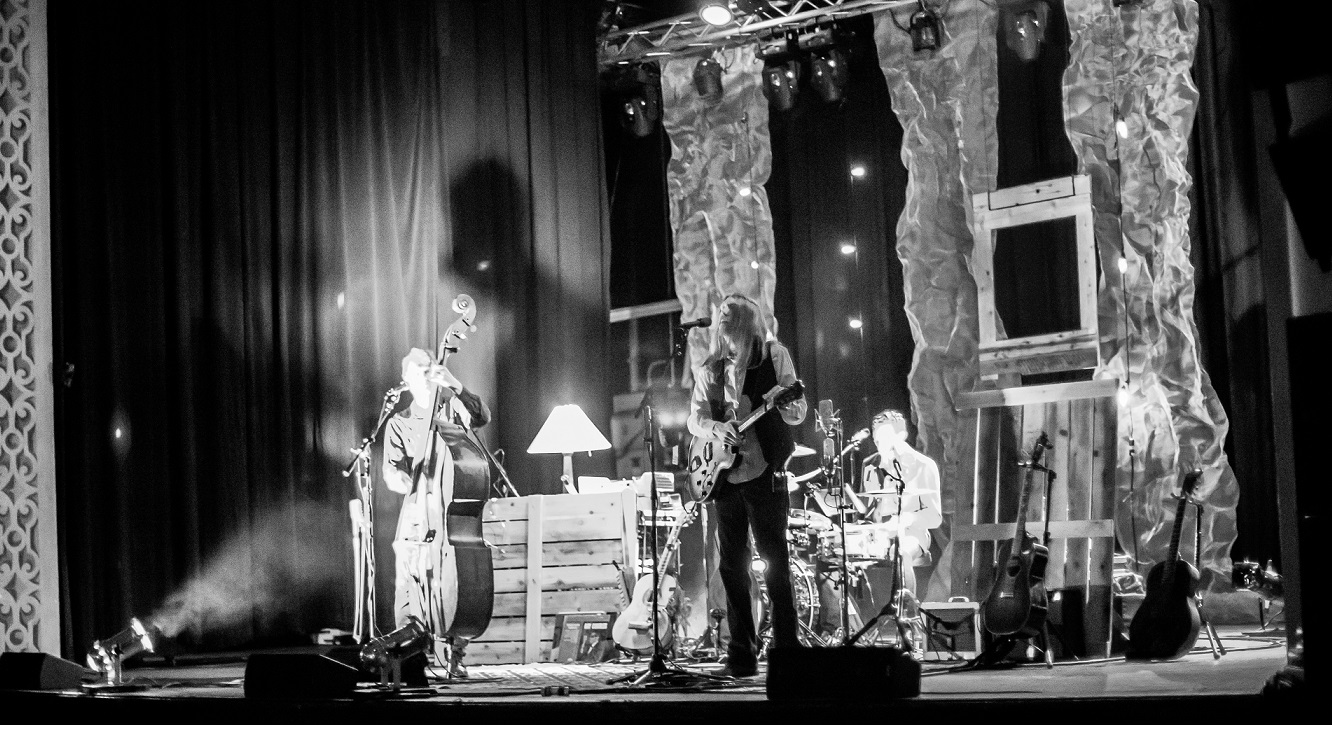 He's got bayou, Mississippi delta, west Texas, and a whiff of the Rockies flavoring a Piedmont twang.  His style, like Russell's, is saturated with strong essences of both country and street, capturing the conversational quality of a hobo prophet, short on circumstance yet glowing with hard-earned truth.
The next track, "Who the Devil?" lent full throat to the question merely whispered in the prior lament—"Do you have to be lost to be found?"   This time, however, the Brothers snapped-off an insistent, scuffling gait, brimming with defiance rather than desolation.  An irresistible funkiness permeated the theatre and affected an "Ah, well" acceptance of flickering Fate—"Well it is what it is and it isn't what it ain't/Doesn't matter what it was 'cause you know it's gonna keep on."
"Blue and Green," from Smoke, Ring, Halo, continued to explore shrouded pathways between the ordinary and the sublime.  A spell-binding piece of Townes Van Zandt-style poetry, "Blue and Green" largely featured Oliver, finger-picking his own acoustic accompaniment, only delicately accented by Rix and brother, Chris.  The song opened swinging doors between this life and the next, hauntingly connecting living souls with others since past—"She was once just like me/now she's gone into the blue and green." 
"Keep Me Around" loped like a hound fetching a stick.  Rix thumped and padded his street-savvy "Shuitar," a "shitty" acoustic guitar modified with tin cans and finger cymbals.  Chris eagerly plucked an endearing pattern on his upright bass.  Oliver tenderly scratched at the sweet scruffy tune, and ribbons of warm light danced with creek water as the trio harmonized another ethereal prayer.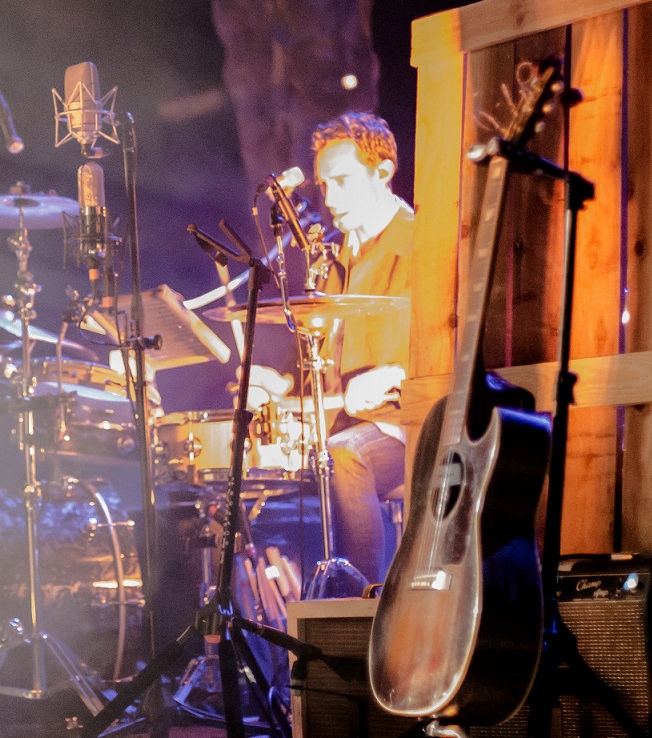 The Wood Brothers appeared to astonish the mature, mostly seated and coupled crowd throughout their gripping performance. 
The bedroom vignette, "Mary Anna" channeled the best of Kris Kristofferson, roughly tender, sensual and sincere—"Oh won't you cut on the lights Mary Anna/cut on the midnight sun/cut on the lights, Mary Anna/I can't wait for the morning, the morning to come."
Oliver christened a new, "locally blown glass" slide on "Shoofly Pie," and coaxed some house-rockin' Hound Dog Taylor from his screaming strings—"You know how bad I need some of that!"
"When I Was Young" also got heads nodding approvingly.  Chris lit a brush-fire of low-end fury that threatened to incinerate the song, as well as the theatre.  Oliver crept in and cooled things to a skin-tanning sizzle.  The emphatic tempo raced like time.  They ghosted again—hints of Dan Hicks' Hot Licks; a whiff of Mose Allison.  Crackling energy surged through the seated patrons, sparking all manner of unrestrained thigh-slaps, toe-taps and dancing knees. 
"When I Was Young" played like the Wood Brothers' anthem, underlining where they're at by confessing where they've been—"When I was young I used to say my prayers without the feelin'/I didn't worry about things I couldn't understand/I didn't know anything about hurtin' and healin'/I didn't believe I could ever be a man."
At one point, the trio amplified the intimacy of their amazing set with an antique microphone, "Big Mike," which enabled quiet echoes of "radio days."  The Brothers huddled around "Big Mike" and cunningly drew the crowd even closer. 
Chris released his pure, light, gentle voice on "Don't Look Back," another heart-aching song that brought listeners to the place where life (and love) fatefully passes—"When I put your hand in mine/I feel you slipping away from me/and there's nothing that can hold you now."  The theatrical employment of "Big Mike" intensified the song's palpable considerations of transience and loss.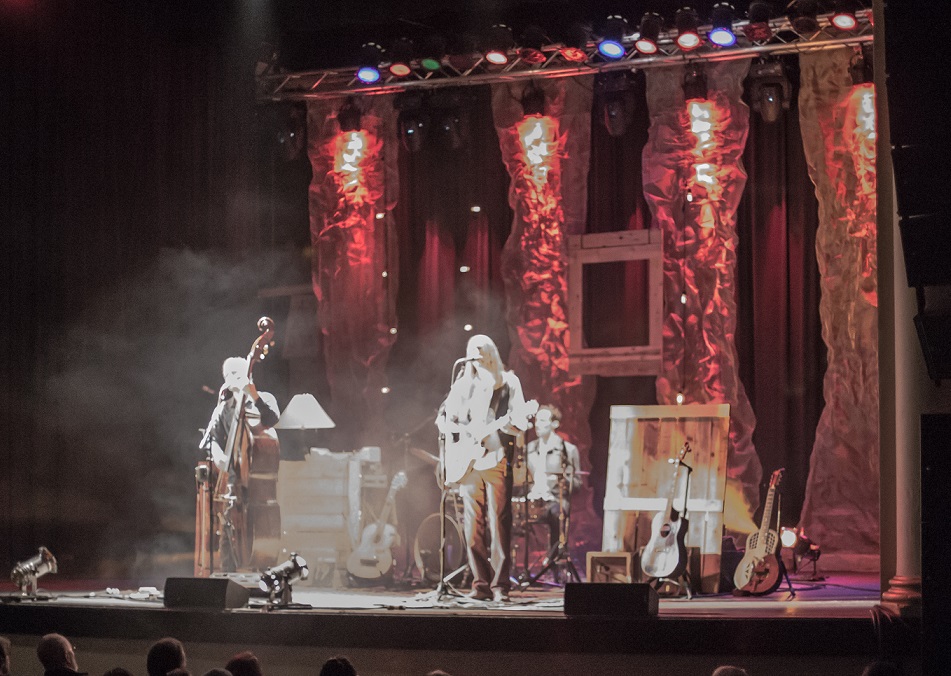 Next, the Woods graciously invited their opening-act,  bluegrass duo Mandolin Orange, to squeeze up next to "Big Mike" and join them for (what Oliver called) the" foxiest bluegrass fantasy."  The traditional "Fox on the Run" offered a wholesome, randy romp that recalled the home-style merrymaking of the Grand Ol' Opry.  Spry instrumental interplay and pitch-perfect harmonies were the course of the rambunctious "Run."
The Wood Brothers continued to demonstrate their versatility with a clever mash-up of the Beatles' "Fixing a Hole" versus "Hole in My Life," from the Police.  Even on these "songs the Wood Brothers didn't write," as Chris described them, their own creative energy presided.
They concluded their captivating sermon with double-fisted slugs from "Honey Jar" and "Atlas."  Mystic revelations—"there's a spoonful of honey where your heart should be"—were punctuated with a righteous, soul-rattling clamor.  The crowd rolled in the holy ruckus and jubilantly remained—"It's no accident I landed here/eyes wide open and seeing clear/I have come a long, long way."
Make no mistake—the Wood Brothers are out to save souls (starting with their own).  They're not duplicating inert forms.  They're going beyond adulation.  They haven't simply embraced America's rich musical heritage; they've absorbed it, and infused it with their own immediate perspective.  They've discovered a musical power separate from sound; a force felt as much as it's heard.  It is what connects, moves, comforts and ("Hell, yeah!") inspires.  The Wood Brothers have somehow tapped this transcendent quality (spiritual conductivity), and whether acquired at the crossroads or from the Holy Ghost, they're joyfully invoking it with startling success.