Progressive bluegrass pioneers, the Infamous Stringdusters rolled into Eugene (Ore.), January 20, and lit-up the McDonald Theater with a typically brilliant performance. This fire-breathing, five-piece combo's relentless determination to Dust damn near every town in the country has honed their live show into one of the most reliably "hot" tickets on the thriving jam-band circuit. Every set is a high-flying adventure. Their head-spinning Eugene appearance only added to their growing reputation. Night after night, the Infamous Stringdusters make the exceptional appear routine.
The Stringdusters are a difficult band to categorize. The term "bluegrass" is imperative, but there is so much more. Their art is fluid and evolving. They present a recognizable, strictly defined package, and then they turn, into something else, surprising. This changeling quality was on full display throughout the Dusters' Eugene show, as they shifted effortlessly between familiar, traditional forms and experimental mutations.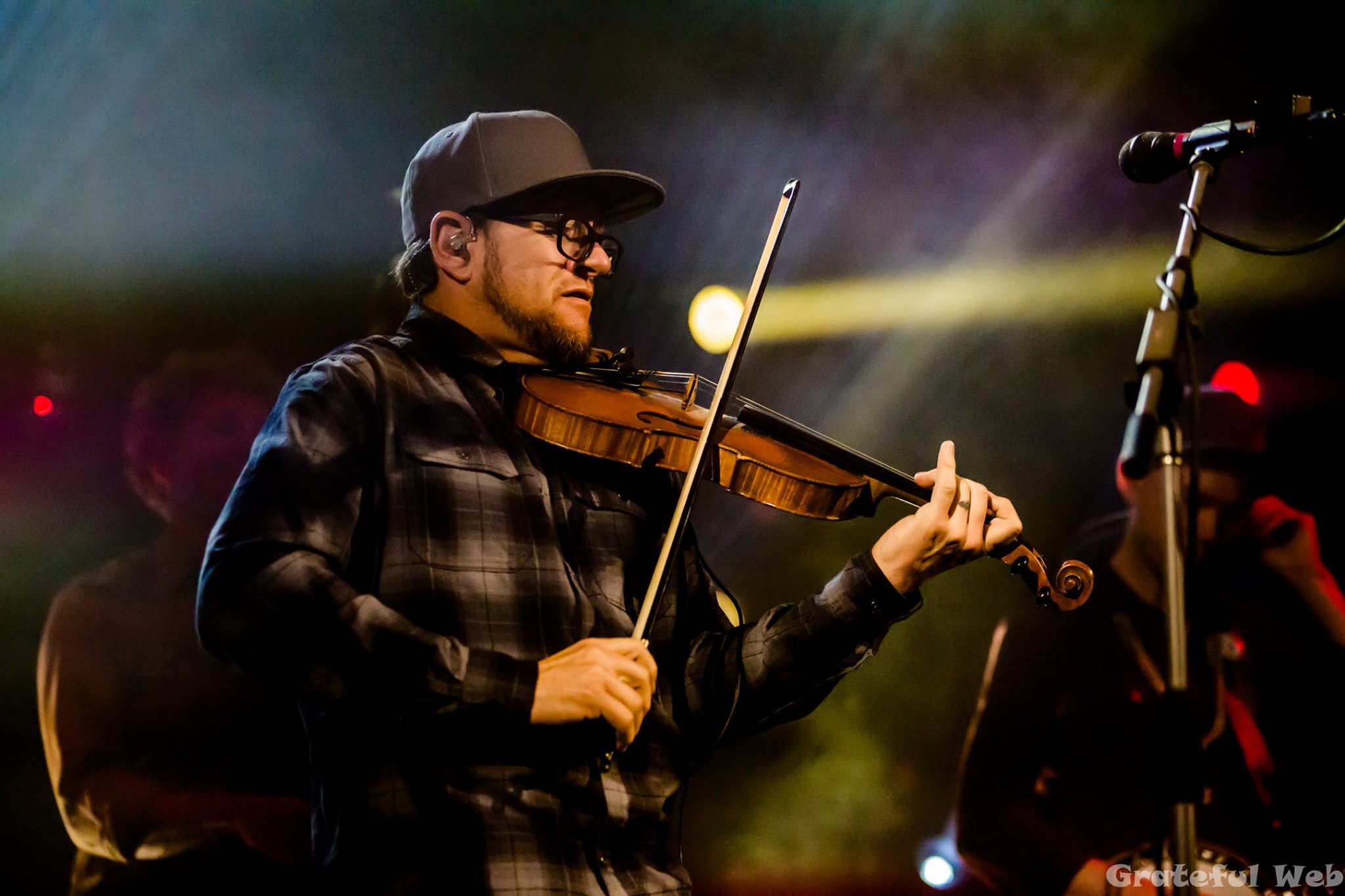 The Dusters don't require a lot of warm-up, and almost as soon as the first boot scraped the stage, the group was piping hot. Even the introductory tuning spit sparks, as they collectively dialed-in "the sound" before bursting into a triumphant "Where the Rivers Run Cold." The song coursed through the theater with a blast of mountain grown grass. Piercing harmonies sent shivers. The group crackled like kindling and quickly brought the house together for a collective, "Hell, yeah!" It was also the first strong indication vocalist/fiddle player, Jeremy Garrett was in a mood to shine.
One of the Stringdusters' not-so-secret weapons is the ability to throw five aces. On any given night, any one of the band's gifted artists can emerge as a "front-man." On this occasion Garrett was in fine form, and throughout the evening, his singing and fiddling consistently took center stage.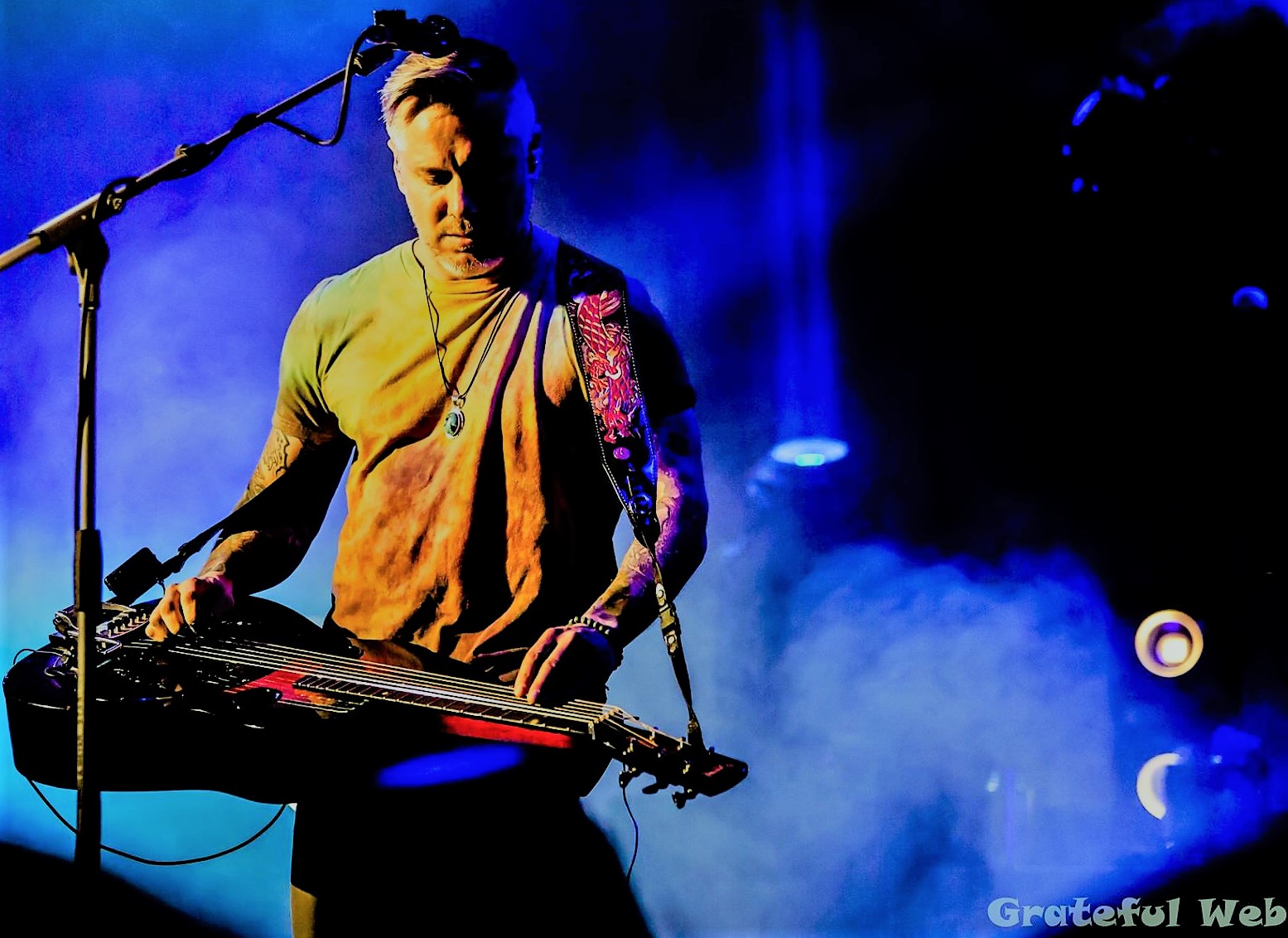 The set's second song, "I Wonder" also featured Garrett on lead vocals. A slippery, sidewinding sizzler, "I Wonder" gave each of the boys a chance to flex a bit. Dobro player, Andy Hall peeled off a pound of greasy licks as the hoedown slid maniacally toward the surreal and the group flashed a small glimpse of their otherworldly intentions.
Just as quickly as they wandered off the map, the Infamous Stringdusters snapped back to familiar ground with a series of vibrant bluegrass beauties. "Cluck Ol' Hen," a traditional banjo/fiddle instrumental, bristled with an almost angry intensity. It suggested the group busting at the seams of convention, yet in complete control of the form. "Travelin' Teardrop Blues" offered a striding, jubilant exercise in Nashville charm, goosed with a well-received "After Midnight" refrain. Garrett leapt out front again with the bouncing, bone-rattling jalopy, "What's That You're Doing," and the Stringdusters were rapidly winning fresh converts to their cause.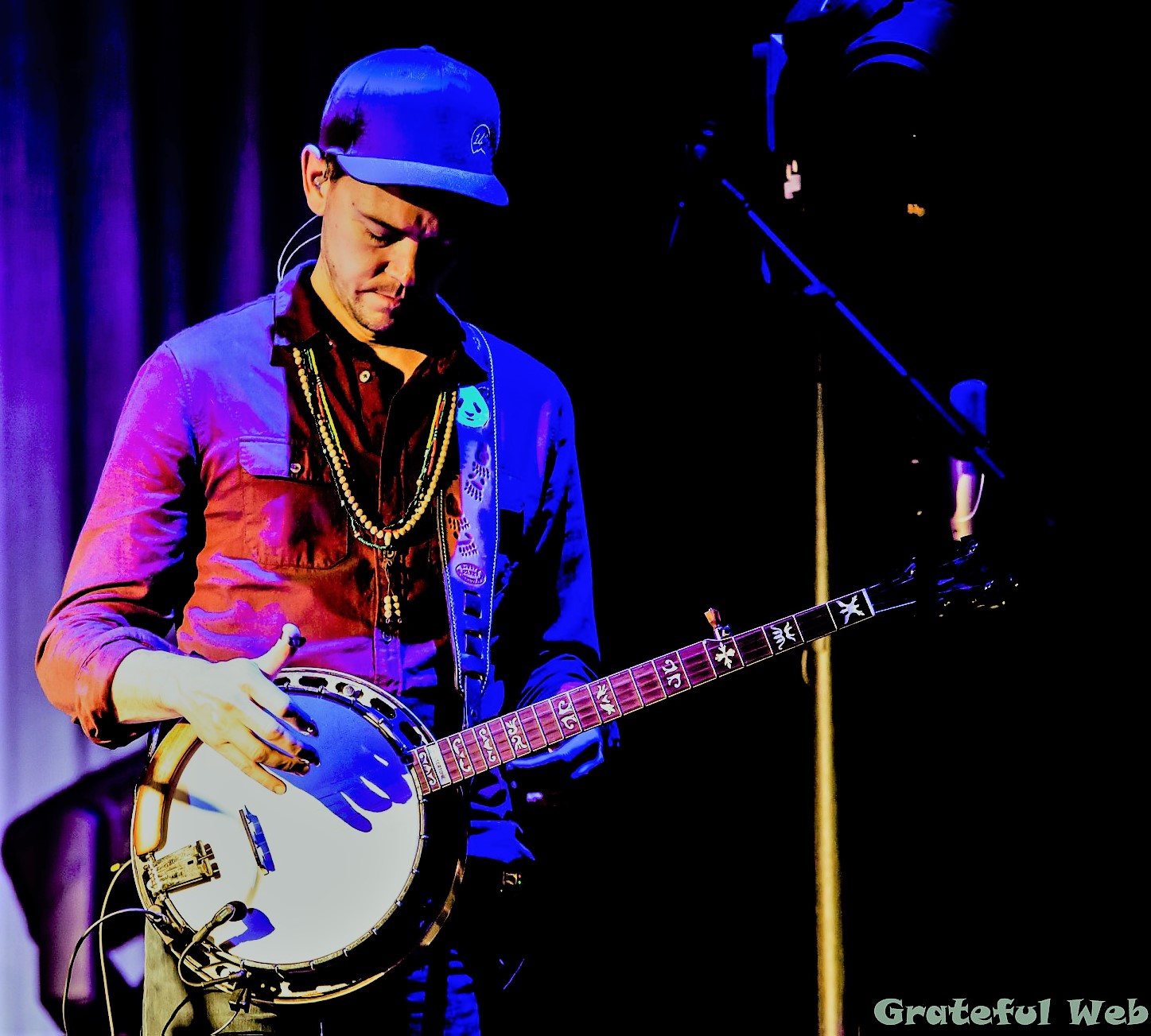 The classic "Likes of Me>Getting Down the Road" combination closed the opening set with a satisfying, foot-stomping finish. The Dusters pulled the curtain back a bit and revealed more of their "progressive" inclinations. Banjoist, Chris Pandolfi's skull-probing trills intertwined with Hall's sweaty twangs to create a spectacular, swirling vortex during the climactic jam.
The Stringdusters always strike with a surprising jolt of energy. Their "electricity" frequently shocks newcomers expecting an acoustic, bluegrass show. After a rapid-fire, workmanlike demonstration of their traditional roots, the Dusters ended the first set intimating the unconventional shape of things to come, and the lathered-up crowd buzzed into the break twitching with anticipation.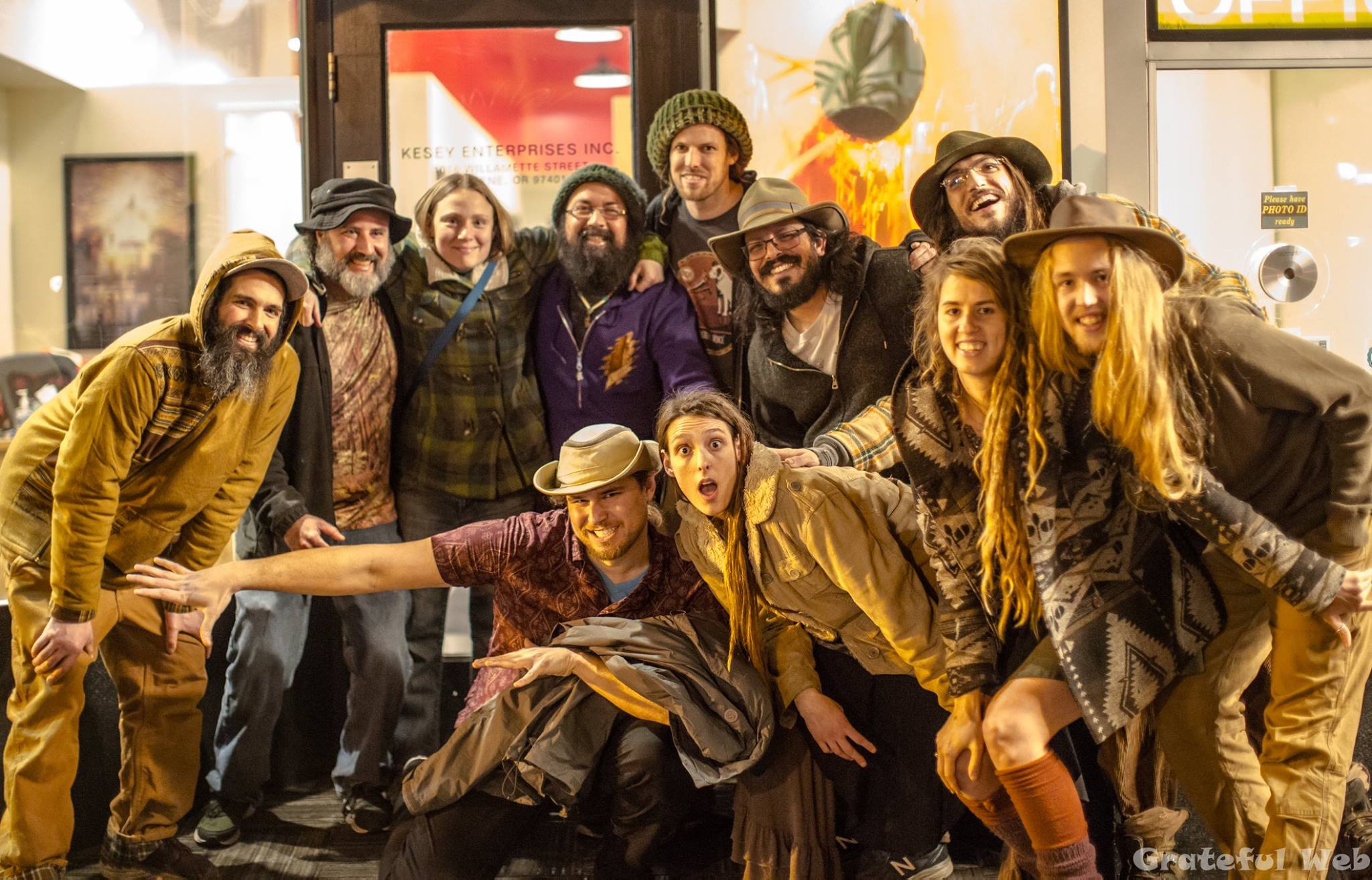 Locals may be biased, but Oregon appears to be one of the Stringdusters' favorite destinations. The band acknowledged as much when they returned for their second set.
"Oregon is the one place where we'll play like all week," bass-playing vocalist Travis Book remarked. "We just set up camp, and we stay, and we hang out and play shows."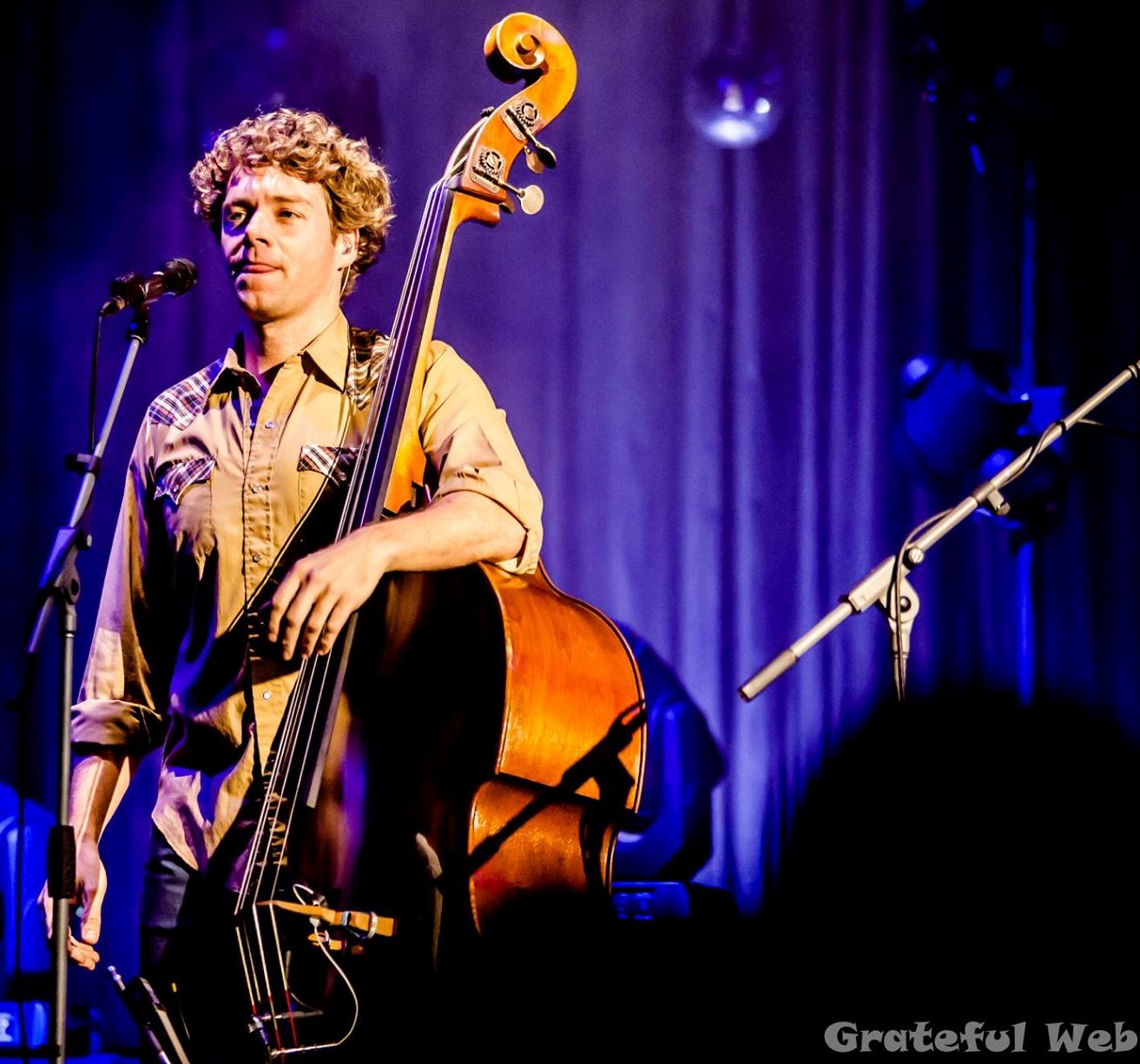 The Eugene performance was part of a four-city Oregon swing with additional stops in Ashland, Bend, and Portland. The group already had the crowd eating out of their hands, but Book's comment was a sweet touch. It amplified the congenial intimacy indicative of the Dusters' best shows.
Garrett was on the mic again for a raucous "Don't Mean Nothing" which felt like a snorting mule right before the kick. It spilled straight into the Martha Reeves and the Vandellas anthem, "Dancing in the Street," famously utilized as a launching pad for many celebrated improvisations by the Grateful Dead. The Stringdusters' version at the McDonald quickly spun toward a strange, Middle Eastern jam, conjuring images of slow, loping camels in a desert caravan. Hall pinched sitar sounds out of his dobro as Pandolfi's brightly embroidered patterns shimmered like sunlight on the sand. They masterfully navigated their way back to "Dancing" before leaking what sounded like a "Wharf Rat" tease at the end.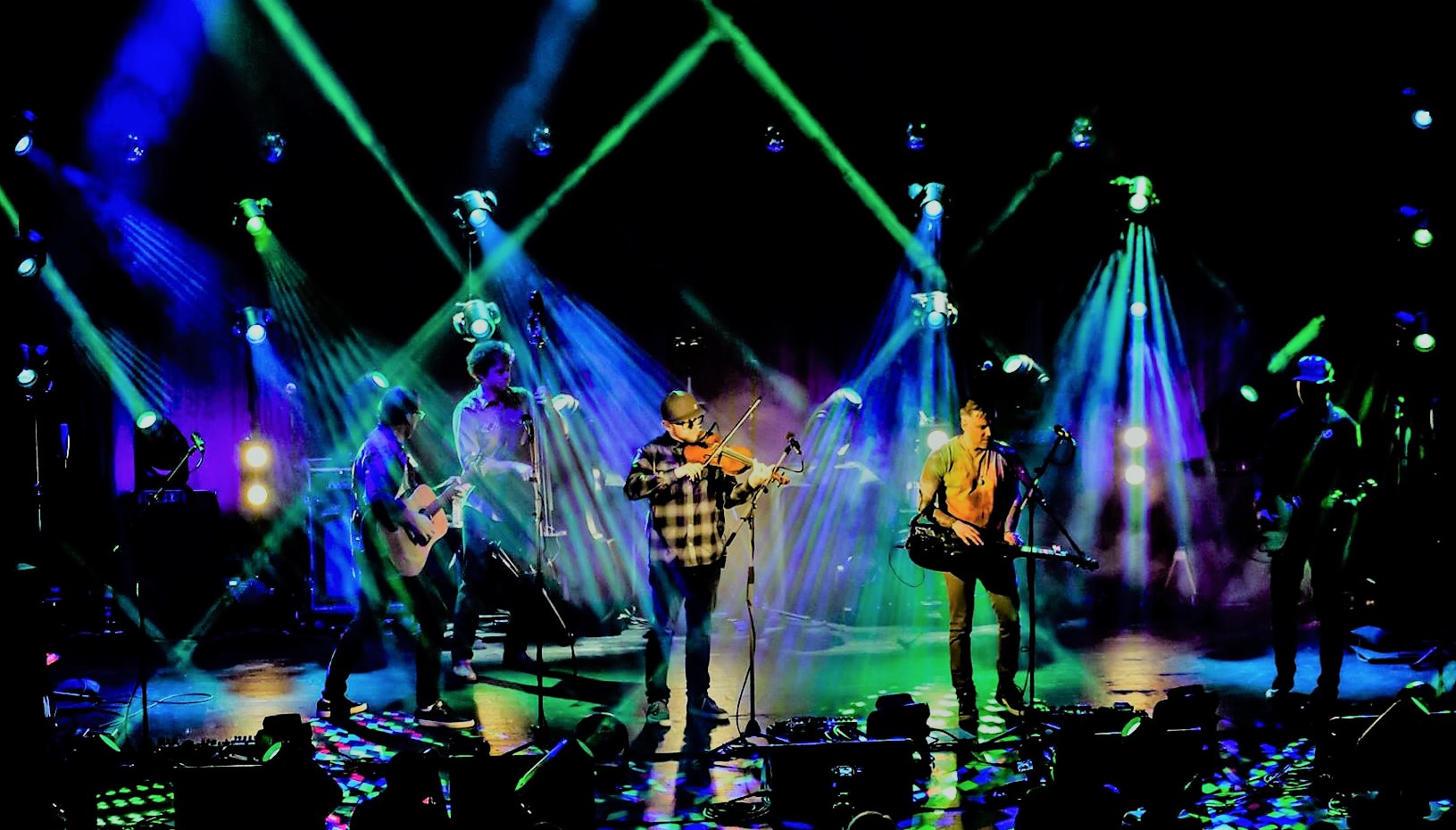 This ten-minute stretch of exhilarating weirdness was the first real, "surprise, we're not just a cute and cuddly bluegrass band" moment of the show. Up to this point, they hinted, suggested and implied, but they hadn't yet completely unleashed. Now, the little band that could was morphing into a screaming locomotive, off its rails and rocketing toward outer space.
The Infamous Stringdusters are accurately considered "expansionists," renovating traditional musical forms and constructing exquisitely designed additions. They are "progressive" because they're forward thinking, willing to employ a wide variety of contemporary sounds and influences. Their artistic potency is not impaired, but rather empowered by the group's diverse blend of musical styles. Their innovative mutations sound like naturally occurring features of new growth. The bulk of their breathtaking second set highlighted the Dusters' expansive impulses. As Pandolfi would later admit, "The jam was on."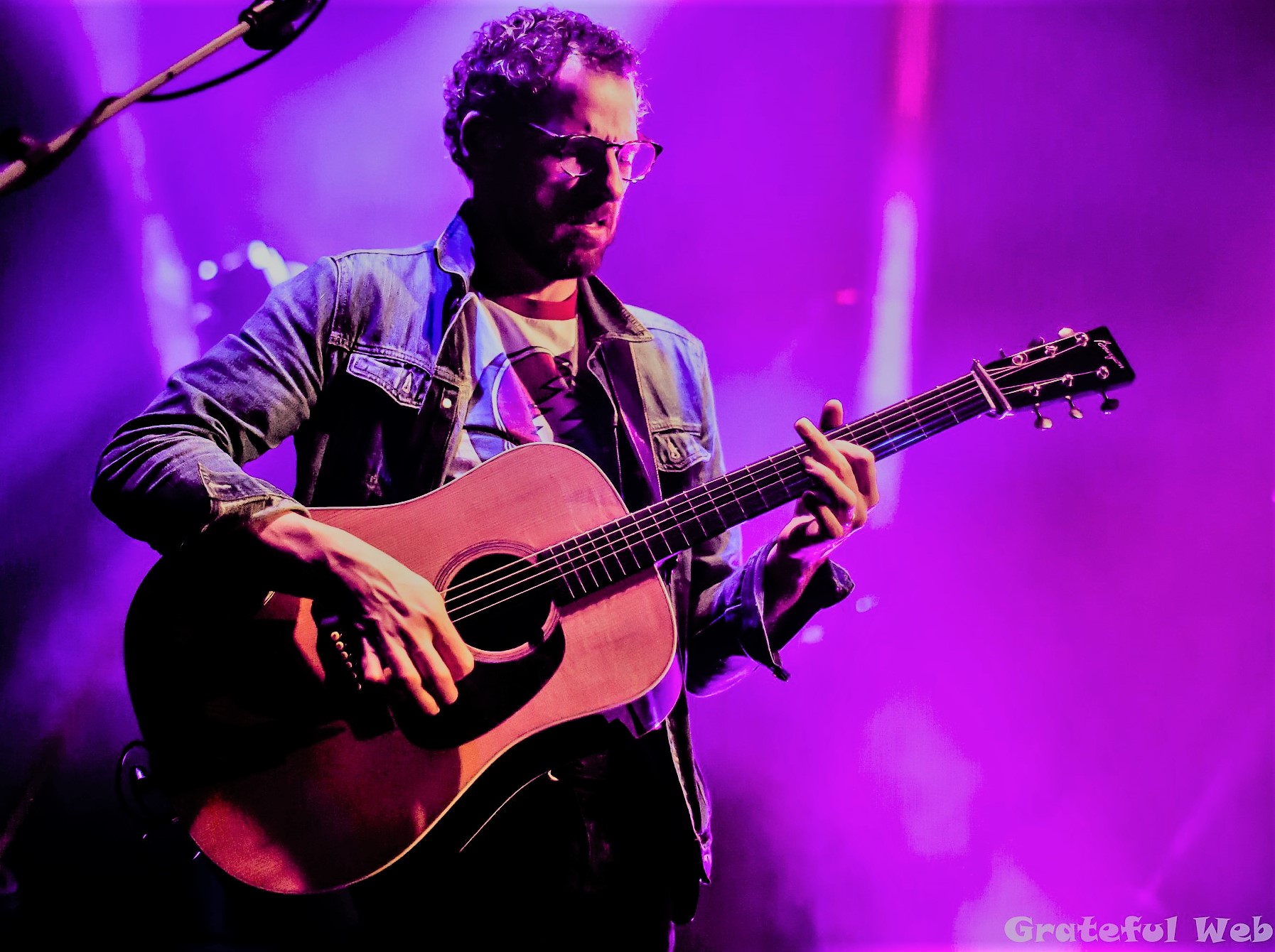 The title track from guitarist/vocalist Andy Falco's 2007 solo album, "Sentenced to Life with the Blues," a good-natured, countrified boot-shuffler, tore off quicker than a skinny hound on a hare's scent. After a few turns around the barn and back, Falco flipped the rock-show switch, and we weren't in Kansas anymore. Effects-laden notes wobbled around the room in a syrupy, euphoric swirl. Falco climbed into the captain's chair and treated the crowd to a top-down, wind-blown joyride.
"Rain" evoked characteristics of two different styles simultaneously. Bright, tight, Nashville country bubbled on the surface, while a rare breed of moody, free-flowing folk-jazz undulated underneath. Eventually, Garrett's fiddle broke loose and gifted the song weightlessness.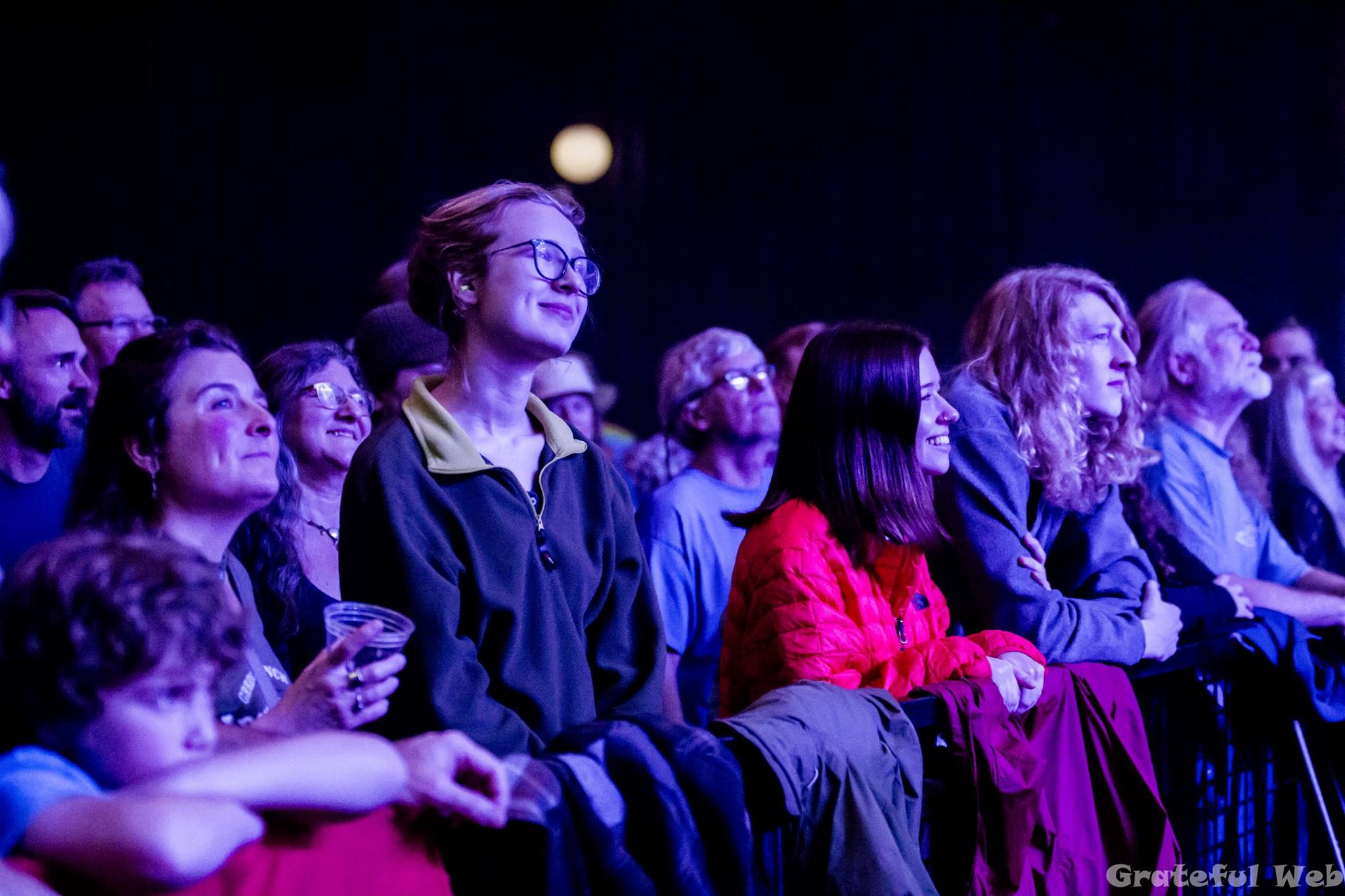 The Stringdusters answered ethereal, electric jazz with earthy Americana. A giant, churning version of Johnny Cash's "Big River" gushed with juicy exuberance and swept the crowd into a helpless, knee-buckling boogie.
"Tragic Life," a classic crowd-pleaser from the Stringdusters' 2007 debut, "Fork in the Road," started as a taut, emotionally charged, outlaw ballad, utilizing several familiar folk tropes, before the Dusters ratcheted-up the scope and intensity of the song until it achieved Tarantino-like, cinematic proportions—a 19th century gangster tale.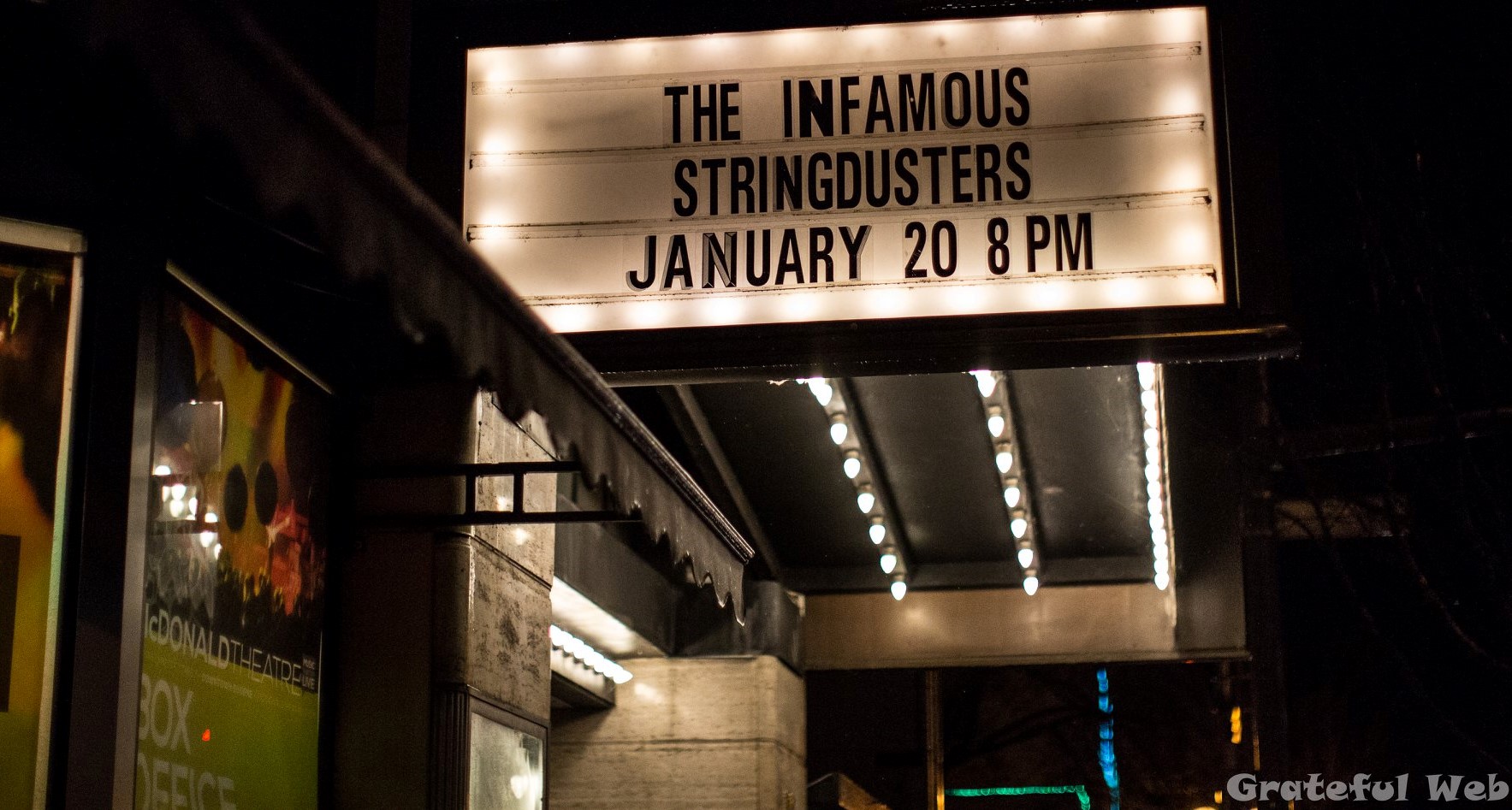 Garrett's smoldering vocal oozed evocative nuances, and the song sizzled like a lit fuse on a stack of dynamite. Once the verses ended, the tune exploded into an incendiary instrumental jam. Pandolfi took a wide turn and treated fans to a fascinating taste of his "Twilight Zone" technique. His cerebral banjo style is equal parts science experiment and high-proof, mountain moonshine. More than any other single member, Pandolfi's innovative play typifies the group's "progressive," post-modern approach to traditional, "old-time" music. Notes began to fly off Pandolfi's instrument and wriggle around the room. Ragtime accents mingled with western motifs. (Wait, was that a harpsichord?) The other Dusters giddy-upped and fused themselves to Pandolfi's blazing trail. A fierce section of tight ensemble play created a powerful, symphonic effect. Falco broke it off with a cool, twangy. "Fistful of Dollars" lick, and then started picking his own wicked path. "Tragic Life" was a stunning demonstration of the Dusters' ability to not only stretch out, but also to augment, heighten and intensify.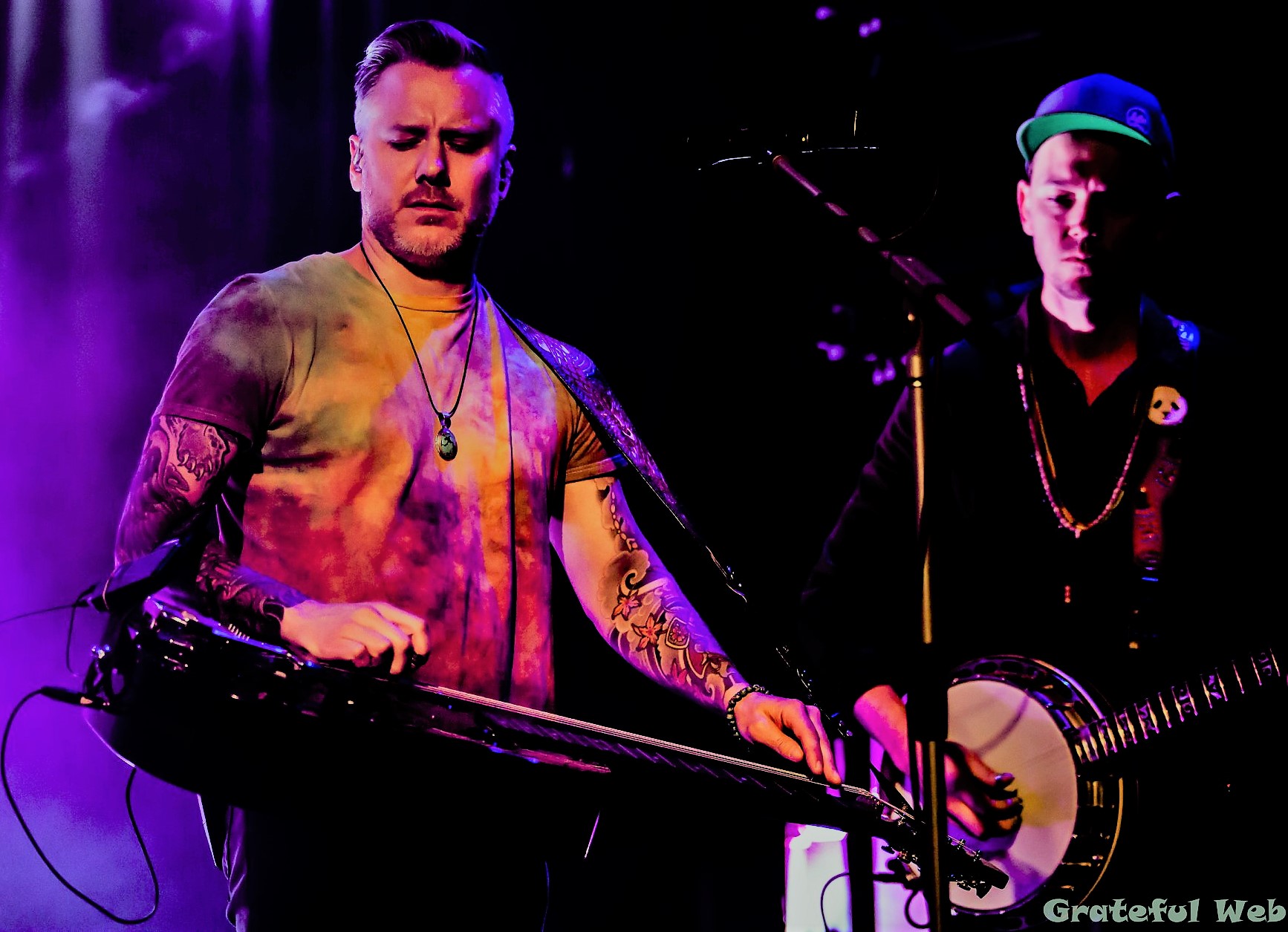 A funky, strutting "Get It While You Can" got the party kicking again. The song's infectious sass and swagger suggested Leon Russell's southern-fried soul. Hall wrangled filthy, junkyard whines from his dobro. The Dusters circled and set off another furious session of fingerpicking fireworks.
When the smoke cleared, the Stringdusters delivered a crisp, unadorned reading of Charlie Monroe's heartfelt dirge, "Rosalie McFall." A song covered by both Jerry Garcia and the Grateful Dead, the Stringdusters' version reaffirmed their musical roots. When they return to traditional bluegrass after one of their spacey fusion jams, the Dusters produce a jarring, but spiritually cleansing effect. The anguish expressed by the narrator of "Rosalie McFall" reverberated through the McDonald Theater as a shared human voice. The song's glistening, natural purity gently embraced the audience and offered comforting reassurances of a great design.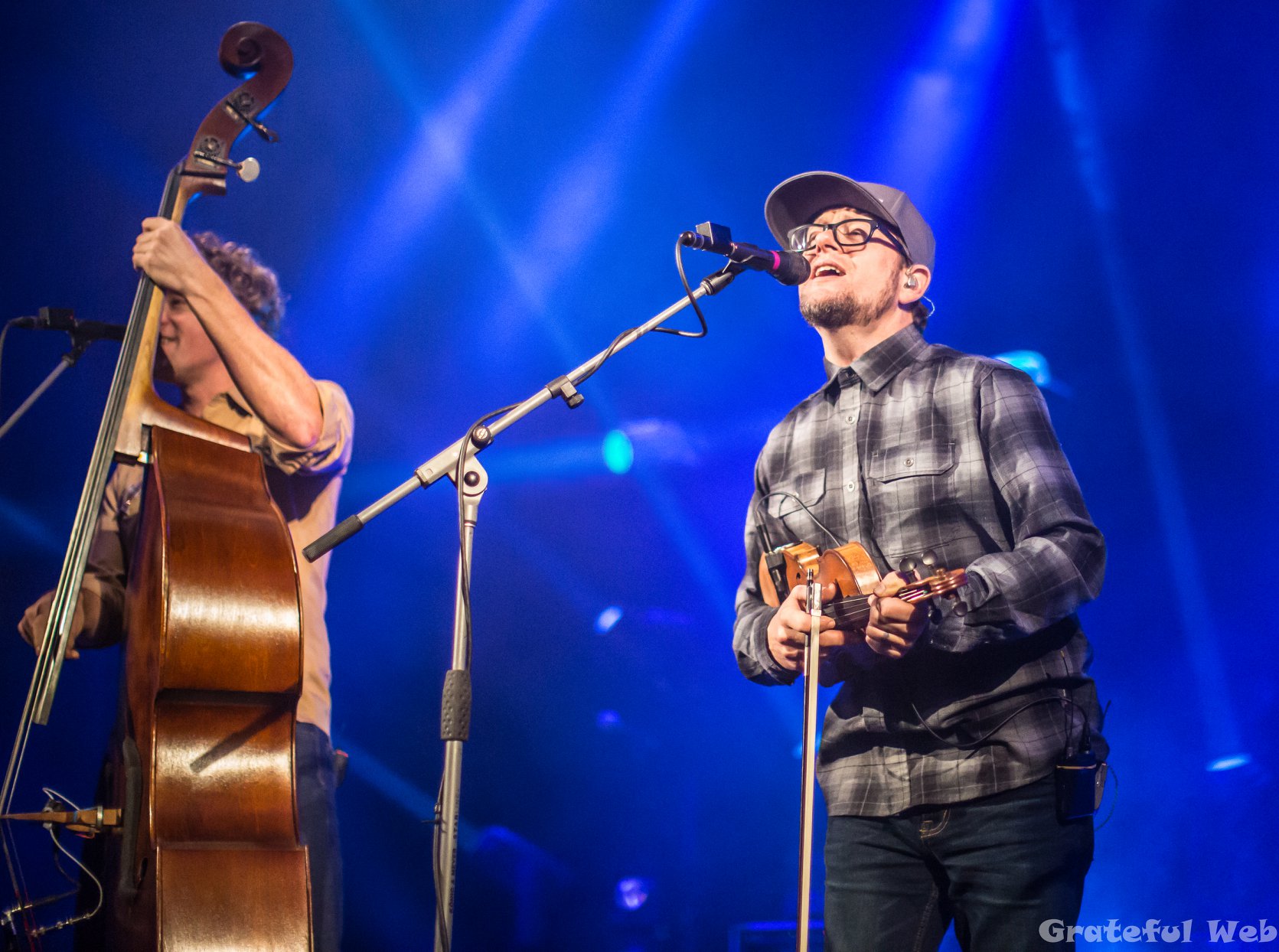 On an evening packed with circus somersaults, tightrope walking and human cannonballs, the Infamous Stringdusters had one more amazing feat to perform. "No More to Leave You Behind," another mighty warhorse from their masterful first record, illustrated how the Dusters can tilt a perfectly fine song on its side and reveal something astonishing underneath.
There were indications of weirdness right from the start. Hall unfurled a mystical, meandering introduction comprised of exotic musical threads. He fused hints of Spanish guitar with the slithering blues of Robby Krieger and a flash of Eddie Van Halen to form an odd, aural tapestry, radiant with extraordinary ambience.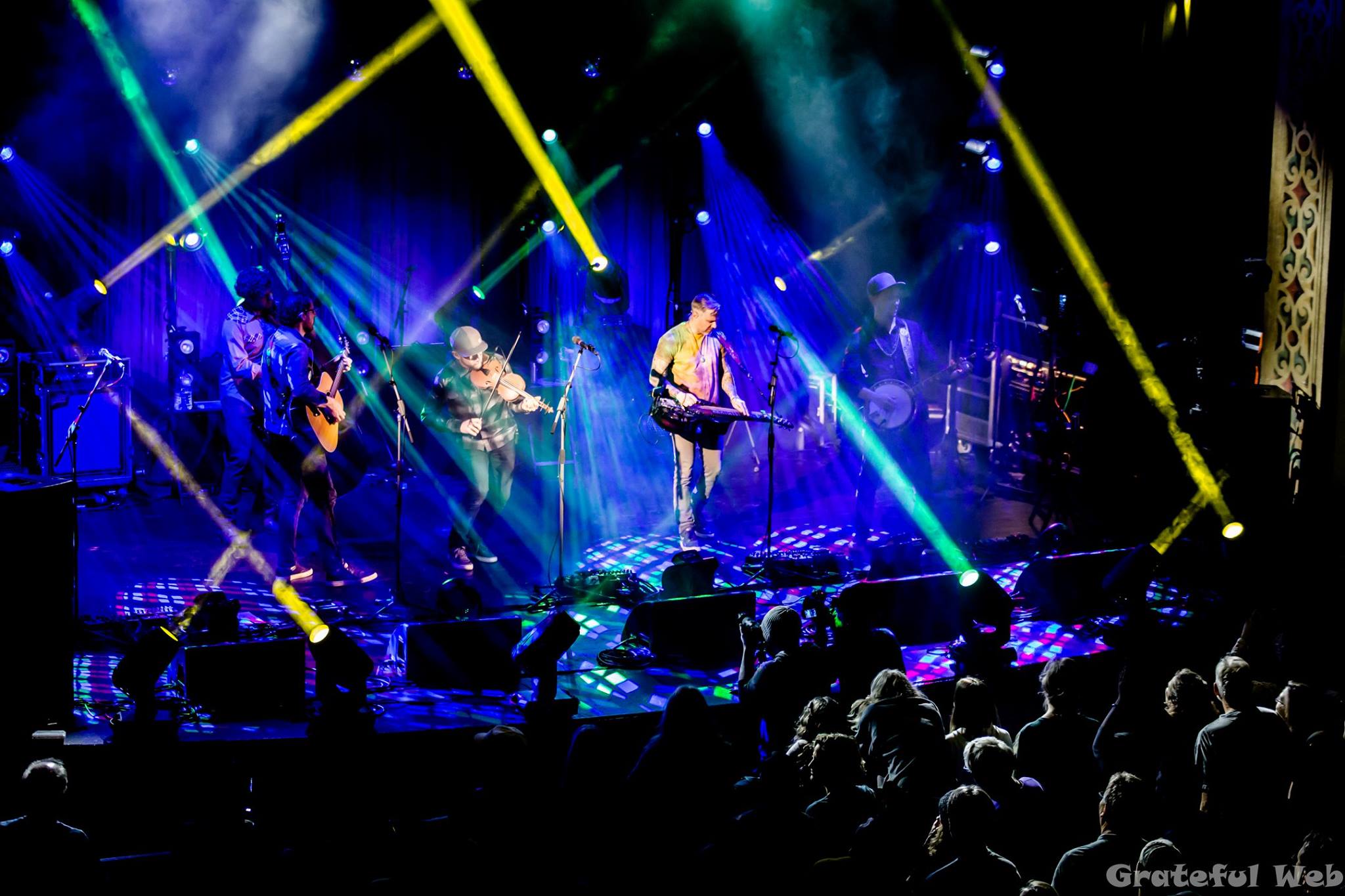 From there the song hit the trail and rode hard, storming through its verses under constant threat of breaking apart. The Stringdusters gave the distinct impression they were on their way somewhere, and they weren't taking long to get there. They squeezed through the proverbial "rabbit hole" and arrived in a musical "upside down." Strange things started to occur. A futuristic soundscape unfolded with an eerie, alien whir. Garrett was first to explore, unearthing a mechanized, Frankenstein's monster. His violin mimicked a crazed synthesizer in a prog-rock "Phantom of the Opera." The Stringdusters' celestial search for intelligent life eventually discovered there were other hillbillies in the universe. Pandolfi and Garrett finished the song with a rocket-fueled exchange that brought the mountain to the moon.  
The Stringdusters weren't going to be satisfied until every mind at the McDonald was comprehensively blown, and the fifteen-minute "No More to Leave You Behind" whipped the crowd into a glazed, wide-eyed "Whoa!"  Even mature, Eugene hippies were shaking their experienced heads. The encore, "Colorado," provided a pleasant send-off and a circular conclusion to the Dusters' audacious musical display.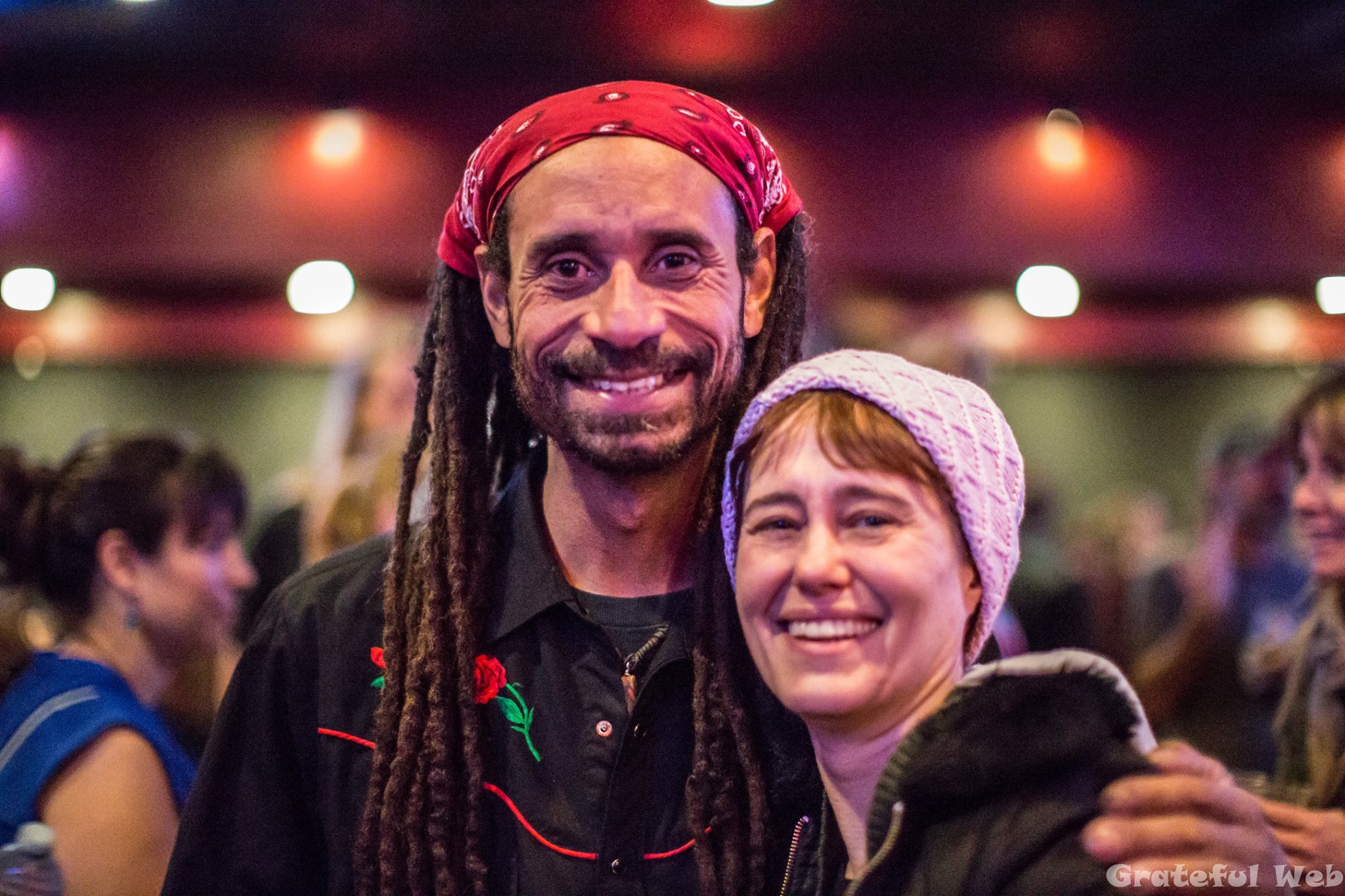 Throughout the evening, the Dusters combined hair-raising, instrumental prowess; engaging, original songs; intelligent, crowd-pleasing covers; and infectious, overflowing enthusiasm to produce an insanely entertaining performance. This group continues to ride an upwardly arcing trajectory, and after 2018's Grammy award, they've shown no signs of slowing down. They continue to earn the admiration of both industry and audience with a never-ending string of increasingly mature recordings and earthshaking shows.
The Infamous Stringdusters move freely between and blend the best of different worlds. They exist in a surface realm of the sleek, Nashville recording industry, and on the road, in an otherworld of unrestrained imagination. The tension between these two unique constructs produces a crucible which tempers their creative energies with stirring effects. The group's live performances provide an opportunity to experience this musical transfiguration firsthand. The Infamous Stringdusters consistently amaze and excite. Their western US tour continues through the end of February and their new album, "Rise Sun" drops on April 5.