Great music, great venue, great weather. The Newport Folk Festival has succeeded in reinventing itself in recent years, adopting a broader definition of "folk" that has allowed for the inclusion of a wide range of what might be called "folk-inspired" bands, while still paying homage to its acoustic guitar-strumming roots. In a sign of its reinvigorated popularity, this year's festival was entirely sold-out for Saturday and Sunday before the lineup of artists was even announced (the festival has expanded to three full days with the addition of a Friday schedule). The Grateful Web checked out the Saturday and Sunday shows, and liked these 10 things most of all:
Nicki Bluhm and the Gramblers – Nicki Bluhm and her all-male backing band kicked off the music on Saturday with a set of California soul that had folks dancing in the aisles at the relatively early hour of 12 noon. Bluhm has become a regular on the festival circuit, and has sat in with the likes of Bob Weir, Phil Lesh and Warren Haynes. Someone clearly played this girl a lot of Linda Ronstadt albums when she was growing up, and she returned the favor by covering Ronstadt's "You're No Good" during her Newport set.  The band's live take on "Jetplane," off of Bluhm's 2011 album Driftwood, was a rumbling, rocking treat.
The Lone Bellow – If ever there were a band tailor-made for the new Newport Folk Fest, it's The Lone Bellow, a trio of guitar-playing harmonizers augmented on stage by a bassist and drummer. Their eponymous debut album was released at the start of the year, and they've been winning converts with impassioned live shows throughout the spring and summer. Their songs range from gorgeous, three-part-harmony ballads ("Two Sides of Lonely") to foot-stomping alt-country rock ("Green Eyes and a Heart of Gold"). Lead vocalist Zach Williams seems to inhabit every sweat-soaked note of every song. "Tree to Grow" and "Teach Me To Know" – two songs that start slow and build to rousing climaxes – are becoming their definitive live tunes. This band will headline Newport some day – mark my words.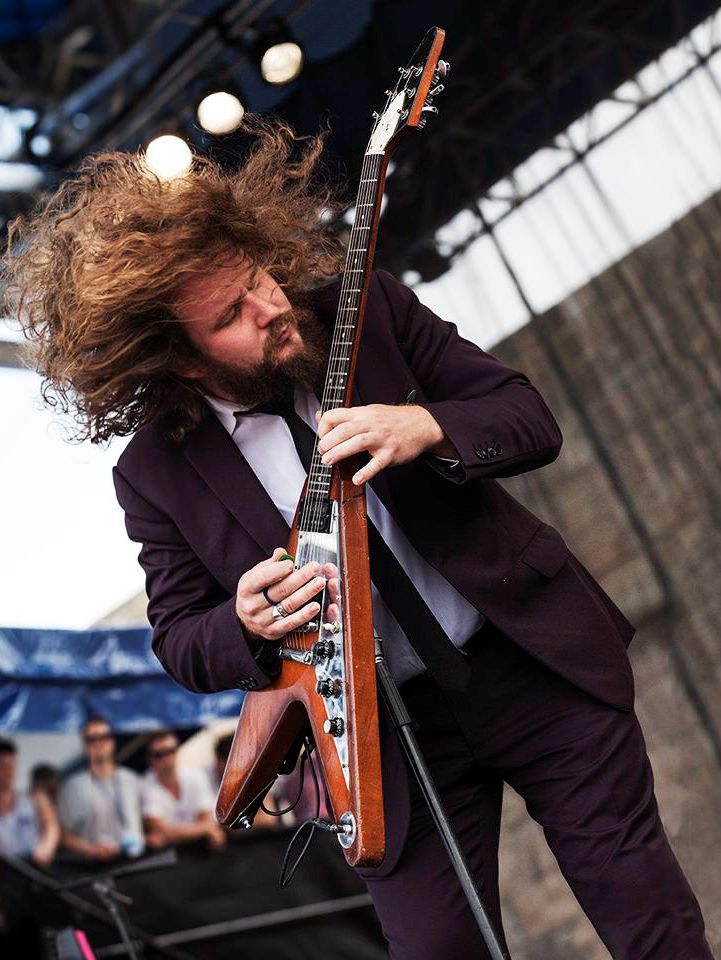 Jim James – The frontman for My Morning Jacket, which headlined last year's Newport Folk Fest, returned for a solo set this year. I had little idea what to expect, having never seen him in concert. James came out on stage dressed in a maroon suit, white shirt, black tie, and the same sort of shit-eating grin that David Crosby always seemed to wear. He then proceeded to slay a packed main-stage crowd with an hour-long set of guitar and saxophone-laced jamming. If David Crosby and Van Morrison had a child together, and that child's nanny was Marvin Gaye – well, that child might have grown up to be Jim James. His guitar chops I knew about, but the surprise was how soulful James' singing voice was in concert.
Father John Misty – Father John Misty, for those of you who don't know, is the stage name of former Fleet Foxes drummer Joshua Tillman. He released an album under that name last year, and has been touring of late, confusing audiences and critics alike with an over-the-top stage act. Father John left some Newport festival-goers scratching their heads when he delivered a screed about how precious their little festival was, and how any indie band can pass for "folk" these days. Talk about biting the hand that's feeding you! "I'm only here because I'm white, I have a beard, and there's acoustic guitar on my album," he declared. Then he went on to lament that "we have our 'folk festivals' in stinking monuments to nationalistic imperialism" (I believe he was talking about Fort Adams State Park, which didn't seem terribly imperialistic to me, but whatever dude). I think the key to enjoying Father John is not to get too caught up in his rants. It's not that the whole thing is an act, but part of it is – and I guess it's up to the audience to figure out which part is which. Imagine the actor John Malkovich fronting a folk band – it's a little like that. Later in the show, Mr. Misty dialed it back, saying, "It's been a little preachy, it's been a little antagonistic. But it's gonna be all smooches and cinnamon buns from here out." And, oh yeah, the music. It's worth seeing him for the music too. His Beatles-esque "I'm Writing a Novel" – equal parts "Paperback Writer" and "The Ballad of John and Yoko" – sounded more Beatles-like than the Beatles.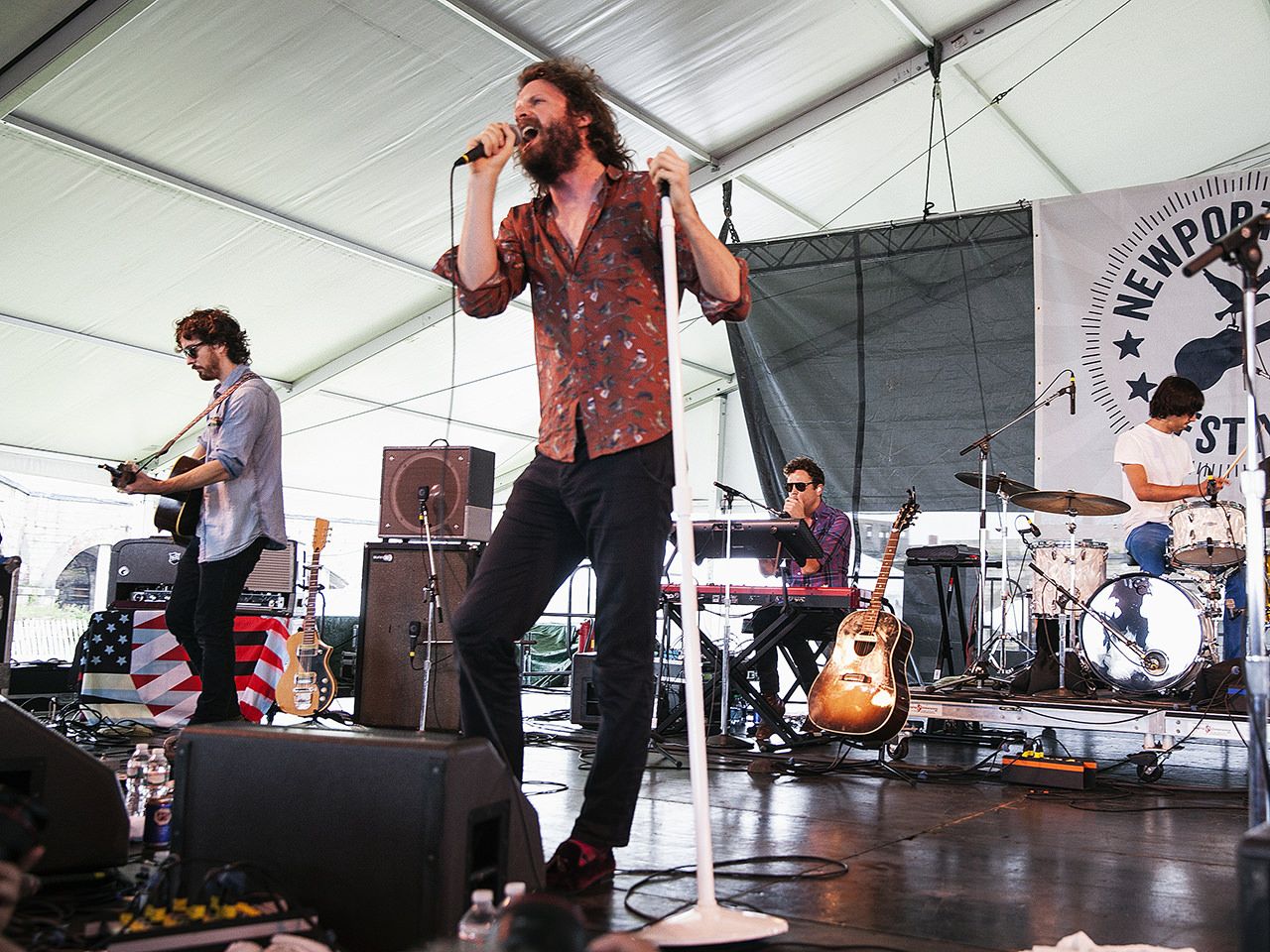 The Avett Brothers – The Avett Brothers were the Saturday night headliners – and, well, I've just never seen a live Avetts show that was anything less than electrifying. Their amalgam of rock, country and folk music exemplifies the broader definition of "folk" the festival has adopted. The brothers rocked out on staples such as "Go To Sleep" and "Laundry Room," and delivered an anthemic version of "Head Full of Doubt/Road Full of Promise." If "I and Love and You" has become the Avett's festival-ready sing-along number – it was the encore at Newport – then "Head Full of Doubt/Road Full of Promise" remains the signature live tune that best encapsulates what this band is all about. "If you're loved by someone, you're never rejected/decide what to be, and go be it."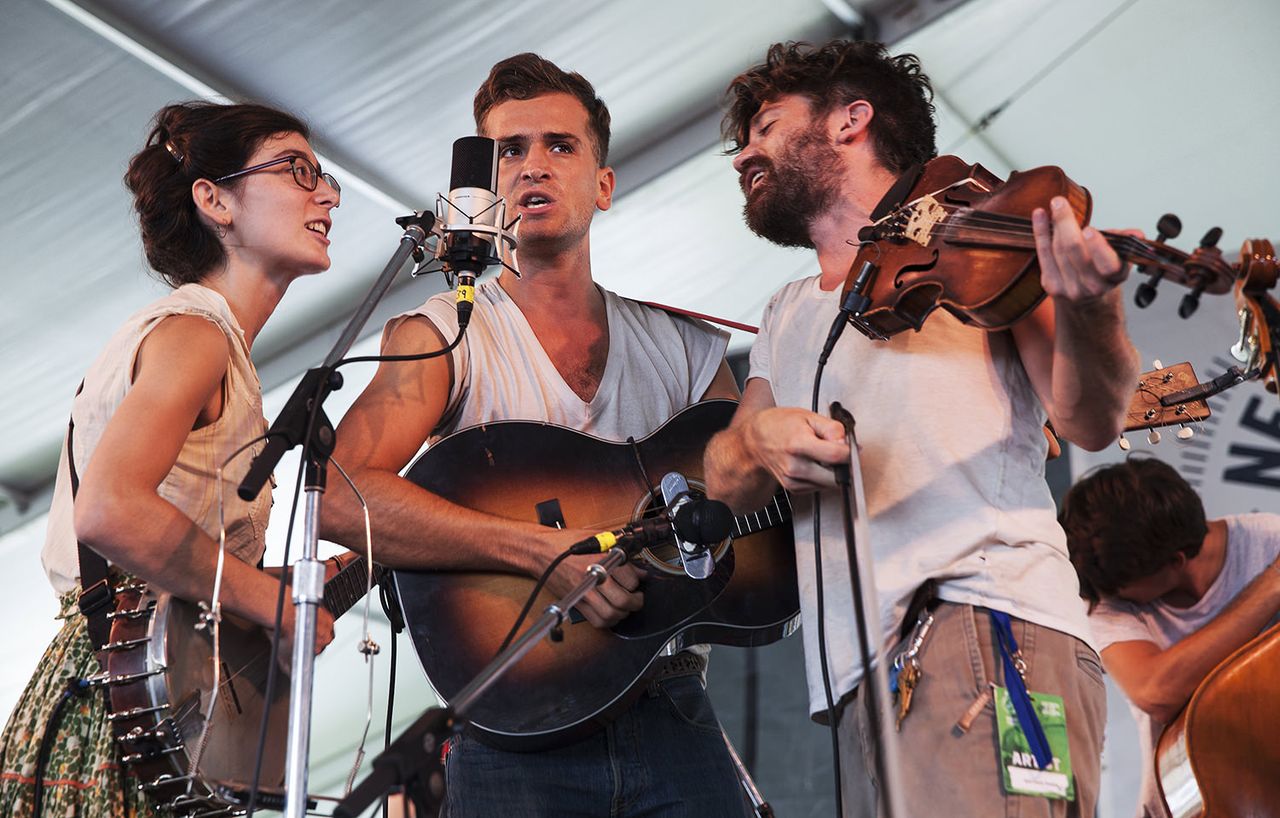 Spirit Family Reunion – Festivals are always great for discovering bands you didn't know anything about, but love once you hear them. One of these for me was Spirit Family Reunion, a sextet of guitar, banjo, fiddle, uke and washboard-wielding troubadours. This is real hoedown music, albeit with pitch-perfect three-part harmonies delivered by Maggie Carson, Matt Davidson and Nick Panken clustered around a single microphone. For all their dusty Americana-ness, they got their start playing the streets and subways of New York City.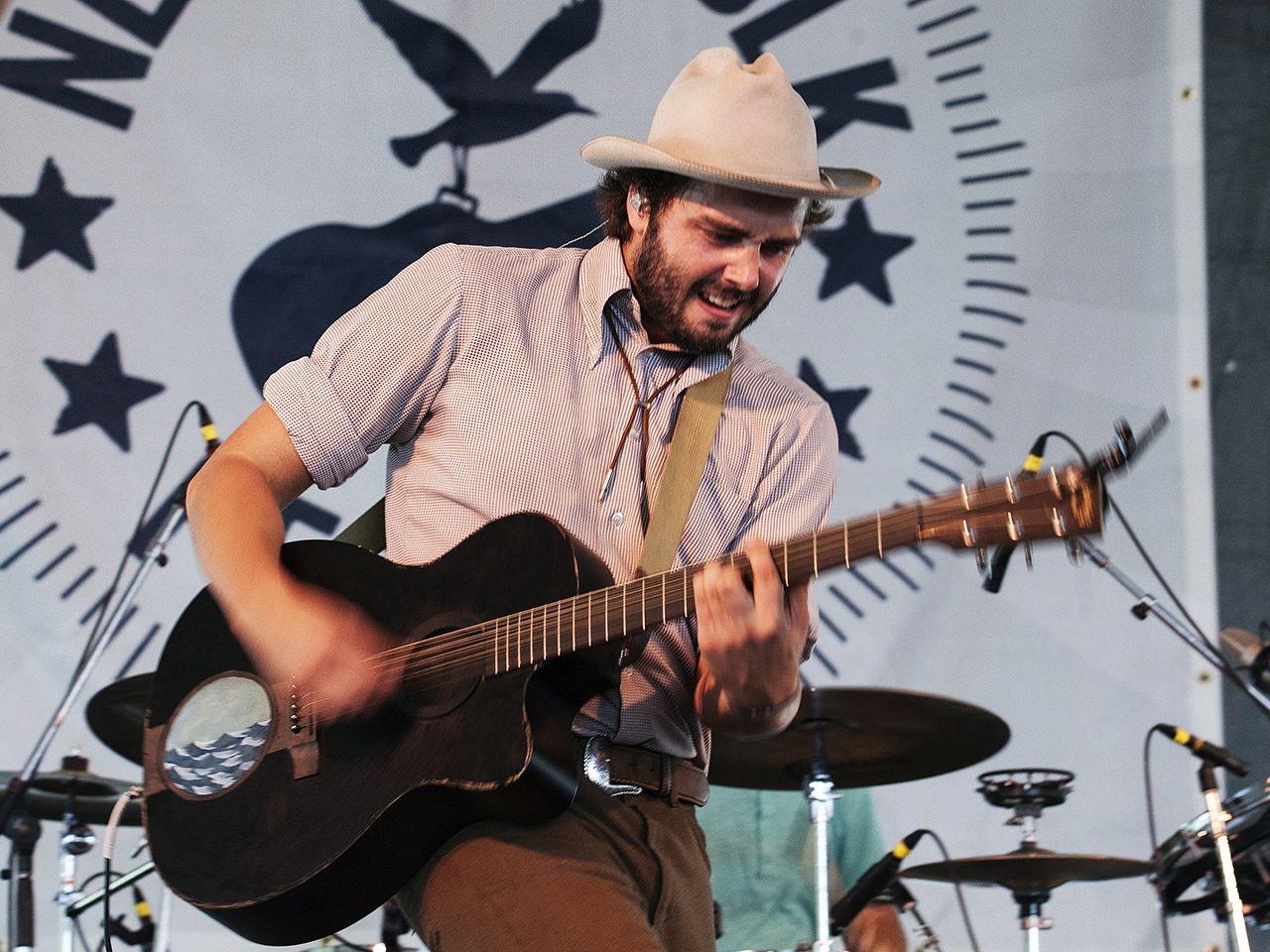 Lord Huron – This was the other new find for me at the festival. Lord Huron is an indie folk band put together by the musician Ben Schneider. The band has one full-length album, "Lonesome Dreams," under their belt, but the album only hints at what the band can do live. It's hard to describe exactly where their sound lands. They've been compared to Fleet Foxes, but that's not really the right model, for Lord Huron in concert moves closer to jam band territory than Fleet Foxes ever does. Their set started simply enough, with the folk-and-country-sounding "Ends of the Earth" and "I Will Be Back One Day." But as their set unfolded, the band started to open up into some extended jams that brought the crowd to their feet. "Lonesome Dreams," "She Lit a Fire" and set-closer "Mighty" were simply transcendent. More than a few festival-goers I spoke with considered Lord Huron's one of the best sets of the weekend.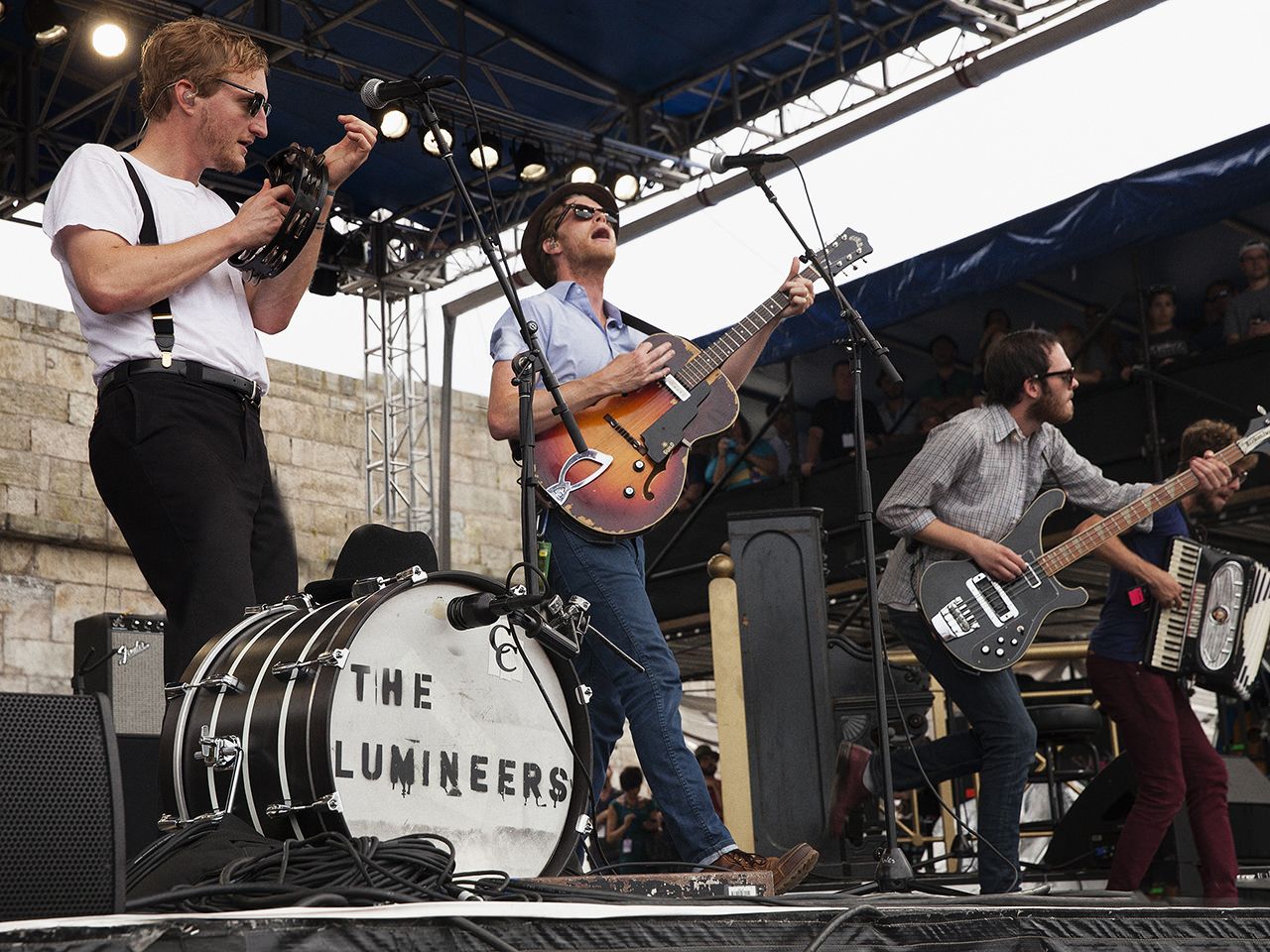 Stubborn Love – The Lumineers had the penultimate slot on the main stage Sunday afternoon, and did not disappoint. For part of their hour-long set they decamped from the main stage and played a handful of songs smack dab in the middle of the lawn, surrounding by thousands of happy festival-goers. They have, of course, one of the best festival sing-along songs ever in their hit single "Ho Hey." As fun as that song can be to join in with at an outdoor concert, it is another of the songs from their self-titled debut album that has become the true centerpiece of their live shows: "Stubborn Love." This song has a little more emotional heft than "Ho Hey," and if anything becomes more powerful when performed live. Their take on "Stubborn Love" was one of the best single songs of the weekend for this humble reviewer.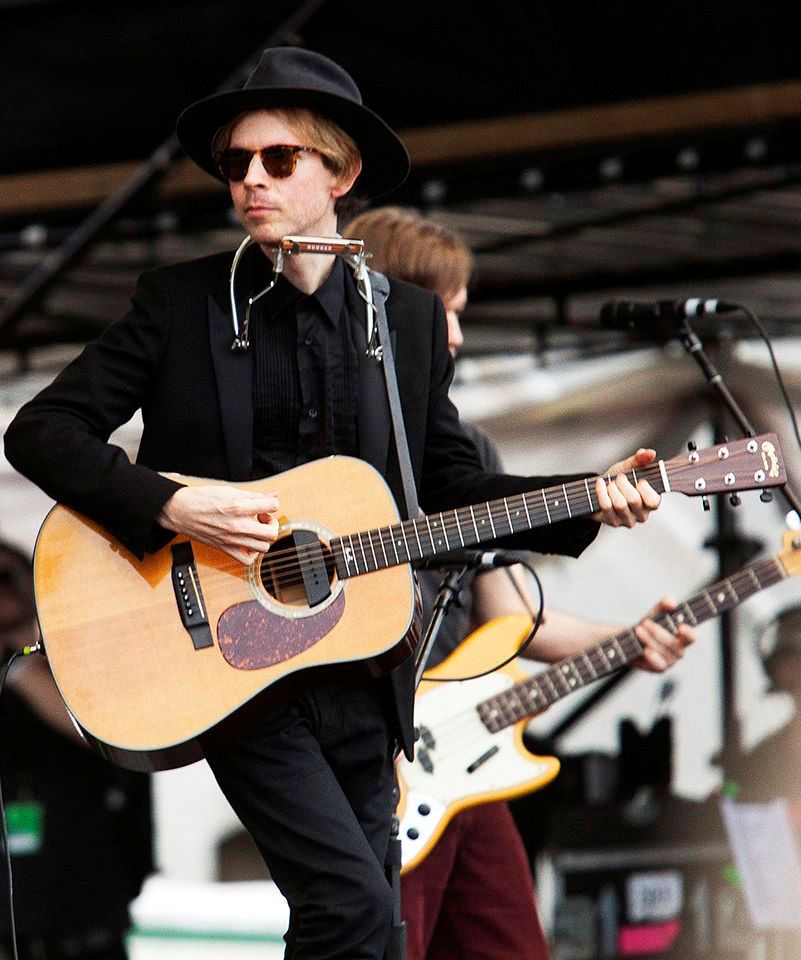 The Golden Age – The other single tune that stood out in a weekend filled with a lot of great music was Sunday headliner Beck's opening song: "The Golden Age." Sometimes a song and a moment can come together in serendipitous ways at a festival (or any concert, really), and so it was with this song, as the sun was starting to set over Newport's picturesque harbor, laced with white sails and pink clouds. We may be far from a golden age, but at the least Beck gave us a golden moment as he closed the 54th edition of the venerable festival in style.
The venue – There are certainly bigger, better-attended and more noteworthy festivals than Newport. But if the gods provide the right July weather, it's hard to think of a better location for a summer festival than Newport's Fort Adams State Park, which sits at the mouth of Newport Harbor and offers vistas of the harbor and surrounding Narragansett Bay. The weather on Friday was mistakenly meant for late September, with the temperature barely 60 and on-and-off rain throughout the day. But summer weather returned for Saturday and Sunday, basking the crowd in breezy sunshine for most of both days. Because the folk festival has been going on almost continuously for more than a half a century, most of the kinks have long been ironed out. It's a smoothly-run and decidedly family-friendly affair. Surrounded by scores of boats small and large anchored just offshore to hear the sounds, the festival grounds were like a giant beach party, with a killer playlist, for two long days at the height of summer.