Another year and another successful Bonnaroo adventure can be checked off the list.  It seems like it was just yesterday that I was rocking out to Sir Paul with my parental units at Bonnaroo 2013.  Where does the time go?  With each year I attend this festival, one thing does remain constant, change.  I was in attendance the first few years when Bonnaroo was in its infancy, going just as a fan to see 'The Dead,' Bela Fleck, Galactic, moe., Widespread Panic, and a whole slough of varying jam band and folk rock acts. The 3-day festival quickly grew to a 4-day festival, and even now adding an additional day to allow for early camping prior to the festival start.  As the festival has grown, the demand for varying acts and activities has grown as well.  Bonnaroo quickly outgrew its jam band roots and started drawing in larger and more commercial acts and events.  The attendees went from mostly phriends, phans and deadheads to hipster, punk, hip-hop and EDM loving youth overnight.  Over the past few years I've noticed increased criticism over the festival growth.  Social media sites tagged with the good, the bad, and the just down right nasty opinions of previous attendees and those who have only heard of how much the festival has changed and want to voice their distaste.  My mission at this year's festival was to uncover the festival's roots all while also experiencing and appreciating what the festival has become.  Some of these acts were tried and true, others I had never even heard of, but enjoyed all the same.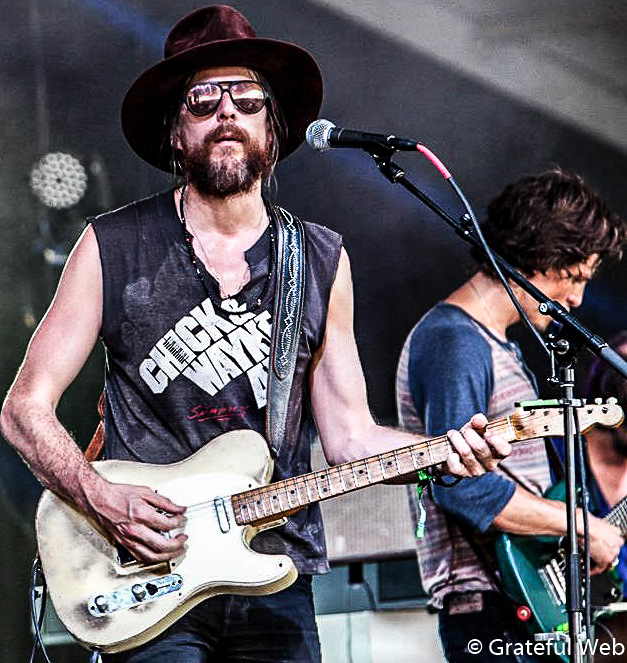 On Thursday the music started late in the afternoon and the first tent I wandered to was featuring Jonathan Wilson.  He's worked with the likes of Phil Lesh, Father John Misty, and Elvis Costello to name a few and also has opened for Tom Petty & The Heartbreakers and was a part of the "Move Me Brightly" tribute to Jerry Garcia. Jonathan's sound is reminiscent of days of yore, strong 60's and 70's rock influences providing a pseudo psychedelic and groovy experience.  Playing older tunes and few newer songs off of his 2013 release Fanfare, Jonathan Wilson was definitely a welcomed addition to this years festival and a great way to kick the 4-day music experience off.  His whole set can be seen here: www.youtube.com/watch?v=DvvEiptG-FE
Wandering around I stumbled across Ogya on the Solar Stage.  This was the 2nd appearance at Bonnaroo for the Chattanooga based Afrobeat band.  Judging by the amount of people shaking their tail feathers to the beat I'm sure they will be back next year!  Over at This Tent, Cass McCombs was just getting started.  I had only ever heard of him due to notoriety his 2013 release Big Wheel and Others as the album featured a little help from Mike Gordon of Phish and Joe Russo of Furthur.  Interestingly enough, Joe Russo (also part of the duo Benevento-Russo) was sitting in on drums during his set. It is difficult to categorize McCombs style of music and is best left to the listeners for their own interpretation, but the set was without doubt jammier in nature than I would have expected.  They opened with "Big Wheel" and played a beautiful rendition of "County Line".  The set was closed with a personal favorite "Dreams-come-true-girl".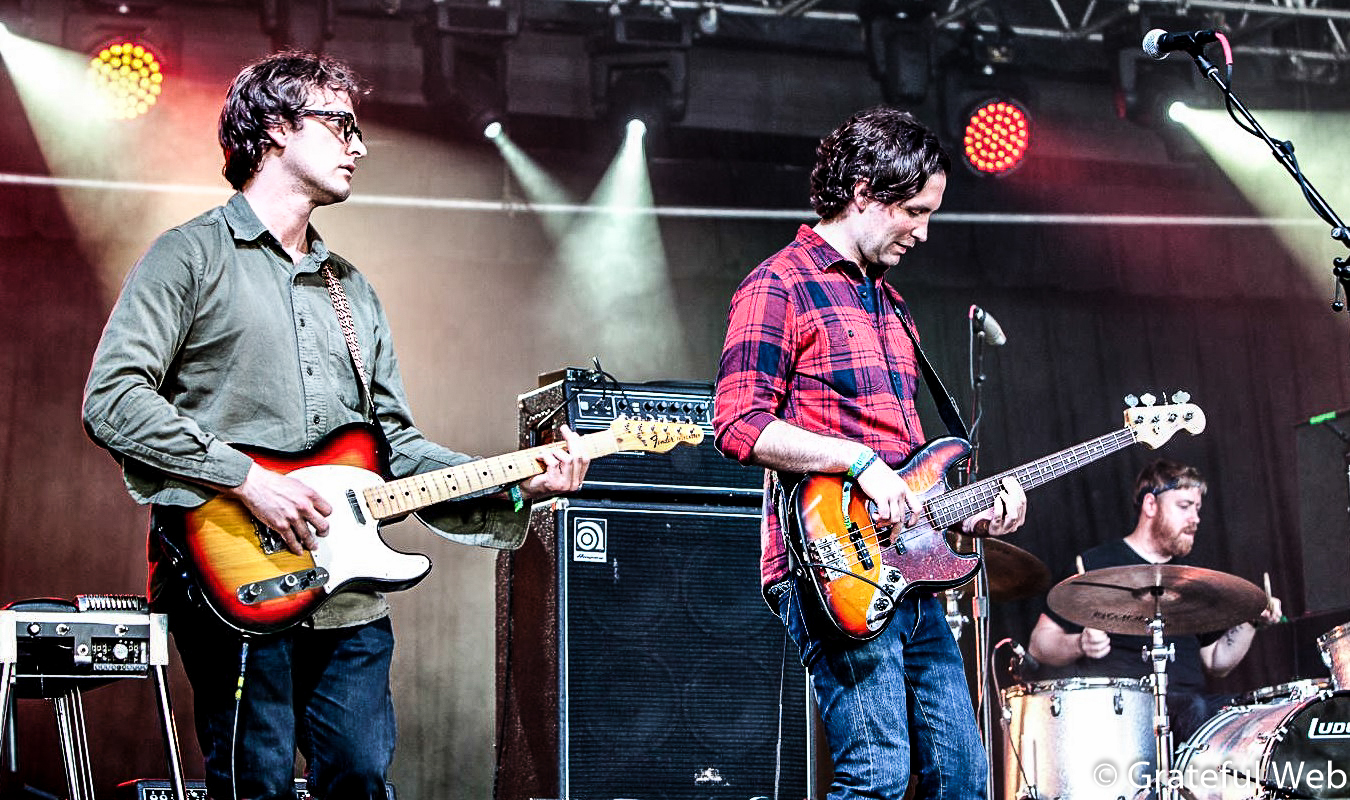 After inching my way towards the front at This Tent, I decided I would stay there for the remainder of the evening.  Those of you who have been to Bonnaroo in years recent understand the difficulties that come with navigating a festival of its size.  If you have landed yourself in prime musical real estate, it's best to stay put unless you really have to run for the porta-potties or are on the verge of passing out from dehydration.  Next up were Thao & the Get Down Stay Down.  This was to be my first time seeing Thao perform and was more than pleasantly surprised.  For her Bonnaroo debut, she brought a multitude of talents.  Not only can she sing and play guitar, she also can rock a banjo and a steel pedal guitar like it's nobody's business.  I really dug her banjo playing on "We the Common (for Valerie Bolden)" and the incredibly catchy tune "Holy Roller" both off of her 2013 release We the Common.  Sticking with my desire to seek out new music alongside the tried and true acts I came across Cloud Nothings and BANKS.  Both were set to play This Tent and as I had already decided to call it my home for the evening, our paths were destined to cross.  Cloud Nothings is an indie-punk trio fronted by Dylan Baldi.  It was a serious change of pace and incited an impromptu mosh pit, but even during the chaos that was their set, Cloud Nothings' songs were undeniably memorable.  I had "Now Hear In" and "Wasted Days" stuck in my head for weeks following the festival.  BANKS, also known as Jillian Banks, is a Los Angeles bred songstress that had a stage presence that likened to that of Lady Gaga and Lorde, and pipes to match.  Completely captivating the crowd, BANKS sang songs off her two 2013 EPs as well as her upcoming album Goddess that is set to release in the fall of this year.  Her voice is haunting and has the ability to become a female powerhouse in the industry.  She surprised festival-goers with a delightful rendition of Aaliyah's "Are You That Somebody".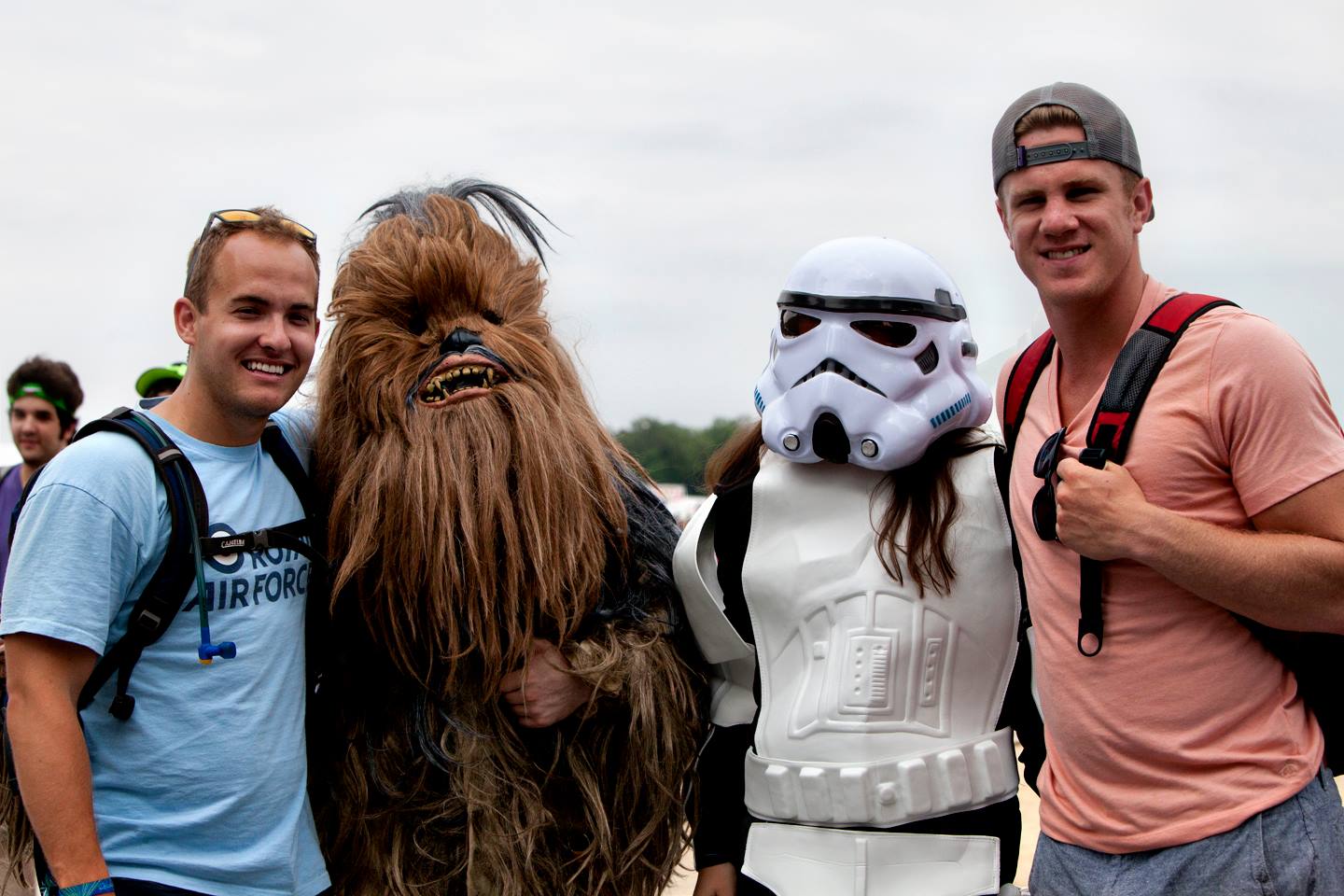 After some fresh tunes from artists I wasn't as familiar with, it was time to get down with J. Roddy Walston & The Business, a tried and true staple of my daily commute play list.  A friend of mine had mentioned their band was opening up for these guys in Chicago awhile back and out of sheer curiosity, I gave them a listen.  I have been completely hooked ever since.  To my absolute delight, J. Roddy put on one hell of a show.  And not just any ole' "one hell of a show", he blew my mind in ways it had never been blown before.  These gloriously bearded long-haired fellas can seriously rock.  Their sound is that of throwing a little bit of Led Zeppelin, Leon Russell, and T. Rex into a blender, topping off with a bit of gospel, soul, and southern rock and processing until smooth.  The energetic set included "Don't Break the Needle", "Heavy Bells", "Brave Man's Death", "Marigold", and "Take It As It Comes".  I would highly recommend catching these guys live if they venture to a town near you, if not, then listening to Essential Tremors while drinking a tasty brew will suffice.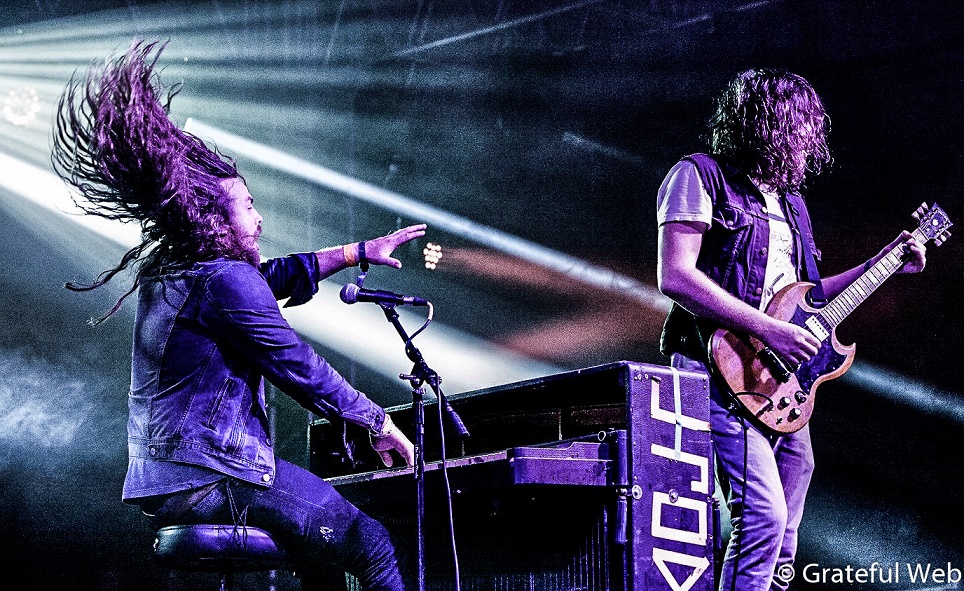 What better way to start off Friday the 13th than with Greensky Bluegrass gettin' down on What Stage?  The noticeably cooler temperatures went well with the morning bluegrass wake up call by the boys from Kalamazoo.  Playing crowd pleasers such as "Dustbowl Overture", "Windshield" and "Leap Year" they also belted out a new tune "Wings for Wheels" that is set to be released on their upcoming album in September 2014.  They closed their set with "The Chain".  Most bands only get to play a Bonnaroo stage once per festival year, however, this year not only was Greensky Bluegrass invited to play twice, so was J. Roddy Walston & The Business, and The Wood Brothers.  I was able to catch all these acts a 2nd time on the Sonic Stage.  It's the best kept secret at Bonnaroo.  Most folks are so focused on the main stage and the tent line-ups that they forget to check out who is playing the Sonic Stage.  Every year I've attended and the Sonic Stage has been a "thing", I've been able to be up close and personal with huge acts.  This year the highlights were undeniably the aforementioned bands.  One can never have too much bluegrass, folk, or rock music ever.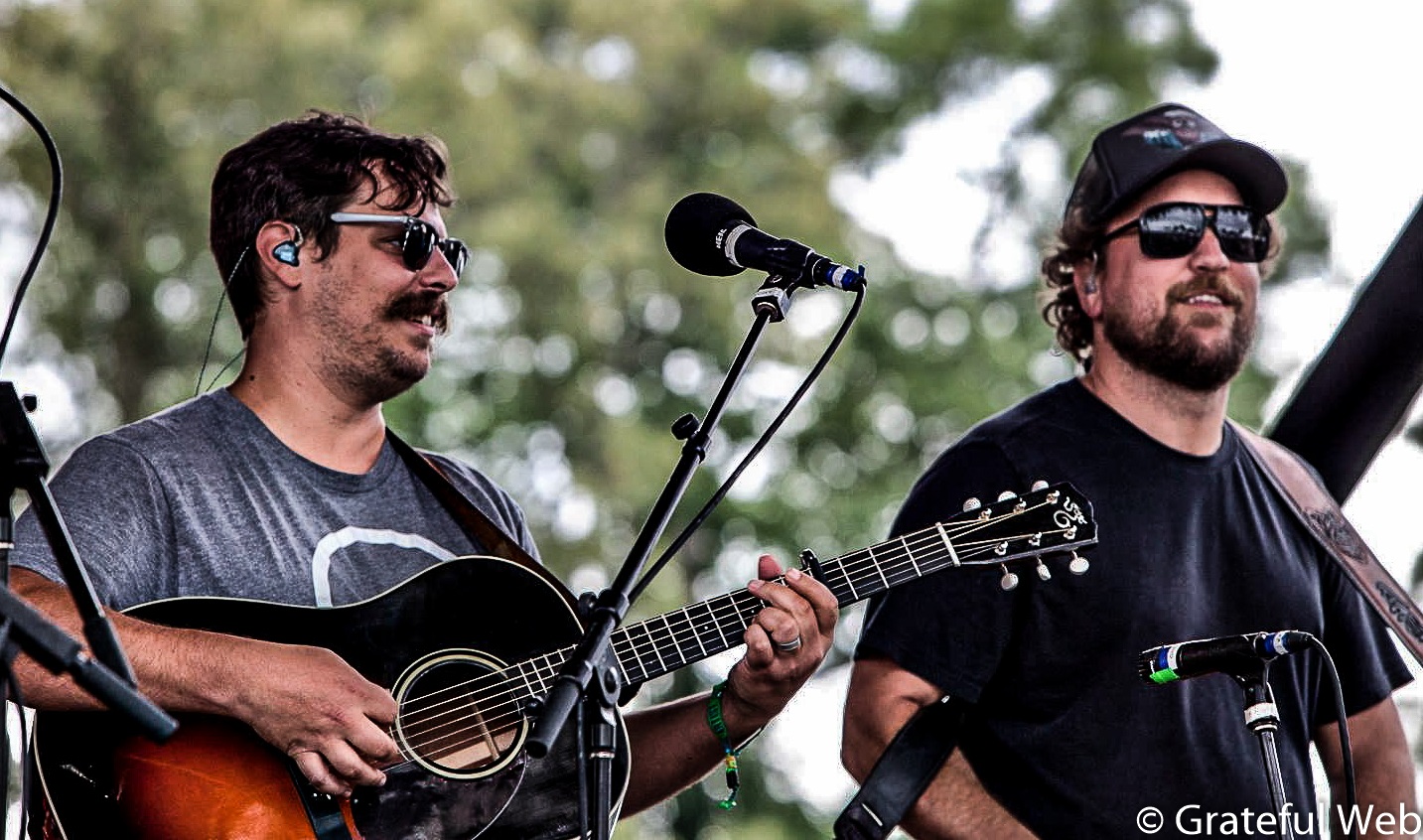 Another Bonnaroo staple from years past was about to take the main stage so I had to wander away from the best-kept secret stage and get over to Umphrey's McGee. Expecting to see a blast from the past type set-list, it was apparent that Umphrey's wanted to show of their new tunes from their very recent release of their 8th studio album Similar Skin. To quote a fan "I don't care what they play, I'm just glad they are playing!" Such sentiment was a common occurrence throughout the festival as there were a lot of acts that you don't typically get to see too often.  One of them being the infamous Neutral Milk Hotel.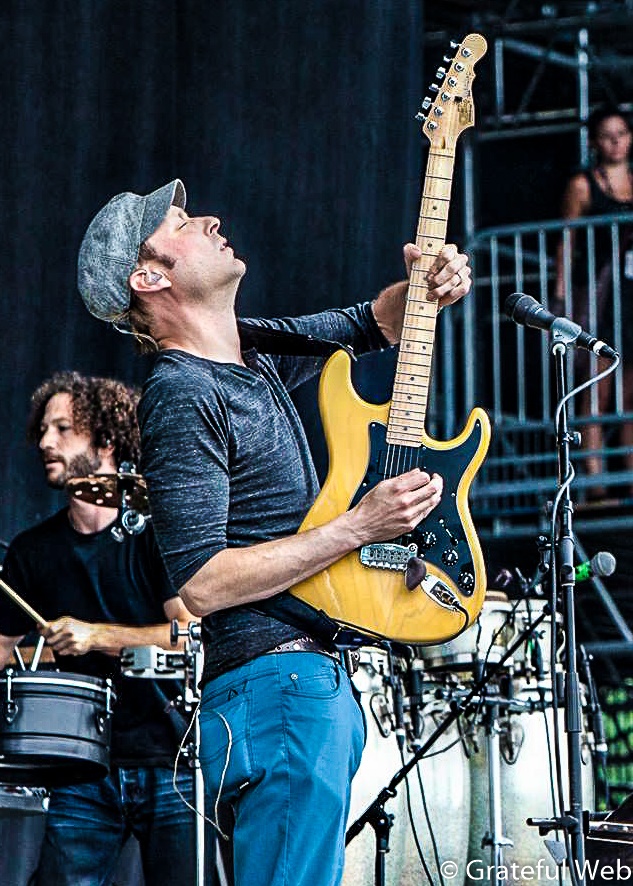 What had started as a recording project in the late 80's, Neutral Milk Hotel has definitely seen it's ups and downs in the past couple decades.  The most popular of albums were released in 1996 (On Avery Island) and 1998 (In the Aeroplane Over the Sea) followed by a hiatus of sorts.  The band has not released a new studio album since then, but have quite the cult following.  I relished the opportunity to see this band live.  They play any and every song I could have ever wanted to hear including "The King of Carrot Flowers, Parts One, Two, and Three", "April 8th", "Holland, 1945", and "In the Aeroplane Over the Sea".  There was such a large crowd for their set in This Tent that one can only hope that the energy from the crowd has inspired NMH to perhaps get back in the studio and regale us with another album.  Fingers crossed.
Across the farm, the masses were preparing for what was to the highly anticipated return of Kanye West.  In all honesty, I could give zero f*cks about Kanye West.  His music is mediocre at best and his attitude is a real buzz kill, but as curiosity got the best of me, I wanted to see if he could redeem himself from the days of "Fuck Kanye".  Well the field was packed so I could only assume that most people were there to see what spectacle waited. The song "Black Skinhead" came on and from what I could see in the distance was Kanye, masked.  I figured he wouldn't truly face the crowd.  For all we know it was a Kanye look-a-like lip-syncing.  According to folks after the show, it was his way of giving the big F-U to the press.  His boo-thang Kim Kardashian was in tow, so I'm guess it truly was Kanye, but I didn't stick around beyond the first song to find out.  After his set, the performance was met with mixed reactions.  Some commended him for coming back; others thought it was too much hype for too little of a performance.  Regardless, hopefully they can find a better headliner with less drama for next year, although all the South Park references were hilarious!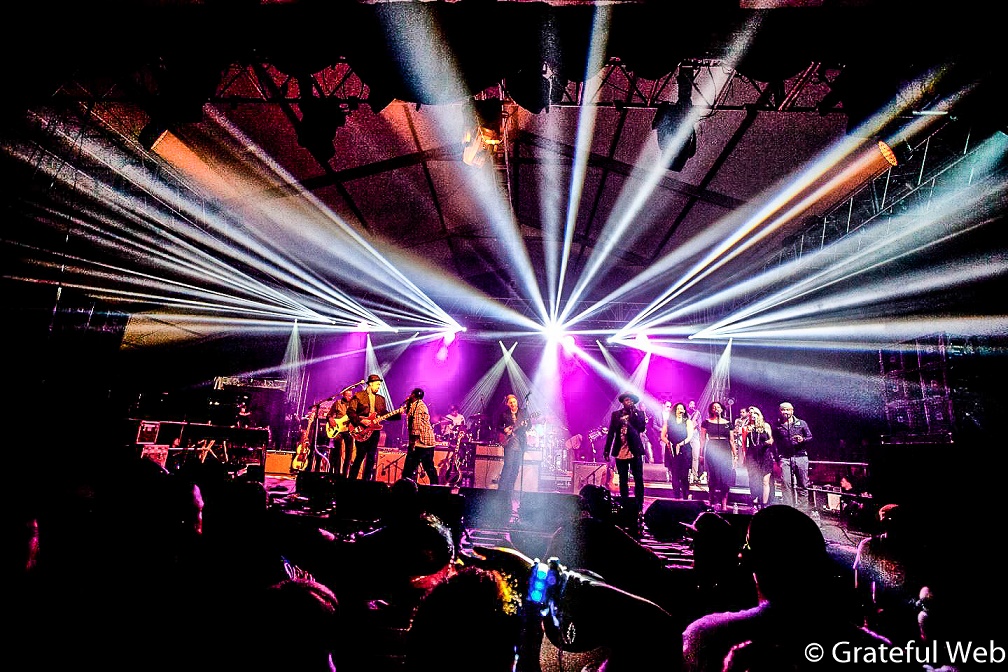 Since I decided to leave the Kanye West set early, I lucked out and got right up front for the Super Jam.  I was incredibly excited for what was to come.  Super Jams are typically a highlight of any Bonnaroo experience.  This years line-up was more than promising as it included Derek Trucks, Chaka Khan, Taj Mahal, Eric Krasno, James Gadson, David Hidalgo, Willie Weeks, Nigel Hall, Ryan Zoidis, Eric Bloom, and Adam Deitch.  Special guests included Susan Tedeschi, Andrew Bird, Karl Denson, and Ben Folds.  I have been a huge Taj Mahal fan ever since I got my hands on my first album when I was in Jr. High.  He came out and did the most amazing rendition of Otis Redding's "These Arms of Mine".  The amount of talent that oozed from That Tent was incredible.  The highlight of the whole set was when Chaka Khan came out and covered Led Zeppelin's "What Is and Should Never Be". The full performance can be seen here: www.youtube.com/watch?v=liObUCKuUk0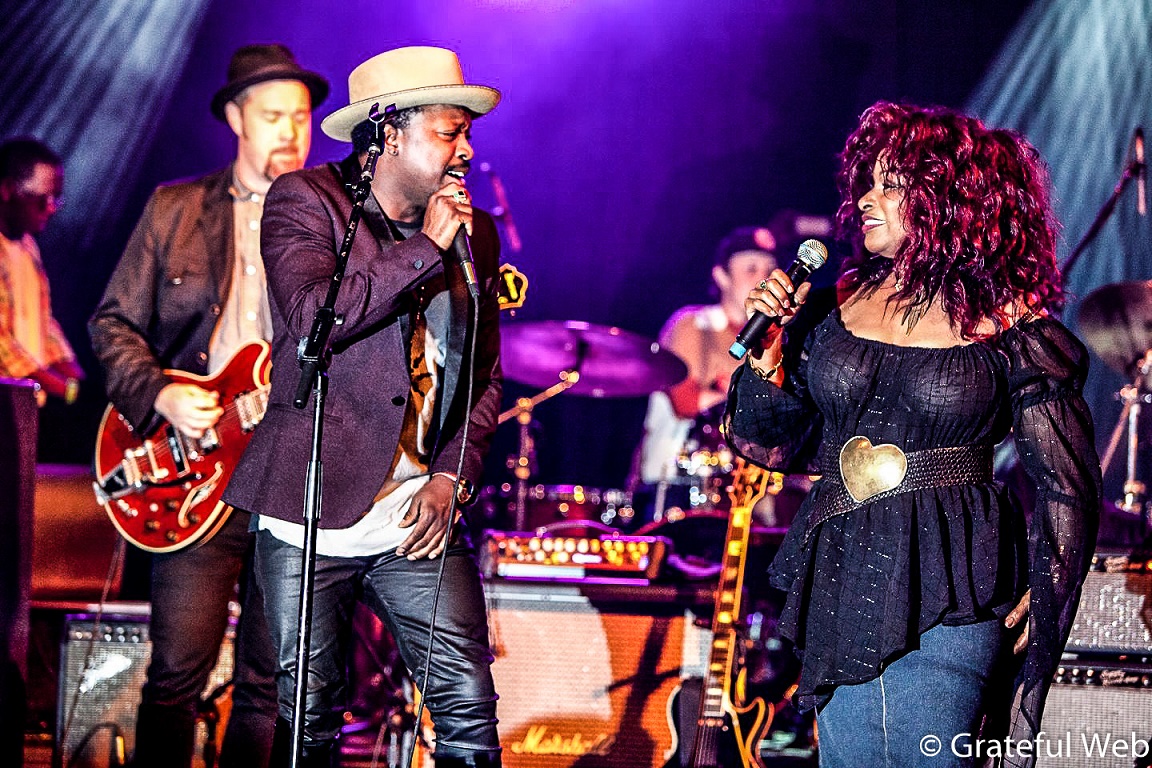 Still enjoying unseasonable cooler temperatures and some welcomed cloud cover before the blazing sun reared it's ugly head, I gathered my things and headed on over to This Tent for native Tennessean, Valerie June.  Valerie was making her debut at Bonnaroo and I was thoroughly excited to see her live.  I had only just recently begun listening to her, but there is something about her haunting vocals and mix of gospel, Appalachian folk, bluegrass, and soul that completely mesmerize you.  With the most beautiful dreadlocks this side of the Mississippi, Valerie poured out her heart and soul to a fully packed tent of Bonnaroovians.  She played songs from her 2013 release Pushin' Against a Stone and her earlier albums showcasing her multi-instrumental and vocal talent.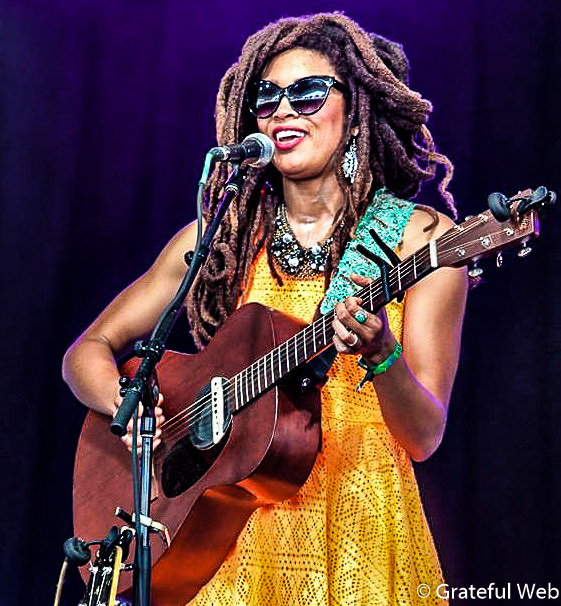 A quick pass-by the Solar Stage on my way to Which Stage filled my ears with tunes from the John Butler Trio, whom I hadn't heard in concert in many years.  It set me on my path to encounter another band I hadn't seen in quite sometime, Cake.  Lead singer John McCrea sat in a press conference earlier in the day and looked seemingly uncomfortable in the hot seat, but on stage took on a completely different persona.  They played all the hits such as "Love You Madly", "Short Skirt/Long Jacket", "Never There" and "The Distance", but also threw in a surprise cover of Black Sabbath's "War Pigs".  It was most certainly a must see set as it oozed with nostalgia and kept the crowd grooving and smiling.
The Drive-By Truckers and Phosphorescent were lined up back to back in This Tent, so I made my way in that direction to catch both. Georgia's own Drive-By Truckers have been a staple at Bonnaroo.  Cornering the market on southern rock they came to the festival fresh off the release of English Oceans.  They did play a few of their older hits and one of my personal favorites "Hell No, I Ain't Happy".  The southern rockers made for a solid transition into the likes of Phosphorescent. Lead singer Matthew Houck was making his 2nd appearance at Bonnaroo and played a solid set that included his recent hit "Song for Zula" off of his 2013 release Muchacho.  His sound is folksy and a bit Americana with a smidge of alt/indie rock.  It complimented the prior set by the Drive-By Truckers well and was a good way to round out the day before dancing on the ceiling.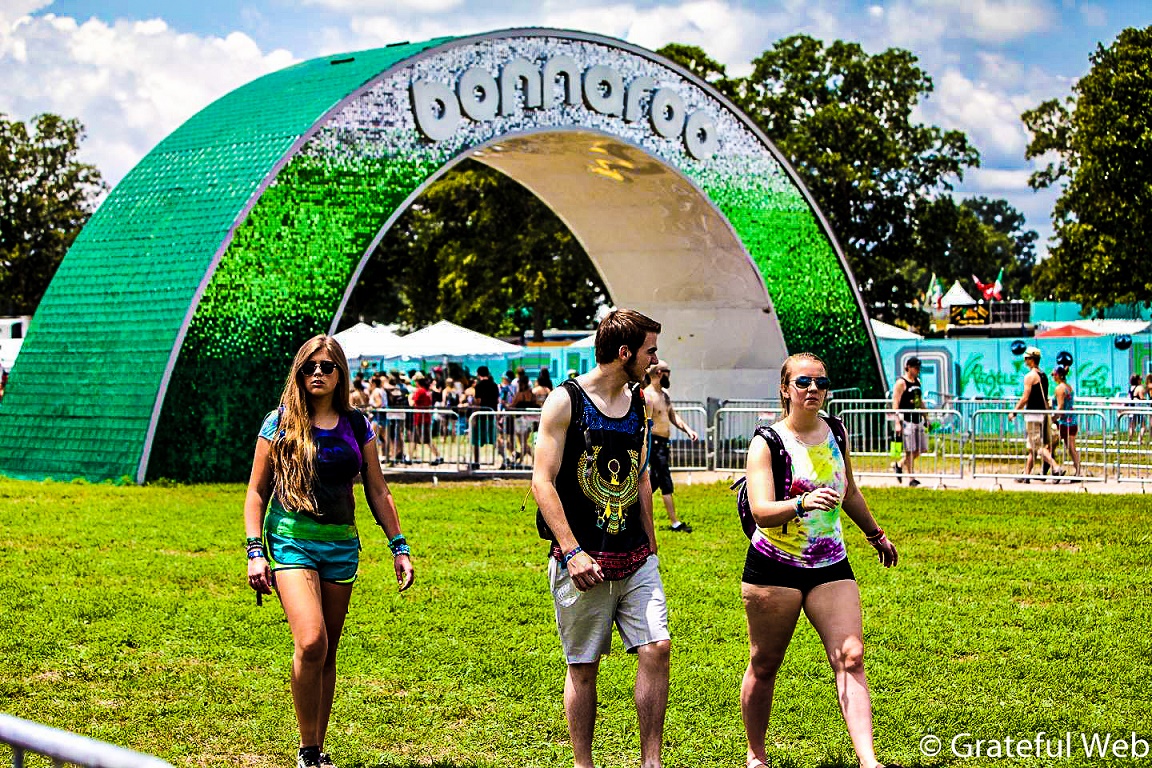 Why in the world has Lionel Richie never been on the Bonnaroo bill before?  I admit, I wanted to see Lionel as he is legendary, but never expected the set that I experienced.  He played every hit from his days with the Commodores to his solo career.  He made jokes about his afro and did not miss a beat when it came to clever stage banter.  Highlights included a crowd sing-along to "Three Times a Lady" and "Brick House".  "All Night Long (All Night)" was his finale and another crowd pleaser was "We Are the World" that he brought out for the encore.  I was truly impressed with his showmanship and that his voice didn't falter once.  He should have been given a headlining slot and Kanye should have been sent packing.  Oh well, if only in a perfect world.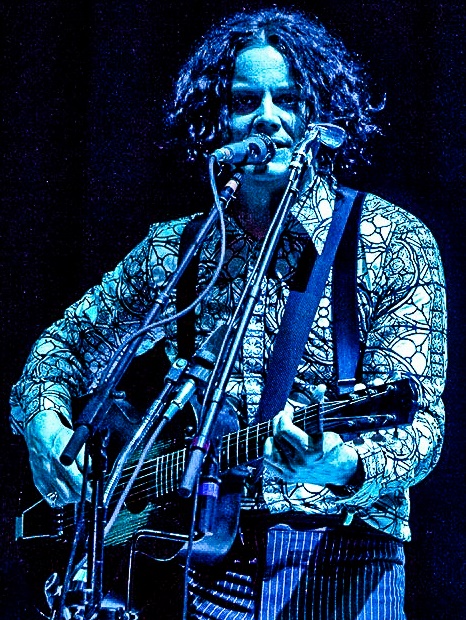 The headliner for Saturday night was Jack White.  I've had the pleasure of seeing him in concert with the White Stripes, The Dead Weather, The Raconteurs and several times in his solo ventures and the man never disappoints.  His set started with several selections off of his recently released album Lazaretto mixed in with classic White Stripes tunes such as "Hotel Yorba" and "Icky Thump".  His final tune was a Led Zeppelin cover of "Lemon Song", but just when you thought that was going to be the end of the night for Jack, the man came out with an epic encore.  Quite possibly the longest encore in the history of Bonnaroo, the following songs were unleashed on a mind-blown audience: "The Hardest Button to Button", "Hello Operator", "Pipeline" (The Chantays), "Misirlou" (Dick Dale), "Sixteen Saltines", "Cannon", "Blue Blood Blues", "Astro", "Love Interruption", "Little Bird", and the ever popular "Seven Nation Army".  The full performance can be seen at www.youtube.com/watch?v=ZkUwAUaW3Yg
Reeling from the amazing set that I had just seen, I was ready to join the individual's likely tripping balls in anticipation for the Flaming Lips.  Which Stage had been transformed into a magical wonderland with oversized mushrooms, walking rainbows and sunshine, butterflies, and Wayne Coyne in his skintight human muscle spandex suit with Mylar tassels covering his nether region.  They opened with "The Abandoned Hospital Ship" and went into "She Don't Use Jelly".  It was followed with a crowd sing-along for "Yoshimi Battles the Pink Robots, Pt. 1".  The night ended with their recent addition of the Beatles cover "Lucy in the Sky With Diamonds".  I figured it would be best to navigate the crowd of over stimulated folks before the final song ended and made my way over to catch a couple songs by Nick Cave & The Bad Seeds.  I walked into my favorite tune (and consequently a hit in most horror films) "Red Right Hand" and stuck around for "From Her to Eternity" and "Mermaids" before I gracefully exited and headed for camp.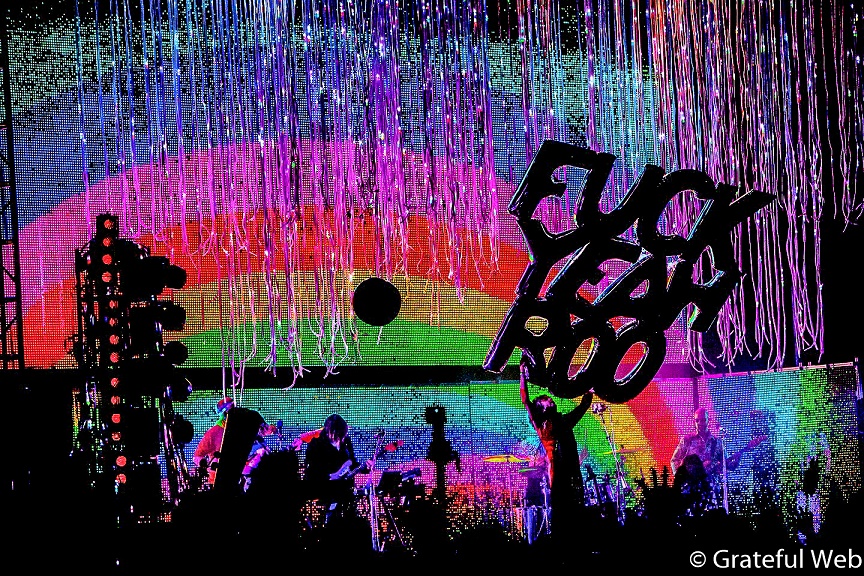 The last day of Bonnaroo is always bittersweet.  Mostly because you know that the festival is coming to an end, but also that most are exhausted from their jaunts in the previous days and lack the energy to pack in everything they want to experience on the final day of the 'Roo.  For me, Sunday is usually a day to take in a few high quality acts and catch up on the things I was too busy to experience in the days prior.  The first set of Sunday that I was overly excited to see was the Carolina Chocolate Drops.  The old-time four-piece string band from North Carolina played the main stage as though they had been there before.  Their set was informative (especially in discussing the roots of their style of music as well as some of the instruments they used during their set) and entertaining (they even brought out a dancer to jig to their tunes).  I was impressed by their stage presence and varying songs they played, including the "Dueling Bones".  They even snuck in a Blu Cantrell cover, kudos for making my high school self reminisce.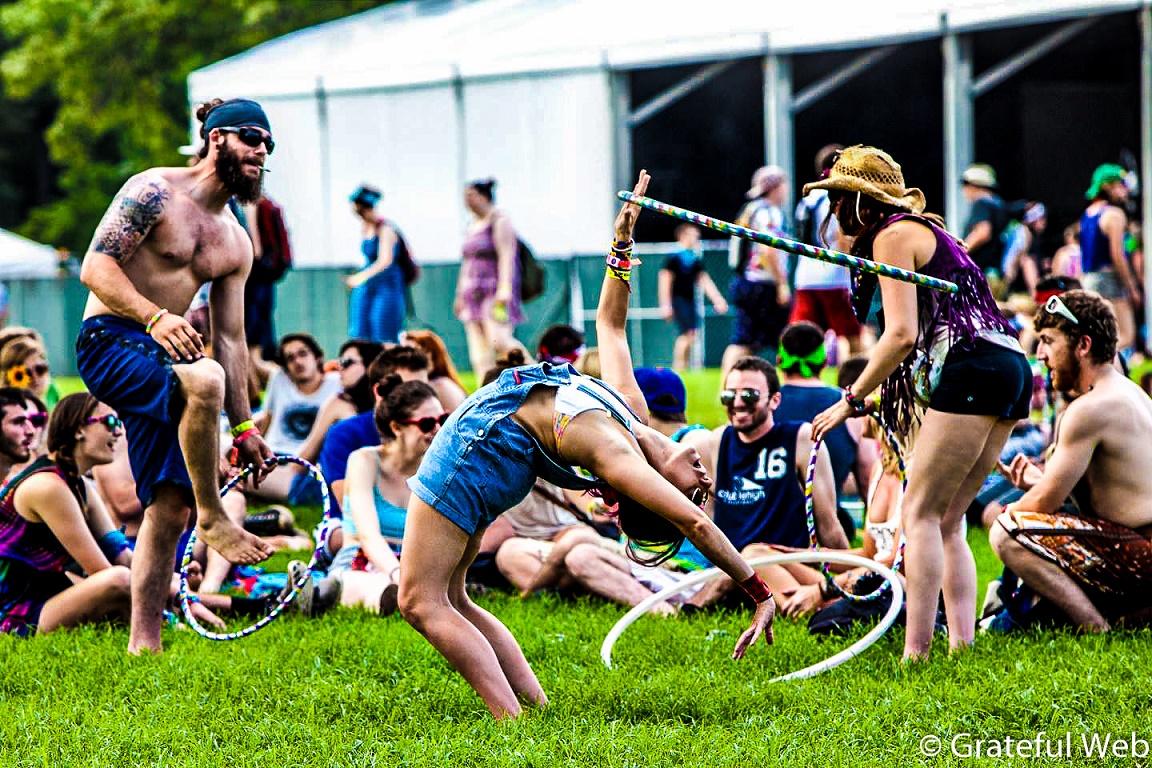 I made a quick stop over to Which Stage to catch Mephis based punkabilly band, Lucero.  This band makes me want to have a beer and by the looks of it, I was not alone.  I walked into the title track from their newest album Texas & Tennessee and was able to stick around for "All Sewn Up", "Like Lightning" and "The War" before heading back towards What Stage to catch up with Yonder Mountain String Band.  Since the departure of Jeff Austin, the band has been embarking as a 3-piece, however, they showed up with a little help from the legendary multi-instrumentalist, Sam Bush and John Frazier.  They started their set off with "Tickle" followed by "Pretty Daughter".  They slipped in a Gin Wigmore cover of "Black Sheep" as well as YMSB classic, "Idaho".  To my delight and surprise they played a cover of Bob Marley's "One Love" and ended with "Casualty".  These boys never disappoint.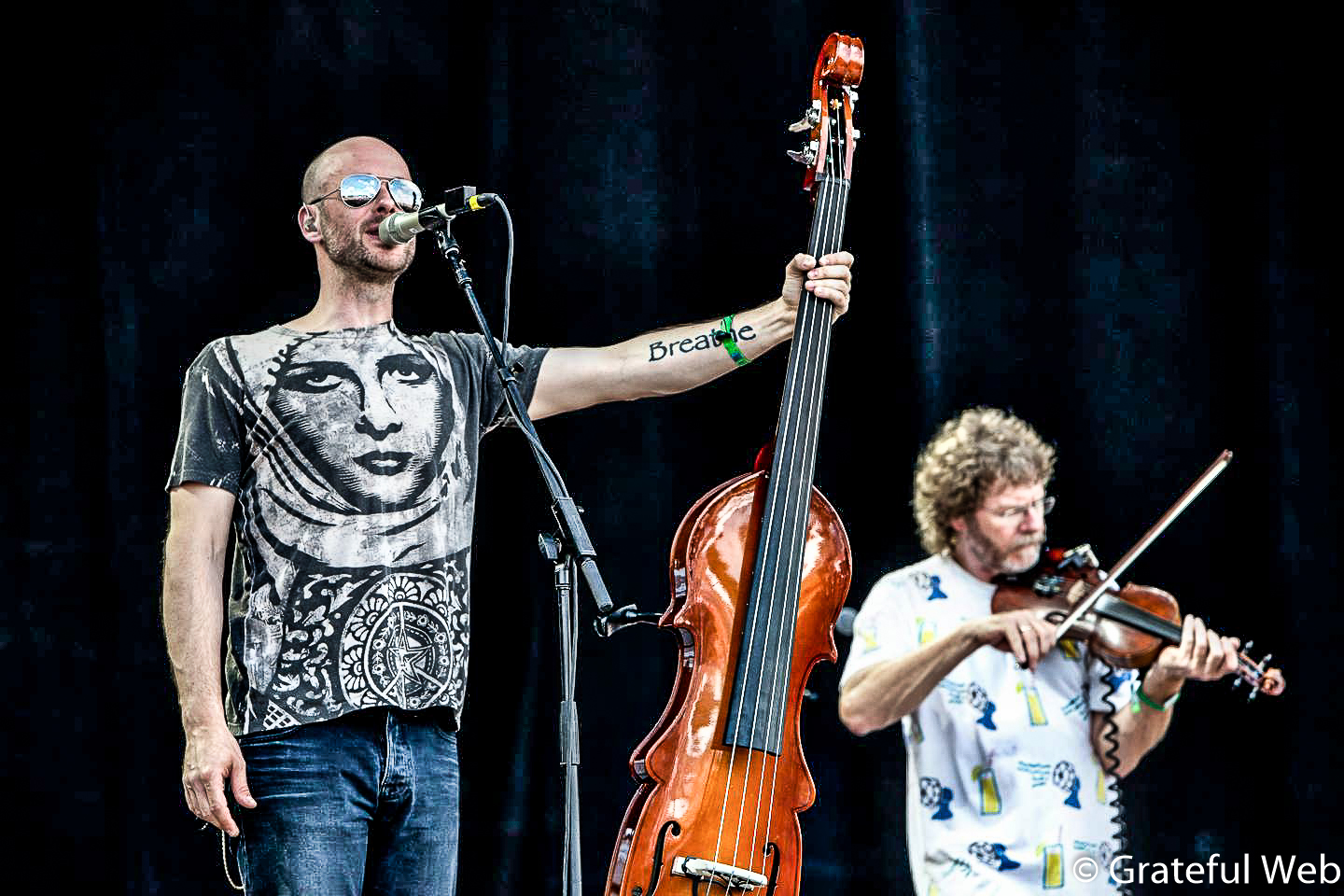 I also had the opportunity to sit down with bassist Ben Kaufmann from Yonder Mountain String Band prior to their set:
GWEB: Welcome back to Bonnaroo, I've seen you in the years past when I was here just as a fan.  In the years you guys have been here, what is the craziest thing you have experienced musically or visually at the festival?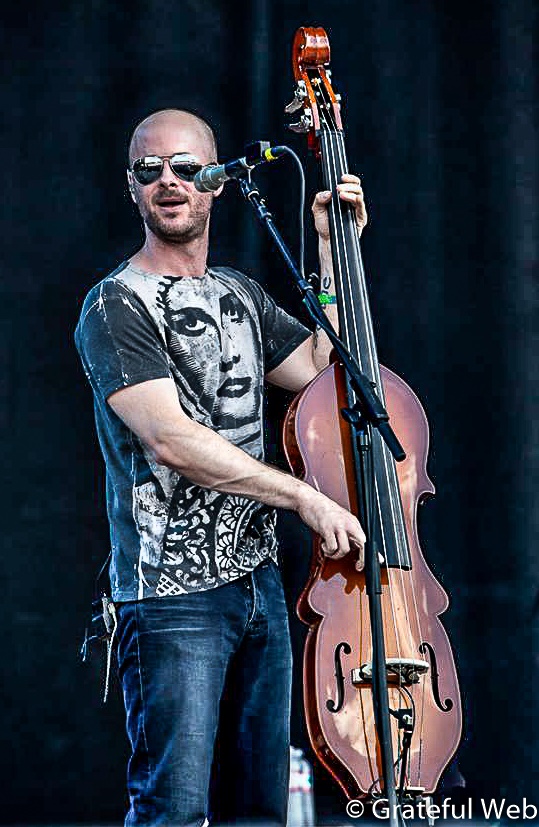 Ben: The first time we came here to play on a stage for I think they said 55,000 people was by far the biggest show we'd ever done.  I'll never forget that and the sight of the sea of people.  Even before we walked out on stage we were going "how are we going to do this?" and then once you start and you see that it's working, it's just like scratching every itch, the most beautiful itch and just the release of endorphins, that was brilliant.  I don't remember what year it was and I can't remember the name of the band, I'm sure they are happy that I can't remember the name of the band, because part of their trick was that the guitar player was on one side of the stage and the bass player is on the other side of the stage and their thing was that they would take their axes off and they would throw them both at the same time and throw them across and the way it's supposed to go they were both supposed to each catch the thing and keep playing.  What really happened was they threw them and they crashed into each other in mid-air and they landed on the ground with this extraordinary sound and I thought it was the funniest thing I've ever seen.  Got to see, we must have been here the last year Kanye was here when the whole big to-do, so I got to see that, at least part of that and it was interesting because I learned how I don't want to behave and how I don't want to represent myself.  I got to see Metallica one year, I'm a huge fan, I think everybody is. ["Don't believe the lies!" – Adam interrupted— we all shared a laugh]
GWEB: While you guys are here are there any specific acts that you really want to check out?
Ben: Elton John.  The things you've got to think of are the things you would otherwise never get to see. I missed Ice Cube because I got in too late yesterday; otherwise I would have been there for the duration of anything that he does.  Elton this year, and Jack White, I want to see Jack White, but I think I might have missed him though.
GWEB: Jack White is tonight.

Ben: So I'll see Jack White tonight. And um, who else… I always like seeing Derek Trucks.
GWEB: With festivals, how important do you think maintaining a bluegrass presence is within the festivals because now they cater to the pop and EDM culture more than any other genre?
Ben: It's huge.  It's a great responsibility to have being one of the few bluegrass representatives here.  We were just kicking around new ways to brand ourselves and we came up with we want to be able to convince all the EDM kids that there is a new thing out there called ADM, Acoustic Dance Music.  And it works!  We can do the beat that they need to dance to, we can do it without drums, and it's the same driving, insistent, pulsing beat, and you can dance to it.  Those are the people I've got my eyes on, my radar and my focus is on them, because I want to convert- I don't need to convert them away from the thing they like, I just want to prove to them-look at this band, no drums, but you can jam just as hard.  That is kind of my M.O. for a festival like this.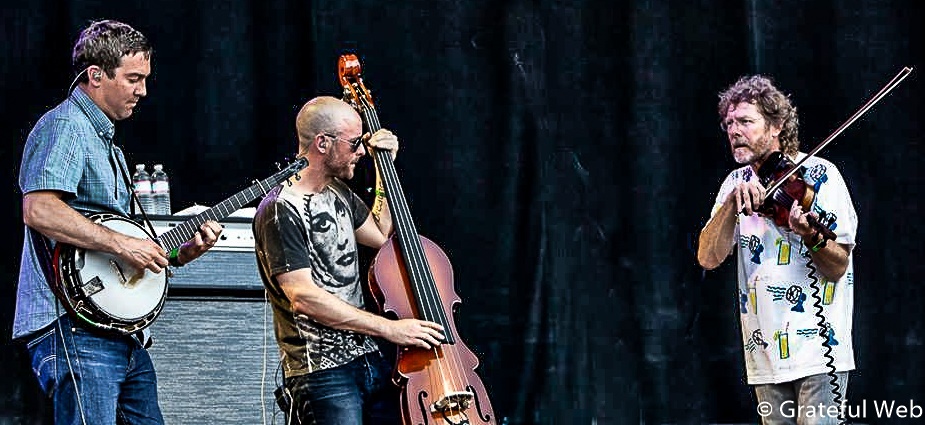 GWEB: As you know, most bluegrass bands cite heavy influence from the bluegrass greats.  What has punk rock meant to YMSB and how has it influenced your career so far?
Ben: There's such a relationship and crossover between punk rock and bluegrass, from chord progressions, chord structure, simple songs, and lyrics that are very heartfelt and almost sentimental.  Even though in punk rock half of them will be screaming, there is a sense of sentimentality and honesty to it.  There is a relationship, I keep thinking there is a thesis paper I could write to get my honorary doctorate from somewhere, but there is a relationship and for us the ultimate proof is that you pick any punk rock tune and a bluegrass band can learn it and play it without that many challenges because they just translate.  We have a bunch in our repertoire that are punk rock tunes, they just work.  With the bluegrass beat behind it, the songs the way they sing them, it builds itself for 3-part harmony.  I don't know why or how, but there is a relationship there.  That's the music we grew up listening to, we didn't grow up listening to bluegrass. Our influences were the Grateful Dead and punk rock.  I don't know how, but that was it.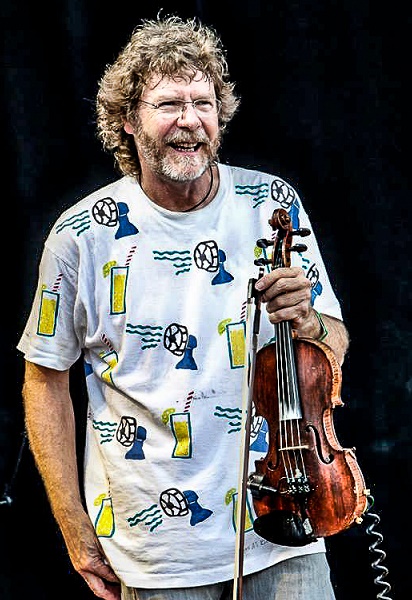 GWEB:  I hear you guys will be playing with Sam Bush, how excited are you to be working with him as he is a legend in his own right?
Ben: Oh he is, he's the king.  Everything he lends his talents to is made that much better for his presence there.  We love Sam.  I love playing music with Sam of course, and that goes without saying, but it's almost more important for me to get to hang with him and hear his stories and to just learn.  He was pushing boundaries in this music long before we were playing and so he was sort of paving the way for what we do, which is making our time so much easier because he already did all of the hard work.
GWEB:  I had the opportunity to photograph YMSB at the House of Blues in Dallas a few years back, a favorite venue of mine.  What are some of your favorite venues to play and why?
Ben: The main stage at Telluride Bluegrass Festival, Red Rocks, The Gorge, The Fox Theater in Oakland, and the Tabernacle in Atlanta are just some that leap out if I had to pick.
GWEB:  I know it's a little early to be talking about New Year's shows, but any plans to play in Colorado for a New Year's Eve show?
Ben: I'm pretty sure we will be in Boulder again.  This year the way that it works, the Friday night is New Year's Eve and the way that the weekend lines up, we are not sure if we are going to play the 31st, 1st, 2nd, and 3rd or the 27th, 28th, 29th, 30th, 31st because that will be a Monday, Tuesday, and Wednesday and people won't be getting off work and work doesn't care how it lines up so that will be a tricky one. We are not quite sure how that is going to play out yet, but I can almost guarantee that we will be back in Boulder.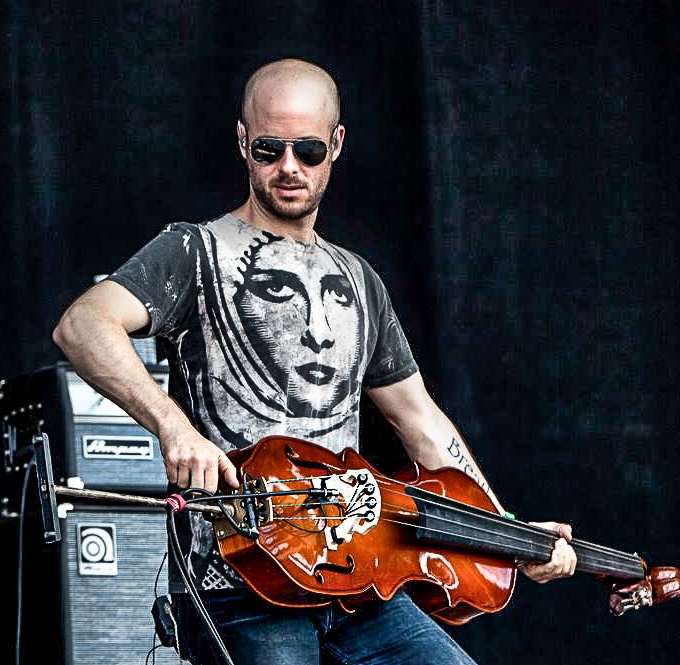 GWEB: And just for fun, if you could have your own SuperJam at Bonnaroo, anyone who is alive and currently still playing, who would it be with?
Ben: Ok, I'd want Zac Brown singing, Trey Anastasio on guitar, Victor Wooten on bass, if I need a drummer, I'll take a drummer.  I'm so partial to Jon Fishman and his drumming, but I also really like Rob Koritz from Dark Star Orchestra who is I think an extraordinary fairly underrated drummer, in the same way people underrate Ringo.  But then again Ringo is a good idea too, so I'll take Rob and Ringo.  I will take Bela Fleck on the banjo and let's see, fiddle, got to have a fiddle player.  I'll take Sam Bush on fiddle.  I need an acoustic guitar player, but Zac Brown can play guitar so I'll have him sing and play guitar.  I'll put Jerry Douglas on the dobro and for a 2nd electric guitar player I have Derek Trucks.  You need a horn section right, and a keys player, let me turn the corner there.  I'll take Chick Corea on keys, and if I'm taking Chick Corea on keys, I'll take Gary Burton on the vibes.  I'll take Galactic and their horn section and we've pretty much filled that bill, didn't we? 
GWEB: Sounds like a stellar line-up, now you just have convince the festival to allow you to do it next year!
Ben:  I will dress up into whatever Dorothy, Wizard of Oz dress they want and conduct the whole thing!
GWEB: It's on!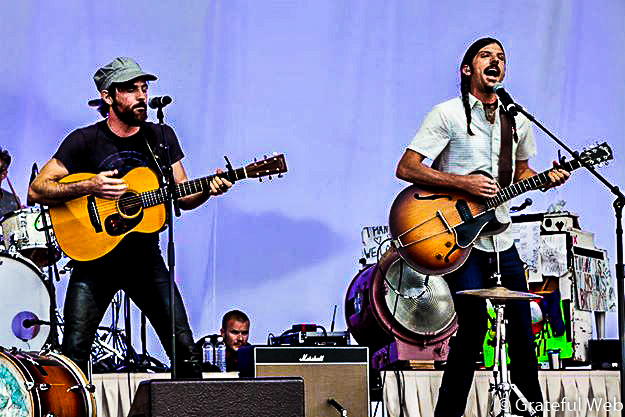 Following Yonder's set was The Avett Brothers.  I hadn't seen them live since October 2011 in Dallas Texas and was surely looking forward to it.  I had only ever seen them perform in smaller venues so it was excited to experience them on the main stage at Bonnaroo in front of 90,000+ people.  I was worried that it would be a sleepy set, but two songs in, the brothers proved me wrong.  Their stage show has grown since I've seen them last, adding additional instrumentation.  They opened with "Colorshow" and "Slight Figure of Speech".  There was a cover of "The Race Is On" by George Jones and a traditional hymnal "Just a Closer Walk with Thee" that provided harmonies that could make anyone's heart melt.  " Kick Drum Heart", "Head Full of Doubt/Road Full of Promise", "I and Love and You", and "Morning Song" rounded out their set.  I was thoroughly impressed.  The energy was high and a great wakeup call to sleepy Bonnaroovians in order to get their dancing shoes on for the Sunday night headliner, Elton John.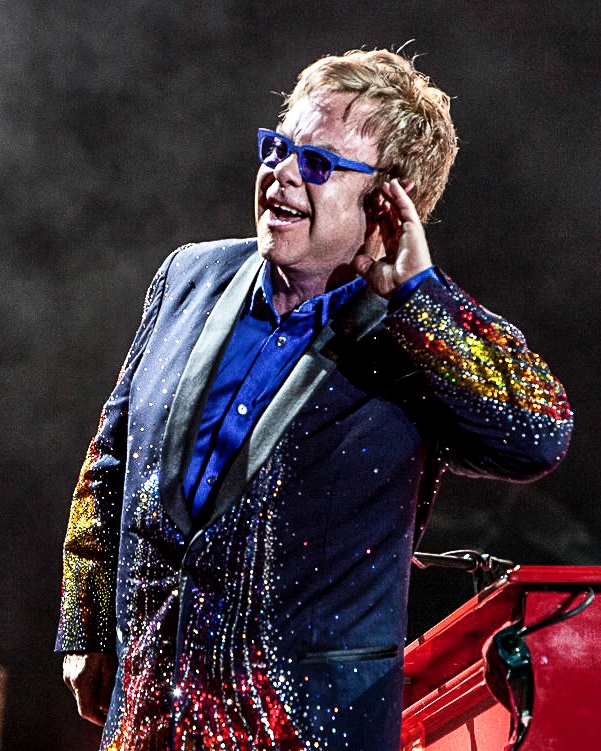 I thought for sure it was going to be tough to top last year's closer Tom Petty & The Heartbreakers, but Sir Elton made sure there was no mistake as to why he was chosen to bring the house on the farm down.  He opened his set with "Funeral for a Friend/Love Lies Bleeding" with a drawn out piano intro that just left the crowd chomping at the bit for his hits.  He quickly went into "Bennie and the Jets" and the likes of "Levon", "Tiny Dancer" (not to be confused with "hold me closer Tony Danza" that was plastered all over the walls), and "Goodbye Yellow Brick Road".  "Rocket Man" encouraged many to don their space helmets and sing along.  Ben Folds even made an appearance to play "Grey Seal".  "Don't Let the Sun Go Down on Me" and "The Bitch Is Back" were crowd favorites and I had the pleasure of having this incredibly drunk girl serenade me through both songs.  The final song in the set was "Saturday Night's Alright for Fighting" which opened up the encore of "Your Song" and "Crocodile Rock".  It was a great selection of classic Elton John tunes, but to my disappointment he didn't sing "Don't Go Breaking My Heart".  I remember watching a Mickey Mouse special in which he sang that song with Minnie.  Childhood dreams crushed, but a fantastic set overall and great end to Bonnaroo 2014.
Some of you have outgrown the festival, others have welcomed the change and still show up for your old favorites and to experience something new you otherwise would have never seen.  I'll continue going for the experience and the chance to witness unlikely and unusual musical collaborations.  Like with anything in life… there is always change.  It's up to us to embrace it and focus on the future rather than dwelling on the Bonnaroos of long ago.  Perhaps come next year and gift a copy of your favorite album to a soul (or hipster) that perhaps could use a little musical enlightenment and enjoy all that is the crazy festival in Manchester Tennessee --- Bonnaroo!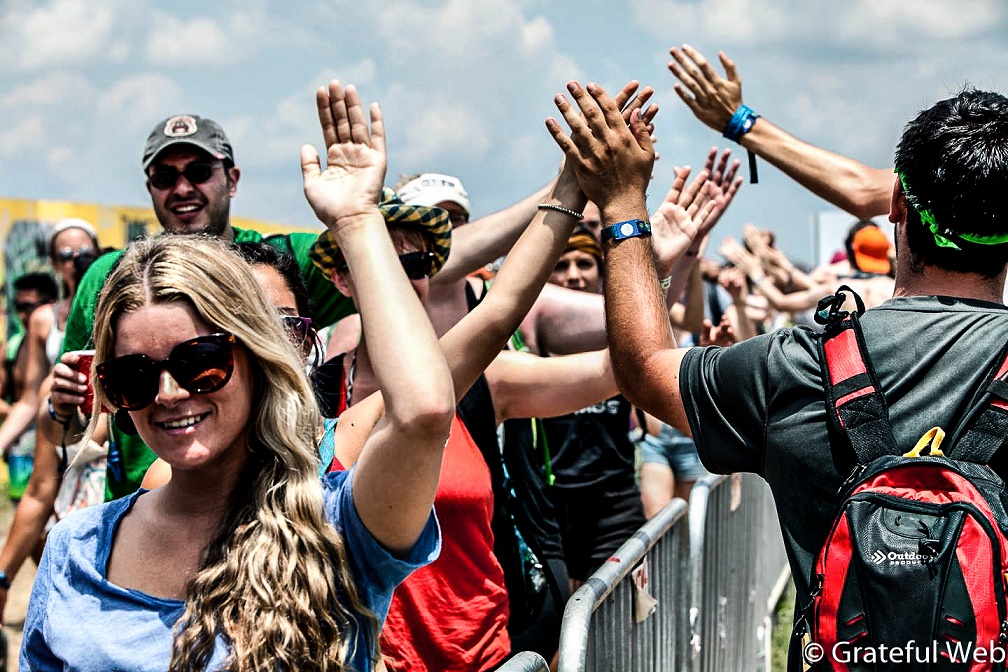 Check out more photos from Bonnaroo: Thursday & Friday | Saturday & Sunday