It was 7am and the sun was already beating down relentlessly on my tent, so much for sleeping in.  In an "I don't want to wake up now" haze, I attempted to claw my way out of the sealed vessel in search of cooler air.  As I emerged, hair sticking straight up and out, I could hear a few people stirring around me, but most were just snoring.  Our neighbors had finally passed out and were resting up for round two, the line for the port-a-potties was already exceeding thirty folks, and the showers… two-hour wait.  As people walked by our camp you could just see clouds of dirt/dust billowing around them.  It was another hot and dry day.  My body begged for sunblock and water in mass quantities, so I lathered up and hydrated, roused my friends, and we began our journey to Centeroo to kick off the Friday line-up.
Left stiff and sore from the day before, I decided to pop into the Massage & Bodyworks tent in Centeroo for relief.  Oddly enough the Smoking Lounge by American Spirit was right next-door and this caught Jeremy's eye.  We both could take 15 minutes to get our "fix" so to speak.  While Jeremy was getting his smoke on, I lay down and had the best 5-minute massage a girl could have ever asked for.  Nellie was my masseuse and she was beyond fantastic.  Instead of lotion, they used sunblock and once the massage was finished you could hang out in the misting tent and drink complimentary ice-cold tea!  With a renewed body, and Jeremy with a renewed spirit (he scored a coupon for smoky treats that would bring the cost down to a dollar), we headed on over to the Sonic Village to see who was playing.  To my surprise, it was Hayes Carll.
I was lucky enough to catch his Thursday set, but the Friday set took me by surprise!  Hayes Carll and The Gulf Coast Orchestra were back at it again, but this time playing to a more intimate crowd comprised of loyal fans... most of them hailed from Texas, go figure!  A couple from the Lonestar State two-stepped while Hayes played another marvelous set.  Highlight of the afternoon was hearing "One Bed, Two Girls" live, which is an unfortunate tale of a young man who perhaps drank a little too much and can't live up to his full potential as he's caught in the middle of nearly every guy's fantasy, two gals in one bed!  The smirks on the faces of everyone listening and the guys that stood behind me giggling like schoolgirls made for an interesting experience.  Another noteworthy tidbit from this set was getting to hear "Little Rock".  The drive from Texas took us right through Little Rock, AR and due to an iPod malfunction; we weren't able to play that song as we drove through.  My disappointment was thus rescinded when I heard the first few notes.  Thanks, Hayes!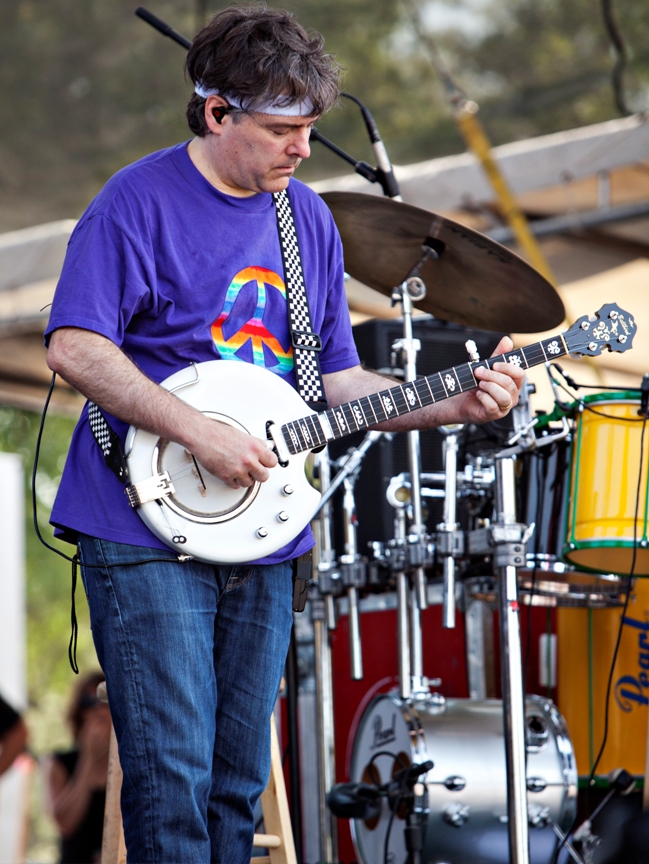 Sticking around the Sonic Stage as there was a cancellation for the next time slot and a mystery band was to fill the time slot, to my surprise it was Miniboone!  It was like I was having déjà vu.  The evening before I saw Hayes and when en route to the comedy tent, I happened to waltz by the On Tap Lounge while they were playing.  Two entertaining bands getting to play two entertaining sets, talk about double your pleasure, double your fun… Oh Bonnaroo, how you continue to surprise me year after year!  In all honesty, I'd never heard of Miniboone prior to Bonnaroo, but the New York fivesome played an energetic set and were living it up as this was their first trip to the festival.  I'd categorize their sound as something between indie and pop.  Between the neon green shorts, homemade t-shirt, and charisma oozing out of their pores, these guys captivated quite a few and as a bonus, it appeared as though their fan base had more than doubled from Thursday night.  Perhaps we will be seeing these guys come 'Roo 2012.  While making my way back across the park I ended up stopping by Which Stage to catch a bit of Bela Fleck and his banjo pickin' awesomeness.  Unfortunately, I was in severe need of water and had to make my way back to the press area to fill up, so I didn't stick around terribly long, but it was nice to see Bela and the Flecktones sharing the stage once again!
Next on my list of bands to see was The Decemberists.  The last time I had seen them was about three or four years ago when they played a free concert in Millennium Park, Chicago and with the release of their sixth album, 'The King is Dead', I was pretty darn excited to see them again.  The crowd grew around What Stage as the Decemberists started in with "July, July", off of 'Castaways and Cutouts', even though "June Hymn" might have been a tad more appropriate given the date.  At any rate, they started strong and with an older tune which kept the diehard fans happy.  Next was "Yankee Bayonet" off of their 2006 album 'Crane Wife' in which Sara Watkins (formerly of Nickel Creek) had issues with her vocals throughout the beginning of the song, but ended up redeeming herself and finishing the song strong.  Up next was "Down by the River" off their newest release and even though I love their new album, those around me weren't as thrilled.  'The King is Dead' definitely has a sound that is rooted in bluegrass and devout Decemberists followers want the usual, not the changed. They did play a few of their newer songs and most of us listening enjoyed it.  I for one was absolutely thrilled when I heard "Rox in the Box".  It's often a song I play as a drive to work in the morning… a pump-up song of sorts.  Lead singer Collin Meloy prefaced the song by saying "We'd like to move directly into our early 20th-century labor dispute material if that's alright with you.  I know you're hearing a lot of that this weekend, we don't mean to be redundant!"  Overall a good mix of new and old was played, even "16 Military Wives" one of their most recognizable songs.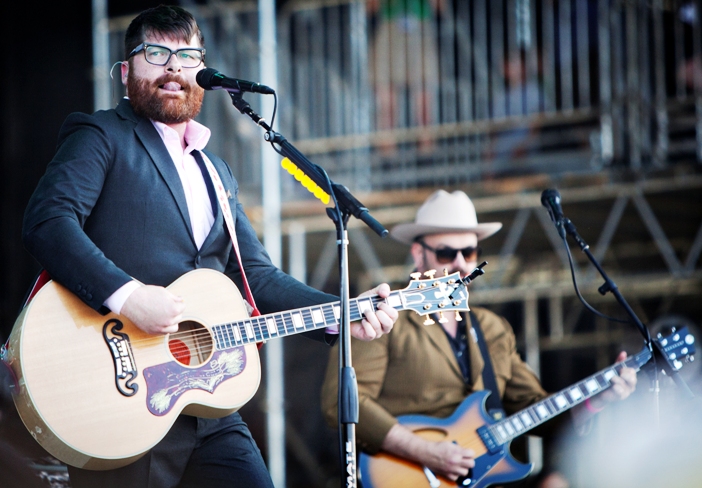 Across the park in This Tent, one of my favorite red heads was preparing to blow the minds of many.  Florence and The Machine surprisingly were not on the main stage, but if the crowd was any indication, they should have been.  With record numbers of attendees at the festival this year, I would guess that nearly a third of them were waiting to hear Ms. Welch live.  I attempted to get in as close as possible for pictures but ultimately was stopped in my tracks when I entered the tent.  People were packed in like sardines and no one could move.  You would have thought that Paul McCartney was about to play a set!  Surrounded by tall ones (I'm 5'10", mind you), I could barely see the stage while on my tippy toes.  I made friends with one of the 6'5" guys next to me and even asked him if he could take a picture for me.  Unfortunately, he could not operate my camera and I was forced to just enjoy the sounds and not the sights.  After giving a valiant effort, I decided to retreat to the grass outside the tent and observe the on-goings of folks around me to Florence's haunting vocals.  She opened with "Howl" and played nearly her entire album 'Lungs'.  Thrown in was a cover of  "You've Got the Love" by The Source.  I was hoping to hear her do a cover of Buddy Holly's "Not Fade Away" as she recently made a video and recorded it for an upcoming Buddy Holly tribute album, but sadly it didn't happen.  And as not to disappoint her fans, she belted out her debut single "The Dog Days are Over" as her final tune.  As I do love her album 'Lungs', the set was enjoyable, but I do believe her fans are ready for something new.  I do look forward to the future of Florence and The Machine; hopefully, they will play a larger stage if asked back again next year!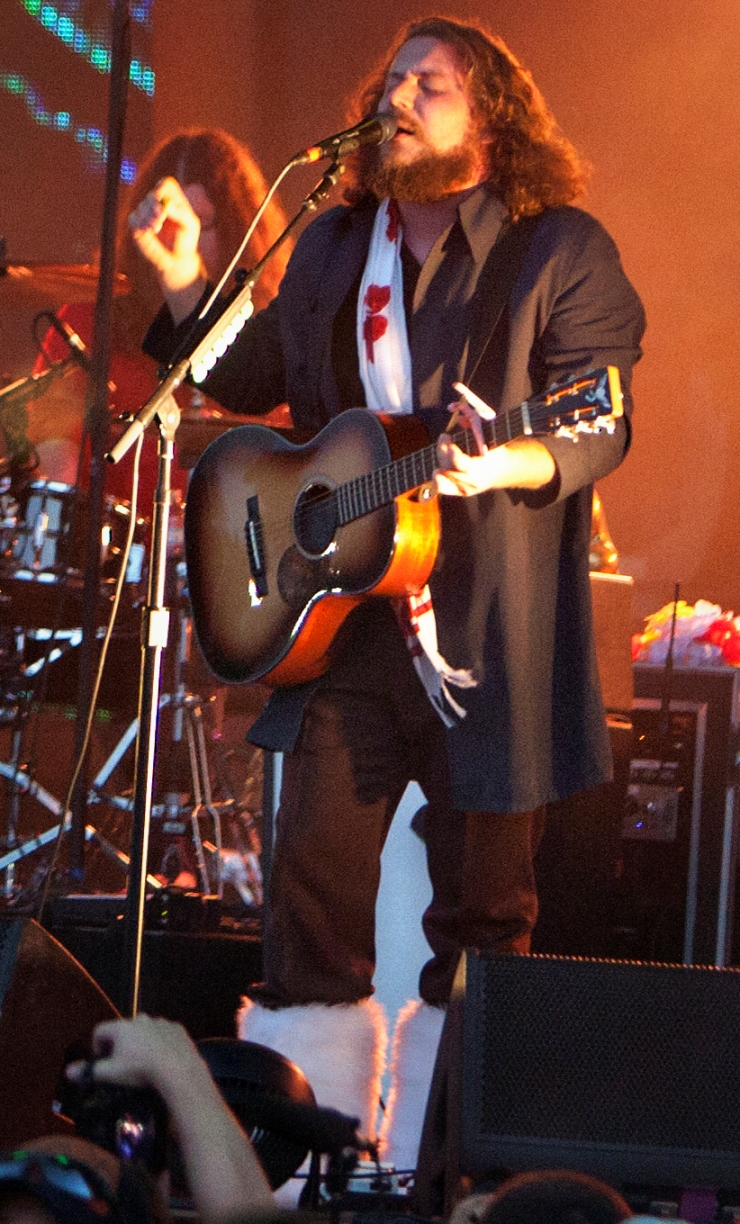 As the sun sank, more and more people seemed to crawl out of their tents or other spots of refuge to enjoy the later sets.  Back over to the main stage I wandered and weaved landing me in a massive throng of people anticipating the return of My Morning Jacket to Bonnaroo.  I think most were initially drawn to the awesomeness that is Jim James' beard, but they ended up staying for the music in the end.  I'm no stranger to a My Morning Jacket show, but what I witnessed this time around was far more aurally and visually exciting.  The seasoned 'Roo veterans, with five festivals under their belts, finally earned their rightful place at the What Stage.  The stage was adorned with bears, one wearing a poncho, and Jim James (Yim Yames) in white polar bear-esque boots, which were not quite weathered appropriate, but looked awesome nonetheless.  They started their 2-hour set off with "Victory Dance" off of their newest release 'Circuital'.  The bass was unreal and it often mimicked the polar bear boot-stomping of Mr. James on stage.  The band played a diverse array of songs, pulling from nearly all albums in their vast catalog.  Classic songs such as "Mahgeetah", "I'm Amazed", and "Highly Suspicious" were definite crowd-pleasers.  The Preservation Hall Jazz Band also joined the MMJ on stage for both "Highly Suspicious" and "Dancefloors", bringing both songs to a new level of fantastic.  The set ended with "One Big Holiday" which turned into one big sing along and the energy that flowed through the crowd was absolutely surreal.  I thought my night was complete but soon realized that Arcade Fire was to follow My Morning Jacket.  At that point, I definitely needed someone to pinch me as it felt as though I was dreaming!  While waiting for Arcade Fire's stage to be set, Jeremy and I decided it would be a good time to try and weave our way closer to the front.  Just like before, it was nearly impossible.  In years past, I've never had a problem landing myself somewhere within 40 feet of the stage, most of the time getting right upfront.  This year proved to be much more difficult, especially as with each passing day it seemed that the crowd grew larger and larger.  We found a spot and sat down to give our weary legs rest, 30 minutes until showtime.
Feeling as though I was at a drive-in movie theater, the Bonnaroo sign on What Stage went out and "Coming Attractions" came on the screen at the back of the stage.  Vintage clips flowed into scenes from Arcade Fire and Spike Jonze's short film "Scenes from the Suburbs".  Then enter the band; they started into "Ready to Start" off of their newest hit album 'The Suburbs'.  Husband and wife duo Win Butler and Régine Chassagne who tend to be the most recognizable faces of Arcade Fire shared the stage with several other bandmates.  Over the years they've had a multitude of members, but have found their niche in this Grammy award-winning group they have currently.  I do have my favorite Arcade Fire songs and as usual was secretly hoping they would play at least one or two… turns out they must have read my mind because the second song they played was "Keep the Car Running" off of their 2007 album 'Neon Bible'.  They pretty much stuck to songs off of 'Suburbs' and their 2004 release, 'Funeral'.  Vocals were spot on and even lead singer Win tried to add in a dash of banter by saying "Any festival where you can see My Morning Jacket and Lil' Wayne is good with me!"  Witty remarks flowed just as naturally as the lyrics did through their two and a half hour set.  Nearing midnight, a lot of folks decided to lay in the field and enjoy the music while looking up to the sky.  Little did they know they were about to see something incredible.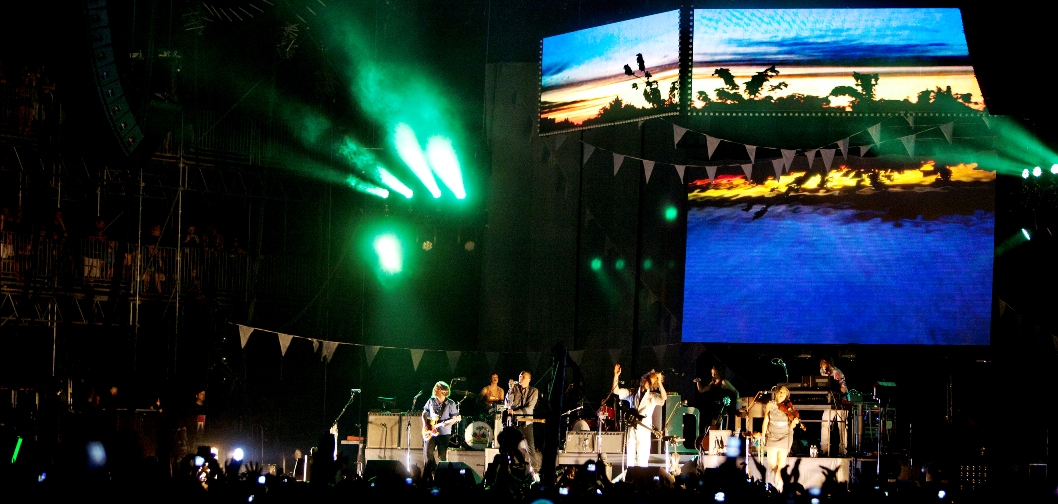 As Arcade Fire continued on, I was laying on the ground with Jeremy and he turns to me and goes "What is that!?!", pointing to this object flying erratically in the sky.  When we thought it was just one, another popped up and another, and then another.  Then all of the sudden it looked like the sky was shimmering with multi-color glitter.  As these floating objects neared, I was finally able to make out that they were skydivers of some sort.  It took a while for the glittery objects to make their way to earth.  They turned out to be these little flashing LED lights attached to plastic whirlybirds.  In all the years I've been at Bonnaroo, I've never witnessed anything like it.  They beat a fireworks display, hands down.  With flashing lights in hand and Arcade Fire doing their encore of "Wake Up" and "Sprawl II (Mountains Beyond Mountains), we gathered up our stuff and made our way over near Which Stage.  I was trying to keep my eyes open to witness Lil' Wayne.  We stopped off at the press area and after stepping into the air-conditioned press tent, decided that it was time to call it a night and that I'd have to rely on friends to tell me how the late-night shows went.  As it seems Lil' Wayne was a bit of a disappointment and the highlight of the late evening was Pretty Lights.  As I've seen Pretty Lights before, I wasn't completely bummed that I missed the set.  The walk back to camp always seems longer in the evening.  I was ready to wind things down back at camp but before calling it a night Jeremy busted out his guitar and started singing and playing a few tunes.  I apparently was lulled to sleep as I barely made it through a couple of songs and was out like a light.  Another day of music and mayhem was on the horizon at Bonnaroo.  I mean where else can you see folks smoke weed with a guy dressed as Santa and then go listen to awesome bands?  Only at the 'Roo.