Just as the day prior, the Tennessee sun decided to give me a rude awakening by cooking me alive in my tent.  Sleep is not something that happens very often at a major music festival.  Either you are up too late or the morning comes too soon.  Thank goodness for pure adrenaline and Kashi granola bars… it's the little things that keep you grooving!  When making our way to Centeroo for the start of day 3, we stumbled across this fellow attempting to channel his inner George Harrison.  He sat there with his hair covering his face, trying to play this beautiful sitar.  I do believe in his mind he sounded much better than he actually did, but hey… I have no clue how to play a sitar, so I'll give him kudos for giving it a go!  One thing that should not go unnoticed about Bonnaroo is how much the wall art/graffiti has grown in the past few years.  The quality is insane.  Granted, you do get your occasional novice tagger wanting to make their mark on the walls, but for the most part I was completely blown away by various pieces—the depth, composition, color, etc.  If only it were like the Berlin wall and we could tear it down and take pieces home with us!  Needless to say the long, dusty walk to the music was at least visually pleasing.
Saturday was the day I had been looking forward to for quite some time.  The line-up was a combination of bands that would make for a pretty rad road trip mix-tape.  Some old, some new, and a few that just float in the in-between.  The first stage we wandered to was Which Stage where we caught the tail end of Naomi Shelton and The Gospel Queens.  Even though it wasn't Sunday, I felt like I was in the middle of a service at the Church of Soul.  Girlfriend was looking fierce in her sparkly black velvet dress and had a voice to match.  She belted out several tunes including "What More Can I Do?", " I'll Take the Long Road", and "What Have You Done?".  It was a nice way to start the day.
It seemed like this year at the 'roo there were way more people that years past.  Getting from stage to stage and attempting to get in close for sets that had already started were nearly impossible, so we devised a plan.  Which Stage and What Stage have pits and lines were formed for future sets.  We made friends, lots and lots of friends.  There were folks that were kind enough to hold my spot while I ran in the pit to snap off some photos.  Being sans photo pass, it was relieving that there were benevolent concert goers that allowed me to stand in front of them, next to them, etc, all while getting the shots I needed.  So this is a thank you to all!  A specific shout out goes to both Nina and Micaela from Toronto.  We crossed paths on Friday and then ran into each other at the Which stage on Saturday.  We all had a similar goal… front row for Mumford and Sons, but we had to get through both Old Crow Medicine Show and Alison Krauss and Union Station first.  Not a bad way to pass the time if I do say so myself!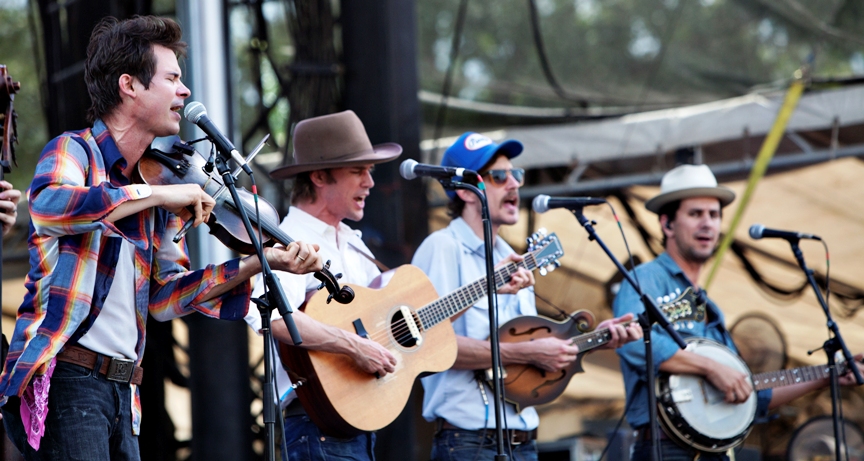 Based out of Nashville, TN, Old Crow Medicine Show only had a hop, skip, and a jump to the Bonnaroo farm.  Ketch and the boys took to the stage and got down to business.  First song was "Hard to Love" off of their 2004 release O.C.M.S. and it the perfect little fast-paced tune to get everyone jumpin', dancin', and singin' along.  Other crowd favorites included "Down Home Girl", "Alabama High-Test", and "Wagon Wheel".  OCMS also does a great rendition of "CC Rider" and in my opinion is one of the better versions out there of that song.  Ketch played two harmonicas and the harmonies with Willie and the rest of the guys were spot on.  They rounded out the set with "Tell It To Me" and played an encore of "Tear It Down".  Their old-timey Bluegrass/Americana cues were the perfect introduction to the Goddess of Bluegrass herself, Alison Krauss.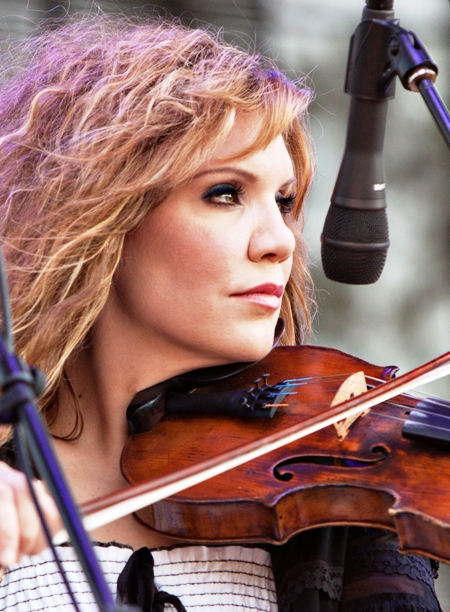 Performing again with Union Station, this was a change of pace from when I had last seen her live with Robert Plant in 2008.  Mixed in with Alison and the band was Jerry Douglas.  Known for playing the resonator guitar, Jerry has worked with many artists such as Phish, Ray Charles, Johnny Mathis, Dolly Parton, etc.  A common bond that he shares with the group is that they are all on the "Oh Brother, Where Art Thou?" soundtrack.  It was a real treat to see this man live and in action accompanying Alison's haunting vocals.  They started the set with the first two tracks off of their newest album Paper Airplane ("Paper Airplane" and "Dustbowl Children").  Dan Tyminski has nearly the most recognizable vocals in all of Bluegrass and he used that to his advantage on "Dust Bowl Children" and later on he belted out a crowd-pleaser "Constant Sorrow".  The rest of the songs came from the band's impressive catalogue extending back to their 1989 release of Two Highways playing one of my favorite songs off of that album, "Wild Bill Jones".  They ended things on "Oh, Atlanta" that is a bit more country than most of their songs, but fantastic, nonetheless.  Back in line for the pit… next up, Mumford and Sons!
One thing I noticed is that there was no lack in creativity when it came to passing the time between sets.  Of course you have your hoopers, nappers, and the occasional beat-boxer, but call it a combination of delirium, excitement, and anticipation—group sing-a-longs took the cake this year.  Waiting for Mumford and Sons to take the stage, I had the pleasure of singing Biz Markie, Queen, and even a little Journey.  Most of those around sang along and laughed.  It was pretty sweet, but the happiness of the singing soon wore off, as it was almost time to enter the bit.  People began pushing, elbowing, cutting the line, etc., all in a desperate attempt to get up front to see M&S in the flesh.  Thankfully the security guards took quick action and made everyone step back and only let us in one by one.  Enduring the sun, sweat, and bruises was totally worth it once Marcus and company set foot on the stage.  I had wanted to see Mumford and Sons live for quite sometime, and now was finally given the opportunity.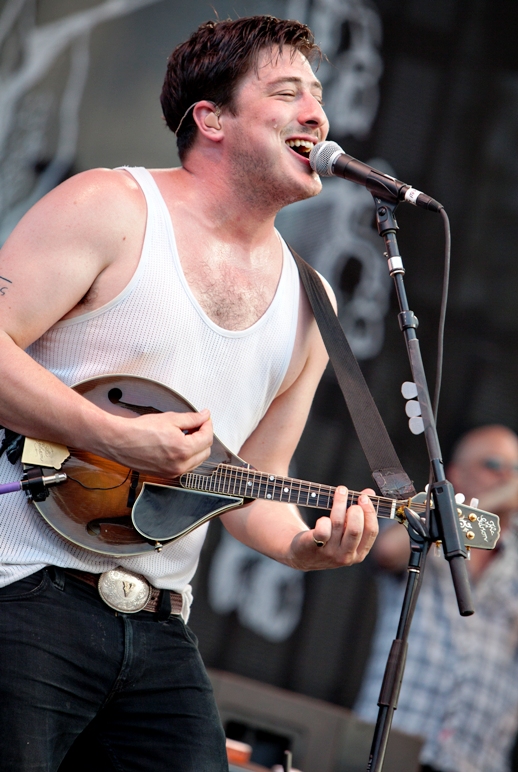 To introduce the blokes from across the pond was Big Mike of The Apache Relay, an Indie roots band from Nashville, TN (check out their song "American Nomad", it's pretty dang good!).  Thunderous applause coming from a never-ending sea of people surely had to be the warm Bonnaroo welcome they were hoping for.  "Sigh No More" was the first song they chose to play and with the first note, everyone around me was entranced (Even Ron Jeremy is a fan… he was hanging to the left of the stage!).  It was apparent as to why Mumford and Sons have become wildly popular in such a short amount of time (the album Sign No More was released in the US in early 2010).  After bringing in some brass and playing "Winter Winds", lead singer Marcus Mumford gave a nod to the Tennessee heat while toweling off by saying "My mother calls me a sweater because I sweat a lot.  Is anyone else sweating as well?"  The crowd cheered and I'm guessing it was for Marcus and not for being sweaty… or was it?  Honestly, I don't think anyone cared how sweaty, dirty, and gross they were.  The music is why we all came and I'm sure someone could have went all Nickelodeon on us with slime and we still would have been just as content to be in that moment listening to Mumford and Sons.  They played nearly every song off of Sigh No More including popular hits "Roll Away Your Stone", "Little Lion Man", and "The Cave".  Jerry Douglas joined on stage for "Awake My Soul" and the impressive encore that also included Old Crow Medicine Show, Apache Relay, and others for an uplifting rendition of "Amazing Grace".  It was as perfect as perfect gets!
As things wound down and the crowd began to scatter across the field in an effort to catch the end of !!! or Loretta Lynn, I decided to stay put and hop in line for Buffalo Springfield, this was one show I was not going to miss!  While taking a rest against the gate I observed this "Super Fan" of sorts.  This rather large gentleman was bouncing off the walls, literally.  He was rocking the gate I was leaning on and going on and on and on and on about how "fucking awesome" Neil Young is and how he wanted to be in the front row.  This guy was so excited I thought he could have peed his pants right then and there.  Well, I tried to strike a musical conversation up with this gentleman and then all of the sudden he hurls his body over the gate and starts running towards the pit.  Security tackled him and kicked him out.  His friends who were standing near let me in on a little secret.  LSD.  Said guy came back near us and tried to be on his best behavior, but could hardly contain himself.  I appreciated the enthusiasm for Neil, but slow your roll man… it's gonna be a long night!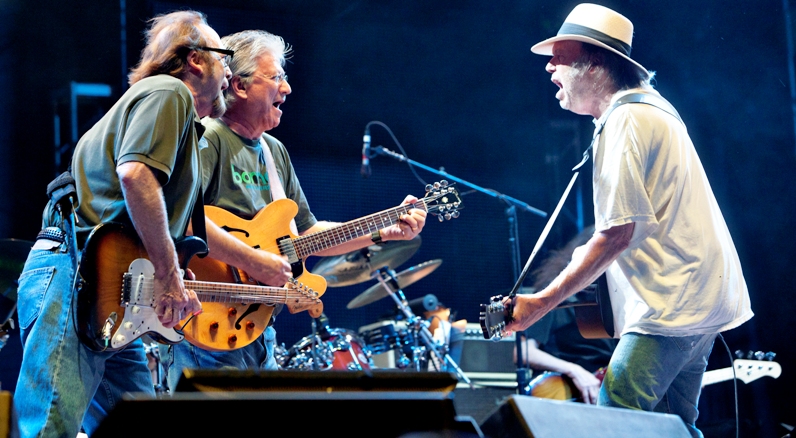 As if Mumford and Sons had not already blown my mind, I was in for a piece of Bonnaroo history and was beyond excited to be a part of it!  Richie Furay, Stephen Stills, Neil Young, Rick Rosas, and Joe Vitale came together on Which Stage as Buffalo Springfield.  Over forty years since they had first come together, the reunion was one of the most highly anticipated acts at the festival this year and the sheer number of people in attendance definitely reflected that.  They chose to start the night off with "On The Way Home" off of the album Last Time Around from 1968.  It was a good choice to set the mood, not too over the top, but not a total snoozer either.  By song number three on the set list they had found their rhythm and looked as though they had never stopped playing together.  All members are respected musicians in their own right and it was nice to see the camaraderie that still exists after all these years!  Song number three happened to be a favorite of mine, "Mr. Soul".  Right around this time it had started to rain.  Lightening in the distance, Neil, Richie, and Stephen kept on playing as the rain started hitting the stage. It was surreal as not only was the rain overly welcomed, but we had a fitting 60's soundtrack to accompany it!  About halfway through the set, the rain finally subsided and at that point a majority of the young folks had left in an effort to snag a decent spot for Eminem, but those who stuck around were in for a surprise.  They sang "Bluebird" which some consider to be the band's "swan song" of sorts.  But the awesomeness didn't end there.  Not only did Buffalo Springfield end with their iconic political anthem, "For What It's Worth", they also let Neil Young take the reigns and melt our faces off with "Rockin' in the Free World".  Overall these guys still have it and look like they are having the time of their lives doing it!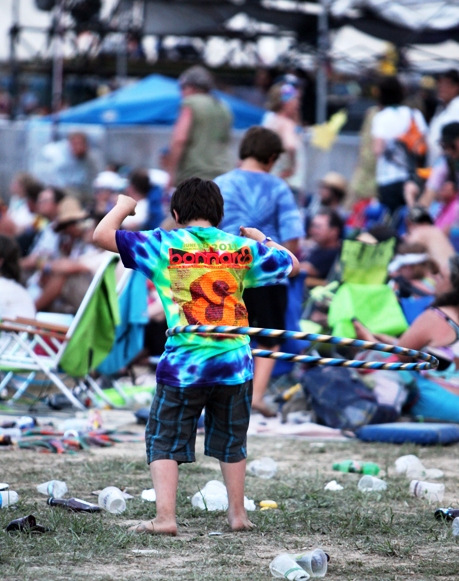 Before we could even exit the pit, you could hear Eminem's set starting over at the What Stage with a little "Won't Back Down" and "3 a.m.".  As there was a nice little access way from Which Stage to What Stage for press and artists, we decided that would be our best bet for getting in relatively close for Eminem.  Boy, were we wrong!  As there were no other acts playing at the same time as Eminem, EVERYONE, and I do mean EVERYONE was packed onto the field at the What Stage.  There's a gate with a security guard that was supposed to let us out on the field, but there were too many people so they ended up blocking it off.  Thinking as fast as possible as to what to do, I ended up grabby Jeremy and we snaked our way behind all the vendor stands on the right side of the field.  It was darker and no one paid attention to the fact that we weren't really supposed to be back there, but it allowed us to get onto the field about 50 feet from where we were trying to earlier.  I had thought the crowd for Florence and the Machine was insane, this was 1,000 times worse.  Despite the madness, Eminem sounded ridiculously good.  I hadn't seen him in concert since I was about 19 and a friend of mine who was obsessed with him asked me to drive to Chicago with her for the Anger Management tour.  Back then he didn't sound so great live… maybe it was the life of a superstar that had gotten to him, but his newfound sobriety had to have been one of the main reasons he was absolutely killing it at Bonnaroo.  His stage set up was pretty cool as well, one of the most elaborate of the weekend for sure.  It resembled a car junkyard with a huge video screen at the back of the stage.  Parts of music videos and visual effects accompanied his songs.  He played all the old "favorites" including "Stan", " The Way I Am", "'Till I Collapse", and a medley of "My Name Is"/"The Real Slim Shady"/"Without Me".  Other highlights included "Love the Way You Lie" and "I Need a Doctor".  It would have been absolutely crazy if Dr. Dre or Rihanna showed up, but the songs still sounded amazing regardless.  He ended the night with an encore of "Lose Yourself" off the 8 Mile soundtrack.  Fireworks brought the main stage to close as everyone around me was commenting on how "on point" Eminem was this evening.  Even if you weren't a huge fan, it was still pretty cool to hear him live.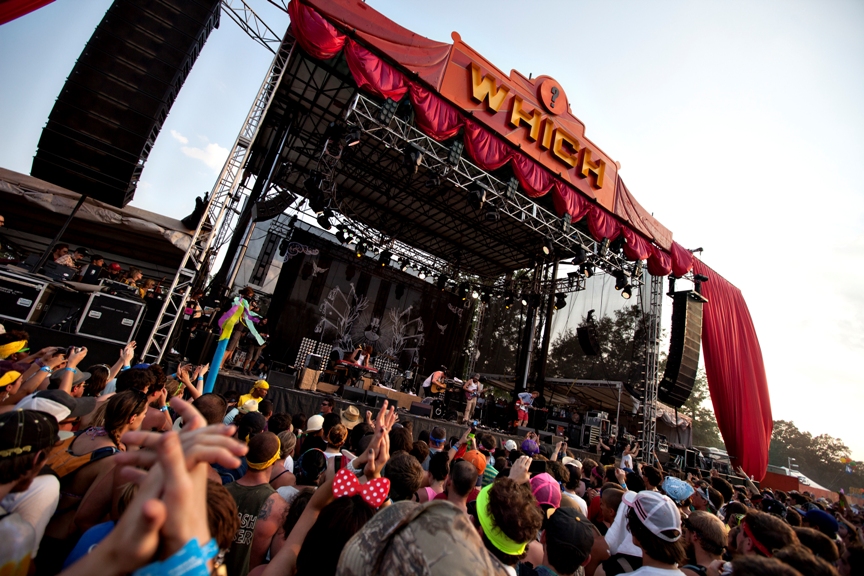 We wandered back towards Centeroo seriously exhausted.  It had been a long day and the late-night sets were just getting started.  My eyes were heavy, but I managed to make it through String Cheese Incident's rendition of "Tennessee Jed" before I laid down in a pile of dirt out in the field.  My eyes were getting heavy and someone was sending of Chinese lanterns into the night sky.  It was soothing and before I knew it, I was out cold.  If it hadn't of been for the drunk guy kicking my sunburned leg, I probably would have slept there awhile!  I gathered my items and started the long journey back to camp.  I had a life saving garlic-grilled cheese from the Solar Café and hopped on the Bonnaroo Taxi back to my tent sweet tent.  Jeremy decided to play me some new songs he'd learned on the guitar and I don't think I made it through two of them before I was in dreamland.  Day four was on the horizon and I needed my beauty rest.